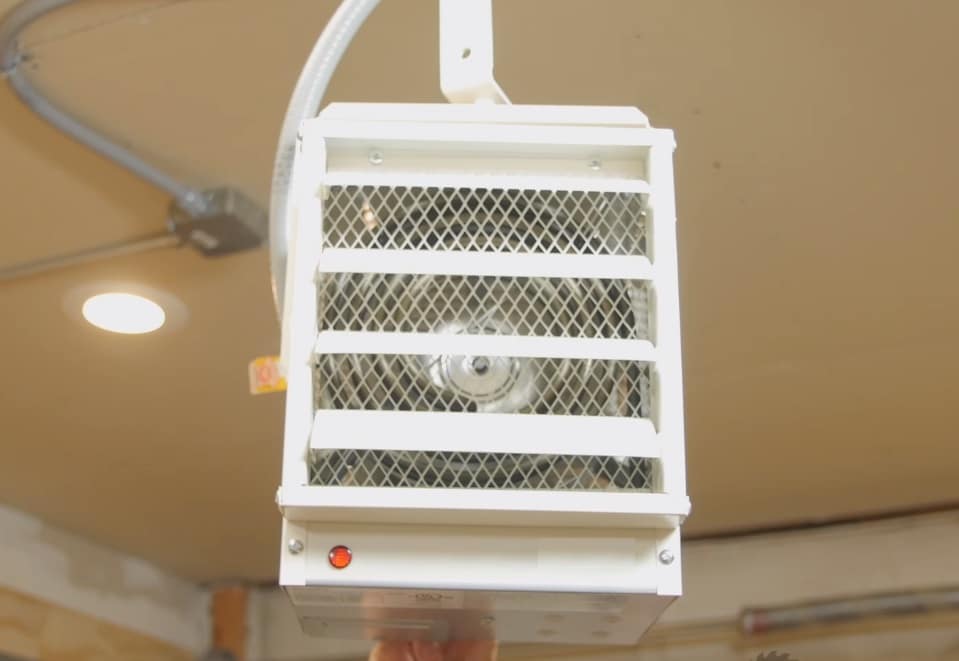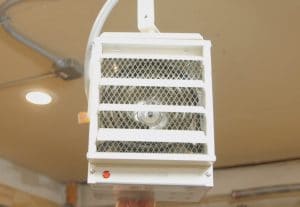 Have you ever parked your car in the garage in the dead of winter and dreaded going inside? If your garage isn't insulated, you know how expensive it can be to run your home's central heating set up for a prolonged amount of time there. But there's a quick way to fix this problem. Garage heaters will not only save you funds but have the potential to cover much more square footage than a conventional heater. Take a look at five of the best in the category sold on the market, designed to keep your garage space warm, no matter if the sheetrock is exposed or you just need something to bring the temp up a few degrees.
Best Garage Heaters of 2021
A quick rundown showing a point-by-point comparison on the heaters and how to stack up against one another.

1. Dr Heater DR966 – Best Garage Heater For Quick Setup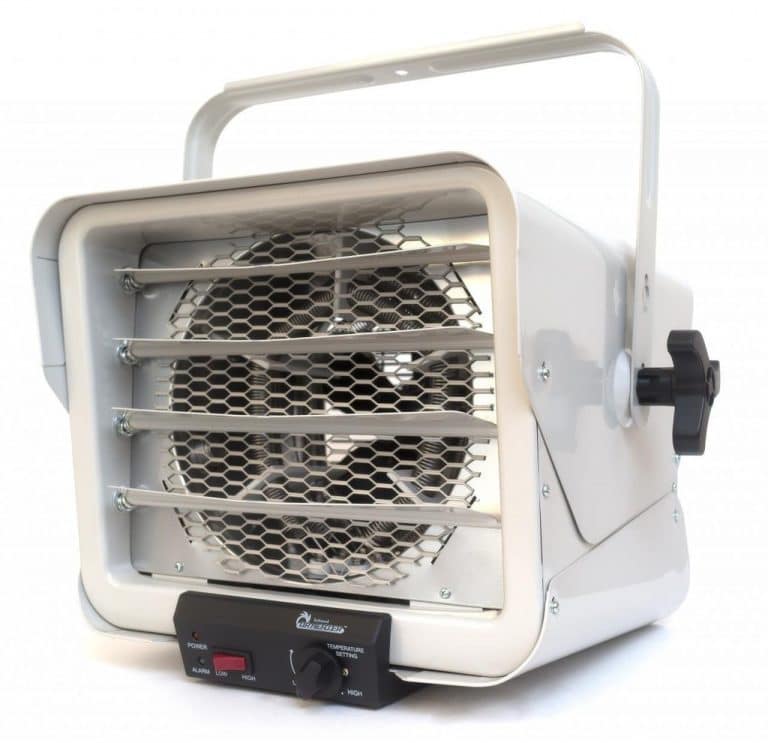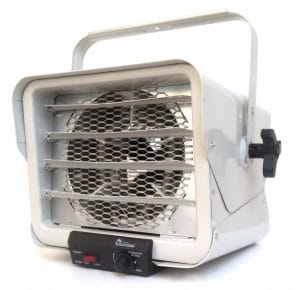 The Dr. Heater DR966 looks like something you've probably seen in a commercial setting before. It has an industrial design that's white in color, holding a fan inside that can be placed in a wide array of areas. Confined spaces won't be an issue, so feel free to mount it on the wall or ceiling.
Know The Breaker
There's an adjustable thermostat for you to change the heat intensity to a high or low setting, along with inserts (or louver) immediately outside on the interior that must be turned manually to adjust the direction of fan heat. Garage heaters that run off electricity are oftentimes easier to set up, requiring no professional installation. Just be sure to read through the instruction manual to double-check that your setup includes the proper wiring, which lists an 8/2 and 32 Amp breaker. You probably would be able to get away with a 10/3 on a 30 Amp breaker but this isn't specified in the pamphlet provided, which could result in the unlikely event of voiding your warranty.
What Size Room Is it Best For?
You might have trouble heating up rooms that are large, however. This issue is increased if you would prefer to use in the low setting, which is about 3000 watts. Heat at the 6000-watt level is fine but anything other than running it at the highest setting won't have a noticeable effect, especially in climates that stay frigid for most of the day in the winter.
But don't let that keep you from getting it. In fact, this is probably the most recommended product on this list because setup, as you will come to find out, remains the easiest. Garage heaters have a reputation for being difficult to use initially due to factors that might require other materials and a learning curve to complete. And while this is technically the case for the DR966, the good outweighs the hiccups. Consider this one for its build and portability.
Pros
Has an adjustable thermostat
If electricity run to the garage, setup might be a lot easier than a heater running natural gas/propane
The louvers help regulate the space that's closest to the heater (depending on where it's set)
Cons
The low setting does not generate good heat
The only way to turn the heater off is by unplugging it or switching the breaker; no OFF switch
Fan does not change speed, even when the thermostat is on the high setting
Requires a 8/2 wire (at least) and 35 Amp breaker
Not really a "commercial" heater
2. Dyna Glo – Best Garage Heater For Non-Insulated Garages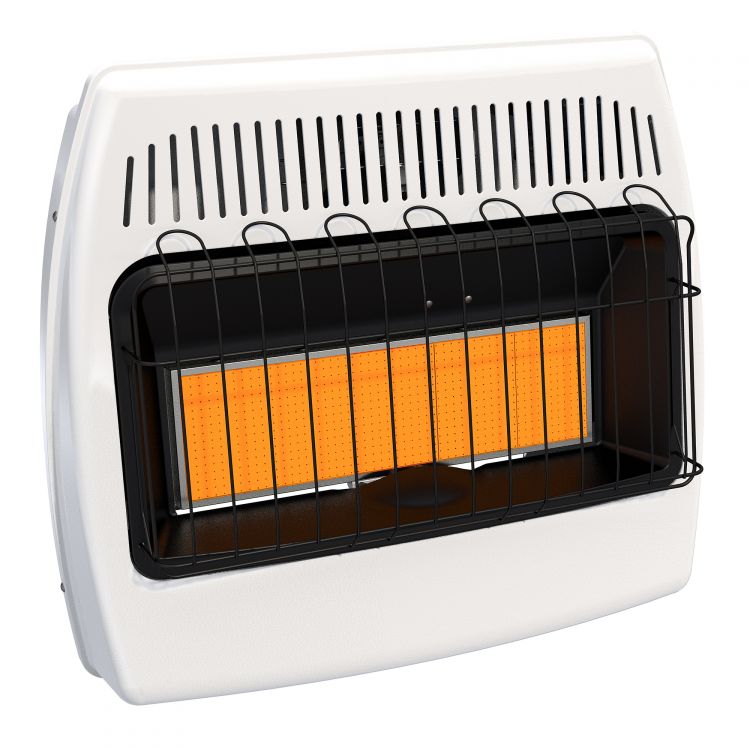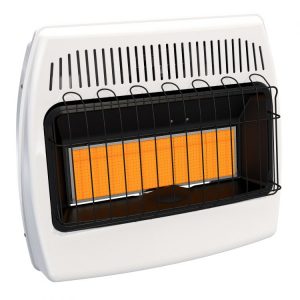 The Dyna Glo, second on the list, tops off for being the heater you'll want when there's need to save on your electric bill costs. It's especially good at heating up non-insulated garages, something that could hinder even the most high-quality electric heaters being sold today. It generates heat to large spaces, covering an area of up to 1000 square feet, which is about the size of a 2 1/2 car garage.
Making Installation Easier
If you stay in an area that experiences all of the four seasons, this is the heater for you. There are natural gas and propane options to buy from, which this one, in particular, being propane. It's great to have around for emergencies, as use can easily extend its use to heat inside your home too. Just be sure that you know what you're doing when it's time for an install. If unsure, here's a brief guide that will explain the basic setup for you.
Do Your Homework
It must be stressed that you should know what you're doing before you purchase this heating unit. You may end up having to drill holes for the line holding the liquid propane to be fed towards the spot where you want the unit to sit on the wall. And there aren't any automatic thermostat features added. Another problem that's been reported by some users is the heater cutting off on its own, something that's been shown to occur several times during the day. Furthermore, don't panic if you notice a faint smell of propane emanating from its center. If it bothers you, try to run at intervals until the smell isn't noticed anymore (or your senses become used to it).
Overall, this unit is recommended for the way it manages to hold in heat when placed in rooms with less than adequate insulation placed behind the sheetrock. Getting it ready might require more of your time, but it's truthfully not as hard as it seems. And you'll appreciate the added layer of protection and warmth you'll get when a power outage happens.
Pros
Quickly heats up large areas of square footage in a short timespan
The ease of heating is less dependent on whether or not the garage is insulated; manages to increase temperatures in frigid weather conditions
1000 square foot coverage
Cons
Setup could involve a process that requires extensive revamping the garage to accommodate its fuel source (liquid propane)
May shut off in sporadic moments
There's no automatic thermostat available to use with the product
Depending on the size of the garage, could leave behind a lingering odor of gas
3. HeatStar – Best Garage Heater For Live-In Garages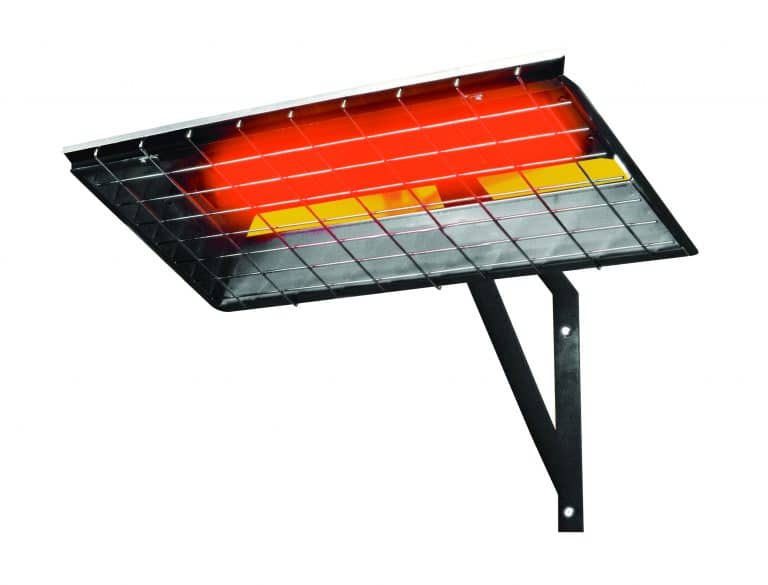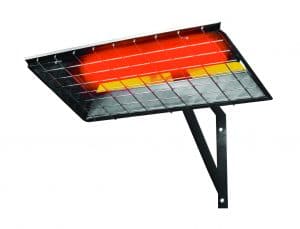 If you're not keen on needing a heater that blows the air in a certain direction, then the HeatStar is another good choice for your garage. It does this with natural gas. If you're also a lover of electrics that tend to keep the noise level to a minimum, you'll surely love how effective this product is a heating room without the direction of any moving parts.
All about Natural Gas
Much like the first product reviewed, installation is pretty straightforward, assuming that you have a natural gas connection. If not, you could either pass up and try out something else or go through the trouble of getting it placed in your garage. Estimate your fuels costs versus how much you would save if this was installed. In some cases, the savings might not be significant enough to warrant a natural gas heater at all. And your garages size could be a determining factor as well. But even then, this heater's use could double as an alternative for other means such as in a barn for animals and livestock.
Looking Further Into the Product
There are a few areas that could see improvements. The mounting brackets aren't the best, and you might be better off using a pair that you own already. If not, those sold in the box should suffice but may need to be changed after a year or two has passed. And if you, in fact, do want something that regulates the airflow in your garage, either look elsewhere or get a space fan to work alongside the heater, which will help move the air around to prevent staleness. But this would probably be overkill to most people. Anyhow, the HeatStar does well by having a slightly easier setup and comes with is compatible with external thermostats. Use if you're the type that likes to work from your garage and spend lots of time doing home improvement duties. It'll keep you warm throughout the winter.
Pros
The lack of electricity could drastically lower electricity costs
Very quiet and products no loud noise
Works during power outages (comes in handy for blizzards, inclement weather events that could turn off power grids)
Easy installation
Cons
There is no fan attached anywhere on the heater
Difficult to impossible to manage air flow without using a seperate fan
The wall brackets are not very study (it's recommended that you use brackets that aren't included with the product, is possible)
4. King Electric – Best Electric Garage Heater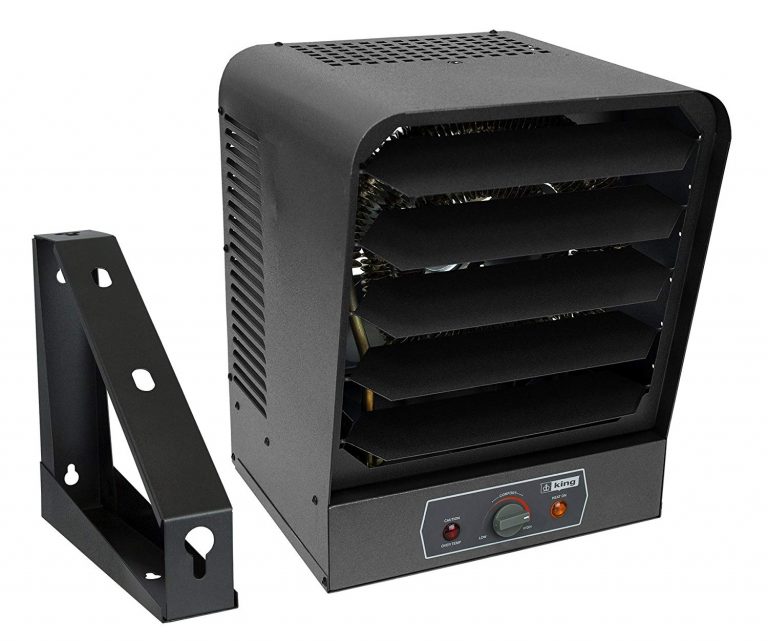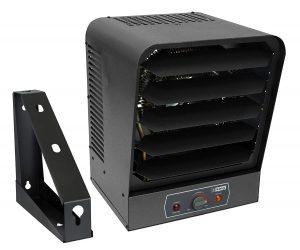 The King Electric is an all black adjustable garage heater that comes with a built-in fan to control the intensity of the heat being generated. It can't regulate temperature and has no thermostat alongside the former controls just mentioned. Mounting is made into a simple task with the bracket. It should sit well on most walls and ceilings. Those made from sheetrock and plywood are the best.
Lower in Watts, Stable in Heating
Even with just 5000 watts of power, this machine works like a charm in getting small to medium sized rooms warm. Those with insulation will be better but even a garage without it shouldn't run into too many problems, though it may take a little while longer for heat to overpower cool air from outdoors.
Upon inspection, you'll notice that coils are lined on the rear of the fan. This is where it drives heat. It's not as powerful as propane or natural gas, however.
Hardwiring Configuration
Being that this is electric, everything must be hardwired before it's used. The King Electric requires a 10/2 gauge and 240-volt breaker, so check to make sure that you have these before you start setup (or have the option to obtain them). Once you know how everything is to be configured, go ahead and run the device as specified in the manual. If your garage is much larger than average, you'll want to avoid using this one unless more than one is planned to be purchased. Smaller is always better, so one unit should suffice for anything less than 1000 square feet. Try the King Electric if you don't possess the means to use natural gas or propane-generated alternatives to getting your garage heated.
Pros
A universal mounting bracket is included that's very sturdy and easy to apply on any wood or sheetrock wall surface
Heats up a large volume of space yet works at 5000 Watts
Can be mounted on either the wall or ceiling
The fan's speed can be adjusted
Cons
The unit must be hardwired before it's used, requires a 10-2 gauge wire and 240-volt breaker (at 30 Amps)
Not suitable for large garages (unless more than one unit is purchased)
Does not come with thermostat controls; must be bought seperately
5. Modine – Best Garage Heater For Natural Gas
Go With the Flow
Last but not least is the Modine, a natural gas/propane heater that's housed in a grey exterior box. It's safe to use in an indoor garage setting and is able to produce heat over a large floor space. You'll probably set it up near a ceiling; any garages that are higher than average in size should be well-heated with its strong airflow emissions.
Maximizing Your Energy Savings
While propane is an option, you'll need to have it converted in order to do so. The natural gas connections also require thorough installation to be completed before anything is activated. It's efficiency is listed as 80 percent, which means that 20% of your electricity's past cost will now come out of the exhaust. Speaking of exhaust, the unit does not include it in the packaging. Out of all the products reviewed on the list, this one carries with it the most need for a professional install. Do it if you're not comfortable working around gas lines so that no mistakes will be made. Anyhow, try out the Modine for its longevity. As long as you don't mind the racket that's produced from the heater, it should last you well past its warranty date.
Pros
Can be operated with either natural or propane gas (although must be converted for propane use)
Surprisingly takes up little space, especially when setup near ceilings
Could save up to 20 percent in electrical heating costs
Cons
May require installation by a professional
Very loud operation, produces noise that can easily be heard from the outside of the garage
Outside air combustion not possible
May not perform well in non-insulated garages
Exhaust vent not included with the product
Best Garage Heaters – Buyer's Guide
Before your go and purchase any of the heaters reviewed, know what you're getting and how easy it will be for your to set up. Here's some useful tips to get you started.
How is The Heater Powered/Fueled?
Garage heaters can be fueled using three methods. Either electric, natural gas, or propane. Electric can be classified into two categories since there are heaters that will work by simply being plugged in, and those that need to hard-wired to its own breaker.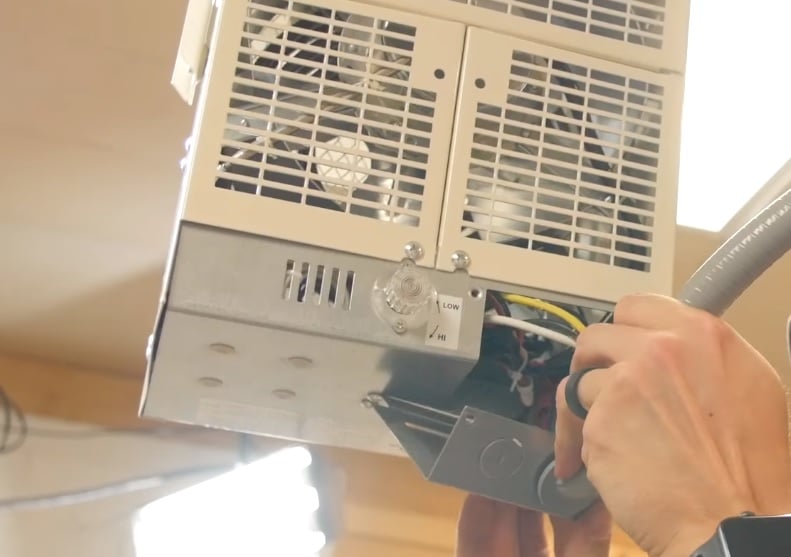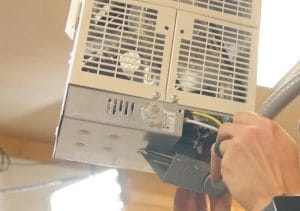 Be sure that the breaker is compatible with the wire and heater you buy (when using hardwired heaters). The selling manual should state what's required and setups that aren't recommended. Space heaters, on the other hand, simply need to be plugged into an ordinary AC power outlet but may produce higher energy costs on your monthly bill.
Natural gas and propane operate by ignition, feeding heat outside the vents that quickly increases temperatures in very cold weather. They typically don't have thermostat controls included with them, unless bought as a standalone product.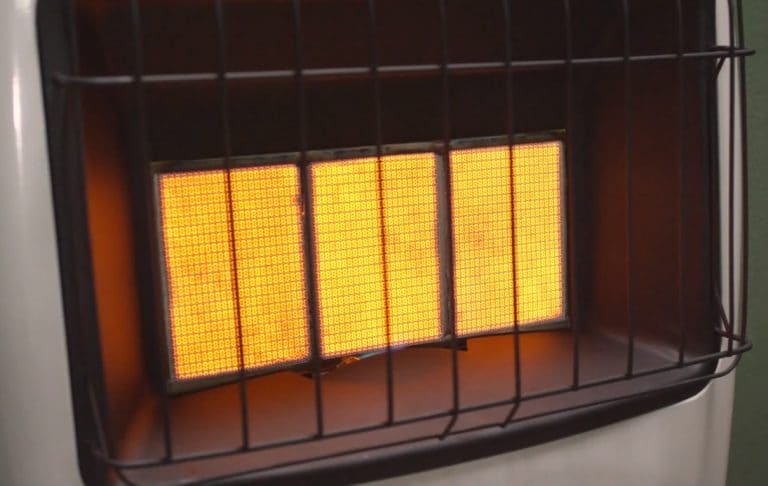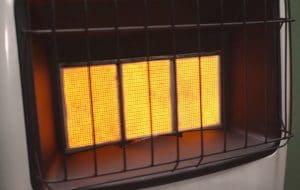 These can sometimes require more steps to install. You can either get an HVAC technician to do it for you or attempt it yourself by looking at others do it online. Due to the risks associated with improperly using heaters that are fuel-based, it's advised that you always consider getting it done by people who know how to get the unit set up in a quick and safe manner.
Should I Factor in the Size of My Garage?
Absolutely. Garage sizes in the U.S. are usually big enough to accommodate one or two cars. Most garage heaters, including those that were evaluated, will work in getting things warmer without the need of running space heaters. Most manufacturers will tell you what size their product performs best at. If not sure, determine your garage square footage and use that as a tool to measure the unit of interest's size and area of coverage. Once you have that, you can find out whether one or two heaters will be best.
Is my Garage Insulated?
It's easy to tell if a garage is insulated or not. The temperature will usually change according to the weather. So when it's hot and humid outside, a non-insulated garage will feel the same and change very quickly. This results in taking the room much longer to heat up, which in turn can potentially raise electricity prices. Some heaters are better for these types of garages but more than one might be necessary to circumvent fast cooldowns.
Conclusion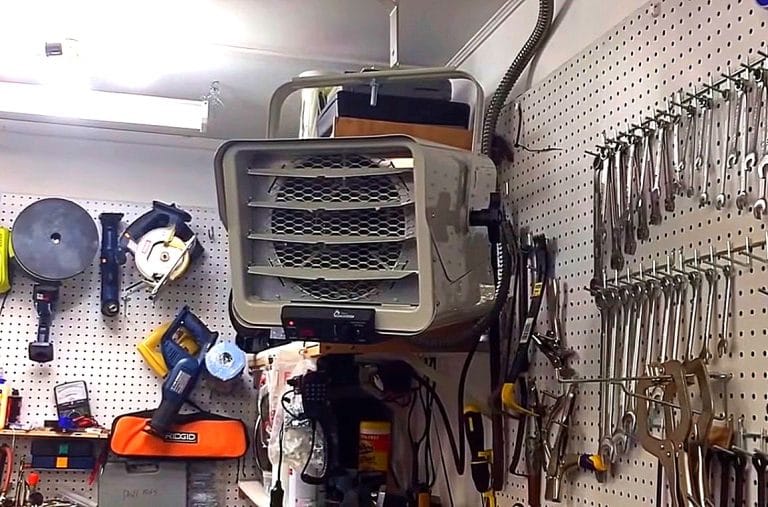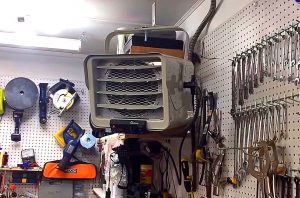 Once you've tallied up everything that should be known before getting your next garage heater, go over the units that were reviewed. Out of the five shown, the Dr Heater DR966 Modine fair as the best. The others shown could also be more effective in your home than what's chosen here, so go to the product that you think will give you the best heat output and savings during the winter. Heating your garage will keep you from hating the time in which you must go inside for any reason, and could even extend your home by creating another room.