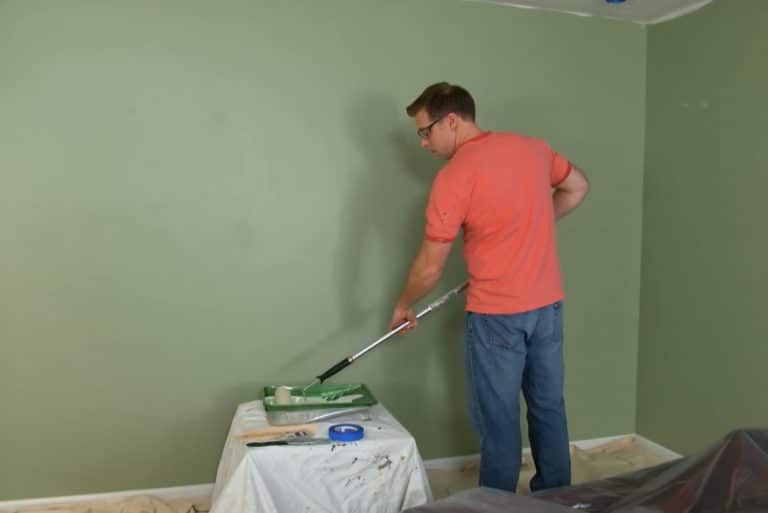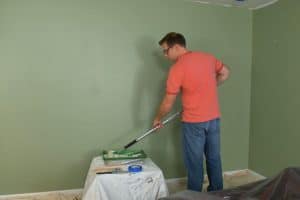 The garage may not get the most love or be where the family gathers together, but it is still an important part of your home. What is more, your garage probably deals with worse conditions than anywhere else in your house. That is why even basic things like what paint you use can have a bigger impact than you know.
In order to help you figure out which is the best paint for your garage walls, we have put together a list of 5 that are better than the rest. We also provide you with a thorough buyer's guide, so you know what to look for. We ultimately think that the Glidden is the best for most people, but it is not necessarily right for everyone.
Our List of Best Paint For Garage Walls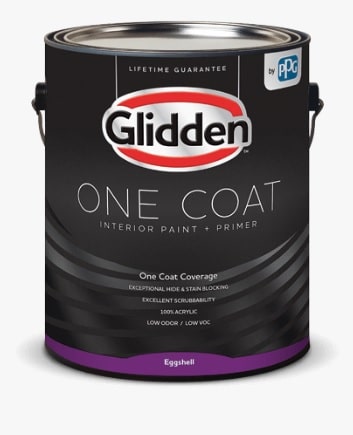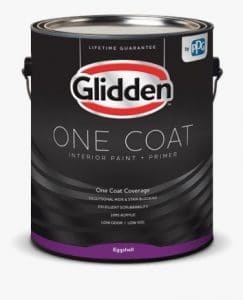 Of all the brands on our list, none of them can compare to the storied history and experience of Glidden which is well over a century old. On top of that, Glidden has actually been instrumental in many of the paint industries innovations, especially with water-based paints.
That said, Glidden is currently a brand managed by PPG Architectural Finishes Inc. Thankfully, the parent company is dedicated and specialized in producing a variety of coatings. As such, Glidden's quality remains unchanged and it is our Editor's Choice best paint for garage walls.
The Depths
One issue that regularly pops up when using paint and primer combos is that the various resins necessary to serve as the binding agents dilute the color of the paint. While this means that many paint and primer combos might technically require a single coat, you will probably want to add at least one more. Thankfully, Glidden has found a workaround that allows them to provide one of the richest colored paints that we saw. Even better, this increased saturation did not affect its durability as the Glidden is also longer lasting than the other brands we reviewed.
Something for Everyone
While the superior durability and the high level of saturation are nice, there are still other basic qualities that help push this paint over the top. For instance, the Glidden is tied for the best coverage on our list at 400 sq. ft. per gallon. When you consider that the colors are richer, the paint is a primer combo, and it has the best coverage, it seems like the Glidden can do no wrong. It is a bit pricey compared to some of the other paints we saw, but it is not anywhere near the most expensive.
Pros
Comes in 3 different finishes
Comes in 300 different colors
Is a primer and paint combo
Is a low-VOC paint
Is an acrylic paint
Comes in 3 different sizes
More durable than some
Covers 400 sq. ft. per gallon
More saturated than mos
Cons
Is a more expensive garage wall paint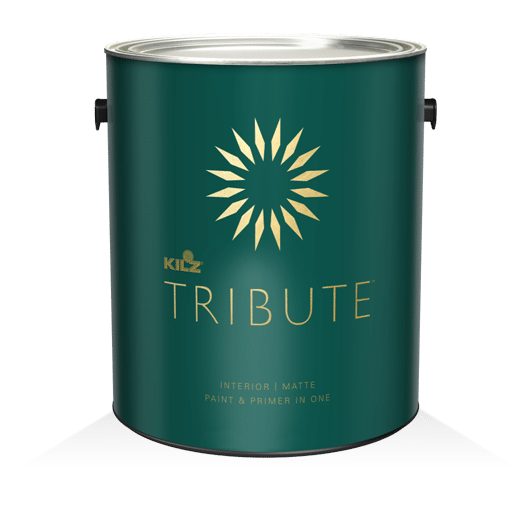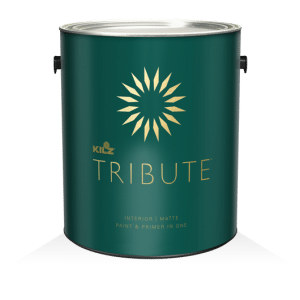 KILZ is pretty much the granddaddy of paint and primer combos, though it would be more accurate to say KILZ is known for its primer. Regardless of the surface or the type of paint, KILZ makes a primer for it, and it is almost certainly one of the best performing. For its paint and primer combos, KILZ stresses the utility of their products as opposed to the aesthetics, though it does offer a wide range of colors and finishes. Regardless, this is the best all-around garage wall paint due to its ease of use and quality coverage.
Primed for Success
Easily the best thing about the KILZ TRIBUTE is that it is a primer and paint combo product. While that is not at all an unusual feature for the paints on our list or even garage wall paint in general, KILZ definitely stands a bit above the rest in this regard. That said, the point of a paint and primer combo is to provide better adhesion even when the surface is not in the most ideal of conditions. As the name suggests, the KILZ does an excellent job of this and will not require as many additional coats as some of the paints we saw. That said, this paint still can suffer from extremely humid conditions during the application which will cause it to run.
A Little Extra
This can be taken a couple of different ways, but the most obvious will be with the price. Having the prestige and quality of KILZ backing you up, you should expect to pay more than for some of the lesser known brands on our list. Still, KILZ continues to provide value by ensuring that their acrylic paint is also a low-VOC paint. This is good for your health but may also be necessary depending on where you live. On top of that, even though this paint has a higher PVC content than some, it is still just as mildew-resistant as any "latex" paint.
Pros
Comes in 4 different finishes
Comes in 100 different colors
Is a primer and paint combo
Is a low-VOC paint
Is an acrylic paint
Comes in 3 different sizes
Is a mildew-resistant paint
Covers 400 sq. ft. per gallon
Cons
The most expensive garage wall paint reviewed
Not great for humidity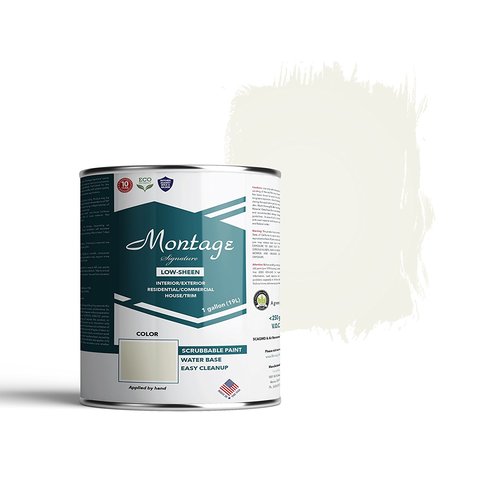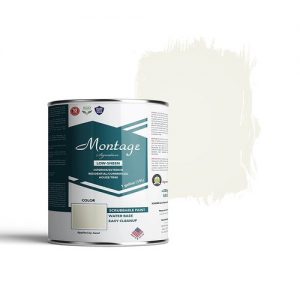 Montage Signature Paint is definitely a different type of company and should not necessarily be judged the same as the other products on our list. That is because Montage has a greater philosophy that directs its actions. Specifically, Montage is a brand of Acrylatex Coatings and Recycling.
While that might be a mouthful, the point remains that this company is primarily focused on making sure their products are responsibly and sustainably sourced and manufactured. As such, this is the best eco-friendly paint for garage walls but does have some downsides.
Mother Nature Approved
When making an eco-friendly product, there are a couple of ways you can go about it. You can ensure that the resources used are derived from sustainable sources. You can also make sure that your manufacturing processes produce as little waste as possible. Finally, you can make sure that the materials used will not create a further environmental problem later on. As a company dedicated to sustainable industry, Montage Signature Paints utilizes all three methods to be easily the most eco-friendly paint on our list.
The Trade-Off
In an effort to make sure that their paint is as eco-friendly as possible, Montage forewent the use of materials or manufacturing processes that would result in a better paint. It might sound a bit harsh, but this paint is known for separating to the point that you have to take it to a hardware store to have it remixed by a machine. It does not help that the paint is not a primer combo. This means that some of the money you saved will have to be spent on a primer. This also means that you have to spend twice as long on the job, first applying the primer, then the paint.
Pros
Comes in 2 different finishes
Comes in 25 different colors
Is an interior and exterior paint
Is an eco-friendly paint
Is a latex paint
Comes in 5 different sizes
Is a mildew-resistant paint
The least expensive garage wall paint reviewed
Cons
Is not a primer and paint combo
Known to separate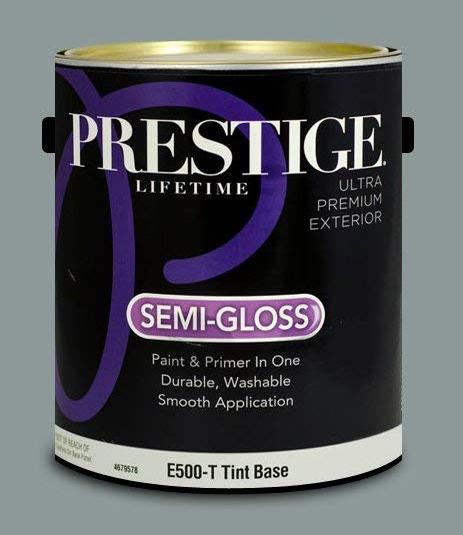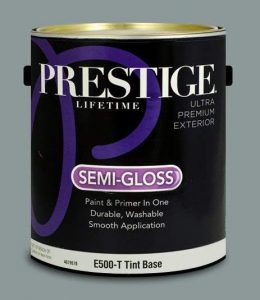 Prestige Paints is an interesting company in that it is an only online company selling primarily through Amazon marketplaces. However, the company itself is American and located in America allowing a business model that worked so well overseas to work here too. Prestige Paints models itself off of other popular paint companies and is able to provide a fairly impressive product. While this particular paint is solid for a number of uses, we think it is the best interior/exterior paint for garage walls we came across.
The Open Outdoors
Most people will not consider a carport a garage, but even they can acknowledge that a garage will be exposed to worse environmental conditions than most. This can put choosing the paint in a tricky place since indoor paint is not made for that kind variance. Thankfully, the Prestige Paints is suitable for both interior and exterior use. In fact, this paint was noted for being especially effective in humid areas when compared to most of the other paints we saw.
A Solid Value
In an effort to model itself after the bigger companies, Prestige Paints makes sure that their products can meet the industry standards set by the big players. This includes providing a paint and primer combo that does not need 3 or more coats. On top of that, the Prestige Paints also features a great coverage at 400 sq. ft. which is tied for the best. The acrylic base may not do much for the color saturation, but it does make this a fairly durable paint too.
Pros
Comes in 4 different finishes
Comes in 237 different colors
Is an interior and exterior paint
Is a primer and paint combo
Is an acrylic paint
Good for humid areas
Is a low-VOC paint
Covers 400 sq. ft. per gallon
Cons
Is a more expensive garage wall paint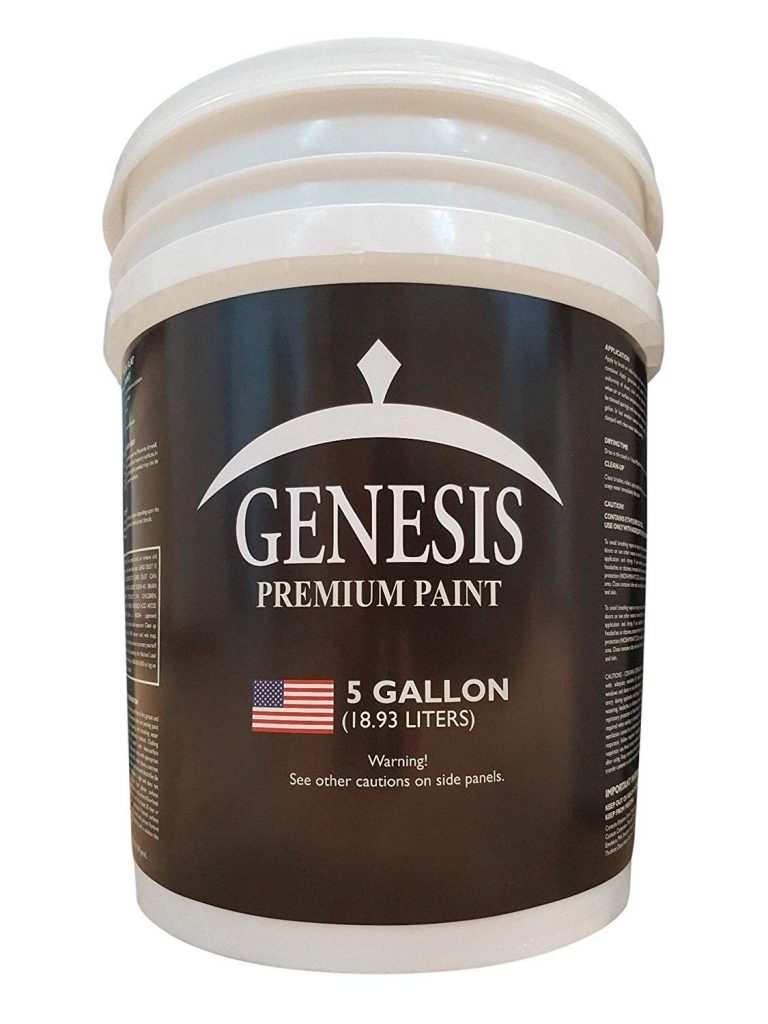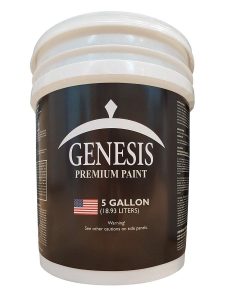 Genesis Premium Paint is a newcomer to the paint market which may be why they chose the name they did. Genesis is also another paint company that seeks to provide a comparable alternative to some of the more popular and well-known brands. This is in a large part because those larger brands also happen to be much more expensive. This is where Genesis comes in with a solid performing paint that is much less expensive than a similar quality from a bigger company. This makes the Genesis paint our best budget paint for garage walls, but it also limits its market a bit.
Checks the Boxes
When you are shopping for budget products, you want to make sure that it at least meets a baseline of quality. The Genesis is an interior and exterior latex paint that offers mildew resistance. While the latex base may or may not hold up as well outdoors as the 10-year warranty suggests, it should be more than durable enough for your garage walls. As a bonus, this Genesis paint also comes with a kit that includes a roller, brush, and screen bucket.
For Commercial Use
Unless you plan on redoing your entire house in a single color, there is a good chance that Genesis paints are meant for contractors in the like as it is only sold in 5-gallon drums. The Genesis paint is also the only brand to have just 2 different finishes. While this makes sense for a commercial application, it is a bit odd for consumer purposes. Finally, this is not a paint and primer combo, which means you will likely need to purchase and apply primer as well.
Pros
Is a less expensive garage wall paint
Comes in 2 different finishes
Comes in 9 different colors
Is an interior and exterior paint
Comes with a painter's kit
Is a latex paint
Has a 10-year warranty
Is a mildew-resistant paint
Cons
Only comes in 5 gallons
Is not a primer and paint combo
Best Paint For Garage Walls – Buyer's Guide
Type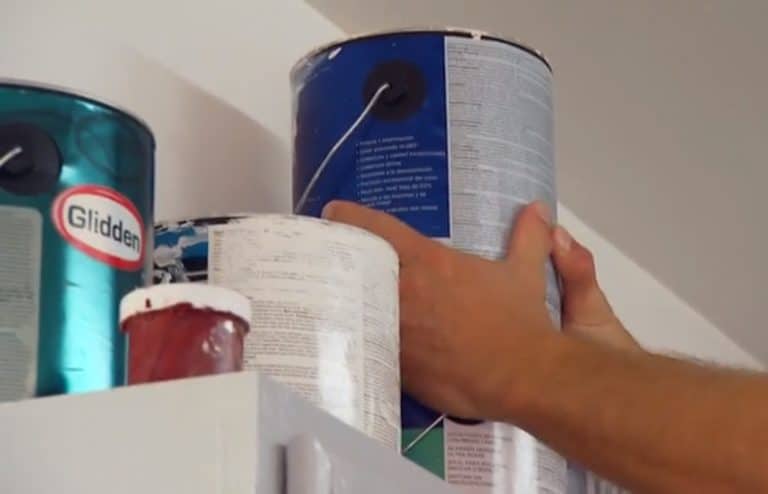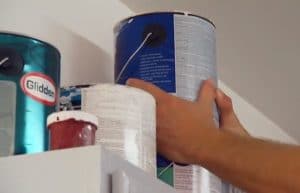 There is a bit of a misnomer regarding the types of paint available due largely to marketing campaigns muddying the waters. Basically, there are 2 types of paint: oil-based and water-based. Within those 2 general types of paint, both groups have different members. These days, the most popular type of paint is water-based latex. However, even within this type of paint, there is some confusion as we will see.
Acrylic -This is where the confusion starts since acrylic paints almost always have latex in them, and latex paints are almost never pure. As such, the terms "acrylic" and "latex" should be understood as industry terms referring to a mixture of 2 things. If a paint has more polyvinyl chloride than latex in it, it will be labeled acrylic.
Acrylic paints are generally not as good looking as latex or oil-based paints, but they are significantly less expensive than the other paints. On top of that, acrylic paints provide a perfectly acceptable result for a large number of purposes. On top of that, good acrylic paints will often serve as their own primer and can even be blended for a variety of aesthetic choices.
Latex – As mentioned before, the term "latex" here is a bit misleading as, just like with acrylic paint, latex paint generally is a mixture of latex and PVC. However, the paints that are marketed as latex paint will generally have more latex in it than PVC. That said, it is not unheard of for a paint company to take advantage of the ambiguity of the term "latex" and label paint with more PVC as latex instead of acrylic.
Regardless, genuine latex paint is by far the most common paint used for consumer purposes both inside and out. It is incredibly easy to use and even easier to clean up. Latex paint offers serious protection from moisture and mold as well as a number of chemicals. Still, a fair number of chemicals commonly used in garages will react with latex paint.
Oil – This paint is far less common, but that is in a large part because it is far less convenient than water-based paints. Oil paint often requires a particular admixture before application. However, the timing of this can affect how the paint looks after it dries. On top of that, oil paint requires significantly more ventilation to use safely than water-based paints do and take far longer to dry too.
That said, oil paints definitely provide some of the best results available and are especially effective in warm, humid areas. Still, the single best quality of oil paint is its self-leveling property. Water-based paints will act a bit like water and provide a surface level coat–leaving imperfections visible. Oil paint, on the other hand, will layer on top of itself, filling in and covering blemishes and imperfections in the surface. There are some water-based enamels and alkyds that aim to provide the benefits of oil paint with the convenience of water-based paint.
Primer
Depending on the material you are painting as well as the condition of the surface, you may or may not need a primer. In fairness, it is generally a good idea to prime any surface you paint anyway, but a non-porous, well-maintained surface can accept paint without a primer just fine. However, primer provides paint a better grip to stick, and that is especially important where the temperature might change a good bit or the humidity levels might fluctuate a lot.
That is why paint for garage walls should either be applied on top of primer or be a primer and paint combination. There is simply too much environmental stress that garage wall paint is liable to experience to go without. One issue with this is that it can somewhat limit your aesthetic options if you wanted something more than utilitarian functionality. Specifically, the high-gloss finish is not really feasible in a paint and primer combo.
Eco-Friendly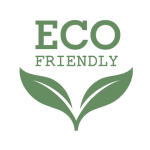 Depending on your local ordinances or even your personal sensibilities, the environmental sustainability of your garage wall paint may be more or less important. Obviously, if local ordinances are involved, this becomes a primary concern. That said, it is important to define what actually makes a paint eco-friendly in the first place.
Basically, most chemically manufactured products react to the air. Depending on what these reactions produce will determine if they are eco-friendly or not. Paints that are eco-friendly have few of these dangerous reactions also called volatile organic compounds or VOCs. VOCs pretty much cause havoc on the environment, so paints without chemicals that become VOCs is not only better for the environment but better for your health as well. It is worth noting that most paints make some attempt to limit their VOCs, but eliminating them altogether is what truly defines an eco-friendly paint.
Finish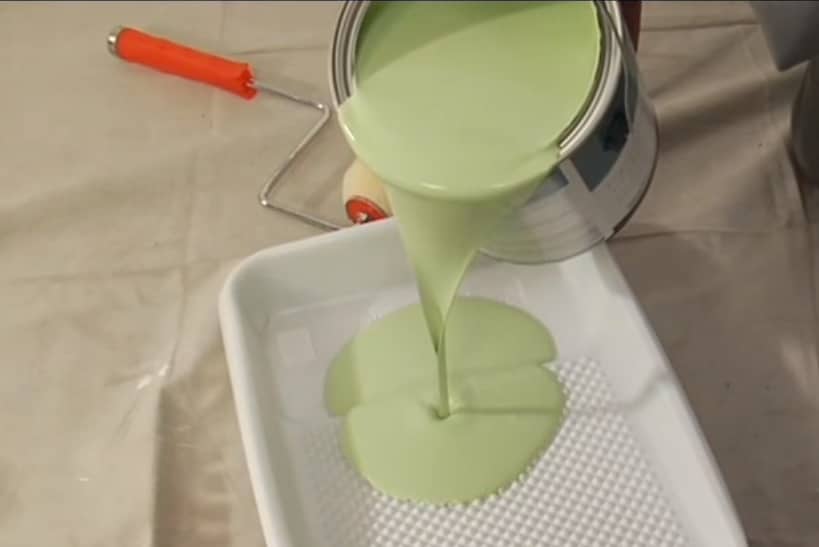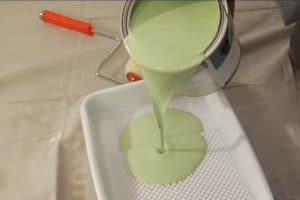 This is probably the least important part of your choice, but it will ultimately impact how your garage feels. This is because the finish, also known as the "sheen," is the aesthetic quality of the paint. This has more to do with how the paint reflects light as well as the tactile quality. If your garage is purely utilitarian, you will probably prefer a less glossy finish. Of course, if your garage is used for family night or other similar purposes, a higher gloss could provide a nicer feel.
That said, most garage wall paints double as primers as well which means they contain more resins than traditional paints. These resins will ultimately impact the finish of the paint and limit some of the options. Consequently, there are few garage wall paints with a high gloss finish, there are plenty of semi-gloss paint and primer combos.
Flat – This is the least reflective type of finish and is often used strategically. Basically, the less light reflects off the walls, the less visible the imperfections. For garage walls, this is often seen as a good choice since the work is rarely done with the same degree of precision and craftsmanship as the rest of a home. Some brands distinguish between flat and matte finishes while others do not, but the differences are generally minor
Matte – More often than not, the difference between flat and matte for the brands that differentiate the two is the saturation of pigments. Flat paint will generally have a higher saturation of pigment than matte paint, but matte paint still has a fairly high saturation. Flat paint will be used for the edges and corners where construction mistakes are most common and matte on the bulk of the walls. Of course, this makes the process more complicated than it needs to be, so many manufacturers simply do not distinguish between the two.
Eggshell – Eggshell is the first finish that actually provides some legitimate reflection of light off the paint. The texture of this finish is extremely smooth, and this is a fairly popular "middle ground" for garage walls. The eggshell finish softens the starkness of a matte or flat finish while still hiding any imperfections. That said, the durability of finishes increases with the reflectivity, though the color saturation drops. That is why this is often seen as the best of both worlds.
Satin – The satin finish is similar to eggshell and will sometimes be used interchangeably depending on the manufacturer, much like flat and matte finishes. However, satin has become a far more accepted finish in its own right and is noted for both being a bit more lustrous than eggshell with a velvety texture. While flat is good for utility and eggshell for occasional use, satin is a solid finish for a garage used as a family room or den.
Semi-Gloss – This is the most reflective finish that is commonly found in garage wall paints. Incidentally, the higher the reflectivity, the more the binding agents in the paint, the more durable the paint. This being the case, you might expect that semi-gloss and even high-gloss to be the preferred finishes for a rugged, suburban environment like a garage. However, the resins in paint and primer combos prevent the paint from achieving a higher gloss than semi-gloss.
Gloss/High-Gloss – If you want your garage walls to have a glossy or high gloss finish, you are going to have to purchase the paint and primer separately. That said, if you spend the extra time, money, and effort, a high gloss finish will provide the best durability. In fact, most water-based enamels or alkyds provide a glossy or high gloss finish. Still, the glossier the finish, the more noticeable the imperfections in the walls will be.
Conclusion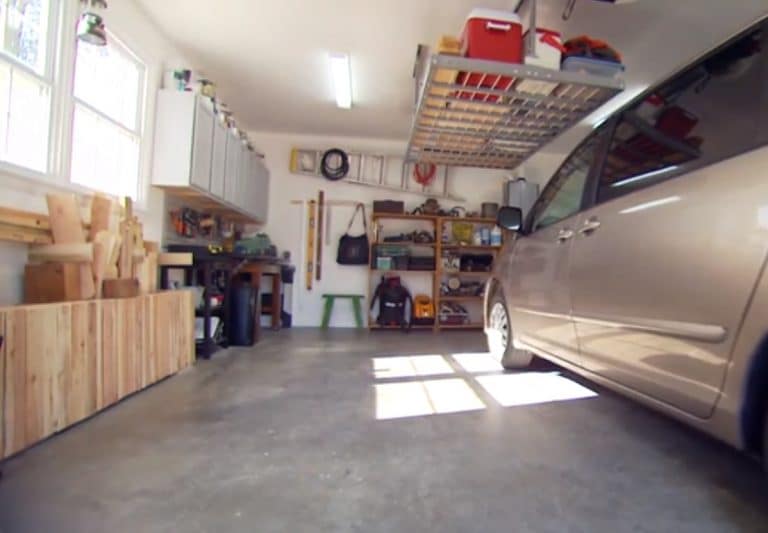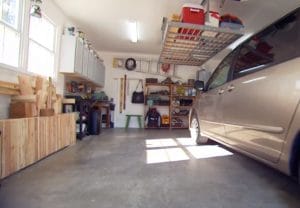 The Glidden offers an excellent performance that is difficult to match. When you consider that it is the most durable paint we saw as well as the most saturated, it feels like the perfect choice. Of course, it is a bit pricier than some of the other options but justifies that with excellent coverage. You get what you pay for. When you subtract the cost and time for not having to buy a primer, it seems well worth the cost.
If you are looking for paint to be used on a larger garage or maybe multiple garages, the Genesis Premium Paint is a great option. While it only comes in 5-gallon barrels, it offers a surprising amount of versatility. Its ability to be used on exteriors allows half-garages to find the right paint. On the other hand, those eco-conscious of you out there should check out Montage which is less expensive and fully sustainable.