Washing and waxing a car can be a very satisfying job for a car enthusiast. The result is a shiny, glossy look that can make your car feel brand new again. Still, waxing is laborious and the process of washing, rubbing, and polishing your car can consume a lot of physical energy and take a toll on the body. One of the best ways to make this process easier is with a good orbital polisher.
Best Orbital Polishers
Orbital polishers are a helpful tool when waxing your car and trying to give it a shine. The best orbital polishers are comfortable to hold and easy to maneuver around the outside of your vehicle. Most importantly they make surprisingly quick work of the otherwise difficult process of polishing.
When shopping for an orbital polisher is it important to consider features like the speed and size along with the type of pad motion that it makes. When used improperly they can damage your vehicle's paint job so be sure to find one you are comfortable operating and avoid professional models until you are experienced. The best orbital polishers put you in control and make it easy to have your car looking good.
Buying Guide: Top Orbital Polishers
There are multiple benefits of using an orbital polisher, the most important one being that it provides a better polish and finish than using your hands. The cars just tend to sparkle more when polished with an orbital polisher. It is also safe to use and removes more blemishes from the car like swirl marks, scratches, and hard water spots.
A polisher helps you achieve an even application and leaves your car's surface shining. There's also a reduced risk of missing a spot. Most importantly, an orbital polisher minimizes the amount of physical effort you have to exert. Applying wax and polishing by hand requires you to repeatedly rub in a circular motion. It's a big job and even on a small vehicle it can be a strenuous process. A polisher takes away most of your work and does the polishing job for you.
Orbital polishers offer the following benefits:
Easier on the arms
More even application
Brighter buff and shine
Types of Orbital Polishers
There are several types of orbital polishers available on the market and they're primarily classified by how the pad moves.
1) Standard
Such polishers move in a circular motion, but the pad itself doesn't spin. This simple movement makes it more beginner-friendly because it is easier to control. This type of polisher doesn't share the same speed and power as other polishers mentioned below.
These are the most popular types of polishers, so subsequently they are a bit less expensive, easier to use, and readily available. The downside is that since they lack power they are a bit limited in application. For instance, these polishers don't generate enough power and heat to perform paint corrections. Still, they are a good fit for homeowners who just want to seasonally wax their car.
2) Rotary
These polishers are for the professionals and best left to those with experience. They are the most difficult to control due to their high power and in the wrong hands they can damage a vehicle. Only the pad spins in these polishers and it generates a lot of heat which increases chances of damage to the paint.
The advantage of this type of polisher is that all the power gives it the ability to cut through contaminants on the car's surface. It's the strongest polisher and able to fix scratches and swirl marks or even cause them if used incorrectly. Hence, it needs to be operated by a professional only.
3) Random
The random orbital polishers are a mix of Rotary and Standard polishers. One these polishers the pad spins while also moving in a circular direction. This creates a random movement that gets a lot of work done. This polisher's movement provides additional power to the process, while still being easy to control. This makes it a great learning polisher for people with intermediate skills trying to level up.
Shopping For an Orbital Polisher
An orbital polisher is an awesome tool to add to your garage, but before you shop for one take some time to visualize how you will be using it. The below factors need to be considered when buying an orbital polisher.
a) Size and Weight:
Sizes need to be considered when buying a polisher. A big polisher can be harder to maneuver and operate effectively depending on the nature of use. If the size of the polisher is too big, a person may need more than one hand to operate it. However, if the pad is large then the polisher can cover more area of the car in a short time. It is a tradeoff. Similarly, in the case of a small polisher you can easily operate it with a single hand but it will cover less area.
Lightweight polishers enable ease of use and support a faster application of the polish. A heavy polisher on the other hand can tire you out physically and that just defeats a lot of the purpose of using a polisher.
b) Speed
The easiest way to differentiate polishers on the market is their spin speed. Usually an orbital polisher will exhibit a speed between 2000 and 4000 RPM. The faster a polisher spins the more quickly you can apply polish, so a vehicle can be polished in a shorter time. However, faster speeds mean more heat so operators have to be more careful that they do not mar the paint surface.
Best Orbital Polishers
With those considerations in mind let's take a look at some of the highest rated orbital polishers at several different skills and experience levels. There are lots of options available when shopping for an orbital polisher so we're listing the best Orbital Polishers below with their details.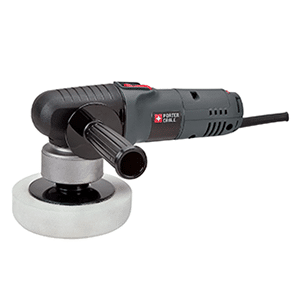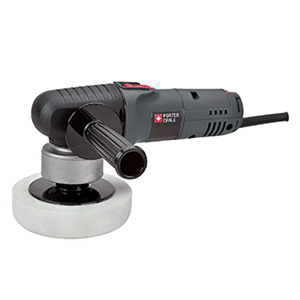 The biggest selling point of this Porter-Cable polisher is that it is easy to control and operate. Its polishing pad is quite large at six inches in diameter, which makes it ideal for polishing a car in a short period. At the same time, a six inch diameter pad is not too big to reach small parts and gaps. The pad moves in a random circular pattern to cover a large area, while its 4.5-amp motor varies power from 2,500 to 6,800 orbits per minute. The Porter-Cable polisher has a removable side handle that you can flip from the left or right side for extra convenience and greater control.
Key Points at a Glance
Swirl-free sanding/polishing, Random orbit action
Operating range of 2,500-6,800 OPM
Includes 6-inch pad for polishing
4.5 amp motor
Three-year limited warranty; one-year free service
The 7424XP accepts 5/16 to 24 spindle thread accessories, and it offers a full ball and roller bearing construction for durability under industrial workloads. A drawback of this polisher is that it is a bit difficult to decipher the current RPM when adjusting the speed. One may also find it hard to cold start the Porter Orbital Polisher. Still, this is a highly rated polisher overall and users are happy with its power and durability.
Pros
Two-position removable handle for ease right or left handed use.
Ample 5/16 to 24 spindle thread accessories
Features a proprietary counter balance to improve comfort
Relatively compact size
Cons
Actual RPM levels can be unclear
Compatible pads are a bit limited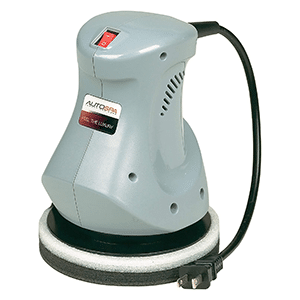 The AutoSpa Orbital features a stout round handle on the top for easy control of the polisher while its large 10-inch pad plate covers a larger area to polish. The handle edges are ergonomically shaped as per a person's fingers to provide a better grip. The polisher's 120v motor can produce a generous 3,600 RPM. A great feature on this polisher is that it includes a three-layer foam pad with a moisture barrier and a microfiber bonnet to enable smooth operation.
Key Points at a Glance
Large 10-inch pad
Heavy-duty 3600 RPM, 120V motor; ETL approved
Top mount on/off switch
Compact and easy to use
What makes the AutoSpa 94009AS a great orbital polisher is its compact size, a user- friendly design, and large polishing pad.
Pros
Compact size makes it portable and easy to use
Features a three-layer thick foam pad
Includes a microfiber removal bonnet
Cons
Handle position is a bit awkward to hold
Pad complaints from customers suggest it isn't that durable
The power button is hard to reach while operating the polisher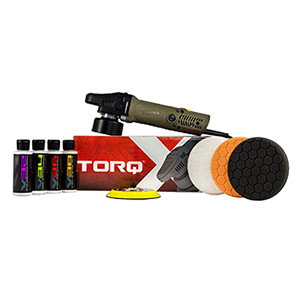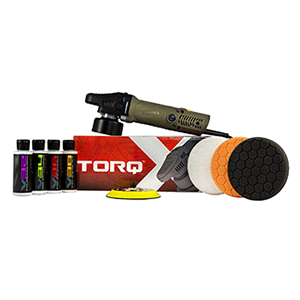 This product not only includes an orbital polisher but also an entire polishing kit of nine accessory items including three pads and four bottles of polish. Chemical Guys have clearly put a lot of thought into this kit and have made it versatile enough to cater to multiple purposes like polishing, removing scratches, fixing paint defects, and eliminating swirls that often take away a car's shine. With an easy-to-use design and heavy-duty construction, this orbital polisher can be used confidently.
Key Points at a Glance
One kit caters to multiple jobs like removing swirls, scratches, and paint defects
Made using heavy-duty construction
Designed with streamlined controls for maximum comfort
Wide 2800 – 7800 RPM powerband
The motor is a 120V, 700 watts unit capable of producing 2800 to 7800 RPM. This kit is ideal for anyone wanting to invest in a quality orbital polisher that serves multiple purposes.
Pros
Polishes and removes swirls, scratches, and paint defects from vehicles
Robust quality product ideal for long-term use
Convenient and easy to use
Wide power band aids in performing multiple operations
Cons
The size of the pads is small compared to other Orbital Polishers
The power switch is difficult to reach
There is some vibration felt at low-speed settings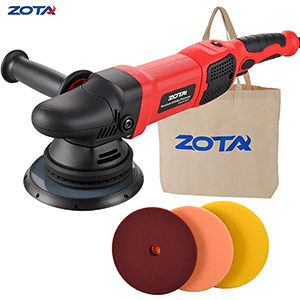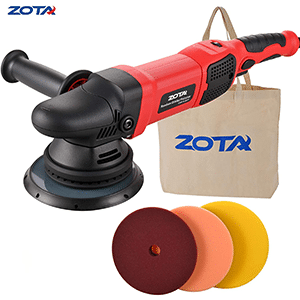 If you are a beginner looking for your first orbital polisher this might be the one for you. It can perform basic polishing tasks at a limited budget. The specialty about the ZOTA Polisher is that it has a large orbit throw where the pad plate moves in broader circles and thus creates the least amount of heat, friction, and danger to your paint job. The speed is adjustable from 2000 RPM to 4800 RPM, which is a range good enough to perform a variety of polishing tasks.
Key Points at a Glance
21mm long-throw orbit
6-speed control dial that varies form 2,000-4,800 RPM
30' long cord
Rubberized controls for comfortable operation
The ZOTA Polisher is also very comfortable to use as it features a rubberized grip, trigger lock, and head grip. Several accessories are included in the package like three pads and a tote bag.
Pros
Long-throw orbit enables quick operation
Great beginner orbital polisher
Reasonable price
Comfortable to use
Value for money kit includes three pads
Cons
User manual not included
Vibrates at certain RPMs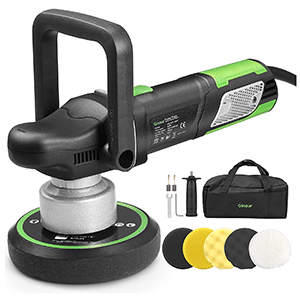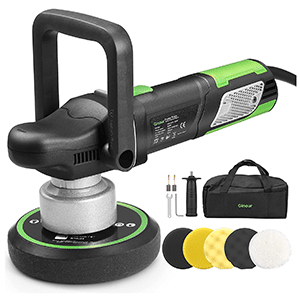 This polisher can handle a wide range of uses and has been designed with convenience in mind. It comes with two handles to operate, which makes life very easy for anyone using this and gives beginners solid control. A D-shaped handle is placed on the top of the orbital polisher while another handle is mounted on the side. The Ginour Polisher is powered by a 7.5-amp and 900 watts power unit that can operate between 2,000 to 6,400 RPM.
Key Points at a Glance
Lightweight operation- weighs just 5.7 pounds
7.5 amp 900 watt motor with an RPM range of 2,000 to 6,400 RPMs
Can be adjusted to six variable speeds
Perfect for polishing, waxing, polishing, buffing, and removing swirls
The design is compact, clever, light, and easy to use. The package also includes five pads which makes this a great buy for the price you pay.
Pros
Compact and lightweight
Very easy to use, comes with two handles
Provides good value for the price
Includes five pads
Cons
Motor sticks under heavy load
Loud operation
Causes vibration at certain RPMs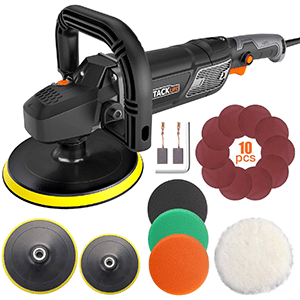 The Tacklife Buffer is built for safe and convenient operation. Operators have complete control of the work being done as this polisher features dual handles – a large D-shaped handle on top and another detachable side handlebar. The polisher's package also includes two packing plates, a 5- inch plate and a 6-inch plate with a durable tote bag.
Key Points at a Glance
Dual handles support easy operation
Package features a 5-inch plate
1500- 6300 orbits per minute operation
Speeds can be varied through 6 levels
Tacklife Orbital Polisher is powered by a motor that can achieve a large variation in rotation. Speeds could be adjusted between 1,500 and 6,300 orbits per minute, making this a versatile tool that can perform beginner to professional tasks.
Pros
The package consists of four foam pads
Handy tool bag included
Power switch is easily accessible
Cons
Motor tends to get stuck if pressure is applied
The pads don't last very long
The unit vibrates at certain RPMs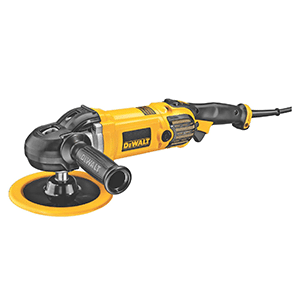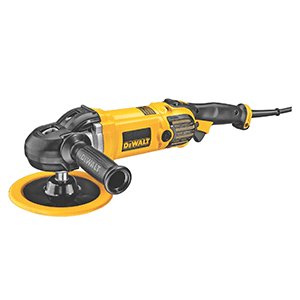 DeWalt is a trusted brand due to the solid reputation it holds in making power tools. This orbital polisher features a 12-amp motor that can run between 600 – 3500 RPMs, which is just enough to get almost any polishing work done. The DeWalt is lightweight at just 6.7 pounds and it can fit pads that are 7 or 9 inches in diameter.
Key Points at a Glance
The Orbital Polisher is run by a 12 amp motor
Wide RPM range of 600- 3500 RPM
The Spindle thread is 5/8 inches
Features variable speed setting
The polisher also boasts a unique safety feature called a wool ingestion shield that prevents the wool pads from getting stuck between the mechanical components. It also features a three-position bale handle that provides excellent control and ease of use.
Pros
Wool ingestion shield eliminates wool entry and prolongs the life
Ball-bearing motor construction provides long-life
Versatile speed range suits a wide range of applications
Steel gears are heat treated and precision cut for smooth operation
Three-position bale handle provides excellent control
Cons
Buttons are not easy to access
Handle on the unit is uncomfortable
Conclusion
Any of the orbital polishers on the list above can work for you and get the basic job done. Be careful with your vehicle's paint job and avoid deploying too powerful of a polisher before you are experienced. All of the polishers on our list can save you time and physical strain when you go to clean your car. No matter which one you choose, you will find that the finish and shine from a polisher exceeds what you can accomplish manually.