Instead of getting a new car, take some time cleaning up your old car with a good wash, interior detail, and tire shine. After that, spruce up the interior a bit with new accessories. A great way to make a used car feel like new is with a steering wheel cover. Steering wheel covers go over old or worn down OEM steering wheels to give them a new finish and a fresh look. Your steering wheel is the most forward visual element of your car and also the place that your hands touch the most, so changing its appearance with a new steering wheel cover impacts the look and feel. A new cover not only improves your car's interior appearance but also gives you a more comfortable wheel to hold onto while driving.
Best Steering Wheel Covers
The best steering wheel covers are attractive, soft, and easy to install. They give you a comfortable touch while driving, and provide a better experience in hot summer sun or cold winter weather. A steering wheel cover is relatively inexpensive and extraordinarily easy to install, so it makes for a great investment in your vehicle. Some drivers even install them on new car steering wheels to help keep the OEM steering wheel scratch free. Remember that replacing a modern steering wheel with all of its buttons and controls is incredibly expensive, so take good care of the one on your car with a nice cover.
Buying Guide
What to Consider While Purchasing a Car Steering Wheel Cover
You do not need much information when you set out to acquire a steering wheel cover for your vehicle. It is important to know the dimension of your existing steering wheel so that you get a great fit. Another thing you want to put in the back of your mind is appearance, as the cover is a beautifying accessory for your car. Due to this, you want to consider the look and feel you are going for and subsequently the type of material in your steering wheel cover. You don't want a sporty look and feel on a luxury car or vice versa. Some of the most commonly used materials are listed below.
Synthetic Mixes: This could be anything from polyester to microfiber. They are one of the cheapest materials out there because of how easy their manufacturing is, plus they also feature a wide range of styles and colors.
Leather: This material is normally the priciest of all steering wheel covers out there because it comes from animal hides. Also, it could be the nicest to feel, with a supple and smooth touch. Do not forget that they're certainly not more beautiful than their synthetic counterparts.
Plush/Cloth Covers: Some of the commonest types of plush or cloth covers are faux wool or faux fleece. They're crafted for individuals who'd like their vehicle steering wheels to remain warmed up during cold seasons. Also, they feature different colors, so many options are available to choose from when you decide to pick one.
Wooden Covers: If what attracts you to steering wheel covers is elegance and gracefulness, then you want to consider wooden covers. Unlike the other types of steering wheel covers discussed earlier, these types of steering wheel covers are not bulky. But frequently exposing them to sunlight could cause them to fade.
Rubber Covers: Steering wheel covers made from rubber are great for offering you that additional grip that makes wheel covers feel nice. While it is true that they're not as hard-wearing as their leather and synthetic counterparts, they provide you with a snug fit. Also, these options are resistant to prevailing environmental conditions.
Key Features of Steering Wheel Covers
Size: Getting the right size steering wheel cover for your vehicle is non-negotiable and one of the key things you need to consider when opting for one. Else, you could end up buying a steering wheel cover that easily slips off your wheel or out of your hand, while not offering that perfect and comfortable grip that you're looking for.
If you settle for a size that's too small, you may find it difficult to install. Even when you finally install it, there's a chance that it may tear and wear at its sides with time.
Material: Most makers produced wheel covers from synthetic leather because it is a relatively cheap material for production. Plus, it has most features of genuine leather. Other inexpensive options are synthetic mesh, cloth, wood, and rubber.
Inner Layer: Look for an inner rubber layer as it can help prevent your steering wheel from unintended motion during driving.
Color: Steering wheel covers that are colored lightly have the advantage of bouncing off light and heat. This will protect your hands from the scorching sun. Steering wheel covers with darker colors are great for individuals living in colder regions because they retain heat. If you've got a heat-resistant material, opt for a color that complements the interior of your vehicle.
Grip: Go for steering wheel covers that make gripping and controlling your vehicle easier. Leather, rubber, and synthetic overs are some of the bests out there. A wheel cover with an embossed appearance also often offers an additional grip for a lengthier period than an option that comes with a plain design.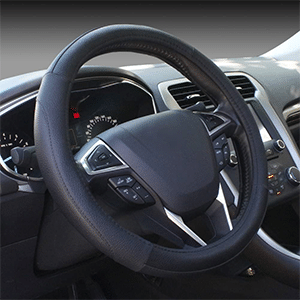 SEG Direct Microfiber steering wheel cover is well crafted and improves the appearance of your automobile dashboard. The steering wheel cover is manufactured from microfiber leather that does not slip and is soft to touch. On the interior is a robust rubber lining, which grabs the OEM wheel tight and keeps it steady while turning your car's wheel.
Drivers like that the faux leather has exceptional absorption abilities, so it absorbs the sweat from your palms on hot days. The cover is resilient to wear, cold, and heat. Some drivers take it off and heat it up then place it on top of the steering wheel on cold days. Also, it offers a comfy and firm grip that keeps your hands from getting irritated on long drives. Remember that this won't last as long as a real leather steering wheel, but it comes at a much more affordable price.
Pros
Faux leather material
Available in several colors
Skid-proof rubber interior for safe and comfortable driving
Odor-free
Three sizes available to fit on cars, trucks, SUVs, and vans
Cons
The leather isn't genuine
Heat protection could be better, as the steering wheel does absorb heat and get hotter on warm days.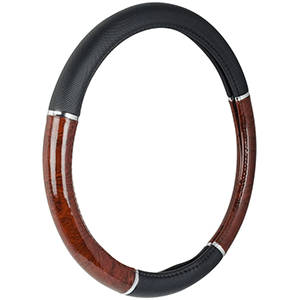 Drivers in search of an attractive steering wheel cover with a rich and elegant feel should consider this luxury model from the Custom Accessories store. This steering wheel cover comes with a wood grain build and a soft dark textured leatherette material. It adds a characteristic elegance to your car with the distinct wood grain design. Drivers also like the texture on the leather parts of the wheel.
This steering wheel cover has seams on the inside to allow you to fit it up, over, and around your existing steering wheel. It comes with a rubber core that stretches out to fit without slack, giving drivers a firm and responsive touch. This cover only comes in one size, with a universal fit design that works best on steering wheels with a diameter of 14.5 inches to 15.5 inches. Avoid this product for other size wheels because if the fit is too slack this cover will fail to provide the feel, quality, and look of a real leather product.
Pros
Fits nicely and provides an elegant look
Durable material withstands lot of use
Can be easily slipped on your OEM steering wheel
Cons
Rubber smell on delivery so air it out before installing it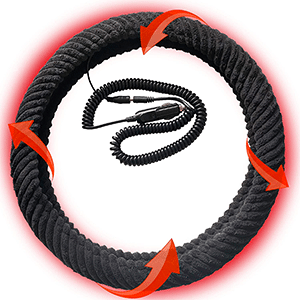 Drivers who must endure harsh winter weather understand the dread involved in gripping a cold steering wheel on a freezing cold morning. Heated steering wheels have become a popular OEM option for luxury vehicles, and it is easy to understand why. Keeping your hands warm makes the rest of your body feel warm even as the car heating gets started, so investing in a steering wheel cover with a built-in heater element makes a lot of sense. One of the best heated steering wheel covers is this model be Zadin.
This soft steering wheel cover is comfortable enough to use all four seasons, but where it really shines is in winter time. The steering wheel becomes heated in less than three minutes, thanks to a cigarette lighter attachment that draws power from the vehicle. Its temperature fluctuates between 95°F and 120°F so your hands will enjoy it when the climate is freezingly cold. The steering wheel cover is the best fit for steering wheels ranging between 14.5 inches to 15.5 inches in diameter. It is produced from high-end materials that are very sturdy while also remaining soft to feel.
Pros
Up to 99% heat transmission efficiency
Very warm and soft to touch
Perfect for cold winter mornings
Cons
Only includes a cigarette lighter attachment
Smells when you first take it out of the packaging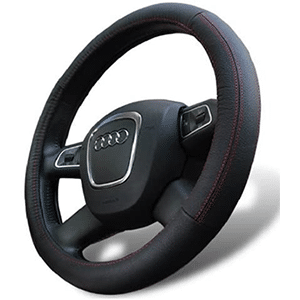 This comfy and unique steering wheel cover is among the better options for active drivers that keep their hands on the wheel all day. It is composed of high-quality leather that is durable and also resistant to wear and tear. The wheel has a comfortable feel and a sporty look to it that looks great on performance vehicles.
Anti-slippery qualities deliver good control of the steering wheel, while additional padding brings great grip and comfort. The product is only offered in black, but it comes in three sizes to help you get a great fit.
Pros
Leather is nice to touch
Sporty option with a great look and feel
Cons
Asymmetrical stitching
The leather ships with a strong initial odor
The Mayco Bell steering wheel cover offers some of the best values for money on this list. Its high-quality leather is stitched so well that it stands out in the interior of your car, making it look luxurious. The padding is breathable and extraordinarily soft to touch even when the weather is hot or cold. Drivers like that it does not make the steering wheel extra bulky, but the embellished cover certainly adds some extra comfort to the grip.
This steering wheel cover fits OEM steering wheels with dimensions of 14.5 inches to 15 inches in diameter. There are eight different color options available for this steering wheel so drivers can pick something to match their dash and interior or something that stands out.
Pros
Top-notch sporty appearance
Eight different attractive color options
Good design offers comfort in both hot and cold weather
Cons
Installation can be a bit challenging as it stretches tight to get a good fit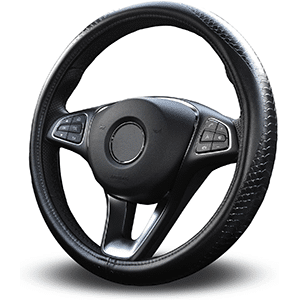 This steering wheel cover is produced from top-notch washable leather that has anti-wear and anti-slip properties. This adds to its durability and ease of use. The attractive dragon scale design of this product helps improve the interior of your car by providing a new and fresh look and feel. The design also gives great grip when driving.
This is a genuine leather steering wheel so it costs a little bit more but should last longer. It will protect your hands in warm or cold environmental conditions, and allows you to feel at ease whenever you drive your auto. It is odorless and non-toxic.
One of the advantages of this product is that it's a single piece, making it extraordinarily durable and unlikely to wear or tear while you are using it. Also, it comes with an anti-scratching covering that makes it still appear new in the event you mar it.
Pros
Leather is durable and long lasting
Does not fade after lengthy use
Installation is a breeze
Cons
Dragon scale design is not for everyone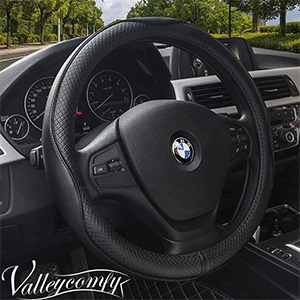 This option, weighing only 0.75lbs, is the lightest option on our list, courtesy of the cloth grip materials used for its design. This means that it won't be absorbing a lot of heat even when your vehicle sits under the scorching sun for a long period of time. It is available in several vibrant colors that make the interior of your car more personalized and aesthetically pleasing.
Installation is somewhat difficult owing to the rigid internal rubber, but that also provides a tight fit and nice feel while driving. Wipe it down or air it out using a cleanser to remove the rubber smell before installing it.
Pros
Colorful, high-quality design
Available embellishments and material
Does not retain much heat from the sun
Cons
It is somewhat difficult to install
There's a need to air out the rubber lining
Conclusion
Choosing a new steering wheel cover can instantly improve the look and feel of your vehicle. Take some time before buying one to consider what you want your car to be like, and then customize it using the steering wheel cover as a starting point. If you want a sporty feel to your car then consider a rubber cover with tacky grip that is easy to hold onto. For luxury cars, darker colors or a faux wood finish add an element of sophistication. On this list above we have assembled some of our favorite steering wheel covers, and hopefully you can find one that you like for your car or truck.