You're looking for the best LED headlights bulb upgrades for your car? Well, then chances that you've got a halogen light bulb in it are pretty high. In this review, we want to show you the best led headlights of the year to make your choice easier. Also, all of our LED headlight bulb reviews are on the best selling models available for today. We'll determine the most effective heatsinks design, connectors and LED headlight bulb types.
Below are the top 14 led headlights bulbs, but the winner (according to our tests) is  Akarui LED – the best LED headlights for night time driving.
Best Choice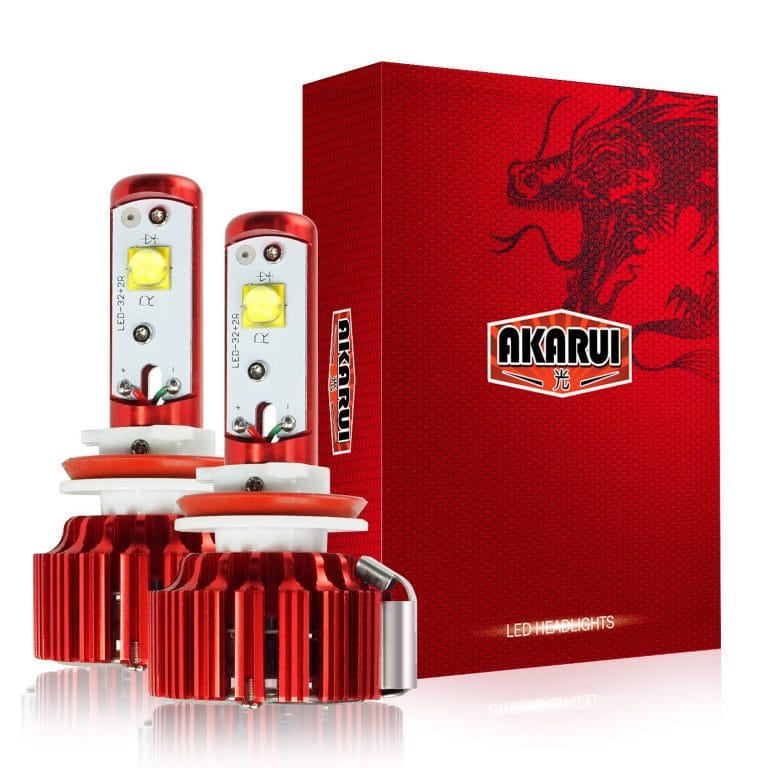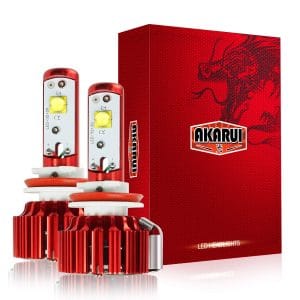 AKARUI LED Conversion Kit
New CREE XHP70 LED chips
EXTREMELY HIGH brightness at 10400 lumens with no dark spots. Each bulb generates 5200 lumens, providing a crystal clear 6000k white light. New CREE XHP70 LED chips.
Easy installation plug-and-play design with step-by-step instructions.
TOP 4 Best LED Headlights Bulbs on The Market
With no further delay let's see the best LED headlight conversion kits that are good enough to make it to our top 4 LED Headlights Kits of 2021.
1. AKARUI Best LED Headlights Conversion Kit – Where New CREE XHP70 LED Shines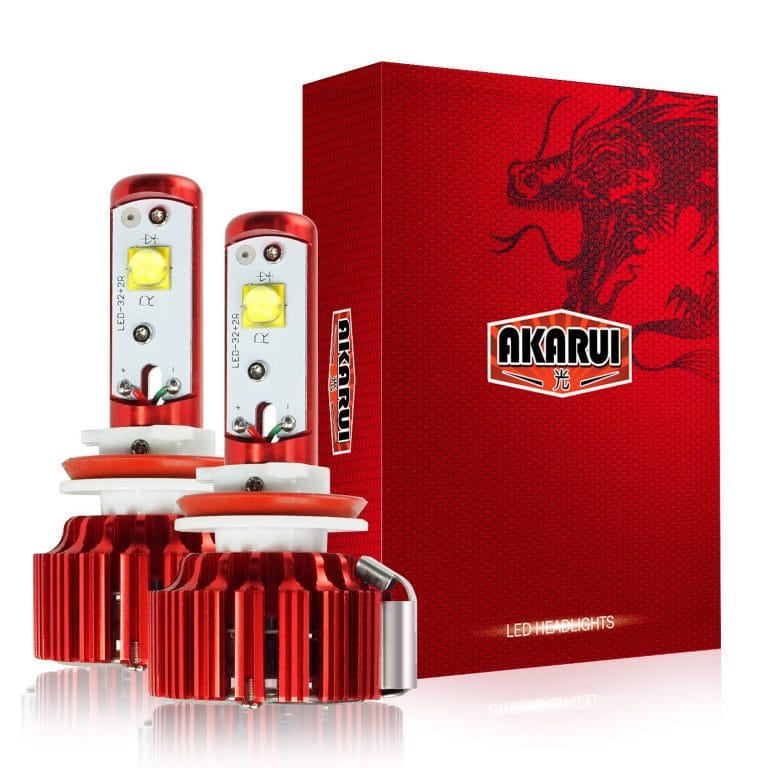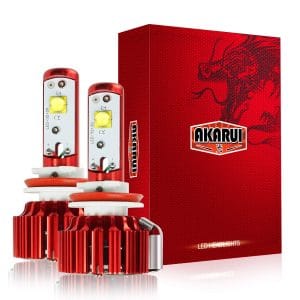 Now, first off, let's go over the specifications, we are reviewing the AKARUI LED Headlight Conversion Kit on Cree XHP70 chips. Both bulbs produce a combined output of 10,400 Lumens. The color temperature is 6,000 Kelvin, has an estimated lifespan of about 50,000 hours, and it comes with a two-year warranty from the manufacturer.
Packaging and Quick Start
So now that we've gone over the specs, let's actually talk about the bulbs themselves. Going over everything that comes in the box, obviously, we get the LED itself. It is this nice fancy bright red. The color is really not of any real concern here. We also got the controller. If we open up and dump everything out, you'll see that nothing comes really pre-wired. Yes, they did do this on purpose.  At the end connection, this would plug into your factory wiring harness. In order to figure out how to put this on your factory wiring harness, there is also some instructions.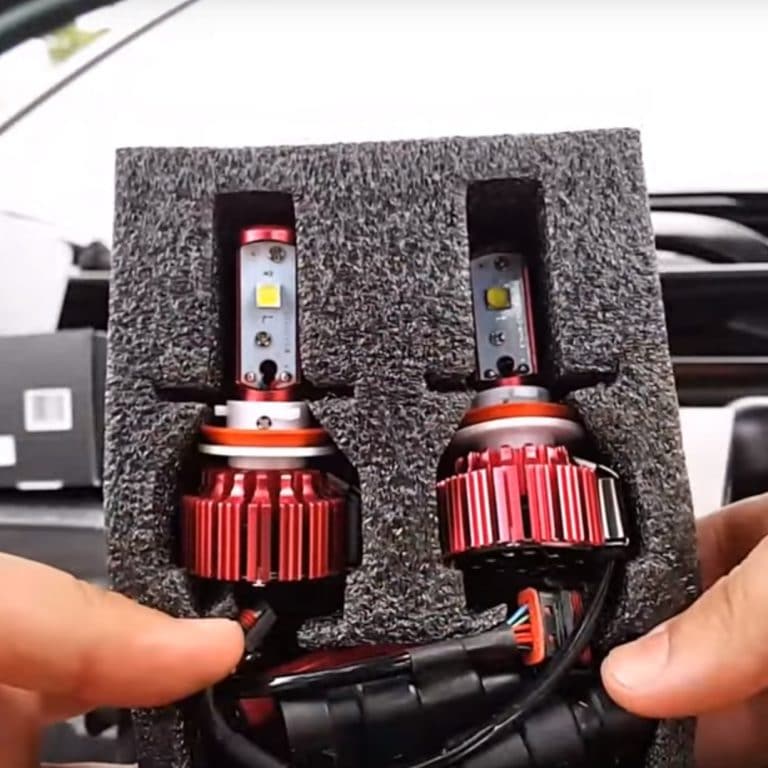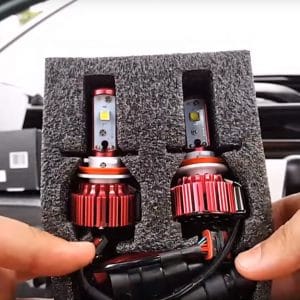 In fact, they have included a bunch of pamphlets and a document with a quick start guide. There's not really any critical information in here if you've been replacing LED headlights already. More importantly, we have the wiring guide for this part and it's not hard to put together. It's not really all that intimidating with only three wires.
Led Headligths Installation process
Basically, we just put it in as seen on a quick start guide. When it clicks into place, you hear a good solid click. It shouldn't come out.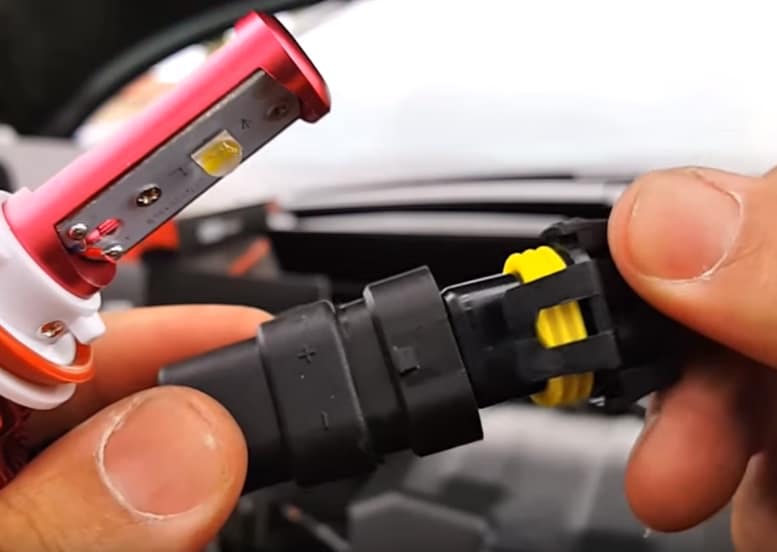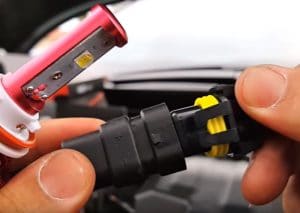 If you do need it to come out, you would press down or up on the actual pins on it. You press it up and then you can pull it out and readjust to configure to whatever you need it to configure to.
Now, in this particular unit, it's a pretty firm lock. You just pull that up, put it off to the side. One thing that I was afraid of is that this wouldn't fit with the standard retainer. Luckily, that wasn't the case and it is an extremely tight fit. It just barely allows itself to sit in place. Keep that in mind. Try not to break anything because there is a lot of friction holding stuff in place when you put the gasket back on. Don't forget that it is key, to meaning that it can only go on one way.
Easy and Simple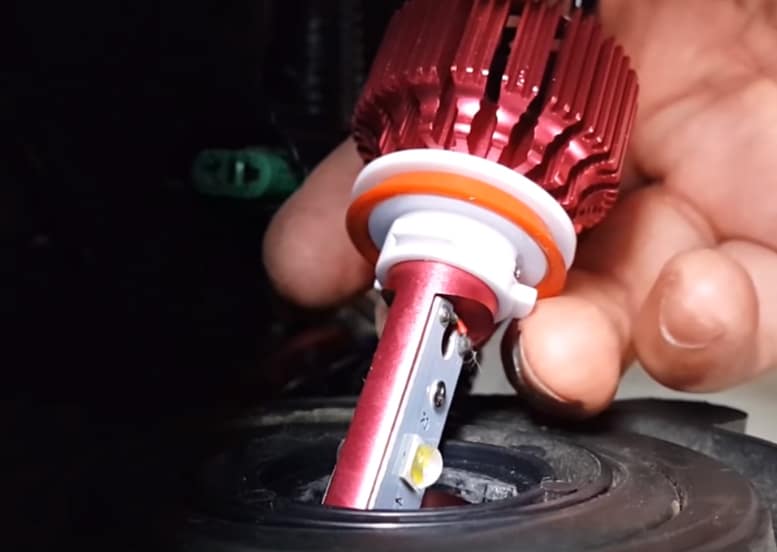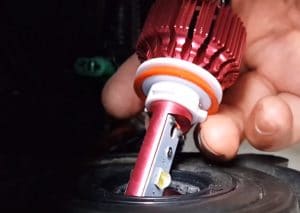 There's a little notch on each side. That corresponds to the holes in the gasket. One notch is bigger than the other. You would have to put this on in a proper way in order to get it to fit, and then you would twist it the opposite way that you twisted it to get it off. That would be the end of that. You would have the retainer lock in place.
With that being said, after you do that, you hook up the rest of the wiring harness and everything should just plug into the factory OEM harness inside of your car. Plug it up and give it a shot. Very simple and easy.
Beam Power and Light Scattering
The patchiness and scatteredness of the beams are much less than expected. Whether it's the snow or the actual pavements there are certainly a ton of dark spots and patchy spots. Something that this light bulb manufacturer in the advertisement claims will not happen with their bulbs due to the arc beam technology that they claim to be using. But anyway, actually caused by projector type of your vehicle. So you need a projector style unit in your car to get the most of this LED conversion kit.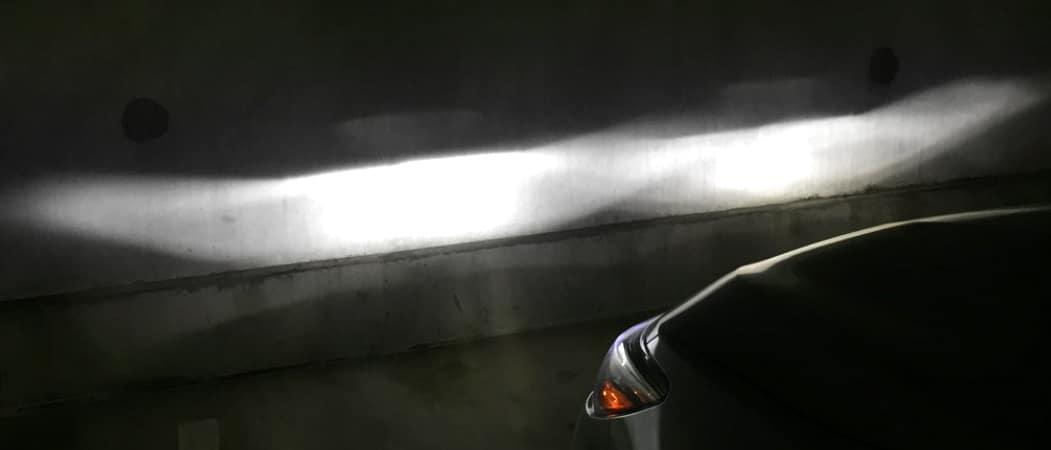 If you look at most newer vehicles, you'll see they have what's called the projector style unit. This type of unit focuses beams in a very directionalized manner. These reflector units tend to be designed with the concept of a halogen light bulb in mind. So keeping that in mind, this is why it's so hard to find a good pair of LEDs for a standard reflector unit.
But let's turn on the high beams. It's a little bit of a different story. The high beams seem to cover up the patchy spots a lot better.
Final thoughts on the AKARUI LED Headlight Conversion Kit
I think it would work really fine in any projector and reflector units (see the sample from my Honda Accord). The first kit for Honda still works great. I guess it really depends on your car model and headlight type, will you like the new LED kit or not.

Remember that all reflector units are slightly different from each other. As they're designed with OEM parts in mind, particularly halogens. Projector units are different. Projector units have a very similar design about them and the way they throw light is completely different from a reflector unit. It's important to remember that reflector units may have a ton of what's called unusable light which has light that is there but it's not bright enough to physically make a difference for you to let you see the road any better than what you can. But it does tend to throw light out in a bunch of different directions that is not useful to you.
Anyway, AKARUI is one of the best conversion kits on today's market – top notch build quality combined with an impressive light output and CREE branded chips on board.

Pros
Arc Glass Lens with no black spots
New CREE XHP70 LED chips
Instant turn-on with no warm-up time
Waterproof and rain-resistant
Fair price
Cons
Seems to be brighter in reflector housing than in projector
2. HIKARI Ultra Bulbs Conversion Kit – Best LED Headlights Beam Pattern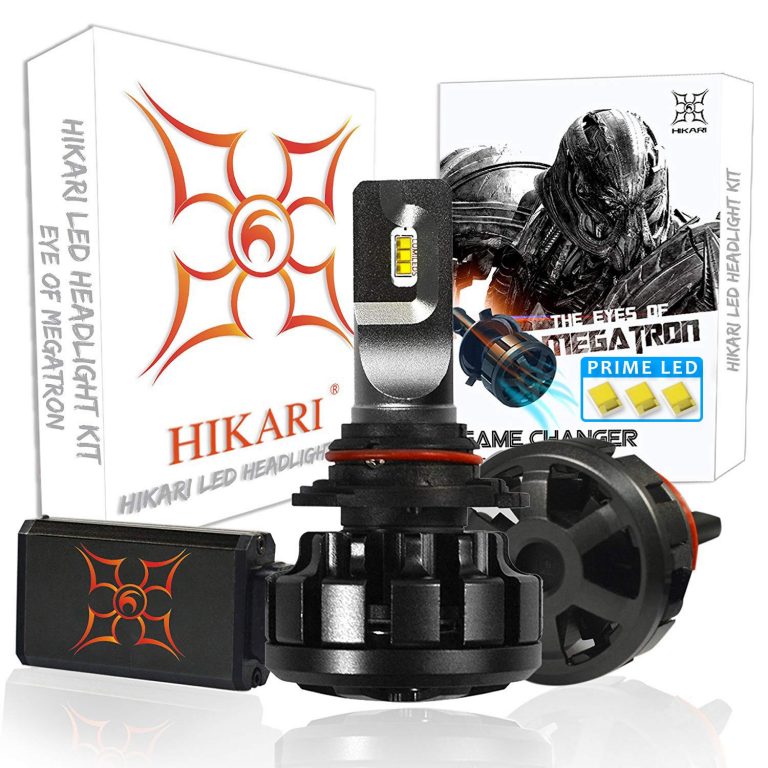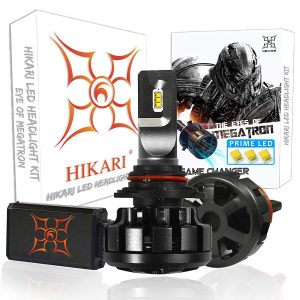 It's pretty slim. You got your external driver here: it is removable, so you can disconnect it if you like. And this kit is very different than your typical LED. There are some features on here like the position of the LEDs.
If we compare this to the other kits, you can see the diode is single, large, in the center. And what makes this so special is the cut out where the light beam is actually facing towards: one side's larger, one side's smaller, and it's going to concentrate that light beam, and no oncoming driver glare. The kit uses Phillips LumiLEDs chips, which are known to be very bright and efficient.
More Light Supply
You'll see about 173% more light in a Reflector style headlight, which is almost three times the brightness, and more focused light down the road. If you're in a Projector, you're looking at more than tripling your light output with this, which is pretty insane for an LED kit. When you install a LED kit into your Projector, most of them are going to have a little bit of cut down on the bottom, so you lose out on a little bit of ambient lighting, but nothing really to worry about.
Color Peculiarities

Moving over from halogen, you're going to see a much lighter color coming out of your headlights. Some upgraded halogen bulbs will get you a little bit whiter color like 3,700, but those come with a big sacrifice and brightness due to the blue coating on the bulbs, which actually dims the ball quite a bit. This kit has a temperature color of 6,450, which is a slight blue tint.
Main Drawback – Unaffordable Price
HIKARI Ultra LED may seem to be expensive in comparison with some kits that have a cheaper price. Although HIKARI has the best beam pattern of all, a good sound-isolation, and is a great choice for both Reflectors and Projectors, there are other more budget variants.

Pros
The best beam pattern
Perfect for Reflectors and Projectors
High brightness
Focused light
Functional design
Good sound-isolation
Cons
High price
A bit of cut down on the bottom
3. KAI by Akarui – Best Looking LED Headlights and Long Lasting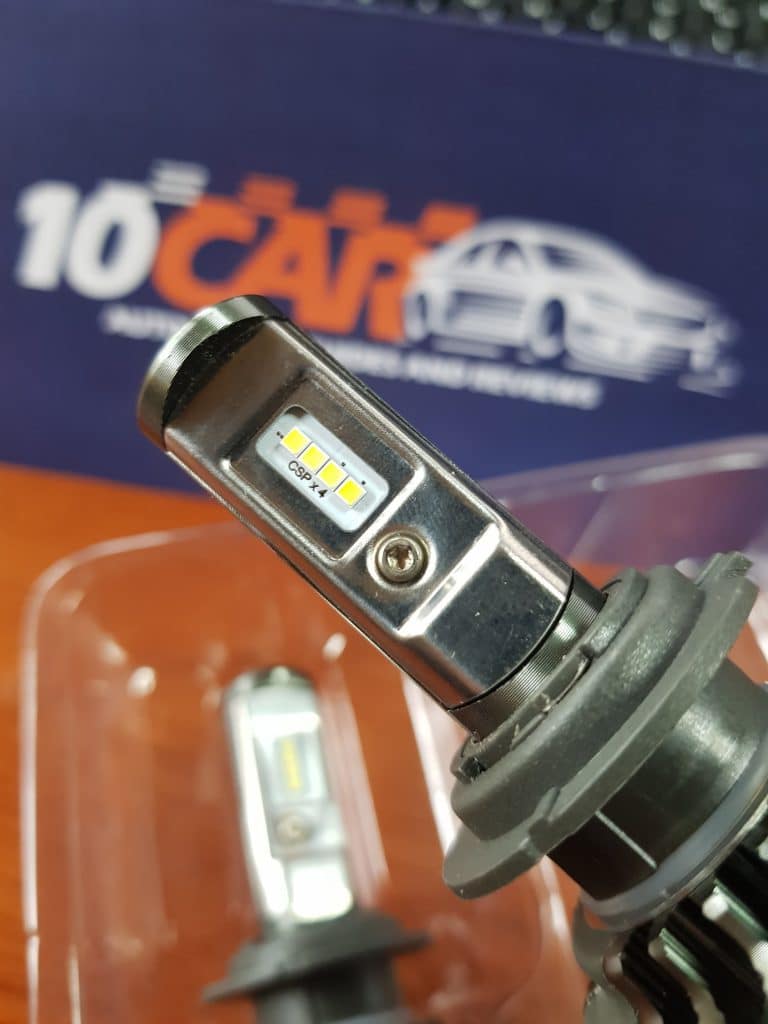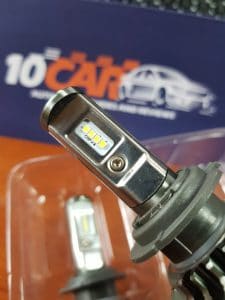 Here we go, a new LED from Akarui – KAI. Okay, so here is a closeup. Each bulb is rated at 35 Watts. This is using Philips CSP LED chip. There's four on this side, four on the opposite side. It's rated to produce 3500 lumen, so 7000 total, and the color is 6000K pure white. This is aluminum on top, and plastic on the bottom part. There is a fan in the back and the fan is rated at 10000 RPM.
Now this one does come with the external LED driver and at the end is a plug that will plug directly into your stock wire harness. Also, this bulb claims that it is air free and is CAN Bus compatible, meaning that if you have a vehicle that checks the headlights, you will not get the air warning light on your dash.
Simple Installation
Installation is very simple. All you do is go ahead and remove your stock headlight bulb. All right, now take your LED bulb and you see those little tabs right here, they have to correspond to the cutout on the headlight. Just insert your new LED bulb and turn them until the bulb goes all the way down like this, and then turn it clockwise to lock it in place.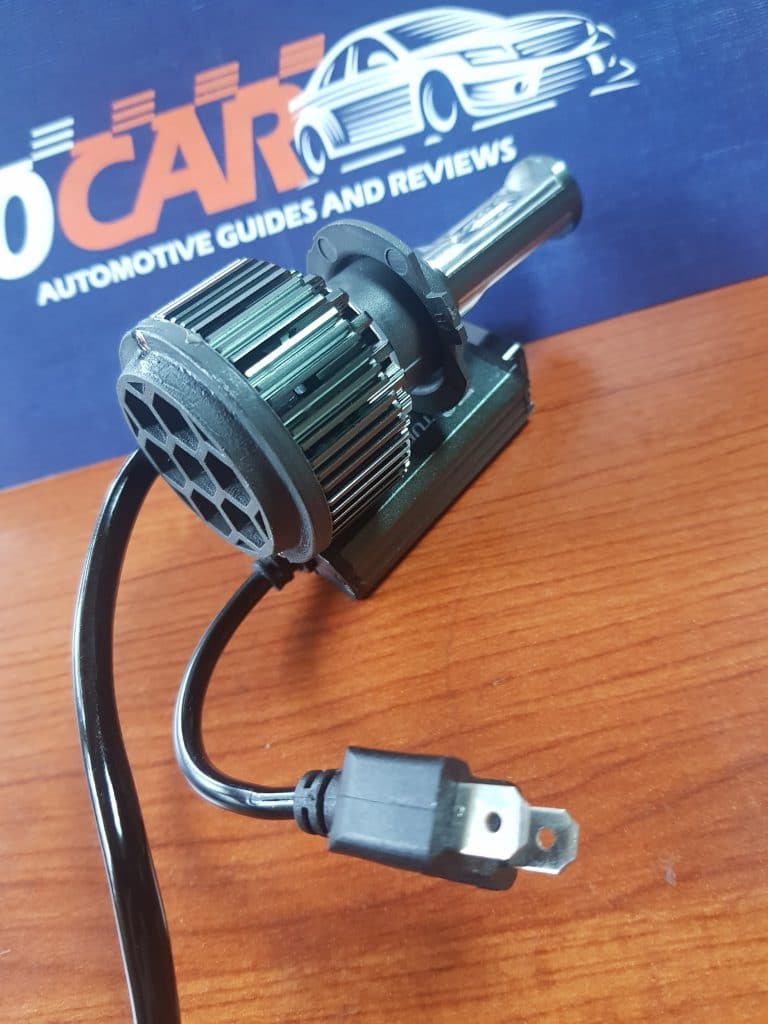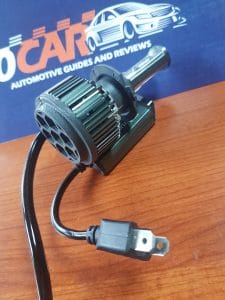 Now, as usual, go ahead and take your original plug and plug the new LED. And then turn on your headlights and verify that they do come on. Now, if this does not come on, what you need to flip it because there's a positive/negative. Now turn off the headlights and then go ahead and replace your driver's side. It took no more than 10, 15 minutes to do both sides. The straight plug and play. So the light output is pure white. Akarui also provides a free TIPM module, so if you're going to install them into Chrysler/Jeep/Dodge keep that in mind.
Should I Get One?
The question is will it perform better than its rivals in that price range? Well, yes. They are definitely well-built for its price range with some branded onboard chips. Light quality is above average, but definitely dependable on your headlights size and car model. So, we'd recommend to give them a chance as KAI could be surprisingly good for full-size sedans or small SUVs.

Pros
Philips CSP LED chips
Free TIPM for some models
Well-built with quality materials
Fair price
4. HIKARI Best LED Headlights Conversion Kit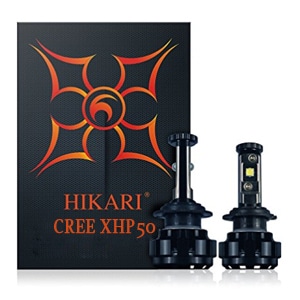 CREE XHP50 – Exceptional Quality with Outstanding Brightness. A very impressive output with very easy installation. These bulbs put out 9600 lumens so it's enough for almost any situation. Compared to HID bulbs there's also no need to be familiar with wiring or other stuff with a big old ballasts. So, LED nowadays are brighter and easier to install and that's a big plus. They also take less power away which means a better lifespan etc. Just plug them in and turn on. Simply as that.
The big thing about these HIKARI are Cree XHP50 chips, similar to Glowteck EXTREME360. These are impressive in terms of brightness delivery even if your car is 5 or 7+ years old. They feel even more brighter than a more popular Simdevanma C6, but really, you can't tell it for sure without special equipment to get the exact output. Also, they were compared on two different cars and there is no exact numbers you can rely on. The things is they feel very similar, with slight advantage in terms of brightness to HIKARI I would say. It looks like HIKARI is better in a close range, but Simdevanma seems to be better on long distances. Again, they were installed on my friend's car and that's quite personal to see the difference between these two. I guess choosing HIKARI would wise for something more massive like trucks or large SUVs outdoors, while C6 is more suitable for everyday city driving business/compact class cars.
Materials Quality
Materials are very solid and there's no question about product quality. It also has a great value, being almost a twice cheaper than top rivals from the list. And that's the strongest point of these. The difference in not near TWICE in terms of price and quality. Again, they are very well made with 50,000 hrs lifespan and a strong 6K Cool White beam. If you're looking for the best price-to-output product that's definitely the One.

Pros
Great price
Cree XHP50
Easy to install
Cons
Less effective in bad weather conditions
Our List of Recommended LED Headlights
5. Auxbeam F-16 – Long Lasting Best Led Headlights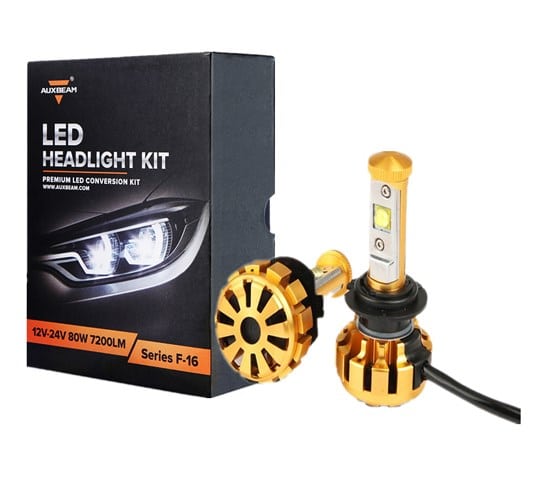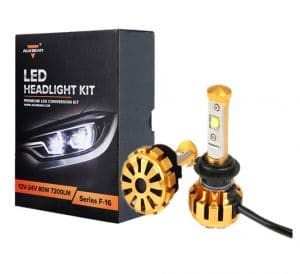 This is their premium LED conversion kit. It's 80 watts and 7200 lumens so that's pretty much. Let's look closer. I'll say the anodized gold is pretty cool. Although you don't really see it ever but it's pretty neat to look at. They've got really good quality build stuff, wirings are nice and there's actually nothing to criticize. Clamps are nice, four LED, nice rubber seal (these are IP68 rating so they are fully waterproof), a little controller and a fan.
After everything buttoned up we turn them on and wow I really the color of them. Really nice and white. There's definitely an improvement from halogen and so you can see road much clearer. I did notice a big difference while on road, especially with the high beams you could definitely see further. My overall impression is you that this kit could be a nice little upgrade. It's actually an all-arounder with no superstrong points unless you to to use them in reflector housing. So yes, you will need a projector type headlight to get the proper lighting from this kit.

Pros
CREE LED chips
IP68 water and dust-proof
Efficient cooling system
Cons
Won't work with some car models due to CARBus
Honestly, not for reflector housing
6. Glowteck EXTREME360 – Authentic Best Headlight Led Headlights Convertion Kit with Superior LED Headlights Chips and Materials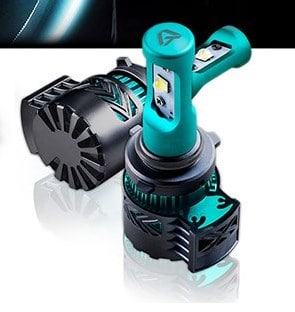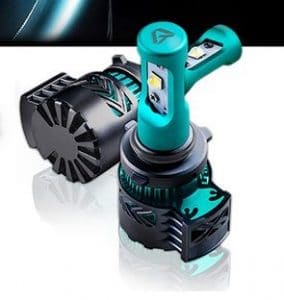 So this is a Glowteck EXTREME360 LED Headlight Conversion Kit. There are a tremendous amount of copycat manufacturers thats uses this design. Tha'ts what happens when there's a blanket manufacturer that makes the product and can customize it a little bit.
Once they customize it, then individual sellers can tout it as their own item. You'll see a little bit of a difference in specs and quality, but in reality they are the exact same products. This is not the only design that's been copycatted. Just be sure to buy these as they are authentic and not overpay for similar designed.
Packaging and Installation
Let's take a look though. Once again with the 9007 socket. The 9007 socket is known for having compatibility issues with aftermarket products, which is why I like working with it because it really tests the engineering of a product. This particular model claims to have 8000 lumens combined between the two, and pulls 76 watts according to the information and has a two-year warranty. Once again, it's a two-year warranty, and it's an original product.
Engineering
We have the fan and heatsink right here in the bottom,a gasket twists and a ball-bearing sort of thing. This is what allows you to move it because in the socket of your 9007 housing, the gasket will stay in place but you're able to turn the bulb itself in what looks to be one fourth turn increments. This is theoretically how it allows you to adjust the beam angle. The top diode has a reflector that will make the light go top and to the side. If you can imagine it coming towards you and then to the left and that's in order to try and mimic what a halogen does.
The reason why halogens works so well in a halogen style headlight assembly is because from the center of the bulb radiating outwards in all 360 degrees, there is a light. LED's have a very hard time mimicking this and because of that we get things like beam scatter, patchy spots and in some cases really bad throw distance. In other cases like with the most copycats, we get completely unusable light for the most part.
Build Quality
The build quality itself is pretty good. The aluminum is all nice. The diodes are very well placed. The construction of everything is very nice, but does it work is the main question. We can talk about how nice it's made but I was actually going to see how well it works. One thing that makes the 9007 socket a little difficult to deal with when it comes to aftermarket LED's, is the fact that the heat sink prevents you from putting the circular retainer lock on. Normally, there's a way to get this on without having to modify anything. In this case, the gasket just comes off. We can place the retainer lock and put the gasket back on. This is hard to do with one hand, but we are able to get it all the way on without modifying the retainer lock at all. This is truly plug-and-play.
Well Documented
The documentation actually was much better than any other LED documentations I have seen before. They recommended that the high beams face a certain direction and the low beams face a different direction. We are going to go ahead and chose that by default. Here's the information that comes with the Glowteck lights versus the other ones. This is actually helpful because the ideal position for the LED chips are to be facing to the right and left inside the housing.
The high beams should be reflecting upwards. In this case, the high beams may be backwards because in the diagram it shows that the one reflecting upwards is the top diode. Then we lock it in and everything fits. The connection for the controller simply just goes right into the factory wiring harness of the 9007 socket lights.
Conclusion
I really like the pattern, the color and the build quality. There is no dead spots and these is a mechanism to change the pattern in case of any issues. This product in definitely one of the best on today's market.

Pros
CREE XHP50 LED chips
Easy plug'n'play installation
AirFLUX Dual Cooling Technology
Water resistant
Great brightness
Cons
Reply time of customer support
7. Simdevanma All-in-One – A Strong All-Arounder LED Headlights Conversion Kit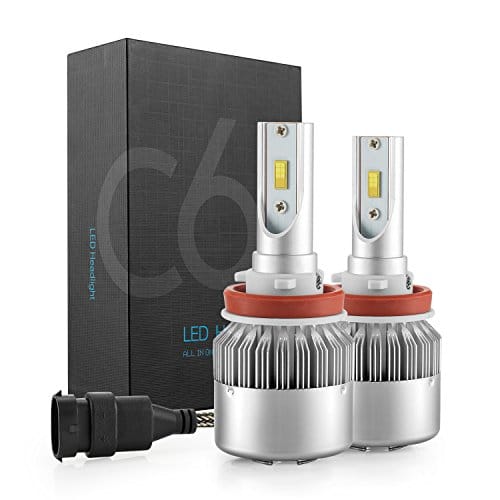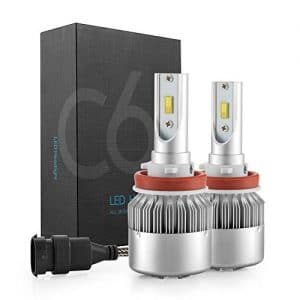 It's the C6F. It puts out 8,000 lumens and is rated at 6,000K for color temperature which is pure white. There is no external LED driver box. The reason for that because they're integrated the driver inside the bulb and this gives it a very compact design.
If we take a closer look at one of these LED lights we see we have two LED COB chips on each side. The aluminum body and the aluminum heatsink at the bottom and there is an integrated fan the bottom.
LED light color is pure white and the beam pattern actually matches the factory very well. You don't see a lot of glare at the top edge on the LED side. Nevertheless you might need to align it and lower just a little bit. They're pretty closely matched.
Beam Power and Performance
I can tell you I'm very happy with the performance of these only lights. The reason I say that is because it closely matches the previous installed halogen pattern. It's actually very hard to achieve because I've tested other LED headlights where it might be much brighter, but when you install these in the reflector housing it can cause all kinds of problems with these LED lights.
You don't have more glare than what the halogen itself. Also I find these LED lights puts up just the right amount of light onto the road. It's safer driving but it wasn't putting out so much like I was blinding for other oncoming vehicles which is very important. I can't stress enough that I've tried other LED headlights where they claim to have a lot of movement. They probably do, but it just caused so much problem when you install those into native housing and these ones are just fitting perfect.
Conclusion
If you're going to be installing these in your vehicle I still recommend that you properly align the headlight. It's very simple you just need to have a vehicle and the headlight against the wall and back your car up 25 feet and there's an adjustment screw right behind the headlight assembly. If you turn that screw counterclockwise it will lower the lightning and then if you turn clockwise will raise the lightning.
Simdevanma All-in-One is well build, easy to install LED convertion kit. You won't be disappointed with it's performance or quiality.

Pros
Philips LED chips
8000lm with waterproof and shockproof body
Dark spots removal technology
No external driver
Easy plug-n-play installation
2-Years warranty
Cons
Could be not as bright as you may expect from 8000 lumens. You will need projector type headlights to feel most of these numbers.
8. NAO K1 – A Best Led Headlights Budget Newcomer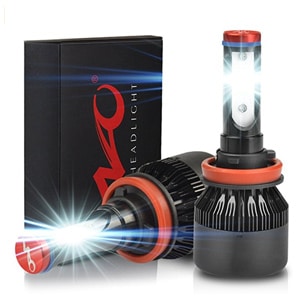 Here they are, new LED headlight bulbs from NAO. The bulbs I'm looking at today are H7s but you have H1s, H4s, H11, H13, HB1, HB3, HB4, and HB5 variants to choose from. If you believe what they say, each bulb goes for a quality control test and gets a seal of approval before being sent out. Other than the brightness, the other main advantage of LEDs is the lifespan. You can see just how much of an improvement it is over the previous generations. I really like the design of these, the braided cable and the actual color scheme.
Materials and Installation
It's made out of aircraft aluminum, which is said to keep it a lot cooler. All LEDs have fans to help dissipate the heat generated by the chip. The fans on these bulbs are quiet. You can hear the fans working on the bulbs, not too loud.
Now, if you're like me and you're going to install them on a BMW 5 Series, it's going to be a couple things you're going to have to do first. That is basically, take the metal collar that comes with the bulbs. Take that off, it should just be a case of pulling it straight up. I found it was easiest to wiggle it back and forth until it came loose. Once that's off, you're ready to put the bulb holders the heat sync of the bulb. Once that's sitting loosely on the heat sync, you can go ahead and clamp down the collar.
Beam Pattern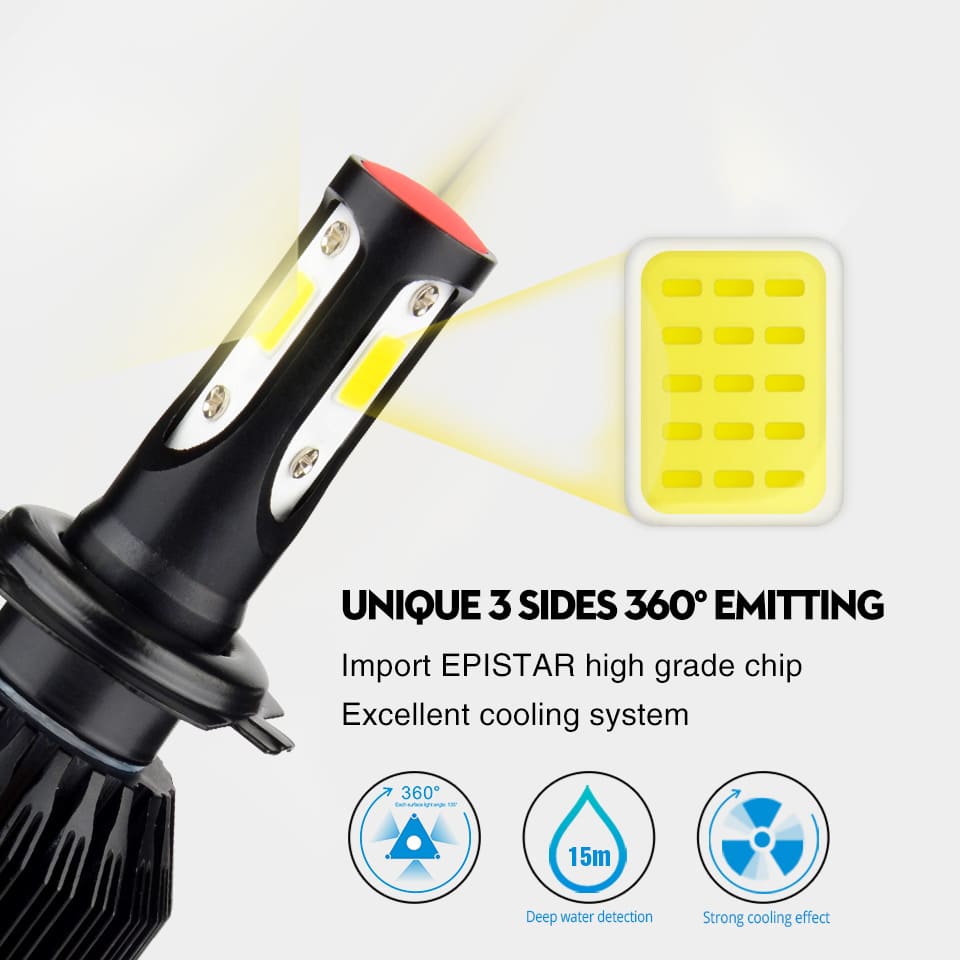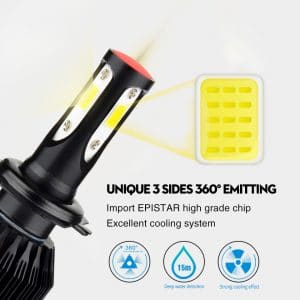 Okay, so both lights are in and I believe the lighting pattern is okay. It looks good. I've got the spread going down the bottom, it's flat on the top on both sides, so that's good. When you're doing it you want to make sure that the wire is always pointing to the inside and you shouldn't have an issue with the beam angle. You can see the little adapter things that hold the bulb in place. This entire unit does spin, but I wouldn't recommend fiddling with it.
There is really a difference in the lighting pattern where the LED is spread out wider than halogens. Now that they're installed, find a place in the night where you can put the car up against a flat wall and adjust your beam angle. Position the car roughly 20 feet away from the garage.
Worth it? Yes!
They're installed, they're aligned. I think these look fantastic in the night and they also look really good in the daytime. You just can't get that crisp white without the LED. I also absolutely love how it looks on the dash cam. It looks so blue. It really isn't like that in real life, but it just looks so cool. Turning the high beams on doesn't really make that much difference anymore though, so you can kind of get an idea from that as to high bright they are. They look really nice in the daytime too. It matches my LED angel eyes perfectly.
The only thing that worries me with these bulbs is the reliability of the fans and also the fact that it doesn't have a Canbus error, which I need on this car. Occasionally I get the jellyfish symbol come up on my display, which means I have to turn them back on and off again, simple. It works so far and I'm going to be using them in the car.
Final Thoughts
I really like them. I'm probably going to go and change all my other bulbs to LEDs now after I've played with these. Massive improvement over the halogens, and more light is safer.

Pros
Great price
Aluminum lamp body
Promised quality control
IP65 waterproof
High-power 8000lm LED chips
Cons
No chip manufacturer stated
No CanBus support
9. GENSSI Elite Best LED Headlight Bulbs Kit – Best Fanless Design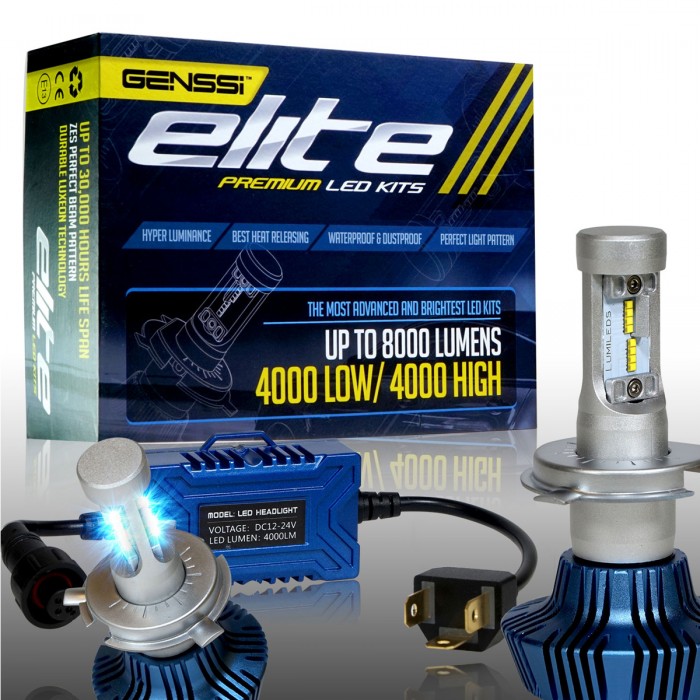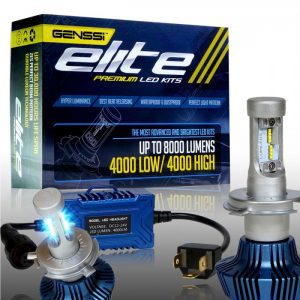 So, let's see what's inside the box and talk about some of the very unique features that this kit has.
With the kits you have instructions which gives you a few different ways of installation and how to utilize them in installation to get the best result of the headlight. The package is nice overall and you have two bulbs, two ballast. This one is a complete plug-and-play as usual.
Installation and Features
Let's take a closer look at the bulbs. There's low and high functions with a reflector to give you a good beam and cut off line. There are two small holes to unscrew the heatsink for easy installation in tight spots and then once you install the actual bulb you can reattach the heatsink. Otherwise if you have enough space then you can just go ahead and just put it into place. That's pretty good.
The second feature allows you to move the base of the bulb, so that way if you do install the bulbs in the headlights and you realize that it is facing the incorrect way you can easily unscrew and move the bulb to the correct location. It allows everyone depending on your car to essentially adjust the lights to accommodate for the beam pattern that you're looking for or that works well with the car and with the headlight assembly that's designed for your car.
When it comes to the base itself everything stays the same. There's a hole on it. There's an allen wrench to this screw. All these holes here that allow you to correct beam pattern. All you have to do is hold on and move it until it clicks and you find the right parent.
Conclusion
Essentially the biggest point of this kit that nobody else on the market provides actually allows you to get a consistent light pattern instead of just being stuck with the way that bulb was designed.

Pros
Philips LED Chips
CANBus error prevention system
Great beam pattern
10. UMSEEN Best LED Headlights – Top Materials for a Price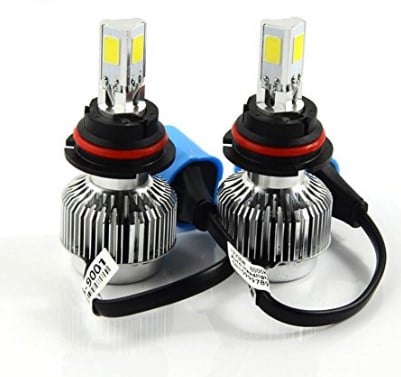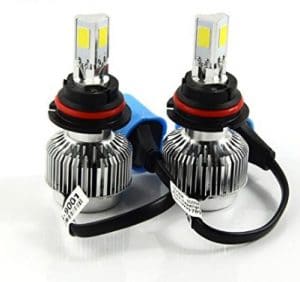 The specs are following: each bulb produces 3300 lumens. Each bulb consumes 36 watts and has an estimated lifetime of 30,000 hours. There is nothing mentioned about a warranty of any sort.  A lot of good bulbs will either have a one, two or lifetime warranty that comes along with them.
Let's get on with the actual bulb itself. One of the things LED headlights have to do in order to simulate the way they throw light out like a halogen is they have to throw light omnidirectionally. It can't be in any directional way otherwise it won't throw the beam of the headlight correctly and you will end up with scattered beams which make the bulb useless.
What this bulb attempts to do is instead of having any clever proprietary design, they just went for a simplistic approach where they have three LEDs, two facing one way and one in the back to try and get 360 degrees of light going around it, to try and simulate what halogens do.
Heatsinks and Materials
As far as the materials go, this is by far the beefiest LED I have yet to handle. The metal is definitely constructed a little more heavily here. There's a lot more metal to it. It feels stronger but there is a downside to that. In order to dissipate heat faster, you want the fins to be thinner and you want to have a lot of fins.
I know this because I am a technician and we deal with sort of thing on a CPU heatsinks all the time. Thinner fins mean faster heat dissipation and because they are thicker that's probably why it's heavier, but it also feels stronger. It's not going to fall apart easily. Moving on to the wiring set, this is also an interesting thing. Every other LED headlights that I have tried out, has had a controller unit between the 9007 plug and the bulb itself. This one has an integral unit which is probably why the bulb itself feels a little heavier and probably why it's shrouded in heavier metal to protect the controller unit that's integral to the system.
Installation and 9007 Socket Issues
So, 9007 socket is infamous for having compatibility issues. Here's why. Normally when you have a light bulb, you plug the bulb in and the gasket keeps it in place. Next, you would take the circular retainer lock and put it over the bulb and lock it in. That will prevent the bulb from moving and then you plug the wiring harness from your car into the bulb. You can't do that in this order because the heat sink doesn't allow you to get the retainer lock all the way up to where the gasket it. Have no fear. Pretty much every LED headlight that uses a fan system and not a passive cooling technique has already thought of this issue. And most of them have the gasket turned to the side, unlocks it and you can slide it up.
Take Notice
But here's another problem with this. Granted this is a design for 9007 sockets, you should be careful because every 9007 retainer lock is not made the same. If you'll notice there are little ridges on this retainer lock and all three of these little pieces is raised up by a few millimeters. Those few millimeters make a huge problem. Because if you put the retainer lock on the way you would imagine it would go and then try to get the gasket back on, you can't. That's a problem.
Those ridges are making the retainer lock sit up higher than it should and because it's sitting up higher than it should, the little grooves inside of the gasket right here can't slide under this metal piece where it would slide over and then twist and lock in place.
The 9007 circular retainer lock has these big grooves that are only a few millimeters tall that prevent you from using the entire lock socket in the first place which means this light socket is no longer considered plug-and-play. All the other brands that I have worked with have always said it is plug-and-play, no issues.
Beam Power and Light Scattering
So, everything is good to go. It ain't going to move or do nothing. The nice thing about this system is because the controller is integral, we don't have wires going everywhere like we did with all the other LED units. You just plug it in, turn it on and just let it do its thing.
Thankfully the lights are not scattered like on the lower end units. There's a lot of units in this price range that just don't have a design that can properly diffuse lights. I would have to say it's slightly patchy based on my real world view of thing and that's not so bad. Patchy is livable but not what you should expect for your money. In fact the usable distance of light that we have from here is probably about 45 feet and then after that it starts to taper off and get dimmer and dimmer as we go down which is to be expected. Because headlights are pointed at a downward angle so that way we don't blind the person in front of you.
One of the things that I'm seeing is although the light is definitely not scattered, which is very good, too many lights have scattered beams. What I do notice is a slight patchiness and what that means even though we have light in all the critical areas in front of us, there are certain parts of the portion in front of us where light is a little dimmer than others straight down the path in front.
360° Beam Angle or Not?
What they did try to do is have lights all around the bulb to make up for that and throw light in as many directions as it could to try and equal the amount of light that comes up all around from a halogen. The problem with their design is they only met it about half way. They had two bulbs that were at a 90 degree angle. They had two diodes that were at a 90 degree angle of each other, and then the last one just skipped that. It didn't do another 90 degree and then a 90 degree. We had three bulbs and it's a triangular design and I feel that triangular design is ultimately what's causing this downfall. And it is not super properly diffused because of that. That's ultimately why we have slightly patchy spots of light.
Overall Impressions
Yes, I would say they are good if you're looking for a bulb in this price range. It does widen the beam arc though, you can see more to the left and to the right and it is a little brighter directly in front of you. For all intents of purposes, yes, this bulb does work and it's not great but I would consider it adequate for it to be safely used if you want to switch to something that will give the road a higher contrast.
But as far as good usable diffused light goes, the halogen light bulb is still king. Until we come up with the design that is able to throw light truly in all 360 degrees around the bulb, halogens still seem to have well-diffused light. More diffused light means more usable light. It doesn't matter if the light bulbs throw a 10000 lumens, if the light is scattered or patchy it makes it dangerous and inoperable.
But I would say that this is a contender. It's not the best, the design could be better, but it's one to consider in this price range. Keep in mind the price range is still an entry to medium level bulb, so entry to intermediate. For a price class, the product is worth trying.
Light sample

Pros
Shock and corrosion protection
High lumens output
Lights are tight
Easy to install
Cons
Need to contact the manufacturer for warranty
No-name LED chips
11. AuxBeam F-S2 Bridgelux COB DRL Highbeam Best LED Headlights – Strong All-Arounder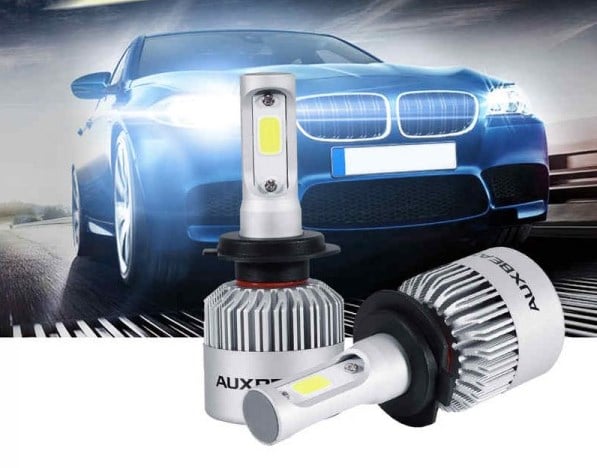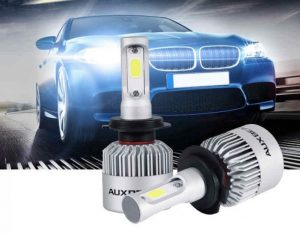 This bulb is from Auxbeam. They are rated at 72 watts 36 watts per bulb and the lumen is about 4,000 each. This one is using a bridgelux COB chip LED. There's one on each side and nothing on top of it. This is made out of aluminum, plastic and has a fan on a back side. All construction is waterproof as well.
And on the opposite end is a plug for a 9005 socket. So as you can see there is no separate LED driver. This all built-in within this LED bulb so this is the plug-and-play and the marking is very clear on which side is positive and which side is negative. The color is rated at 6,500K. This will be pure white as far as LED is concerned.
The high beam is going to full voltage which is about 14.1 with the engine running and so it doesn't show any flickering or stroking. The beam is bright and powerful. Definitely recommended kit.

Pros
Aircraft grade Aviation 6063 aluminum case
Bridgelux COB chip (USA)
High speed mute fan (12000R/Min) technology
Cons
Short locking tabs may lead to installation problems
12. XtremeVision 7G CSP Best LED Headlights Kit – Great For Reflector Headlights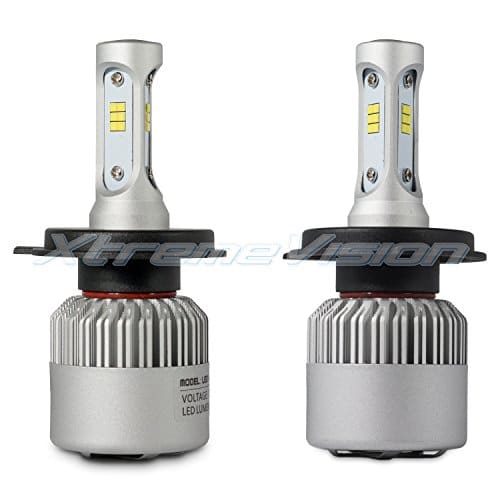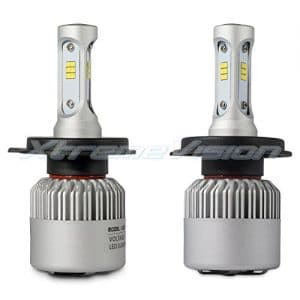 XtremeVision LED headlight conversion kit is about to convert your halogen headlights in your vehicle to LEDs. Each bulb produces 8,000 lumens and pulls 36 watts. They have a color temperature of 6,500K and have an estimated lifetime of 30,000 plus hours. Just like with all 9007 socket headlights we have a circular retainer lock that needs to be in place in order for this to keep the bulb from falling out of the socket.
Installation
Now this is where we have a lot of problems with aftermarket products is, generally, we have an issue with getting it in there because, well, we have to remove the gasket. On top of that, there has to be enough clearance in between this gasket and the heat sink to allow the circular retainer lock to fit, because if we take one of the retainer locks, you'll see, we have several millimeters of gap that comes standard. Now, in some cases, you would file them down but thankfully, in this case, there is no modification to the retainer lock necessary.
Beam Power and Light Scattering
All right, so turning on these are at low beams. Personally it looks relatively, decently diffused. The high beams, I mean they feels to be just a little brighter. All right. That's an impressive light diffusion. I would say it's almost as good as the four-sided LED lights that I've tried. There's no dark spots or patchy spots, it's actually doing really well.
High beams leave a little to be desired. They don't throw distance very far and not sure why that is. But anyone who go ahead and take them out on a drive will see just how well they actually do. I feel really comfortable with these lights on the low beam. I'm delightfully surprised to see how well the light is diffused with these. I was not expecting a triangular design to do this well. So guys, these are definitely recommended to buy.

Pros
6063 Aviation Aluminum Body
Shock and water resistant
2-Year warranty
Great for old cars
13. Kensun Best LED Headlights Kit with Cree Chips – A Branded Kit from Famous HID Manufacturer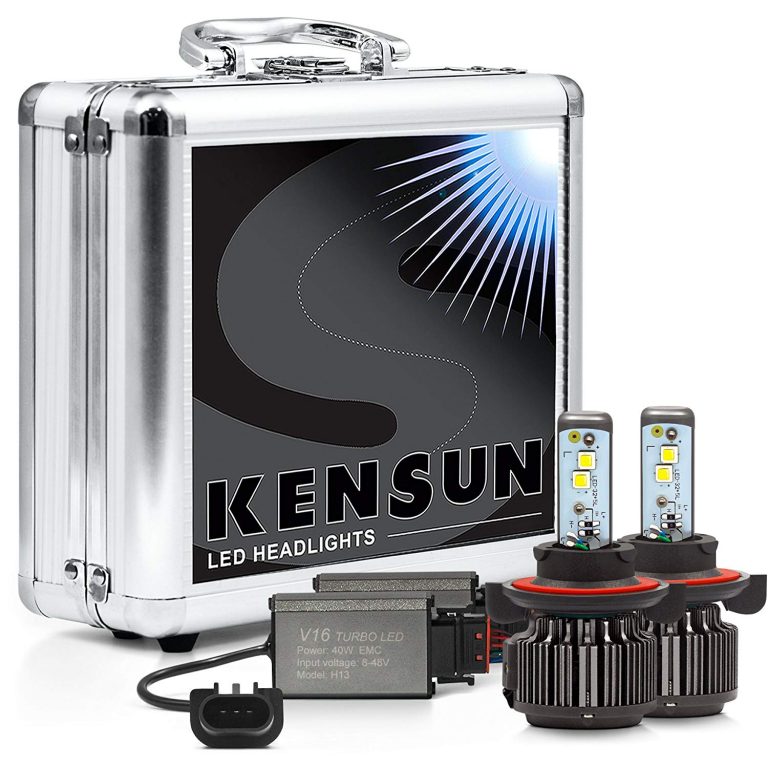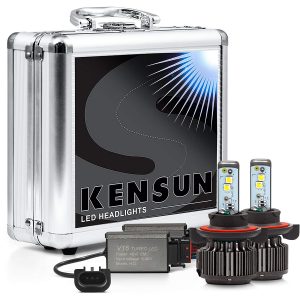 Basically Kensun are known as the affordable brand name for aftermarket HID headlights for years. They have made HID headlight kits which are supposed to be some of the highest quality on the market that won't bankrupt you and now they're starting to use LED headlight bulbs to keep up with new market trends.
I've been using aftermarket LED bulbs for quite a long time. I try to buy from a real brand name that actually heard of and got much better experience than when just bought from generic Chinese brands despite the price difference. My buddy had a pair of 6000k HID bulbs from Kensun four years in his reflector housing on a 2002 Toyota. I think he had just one go out shortly after he installed it and he got a new bulb under warranty. This is clearly a good company to buy aftermarket products.
Kensun advertises that bulbs are for offroad use only which is a way for them to say – "Hey if you get a ticket we're not responsible!". To say the truth, they did not produce a significant glare in my headlights so I'm not sure if it's a big deal.
Packaging and Quick Start Manual
Kensun Kit comes in an aluminum case which is pretty cool. Usually it more likely to come in a paper box but this one is pretty nice. There's like a foam padding up to protect the lights, operation manual and the glass filters (not plastic!) or the screens where you put over the headlight to change the color temperature. You don't have to worry about any sort of reliability issues or physical defects. They are not going to melt from heating.
Let's say you want like a more blue or white like a blue tint to it, so you want to put one of these on or you want to get like natural daylight colors that you put those on select 6000K or 5000K or 4000K.
Quality and Experience
I've driven all times of the day and night with dry conditions as well as heavy rains. So the good things. Kensun lights are top quality. Every part feels sturdy and well built, nothing is shaky or worrying and it feels like a product that will outlast the car like it should. LED lights are typically supposed to last for 50,000 hours of use when they're manufactured properly and trust me that doesn't always happen. In fact actually, that's very rare.
Beam Power and Light Output
The light output of each one of these is actually 3000 lumens. So the total output they're going to use is about 30 watts per bolt. It's 6000 lumens in total which is pretty good. It's going to be pretty much bright compared to the traditional halogen headlights, but definitely not brighter than HID. But it's going to be a step up from what you currently have with the halogens.
A normal, high-quality halogen bulbs, produce about 1500 and 1700 lumens of light. Halogen high beam bulbs produce about 2600 lumens of light. These Kensun LED bulbs are brighter. So I absolutely believe that 3000 lumens coming out of your low beams are enough. A 4,000lm would be too much while some other companies supposedly produce like 4500 lumens or 5,000lm. That's not really necessary.
Overall
It's the Cree LED so it's going to be pretty good with life span. Overall this heat sink on the back side in this metal heatsink has a good way to get quality and seems really well-built for that price. And these are not very pricey.

Pros
Instant turn-on with no warm-up period
CREE LED chips
IP68 Waterproof
2-Year Warranty
Great technical support
Cons
Beam pattern is slightly scattered
Difference between low and high beams is not that big
14. ACRATO Car Best LED Headlights – An Old One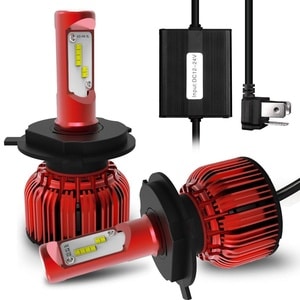 ACRATO Car LED is a headlight conversion kit and these are actually to replace the halogen beams. As you know halogen beams build up a tremendous amount of heat. These lights are LED so they produce much less heat and it's supposed to be a much brighter than halogen.
Halogens, as you know, give you a yellowish glow on the road and these lights are about to be a whiter brighter light than normal halogen.
Packaging and Installation
The package comes with the installation guide and the lights themselves, zip ties that looks like some double sided sticky tape to mount.
To install take off outer ring and mount this in the car first and then install the headlight back into the lock and lock it in place. Very simple.  There is a fan inside it to cool the light down. There's a significant amount of difference between the lights. Original's  a very yellow which tinge to it and new one is white as white can be. There's a very big difference in the lighting from the halogen. With high beams there's also a significant difference in the lighting. This is a more white natural light versus the standard yellow lights.
Conclusion
It is a tremendous difference between the normal halogen beams that come with the vehicle and the LED. It'll give you a much more visibility. You'll be able to see anything that goes across the road or any kind of stop signs. Just anything without blinding the people coming in the other direction because the lights are still pointing down on the ground where it's supposed to be pointing. These are not waterproof so be sure not to apply on off-road vehicles.

Pros
Well-built aluminum body and materials
Easy plug-and-play installation
3-Years warranty
Cons
Not waterproof
No-name LED chips
What is Best LED Headlights Kits and how do they work – Buyer's Guide
Everybody already knows about HID conversion kits. You've got your halogen replacement HID bulb the adapter wiring and it goes to a ballast. Now the ballast is pretty big, they're heavy, they take up a lot of space and if you're installing low/high beams and fog lights on one vehicle you really gotta plan this out. The ballast is this big because it's actually a pretty complex piece of equipment you take your 12 volts DC and it converts it to a high-voltage AC ignition cycle to start the HID bulb. Then it converts to an operating DC voltage to keep the bulb going and aside from that it also has safety features built-in. It has canvas integration features built-in the ballast does a lot not just keep the bulb going.

How to choose a modern LED light kit. What's the difference between old and modern models?
When you look at an LED headlight bulb at least the newest styles, you still have some kind of a box inside. It's not a ballast. Totally different technology. Basically what it's a constant driver. It takes your 12 to 24 volts DC or your 8 to 16 volts DC and it converts it to whatever voltage LED bulb needs to run. The bulb itself does not operate at 12 volts DC it operates a different DC level and this box is what keeps it at that level. Great reading on how to convert your headlights bulbs to LED.
Earlier Versions
If you look at some of the earlier LED headlight bulbs you see that they were pretty complex. It looks like a HID kit but the bulb is an LED. When you're shopping for LED headlight bulbs you want to stay away from this style. It has more than one cable going from the ballast to the bulb number two. It also has these funny universal connectors on the side for the input you should be looking for a driver that plugs into your vehicle. Number three. Half the connectors aren't even waterproof. Connector that actually powers the LED actually a pretty decent connector, but then they put on this funny little molex connector. That's cheap it's not strong and it's definitely not waterproof. That's going to be a massive failure.
Again, you've got the LED power and fan power. They should all be together and they shall be waterproof. If we look at another version of the same type of thing there's a universal input, non-waterproof molex and a bulb power. Stay away from these.
Connection Types
Another style that is different, but really not desirable is the one that doesn't give you a whole lot of freedom in terms of installing. That's going to be a failure. Not to mention this connection is not waterproof.
There's absolutely no reason to have this something like this as should have a lot more engineering involved to make it a better product for your install. So with that style with too many connections and bad connections in this style. You have no connections with the input all the way into the bulb and so have a driver.
What your LED headlights kit should look like
First, it should have a really nice molded connectors to plug into your vehicle wiring and then there should be nothing in between the connector on the bulb. Just a cord. There is just a plug-in based on the bottom of the light bulb. Then when you go to these ones they've got no connection between the input and the bulb driver is external. So these are really nice because if you ever have something that's defective you don't have to be concerned about is that the driver or is it the bulb because you don't even have a choice.
It's kind of up to you. Do you want to have a choice or do you want to be able to test the different components to see where your problem lies or would you rather just throw the whole thing away and get a new one.
Removable connections
The third type of connection that you're going to see when you're shopping for LED headlight bulbs is a high-quality external driver separating connector. Avoid ones that had really terrible connectors or no connection at all. This one actually allows you to separate the bulb from the ballast and this could be really useful in installation and troubleshooting. There's different levels of quality and sizes of these removable connections. Some of them have o-rings some don't, some have four wire some have three. It all depends on a power. Also, if it got a fan on it then you're gonna have even more wiring.
Most of the modern ones have pretty much a similar design. It just depends on you to know what type of an o-ring they use, what type of connection we use I like the ones that have the keyway in them. So you can't mess up how the plug-in you've got. Also the thing that you want to watch out for is when the connector is really small it doesn't have an o-ring or doesn't have a keyway sometimes. In some cases there is a metal retainer and that's pretty cool, if not the risk of corrosion.
LED Kits Heatsinks
Let's talk about the heat sink or the way that the bulb cools when you give the driver your 12 volts DC.  However the manufacturer made it determines how much power goes to the LED bulb. It's quite simple – the more efficient cooling method the LED bulb has the more power they can give which makes them brighter. So efficient high-tech cooling method will allow the manufacture of the bulb to create a brighter and more reliable bulb. And now we have such a funny bulbs. They have huge driver and a huge fan but it doesn't even perform very well.
Better design with Fan
Now, it's a myth that people think if it's got a fan then it is a failure point sure technically. But so are each of the LEDs every piece of the bulb is a failure point. What's the truth is that the fans generally aren't the part that dies. In a ninety-nine percent of applications the fan isn't an issue. Generally issues of fans come with poor fan construction the screws holding the fan the type of fan used but in general a fan isn't a bad thing on an LED headlight bulb.
The difference in temperature with and without fan is quite huge. Heatsinks with fans produce heats to around 80 degrees while non-fans produce around 180 degrees. It's a thing to consider when buying one.
Choosing the right LED Headlights chip type
Yes they all look for the most part the same but before you invest in an LED headlight bulb it's really important to find out what LED is on it. You really can't tell this unless the manufacturer states it. A lot of them are from Philips, many of them are from Cree, but some of them are from companies like Apostar a cheaper Chinese brand or different knockoff type leds from Korea or Taiwan. So you really don't know what you're getting unless you look at the specs. It's super important to know exactly your LED type. The name brand ones are more expensive because they're higher quality and they don't sell the junk.
Frequently Asked Questions
Are LED headlights any good?
Yes. They are 6-7 times more efficient than usual halogens and cut consumed energy by 80% (that also saves your battery). Also, good quality LED headlights will last 25 time longer that traditional light bulb.
Which is better HID or LED lights?
LED headlights will last longer than HID and turn on amost instantly. They also way more cost-efficient on a long run. Visually it's almost impossible to see the difference.
Are LED headlights brighter than HID?
Yes in terms of brightness and long lasting. Standart HID brightness is about 4000lm while LED headlights are usually staring from 6000lm (and beyond), LED headlights are also more focused.
Which LED headlights are best?
HIKARI, Akarui, OPT7, Auxbeam LED Headlights are today's leaders on the market. You could find variety of models on Amazon nowadays.
Can I put LED bulbs in my headlights?
Mainly: yes, but it depends on your headlights type. Some of the LED headlights are suitable for both reflector and projector headlights and some of them not. Be sure to choose suitable LED bulbs.
Which LED headlights are the brightest?
The brightest ones are with more lumens. Check output numbers on the LED box, the ones with 8000-9000lm are the brightest.
What are the best headlights for night driving?
Matrix LED headlights are the best, but most of the time they came as standart OEM equipment. If your are looking for the aftermarket solution then just choose the best LED headlights available.
Which is brighter 6000k or 8000k?
Most of the time brightness is measured by lumens, not kelvins. The diffence between 6000k (yellow) and 8000k (blue) is in color temprature and visibility. 6000K will be more visible.
How do I convert my headlights to LED?
You should but a LED headlamps kit and replace your old halogen bulbs with a new pair. That simple. 99% of modern LED bulbs are plug'n'play and supereasy to install.
Are 8000k LED headlights legal?
They are not. 6000K and below are legal. Also they if the meet US FMVSS 108, Canadian CMVSS 108, or UN Regulation 98. Try Philips or OSRAM products.
Should LED headlights be illegal?
Yes. It only depends on the manufacturer if the product meet regulations or not. LED headlights itself is a great way to improve your road vision.
We are sorry that this post was not useful for you!
Let us improve this post!
Tell us how we can improve this post?