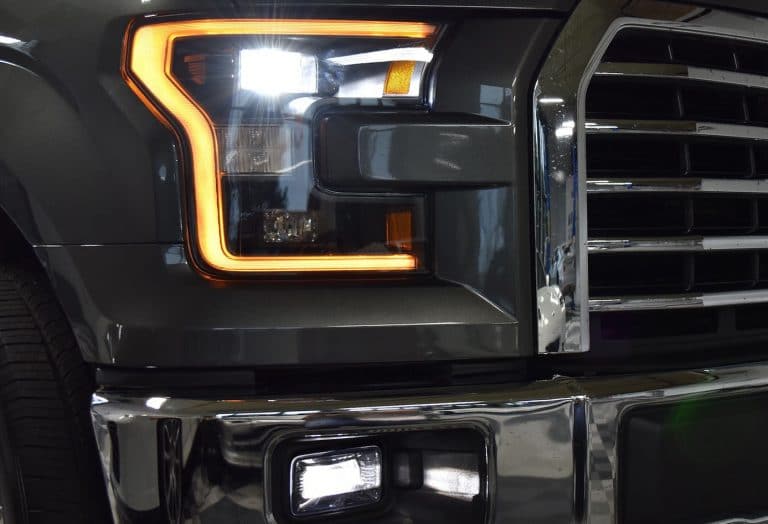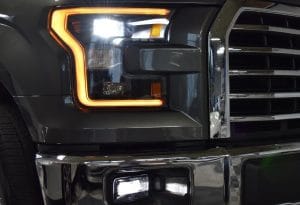 One of the best things about having a Ford F-150 is that there's an abundance of aftermarket parts that are compatible with the vehicles. They can be anything from tires, interior fixtures, or headlights.
Headlights are one of the most tweaked parts of Ford trucks which can be found easily. It's possible that you've seen them being sold in the unlikeliest of places that don't specialize in selling Ford aftermarket products. For instance, they can be found in brick-and-mortar stores.
They are sold by lots of different brands, most of which unique being sold online. If you're looking for LED headlights, in particular, you'll have to find a pair that can properly mount on your truck before you have them shipped to your home. Doing it is much easier than it was in the past, and the manufacturers list everything you will need to know in the title. Below are five of the best-LED headlights for Ford Trucks, whereby a Buyer's Guide follows after. Don't forget to look at the comparison chart too, which breaks down a year and model type.
Five of the Best Headlights for your Ford F150
This comparison table shows what Ford the LED headlights will fit on and the halogen type. Every model is legal to drive. If you need more specific information on this, see if your state has additional stipulations.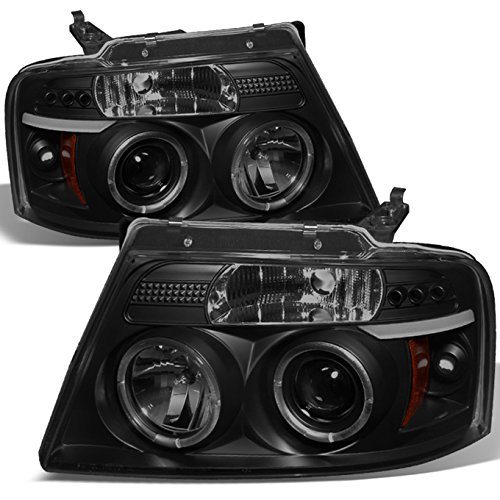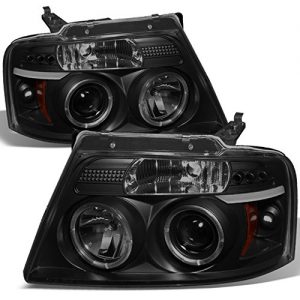 The Akkon brand Pickup Black Smoke Dual Halos are all black, having a look that contrasts nicely when the light shines against the darkened background. They can also be mounted on Lincoln's as well.
Installation can be done by yourself, but like all of the headlights featured, it would probably attach better if finished by a vehicle mechanic.
The bulbs look nice and illuminate properly, save for the low beam. It's likely that you'll want to replace them, but that's an easy fix. Overall, the Akkon Black Smoke is one of the best on the list. It is recommended for those who like that dark hue over chrome designs.
Pros
The look and quality is on par with higher brand headlights
In addition to having it's primary compatibility with the 04-08 F150, can also be fitted on the 06-08 Lincoln Mark LT
When installed correctly, the main bulbs shine brilliantly and provide a unique look that pairs well with any bright or dark paint job
Cons
No setup instructions provided; require professional install if unable to follow installation instructions online
The halogen bulbs (low beam) dim out very quickly, replacement recommended
The fog light bulb doesn't aid visibility well during night driving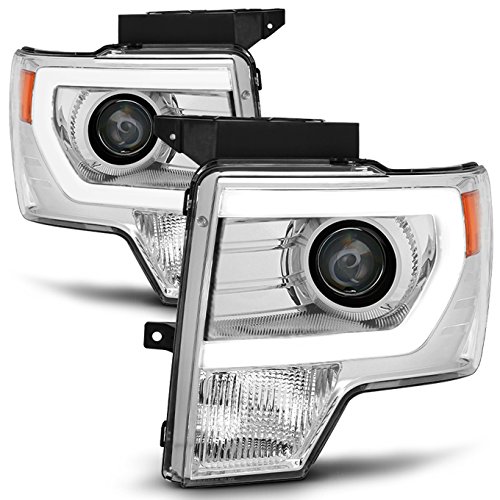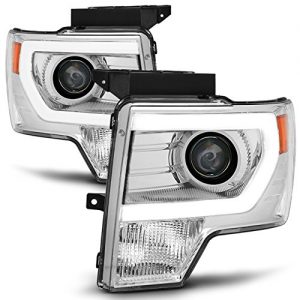 This Chrome Clear C-Shape LED pair has a striking design that's loud and can be seen clearly. It gives Ford trucks a nice look that's truly one-of-a-kind. The LEDs attach to the additional bulbs fast, with them having adapters that take away the burned on wiring. You can use HID lights with this also. Hooking them up produces intense light when on the high beam.
Although wiring the connectors with adapters isn't neccessary, you'll still need to do it with the daytime running lights, whereby a voltage meter would help. If you want to skip this, you could get help but the Chrome C-Shape remains one of the easiest to hook up on your own.
Pros
The LEDs can be plugged into other lights easily with built-in adapters (wired during assembly)
Works with High Intensity Discharge lights (HIDs)
Can be configured to run during the daytime (when attached to parking lights)
Cons
Unlike what is stated in the product's description, wiring will be required to properly install the DRL (Daytime Running Lights)
May require a voltage meter in order to connect additional wires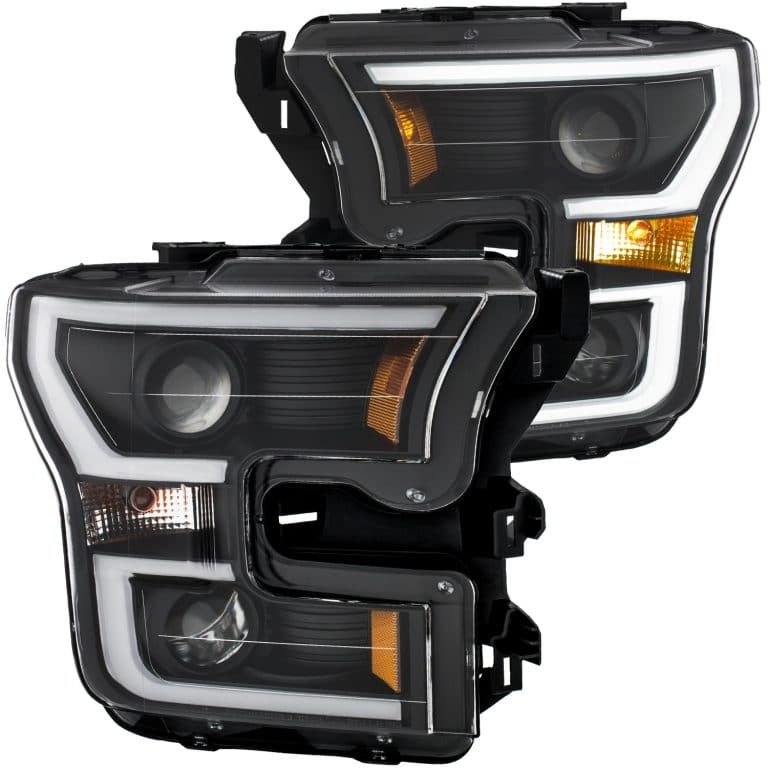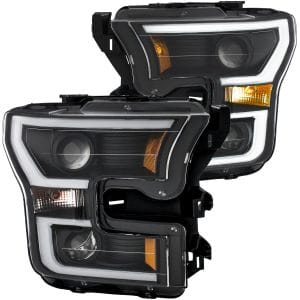 Much like the previous LED headlight, the Anzo has a similar build, but it is done with different colors to the back on the light. It has a stylish appearance and white projectors on the side, that contrast with the parking lights well. You can adjust it too, which keep the beam from shining in an awkward direction front the front of the truck.
Easy Setup and Notable Housing
You won't have to deal with a long setup time, which makes the pair an easy plug and play light. This won't be the case if you're anticipating to change the bulbs though, so the wiring will be required in that instance. As mentioned, the housing isn't something that's found on many Ford trucks and will help your vehicle to stand out from many others, so go with this brand if you tend to look for parks that aren't popular with other motorists in your location.
Replacements Required
There are no ED or HID bulbs sold with this unit. That means you'll have to get them separately if expecting to add. But the halogen headlights would probably need replacing too, especially if you need something that lights brightly. These are very dull and may output at a brilliance that makes the final look appear somewhat odd.
Other Functional Issues
Additionally, some models of this brand, namely the older types, are not able to turn on the turning signal light. It's unlikely that you'll end up with such a type but keep this in mind in case you do in fact notice it not working once you're done with setup. Regardless, the Anzo 111347 manages to give an impressive look to the Ford trucks that it's fitted to install on, and accepts any color well.
Pros
The lights can be adjusted to avoid direct illumination with vehicles from the front
Requires no lengthy setup, true plug in and play headlights (when the bulbs aren't replaced)
The black housing gives the appearance that isn't often found on newer F150 models
Cons
Not HID or LED bulbs included with the pair
The headlights are halogen and do not shine brightly, replacement bulbs are advised
The LED light bar in the older types dpesn`t liiuminate the signal light
The Duel LED Ring Chrome Clear Projector Headlights include corner lights with them and give a bright image that helps the light project their illumination much further than those native to Ford trucks. If you have an older model Expedition that's between 1997 and 2003, this will help your vehicle look much newer than it is.
Optimal Light Direction in Chrome Color
It can also go on some F-150 and Heritage models too (look at the comparison chart for more details). They have SMD chips inside the halogens which give a better clarity in its direction of light, helping you see better in low-light settings. Wiring, while possible, is made less difficult to do with the stock that's included. If Chrome is the one of your favorite colors on headlights, it doesn't often get better than this. It's easy to see but doesn't take away from the rest of the truck. You can put them on, and the color won`t make your vehicle look tacky.
Halogen Wiring Neccessity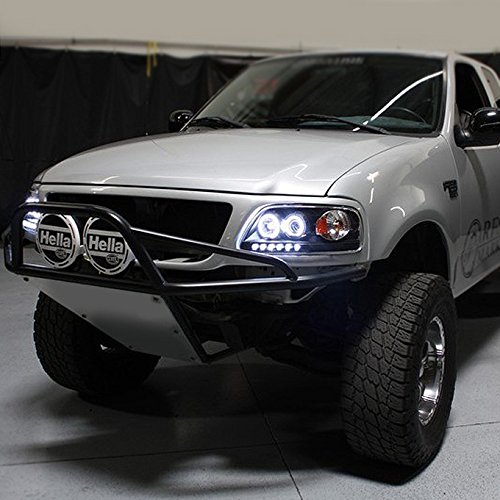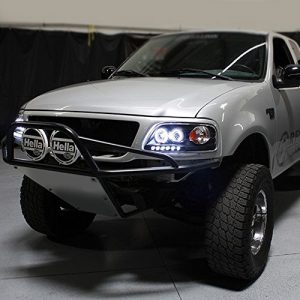 As you look at the headlights, pay attention to the halogens that rest close to the main bulbs. This portion may need to be wired for you to finish the assembly. You could get a mechanic to do it but careful setup at home shouldn't be too much of a burden. But there's no guide here, so you're left with doing it from trusted sources online (given further down).
Aesthetics of Headlights
Once you're done with the hard part, turn them on; the lights accent the rainy environments well and give an updated look to the Ford models that it works with. If you need headlights that take out the difficulty of wiring but leave room to make the job simpler on your end, the Duel LED Ring Chrome Clear Projectors could be one of the best choices for your F-150.
Pros
The LED halogens are equipped with SMD chips that help to add clarity and brilliance to the driver's sight
Most plugs are stock wired and do not require lengthy wiring to hook up
The Chrome appearance gives the front a clean appearance that isn't overbearing
Cons
The halogens close to the primary bulbs may require splicing in order to complete install
No guide included with the packaging (refer to online manuals or have them attached by a professional)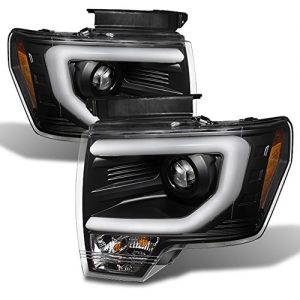 Last but not least, the Black Bezel DRL Daylight LED Strip Halogen Projectors are what you need when you want to get away from any wiring whatsoever. You won't have to do it with this model, and while there are no setup instructions included with the headlights, it shouldn't be too hard for you to attach the adapters solo.
Perfect Appearance with the Easy Lights
In comparison to factory headlights, these shine excellent and are a major facelift to what you may have on your truck. It's daring and mean, a great appearance for anyone who wants to add a bit of toughness to the overall look of their vehicle.
Weather-Dependence
One big drawback is condensation. It may appear in the headlights highly depending on your situation. If you tend to park in areas that have lingering humidity overnight, you may wake up to find moisture on the inside of the headlight. To prevent this from happening too early in the product's lifetime, you'll have to ensure a proper seal. If the problem persists, do a reseal again.
The Abscence of HID
Another dealbreaker could be the fact that only factory halogens are compatible with this model, which means no HID. And when performing adjustments, the housing will have to be taken off in order for you to get to the screws inside. If these hiccups do not bother you, then the Black Bezel could be a decent headlight for your truck, particularly when trying to stay away from annoying wiring jobs.
Pros
No wiring whatsoever, just plug in a turn on
Does not necessitate an instruction manual to install
The light pattern is bold and shows are great improvement over factored-installed lights
Cons
After three-to-six months, the headlights may take on slight condensation and need to be sealed again
Only the factory halogen lights can be used with this model, not HID compatible
The housing is must be detached to reach the screws (for adjusting)
Best f150 LED Headlights – Buyer's Guide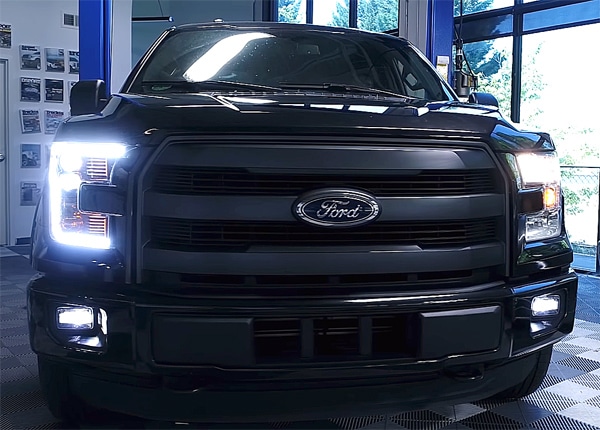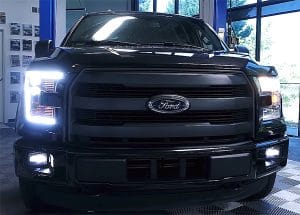 Prior to choosing which LED headlights you want for your Ford truck, there are a few things that should be noted beforehand. If you are not careful with making sure that the light can actually fit the truck, you may end up having to do an annoying return. To prevent it, use the guide below to sort through what's compatible, and those that are best for your vehicle. There are also other great tips included, so you should have a better understanding of what you want by the time you're done.
Finding a Match
Aftermarket parts for the Ford F-150 are numerous. While this is a good thing, the number of goods available for consumers to tweak they vehicle brings amount some complications, heavily depending upon a type of park you're looking for for your truck.
Mistakes During the Detail Choice
Since headlights are very popular among Ford truck owners, they tend to be sold everywhere, which increases the chance of getting low-quality headlights or even something that doesn't hook up right to your vehicle.
There's nothing worse than ordering vehicle parts, just to find out later down the line that the piece was actually for a year that is either older or newer than the model of your truck. It happens often, especially in online since the parts cannot be closely examined by anyone until they arrive. Pictures sometimes aren't good enough and don't always show the objective advantages and drawbacks.
Crucial Parameters for Compatibility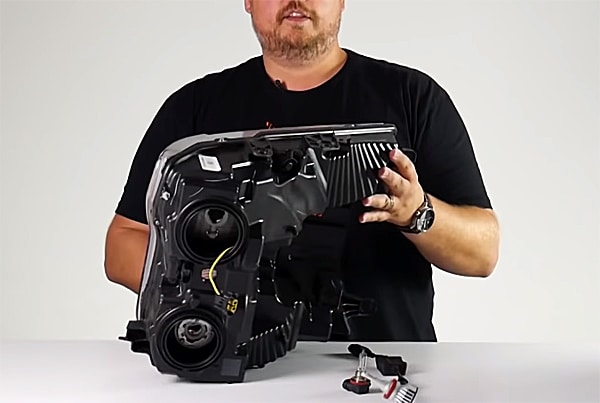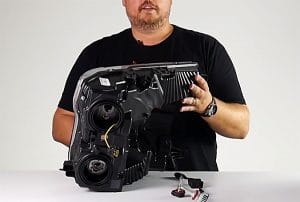 Compatibility is the most important thing to consider when looking for Ford F-150 headlights. It's easy to mistakenly pick the wrong type for your truck. To make things easy though, most brands will show in the product's description the models which will fit the brand of light you're observing.
If your F-150s year isn't listed, then it most likely won't fit properly. Still, if you think that it could contact the manufacturer if you want to be more certain. Sizing is usually accurate though, and some of the headlights will fit a few models that aren't Ford model trucks. When this is so, it will always be listed.
So remember, look for the model year and truck type, then double check everything before you check out!
How it Looks with your F-150
Most newer F-150 trucks look strikingly different than models that were made in the late 1990s, especially in the front. The LED headlights reviewed will usually look well regardless of what color your truck is, so choose whichever suits your style the best.
Wide Style Choice
If you're a bigger fan of chrome, there are brands with this style throughout the entirety of the headlight. Others have bold designs that will give your truck's appearance a more aggressive look, especially when the lights are on. Much of this is dependent on what you like the most and cannot be suggested with every consumer with accuracy, and it's likely that you already have a style in mind that you want on your truck. Go with what you like best!
Advice for Installation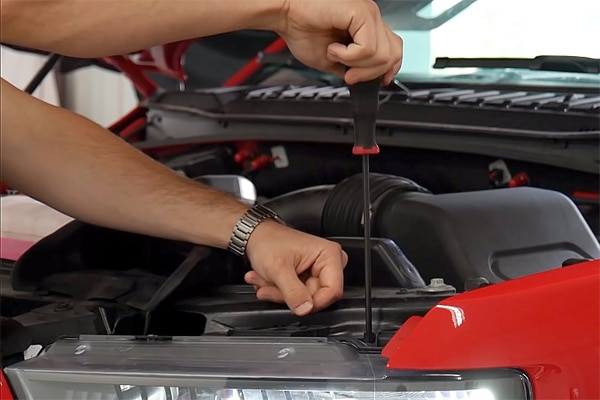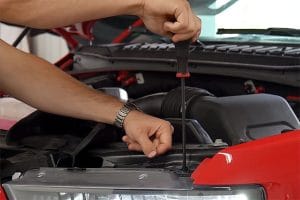 All of the LED headlights shown in the reviews contain no installation instructions or user manual in the box. Keep this in mind if you're not familiar with setting it up. You have either two choices, which are to go the solo route and attempt an install on your own or seek professional help at your local shop.
Nearly all of the products listed are recommended to be installed by an experienced mechanic, which greatly lowers the chances of improper setup and keeps the splicing and wiring connected in appropriate way.
Things don't always work out as anticipated. If you've tried to install yourself but have had issues or simply don't possess a proper tool to commence, you'll definitely want to have it done by someone else. A professional can gauge which lights require wiring, and those that do not. They could also recommend replacement parts if necessary, as some of the headlights may contain bulbs that are dimmer than anticipated. Whatever the case may be, getting your LED headlights hooked up the right way the first time will ensure a good connection and take away the frustration from unpredictable mistakes, of which could be common among consumers wiring by themselves.
Common Issues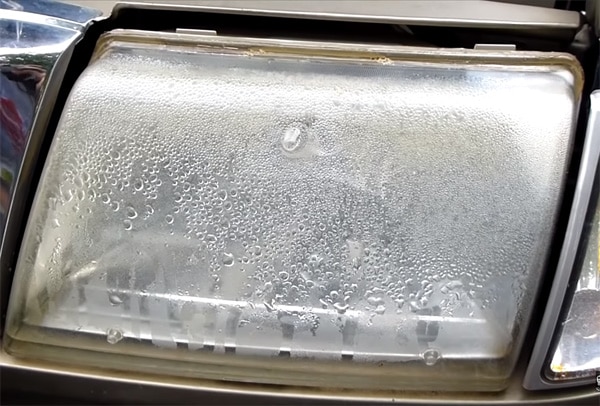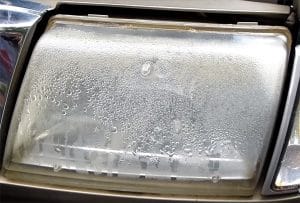 Headlights, like any part of your vehicle, can malfunction and become unreliable over time. One of the most common problems is condensation that creeps into the inside of the projector, which can cause the light to simply stop turning on.
It's something that often occurs with low quality LED headlights, especially early in their lifetime. Yet the same may happen in any headlight, particularly when they're not installed in the right way. If this happens and you catch it early, you could simply clean out the vent holes, which may have accumulated dirt. If it doesn't, it could be additional openings in the frame of the headlight.
The Advantages of LED and Projector Headlights
Projector headlights, of which those in the reviews feature, can be very advantageous to your driving. The illumination tends to be bolder and shine for a longer distance. They can add clarity to your view as your driving and allow you to spot things earlier before they become closer, especially road signs.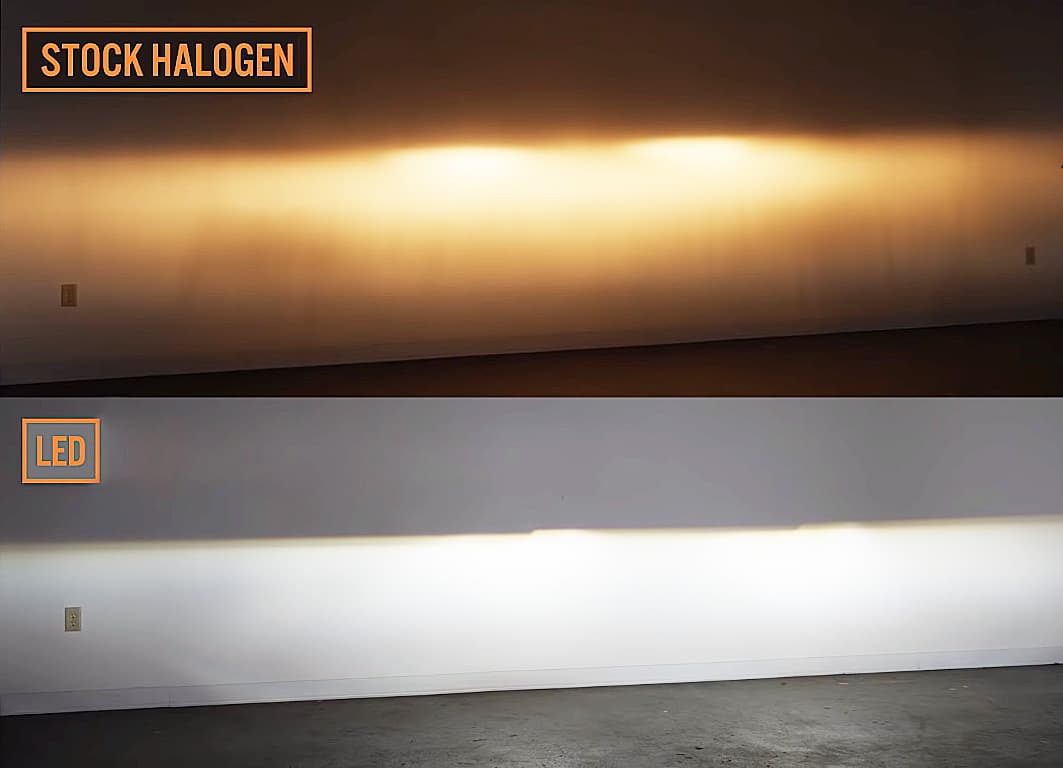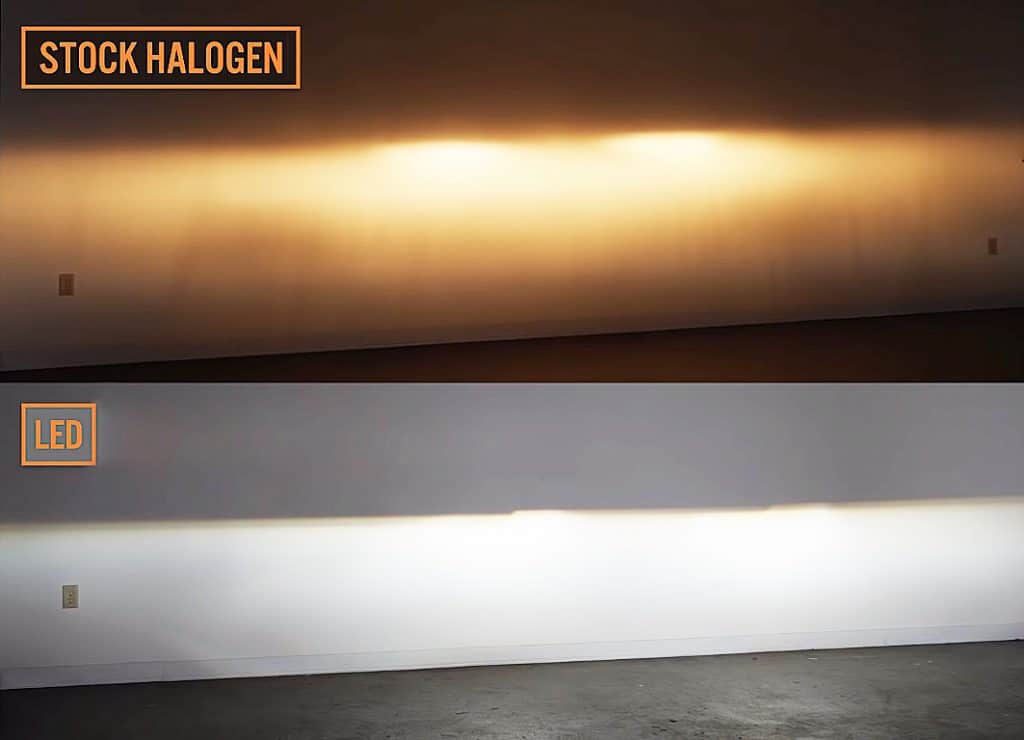 Furthermore, they also look more appealing than many of those that come included with Ford trucks from the factory. Looks are often the only reason many people switch to these type of headlights. However, they are also bought just from the cleaner sight they give to the driver behind the wheel.
Your truck will look newer and more unique while also aiding in performance.
Plug in and Play?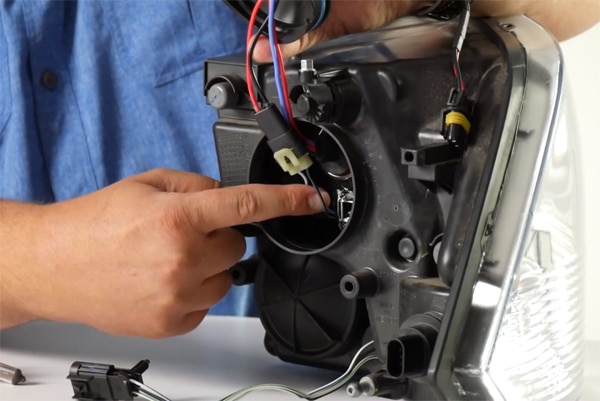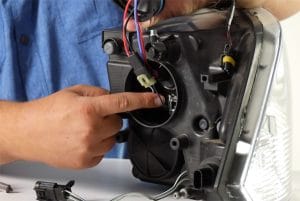 Most LED headlights aren't always difficult to put together, but some of the models that claim it may not be entirely correct. For example, you may come across the "plug and play" point that's sometimes shown on the item's product description page. It doesn't necessarily mean that you have to connect the wires by yourself and turn the lights on, as there could remain one or more that require wiring or splicing.
It is important to gather as much information about a product before you buy it as possible to avoid hitting a speed bump when you're putting it on your truck. You could also change certain lights that you don't use, as mentioned, to give the final look better illumination. If you are planning this, be extra careful as individual bulbs are an even harder pair.
Conclusion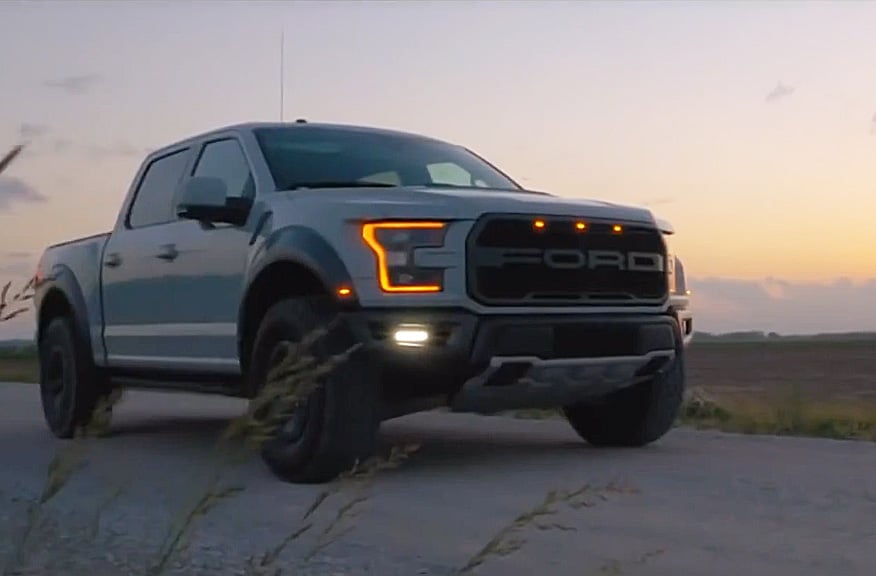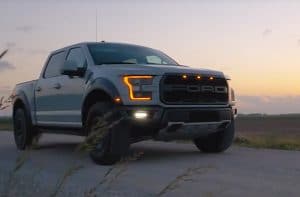 Having new lights on your Ford F-150 is almost like getting new tires or a new paint job. It gives the entire truck a different look and feel. Because of the differences in compatibility with every brand shown in the reviews, it's hard to pick which products are best because your truck may not be a right fit for what's suggested the most.
The first and second products are best in quality, but that's not a knock to the others shown either. Every item evaluated has its advantages, and could offer more of the look you're going for (when compared to the Editor's the People's Choices). Overall, get what you like the most, and you'll likely be satisfied with your pick when you unbox it and have it fitted to your truck.