Overland enthusiasts and truck tuners can both agree on the need for a great set of rock lights. The best LED rock lights are mounted underneath your vehicle and light the path around your truck as you travel off road. The rock lights are designed to compliment your forward facing light bar and side mounted ditch lights. The LED rock lights have also become popular for street use as they create a warm multicolor glow that emanates from the car underbody.
Best Rock Lights for Jeeps and Trucks
Rock lights mount in your vehicle's wheel wells, which basically places them in the four corners. Typically the lights are designed with a low profile so that there is low to no risk of interference with the tires. The rock lights are mounted to aim straight down onto the road surface below. Lighting up the ground at night helps overland drivers by illuminating off road obstacles like large rocks that the wheels are rolling over.
Rock lights are also helpful at producing a fun, warm glow from underneath your car. This can be great at a campsite or other event. The same rock lights designed for offroad use are often mounted on cars to recreate the popular ground effects look of the late 1990s. Drivers should be aware that the street legality of these rock lights is suspect and varies state to state.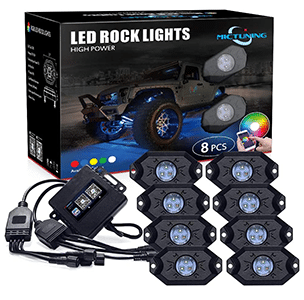 MICTUNING 2nd-Gen RGB LED Rock Lights consists of 8 different pods in the neon LED light kits. It operates a multicoloured RGB system with users selecting the light color, brightness, and flashing speed.
Bluetooth controlled Rock Lights
These rock lights are bluetooth controlled and also have music modes integrated. The neon lights are colourful and bright at 500 lumens. The bluetooth controller can direct the light timing and color change to move in sync with the music or 15 preprogrammed scenarios. In music mode the LED lights strobe to the bass. The bluetooth is controlled by the driver's smartphone. For ease of installation the company has an app available for download that helps with the bluetooth sync.
These are 2nd-Gen RGB LED Rock Lights from Mictuning and they have developed a great product that is easy to install, waterproof and shockproof. The led lights can take a beating due to their durable aluminium coating. These lights are tough enough to use on your jeep or truck but also on your boat or motorbike. Included controller makes it easy to connect the lights to DC 12V-24V input voltage.
Pros
Reasonable price
Easy installation
Waterproof and shockproof
Colourful light
Music mode
Cons
For best effect drivers must install two lights together
Premium price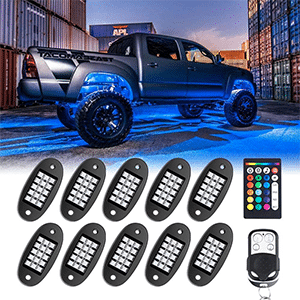 MustWin RGB LED Rock Lights has 6 pod or 10 pod light kits, with the 6 pod kit having 90 LED multi colour neon lights. These lights are controlled through RF, and in addition to the remote there is an app that can control the lighting system. Two RF remotes are included in this system, one has 4 buttons and the other has 24 buttons.
Waterproof Rock Lights
The RGB LED Rock Light from MustWin is waterproof and has an outer coating of rugged plastic material. The coat is also dustproof and rustproof, works well in rain and snowy weather. But the controller should be taken care of because it is not waterproof. The lights can also be used on an ATV, SUV, UTV, motorcycle, truck or car. The light shines brightly, as each pod has a 15 LED core.
The app controller can handle two pods simultaneously and has a wide range of colours to choose from. The controller gives drivers the option of music modes, the intensity of light, and speed of the strobe effect.
All the necessary tools for installation come with the kit, and drivers just have to hook the lights up to the vehicles power system. Care should always be taken while coupling so that the right wires are connected. The lights have drill and no drill mounting options.
Pros
Low energy consumption
Bright LED lights
Choice of 16 million colours
Waterproof and dustproof housings
2-year warranty
Cons
Some users report that connectivity through the app at times is not strong enough
Installation requires additional extension cable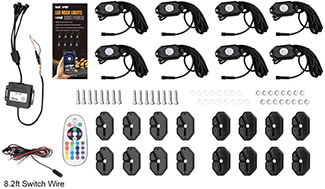 SUNPIE RGBW LED Rock Lights come in 4 pod or pod light kits. The LED lights use 12 volts and have a lifespan of about 50,000 hours.
The Sunpie LED Rock Lights are remotely controlled and there is also an app that can be downloaded for your smartphone. The LED controller automatically changes the lights in music mode, and the colour, timing and flashing speed of the lights is all variable. These lights produce a warm, neon underglow that looks great.
Rugged Rock Lights
Drivers like the Sunpie rock lights because they are extremely durable. The rock lights are highly temperature resistant due to a painted metal housing and they can be used on any SUV, ATV, truck, UTV boat, or jeep.
These lights are easy to install and Sunpie makes a good video available online to walk users through the process. A 8.2 ft long switch wire is included so that drivers can protect their battery by turning the lights on and off from inside the cabin.
Pros
Tough aluminum housing
Lifespan of 50,000 hours
Relatively affordable
Cons
Some durability concerns based on user reviews
Installation requires additional extension cable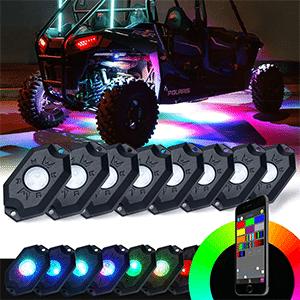 Xprite RGB LED Rock Lights is a 4 pod or 8 pod light kit of multicolour neon LED lights. It has a Bluetooth controller which controls the music modes, flashing and timing functions. Drivers are encouraged to scan a QR code to download a smartphone app for better control over the lights.
The Xprite RGB LED Rock lights can be used on ATV, SUV, trucks, passenger cars and off-road vehicles. The rock lights feature a waterproof aluminium coating that is rated IP67. These rock lights are also dustproof and shockproof, with relatively higher temperature tolerance.
The kit is easy to install and the lights can be easily coupled together in the wheel well for added brightness.
The lights have two types of mounting pads included. Controller must have all 8 lights installed to operate properly.
Pros
Easily operated Bluetooth controller
RGB multi-colour system
Waterproof and heat tolerant
Cons
Limited warranty
Installation requires additional extension cable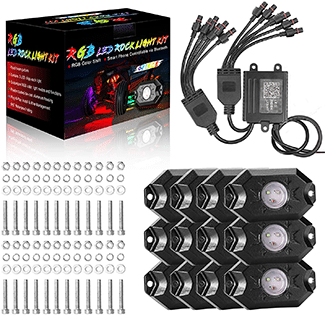 RGB Led Rock Lights by YCHOW-TECH Store consists of 4 pod, 6 pod, or 12 pod neon LED light kits. The controller is compatible with iOS7 or Android 4.3 and above operating system. These LED rock lights connect to a DC12V – 24V power source and can generate 500 lumens.
Each LED Rock Light from YChow-Tech has 3 core LED chips that produce high-intensity bright light, but in our testing the YChow-Tech lights were not as bright as some others. Still, the lights can last in excess of 50k hours and many users are extremely happy with the installation.
The controller for these lights has 29 scene modes that users can select from in addition to over 16 million different colors.
The controller has a built in microphone that enables the lights to 'dance along' in music mode.
The coating to these lights is made of aluminium and they are waterproof, dustproof and shockproof. Therefore, these RGB LED Rock lights can be attached to an ATV, UTV, cruiser or even street bikes. The RGB multicolour LED lights can even be used indoors for parties.
Pros
Easy mounting
Upgraded app control system
Waterproof and dustproof
Cons
May need wire extensions to reach all four wheel wells
Best Rock Lights – Buying Guide
Drivers that are adding a light bar and ditch lights to their jeep often will add rock lights as well. The headlights and most supplemental lights are focused on casting light down the road, so ditch lights are great at lighting up the space more immediately around the vehicle. Buyers have a number of ditch lights to choose from and they all are priced rather reasonably, so it's important to focus in on a few key features when shopping.

Compatibility
There are truck specific and more universal LED rock lights. The universal ones are meant for all types of vehicles including automobiles; cars, bikes, boats, and even off-road vehicles while the specific one is meant for exclusively one of those. Depending on what your choice is, you should check out what type of light you're purchasing. Universal LED lights are cheap but often not as durable.
Amount of LED chips
The LED rock lights can vary from having 2, 3, or 4+ LED chips. The more the chips the higher the intensity of the light, but also the more the voltage consumed. So, the voltage capacity of your car should be considered while purchasing.
Control System
Some of the LED Rock lights are mobile app-controlled and some are remotely controlled. So whatever your choice will be, ensure that the connectivity of the control system to the rock light is strong.
Durability
There should be layers of protection for the LED chips and cables to protect them from dust, rain, wind or any of the weather conditions. The rock lights are mounted in an exposed position in the wheel well, so the coating must be durable to provide long lasting protection for the rock light. Drivers should look for rock lights that can withstand wet conditions.
Budget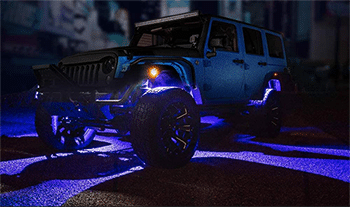 While purchasing a LED rock light, you can check out the prices online so that you will plan for the best affordable model. There is a wide range of prices from standard to luxurious ones. It is recommended that you budget your planned purchase while considering the quality and your pocket. If you aren't going to install the rock lights yourself, plan on spending a couple hundred dollars getting them wired in.
Installation
The LED rock lights mount in each of the four wheel wells and then a cable runs from each light back to the controller. Most companies sell a proprietary extension cable that owners of larger cars will need to connect the lights. The controller for the rock light should be mounted somewhere that it is not exposed to heat or harsh elements. Best in class installation includes an on and off switch mounted in the cabin so that users can protect their car battery. Also, any wires that are exposed on the underside of the vehicle should ideally be covered in wire conduit.
The Bottom Line
Before adding rock lights to your car or truck take some time to consider how you will use them, where they will be mounted, and how they will tie into your vehicle's electrical system. That knowledge can help you parse the different features like versatility, durability, connectivity, light intensity and budget size.
After examining these five market leaders, the tops on our list was the MICTUNING 2nd-Gen RGB LED Rock Lights. If you want the widest range of colours accessible, then RGB Led Rock Lights by YCHOW-TECH Store or MustWin RGB LED Rock Lights are recommended. These models are also good in cooler temperatures due to their plastic coating. The SUNPIE RGBW LED Rock Lights lasts long and is suitable in higher operating temperature conditions. Whatever option you choose, a good set of rock lights will help you brighten up the night and the road surface surrounding your vehicle.