One of the most popular initial add-ons or accessories for a truck or Jeep is adding a bed liner. Painting on a bed liner or bed coating to the back of your vehicle adds protection from impact, abrasion, water, and other corrosive elements. Bed liner makes for a more durable surface that can better withstand the rough elements encountered when working, hauling, camping, or playing. Lots of drivers also appreciate the added aesthetic element of a bed liner, and feel that it has a superior style and texture that makes for a great look.
Best Bed Liner Paint
The best bed liner paint kits are easy to apply, go on smoothly, and provide a high-level of long-lasting protection for your truck bed. The formulas are typically an epoxy, so they require a little time to dry but ultimately harden into a strong, solid protective coating. Working with blended polyurethanes is not for the faint of heart, but it also isn't a task beyond any good do-it-yourselfer. Combining a tint with a hardener is often as easy as shaking, and many of these kits come with a spray gun or nozzle to help keep the application smooth.
Buying Guide
Before you buy a bed liner paint kit be sure to take some time to plan out the job ahead. You don't want to get halfway through and start to second guess yourself. One of the most important things is that you start with a clean surface. That gives the paint the best chance to adhere to the truck bed and create a durable surface. Powerwash your truck bed clean and give it a good car wash as well. After that leave it time to properly dry. Vacuum to remove any lingering dust, dirt, or debris. The process of applying bed liner paint requires a clean surface and takes patience so make sure you do it right.
After cleaning your truck bed thoroughly, or ideally starting with a fresh new truck, the next step is to decide how you want to apply the bed liner paint. The process only varies slightly depending on the application method, with the main choices being a spray-gun, an aerosol spray, or a paint roller to roll it on.
Spray-Gun: Bed liner, like any other vehicle paint, can be manufactured to be sprayed on. Spray-on bed liners require a specialized spray gun and an air compressor to work. This type has the advantage of producing the finest result, provided you have the necessary abilities to use it appropriately. While it's not hard to apply the appropriate tools, it is necessary to be acquainted with this painting style to get the best outcomes.
Roll-On: Roll-on liners are significantly easier to apply and less expensive than spray-gun paints that need costly equipment. That is one of the primary reasons why most people choose this sort of bed liner. Another advantage is that the finishing is comparable to that of a spray-on bed liner. When using this bed liner type, keep in mind that it takes considerable time to set and it's more difficult to get into tiny spaces.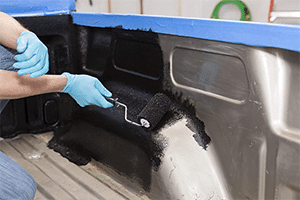 Aerosol Spray: Aerosol can bed liners are another type of available bed liner paint application and it works similarly to spray paint. The clear advantage that a spray has is that it's more accessible to anyone as it doesn't require any tools. Also, it dries fast and is a little better to work with. Its disadvantage is that the cost of the containers mounts up rapidly, and the finishing wouldn't quite be as consistent. If you are making little touch-ups or attempting to safeguard a substitute tailgate, for instance, then this is a great alternative.
When shopping for a bed liner paint be sure to choose a package that is convenient for you to use. Aerosol cans, roller kits, and spray guns have all improved enough that they can be recommended for beginners. No matter what sort of application type you choose, just be sure to take your time and aim for a clean and consistent looking finish.
Bed Liner Paint Reviews
There are lots of bed liner paint options available, so on this list we look at some of our favorites. Be sure to check the details along with the pros and cons on each one before buying so that you can be sure to choose a bed liner that you like.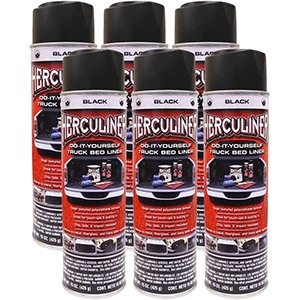 The Herculine Brush-on Bed Liner Kit is one of the only bed liners on our list that doesn't use a spray gun for application. So, why does it even make our list? It has everything to do with its high quality and low cost.
This bed line paint is one of the top-quality items you'd find in the market, with outstanding durability and thickness. For a smooth application and paint dispersion, you'll get a gallon of extremely durable black liner, two rollers, and an application brush. This liner may be used on concrete, wood, metal, and other surfaces. It has a polyurethane composition that makes it extremely durable and weatherproof. You will find that it is incredibly thick, with just one application required.
The primary benefit of this set is its density, which is five times thicker than what you'll obtain from other brands. That is, you can apply it just once and have no need to do so again. No second coating is required. Simply follow three quick steps: clean and prep the truck bed surface you want to paint, apply the product, and wait for it to dry for a gleaming result.
Pros
May be safely used on any surface, even metal and wood.
Recipe is five times denser than similar products.
Durable spray that is unaffected by lubricants or chemicals.
Once coated, the top layer becomes waterproof.
Cons
Aerosol spray-on coating reduces cost but leaves more room for application error.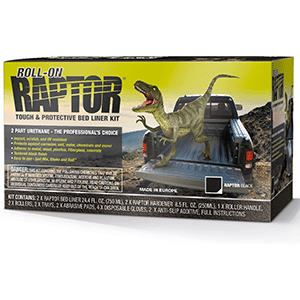 Raptor's bed liner paints are among the finest in the market. However, it is expensive so you don't want to purchase any more than you require. It's a great choice for those who have small vehicle truck beds or a range of little tasks they want to handle. The package comes with two liters of bed liner, or around half a gallon of it. The product also includes an essential primer, which helps you get the professional-level lining you want.
Homeowners like that the roller creates a textured surface. With the roller included, there's no need for any compressor or a pistol to use it—just roll it on as instructed. In several respects it's a better product than the competition, but the price is hard to overlook as you are spending roughly the same amount as you would for several gallon-size sets of competing brands. Still, in a world where you often get what you pay for it could be a good idea to spend some money on a solid product that will offer durable protection to your bed liner.
Pros
Protects the surface of the material it coats from UV rays.
Rapid drying of surfaces within one hour of its application on them.
Spray gun is included with the package.
Comes in a variety of colors for your pleasure.
Reduces your truck's vibration and sound when driving.
Cons
There are hazardous chemicals in the paint so use caution during application.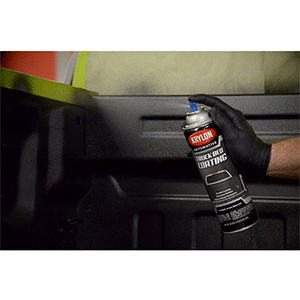 While this item may be utilized to cover the complete bed, it's far more useful for lining small areas or finishing up an already existing coating. As an aerosol spray it is relatively inexpensive but also slightly more suited for touch up work than for bigger jobs. For instance, if you are rebuilding your tailgate and you only want a bed liner paint for that piece it can be a waste to purchase a complete bed liner paint system.
This is a fantastic solution for people who do not want to overspend on their project. Aerosol has the advantage of being able to quickly spread liner paint to confined places without the need for costly equipment. We also can't forget that it's a Krylon offering, which means it has a great finish and provides exceptional protection.
Pros
Ideal for minor tasks, but it may also be used for larger ones.
In modest quantities, this product comes at an excellent price point.
Easy aerosol spray-on bed liner paint.
Cons
Single containers have a finite number of uses.
Offers a finish that feels a bit different than standard bed liner paints.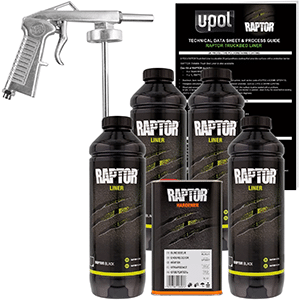 This is a great package to choose if you prefer to use a spray-on method. First and foremost, the bed liner is of exceptional quality and well regarded for its appearance and durability. It feels nice, provides excellent protection, and is simple to use. The spray gun is included and is designed to screw onto bed liner paint containers. Homeowners just have to pour the hardener, mix it up, and hook it to the spray gun.
This package comes with several liners so that you can paint a truck bed of virtually any size.Overall, there isn't much to dislike about this item. While it features a hefty selling price, it comes with a helpful spray gun and a generous amount of liner.
Pros
A spray gun is included
The system is simple to use
Provides improved outcomes over aerosol sprays
Cons
It has a high price point
Uses high-priced components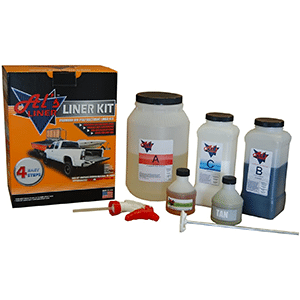 The kit is made up of three parts that are alphabetically marked for ease of usage. The blending method is explained in the guidebook, although seasoned painters can experiment with these quantities based on the types of finish they wish to create. The quality of this bed liner is outstanding. It protects against corrosion and UV radiation. It is also resistant to oil, gasoline, and other substances of a comparable type. Your truck gets the same result as industrial bed liners and provides it with the same protection and durability.
The flexibility of this bed liner is a major reason why customers choose it. It's extremely refreshing to be able to customize the components to your preference. You may produce a thick, firm combination that prioritizes hardness and longevity. You could, on the flip side, choose a thinner, softer mixture. The manufacturer includes in the package a helpful spray bottle that is large and quick enough to spray the coating before it sets.
Pros
Very adaptable; you may mix and match to suit your tastes
Extremely protective
Available at a reasonable cost
Spray gun is included in the set
Cons
The mix sets quickly.
Best for experienced painters.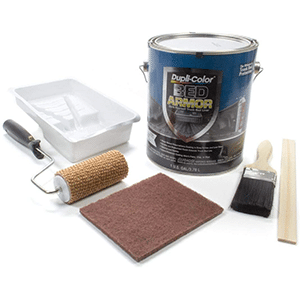 Dupli-color has been an expert in automotive paints for nearly sixty years and they apply that expertise here to deliver an outstanding bed liner paint. Surprisingly, it is a quite reasonably priced option, so customers at all price points can afford quality. Notwithstanding its modest cost, it is a very good liner that provides great protection to your vehicle. You may use a roller or a spray gun to spread this liner, and it will dry fast in both cases. You may, however, take a look at their full set of application tools if you do not have the necessary tools to paint the liner on hand.
This, like some other cost-effective liners, has disadvantages. For example, it is not as hard as the more costly options out there. But it does the work, which is more important.
Pros
No noticeable smell in the water-based treatment.
Resistant to gasoline's damaging effects.
Also works on concrete, fiberglass, and wood.
Cons
The scuff paper included with the package isn't very helpful
Conclusion
When shopping for a bed liner paint kit there are lots of options. Each of them provides a basic level of solid protection that does not come with your vehicle by default. Some users really like the added texture of the bed liner and how it makes the back a lot less slippery. Cargo is more apt to stay put instead of slipping and sliding around the back. Other drivers are happy with the extra protection, and knowing that the back of their truck is better equipped to handle the bumps and bruises that are down the road. Everyone likes reducing the chance of rust or allowing corrosive elements to get a hold of the truck body.
No matter what reason you are shopping for a bed liner paint kit, take some time to pick the right one for you and also be patient when applying it to help get a clean looking finish. When you are done, put a picture in the comments section below to show us how it came out.