Driving your Jeep or RV around exposes it to the elements and it doesn't take long before you need a good carwash. Between the weather, road grime, dirt and oil, there is no easy way to keep your truck tires clean except a good wash. If your vehicle has a spare tire mounted on the rear, the best way to keep it clean is with a Spare Tire Cover. These covers fit up, over, and around your rear mounted spare tire so that it stays clean, dry, and out of the elements.
Best Spare Tire Cover
The best spare tire covers are durable, protective wraps that fit tight, look good and stay clean but are also still easy to take on and off. Spare tire covers can be hard and rigid or soft, with the soft tire covers usually easier to install and less expensive. When you experience a flat tire your spare tire is the solution, but it will only work if it has been maintained. Tires are made of rubber, which makes them vulnerable to weather and water. If they are not protected and are left to be exposed to heat, they begin to crack, thus weakening the rubber. Driving on your tires keeps them supple, since the rubber in your tires flexes and heats up as you drive, thereby stretching them out and keeping them in good shape. For your spare tire to stay in good shape, it is important to cover it.
Buying Guide
There are a lot of good reasons to not leave your spare tire exposed on the back of your vehicle. Some people start shopping for a spare tire cover because they want something that looks good and maybe even has some flair. Others start shopping for a spare tire cover because they want to protect the rubber or rims on their new wheels. Everyone wants their vehicle to look good, but you shouldn't neglect the main functions that a spare tire cover is meant to perform!
Before purchasing a spare tire cover, these are the major things that you should keep in mind.
Weather Protection
Your spare tire will deteriorate if it is exposed to the weather on a regular basis. The rubber can be worn away by temperature variations, dampness, and UV radiation, which can lead to problems with the composition and stability of your tire over time. Select a tire cover with good weather and UV protection to shield your spare tire from these problems.
Security
Spare tires are expensive to replace, especially for specific vehicles, such as a Jeep. As a result, thieves target visible tires. Therefore, you should purchase a tough tire cover made of durable material that safeguards your spare wheel. Not only does it make it less noticeable, but it also means that removing the wheel will take more time and work, thus discouraging thieves.
Fit
A key question you need to ask is if the tire cover will fit perfectly. If the cover is too small, it will definitely not fit and installing it will be difficult. Ultimately you will probably tear it trying to take it on and off. If the tire cover is too big, you are simply creating space for water to enter and pool. Furthermore, if the cover is too large, it might easily be blown off or fall off in a car wash or while driving on a highway speed, thus becoming a hazard for you and other road users.
Customization
One other thing you need to consider is if the tire cover can easily be personalized. You can make a statement with the tire cover of your vehicle, but you would have to first consider if the cover doesn't come with factory customization and if it can be easily made into your likeness. Stickers, embroidery, and other adornments are a great way to make your vehicle look and feel more like your very own custom job.
Material-type
Spare tire covers suffer a lot of punishment as they shield the wheels from all kinds of weather and dirt grime. Therefore, they have to be built of a durable material that can survive all kinds of weather, scratches, and punctures. The most common material is vinyl; it fits all these criteria while also being water-resistant and easy to clean.
Strong Stitching
The spare tire cover is always under continual strain when you hit the road; it doesn't matter how good the material type is, if the stitching is of poor quality, the tire becomes vulnerable.
The stitching that glues the faceplate to the sides and makes the hem must be made from a strong thread that will not fray or snap when exposed to any kind of weather. Keep an eye out for straight stitching that isn't very close to the material's edge. Inspect for fraying, dropped, or missing stitches, which could result in weak areas. Look for tire covers with a strong warranty as that is often a good sign of strong stitching!
Waterproofing
Imagine yourself carrying a tire with water in it; you will realize that it is extra heavy which makes a waterproof feature a necessity in every tire cover. In addition to the water-resistant material, you will need a waterproof design. This entails inspecting edges and joints for possible water entry points. A big problem is water pooling, so look for a tight design that eliminates spaces where water can sit and collect.
Best Spare Tire Cover Reviews
With these shopping considerations in mind, let's take a look at some of the highest rated spare tire covers for your Jeep, SUV, or RV. When shopping for a spare tire cover there are lots of options available on the market, so below we list the best ones along with their details.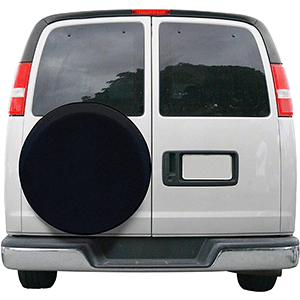 You don't have to pay a lot to get a high-quality spare tire cover, and this cover from Classic Accessories is a good example of that. The company is experienced at making big, durable covers for big RVs and motor homes, so these smaller wheel covers come from a solid product line. This is the perfect option if you are in need of a simple, no-frills spare tire cover to help prevent sun damage, dirt, and corrosion. A water-resistant vinyl material and a comfortable, non-scratch backing combine to make this long lasting and easy to use. It has a custom-like fit, thanks to an elasticized back hem with quick-connect snaps. This spare tire cover is designed to suit wheels with a diameter of 26 – 28 inches.
This tire cover is marketed towards RV and conversion van owners, but the cover is not limited and will also work well on your jeeps, trucks, and overland vehicles. Drivers like that the cover has a soft backing so that it doesn't wear or scratch the tire. They also like that the vinyl exterior makes it easy to clean. Even if the spare tire isn't brand new, this black cover will keep the back of the vehicle looking good. With the elastic hem it is not too tight yet doesn't flap around in the air. It also comes with a three-year manufacturer's warranty. The only complaint would be that it has a very plain black design, so adding some stickers from your favorite National Park or travel destination will help spruce it up.

Pros
Easy to fit
Easy to clean
Protects against sun UV damage
Versatile and not very expensive
Water-resistant cover reduces risk of mold build-up
Cons
Some issues long-term with the tire cover's durability around the elastic hem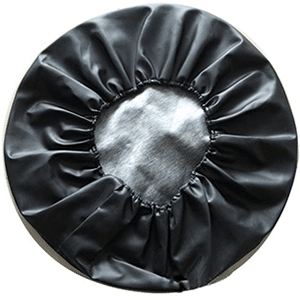 The Fasmov Spare Tire Wheel Cover checks all the right boxes when it comes to a standard spare tire covering for overland vehicles like trucks, Jeeps, and SUVs. The PVC leather material gives it decent durability and protects your tire from any water and sun damage. It installs easily without any tools thanks to an elastic back hem. The elastic rope has a lot of travel so that it can fit over and around a spare tire before cinching tight. The cover is made for tires with wheel diameters of 27 to 30 inches.
Since this tire cover is made of a PVC leather material it easily wipes clean when dirty. The material also gives it good durability and protection from the elements like sun and rain. This tire cover doesn't have clips or the tightest elastic hem, so make sure beforehand that your spare tire does have a diameter of 27 to 30 inches or otherwise it might be a poor fit that leaves it flapping in the wind.

Pros
Durable material cleans up easily
Waterproof backing allows you to hit the road in any weather
Elastic hem makes for easy installation
Cons
Losses elasticity over time
Very vulnerable to getting scratched or punctured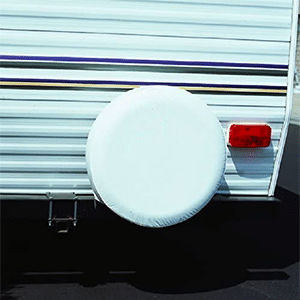 ADCO has been producing top-quality sewn vinyl covers for over fifty years, and although they are currently produced in China the company still has high quality standards. The 3-year manufacturers warranty that is included on all their tire covers is further testament to the well-designed, heavy-duty tire cover that they deliver. Like most other tire covers, this one is made of vinyl. The strong vinyl provides good protection from weather and road grime while also washing clean easily.
ADCO produces this line of tire covers in two colors – black and white. The company also has a number of different sizes available because they want you to get a snug fit on your spare tire. The company recommends that you choose the cover size that is the same size or slightly larger than the tire.
The internal side of the tire cover has a flannel material, which reduces the possibility of scratching or scraping your wheel but can get annoyingly stuck to your rubber tire. It has an elasticized back and a hollow bead welt cord, making it very easy to install. This tire cover is long-lasting and fairly priced.

Pros
Weather-resistant
Guards against dust, filth, and grime
Elasticized hem makes it easy to install
Eliminates scratching with flannel lining
Available in Black or White
Cons
Vinyl material isn't particularly thick
Measure tire carefully to get the proper size and a snug fit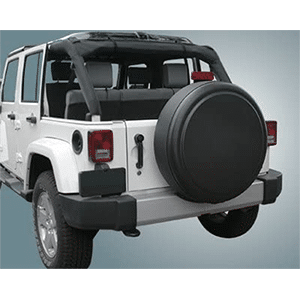 This hard cover is designed to fit 2007 – 2018 Jeep Wranglers. There are versions available for 29" tires and 32" tires. It fits the spare tire quickly and securely thanks to a rigid front face and a vinyl, elasticized outer rim. The rim is covered by a robust automobile-grade vinyl fabric band that is attached to a black textured, molded thermoplastic faceplate. The nice thing is that it costs less than a full hard-shell cover so it gives your jeep a good, finished look for less money. The hard shell front can also be easily customized to give it more flair.
Overall, Jeep drivers find that it is easy to install, it stays fitted and it provides good protection in various elements. However, it has a shortcoming of accumulating water after it rains, and some users have complained that the fit is almost too tight.

Pros
Rigid front with vinyl sides
Provides superb protection and security
Very simple to install
Excellent design and quality
Comes with a 3-year warranty
Cons
Designed to fit 2007 – 2017 Jeep Wrangler models and OEM tires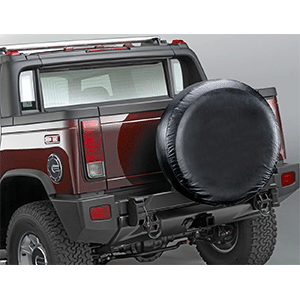 Waterproof vinyl and a soft cotton, non-scratching backing are key features of this quality cover from Leader Accessories. The tire cover is simple to install, and the elasticized back hem ensures a secure fit. The vinyl is strong and textured, plus it completely covers the tire to provide good protection from sun and rain.
Several different sizes of tire cover are available, so carefully measure the entire diameter of your tire to select the proper size. Overall, it keeps a tire well shielded from the heat and road debris. However, some users have raised concerns as regards to the cover being a little too tight.

Pros
Great for winter storage or to protect your tires from the sun
Elasticized back hem for a quick and secure fit
Needs no tools for installation
Compatible with tires of all car-type with the correct size
Soft cotton back cuts down the chance of road debris damaging your tire
Cons
A few users criticized it for blowing off at high speeds but this is probably a sizing issue so just measure your tire carefully when selecting the proper size.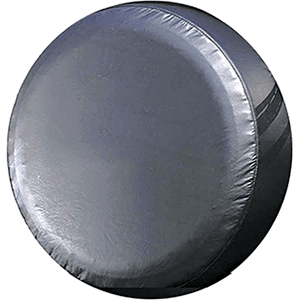 This weather-resistant cover protects your spare tire, keeping it clean and dry. It has a conventional design that fits tires with a diameter of 26.5 to 29.5 inches. This cover comes with an elastic band to make installation easy.
This is a well-made, low-cost cover that safeguards your spare tire while also improving the appearance of your vehicle. It stays in place whether you are in a car wash, driving at highway speeds, or parked in adverse weather. One disadvantage is that removing wrinkles might be difficult.

Pros
Weather-resistant cover guards against inclement weather, water damage, and UV radiation
Good quality tire cover at a great price
Elasticized hem makes it simple to put on and ensures a secure fit
Cons
Water can pool in the cover if it is loosely fitted
Relatively short lifespan
Conclusion
Adding a spare tire cover to your vehicle is a great way to inexpensively protect your spare tire and bring some style to your ride. Look for a cover that is made of a long-lasting, water-resistant, wipe-clean material that protects against all kinds of deteriorative elements. The interior should also be soft to prevent it from scratching or damaging the wheel. A nice advantage of soft spare tire covers is that they are relatively inexpensive. They are also very easy to install with elastic hems in the back that slip on and over the tire. No matter which one you choose, consider adding a spare tire cover to keep your spare tire clean, safe, and ready in case you need it.