Everyone loves the look and feel of a clean car. For people who wash their cars regularly, it can be tedious to clean your wheels. Some of the worst tar, grime, and residue from the road accumulates on the wheels and the wheel wells. Brakes leave dust on the rims and driving the streets puts dirt in those hidden spaces and tight edges around the rims that are hard to clean. It can seem like you need to wash and maintain your wheels constantly.
Best Wheel & Tire Cleaners
The solution is to use a cleaner designed specifically for wheels that can cut through the dirt and grime. These formulations are stronger than carwash soap and often include grease cutting ingredients that attack the mess built up on the wheels. The best wheel cleaners also restore the shine and lustre to your wheels finish.
In this review we will look at some of the best wheel cleaners available. Most of them are non-toxic but they almost all contain active ingredients that can harm your tires if not used properly and rinsed promptly. The harsher formulations are necessary to help remove the tar, oil, and grease that your wheels pickup from the road.
Buying Guide: Top Wheel Cleaners
There are several types of wheel cleaners available depending on the type of formulation and application that you prefer. Most of the wheel cleaners are available as spray bottles so that you can easily coat each wheel in the formula. Since these are not gentle formulas, take care when applying them to your tires and when rinsing them off.
Spray Bottle Application
Most of the top wheel cleaners have a spray bottle included so that you can easily clean each wheel. Just take time spraying to be sure that you coat the wheel in the cleaning product so that the active ingredients can work on stains.
Foam or Gel
The wheel cleaners are usually applied as a gel or a foam. Since wheels are a vertical surface the best cleaners are high viscosity and stick to the side of the tire instead of falling right off. It takes time to treat oil and grease stains so you want a formula that stays where you spray it.
Harsh Chemicals or Safe
The wheels and tires of your vehicle attract the worst mix of oil, grease, tar, and dirt. These heavy stains require strong active ingredients to break them down, loosen them off, and rinse them off. Sometimes the trade off is between a harsh chemical that does the job and a safer less astringent formula that requires additional elbow grease on your part to get the job done.
Best Wheel Cleaners
Each of the wheel cleaners below does a good job of removing dirt and dust from your tires. Read on for our specific reviews and recommendations for each one.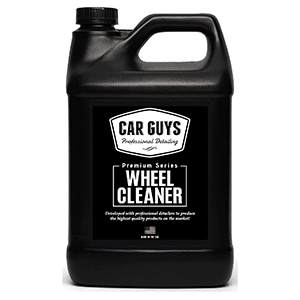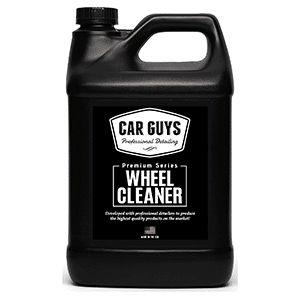 This product from CarGuys is a versatile and easy to use cleaner that is safe on all types of wheel finishes and tires. It has a strong formula that attacks brake dust and makes it easy to remove. This wheel cleaner is a highly concentrated gel so it adheres to the wheel instead of running right off. The product is a pH neutral formula so it won't harm alloy, chrome, or aluminum on your wheels or rims.
Car Guys sells this wheel cleaner by the gallon, so vehicle owners will probably want to also purchase a spray bottle to use when applying it. The concentrated formula is strong enough that it can be diluted with water in the spray bottle to extend the life of the product. This wheel cleaner has a 100 percent satisfaction guarantee and it is made in the USA.
Pros
Strong formula but still safe to use on any wheel and tire surface
One gallon application can be diluted with water for extended life
Non toxic, environmentally friendly, and safe to use
Cons
No spray bottle included
Premium price for a premium product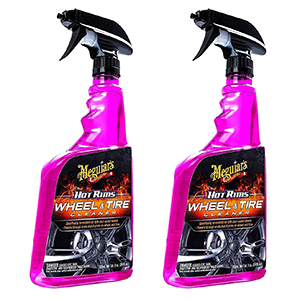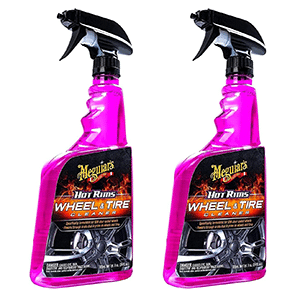 This is an affordable product suitable for car rims and other surfaces. It creates a nice foam when sprayed that clings on surfaces and attacks stains. Just spray it and leave it and let it do its job. It will dissolve grease and grime stains and make them easy to clean off.
The spray bottle application is easy to use and the formulation foams up nicely when it hits the tire surface. This is more of a mild formula that will require a bit of elbow grease alongside it to completely do the job. Still, that makes it a bit safer and easier to use than some of the other cleaners on this list.
Pros
Foam spray works well on rims and tires
Exceptionally easy to apply and rinse.
Priced right
Cons
Not as strong a formulation as some harsher cleaners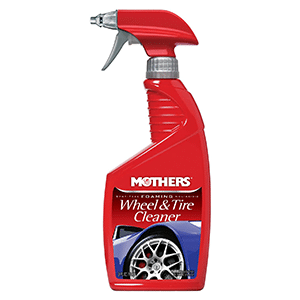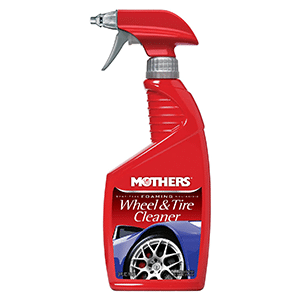 This wheel cleaner from Mothers is cheap and effective. It has a foaming, non-acidic spray that can remove dirt without any hard scrubbing. This wheel cleaner is designed to be sprayed on and then hosed off. It works well on brake dust, grease, dirt and grime.
Note that this cleaner is a bit harsher and it is best not to use it on anodized wheels or polished aluminum. It is perfectly safe to use on tires and rims including painted, coated, steel, chrome and factory coated wheels.
Pros
Spray foam application
Cheap and effective
Safe for use on factory coated, chrome, modular, and clear coated wheels.
Cons
Harsh formula can damage anodized wheels and polished aluminum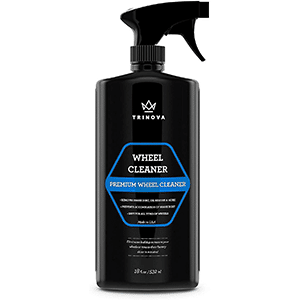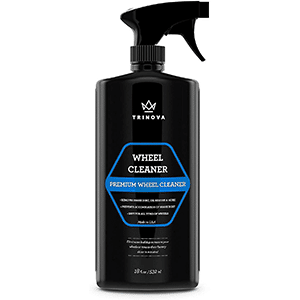 The wheel cleaner from TriNova is a spray gel that works to remove dirt and grime that accumulates from oil and brake dust. The formulation is completely acid free so users do not have to worry that it will damage their vehicle during cleaning. Perfectly safe to use on chrome as well as alloy wheels and tires.
Applying this gel is easy. Use the spray bottle to apply an even coat of the gel to your wheel by holding it about 6 – 8 inches away and spraying. Coat the entire wheel and let sit for two minutes so that the formula can cut the grease and oil residue away. As necessary agitate the gel with a soft bristle brush or a sponge to remove caked on stains. Then rinse the wheel completely clean with water and dry to bring that sparkle back to those dirty wheels.
Pros
Gel based formula removes grease and oil along with stains from rock salt and snow deposits.
Easy application with the spray bottle and then rinse clean.
Completely acid-free product safe to use on tire and rim surfaces without worry.
Cons
Works better on rims than tires
Elbow grease required for tougher stains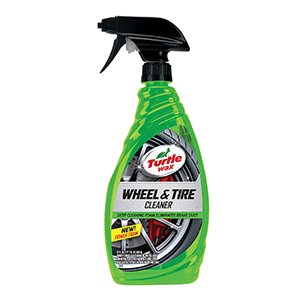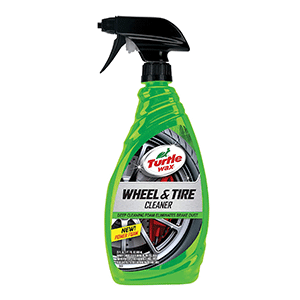 Turtle Wax is a well-known producer of automotive cleaning products and they produce a safe, reliable, and easy to use wheel and tire cleaner. Turtle Wax uses a versatile formula that sprays on tires and then foams up nicely. The deep cleaning foam eliminates brake dust and leaves the tires and rims looking clean. It is also excellent for clearing tire browning and removing road dirt stains.
The active ingredients in this formula do a good job cutting into grease and grime. It is best not to allow this formula to remain on your wheels for more than half a minute. Also, don't apply it on non-factory painted wheels or wheels that are warm from recent driving.
Pros
Power foaming formula cleans all wheel surfaces
Non-acid formulation safe for all OEM and aftermarket wheels and tires
Cons
Premium price
Works well on rims but does not shine tires black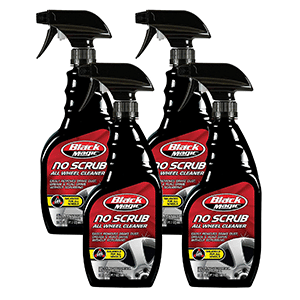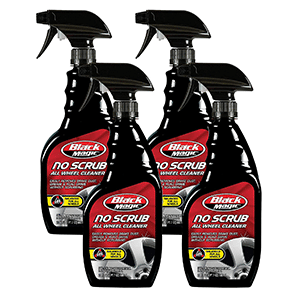 The black magic wheel cleaner is an affordable and powerful formula that offers a no scrub solution. It can polish your wheels and get rid of dust, mud, and grime. There is no need for concerns over discoloration and any negative after-effects with this polish as it is suitable for a wide range of surfaces like mag wheels, ABS plastic, anodized and polished metal areas.
This wheel cleaner is exceptionally easy to use. No scrubbing is needed and vehicle owners just need to apply, hose off, and wipe clean to have great looking wheels.
Pros
Spray on and rinse off wheel cleaner
Wheel cleaner is pH neutral and safe to use
Little or no scrubbing necessary after applying it.
Cons
Elbow grease required on tougher stains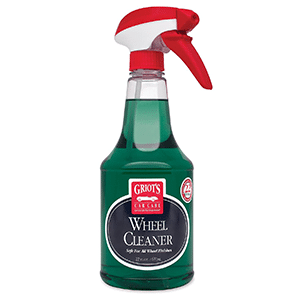 Griot's Garage is a popular manufacturer of automotive cleaning accessories and is known for its reputable and high-quality products. Their wheel cleaner delivers a lot of cleaning power and gives you a finished and polished look on your wheels. The formulation is pH balanced so safe to use on all wheel finishes but is still powerful enough to remove brake dust, tar, dirt, and road grime.
This wheel cleaner should be sprayed onto a cool, damp wheel and allowed to sit for a minute. A brush can be used to agitate any stubborn stains and then wheels should be rinsed off.
Pros
Griot's Garage is a reliable manufacturer of high-end automotive cleaners
Non acidic product is safe to use for you and your vehicle
Cons
Premium product with a premium price
Conclusion
The best wheel cleaners spray on easily and attack dirt, tar, oil and road grime without damaging your vehicle. Wheel cleaners have active ingredients to break down stains and they reach tight corners and seams on your rims where dirt hides. Make cleaning your car easier by using one of these tire specific wheel sprays the next time you wash your vehicle. You will definitely not regret it.