Your tires are what make contact with the road and safe driving starts with keeping the proper tire air pressure. Both overinflated or underinflated tires can be dangerous in situations that require emergency braking and sharp turning. Too many drivers neglect proper air tire pressure and put themselves and their passengers at risk. Consider some key points below on maintaining proper tire air pressure. 
TPMS
Vehicles are equipped with tire pressure monitoring systems (TPMS) for a reason. Manufacturers know that keeping tires inflated properly is key to safely operating your vehicle. When your vehicle shows a TPMS warning light it is important to provide immediate attention to the problem. The NHTSA requires new vehicles to be equipped with a TPMS. Modern vehicles use either a Direct TPMS, where sensors are mounted in each tire, or they use an Indirect TPMS, where the anti lock brake wheel sensors are used to determine the roll speed of each wheel. 
Underinflated Tires
Your vehicle TPMS will notify you if a tire is underinflated. Under inflated tires will typically show a PSI below 30. An underinflated tire is dangerous because it does not have enough air pressure to keep proper shape. That creates the visible, depressed rubber that you sometimes see on the road. When these already low tires encounter a pothole or bump they can pinch the rubber and cause you to lose the tire. If a tire is severely underinflated then it can unseat from the bead and deflate rapidly.
A low tire must constantly flex and fold as the vehicle moves, which can increase the temperature of the tire and risk of a blowout. As the tire squashes the bottom there is a constant fold and unfold of the rubber. The flex from an underinflated tire also increases how much torque is required to spin the wheels. This is why cars with under inflated tires get lower gas mileage and overall decreased efficiency.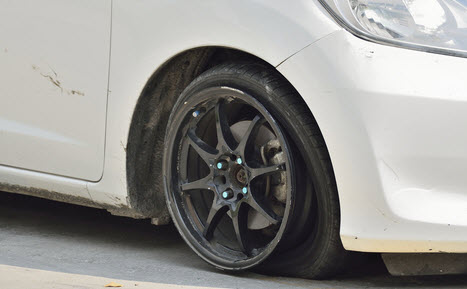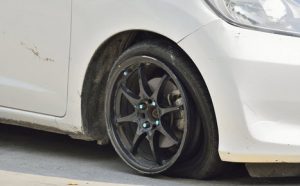 Overinflated Tires
Since underinflated tires are easier to see people give them more attention, but the risk from overinflated tires is just as severe. Most drivers are not aware of the dangers from over inflated tires. Overinflating a tire reduces the amount of tire surface area that is making contact with the road as the tire bends to accommodate the extra air. Reducing the amount of surface area also impacts the friction between tire and road so braking and turns can be more difficult. On overinflated tires your vehicle will have an increased stopping distance and difficult over/under steer. The increased air pressure also makes the tires more likely to experience a blowout. An overinflated tire typically measures a PSI above 40.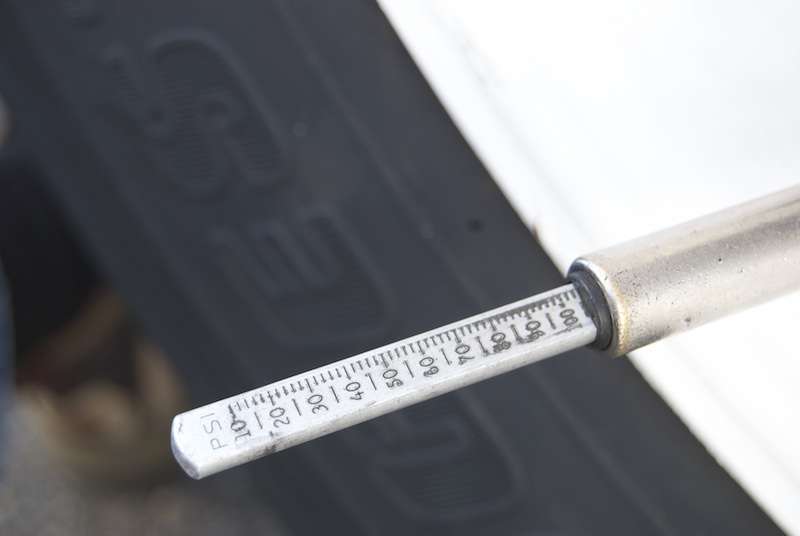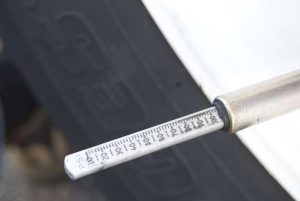 Over or underinflated tires are not only dangerous but also less efficient. Without proper air pressure your tires will have a decreased useful life and less reliable handling. Help your vehicle get good gas mileage by keeping tires properly inflated. Keeping a tire pressure gauge and an air compressor in your garage or storage shed makes it easy. When checking your tire pressure remember that driving will heat up your tires and can increase the reported air pressure.
Proper Tire Pressure
A lot of people incorrectly assume that the tire lists the proper air pressure. In fact most vehicles list the proper air pressure in the door jamb. The number on the tire is typically showing the max air pressure that the tire can hold. The max tire pressure can approach 50psi while the typical recommended pressure is 30 to 35 psi (pounds per square inch).
To take into account your specific factory car and the tires you should use the air pressure number in the door jamb. Too many service stations will just fill every tire up to 32 psi without looking at what the factory recommends. Also be aware that the numbers for the proper air pressure can often be different for the front and rear tires. This is due to the weight balance between the front and rear of the car.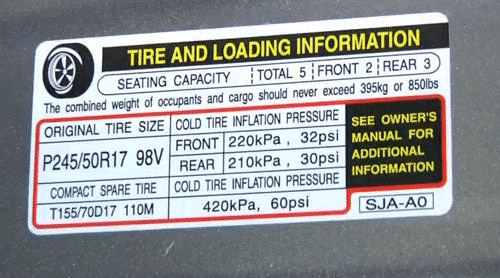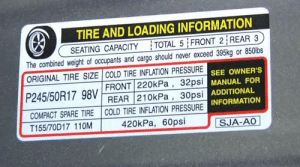 As the temperature gets colder, be sure to check your tire pressure regularly. Cold winter weather can reduce the air pressure in your tires and you don't want to be stranded in snow and ice. When the winter cold hits it is common to wake up to a low tire pressure warning. Your tires have the same amount of air in them it is just the air is sticking closer together. Once your tires warm up from driving that error message will likely disappear but if not stop and add some air. There are multiple elements to being a safe driver, and keeping your tires properly inflated and maintained is definitely one of them.