You always want to be careful when pouring engine oil into your vehicle. When oil gets on your engine and heats up it can burn off with a foul odor and make a mess. If you make a spill be sure to wipe it off. 
The easiest way to pour motor oil without spilling a drop is by using a funnel. When a funnel is not available you have to be a lot more careful when pouring the oil. Here are some tips on how to pour motor oil without spilling a drop.
Pour motor oil out with the neck side up
The engine oil bottle has a distinct, familiar shape for a reason. It is designed to help you pour the oil in safely. If you read the instructions on the back carefully you might find this important tip – always pour engine oil with the neck side up. By putting the long end on top it prevents the glugging that you might experience, and that glugging flow of oil is usually when people spill. To always get a smooth pour of engine oil remember to keep the neck side of the botte pointing up.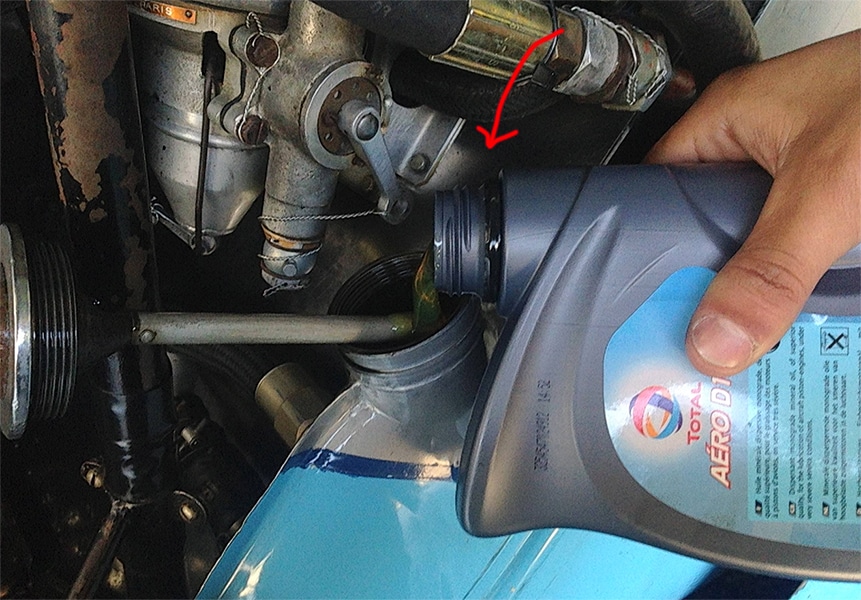 Use the dipstick to pour oil cleanly without a funnel
A great hack for keeping your engine clean when pouring motor oil without a funnel is to use the dipstick. If you pull the dipstick out most of the way and hold it over the center of the opening, you can pour oil directly down the dipstick and into the engine. Some dipsticks have a helix bend on them to help facilitate this but really any dipstick can be used. The chemical composition of the oil keeps it binded to the dipstick instead of spilling off. Newer cars sometimes lack a dipstick and in that instance a screwdriver or similar can be used to pour the oil without spills.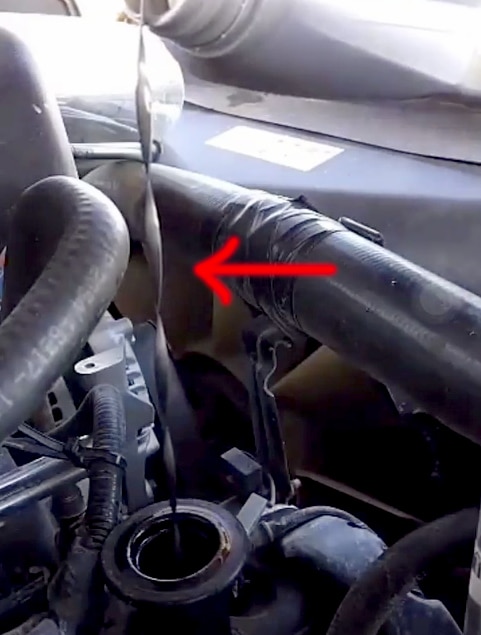 Jam the bottle in the hole and then puncture the bottle
This is not a great option but sometimes you got to just get it done and this method is sort of fool proof. Based on your vehicle type, you should be able to flip the oil bottle over directly into the opening. Some people recommend leaving a bit of foil in the cap so that it doesn't pour out too fast. Once the bottle is in the opening you just need to create some airflow by puncturing some holes into the back of the bottle. This will help all of the oil to pour out. 
These tips should help you get oil into your engine even without a funnel. The best option to not spill is infrequently changing your oil and you can read our review of best high mileage oils here. If you do spill be sure to wipe it off. If you are changing the oil in your garage consider floor finishings that protect it from oil stains.  
As a general reminder, remember to check your owners manual for the recommended oil change service interval. When you get an oil change the quick lube will slap on a sticker for 3k or 5k miles but be sure to check your manual because a lot of newer vehicles on synthetic oil recommend a longer interval. Often these vehicles can safely travel for 8k to 10k miles or 6 months between oil change. This video from Ford does a good job explaining.