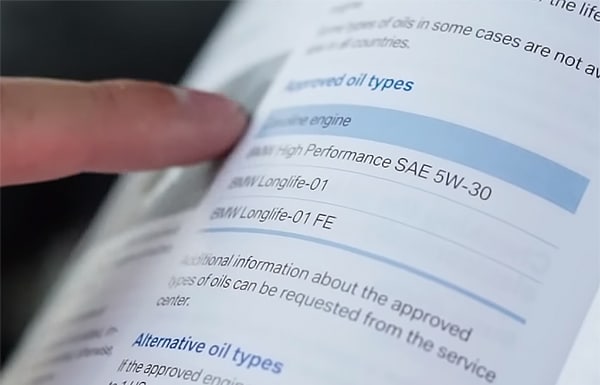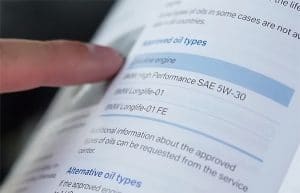 Viscosity is the measure of resistance the flow. When the number of the oil model is high, it means that the oil is thick. The thicker the oil is, the more difficult it is to get thin because of the heat. This is what the numbers 0, 5, 10, 15, and 25 mean. Letter "W" means not "weight", but "winter" or low temperatures that the oil can stand. So it is possible to conclude that the oil 5w30 features a higher viscosity than 5w20.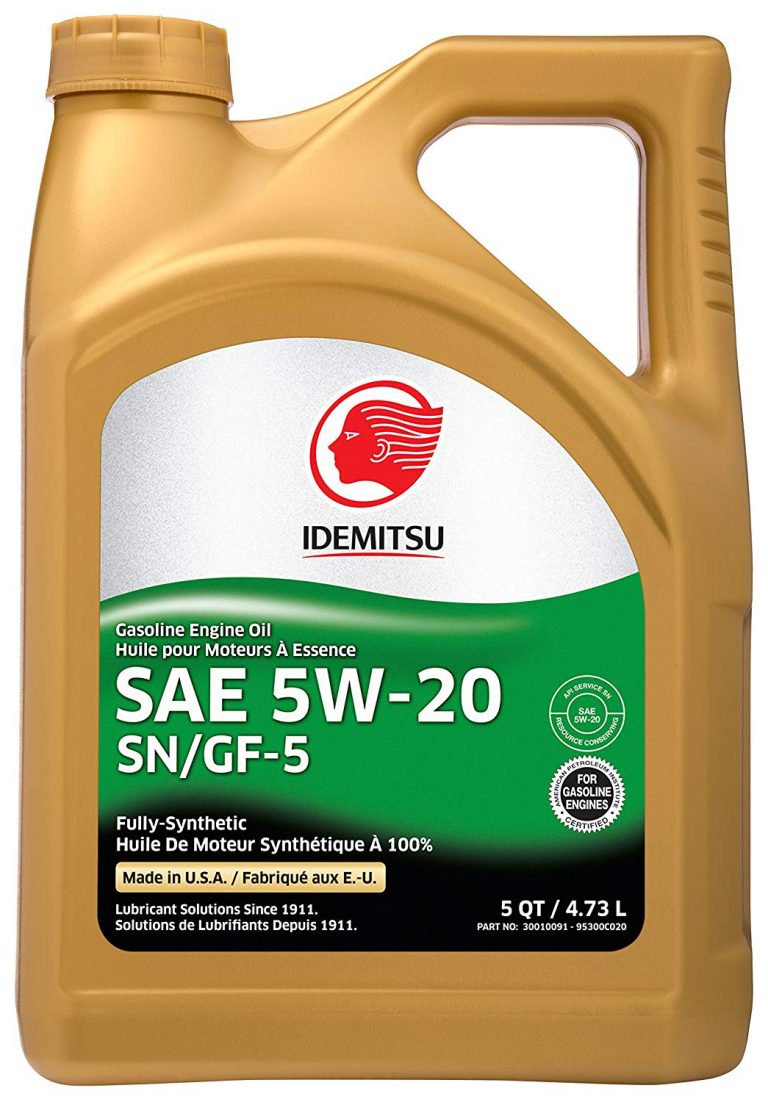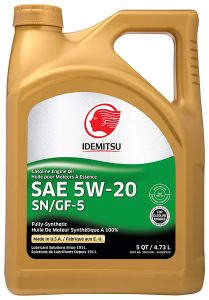 Idemitsu Kosan Co. was founded in 1911 in Moji, Kita-Kyushu. It produces fuel products and basic chemicals, lubricants, engineering plastics, performance chemicals, organic light emitting diode (OLED) materials. Idemitsu designs clean and energy efficient products.
The container of this oil is 5 quarts. With its premium friction modifying additive technologies plus synthetic base oils, the fuel is saved. It protects the engine from tear and wear, minimizes the generation of the deposits, no matter which conditions are. With it, less oil is burnt off and emissions are eliminated. Checking your car's manual is essential when choosing the oil, which suits it best.
With Idemitsu 30010091-530 C020 Full Synthetic 5W-20 Engine Oil, the engine achieves the highest levels of horsepower, torque, and efficiency. With it, the number of waste oil is eliminated.
Thanks to it, the engine's life is prolonged and gasoline consumption is reduced.
Its density is 0.848 g/cm3. The kinematic Viscosity at 40°C is 47.6 cSt. The kinematic Viscosity at 100°C is 8.50 cSt. Viscosity Index is 156. Flash Point, COC is 232 °C. Noack Volatility is 9.2 wt%. It is recommended for all the cars with use of API SN/ILSAC GF-5 engine oil performance.
Pros
Engine protection from tear and wear
Elimination of emissions
Maximum fuel economy
High level of performance
Cons
It works best with gasoline engines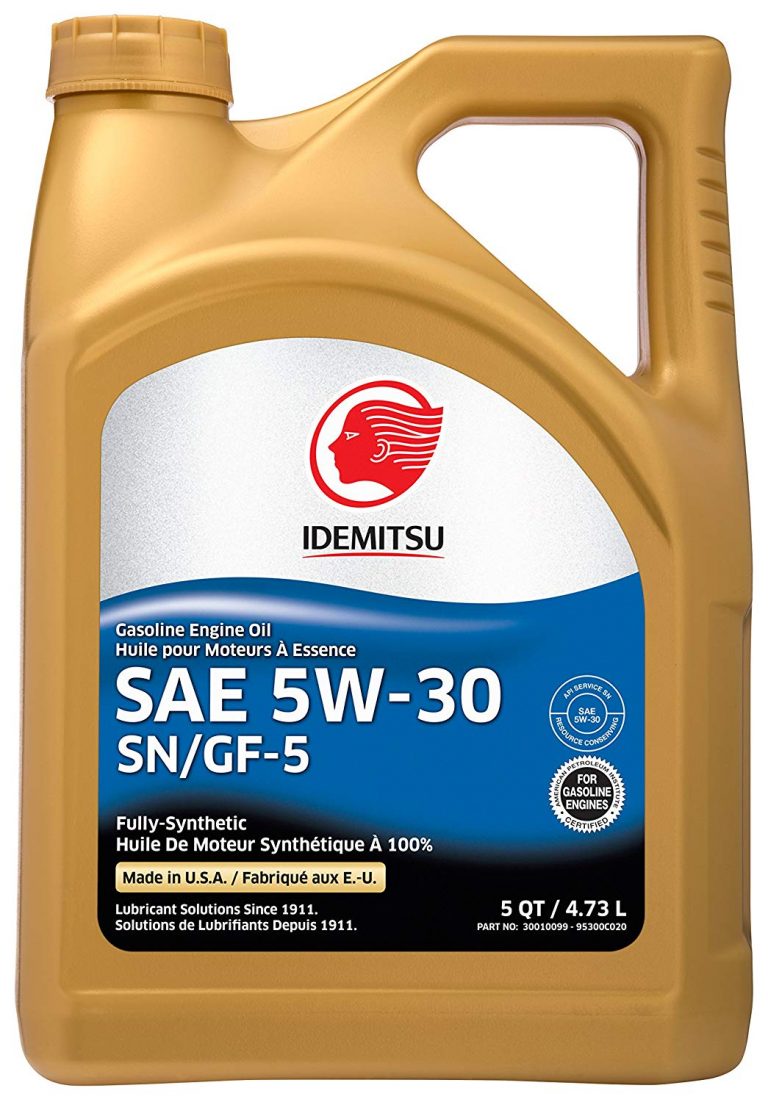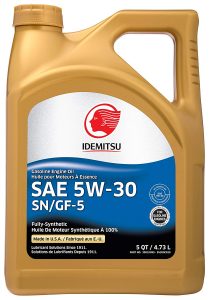 The container includes 5 quarts. As well as 5w-20, it provides the engine with amazing protection from wear and tear. With its high piston cleanliness, the green gas emissions are reduced. So the emission control systems are protected and the gasoline consumption is eliminated. It minimizes the formation of the deposits, even in complicated conditions.
It includes turbos and is engineered for high-capacity engines. With the specific technology, the engine serves for a long time.
It provides with maximum durability and performance.
Idemitsu 30010099-95300C020 Full Synthetic 5W-30 Engine Oil's Density at 15°C is 0.848 g/cm3. Kinematic Viscosity at 40°C is 62.0 cSt. Kinematic Viscosity at 100°C is 10.79 cSt. Viscosity Index is 166. Flash Point COC is 232 °C. Noack Volatility is 10.0 wt%.
It is compatible with API SM, SL, SJ, SH. It is recommended for all the cars with API SN/ILSAC GF-5 performance engine oil use. So check your car's manual to ensure you purchase the correct oil for it.

Pros
Eliminated gas emissions
Reduced gasoline consumption
Long-lasting engine service
High level of durability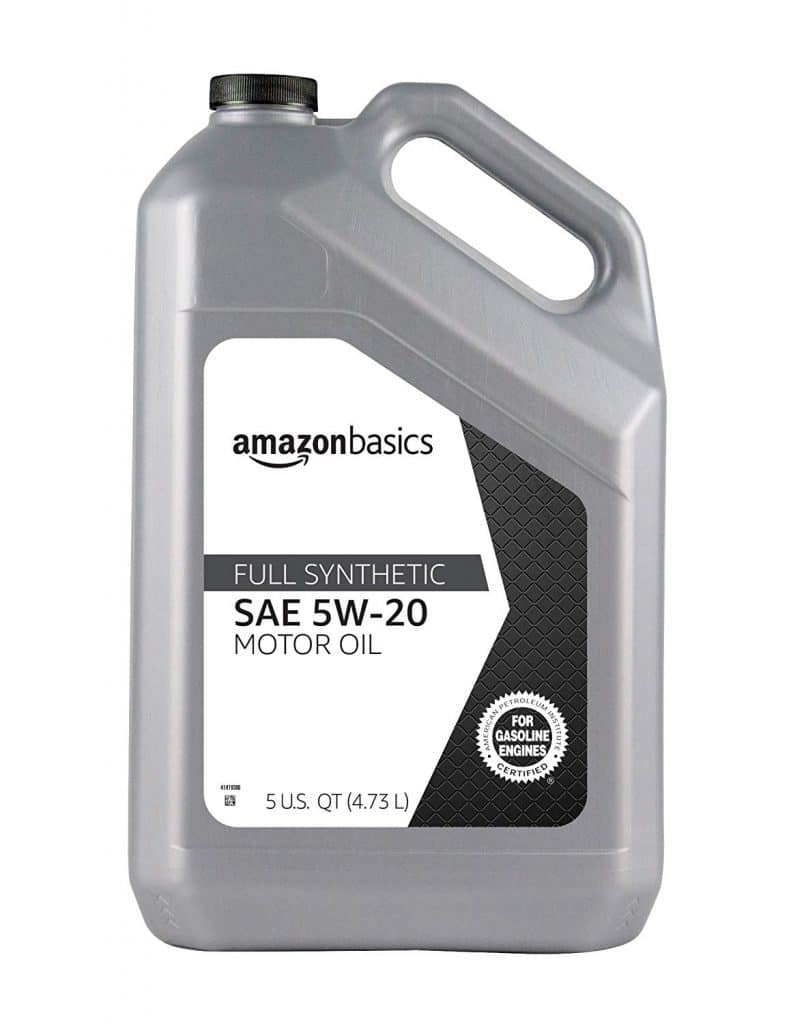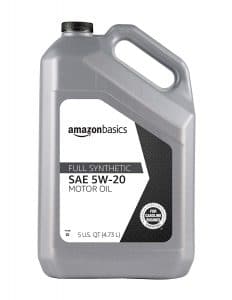 AmazonBasics is Amazon's store brand. The products are cheaper, ranging from kitchen products to electronics accessories. This brand produces the versions of popular items for a less expensive price. Since December 2017, AmazonBasics is the best-seller company at Amazon.com.
The size of it is 5 quarts. It is full-synthetic oil, that is designed for longer drain intervals. It is engineered to eliminate the likelihood of the Low Speed Pre-Ignition. With it, the friction is reduced.
So the fuel economy is improved as well as protection from wear and tear.
It is high-resistant to thermal breakdown and viscosity. It assists in fighting volatility burn-off in order to exhaust emissions and reduce engine deposits. Before purchasing, check your car's manual to figure out whether this oil will suit it.
With AmazonBasics Full Synthetic Motor Oil (SN Plus) – 5W-20, better performance and power output are promoted. The unwanted build-up is reduced so the engine is protected from corrosion and rust.
The oil can perform at cold temperatures (5W) and can stand the hot temperatures (up to 30°C). The oil is conventional and high-mileage.

Pros
Reduction of friction
Good fuel economy
High protection from wear and tear
Reduced engine deposits
Cons
There is no strip to see through to the liquid to know how much is in the bottle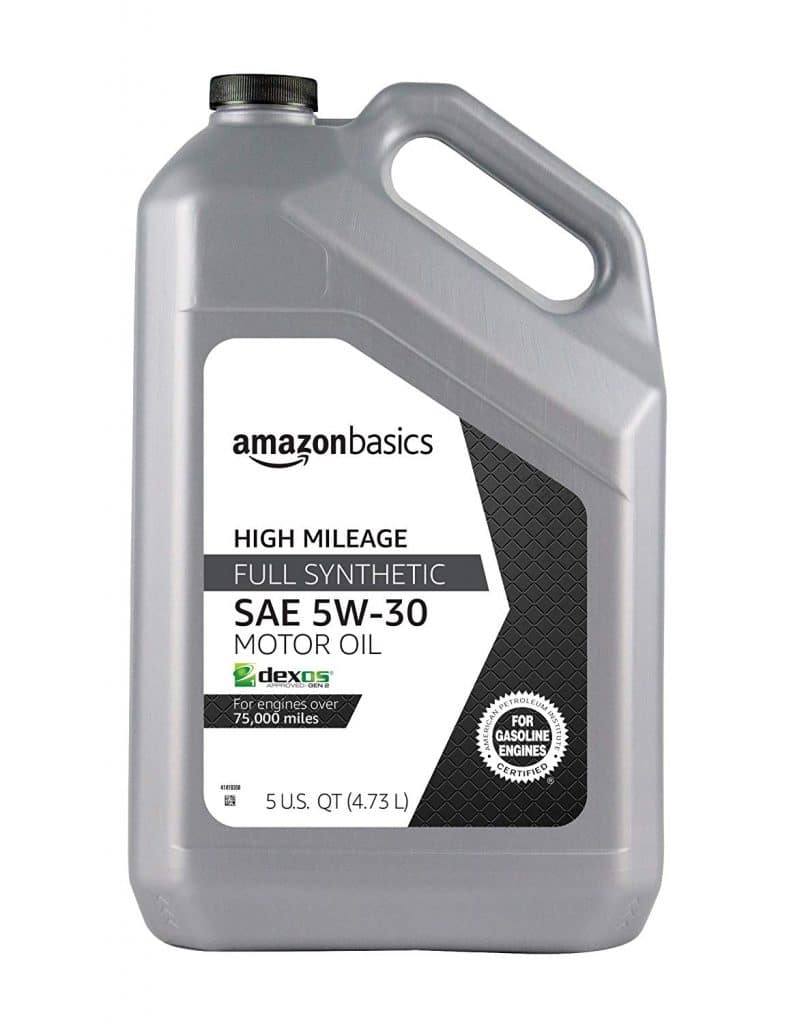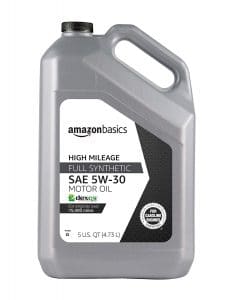 The bottle includes 5 quarts. This motor oil is conventional, high-mileage and full-synthetic. With it, your car engine will be protected for more than 75,000 miles drive with longer drain intervals. It is designed for reduction of the likelihood of the Low Speed Pre-Ignition.
With this oil, the fuel economy is achieved because of reduced friction.
Also, the engine protection from wear and tear is guaranteed by creating of the protective coating. It resists to thermal breakdown and viscosity at a high level. The oil is dexos1 Gen 2, API SN, and ILSAC GF-5 approved. It is recommended to check the car's manual before you purchase it.
With AmazonBasics High Mileage Motor Oil – Full Synthetic (SN Plus, dexos1-Gen2) – 5W-30, better performance and power output are promoted. The undesirable build-up, that might lead to corrosion and rust, is decreased. The engine deposits are eliminated as well as emissions are exhausted. The oil can stand -5 °C temperature during winter and +30 °C in hot season.

Pros
High level of friction reduction
Great fuel economy
Protection from wear and tear
Promoted power output and performance
Cons
No clear visible strip on the side of the bottle so you cannot know the current fluid level
It is rather expensive
5w20 vs 5w30 – Buyer's Guide
Why you should choose a motor oil wisely?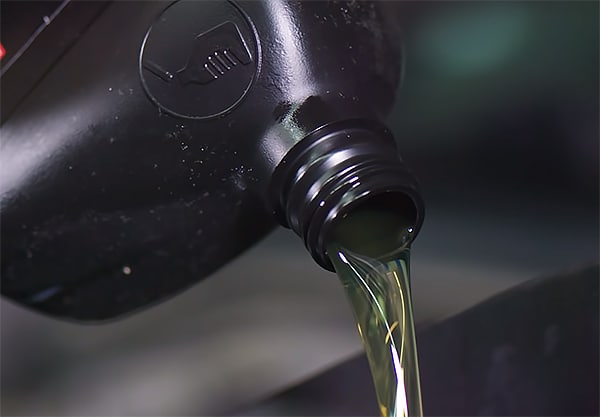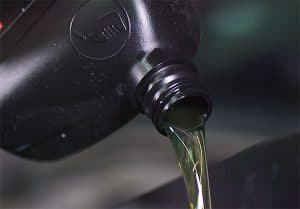 When you want your car's engine run properly, you'd better choose the quality motor oil. The main function of the motor oil is keeping the internal parts cool and lubricated. So the moving parts will not grind against each other and the wear of the engine will be prevented. When you don't change the oil on the regular basis, the dirt will pile up. So there will not be proper lubrication of the moving parts. It may lead to significant damage of the car's engine or there even may be a need to replace the engine completely. So it's recommended to change the oil every 3,000 -5,000 miles.
5w20 vs 5w30: Meaning of Numbers
Viscosity is a feature of oil, according to which, it is classified. Viscosity defines the level of oil resistance to flow. Viscosity is thickness of oil. The bigger the number is, the thicker oil's viscosity is. It is made to modify, depending on the current temperature. For example, "5W" means that the viscosity of the oil at 0 degrees Celsius in winter is 5 and the last digits "20" or "30" stand for the higher degree of the temperature.
5w20 Vs 5w30 – What's the Difference?
The main difference between 5w20 and 5w30 is that the first one is thicker and less viscous, but such a motor oil is more preferable in countries with hot temperatures because the thinner oil might have be broken down in such a climate.
5w20 Vs 5w30 – Which Oil to Use?
The lower level of viscosity is, the thinner barrier protection to your car is. As long as there is less oil in the engine's moving parts, less friction is provided, leading to better performance.
So when the level of viscosity is low, the fuel efficiency is improved.
There might not be a big jump in MPG, but you will notice a slight improvement. The lower viscosity oil is recommended for countries with lower temperatures and below freezing conditions. The motor oil 5w20 better operates in newer cars to meet the specific requirements per gallon when 5w30 is a better choice for cars over 100,000 miles.
When to Replace Engine Oil?
You have to change oil every time you make a service of your car. When the engine oil use is prolonged, it begins to lose its lubrication properties and viscosity. But when you drive smoothly, making fewer speed changes so you won't need to replace oil very fast. Also, when your car is not used for a long time, you'd better change the oil before you stop using it.

Chris Robson
Auto Mechanic
Pro Tip: Factors to consider when buying the best synthetic motor oil
1. Choose the products, offering protection from wear and tear. A good motor oil should contain the additives, eliminating wear and tear of the engine
2. Choose the products, offering improved engine's performance
3. Select the ones that are engineered with modern technology
4. Choose quality products that can serve for a long period of time
5. Choose the products that can handle extreme weather conditions
6. Select the oil with the best lubrication properties that guarantee great performance
The limitations of using synthetic oils
Not every oil can be applied to a specific car model. Older car models function better on conventional oils since their engines are engineered accordingly. So it's recommended to verify your car's manual before purchasing the motor oil.
Synthetic oils are upgraded conventional oils. They promote good engine's performance. Synthetic oils also provide nice mileage, but they cost more than conventional oils. They are not recommended for rotary engines and old car engines that require gasoline.
Frequently Asked Questions
Is it okay to use 5w30 instead of 5w20?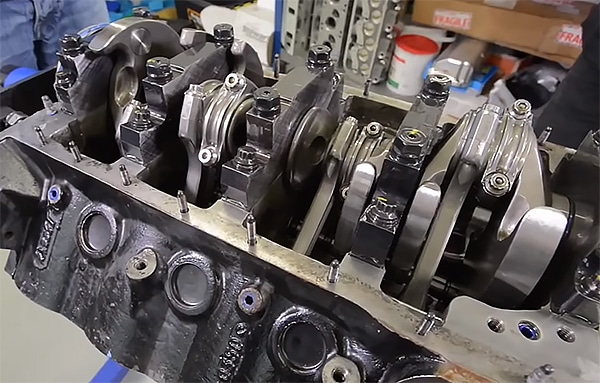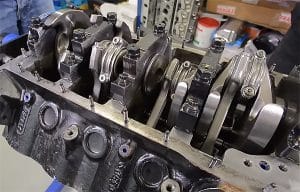 You may use it and it will not blow your engine, but your car will not run as efficiently as it could have been with 5w20. So you will experience lack of fuel economy.
Is 5w20 thinner than 5w30?
The 5w30 is less viscous or thick. So it is more recommended for colder climates when the thinner oil that can flow during the start-up easily.
Is 5w20 oil good?
It depends on the kind of engine. So it is recommended for engine protection because it is too thin and improves gas mileage.
Is 5w20 good for winter?
"W' stands for "winter". The lower W number is, the better functioning during the cold winter is. 5w is recommended mainly for winter use.
Is full synthetic oil worth purchasing?
The synthetic oil is rather pricey, but it protects your car's engine better than conventional oil. It may even prolong the engine's life.
Is high-mileage synthetic oil worth it?
When engine is not leaking or burning oil, or when it utilizes less than a single quart over 6,000 miles, it may not be worth purchasing high-mileage oil because it will cost you additional sum of money. The main function of high-mileage oil is prevention a leak from starting so when you do not have any issues with leaking, you'd better choose another motor oil.
How often should I change the synthetic oil?
You can go up to 16,000 miles or one year. It is five times longer interval in comparison with need to change the conventional oil.
Is synthetic oil very expensive?
It costs more than conventional, but it should be changed less regularly. Synthetic can stand higher temperatures more so the engine's wear is eliminated.
Is it secure to put synthetic oil in high mileage engine?
Yes, it's possible, but the car should be in a perfect condition and when it has been maintained. So that synthetic oil will protect the car and prolong its life.
What is the difference between regular and high-mileage oil?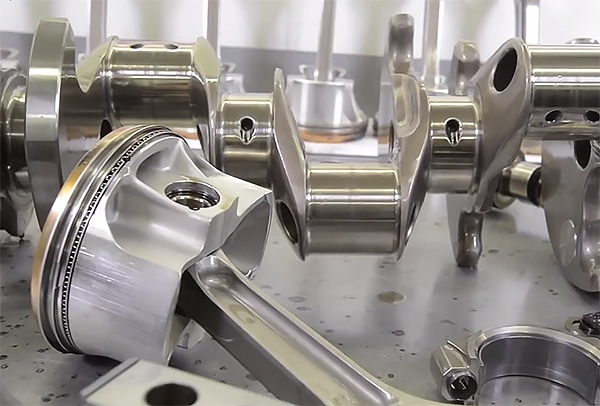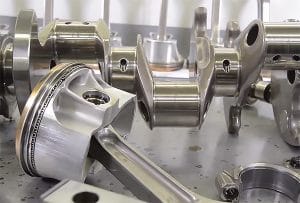 There are specific ingredients in high-mileage oils such as seal swells, antioxidants, conditioners, wear or friction additives, and detergents.
They take care of older engines.
Such oils are made with seal conditioners, restoring the shape and increasing flexibility. These things assist in leaks prevention.
Can I change high-mileage oil into a regular one?
When you do it, you may be deprived of high performance of your engine.
How many miles can I go on high-mileage oil?
You should do it every 3 months or 3,000 miles. According to the car's manuals, you should do it less often, like after 5,000 or 7,500 miles.
Can I go 10,000 miles with synthetic oil?
When serving normally, you should change the oil every 7,500 or 10,000 miles, when your car is a 2013 model. When it's Toyota, the interval can be 10,000 miles.
Is high-mileage oil bad?
It is better to buy high-mileage than the old car with less miles.
Is full synthetic oil appropriate for high-mileage cars?
Yes, it is because it helps stop leaks, resist oil breakdown, prevent sludge in higher-mileage engines.

Is full synthetic better than high-mileage oil?
Synthetic oil features cleansing properties. The newer the car is, the more it is recommended to use synthetic oil. High-mileage is recommended when your car has over 75,000 miles.
Should I utilize thicker oil in high-mileage engine?
Yes, you should because it will improve the pressure of oil in older engine. The thicker oil will protect from wear of engine bearings.
Is it possible to stop utilizing high-mileage oil?
Yes, it is after a single or a couple of oil changes. So it will lead to reduced oil consumption. The vast majority of high-mileage oils are engineered to benefit cars with more than 75,000 miles.
Will utilizing synthetic oils cause leaks?
No, it won't. When your gaskets and seals are in a proper condition, there will be no leaks. These small cracks might cause bigger issues, no matter with or without a synthetic oil.
Can I put synthetic oil when my car is old?
Yes, you may.
Can I mix a regular and synthetic oil?
Yes, you may. It is not dangerous.
Will heavier oil damage my engine?
Either too thick, or too thin oil can both damage your engine, but it will not be catastrophic. It will only eliminate the overall engine's life.
Conclusion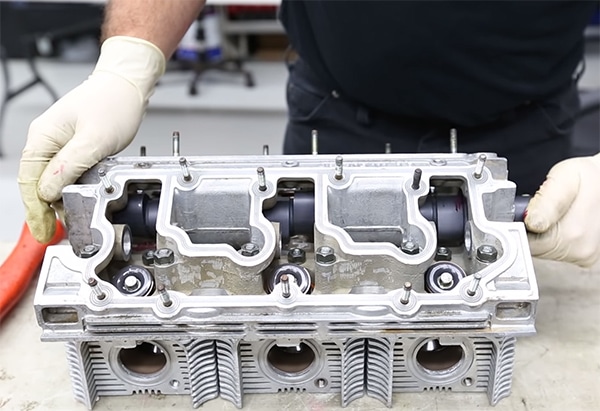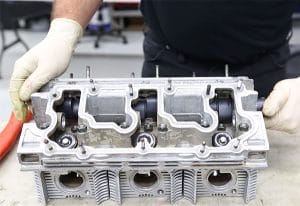 As long as 5w20 and 5w30 are both synthetic oils, they protect the car's engine well, no matter which climate is. The 5w20 oil increases fuel efficiency quickly, but it causes wear and tear of the car's engine. The 5w30 oil helps the car's engine function well for a long time. When you still doubt which one of the oils to choose, ask a mechanic or check the car's manual to choose the best oil for your vehicle.
Hope that this article on motor oil was helpful to you. If you liked it, please leave your comment below because we want to know your opinion. Have a great day!