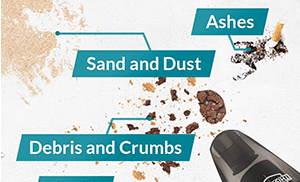 If you want a clean car then keeping a vacuum cleaner in your vehicle is essential. Freshly vacuumed carpets and clean interiors always looks good. Spills happen fast and people make a mess in your back seat when you are not looking. Kids can be even worse. When things get messy having a vacuum close by is the best solution. We made a list of our top five favorite car vacuums along with a clean car buying guide to point you in the right direction.
Best Car Vacuums of 2021
1. Dyson V11 – Best Handheld Car Vacuum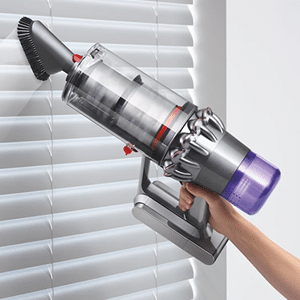 If you want to keep your car looking detail fresh then the premiere cordless vacuum on the market is the Dyson V11. Massive suction power and a mini motorized tool head mean that cleaning is fast and easy. The vacuum has a long crevice tool for reaching in between car seats and a dirt brush for working out stubborn carpet mats. For your car dash and other delicate areas, the vacuum has a mini soft dusting brush attachments that works well. This Dyson vacuum is perfect for high traffic areas in your car. Actual run time will vary but on a single charge the device typically gets over an hour of cleaning. It is not light, weighing about 6 pounds.
High Performance Suction
The massive suction power of this vacuum is unrivaled and really sets it apart from competitors. At the vacuum head it is nearly 4x as powerful as the other vacuum cleaners on our list. It can be frustrating to vacuum over an area and have it leave dirt behind. This is the only tool that always picks up the debris and leaves you consistently satisfied with the performance.
There is even a boost mode that takes suction up a level. While it is an all-around solid car vacuum, the V11 is backed by a generous 5-year warranty. What's more, the manufacturer has a great reputation on consistently providing top-notch customer service.
Recommendation
We highly recommend this compact vacuum for anyone interested in keeping their car looking good. The Dyson is expensive but like with cars you get what you pay for. We really like the ability to change heads quickly and either attack the dirty carpets or just dust clean the dashboard. Intelligent sensing keeps the vacuum suction in check and then lets the vacuum use full power when it senses an applicable surface. Top notch performance from a cordless vacuum.
Pros
Attacks dirt and stains
Powerful suction cleans messes fast
Lots of cleaning on a single charge
Helpful attachments like motorized brushes and crevice tools
Amazing customer service stands by the product
It is backed by a 5-year warranty
Cons
Expensive vacuum not for the price sensitive
Heavier than other models tested
Cordless so requires charging and no swappable battery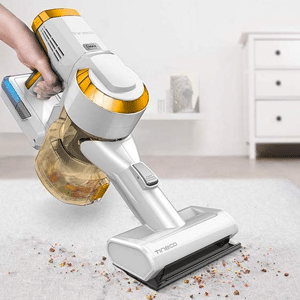 Vacuuming with the Tineco A10 is an ease. The vacuum has a lightweight 3lb main body that balances form factor and suction power nicely. Offering true deep cleaning capability in a small package, the vacuum strikes a great balance between size and capabilities. The included agitator helps remove dirt from car seats and floor mats. The battery run time is nearly fifty minutes per charge and each vacuum comes with two batteries, making it easy to leave one on the charger while the other is in your car. This vacuum also earns merits for quiet operation. The 350W motor produces great suction without making loud noise.
Detachable LED Batteries
A key feature of the Tineco Car Vacuum is its detachable LED batteries. The device boasts high capacity LED batteries but most importantly you can swap them out easily. The vacuum comes with two batteries, making it easy to leave one in the house charging and one in the car. That alone gives this cordless car vac a big advantage over its competitors.
Recommendation
We highly recommend this vacuum for people interested in a mid-tier vacuum that sacrifices a little performance for a cheaper price tag. This is still an expensive machine, but it delivers high end results at a significant discounted price to the market leader. If you're looking to add a powerful vacuum to your trunk and want to stretch your budget, then consider this Tineco A10.

Pros
Powerful 350w brushless motor
Mini power brush and dusting brush
Delivers fifty minutes of cleaning per charge
Two LED batteries included and easily replaceable
Cons
High power suction setting drains battery
Only a 2 year warranty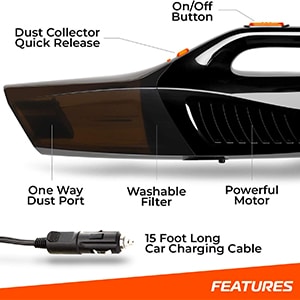 The SwiftJet Car Vac has decent power packaged in a great design that is easy to store away in your trunk. Unlike the high-end models, this is a more budget friendly choice that will do the job but take a little more work. The problem with vacuums is that when you have to go over an area multiple times it can be frustrating and time consuming. If you want to have something close by that can help keep things clean this will work great. You will need the occasional high-power vacuum at the car wash or in the garage to compliment the cleaning power of this vac. It has a 120w motor and a long 15-foot power cord. The vacuum also offers a brush tool, extension hose, and crevice tool to help keep the car clean.
Dustbuster Style
One of our favorite features of this vacuum is its small, mistake-proof design. Resembling the classic dustbusters, this is easy to use and worry free. Compared to other vacuums this product is very small and portable. The convenient carrying case stores easily in the trunk of your car.
Recommendation
We recommend this car vacuum to casual drivers that will only need it occasionally. It can clean up crumbs and spills but not heavy-duty dirt.
With enough suction to handle small jobs and no batteries to worry about charging, this product offers a simple solution to keeping things clean in your car.
It weighs a mere 2.8 pounds and is relatively compact. On the downside, for bigger jobs it might lack the suction you need.
Pros
Hooks right into 12v car lighter
Skinny 15 inch extension tool
Long 15 foot power cord
Sucks up water spills
Cons
Lacks the suction power of high end models
Not a steel washable HEPA filter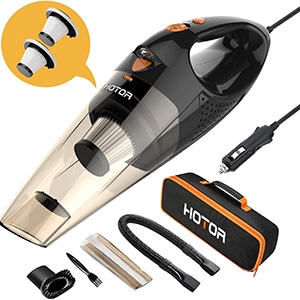 The HOTOR Corded car vacuum cleaner offers good features and ok suction at an attractive price point. The cord plugs in easily to your car 12v and offers good suction and lasting power compared to cordless models. The vacuum is particularly useful under and around the car seats with an equipped LED light and an assortment of crevice tools to help get dirt out of the nooks you otherwise cannot reach. Easy emptying of the dirt and dust cup is a big improvement over previous models, as is the new stainless steel HEPA filter. Wash the stainless steel filter off and it is ready to go again. These features make cleaning up the vacuum easy after you have cleaned up the mess.
Easy Storage
This car vacuum fits easily in the trunk. It weighs just over 2 lbs and comes in an easy carrying case. Also included is a nozzle attachment to help reach around and clean in the backseat.
Recommendation
This is a great choice for people that want a vacuum easily accessible in their car. The best things about it are the long 16ft 12v cord and portable carrying case. You can keep this in your trunk for weeks without thinking about it, but then when you need it most just plug in and it is ready to go. Better than a cordless option for drivers that only occasionally are cleaning out their car.
Pros
Stainless steel filter
Long 16ft power cord
Has a built-in LED light
Aluminum alloy fan
Supports wet/dry applications
Cons
Some customers report underwhelming power
106W rated power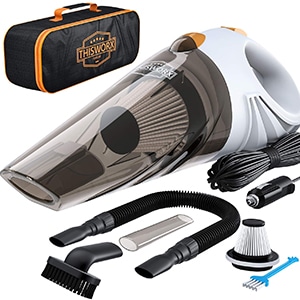 ThisWorx offers a strong corded option with thoughtful accessories and a long cord to help reach all over the vehicle. Similar to the HOTOR this vacuum is quiet and compact but in turn sacrifices some suction power. The vacuum has an upgraded metal turbine and a 106w motor but it still won't compare to the suction of the competitors at higher price points. It offers a long elastic hose and brush nozzle to help remove dirt and pet hair from car seats. The filter in this model is washable and HEPA safe to make maintenance easy. The company includes a helpful brush to use when cleaning the HEPA filter.
Wet and Dry Diry
The ThisWorx Car Vacuum is capable of collecting wet spills. This vacuum can also handle crumbs, ash, and dirt. It can vacuum small amounts of water or wet spots.
The vacuum comes with a complimentary zippable storage bag that helps you keep it with all its accessories. This is a great product for vehicles in wet or rainy areas. It's also a great choice for beach-destined or off-road vehicles.
Recommendation
Vacuuming your car with the ThisWorx Car Vac couldn't be easier. However, the main perk of this device is its corded power supply. No batteries to think about means it can sit quietly in your trunk for a long time but then spring to life when needed. What's more, it has an attractive white design that we really liked and helps it feel clean.
Pros
Versatile vac picks up dust, dirt, and water
Full range of accessories
Long 16ft power cord
Large trash container
Cons
Smalll 106w motor
No known warranty
Best Car Vacuums – Buyer's Guide
What to Look for When Purchasing a Car Vacuum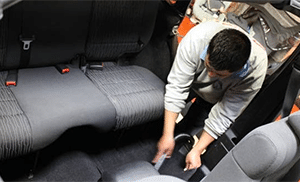 Today's portable car vacuums offer far more power and performance. Nevertheless, most only have the power to do complimentary cleaning and you will still need a car wash vacuum on occasion. The high end models do offer enough suction to be your only vacuum option.
Power
Suction power is definitely the most important feature when it comes to choosing a reliable car vacuum. The amount of suction delivered by a Dyson V11 is going to be over 4x as powerful as competing brands. Most manufacturers are trying to balance the right amount of power to keep your car clean with the body size and expensive parts needed to make strong suction.
Corded or Cordless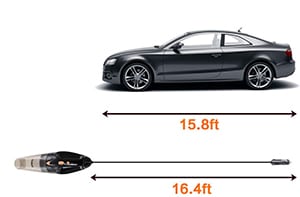 Car vacuums come in corded and cordless models. The standard, corded model will resemble a typical dustbuster style handheld vacuum with a power cord. The power cord will end in a 12v so that you can use it easily in your vehicle power ports. Cordless models on the other hand offer powerful LED batteries that keep a strong charge for a long period of time. Typically a cordless model will be able to clean for nearly an hour in between charges. Some cordless models offer detachable batteries so that you can easily swap in new power when it is running low.
Brushes and Accessories
The best car vacs will offer an assortment of heads to tackle different tasks. They should provide tools to reach under seats and into crevices along with heavier scrub brush tools to attack tough stains. Hoses are always appreciated to help reach in and around the car. Corded models benefit from long power cords that let it move easily around the car.
Flashlight
We sometimes see car vacs that feature built-in LED flashlight accessories. This can be very helpful when trying to clean out your car while parked in a dark garage or on the street. The LED helps you see the dirt and also see in and around and under the seats and floor mats. Consider vacs with this feature when making your choice.
Warranty and Service
While we stand behind our recommendations, we are always more likely to recommend a product that is backed by a manufacturer's warranty. Not only that, but we are more likely to support companies with reliable, approachable customer service departments. Whether you are looking at 1 or 5 years of defect replacement coverage, a warranty can give you a boost of confidence when spending your hard-earned money.
Advantages of Owning a Car Vacuum
Car vacuums are popular accessories for vehicles that accommodate a lot of travelers. They also are great for high end cars or just cars that the owner is working to maintain a high level of clean. A lot of owners like the feel of a detail or showroom ready car and keeping a vac inside the vehicle helps make that happen.
Whether you're keeping it clean at a gas station while you fill up or just when the car is parked, a portable car vac offers immediate support. It saves you from having to get out the shopvac or wait for a bigger mess that makes it worth cleaning up.
Beyond that, there are many affordable and compact models to choose from. For less than the price of a good carwash you can add a portable vac to your car that will last for years. High end car vac models can be expensive, but they also deliver outstanding performance. The right car vac exists for every owner and every vehicle.
Final Thoughts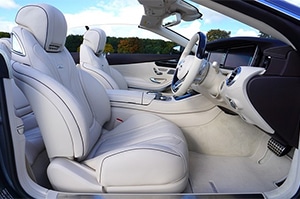 After checking out several car vacs, it is truly hard to understand why anyone would be willing to travel without one of these in the car. They are quiet, portable, and effective at cleaning up dirt and spills. Keep your interior feeling fresh and new. All of your passengers will appreciate it.