Experienced kayak owners are well aware of the troubles they face when trying to safely and securely transport kayaks. Almost no vehicles have the space to store a 10 foot object, and a securely attached kayak rack is the perfect option. A kayak rack is a necessity for adventurers who plan frequent trips frequently. It provides security for your kayak, as well as your car.
Best Kayak Racks
Once you decide to invest in a kayak you immediately begin facing the reality around how difficult they can be to transport. Many vehicles are not going to fit all or even part of the kayak in the back, so a proper roof rack is necessary. A kayak roof rack is the most convenient way to hold your kayak while traveling to a paddling destination. The four main types of kayak roof racks are saddles, j-cradles, stackers, and the most common type which is a temporary pad style rack. If your car roof has no crossbars or side rails, then that last one is the ideal option. For a car with crossbars the j-cradles are an easy option.
Below we have selected some of our favorite roof racks for you to consider taking on your next paddling adventure.
Kayak Rack Buying Guide
Before shopping for a kayak roof rack take some time to consider a few key purchase aspects.
There are a few simple factors you need to study about before purchasing a kayak rooftop carrier. Only after taking some time for proper analysis of the product and your requirements should you buy a kayak carrier. After all, you don't want to end up purchasing a carrier that won't fit on your car. The key considerations to make before shopping for a kayak roof rack follow.
Vehicle
Probably the most important thing to consider when shopping for a kayak roof rack is the type of vehicle that you will be using it on. It doesn't matter what kind of car you drive, there is probably a roof rack that works well for you. However, that doesn't mean that all roof racks are one size fits all. Before shopping, take some time to look at your vehicle and understand if it has a luggage roof rack and what sort of beams are utilized on it. For instance, some carriers won't work on round cross beams but will work on octagonal ones.
Kayaks
Be sure that before shopping you take time to understand the dimensions of the kayak you plan to transport. Most of the kayak roof racks will have a weight limit and a maximum size from bow to stern that they can safely transport. Also be aware of how many kayaks you want to move around and if you need a double kayak carrier or if just a single carrier will suffice.
Types of Racks
There are four main types of roof rack carriers for kayaks, and before making a purchase decision you should consider each type as they each have advantages and disadvantages.
Temporary Pads –  If your vehicle does not have a factory installed roof rack on it, you can still use a kayak carrier by installing a temporary pad. This uses straps running through the inside of your car to latch a rack down onto your car roof. This is an affordable option but is only intended for short trips.
Stackers – These carriers are designed to hold multiple kayaks by standing each of them on their side so they take up as little space as possible. On most cars this allows for four kayaks to be mounted on the roof safely and securely.
Saddles – The sturdiest option you can buy for your kayak is a saddle rack. The saddles use a large surface area to position your kayak on its hull atop your vehicle. Each kayak takes up a lot of space, but they are held securely. This is a great option when traveling over especially adverse terrain.
J-Cradles – The J-Style design is the most popular option for kayak roof racks and it has a few key advantages. The J shaped holder makes for easy loading and unloading of a kayak while also holding them tightly. The only disadvantage is that the relatively high profile means that they will be cutting through the wind on long trips.
Brand of Rack
One of the easiest ways to differentiate between the different racks is the brand name. Often the companies that are constructing high quality kayak roof racks also have expertise in roof racks for other sports like bikes or skis and snowboards. These brands have high quality manufacturing facilities and good support. On the other hand, shoppers can save a lot of money by purchasing from an off brand import shop that brings in roof racks from overseas. These racks are often similar to the brand name offerings but are sold at a substantial discount.
Materials and Reliability
The problem, of course, with buying an off brand roof rack is that you have concerns about the long term durability. Cruising down the highway towards your favorite watering hole is not a good time for a parts failure that sends your equipment scattering across multiple lanes. On the other hand, the j-style kayak roof racks are not terribly complicated to construct and they are primarily made of steel, so the risk of a catastrophic failure due to using an off brand product is probably quite low. Shoppers need to make their own decision about the balance between price and reliability when looking for a roof rack kayak carrier.
These are the top pointers you need to see before purchasing a kayak carrier. We have listed the top carriers, now you should study which product below best fits your criteria and requirements.
1. YAKIMA – JayLow Rooftop Kayak Carrier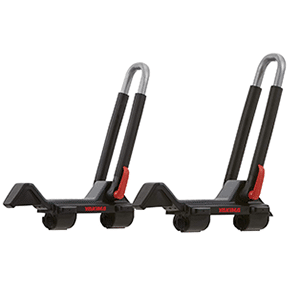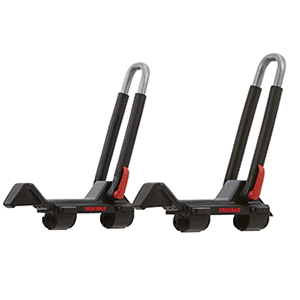 Yakima focuses on helping you do more of what you love without having to fuss with gear transportation. Most people are familiar with their bike racks but they also provide mounts for cargo, skis and snowboards, surfboards, and boats. Their J-Style rooftop kayak carrier is sturdy and reliable, making it a must for users carrying more than one kayak. It easily supports a single kayak in a J-cradle position, but it shines when it carries two kayaks in a vertical, stacked position with ease. This J-style fold-down kayak carrier can hold up to 110lbs combined. The kayak carrier is compatible with most vehicle's factory crossbars, be it round, square or aerodynamic crossbars.
This YAKIMA kayak carrier comes with all the necessary straps and gear needed to secure the transportation of your kayak, specifically straps and tie-downs for the bow and stern. The installation is tool free and super easy as the carrier comes fully assembled out of the box and folds down when not in use. Lock cables for added security are available but sold separately.
Key features at a Glance
Carries two kayaks.
Foldable rack for better clearance
Tool-free installation
Low maintenance
Includes straps and hardware.
Dimensions and Specs
Brand: YAKIMA
Color: black
Item Weight: 11 poundsC
Comes fully assembled
Dimensions: 6.69" L x 6" W x 20" H
2. Thule Hull-a-Port Rooftop Kayak Carrier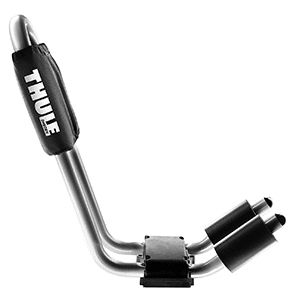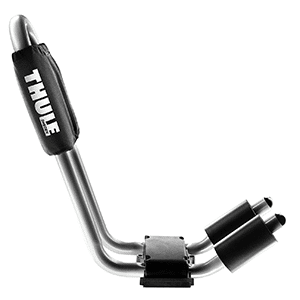 This easy-to-use, high-performance carrier for a single kayak comes from Thule. This reliable brand has made the process of carrying and transporting kayaks easy thanks to this wide-mouth, J-profile carrier. It offers simple loading and unloading through the wide mouth profile and the angled shape makes for a solid, space-saving design. It has durable straps for additional tie-downs of your kayak, which helps put the driver's mind at ease while traveling with the kayak.
This kayak carrier has a rust-resistant coating that is made to last. Thule also offers a buckle bumper that helps protect the kayak and the car from scratches.
Key features at a Glance
Can hold different types of kayaks.
Angled shape provides stable design.
Thick all-weather pads for protection
It fits Thule rack systems, most factory racks, and round bars.
Dimensions and Specs
Brand: Thule
Color: silver
Item Weight: 8.7 pounds
Dimensions: 7.7" x 15.1" x 20.3"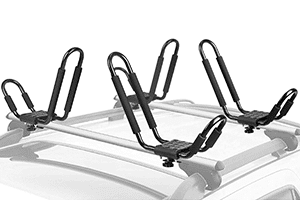 This J style carrier is a double kayak rack consisting of four pieces that securely hold your kayaks while transporting them from one destination to another. The kayak carrier is heavy duty and it has steel construction, making it difficult to rust. It can safely transport a canoe that measures up to eight feet long and 150 lbs.
The carrier has extra foam padding, which reduces the risk of any scratches on your vehicle or kayak. This product by Leader Accessories is conveniently multipurpose and can be used for carrying kayaks but also a canoe, surfboard, skis, or snowboard. Note that this carrier won't fit on round bar roof racks.
Key features at a Glance
Easy and safe for transportation
Extra foam padding
Multipurpose use
Includes extra four-piece tie-down straps.
Dimensions and Specs
Brand: leader Accessories
Item Weight: 15.52 pounds
Dimensions: 17.5 x 9.5x 7 inches
4. Malone Downloader J-Style Car Rack Kayak Carrier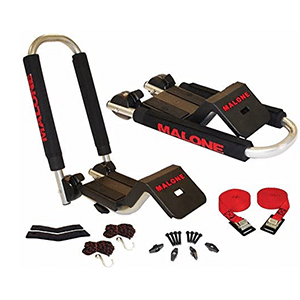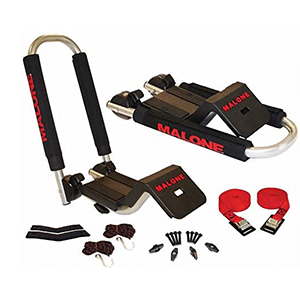 This J-style universal car rack by Malone is one of the top picks amongst kayakers. This kayak carrier has a built-in boarding ramp that assists in easy loading. In addition, this universal car rack has included bow and stern lines, which further help in the smooth loading and transporting of the kayak.
To increase the overhead clearance, the rack has clever fold-down technology that moves the carrier out of the way. The carrier also has oversized padding for more security and protection of the kayak and vehicle. The mounting hardware fits all factory vehicle crossbars including oval, square, and round cross rails.
Key features at a Glance
Built-in boarding ramp
Fold-down technology
Extra padding
60mm and 70mm pre-coated mounting bolts
Loading straps and buckle protectors
Dimensions and Specs
Color: multi
Brand: Malone
Item Weight: 10 pounds
Dimensions: 21 x 10 x 8 inches
5. TMS J-Bar Rack Kayak Carrier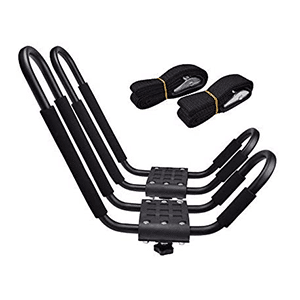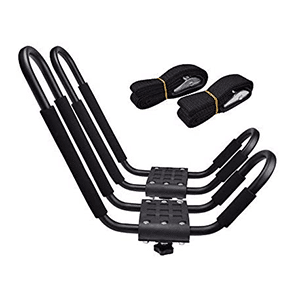 The J-Bar Rack by TMS is a superb kayak carrier with a steel design for strength and adjustable padding for extra protection. The kayak carrier can accommodate kayaks up to 36 inches wide and can handle weight up to 75lbs. The installation process is easy thanks to the quick on/off hardware.
This is a well designed kayak carrier that safely transports kayaks. The J style and wide mouth make loading and unloading easy.
Key features at a Glance
Steel design
Adjustable padding
Quick on/off hardware
Easy loading and unloading
Dimensions and Specs
Brand: TMS
Material: Alloy steel
Item Weight: 8 pounds
Dimensions: 17.5 x 12.5 x 6.5 inches
6. ECOTRIC J-Bar 2 Pairs Universal Kayak Canoe Top Mount Carrier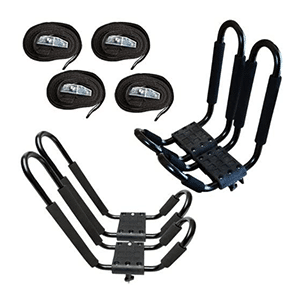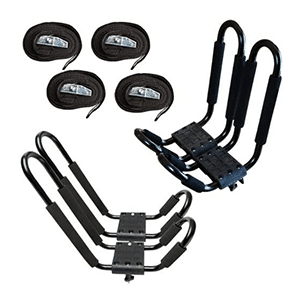 ECOTRIC is an importer that offers a low cost kayak rack carrier from China. The framing is made of high-quality steel and adjustable padding for proper security and protection of your gear during transportation. The carrier can accommodate kayaks up to 36″ wide and it fits almost all square and flat crossbars. You can quickly attach this rooftop J-style carrier to your SUV or car for easy transportation of your kayak or canoe.
This budget option is available for a low price but does not offer the same durability as other options. Still, since the kayak racks are mostly steel construction this is a perfectly safe option for transporting your boats around.
Key features at a Glance
Accommodates kayaks 36″ wide.
Includes four racks for two kayaks, four straps, and a set of mounting hardware.
Wide mouth J bar design
Dimensions and Specs
Brand: ECOTRIC
Color: black
Item weight: 15.6 pounds
Dimensions: 17.6 x 11.65 x 6.14 inches
Conclusion: Best Kayak Racks
Each of the kayak roof racks on this list can help you safely and reliably transport your kayak to and from the water. Ultimately, it is important to take some time and consider how often you will be using the carrier and how much you want to invest. There are a lot of great options available on this list, and ultimately they have minor differences. Take some time looking at each of them to determine which of them is the best kayak rack for you.