When preparing a vehicle for off-road adventure travel one of the first considerations is the lights. With LED headlights and auxiliary LED lighting for vehicles exploding in popularity, drivers have a lot more options than before. Typically a light bar is the first purchase as it provides good, supplemental forward-facing auxiliary lighting and you can look at some of our favorite ones here. After that purchase, drivers will typically turn their attention to finding quality ditch lights. Ditch lights are great at illuminating the side of the road at night when driving in the back country or off road.
Best Ditch Lights for Jeeps and Trucks
Ditch lights mount in front of your side mirrors or on the edge of your truck hood closest to the windshield. Typical LED ditch lights are designed as a cube or a light pod and they mount with a low profile so that vision is not obscured while driving. Ditch lights are mounted to aim at an approximately 45 degree angle away from the vehicle and down onto the roadside. Lighting up the side road at night helps drivers by illuminating trail markers or turn offs. Anyone who has driven in the dark through a state park looking for a trailhead knows how easy it can be to miss those turns.
Ditch lights are also helpful at keeping an eye out on the side of the road for light shining off wildlife like a deer's eyes, which can be crucial for safe driving during certain seasons in the Midwest. Any driver interested in outfitting their jeep or truck should consider adding them, and the LED ditch lights reviewed below all combine strong performance with a good price.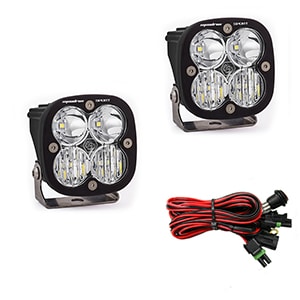 Our top rated choice for ditch lights is the Squadron Sport from Baja Designs. This premium LED ditch light provides great coverage with a powerful 3,150 lumens at 26 watts. It has an attractive powder coated cast aluminum housing that is a sleek black gloss color. Equipped with 4 LEDs it provides drivers with all the light they need to safely illuminate any sideroad, corners, or turns they encounter.
High Quality Components
These ditch lights sport impressive moisture block protection making them waterproof, rainproof, and submersible. That water protection is attributable to the high quality components carefully assembled by Baja Designs. The bezel edges are made from billet machined aluminum and the front lens is a hard coated polycarbonate. Drivers wanting a different aesthetic can also get the Squadron Sport in a round bezel indicated by a "-R" added to the product name.
Made in the USA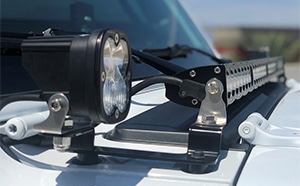 These lights are designed and manufactured in the USA and as a top quality ditch light they can take a beating and still perform. If problems do arise they uniquely have replaceable lenses and optics. With an LED life expectancy exceeding 49k hours it is unlikely they will burn out anytime soon. The lights also come with a limited lifetime warranty and a 30 day satisfaction guarantee.
Pros
Tough aluminum housing
Serviceable lenses and optics
Wiring harness included
Cons
Mount not included
Premium price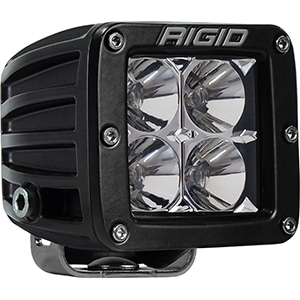 A great choice for ditch lights on your Jeep are the D-Series from Rigid Industries. These lights are small at just 3×3 inches but still pack a punch with a whopping 3168 raw lumens from the 4 LEDs. The LEDs are protected by a durable polycarbonate lens and combine a black housing with a blacked out circuit board for an attractive, refined look. Sold as a pair and offering a universal fit to work on most vehicles.
Improved Safety
These lights are very versatile and a variety of mounting options are available including surface, flush, or heavy duty. A ditch light mount that angles them off 45 degrees away from the vehicle provides the driver with a bright, illuminated side road that helps improve safety and navigation. The Rigid D-Series Pro (professional race output) is one of the best lights to mount on your new truck.
Tough on the Trail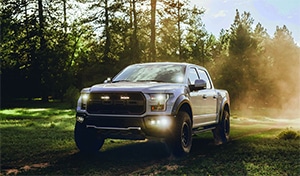 Rigid Industries specializes in LED lighting and consistently brings tough, high-quality illumination products to market. These lights can take a serious beating off-road or out on the trail and still won't leave you in the dark. The superior build quality on these LED lights is obvious when you handle them and compare them to some of our more economical choices below. Rigid also offers a limited lifetime warranty.
Pros
Bright LEDs
Durable polycarbonate lens
Lifetime warranty
Cons
Not serviceable
Mount not included
Expensive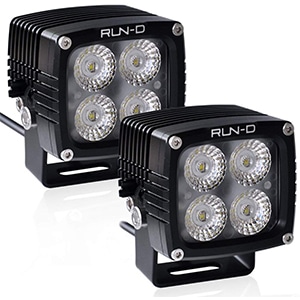 RUN-D argues that these ditch lights are the perfect balance between cost to quality that drivers can find on the market today for their truck or Jeep. It is true that the RUN-D is uniquely positioned between the more expensive high-end lights and the cheaper budget lights. With a compact cube design and 4×10 watt LED lights outputting 3150 lumens these ditch lights do provide a much higher level of quality and durability than the less expensive options.
Built Tough
The Run-D ditch lights are tough with an aluminum housing and anodized surface treatment. They also have an optical polycarbonate lens protecting the 4 CREE LEDs. The result is great looking lights that work well on your A pillars. The lights have an IP68 waterproof rating and a huge operable temperature range from -40 to 185 degrees.
Cost vs Quality
The beam pattern is a 45 degree flood, which helps illuminate the roadside and increase visibility. These are very bright lights and drivers can really tell the step up in illumination from cheaper options. Run-D does offer A-Pillar light mount options for Jeep windshields and other trucks but they are not included.
Pros
4×10 watt LED lights
45 degree flood beam
Compact cube design
Cons
Mounting brackets not included
Wiring harness not included
Not serviceable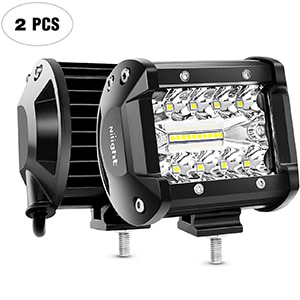 Drivers more interested in aesthetics than performance might want to consider these ditch lights from Nilight. They are priced quite economically and sport decent features with an attractive black aluminum housing and offering 20 x 3W high intensity LED. They are designed to do the job right but are not nearly as durable as some of the other offerings on our list.
Combo Beam
This ditch light has a combo beam so it merges a spot beam and a flood beam. This provides it with good distance but also a wide spread. Vehicles mounting this light on the A pillar will be able to easily illuminate the side and corner.
They are brighter than expected with high lumens chips and customized reflective cups to enhance the brightness and intensity of the light.
Long Lasting Lights
The Flood Spot combo light offers an IP67 waterproof rating due to solid construction and a seamless housing. The LED lights ensure over 30,000 hours of illumination but should any problems arise these ditch lights are unfortunately not serviceable. They are not made in the USA, and there are some questions about their long term durability. The lights do come with a two year manufacturers warranty.
Pros
Great price
45 degree flood beam
20 x 3 watts
Cons
Weighs half as much as other models
Wiring harness not included
Quality concerns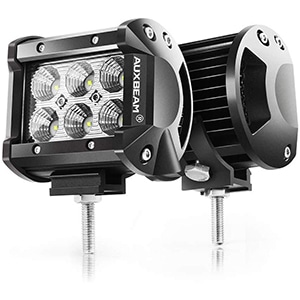 These ditch lights from Auxbeam are a smart budget buy for drivers looking to increase side road illumination without breaking the bank. The high end prices on LED lights continue to skyrocket, meanwhile the low end lights are steadily improving in quality, brightness, and durability. A great example are these Auxbeam 4 inch LED pods with 18w light shining bright.
Flood Beam
To help produce a safe driving environment these lights shine a 60 degree flood beam with a color temperature of 6000k. It uses 6 x 3W LED chips. The LEDs have a long working life of over 50,000 hours. These ditch lights are not repairable but are priced at a level where you can consider them replaceable.
They sport a rigid housing with cast aluminum alloy cooling fins and a waterproof, dustproof, shockproof design.
Easy to Install
These ditch lights install fast and easy with included stainless steel mounting brackets. The lights and housing are attractive and look great on a Jeep or truck. The LEDs are arranged symmetrically giving it a strong look and feel. Drivers looking to add sidelights to their vehicle at an affordable price should consider these before investing in other more expensive models.
Pros
6×3 watts LED lights
60 degree flood beam
Mounting brackets included
Cons
Questionable durability
Not serviceable
Limited warranty
Best Ditch Lights – Buyer's Guide
Drivers interested in adding supplemental lighting to their truck or Jeep should consider ditch lights mounted on the A-Pillar, side mirrors, or windshield. Ditch lights are mounted at a 45 degree angle away from the vehicle and provide helpful illumination to the side road. If you are out at night in the backcountry these lights can be critical in helping you find turns, corners, and trailheads.
Bright LED Illumination
These ditch lights all use LEDs to provide bright illumination without heavy power draw. Drivers should consider their budget before shopping as a tremendous amount of the price is determined by the brightness of the lights. When considering ditch lights, examine the combination of LEDs used to make sure they are bright enough. Most ditch lights throw in a wide angle beam but some use a combination wide angle and spot.
Tough durable housing
Ditch lights need to be tough and shoppers should look for solid aluminum housings with waterproof protection. The lights ideally should also be protected behind a strong lens of durable polycarbonate or something similar. Remember that these lights will be mounted up near your windshield so will absorb a tremendous amount of abuse from the elements and road debris. Drivers should find a good cover for their LED ditch lights.
Cover your lights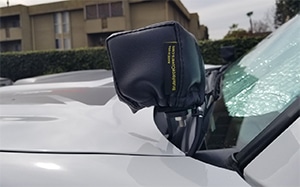 A good cover helps protect your ditch lights when they are not in use. What a lot of drivers don't know is that a good cover also helps them from getting a traffic ticket. People forget that it is totally illegal to drive on public roads with uncovered lights mounted up high above the headlights. Anything mounted up that high needs to have an opaque covering on them when driving on regular paved roads. That said there are a lot of people driving around with uncovered off road lighting and local enforcement will vary.
Conclusion – Our Top Pick
Drivers have to consider the tradeoff between price and value when shopping for ditch lights. The price range between models is very large and the feature set also varies widely. All of the lights are small cubes that generally look the same, but what they have inside can really set them apart. Shoppers should take a look at our top choice, the strong Squadron Sport from Baja Designs. It has market leading features and design along with unmatched brightness and quality that stood out in our reviews.