Filling your garage or workshop with useful tools is a big part of making your job easy, and one overlooked helper when dealing with grease and grime is a parts washer. Parts washers are good at removing caked on dirt and contaminants such as grease, oil, metal chips, paints, rust, ink and grime from any work pieces such as screws, bolts, automotive components, or other mechanical parts. If you are looking to refurbish old machinery, maintain automotive and engineering components, or keep everything in better shape, then you should add a parts washer.
Best Parts Washers
Parts washers are most often found in commercial settings where they are used in factories or manufacturing industries, but now a number of options are sized right for garages and workshops. The best parts washers are portable but also durable enough to not spring a leak. They need to have a strong motor that can move solvent or water around with force, and they need a large enough capacity tank that they can fit large parts. Parts washers can be used to clean and degrease any metals, plastics, ceramics, or rubber compounds. While parts washers come in varying shapes, sizes, and designs, the best ones provide a durable pump that will last over time.
Buying Guide
Before shopping for a parts washer it is important to take some time to imagine how and where you will be using it. Think about your garage or workshop and how much space it has, then consider if you want to move the parts washer around to each job site or if you want to bring the parts to it.
A Parts washer affords some advantages over manual cleaning and degreasing which include;
Reducing the amount of time you spend scrubbing in cleaning
Convenience of clean up with everything stored at one station
Helps to save water /solvent and detergent by recycling it
Thorough cleaning of parts and equipment by submerging them
A key benefit of a parts washer is that it mixes solvent in with the water, but customers should be aware that not all solvents work in all parts washers. Solvents for use in a parts washer can be water/aqueous based or Petroleum/hydrocarbon based solvent. Every parts washer should be able to handle a water soluble formula, but for more corrosive solutions be sure to check the product specifications first.
Factors to Consider When Shopping For a Parts Washer
Parts Size: what parts are going into the washer can determine a lot since a user refurbishing a tractor and one refurbishing blenders will not be cleaning the same size parts.
Garage Space: the amount of space available in your garage or workshop can determine the type of parts washer to get. With limited garage space, consider opting for a portable parts washer because it needs less room than a standing parts washer.
Budget: money is definitely a contributing factor when opting for a parts washer, as the free standing versions can get quite expensive.
Purpose: bigger size pumps have larger power and more capacity but might be overkill for smaller jobs that you are planning around the house.
gar
Remember that the best parts washer is going to be one that fits your jobs and your workspace, so spend some time thinking about how you will use it before shopping. When you are ready, take a look at the reviews below for some of our favorite parts washers to see if one is right for you.
Best Parts Washer Reviews
With those shopping considerations in mind, let's take a look at some of the highest rated parts washers for your garage or workshop. There are lots of options available when shopping, so we are listing the best below along with their details.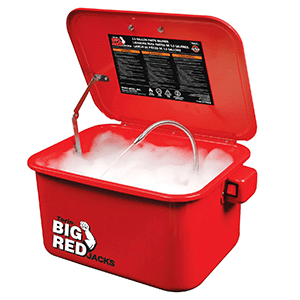 The Torin BIG RED Steel Cabinet parts washer is ideal for a DIYer who wants to conserve space in their workshop or garage. It can fit just about anywhere including table tops, countertops, or benches, but it does not have its own legs to stand on. Measuring 18″ in width, 13.5" in length and 9" height, it's made from durable steel and weighs about 17 pounds. The fluid reservoir for solvent has a capacity of just 3.5 gallons, which is a bit smaller than the other models on this list. The 110V electric pump recycles liquid at the rate of ½ gallon per minute.
This parts washer is perfect for cleaning small parts such as gears, wheel bearings, and carburetors. The work basin dimensions are 18" long x 13.5" wide and it is 9" deep. It is not for use with flammable or combustible solvents so no using mineral spirits. Like most parts washers, it has a hinged lid that closes when it is not in use and a fusible link lid designed to prevent accidental fire. This parts washer comes with a one year manufacturer's warranty.
Pros
Portable and easy to store.
Well constructed and durable.
Deep wash basin.
1 year warranty.
Cons
Slow pump speed with low output.
Small solvent liquid capacity.
No legs.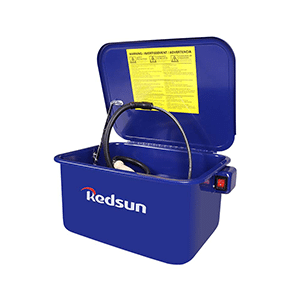 This parts washer is made of sturdy steel to make it leak proof, and it has a power coating finish to resist rust and corrosion. Still, Red Sun designs this parts washer to be portable and lightweight, with it having a 5 gallon capacity and weighing just 14 pounds. The lid opens wide to allow bigger parts into the wash basin, which measures about 17" x 13" and is about 9" deep.
This washer has a nice brush with strong bristles and water flow through. It also has a flexible spigot that can be positioned to flow solvent directly over parts. The pump on this parts washer has a circulation flow of about .8 GPM. It plugs into any wall outlet and has an easy on and off switch.
Pros
Leak proof steel
Portable and lightweight design
Reliable pumping power
Easy to access wash basin
Long tube brush
Good warranty and customer support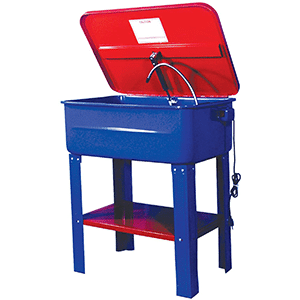 The Astro Pneumatic 4543 is a solid, sturdy Electric Parts Washer with a 20 gallon capacity. It features a 110V magnetic solvent pump with a 12 gallon capacity for solvent and a self draining solvent system. The pump power output is 40 gallons per hour and users appreciate that it has a lot of washing power. A parts basket for soaking small parts is included and the removable work shelf adds to its ease of use.
This complete unit is UL approved and it has a fusible link to help reduce the risk of fire hazard. This parts washer is strong and sturdy so it weighs about 70 lbs and measures 30.75″ in length, 21.75″ in width and 35.75″ height. Cleaning this parts washer is easy as it has a drain tank for collection of waste. The concern with this parts washer is durability as several users reported pump failures.
Pros
Parts basket for soaking small parts.
Self-draining.
Fusible link to reduce the risks of fire.
Removable work shelf.
Cons
Pump durability concerns
Shoddy packaging
Does not work with Petroleum based solvent.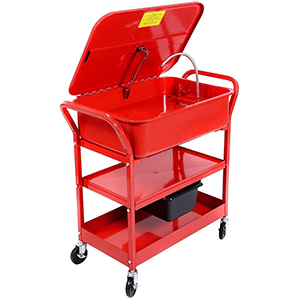 With a 20 gallon tank and a 12 gallon solvent working capacity, this parts washer can flexibly handle big or small jobs. The top tank is made from high quality steel that is powder coated to prevent corrosion or leakage. It measures 28" x 19" with a 4" depth while the entire parts washer stands 37" tall and measures 38″ in length by 21.5" in width.
This parts washer is good for a shop because it has a nice middle drying rack and is portable with 4 swivel wheels. For easy cleaning it has a removable drain pan under the drying shelf. It is easy to operate, but the instructional manual could definitely be improved on. The problem with this parts washer, as with many of the import versions, is that the pump has long term durability concerns and is not backed up by any warranty.
Pros
20 Gallon Capacity
Drain pan is removable for easy cleaning.
Heavy duty casters for easy mobility.
Middle Drying Rack
Cons
The lid does not fully open so fitting bulky objects can be difficult.
Concerns about the pump motor's durability coupled with no warranty and poor customer support.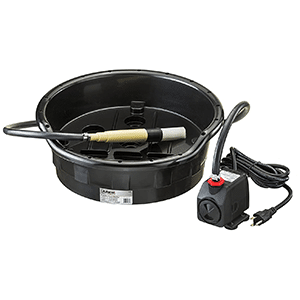 An outstanding feature of this parts washer is its portability, which makes it easy to transport. Unlike traditional parts washers that sit on welded stands, this model is designed to fit onto any 5-gallon bucket. The pump sits at the bottom of the bucket and the washer sits on the top. It weighs just 3.86 pounds, making it one of the best lightweight, portable parts washers available.
The Ares Portable Parts Washer works with non-corrosive water based solvents and is ideal for personal use in your garage. For tough jobs it comes with a hard bristle brush. Clean up is easy as it uses a channel drainage system to catch waste.
Pros
Hard bristle brush
Portable and lightweight so it can be moved from job to job.
Channel drainage system to collect waste.
Cons
Only big enough to clean small parts and tools.
For use only with water based solvents.
No power switch: using it requires plugging and unplugging it from an electrical socket.
Parts Washer Safety Considerations
There are a couple of important safety measures to be adhered to when operating a parts washer. Be mindful that they should not be operated flippantly or in haste or otherwise they can be dangerous. Solvent fumes may be toxic, so protective gear and environmental considerations should prevent the inhalation of fumes. Also, apply extreme caution when operating a parts washer because of the pressurized force it uses to jet solvents. Remember these rules:
Parts washers are only to be used in a well ventilated environment.
Always wear safety glasses and rubber gloves.
Avoid solvent coming in contact with skin and eyes.
One of the best ways to use a solvent washer safely is with a flow-thru brush. These brushes help direct the flow of water and solvent while minimizing splashing. One of our favorites is the Oriflo.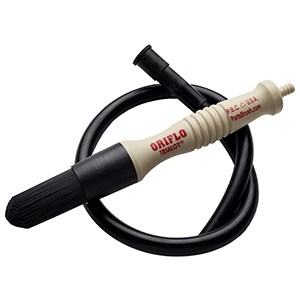 This Oriflo flow-thru parts washer brush is the industry standard and most top rated parts washer ship with this brush included as original equipment. It is one of the best tools available for cleaning parts, and you should consider it if your parts washer doesn't come with one or you want to keep an extra on hand. This upgraded version is made with an element called trialloy, which allows it to be resistant to both petroleum and water-based solvents. The tube is made from a form of nitrile rubber called buna-n which enhances the durability of the brush and makes it resistant to Petroleum solvents. The long bristles on the brush make it easier to clean greasy parts.
Conclusion
Trying to clean greasy parts in your sink or the like is a losing proposition. Parts washers make cleaning and cleanup a lot easier. They put the solvent, dirt, and parts all together in one place so that at one station you have everything you need for washing. Strong motors can move solvent through the brush or out a nozzle to bathe parts in cleaner and have them emerge looking like new. The best models have strong pumps and durable brushes. Many models even come with a drying rack. Consider adding a parts washer to your garage and start keeping everything a little bit cleaner.