Having a proper driveway can be an essential part of your home. Although driveways may seem unimportant, a good exterior makes an important difference in the look of your home and a muddy driveway full of ruts can be a big turnoff. A sturdy driveway is not a luxury but a necessity for car owners—a stable and robust driveway, which can withstand mud and heat and the heavy weight of cars gives you a safe place to store your vehicle. The beginning and foundation of a secure driveway starts with the kind of paver you have.
Best Driveway Pavers
Creating a durable driveway over unstable ground can be daunting. When dealing with less than solid surfaces it is not uncommon for driveways to wash away in rain storms or develop mud, puddles, or ruts. The best driveway pavers hold the gravel or grass in place so that the weight of the car does not crush or dissolve the driveway during adverse weather. Most of the pavers are made from metal or plastic and are durable enough to last for years when installed properly. Installation is usually pretty easy and just requires placing the pavers an inch or so below the soil surface and then backfilling in with gravel, grass, or a covering of your choice.
Here is our list of the best driveway pavers available. Take a look at our reviews to help you choose a paver that fits all your needs and requirements.
Best Driveway Pavers
Each of the pavers reviewed below was good enough to make our list, and deciding between them comes down to your unique situation and their particular strengths and weaknesses. Take some time before shopping to understand where you want your driveway to go and what you might encounter during installation and use.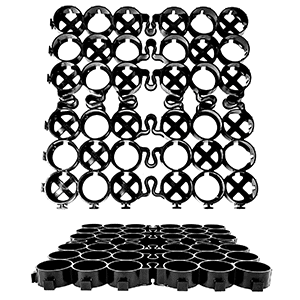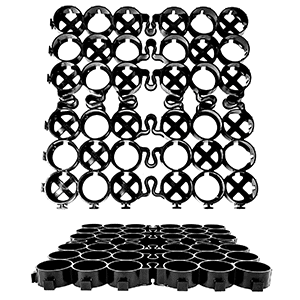 TrueGrid Pro Plus Permeable Pavers are an extra heavy-duty paver made from 100% post-consumer recycled HDPE. These permeable pavers install easily, require minimal maintenance, and effectively eliminate issues such as mud, puddles, ruts, and potholes.
Key Features
Includes ten grids per packet
Can handle 1,000,000 pounds of compression
Require almost no maintenance
Made with recycled materials
Dimensions are 24 x 24 x 1.8 inches
The TRUEGRID PRO Plus pavers are exceptionally durable and can handle 1,000,000 pounds of compression per square foot. These pavers are not only an ideal option for vehicles but can also be used in storage lots, fire lanes, RV pads, sports venues, etc. The permeable pavers have 1.8 inches of depth. They come with a ten pack for forty square feet of coverage and they can be cut and customized according to need.
Pros
Strong and sustainable
Great for heavy-duty vehicles
Works in all climates
Cons
Premium price for a premium product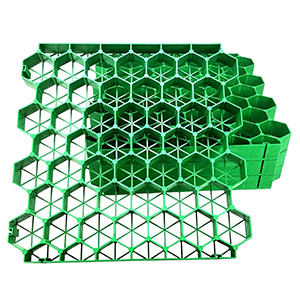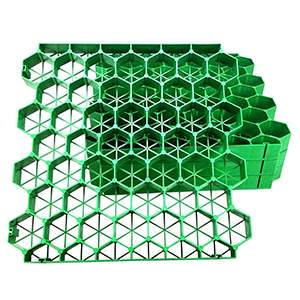 Techno Earth pavers are designed for grassy areas and work well in both residential and commercial applications. It is a good option for people who want to create durable grass driveways, parking lots, or even storage areas for RV and boats. With an affordable cost and smart design, these grass pavers provide a solid and stable foundation while still being porous enough to allow grass to grow smoothly.
Key features
Permeable for growing grass
Durable under 200 ton/sqm
Help reduce flooding and runoff.
Measurements of grids: 19.7 x 19.7 x 1.9 inches
The pavers come in a packet of 4 grids that cover the space of about 11 feet. You can fill these pavers with gravel that is seeded or sodded with grass. You may also just lay the gravel to protect the yard and prevent mud and rutting.
Pros
Customizable size
Strength is equal to concrete
Environmentally friendly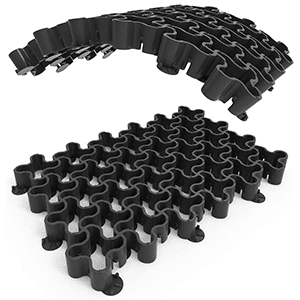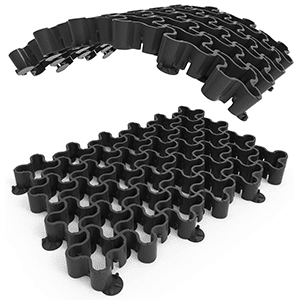 The Standartpark easy pave grid is one of the most expensive pavers in the market but it delivers extraordinary strength and ease of installation. Although the cost is high, this paver offers an ideal solution for driveways and parking lots. The porous paver system has a depth of 2 inches and can handle a load of 88000 lbs.
Key Features
Very high-quality
Can handle a load of 88,000 lbs
Covers space of 300 sq ft
100% recycled polymer
The packet includes a unit of 115 grids that cover an area of 300sq ft. This easy pave grid has a wave flex patent design which helps to cover slight inclines. The pavers can be used with small pea gravel, soil, gravel, and any sod or grass.
Pros
100% recycled polymer
Handles heavy weights
Strong and durable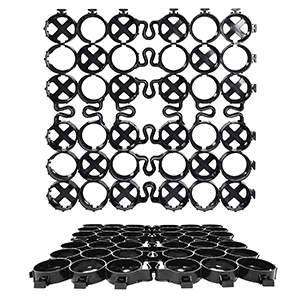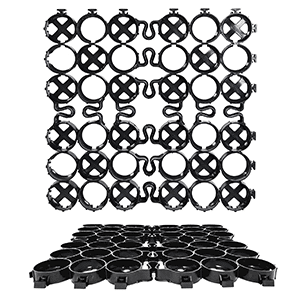 TrueGrid Pro Lite Permeable Pavers are incredibly lightweight and easy to use, making them simple to install even for DIY-ers. The pavers are made from 100% recycled materials, which makes them environmentally friendly. They are suitable for all climates and require little to no maintenance. The packet includes 18 grids that cover an area of 72 sq ft.
Key features
100% post-consumer recycled HDPE
Suitable for all weathers
Eliminates ruts, mud, puddles, and potholes
Best for driveways and parking lots
TrueGrid also makes a heavy duty version of this paver called the Pro that can hold more weight but is a lot more expensive and a bit more cumbersome to install.
Pros
Installs easy
Lightweight
Requires little maintenance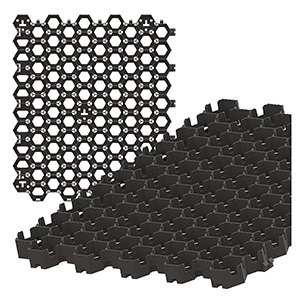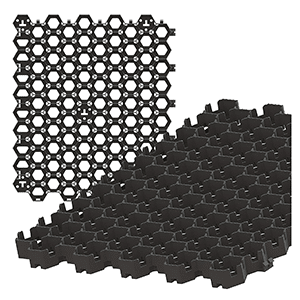 This HEXpave grid is a paver system that makes the installation of driveway pavers seem like a piece of cake. Be it a parking lot, storage garage, or car port, the installation process of the HEXpave grids is straightforward and simple. The HEXpave grid can handle a load of 27,000 lbs when filled with aggregate.
Key Features
Cover space of 50 sq ft
1 inch deep
Handles 27000 lbs
100% recycled polymer
The packet includes 16 grids covering 50 sq ft. The HEXpave design is made of 100% recycled polymer. These pavers are ideal for shed base, light vehicle driveways, and patios.
Pros
Strong foundation
Easy installation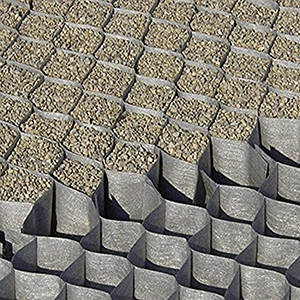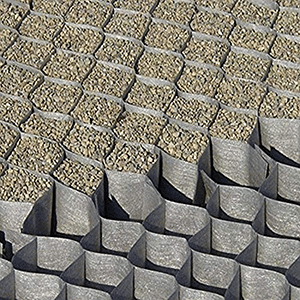 DuPont DPGG-50110 8.5-Ounce Groundgrid is the perfect solution for creating a driveway over an unstable base like loose gravel or dirt. Groundgrid is a ground stabilization system in which a geotextile grid is used to stabilize construction and landscape projects.
Key features
Suitable for unstable surfaces
Flexible
Stabilizes any material
It has a flexible material and can be cut into any size. Each grid covers an area of 10 sq ft. Customers get peace of mind purchasing a quality DuPont product.
Pros
DuPont quality
Works on slopes
Easy installation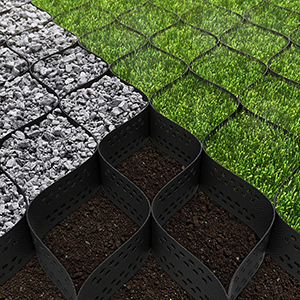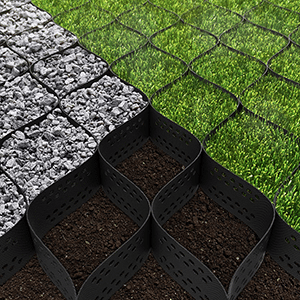 This paver by Standartpark is 4 inches in thickness and is perfect for driveways and parking lots. It can be used with soil, grass, or gravel. The geogrid is polyethylene recycled and supersonic welded for durability.
Key Features
Can handle 1885 lbs per sq ft
Polyethylene recycled
Dimensions 9 x 17 ft each unit
The grids cover an area of 160 sq ft and work on slopes. They can be easily cut to size as needed.The welds hold up suprisingly well over time.
Pros
Good stabilization
Easy to cut and attach
Also works on slopes
Cons
Installation instructions not clear
Conclusion
Driveways can be made from several materials, but the efficiency and sustainability of a driveway greatly depend on the pavers. From gravel driveways to natural driveways covered in grass, it makes all the difference in the exterior of your home. The best driveway pavers eliminate mud, puddles, ruts, and potholes that can be caused by heavy vehicles parking on loose soil. Hopefully, this review helps you in deciding the best paver for your driveway.