Quiet time at a campsite can be magical in your RV, but the magic can quickly fade if your battery runs out of power. Grilling over the campfire doesn't take any electricity, but an increasingly large amount of the devices we bring along on the road now do. Recreational vehicles are increasingly equipped to handle the heavier electrical load put on them, but ultimately they require a strong battery. The best RV batteries combine fast charging with a long service life and life cycle. Recent improvements in battery design has also resulted in not only better power storage but increased durability and vibration resistance.
Best RV Battery
The best RV batteries are robust enough to power your electrical equipment all through the night, while also still being relatively lightweight and easy to mount. More flexibility in mounting and an extreme tolerance to falling temperatures are two features that make modern RV batteries a big improvement over predecessors.
Buying Guide
RV batteries are typically lead-acid batteries with many cells wired together in a series connection. For instance, because every one of the cells generates about 2.1V, a 12V battery containing six units in series connection produces 12.6V for a recreational vehicle. Lead oxide, lead, and plates are immersed in an electrolytic solution containing sixty-four percent water and thirty-six percent sulfuric acid in lead-acid batteries.
These batteries do not generate power; instead, they retain it. The quantity of electricity a battery can hold is determined by how massive the lead plates are and the volume of the electrolytic solution.
RV Battery Types
AGM Battery: These batteries are a popular choice because the design is spill-proof, leak-proof, and practically maintenance free. The electrolytic solutions in these enclosed lead-acid batteries, known as AGM (absorbent glass mat), are a combination of fiberglass substance and sulfuric acid. The battery is spill-resistant, thanks to all of these components for eliminating acid spills. AGM batteries are lightweight options as they are devoid of water. Because of its design architecture, AGM technologies can store a charge for extended periods and power gadgets swiftly when a high burst of amps is required.
Flooded RV Battery: This is one of the most popular RV battery types. Also called wet cell batteries, these options require frequent servicing to maintain them in good operating shape. This is accomplished by saturating them with water. They can keep a charge for a long time, but their construction isn't the most durable or shock resistant. As a result, more challenging travels could loosen them. Unfortunately these batteries are not maintenance free.
Gel Cell Battery: Fumed silica and sulfuric acid are used as electrolytes in gel batteries. This produces an immovable gel-like material, allowing the batteries to be put on their side and still maintain a charge capacity through harsh journeys and rough drives. These batteries are often more expensive than AGM batteries and have a bit smaller power capacity.
Basic Functions of RV Batteries
RV batteries are particularly important when the RV is switched off, either at a camping area or when parked. The following are some of the basic functions of RV batteries:
Provide a Comfy Camping Experience. Batteries make you comfy when traveling by supplying you with some lighting at night, the hotness of the heater when it's chilly, or keeping the air conditioner on during scorching conditions.
Save Money and Gas. By running devices inside the motorhome without starting it, RV batteries help save gas and money. The RV's engine can power anything while it is running, but keeping it running consumes gasoline and you will have to pay money to refuel it.
Boost the Performance of Smaller Vehicles. RV batteries can power smaller vehicles like scooters, motorized wheelchairs, boats, and motorcycles, in addition to providing power for motorhomes. These same batteries can provide power storage for windmills and solar installations.
Key Features of RV Batteries
Size of the Battery: The capacity of RV batteries is primarily determined by their size. Bigger batteries often have greater power, which means your devices will stay supplied for a longer time. Don't forget that not all RV battery compartments can accommodate a bigger battery.
Power: The amount of electricity the battery produces determines how long everything stays functioning. The units of measurement for this power is Amp-hours. The amount of amperage discharged by the battery in twenty hours is measured in amp-hours, whereas the period in which the battery stays when delivering amp output is measured in a reserve capacity. That said, you'll need some reserve capacity and amp hours to keep the system running for an extended time.
Battery Types: It all boils down to personal preference when it comes to selecting the ideal RV battery. To remain functional, flooded batteries would need extra care, like filling them out with water. AGM batteries, also known as acid-based battery cells, are more robust and can survive longer journeys without causing your RV to lose power.
Life Expectancy: The longevity of a battery is determined by the number of devices or gadgets you have to operate in your motorhome. It also depends on how frequently you intend to use the battery. You can extend your battery's life by keeping track of when you use the electricity in your motorhome. Battery life can be shortened by overcharging and even charging them.
The Best RV Batteries: Reviews and Rankings
There are numerous types and brands of RV batteries available in the market, with some being more superior to others. In this review article, we'll outline the best RV batteries in the market, alongside their functionalities so that you can make your choice. In this review we focus on AGM batteries, since they offer better durability, charging, and life expectancy.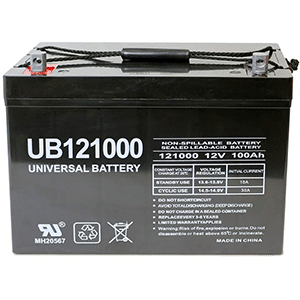 This option is the top deep-cycle RV battery, in our opinion. With one hundred AH, we find this product efficient for maintaining a decent power supply to the camper. You can use it for some days before recharging it, based on the rate of your power usage. Ensure that you switch off the lights and appliances when not in use to help regulate their long-lasting ability.
Also convenient is that this battery may be placed at just about any angle and position. Golf carts, small boats, and cottages can all benefit from it. The battery is durable and can withstand bumps while traveling without the loss of power. Although it could be fitted to just about any place and supply electricity to your RV's devices, it is rather heavy. Weighing over sixty pounds, you'll have to install it in a place that can support its weight without the risk of it bouncing out. This battery has a good life expectancy and also offers a one-year warranty.
Pros
Has a good return on investment.
Durable and dependable.
Customer service is outstanding.
High shock-absorption capacity.
Cons
Ability to hold a charge declines over time.
Extremely heavy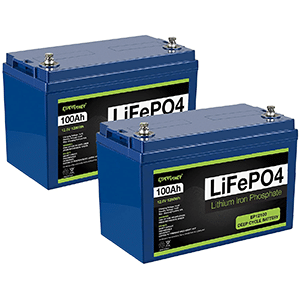 This ExpertPower rechargeable battery is a high-capacity alternative that can last anywhere from 2,500 to 7,000 sessions, based on its usage rate. It comes with a ten-year estimated lifecycle, so even though it's expensive, it'll save you money in the long term. This RV battery is also surprisingly light, weighing just ten kilograms or about 22 pounds. When contrasted to other AGM alternatives and even comparable to lithium batteries it is surprisingly lightweight.
It also includes a strong battery management scheme that protects against overcharging, short-circuiting, and deep drain. This gives drivers good peace of mind that it will operate safely and effectively.
Pros
Long lifespan.
Relatively lightweight.
Good battery management system.
Strong power for its price.
Cons
Expensive.
Will lose its ability to retain charge after some time.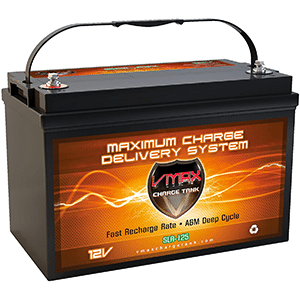 The AGM battery offered by VMAXTANKS is the best bet for you if you are looking for a heavy-duty option for your motorhome. With its 12V deep cycle powering capacity, it will surely meet your vehicular needs. It includes an expected life cycle of one decade, plus it comes with sturdy tin/lead alloys that act as a current booster, making the current run more efficiently and longer. This RV battery, unlike its peers, does not need regular maintenance so you don't have to check its water level or tilting angle.
The manufacturer of this product was intentional about its design, building a sturdy battery that can take a beating from vibrations and bumps during rides. Its AGM build makes it a long-lasting option and also furnishes it with electrolyte-absorbing capabilities. You can even mount the battery sideways for space saving and it'll still work. The battery is heavy and weighs about 75 pounds.

Pros
Highly dense battery with enormous storage capability.
Fast shipping.
Long-lasting.
Excellent performance.
Cons
Very heavy at 75 lbs.
Not suitable for some electrical applications.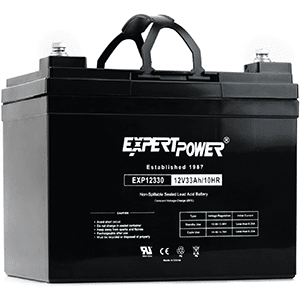 These RV batteries from ExpertPower are a fantastic source of energy and use just a fraction of the space that conventional batteries use. Because of the small size, it's easy to stack numerous batteries in a space that typically could only contain one full size RV battery.
Conveniently, this lead-acid battery has an included grip that makes carrying it very easy, as does the relatively lightweight at just 22 pounds. This battery is a great choice for bikes, motorized wheelchairs, and scooters, as well as powering devices and lighting in RVs.
On the flip side, a solitary battery provides just 35 ampere-hours. Hence, there is a need for numerous batteries being installed to cover a typical duration that your RV needs to stay powered.

Pros
Compact and powerful battery.
Lightweight.
Works well over an extended period.
Cons
Not great for trolling motors.
Not enough power to keep solar MPPT controller functional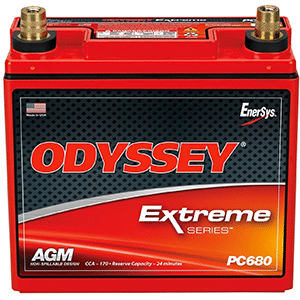 One other first-rate RV battery is the Odyssey PC680, which is well built and relatively immune to vibrations, shocks, and road bumps. Do not be misled by its small appearance; this battery is more than capable of running your devices and RV for a very long time. In addition, the Odyssey battery is estimated to last seventy percent more than comparable deep cycle options. Overall it is a cost-effective battery that won't let you down.
It's also said to power RVs and appliances significantly faster. It typically takes four to six hours to charge to one hundred percent. In addition to an RV, you can also use it to propel boats, snowmobiles, and jet skis. The manufacturer estimates that it can endure up to a decade of use and four hundred cycles, plus it can withstand severe temperatures comfortably.

Pros
Long-lasting.
Good customer support.
Big value for the money.
Comes with L-terminal adapters.
Cons
Could lose its ability to retain charge in the long run.
Not suitable for occasional automotive use.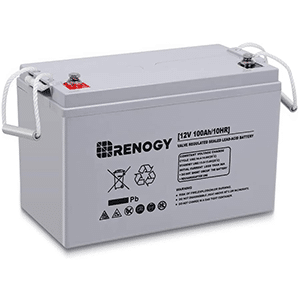 One of the best compact, long-lasting battery options is the Renogy RV Battery. It's ideal for people who enjoy spending long hours in their RV and don't want to worry about energy consumption. This battery is built tough and has a smart, maintenance free design.
The RV battery has a slow self-discharge, which means it will last longer than some rivals. This spill-resistant and energy-efficient RV battery is also ideal for wind/solar energy systems cabins, hospital devices, and lots more. It earns high marks for providing strong performance in freezing temperatures. This battery is heavy at nearly 64 pounds. Lead-acid or gel batteries are lighter, safer, and less efficient than this battery.
Pros
Long-lasting battery.
Maintenance free.
25ah Quick Charge yet generates insignificant heat
Ideal for solar power installations.
Cons
Doesn't hold charge as well as other batteries.
Could swell during charging.
Frequently Asked Questions About RV Batteries
It can be intimidating to work with electrical systems, and even with these relatively safe and maintenance free components it is still important to exercise extreme care.
What Is the Best Way to Set up an RV Battery?
Mounting an RV battery might be intimidating and a bit tricky at first, but with experience it should start to become second nature. To begin, ensure that all devices, lights, and gadgets are switched completely off. Then, within the RV, locate the RV battery compartment. Attach the wires and enable the hold-down equipment after gently placing the RV battery on the mount. Then, put the appliances and lights to the test.
What is the Expected Lifecycle of RV Batteries?
The expected lifecycle of RV batteries is contingent on the time they spend powering up the appliances, lights, and other gadgets in your RV. Most of the best RV batteries have an expected lifecycle of one decade.
Where Should I Keep My RV Battery?
Store your RV batteries anywhere at ambient temperature, like a garage, storage shed or the house, to safeguard them. Ensure that it doesn't get under freezing wherever it is.