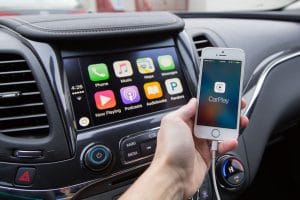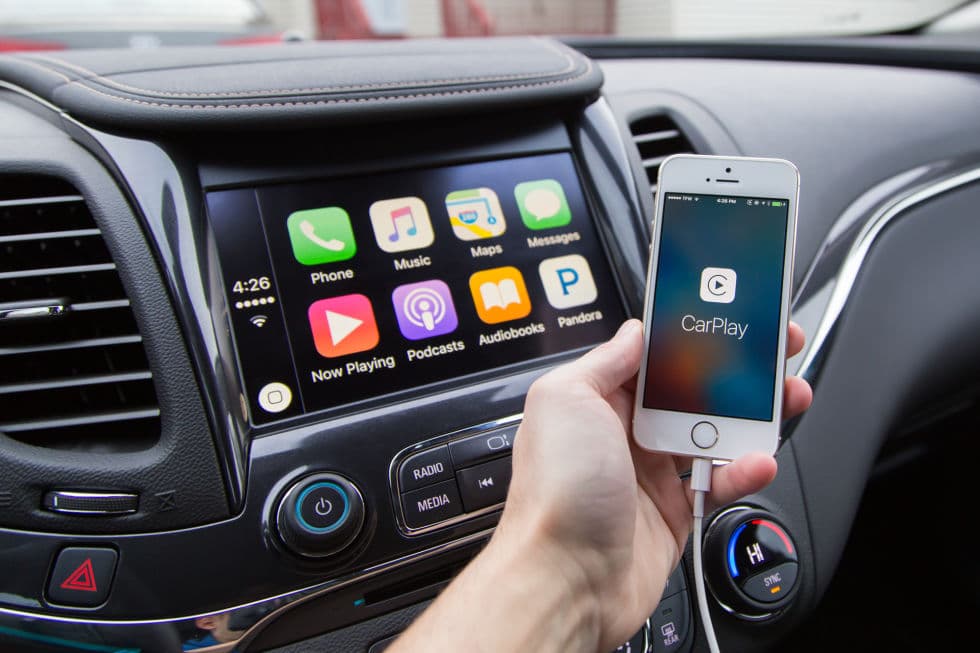 As technology advances, more and more goods become part of the "network of things." Your refrigerator, microwave, and air conditioning can all connect to the internet. However, as an emerging technology, there are still numerous blind spots–whether intentional or accidental–that often force us to seek third party solutions to connect more of our everyday products to the internet for this new freedom. So, why not to upgrade your car stereo with Apple CarPlay and get all the modern features rather than buying a new car?
The Next Big Thing – Apple Carplay Head Units
Enter, Apple Play. With automobiles being a billion dollar industry and manufacturers sometimes having over 100 years of experience in the market, it can sometimes be difficult to get them to make the transition and embrace a new technology when their current models are tried and true. Self-driving cars are the next new thing, but this development is being led not by Ford or Honda but by Google and Tesla.
Best Apple Carplay Stereos of 2019
As such, it has become incumbent on mostly aftermarket manufacturers to offer products which sync your car with your smart devices–regardless of who drives. Thankfully, companies known for dashboard displays and controls see a need and fill a niche. That is why we have put together this list of the Best 6 Apple CarPlay stereos on the market today. Moreover, we have also provided a thorough buyer's guide to ensure that you can choose your CarPlay device as an informed consumer.


1. Pioneer's AVIC‑W8400NEX – Flagship Model Blows Competitors Out Of The Water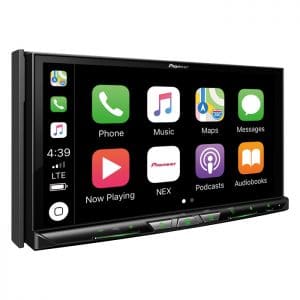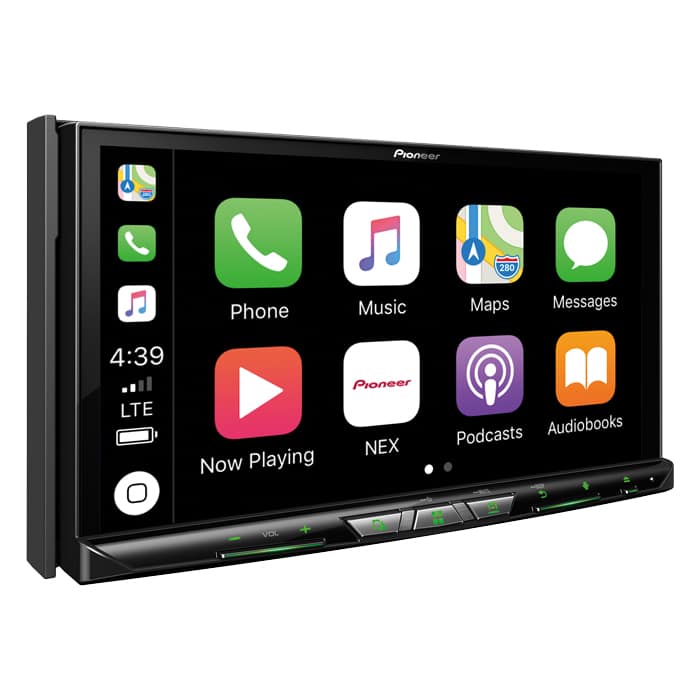 Pioneer's AVIC‑W8400NEX is the latest model of their flagship stereo and finally has been upgraded with new features. They've been fooling us the last few years by making the 8201NEX, which is really the 8200NEX with just an included backup camera. It's nice to see Pioneer finally do something new with it.
Most notably, they added Wi-Fi certified Miracast for screen mirroring Android devices wirelessly, and wireless Apple CarPlay, and wireless Android Auto. Finally, only took half a decade guys.
Set up and Connection
Using wireless CarPlay or Android Auto is a lot easier than you might think. The first step is connecting to your iPhone or Android to the Bluetooth. Once connected, press and hold down the voice recognition button until a device list comes up, then simply select your phone, which should be listed. If it hasn't, repeat step one. Your phone will then ask if you want to use CarPlay with the stereo. Allow it and you're in. Same thing goes with Android phones and Android Auto.
You'll still be able to use your phone normally, and you can keep it unlocked or locked. In wireless mode, you can also still connect to one of the receivers USB ports to get a charge for your phone. It won't interrupt a wireless Apple CarPlay or wireless Android Auto connection. And yes, both also do work with a USB connection. You also get a charge to your phone at the same time from the radio.
It's important to note that once committed to wireless CarPlay or Android Auto, in order to switch back to normal Bluetooth functions, you have to clear both the radios Bluetooth memory, and forget the device on your phone.
Not that they both don't allow for hands free calling and music streaming, some people just might like to use the normal Bluetooth functions at some point. It's obvious that pioneer really encourages you to use Apple CarPlay and Android Auto instead.
As for the fall of 2018, not all phone models are capable of wireless Android Auto, so check yours specs before going wireless. Hopefully by the end of the year, other manufacturers will catch up, and those phones will have to be Android 9.0 or higher.
HD Screen, Features and Usability
With all of the new improvements, the one thing is a HD screen. But on the bright side, it's seven inch capacitive touchscreen is legit, with resolution of 800×480 pixels. Capacitive screens are what we are all used to. We get the responsiveness of a smartphone, plus gesture control like pinch zoom control on maps and swipes for our playlists. The display is motorized and offers multiple angle options but if security is a concern, make sure to park in a safe area because the display is not detachable. Opening it up reveals a disc slot, an Auto EQ input, and an SD card slot. Plus, you can adjust the viewing angle.
Navigation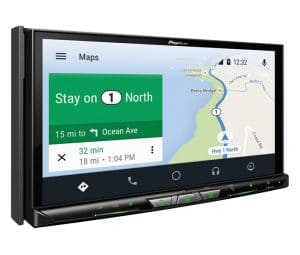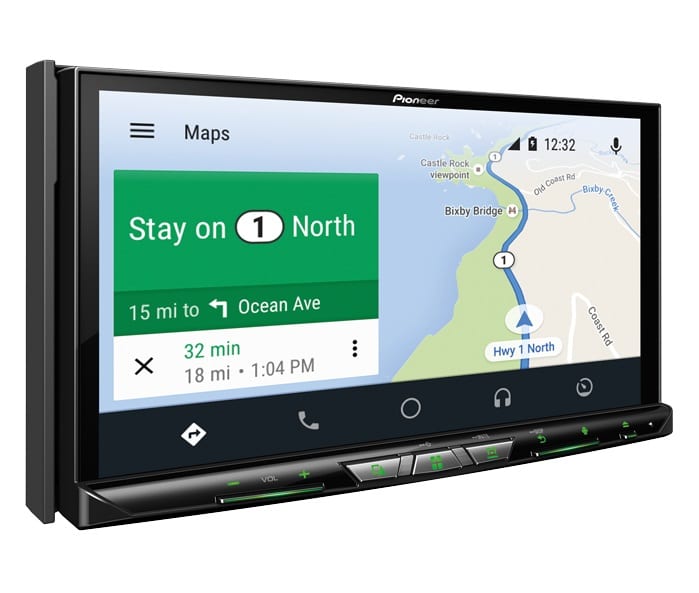 Being Pioneer's flagship model, the stereo has built-in navigation with maps and traffic by Total Traffic Network. You're no longer limited to a tethered or wireless connection to a smartphone. You can have voice guidance without a phone call or cell service.
Your navigation operates like every other nav and offers over 11 million points of interest, half of which are Targets and CVSs.
The NEX's has internal maps, Android Auto and Apple CarPlay, plus Waze. You be the judge on what you think works best.
Improvements and Changes
Pioneer made a decent amount of changes to the radio that I really liked. Besides a new look to the front control panel buttons, it took about half the AV inputs and outputs off the back of the chassis of the stereo and bundled them onto a pigtail hardest, labeling each. These NEXes are usually so packed with features and expandability options that they usually have so much going on in the back, so it's actually pretty cool and organized.
The AVIC‑W8400NEX has the Auto EQ feature, with the input behind the display. Optional CD-MC20 microphone required. It's really easy to have the radio set up to your time alignments in each EQ settings. With the AVIC‑W8400NEX we got dual camera inputs, one of which is a dedicated backup camera input. The video input can be set to camera in the system settings for a front facing camera. This does kill one of the two audio-video inputs.
All in the included wiring harness, Pioneer added a car speed signal inputs and reverse gear signal inputs. The HDMI port now as a small clamp to hold your cable in place to prevent accidental disconnections.
Phone Mirroring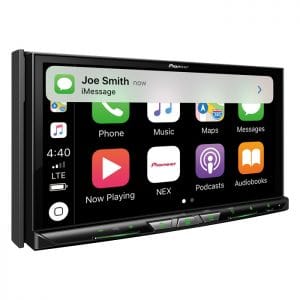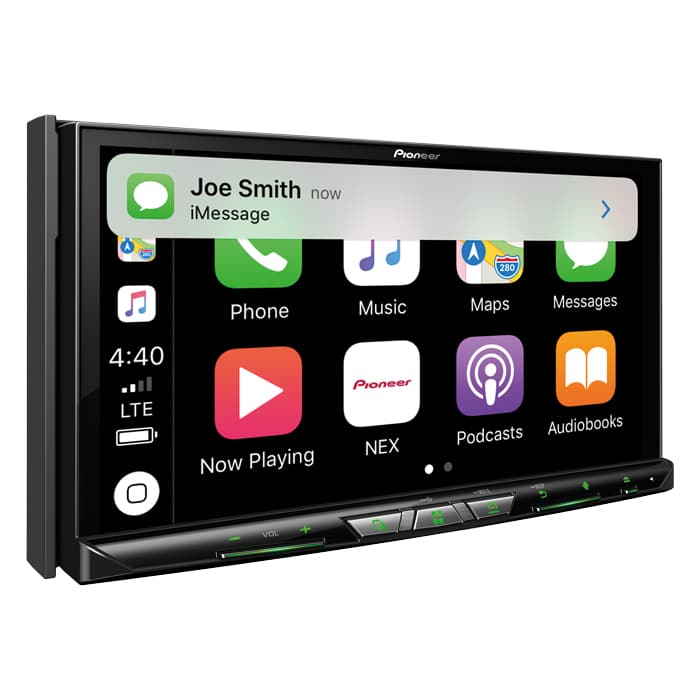 There are three ways to mirror your phone onto this radio. Wireless via Miracast for Android phones with Miracast support, using the HDMI port for iPhone and compatible Android phones, or via the RCA AV inputs. Wireless Miracast is a game changer by letting you mirror and control your Android device wirelessly to the screen. Connecting is easy. While already connected via Bluetooth, go into the phone's settings and select Smart View for Samsung, and Miracast for non-Samsung phones.
USB Ports
The AVIC‑W8400NEX has dual USB ports in the rear of the Stereo. The first one is specific for iPhone devices and the second is for Android devices. Pioneer even provides you with USB labels to avoid installation confusion. You can also connect your phone via USB and just simply use the USB or iPod source to stream music. The USB connection shows album artwork.
Bluetooth provides hands-free calling and wireless music streaming, plus dual phone connection. The Pandora source didn't work when using any of the four phones we used to; test the iPhone X, iPhone 6, Samsung S9 Plus, and LG Stylo. We were able to listen to Pandora via Bluetooth Audio. Pioneer has also dropped the Spotify source expects you to use Apple CarPlay, Android Auto, or Bluetooth Audio to listen to that app instead.
13 band Equalizer
The audio settings put you in full control of your sound. The 13 band graphic EQ features several presets like powerful, natural, and vocal, adjust the fader and balanced position, get subwoofer control over the low pass filter. Listening position creates the perfect audio for any seating arrangement, adjust the crossover and high pass filters of the front end rear speakers. Time alignment improves the accuracy and transient response. Plus, add effects like bass boost and loudness.
Using a USB thumb drive, SD card or CD, the radio's compatible with MP3, WMA, AAC, WAV and FLAC audio files. For video it plays, MPEG-1, MPEG-2, MPEG-4, AVI and WMV files. You could also upload to view JPEG images. Although it's not HD, DVDs still look pretty great on the capacitive touchscreen.
Even More Features
Dual zone control allows you to send an AV signal like a DVD from the radio to an external monitor in the back seat so that the rear passengers can watch a movie while the front seat passengers could listen to any other stores like Bluetooth, or even use CarPlay. The Stereo has a built in HD radio tuner. It's SiriusXM Radio with the optional SXV300v1 universal tuner and steering wheel control ready with the ASWC-1 interface. Links in the bio.
The rear connections include GPS antenna, dual UCBs, steering wheel control, Bluetooth microphone, second zone audio-video output, wire harness for power, ground and speaker, iDatalink Maestro RR, HDMI, SiriusXM, radio antenna, RGB input for optional AVIC-U280 Navigation and AV pigtail.
The AV pigtail includes three sets of four volt RCA preamp outputs for front, rear and subwoofer, RCA AV inputs, rear monitor video output, backup camera, and 3.5 millimeter auxiliary audio-video inputs. A game changer from Pioneer.
Pros
Game changing wireless CarPlay/Android Auto
Support of almost every media option and sound format available
Built-in amplifier and navigation
Flagship model loaded with tons of options and functions
2. Pioneer MVH-1400NEX – Best Audio Choice and Album Finding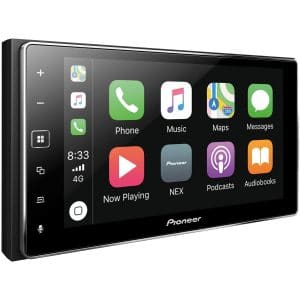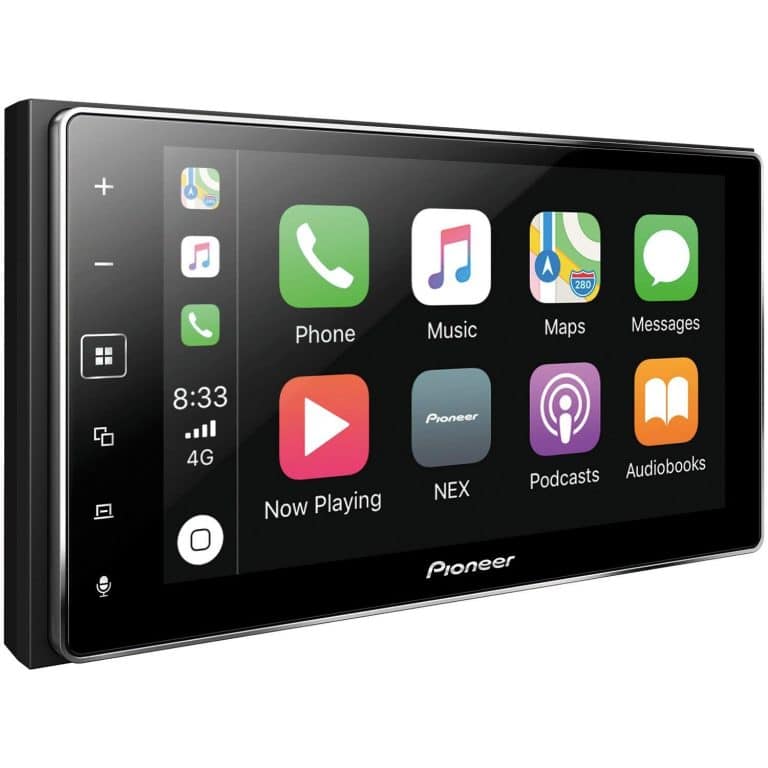 This new device is the AP radio updated for the SPHD A120 with MVH-1400NEX.
Multi-Functionality
It's the digital media receivers so it has no disc slot for CDs or DVDs. It's a seven-inch capacitive touchscreen. It's compatible with Apple car play for your iPhone. It creates an interface with your phone to the radio, transferring several of your phones first party apps like messaging, phone calls, entry calling, your iTunes music, apple maps, which is your native navigation on your iPhone. It also lets you transfer several third party apps, mostly audio apps like Spotify, Pandora, but also messaging apps like WhatsApp.
Easy Music Listening and Communication
You can go right into your music apps and control all your music right from the radio. It also puts a splash screen of whatever album you're listening to in the background. Through Apple car play, and with a Bluetooth microphone, you get hands free calling with Siri and messaging.
Full-Time Access to Car Information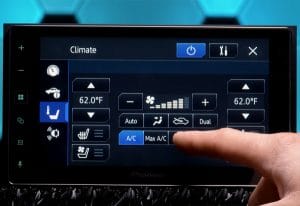 The 1400NEX is also compatible with Idling Maestro Rr. What this does is it integrate your new radio with your car's factory systems. It gives you access to all sorts of features and information about your car. You can view different gauges like your speedometer, access to vehicle information like tire pressure and your engine battery. You'll have climate controlled directly of the Stereo for air conditioning, heating, heated seats, fan strength, temperature, and parking assist for backing up and going forwards. It also has a built-in tuner with FMA and presets.
Compatibility with Different Devices
For the record, this radio is not compatible with android auto, but with an android phone you can still get Bluetooth and USB music streaming. This radio has also an android rapid charge.
Access to Visuals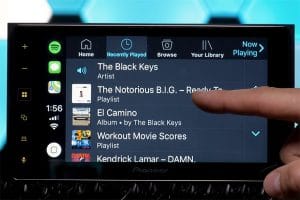 You don't have to use car play to stream your music, you can use Spotify, Pandora, iTunes, any music app with the USB or Bluetooth connection. The connection different in that the USB connection gives your phone a charge obviously, and displays album artwork. The Bluetooth connection will only display music tags. However, thanks to Bluetooth 4.1 and AVR CP 1.6, album artwork will transfer wirelessly if you are in the iPod, Pandora, or Spotify source.
Dual Phone Connection
This radio features dual phone connection so you can switch between two phones easily. If you connect to Bluetooth any other device, you also get access to your phone and phone book. It synchronizes your contacts and you can even just hang up on a call right away.
Another Apps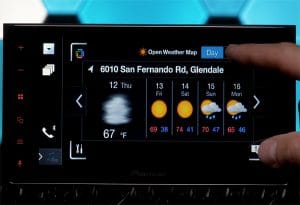 Car play isn't the only app integration with this stereo, APP radio live integrates some of your phones apps to the radio so you get access to navigation, music and videos, your calendar, mixed with Eventbrite to find out upcoming events near you, and weather. With the other apps, you get access to apps like Waze.
Variety of Files Supported
You download both app or you'll live and APP radio from the app store. Commands on the side include volume up and down, home and source button, display on and off, screen adjustments, and voice control. Using a USB thumb drive with the USB port, this radio will play audio files such as WMA, MP3, WAV, AAC, and FLAC files, and MPEG-1, MPEG-2, MPEG-4, AVIN WMV video files as well as view in upload jpeg images for a custom background.
Wide Background Color Choice
It includes a background with different preset wallpapers, even a few animated ones. The theme color may be changed to one of five options, blue, pink, red, orange, yellow, green, gray with the help of a side panel illumination, where the different color options can be scanned.
Other Options
Audio settings include a 13 band graphic equalizer with presets, fader, and balanced position. There also subwoofer level control over the low pass filter, speaker level control with listening position, crossover settings over front or rear speakers, time alignment, bass boost loudness, automatic level control, and sound retriever.

Diversity of Connections
The responsiveness of the screen is great and modern-looking. The radio comes in with a USB extension, Bluetooth microphone, and wiring harness, no wireless remote control. The connections in the back include USB, Auxiliary, Bluetooth microphone, steering wheel control input, Sirius XM, Idiling Maestro, wiring harness for power guns speaker. It's got three sets of four-volt preamp outputs for frontier and Subwoofer. Optional RGB input for the Avac Youtube is 60 and GPS. There are also RCAAV inputs, video output, backup camera, and radio antenna. However, there isn`t HDMI port.
Pros
A splash screen of album listened for simple music finding
Synchronous communicational ability
Direct connection with a car
Dual phone connection
Multi-functionality and wide choice of files supported
Great screen responsiveness
Wide variety of background colors
Cons
Isn`t compatible with android auto
The USB connection don`t display music albums
The absence of wireless remote control
No HDMI port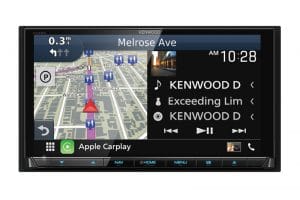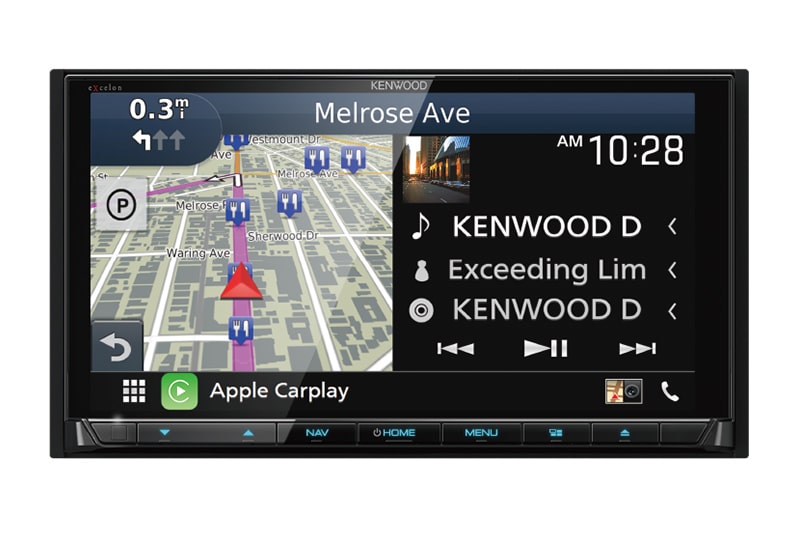 Here we've got the new Kenwood Excelon Reference DNX995S. Let's see what's included in the box, and take a look at the backside of the receiver, and then cover most important new features highlights.
First, you will notice that it does include the wiring harness: Bluetooth microphone for great sounding, hands-free Bluetooth phone calls, GPS navigation antenna with mounting pad, as the DNX995S does have built-in Garmin navigation, two included USB cables. A grouping of owner's manuals as well as the Kenwood warranty card. Kenwood Excelon DNX995S does include a two-year warranty as usual for Kenwood products.
Inside the Box: Installation
In regards to installation, you've got some included installation screws and two Kenwood removal tools if you are using the included mounting cage. You will notice that the DNX995S does include a custom trim bezel. It also has the adhesive for the bezel, and then the included trim ring for the cage itself.
Inputs and Controls
On the backside of the receiver, you will notice three video cables: one will be for your front view camera, or dashboard camera input, one will be for the rear view camera input. The next will be your video output and AM/FM antenna input + AV audio output. Above that will be the Bluetooth microphone input and a GPS antenna input. Below that will be your three sets of gold plated five volt RCA pre-outs. Rear's at the top. Front's in the center, and subwoofer at the bottom.
On the right side, you will notice the dashboard camera input for the optional DRV-N520 integrated dashboard camera. Next to that will be the AV input for the optional Kenwood CA-C3 AV cable and two USB inputs. To the right and below of that will be Maestro RR inputs and wiring harness input. In the lower right hand corner will be the SXV300 Sirius XM Satellite Radio Tuner optional input.
Technologies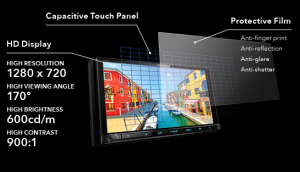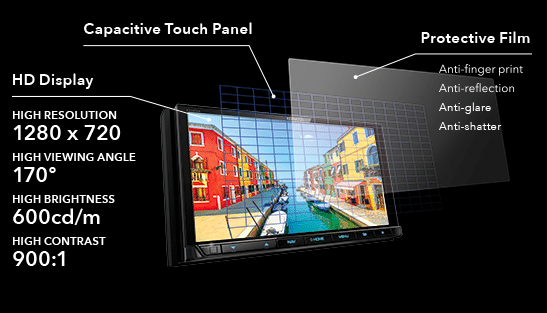 The DNX995S and the DDX9905S offer industry leading screen technology. Not only does it have a 720P display, but it also incorporates the AAS screen technology, so when viewing from off access, you can still see the screen, it doesn't wash out. You will also notice the new photo slide show.
Not only does the DNX995S have the best in picture screen quality technology, but it also has the best in audio sound quality technology. With tuned audiophile grade components and three sets of five volt gold RCA plated pre-outs, you can expand your system to get the full high resolution audio experience. The receiver supports high resolution audio content but that's just one part of the equation. The new Excelon Reference amplifiers are also high resolution audio compliant. Pair those with the new Excelon Reference high resolution audio compliant speakers, and you can get the complete high resolution audio experience.
Besides having built-in Garmin navigation, Kenwood also pays for two years of Free INRIX traffic service. With the Kenwood traffic powered by INRIX app, this also enables the new Weather Widget.
Apple CarPlay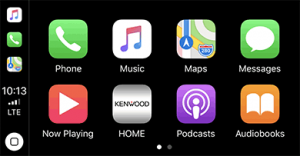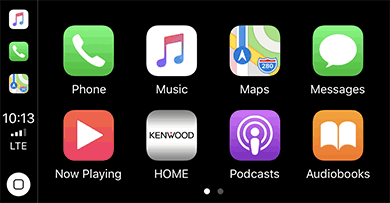 The DNX995S also offers convenient USB controlled access to Apple CarPlay. With Apple CarPlay, you can make and receive phone calls, text messages, and more with ease.
With a compatible iOS or Android device, you have easy access to Kenwood's new WebLink. With Kenwood's new WebKink this receiver offers an exclusive that is only available on the WiFi receivers called NextRadio.
Wireless Android Auto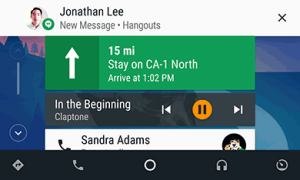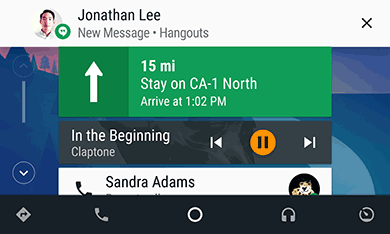 The DNX995S offers built-in WiFi for wireless Android Auto with a compatible Android device. You can also use your compatible Android device via the hardwired USB connection. With the convenience of wireless Android Auto, now you can simply connect via WiFi and Bluetooth and have touchscreen control convenience of the Android Auto interface without having to connect any wires. Now you can access your maps, phone calls, music and more all with the convenience of wireless technology.
WebLink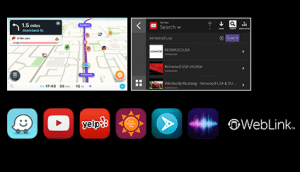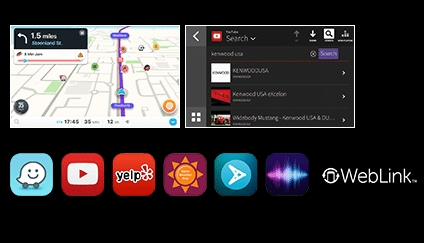 Download and install the Kenwood WebLink app to your compatible Android or iOS device. Then select the WebLink source icon. You'll see a list of available apps. You can select YouTube. YouTube automatically classifies into categories for easy access. Of course, the video content will only be available when the parking brake is engaged. You can select the content and then it will bring up a list of available videos. You can also easily press the search icon and type in to search for a specific video name. Pressing the back arrow will take you back one level, or you can select the four boxes in the lower left hand corner to return to the WebLink home screen.
Media Player will allow you to access the music content that is stored on your iOS or Android device. What's great about the Kenwood WebLink app is that it does not require you to use this music. You can actually listen to other sources that are on the receiver such as your radio when using WebLink or Waze. Again, easy access to your music content.
Waze Navigation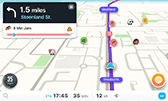 Now, one of the greatest things about Kenwood WebLink of course, is the ability to interact with the
Waze navigation
. Once Waze has launched, you will have touchscreen control to all of
your Waze content
. Very simple, easy to use interface.
You can select this icon to go to a specific destination, enter it in, or you can find recent places from there, as well as various points of interest such as you want to select gas stations. You can go in, you can see your specific categories such as gas stations, food, drink, and more. Then it will populate a list of gas stations or what other places in the area as well as populating it on the map. You even see the live gas prices displayed. So really convenient.
Pros
Wireless Android Auto compatible
Apple CarPlay compatible
WebLink allows access to Waze, YouTube, and Yelp
Built-in Garmin navigation system
13-band graphic EQ
Built-in amplifier (22 watts RMS/50 peak x 4 channels)
4. Alpine iLX-F309 HALO9 – Brand New 2018 Single-DIN Touch Screen Stereo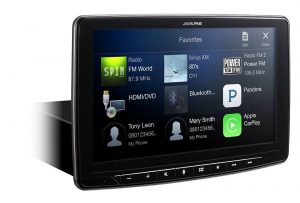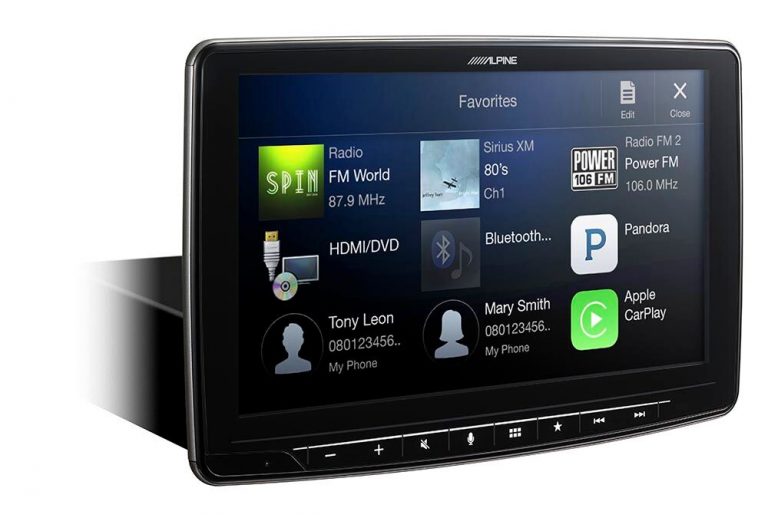 The brand new Alpine iLX-F309 HALO9. On first look, if you have a 5-10 years old car, you might want to consider this because it fits in almost perfectly. Really, it will look very factory-like almost in any vehicle. It's a floating display so it kind of pops out from the dash, a really cool look to it. You've got Apple CarPlay and Android Auto, got both built in, so, really, no matter whether you have an Android phone or an Apple phone, you're going to be able to use some great features along with this head unit.
It starts up with the Alpine screen like any branded unit nowadays and it's going to take a second here to load everything up, but it's surprisingly pretty quick to actually fire up, which is nice. Bluetooth is already hooked up. That was a really easy process, just a press of a couple buttons on phone. It was really smooth and easy to do.
Fast, Smooth and Easy to Use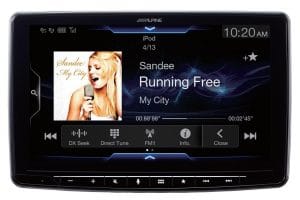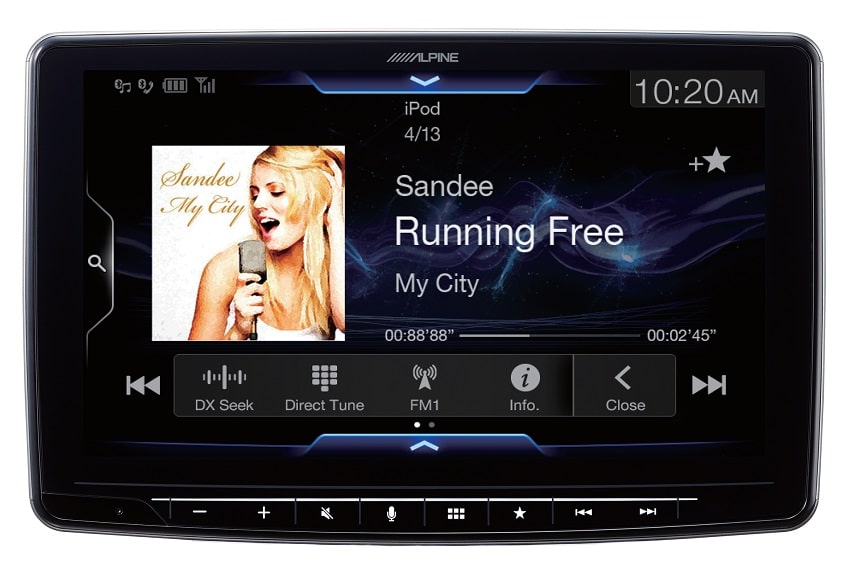 It also shows your phone battery remaining, shows you that you're hooked up for music, hooked up for making phone calls, and then it shows your reception on your phone. It's got some cool information up there without having to look at your phone's display, but then we look along the bottom and we've got some key features that are going to stay stationary, which is nice too.
You've got your volume up and down, mute, these are all touch buttons. There's no tactile feedback or anything, but it's nice to have them there so you don't have to fumble around on the screen.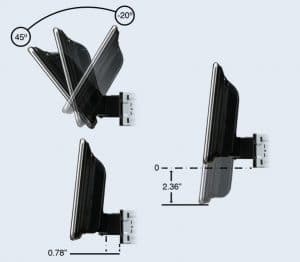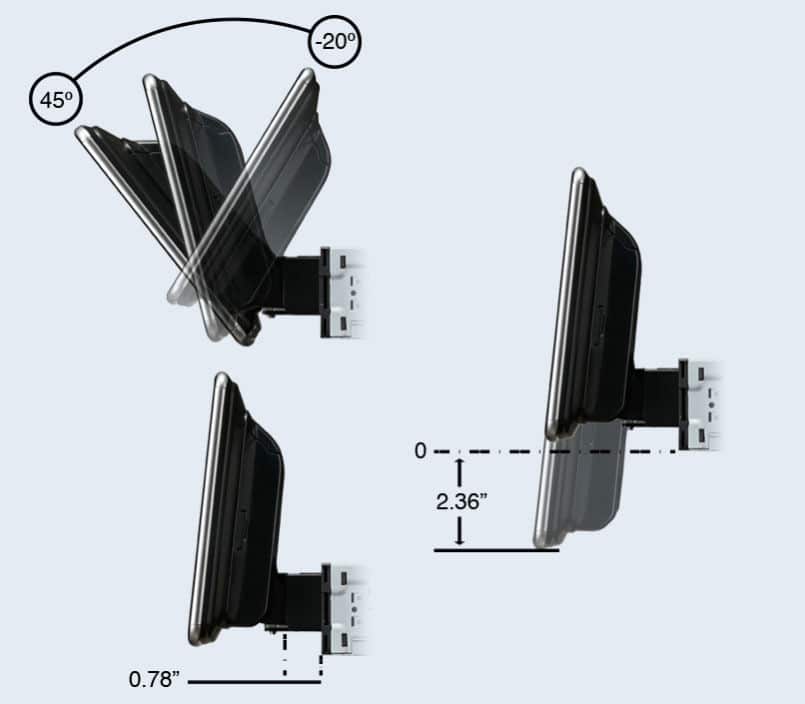 A little microphone in front so you can talk to the display and have it search for things through Siri or Google Assistant or whatever you want to use. Then, if we hit phone in the main menu, this is going to come up with contacts and stuff. It's got all your phone numbers and stuff that comes up, so it's really easy to make a call right from the screen here. You've got this little star button that you can push, and it brings everything up onto the screen, really easy to use.
In a setup menu, you have all your different options. You can set up the sound here, so you can see some of the equalizers that you have control over, your rear speakers. You can fool around with your subwoofer a little bit, equalizer preset etc. There's a bunch of different presets built in, which is really nice, ton of stuff on here. A really cool display, so it makes it really easy to utilize, really easy to set up the way you want it to sound.
Connectivity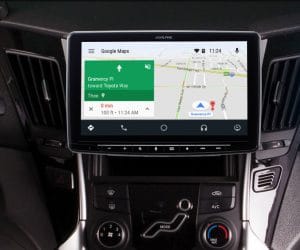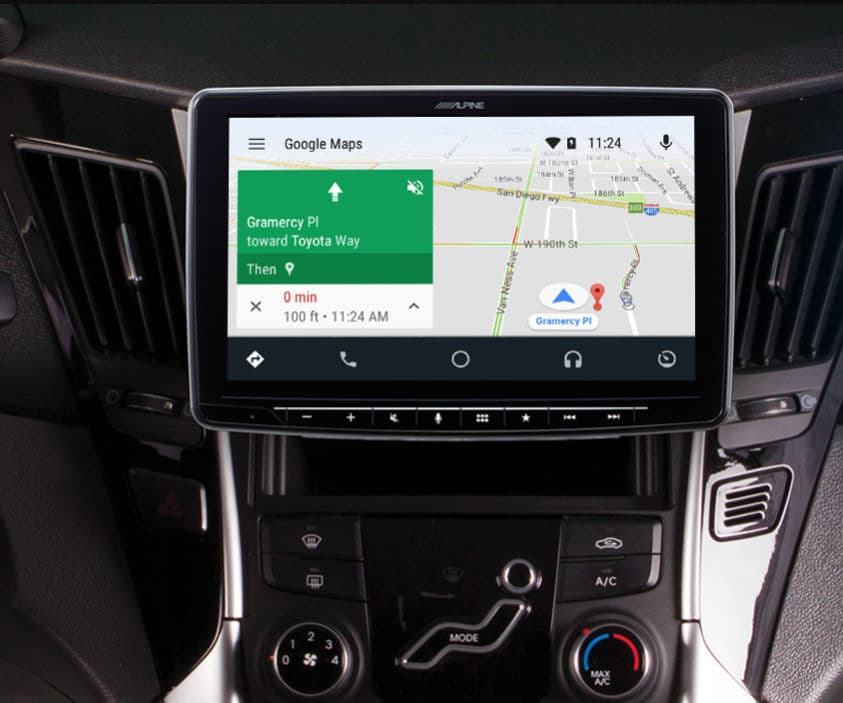 My phone uses a USB-c. This is a USB plug, so you can plug one end of the USB cable and then the other end is going to be whatever kind of phone you have, so a lightning connector for your Apple or a USB-c. We plug that in, and then we can start up Android Auto. You have to make sure that Android Auto is obviously installed on your phone if you're going to use that, before plug that in. So we'll go into the menu, and here's Android Auto. It pops up at the bottom when you go into the main menu and then we have all of our stuff. It's like a mimic of your phone screen. Only it's a dumbed-down version because it's trying to keep you safe while you're driving.
The same with Apple phones, very convenient when sharing a car with your wife etc.  It's really easy to use. It's a capacitive display, so it's easy to touch, easy to swipe things, and it's super fast. If you're looking for something different, just a bigger head unit, something to fill in your dashboard a little bit better, and you want something that works really well, iLX-F309 is definitely something you're going to want to check out.
Pros
Very fast and simple to use
9" touch screen
Integrated Siri/Assistant, maps, calls and other apps
Cool floating display design
Cons
Low resolution
High price
5. Alpine ILX-007 – Best Apple Exclusive CarPlay Stereo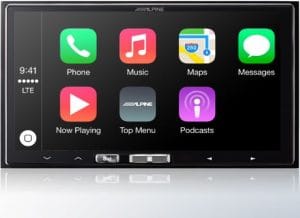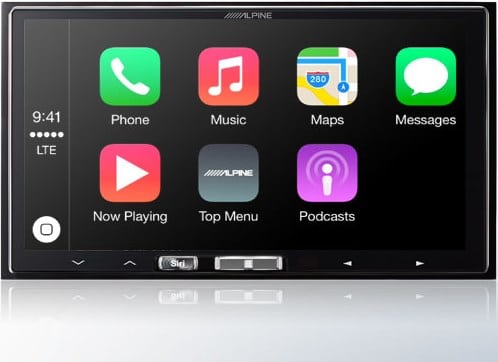 The Alpine ILX-007 can be seen as the legacy product in the Apple CarPlay market. As one of the first aftermarket CarPlay receivers, it specializes in providing the most native and intuitively designed interactive experience the Apple users are familiar with.
However, this specialization has forced the Alpine to take a hit with versatility. As such, the Alpine CarPlay receiver does not support integration with any other OS – including Android. Of course, for dedicated Apple users, this is not an issue, and the Alpine's focus provides the most familiar and thorough Apple experience available.
One of the primary features that Apple users have come to love, if not rely on, is the ability to control various aspects of their smartphone with their hands placed firmly on their vehicle's steering wheel. Considering that being distracted is one of the top causes of auto accidents, quickly overtaking many others, the safety that being able to control your synced smartphone from your steering wheel provides cannot be understated.
Some drawbacks
Unfortunately, due to the relatively new and immature state of the CarPlay technology, many CarPlay stereo brands have not yet included the ability to control your CarPlay stereo from the comfort of your steering wheel or the automakers have yet to include support for CarPlay stereos. That is where the Alpine's original partnership with Apple comes into play. As being a member of this technology at the ground floor, any vehicle which offers steering wheel controls to a Bluetooth synced Apple device can also connect with the Alpine CarPlay stereo.
Overall
Aesthetically clean designed stereo unit for your car and iPhone. Very easy to install and very functional even from the box. Oddly though, this stereo itself does not support Bluetooth connection with your apple device and must be connected to a USB input. Anyway, that's a number one choice for today with no doubts.
Pros
More secure than Android compatible models
7" touch screen
Steering wheel controls compatible
Cons
Does not support Google Android Auto
Not Bluetooth compatible
Does not play video files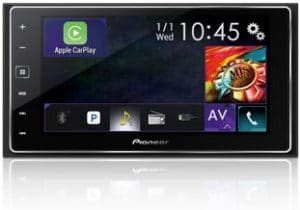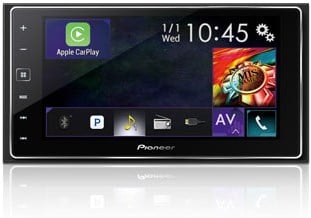 Depending on what you are looking for in a CarPlay stereo, the Pioneer can probably be seen as a first option instead of a number 2. While it has not partnered nearly as close to Apple as Alpine has, and thus does not offer the most interconnected experience, it does provide a wealth of options that the Alpine lacks which may push it over the top compared to the Alpine.
One of the main advantages of the Pioneer compared to the entire range of products on our list, not just the Alpine, is its OS compatibility. While the Alpine is an Apple-exclusive product and the other CarPlay stereos offer some Android support, the Pioneer is the only CarPlay stereo on our list to feature MirrorLink, the primary Android software for many Sony and Samsung smartphones that allow you to monitor your vehicle's condition. Indicators like oil, tire pressure, and various engine readouts are available through the MirrorLink system, though you may need to purchase some hardware separate to get the full use out of this feature.
Another advantage the Pioneer has over most of the competition is a sheer number of formats its CarPlay stereo is compatible with. Think of a modern audio or video format, and chances are, the Pioneer can play that file. This makes the Pioneer the most versatile CarPlay stereo on our list, period.
Final thoughts
However, the Pioneer is not without its faults. While it may be the most versatile, it also has the smallest screen. This means that the display may get a bit more cluttered than others, and the video playback will not be quite as nice. Moreover, the UI is a bit outdated and tedious. Finally, one of the more glaring concerns in regard to the Pioneer is its pitiful preamp that can only push a paltry 14 watts per channel. But still, it's a great branded product worth considering.
Pros
Broader range of apps and file formats
Some Android support as well as MirrorLink
Bluetooth pairing for both Apple and Android smartphones
Cons
Only 14 watts per channel
Poor User Interface
6.2" touch screen
7. Sony XAV-AX100 – Best User Interface CarPlay Stereo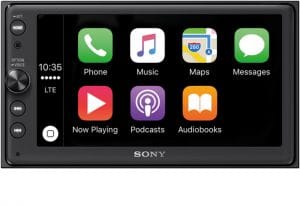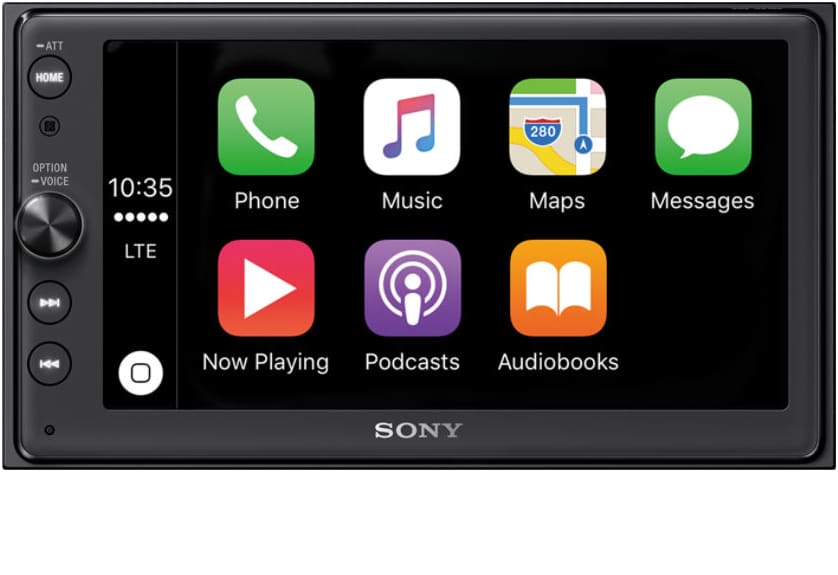 Sony is a trusted brand in the consumer electronics industry and its high-end electronics are regularly found at the top of their class. However, the Sony CarPlay is a bit of a mixed bag. This is not to suggest that it truly does anything poorly, but it is not the top of its class which is a rare position for Sony.
First, the Sony blows the competition away in regards to the form factor. The stereo has a much smaller profile than most of its competitors, allowing it to squeeze into the smallest of dashboards. Moreover, the manual controls on the Sony are set to the side, so they do not interfere with any other dash controls. Also, the Sony is the only CarPlay stereo to feature a knob, which allows much easier control if you choose to use the manual controls.
Worth it or not?
Sony's screen is only 6.4", which, while not the smallest on our list, is still below average. Also, the audio quality leaves a bit to be desired. First, it only offers 5 channels, which is odd considering that 6 channels is generally the standard for modern car stereos. Moreover, the stereo's preamp can only push 17 watts per channel, though it does feature the highest maximum output at 55 watts. However, Sony always was a synonym for Quality. So, you basically pay for trouble-free electronics, quality control, better customer support and guarantee here.
Pros
More convenient manual controls
55 watts peak output
Smaller profile than most to fit smaller dashes
Cons
6.4" touch screen
17 watts per channel
Only 5 output channels
8. JVC KW-M730BT – Best CarPlay Stereo Audio Quality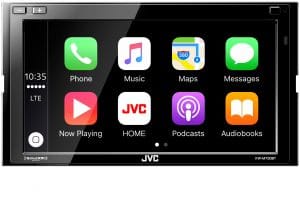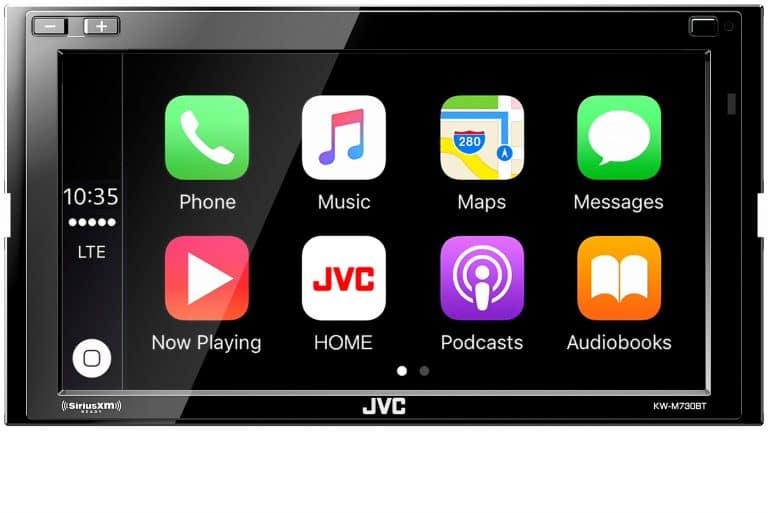 JVC is a brand that got its start in the audio electronics market, specifically the automotive audio electronics, producing some of the best low and mid-tier market speakers. Eventually, they expanded into numerous consumer electronics markets and even dominated the low-end television category for years.
This CarPlay stereo sees JVC return to its roots and provide an excellent stereo system that still serves as a serviceable CarPlay device. One of the primary advantages of the JVC is its preamp. It provides the expected 6 channels with 50 watts of maximum output. However, it is the 22 watts per channel that really lets the JVC shine.
Moreover, the JVC can allow you to sync 2 devices simultaneously. While you may not be able to make use of both devices at the same time, it does allow you to transition from one to the other without pause.
Unfortunately, you are likely going to need that versatility as the JVC features far fewer inputs than most devices, featuring only a single USB and auxiliary input. To make things more troubling, the JVC does not play video formats, restricted exclusively to audio files.
Pros
22 Watts per channel
Can sync with 2 different smartphones simultaneously
6.8" Display
Cons
Does not play video files
Fewer inputs than most other models
No real manual controls
9. Kenwood DMX7704S – Most Versatile CarPlay Stereo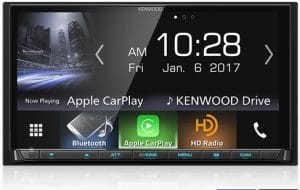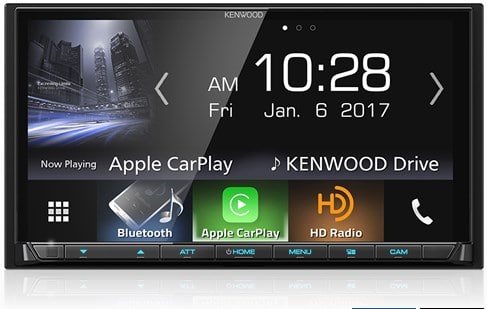 The Kenwood could be the best CarPlay stereo on out list. However, it is also one of the most expensive. This is to be expected as Kenwood has long produced premium products for automotive audio systems, but many of the features that push the price of the Kenwood higher than many of its competitors are things few people are likely to use.
Still, the Kenwood does offer a wide range of features that, if fully utilized, make this a top-tier product. First, the screen is 6.95". While this is technically not the biggest screen on our list, we suspect you will be hard pressed to notice that 0.05".
Some strong features
The visual display is not the only area where the Kenwood shines. As is expected, the Kenwood also features a 6 channel preamp with 50 watts of maximum output. However, it is the 22 watts per channel that is truly exceptional and ties the JVC for the most watts per channel.
In terms of features, the Kenwood rivals the Pioneer for the most offered. For instance, while the Kenwood does not use MirrorLink, which is a native Android car monitoring app, it does incorporate iDataLink Maestro which does the same thing without requiring a specific OS. Also, the Kenwood comes with 2 RCA inputs for onboard cameras to watch your sides and rear – though the cameras are sold separately.
On the downside, beyond the higher cost, the Kenwood also has an antiquated manual design with numerous buttons on the bottom of the display. If you wish to use the manual controls, they will pose more distraction than other models. Also, considering you are unlikely to take advantage of all the lesser-known features like iDataLink Maestro or the ability to connect 2 cameras, purchased separately, the installation is a bit more time consuming than with the other products on our list.
Pros
22 watts per channel
6.95" display
Offer more input channels than most
Cons
Too many manual buttons
More involved installation
A bit pricey
10. Clarion NX706 – Best Budget CarPlay Stereo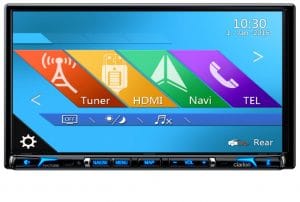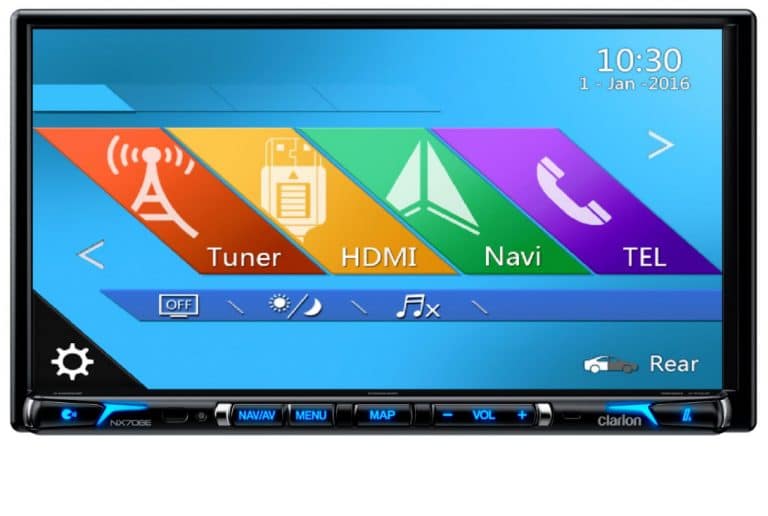 To be honest, the Clarion does not truly belong on this list. It supports neither Apple CarPlay or Android Auto. However, it will connect to your smartphone or other smart devices and performs many of the most common functions. Also, while it does not support CarPlay or Android Auto, the Clarion does still respond to both Siri and Android control.
One benefit of the Clarion is its large 7" display. Much like the Alpine, the Clarion will display 480 resolution at 16:9 ratio. Moreover, the Clarion can also play video formats as well. In fact, the Clarion is one of the few CarPlay stereo on our list that offers an RCA input, which allows a few more options in regards to hardware compatibility.
Though, without the use of CarPlay or Android Auto, the Clarion is expected to perform well in the stereo department. However, here it only draws mixed reviews. While the Clarion can push a solid 20 watts per channel, it can only push 45 watts total. With a 6 channel preamp, this limits its overall ability on the high end.
Pros
7" display
Supports a broad range of file formats
20 Watts output per channel
Cons
Does not support CarPlay
Does not support Android Auto
45 Watts peak output
Best Apple Carplay Stereo – Buyer's Guide
While CarPlay stereos continue to rapidly evolve, there are still a number of features that you can always rely on due to the market to help you distinguish one model from another. However, considering the whole point of a CarPlay stereo is to facilitate connectivity, these features may differ in some respects from other stereos.
Still, qualities like the preamp and its specifications remain a primary concern. Of course, as an interconnected device, previously unseen factors like Bluetooth connection, OS integration, and third-party app integration also take center stage.
OS Integration
Depending on your preferred smartphone service, this will either not matter at all, or it will be a make-or-break feature. Some of the newer models of CarPlay stereos incorporate a wider variety of operating systems than others.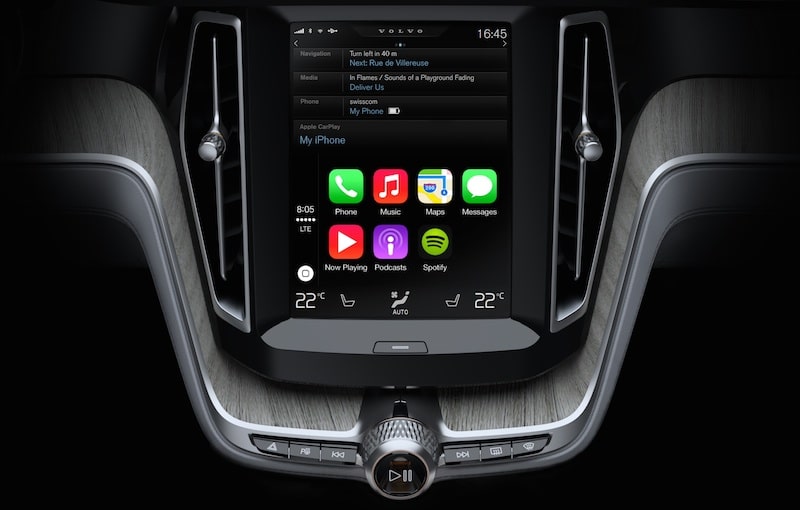 For instance, the Pioneer features the most OS integration, going above and beyond even what is generally expected and including MirrorLink that is associated with Samsung and Sony exclusively. Of course, the main potential conflict in this category come from two behemoths in smartphone operating systems: Apple and Google.
While Apple may often lead the way in developing new software applications and further ways to integrate into existing products, Google is never far behind. As such, it is often seen as an expectation – if not outright given–that any CarPlay stereo support Android Auto at the very least, though the more Android integration the better.
Third-Party Integration
Apple is known for being fairly restrictive when it comes to users and third-party products. Unfortunately, Apple CarPlay is not an exception to this philosophy. As such, if your CarPlay stereo is limited to Apple's OS, your app selection will similarly be limited.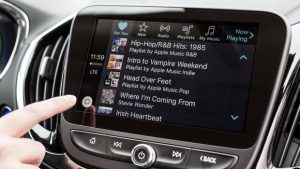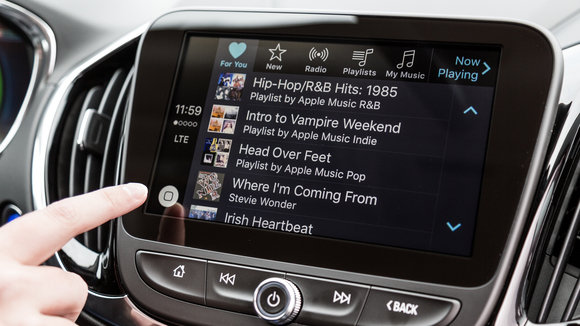 That being said, there are some distinct benefits to Apple's restrictive app policy. For one, Apple products, and their iOS specifically, are far more secure than Android or other third-party apps. Considering the degree of integration and control CarPlay can exhibit, not to mention the potential control for self-driving cars, security may well soon be placed at a premium. Still, few of us own self-driving cars, so while that concern may soon creep up in our rear-view mirror, it is not presently a primary factor. Thus, the more third-party app integration the better since many people might use multiple types of the same class of app – like with navigation for instance – in different scenarios.
Smartphone Connection
The ability to directly and wirelessly sync your smartphone or other smart devices to your car with Bluetooth is already a well-developed and mature technology, often seen as a given for most cars manufactured within the last half decade. However, since CarPlay is still an emerging technology this is not always a given.
Many of the older models of CarPlay stereos still rely on some form of wired connection to sync your smartphone or other smart devices to the stereo. Ultimately, this is a less than ideal setup, and the better CarPlay stereos–and definitely the newer ones–will generally allow you to sync your smart devices to the stereo directly via Bluetooth.
Display
The display will have numerous uses and, while generally not a primary factor, can break the tie between 2 equal products or justify investing a bit more in the purchase. The primary concern when it comes to the display is screen size. The floor of an acceptable CarPlay stereo's screen size is 6". However, anything under 6 ½" is currently smaller than the average.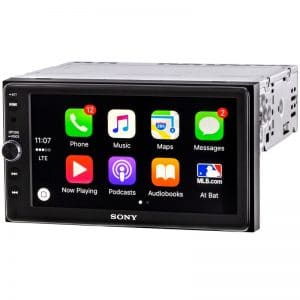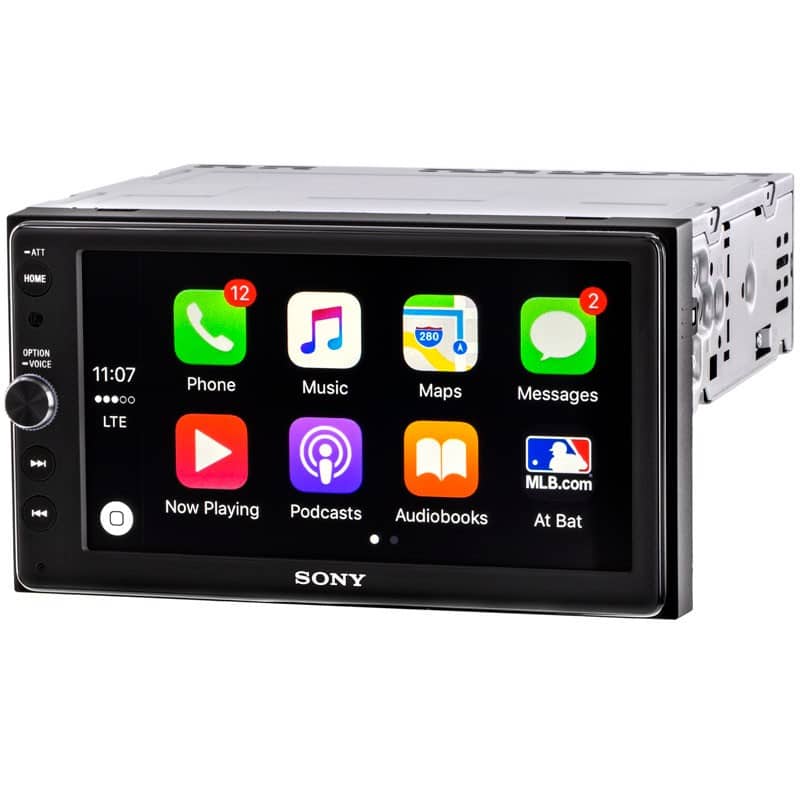 Also, the resolution of the screen should be at least 480 while supporting a 16:9 ratio. Obviously, anything higher than 480 and the option of different ratios are nice, but they are largely superfluous to needs of a CarPlay stereo. The screen itself should be illuminated by at least LED backlit technology.
Of course, these settings do not take into account the possibility of playing videos on your CarPlay stereo display. In this instance, the resolution will generally be less than 480, though you should not even bother if it drops below 240. However, the ability to play videos is far less common on CarPlay stereos at this point in the technology's development and should be seen as more of a premium extra feature, rather than a primary consideration.
Vehicle Nativity
While directly connecting your smartphone to your car through Bluetooth, one of the more common interfaces of this arrangement involves managing the various features of this connection through button activated controls directly on your steering wheel. The ability to turn up or down the volume as well as switch tracks or answer calls allows you to keep your focus on the road without having to look away or otherwise divert your attention.
Unfortunately, many CarPlay stereos are still playing catch up in this regard and have yet to partner with enough automakers to truly provide a worry-free experience. As such, it is generally far more common than not for a CarPlay stereo to have no native vehicle connectivity.
However, with the rise of popularity of the CarPlay service, more and more cars are being built with the option of controlling your CarPlay stereo from the comfort and safety of your vehicle's steering wheel. Moreover, a modest number of automakers actually have the ability to retrofit cars manufactured with two years to manually control your CarPlay stereo from the steering wheel.
Amplifier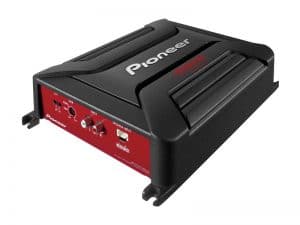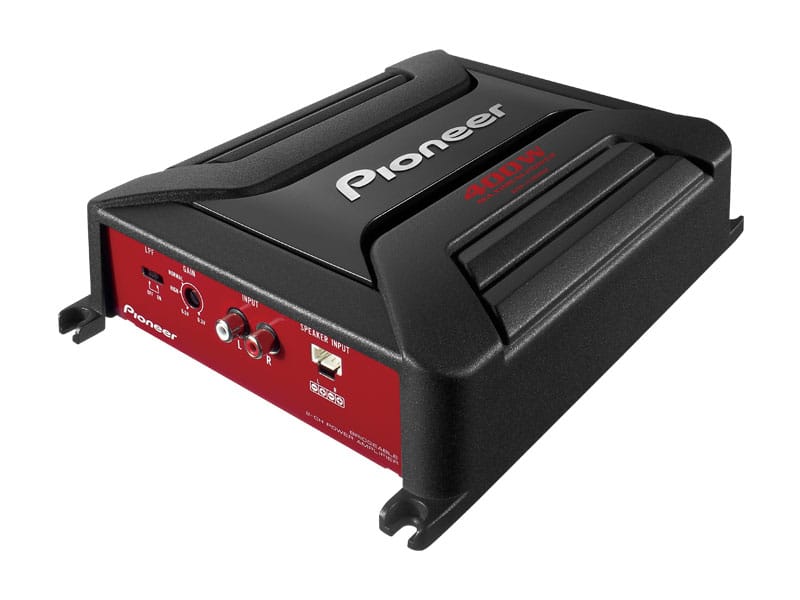 If you are an audiophile with an elaborate, and expensive, custom audio setup, this feature will be irrelevant as you have already far surpassed any capacity and capability that all but the most expensive CarPlay stereos can offer. In truth, even the top tier CarPlay stereos do not come with an amp that can be compared to a top-of-the-line car audio system.
However, for the rest of us–especially those that still rely on the factor speaker systems that came with the car, your CarPlay stereo will need to come with an embedded amplifier. In this regard, the amp should provide power to no less than 4 channels, though 6 channels would be preferred. Moreover, the number of watts pushed per channel should not go below 15 watts, though 18 watts per channel is generally the average with anything over 20 being superior.
Overall
As you can see, the choice of CarPlay stereos can be far more complex and nuanced than simply picking the most expensive product and hoping for the best. If you are exclusive and dedicated Apple user, it is hard to wrong with the Alpine. While it may be a bit long in the tooth compared to some of the other CarPlay stereos, it is also the first brand that partnered with Apple. As such, its integration with Apple's iOS is seamless, and the security it offers in unmatched.
So, you are a consumer that simply cannot choose one brand and constantly finds their self-flitting between one format to another as the next new thing comes out? The Pioneer is more likely to satisfy your desire to sync with a wider variety of devices, software, apps, and formats. However, it also features the smallest display on our list.
Whatever you choose, you can at least feel comfortable that you know have the knowledge available to make an informed decision. With the help of our buyer's guide, you should be able to confidently navigate the CarPlay stereo market – now, and for years to come.