In the past year a lot of homeowners have gotten used to Alexa helping them around the house with music, information, audiobooks, and smart home controls. Now it is easier than ever to add Amazon Alexa to your car and enjoy those same Alexa features while driving around. Drivers just need a cellphone and the Amazon Alexa app to get started.
Use Amazon Alexa In Your Car
Having an Alexa in your car makes music, info, and driving directions all easily accessible hands free. You can use your voice to change the song while keeping your eyes on the road. Some of the best features come from the Alexa interconnectivity which allows you to quickly 'drop in' on your home Alexa to stay in touch with family or easily let them know you are on your way home.

Drivers worry that adding Alexa to their car will be difficult but Amazon has worked hard to create devices and features that make it easy. Some manufacturers are also integrating Alexa directly into their vehicles and newer model Audi, BMW, Lexus, Cadillacs, and Fords might have it built in. You can check here if your vehicle has it built in.
Otherwise drivers can choose from accessing Alexa by using their cell phone directly or using an automotive device to integrate it. Your type of vehicle will determine the best way for you to connect to Alexa in the car. All you need is a microphone, internet connectivity, and your car speakers.

Most devices connect Alexa to your car using bluetooth or the auxiliary input and then they use your smartphone for the internet connection. Drivers will need to download the Alexa app onto their smartphone and be willing to share their cellular data plan with the device.
Power for the device can easily come from the 12v auxiliary power / cigarette lighter. The Alexa devices include microphones so that they can hear you commands and they will use your cars speakers to broadcast sound.
Alexa Car Devices
Many of the devices will try to differentiate on the quality or quantity of microphones. Drivers need to consider that vehicles create a considerable amount of road noise with engine, A/C and music so it can be difficult in some situations for Alexa to hear your commands. Drivers worried about privacy should look for devices that have microphones which can be easily muted. Devices will also look to differentiate on the way they mount to your vehicle, with most choosing to mount from the vent, cupholders, or 12v cigarette lighter.
The best choice for most drivers starting out is the official Echo Auto device from Amazon. Like lots of Alexa hardware, this device is heavily subsidized by Amazon to spur adoption so you are getting higher quality microphones and software than you will find on competing brands. We highly recommend new users start with this unit to explore Alexa in the car before spending more money on a 3rd party unit from Garmin, Roav, or Nextbase.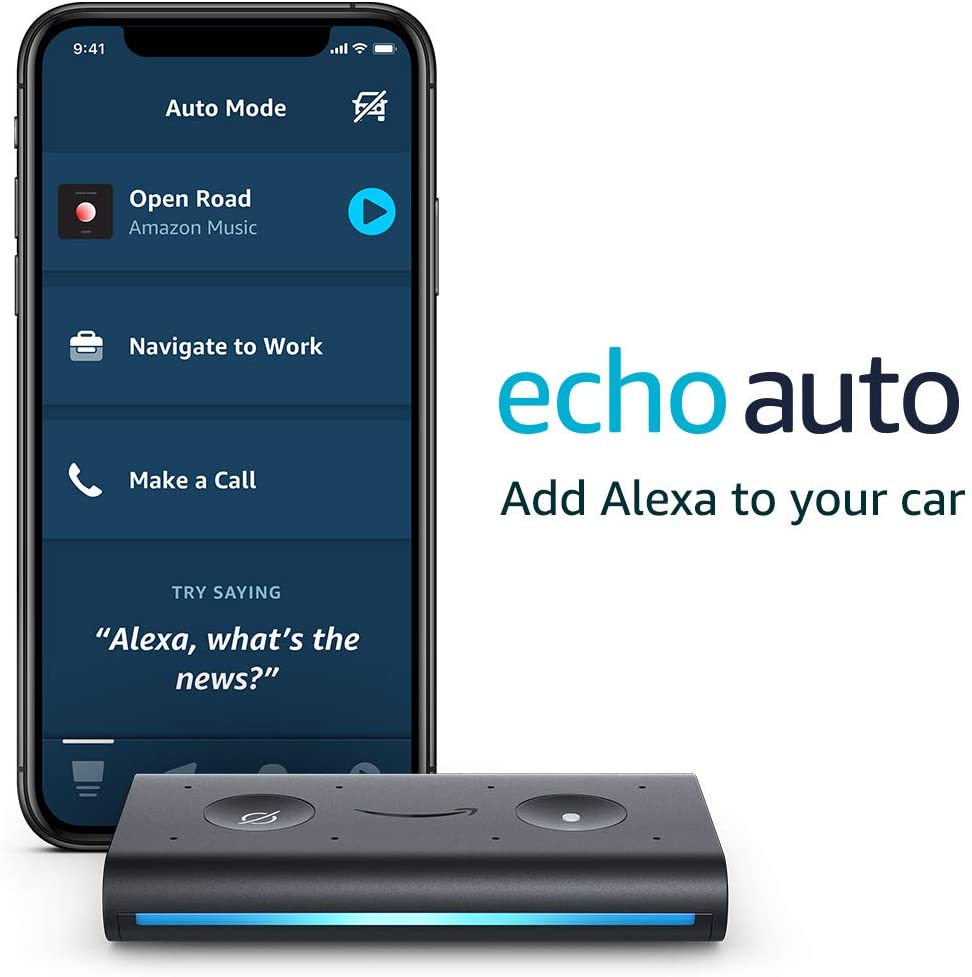 The Echo Auto is Amazon's main device for the road. It offers an easy way to add Alexa to almost any car. The device uses the Alexa app on your cell phone for connectivity and then connects to your car's speakers via bluetooth or the auxiliary input. The device is easy to set up, requiring drivers to just plug it into the car's usb port or cigarette lighter and then mount the device to the air vent.
Echo Auto is a small electronic device measuring just over 3 inches by 2 inches. It is comparable to the size of a typical cell phone portable charger but its light weighing under 2 oz. It features an eight microphone array. Echo Auto is easy to setup requiring just a few steps:
Download the Alexa app to your phone and sign-in
Grant the app permissions
Plug in your Echo Auto using the USB socket or 12v
Echo Auto has an orange light that illuminates when it is ready to connect
Open your phone and in the Alexa app go to devices > add and from the menu select Add Device > Amazon Echo > Echo Auto
Mount the Echo Auto on your vent using the clip
Connect to your car bluetooth using app instructions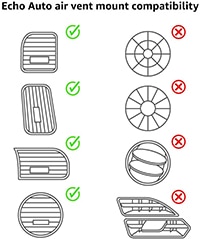 The device offers easy hands free support but it does use your existing smartphone plan so carrier charges may apply and an unlimited high speed data plan would be recommended. There is no monthly fee to use Alexa.
The Echo Auto unit also has an easily accessible mute button that turns off the microphones and gives the driver complete privacy. Users can also easily access full control over voice recordings and view, listen, or permanently delete them at any time.
Using Alexa In Car
Understand that you don't NEED the Echo Auto device in most instances. Technically drivers could just use the Alexa app on their phone and connect that directly to their vehicle, however using this type of device offers true hands free options as the Alexa app is not totally hands free. The device also provides the added microphone array which helps Alexa pick up your requests better over music and road noise in some vehicles.
You can download the Alexa app for iOS devices here at the Apple App store. Once you have the app installed and registered you can start taking advantage of all the benefits available from Alexa including hands free news and enterainment.
Connect with Good Music
People who have Alexa often pair it with Amazon Unlimited Music to create the perfect car radio station. Almost any song you want is available from Alexa and all you have to do is ask. You can use the Alexa app to tie in other music services like Pandora, Tunein and iheartradio. Alexa can play specific songs for you or it can play music genres or stations at your command. It also can resume audiobooks from where you left them off last at home.
Drivers spend a lot of time searching for the right song on the radio, flipping stations or changing inputs to use their phones for music. All of this takes their eyes off the road and increases the chance of a traffic incident. Alexa is a good step forward in hands free driving and helping everyone stay more attentive behind the wheel.

Smart Home Interaction
If you imagine in the future being able to ask your car to turn on your porch lights or the garage light then goods news because the future is here. Integrate Alexa with your smart home and then extend it into the car by commanding home doors to be locked, thermostats adjusted, or window blinds opened.
Alexa also offers easy connections and conference calls with other Alexas in your house so drop in on the kitchen Alexa to check in at home and see how homework is going. Young children at home can use this feature to easily contact parents on the road.
Alexa Information
Driving around and discovering something new is easier with Alexa as you can ask her to find a good restaurant nearby or direct you to the closest movie theatre or gas station. Access all of Alexa's knowledge on the go to stay connected with sports scores, weather, traffic, stock prices, and general information.
If you use navigation apps like Google Maps it is easy to open the Alexa app and go to settings > traffic > default navigation app to select the app you want Alexa to use. Asking for directions from Alexa will then trigger that app for the map.
Alexa can also change the way you are productive in the car by easily adding to your to do lists or taking voice notes on the go.
Conclusion
Drivers that want Alexa in their cars should understand how easy it is to add it. With just a smartphone and a bluetooth connection you can start quickly experimenting with Alexa and see if you like having it as you drive. If you don't like Alexa in car, consider instead using Apple CarPlay.
If you like it, then consider investing a bit of money in the dedicated Echo Auto device. This device has always-on Alexa with true hands free capability and 8 microphones to pick up your commands over the road noise.