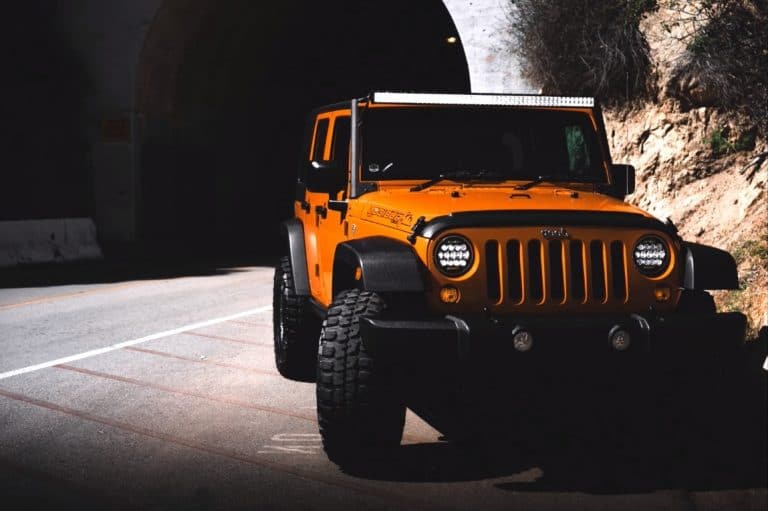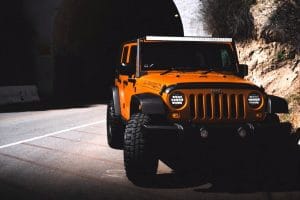 Have you considered adding a curved LED light bar to your car or truck? These revolutionary vehicle lighting systems are booming in popularity. That's probably because they increase road illumination while improving the aesthetic elements of your vehicle. Not only that but they also boast some of the most powerful and direct sources of road visibility possible.
Thanks to modern engineering, elements such as fisheye lenses, heat dissipation systems, and LED light reflectors to help project beams further and preserve the bulk of light produced.
Best Curved LED Light Bars: 52, 50, 44, 42 and 32 Inches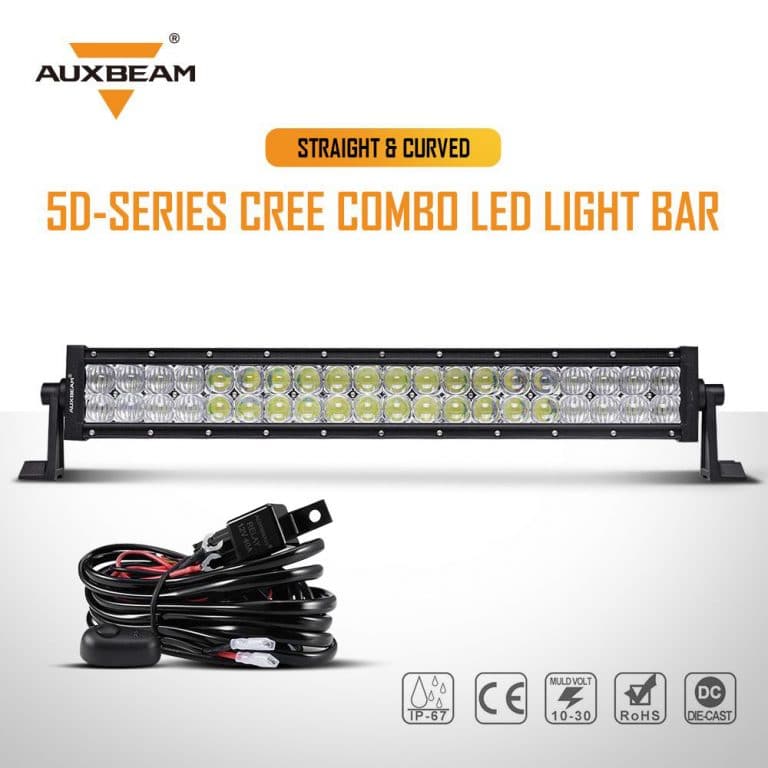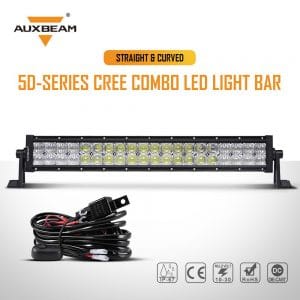 Auxbeam's 50-inch curved LED light bar boasts a mountainous 288 watts of highly projected light beams. This bar light features a combination of spot and flood lights that are enhanced by a unique five-dimensional optical design. The light bar features a fisheye lens and reflector caps that work together to project light long distances in the dark. The light also efficiently illuminates close proximity areas, ensuring vehicle drivers have heightened short and long-distance visibility. Meanwhile, the bar also features a patented-pending aperture system hat blocks the production of wasted light, ensuring each beam is as solid as possible.
Installation Made Easy
The Auxbeam curved LED light beam includes an Eyourlife wiring harness for easy at-home installation. It is important to note that you may need to add a few additional spades to properly attach the light bar to your vehicle's wiring system. Nevertheless, we attest that the installation process is quick and relatively painless. To make things easier, this curved LED light bar is compatible with some straight light brackets.
Designed to Withstand the Elements
The Auxbeam light is waterproof and dustproof, ensuring it can withstand rain, wind, snow, and maybe even a tornado or two. As such, it features an Ingress Protection rating of IP67. Beyond this, the light bar features a life of up to 50,000 hours. Meanwhile, it is 52 inches long, 8.7 inches tall, and 5.5 inches deep (making it the perfect fit for the top of a truck or car roof). Finally, we consider this product to be an excellent choice for off-roading vehicles, farm equipment, or other hard-duty automobiles.
Overall
Overall, we'd consider this to be a well-made curved LED light bar. While it is one of the more expensive options on the market, the long-lasting and durable light more than makes up for the dollar amount. We love that this boasts a noteworthy Ingress Protection rating too. Meanwhile, the matte black corrosion-resistant aluminum housing and protective polycarbonate lens give us the utmost confidence that this light bar will actually approach its 50,000 lifespan estimate. Meanwhile, the high-powered PCB board keeps everything running as expected.
Pros
Features a spot/flood fisheye aperture system (with 30 and 60-degree angles)
Features a matte black extruded aluminum casing and adjustable polycarbonate lenses
Comes with aluminum side brackets and an angle adjustment
Certified by CE as well as RoHS
Boasts an IP67 rating (dust and waterproof)
Comes with a 3-meter wire harness
Features efficient rear heat sinks
Cons
Some light bars have boasted minimal condensation buildup upon exposure to moist environments
Some additional wire system connectors may be needed to properly install the light bar on your vehicle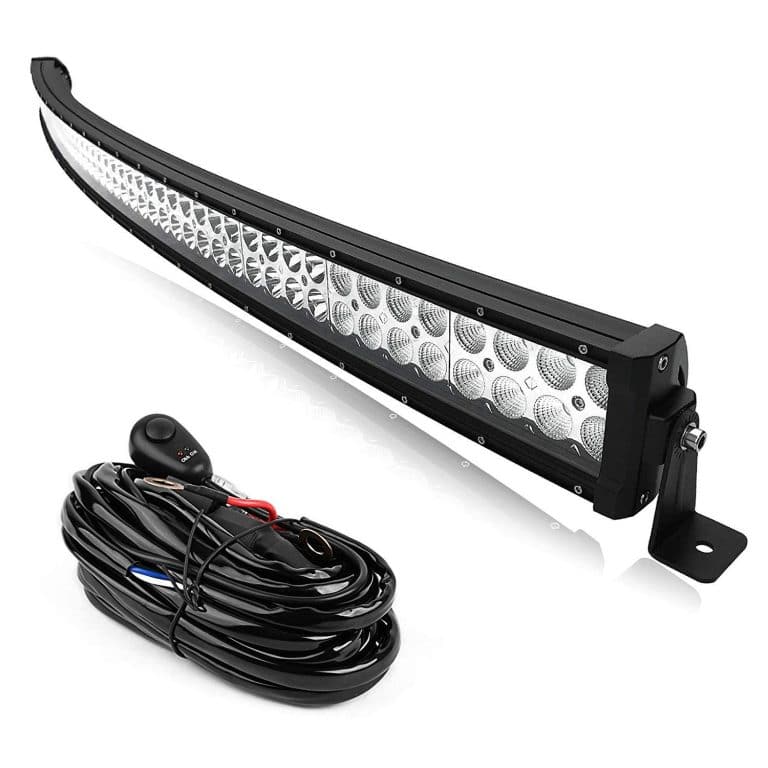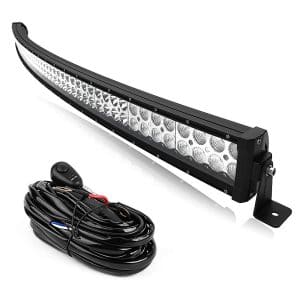 LEDKingdom's LED light bar, the YITAMOTOR, boasts 52 inches of curved die-cast aluminum housing storing 27,000 lumens of dual-row pure white light. The bar has an Ingress Protection waterproof rating of 67 and features a long-lasting rust-resistant coating. As such, we highly recommend this to vehicles that see their fair share of mother nature. In addition to the light bar's rugged construction, the YITAMOTOR features a dynamic spot/flood combination beam that offers extreme (long and wide) visibility on the road ahead.
Universal Fit
The LEDKingdom LED light bar is universally designed so that it should fit most any vehicle. As such, it can be used with jeeps, cars, trucks, motorcycles, and even boats. Due to its reliability, this light bar is even suitable for emergency use. The product comes with a lengthy wiring harness for installation. If you are not satisfied with the light, it can be returned for a money-back guarantee within 30 days.
Quality Construction
The polycarbonate exterior makes up a high-quality quartz LED lens. It offers extremely clear light transmission. What's more, the light bar is waterproof, dustproof, quake-proof, and explosion-resistant. Beyond that, the aluminum housing is extremely durable and resistant to weather. Not to mention it boasts a large number of ribbed heat dissipation fins that help to optimize efficiency.
Overall
Despite its budget-friendly price tag, the LEDKINGDOMUS LED Light Bar YITAMOTOR is one of the most reliable curved light bars on the market. It boasts an outrageously generous warranty. What's more, it offers an astonishing 300 watts of power. Beyond that, it has an extremely efficient cooling system that is made up of heat-circulating fins.
Pros
Easy to mount as it boasts a universal fit
Illuminates both short and long distances well
Includes a wire harness and relays for easy installation
Built to withstand harsh elements
Features heat-circulating cooling fins
27,000 lumens of white light
52 inches in length
Clear visibility regardless of the terrain you are driving over
Cons
Some shipping issues
Cheaper switch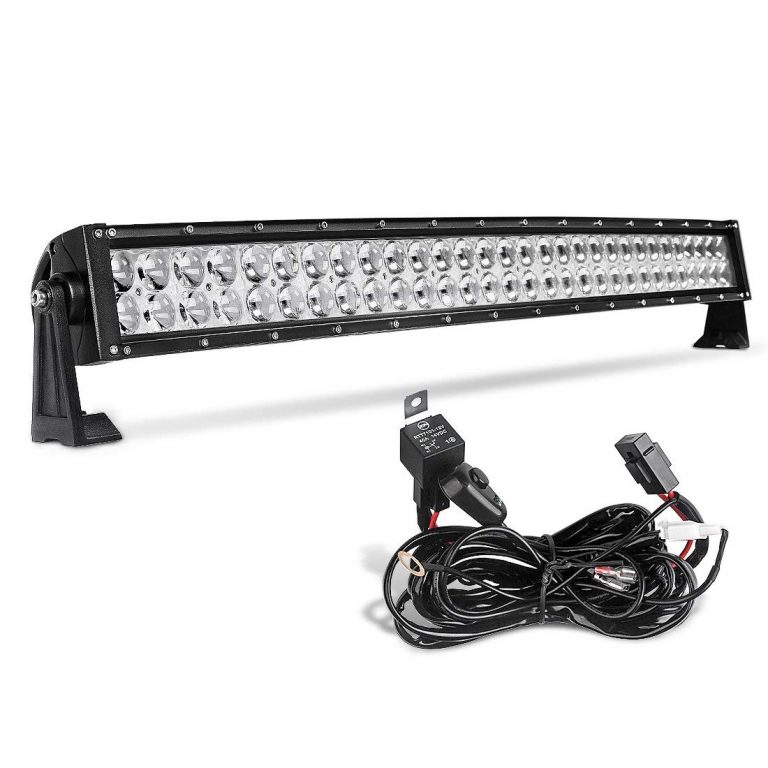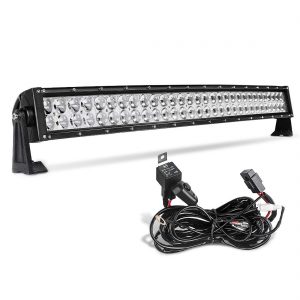 Each of the AUTOSAVER88 32-inch LED lights offer a whopping 30,000 lumens of direct white light. Together they create a powerful dual beam that penetrates fog, darkness, and other poor lighting conditions. Meanwhile, the light is cased in a 6,063- thick die-cast aluminum. Beyond that, this LED light bar features a tempered glass lens for optimum clarity and LED protection. Finally, the light also features an energy-saving circuit that helps vehicle owners to best conserve their vehicle's battery power when utilizing the light bar.
Weatherproof to the Max
The thick aluminum casing can withstand rain, wind, and snow. As such, this is a great LED light bar selection for off-roading, hunting, and/or emergency work. It also has great heat dissipation thanks to the aerating design. What's more, the light's aluminum housing features a corrosion-resistant coating, ensuring that rust will never be an issue.
Dynamic Design
The AUTOSAVER88 light bar is curved to blend with the natural angle of windshields and bumpers. As such, the light is an aesthetically pleasing addition to both the roof and/or bumper of any vehicle. The LED light offers strong penetration, longer distance, and wider range. The Class A LED chips help to minimize the level of light degradation. Whether you are driving through snow, sleet, rain, fog, or sand clouds, this light is sure to lead the way.
Overall
If you're looking to build your off-roading confidence, why not opt double up on curved LED light bars. These bars feature four-dimensional fisheye lenses housed in polycarbonate covers and aluminum housing
Pros
Weatherproof and highly durable aluminum casing
Blends into the natural curves of most modern vehicles
The package includes easy to use mounting brackets
The beams produced by these light bars are a cool natural white color
Boasts a generous 3-year warranty
Rated IP68 on the Ingress Protection scale
Cons
A small amount of potentially exposed wires
Bargain-rate product
These light bars do not come with wire harnesses
Not everyone has a need for two light bars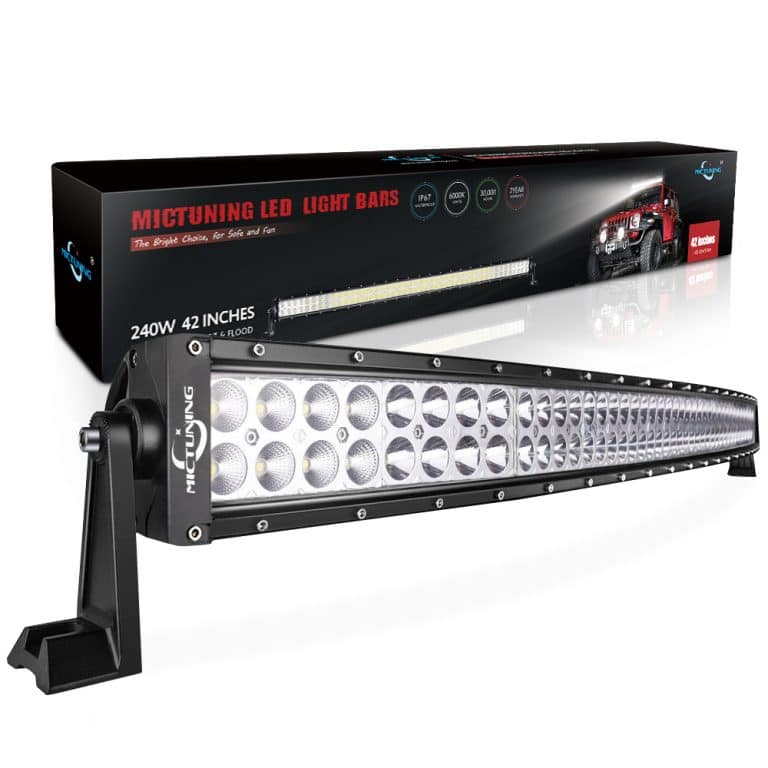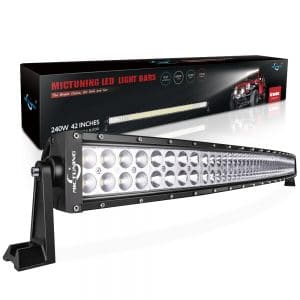 The MICTUNING 42-inch 240-watt curved LED light offers extreme road visibility thanks to its soft, bright beams. Each individual LED features a fitted reflector cup that helps dramatically extend the distance of light beam being produced. What's more, the light extends extremely far and wide. Beyond that, this bar is bent in a way that it works well with most vehicle's natural angling. Last but certainly not least, the light bar has a low power consumption thanks to the energy-saving circuit board.
Performance All-star
The MICTUNING LED light bar features 10 heat dissipation fins that drastically improve the circulation of excess heat. Not to mention, it has an Ingress Protection system rating of 67. This means that neither water nor dust is going to penetrate the surface of this light. Beyond that, the light is impact-resistant. It even features a potential 30,000-hour lifespan.
Consumer Protection
This light comes with a generously extended 3-year warranty and a 100-percent post-sale satisfaction guarantee. It also comes with two side mount brackets and one set of mounting screws for a pressure-free installation. It is important to note that the side bracket mounts are not suitable for use when installing above the windshield. For this, vehicle owners will need to separately purchase windshield brackets.
Impressive Statistics
The MICTUNINGl curved LED light bar boasts durable Anti-acid 6063 aluminum housing. Meanwhile, it is capable of producing up to 30,000 of lumens that can span up to 300-meters into the distance. All that and this powerful light bar is still capable of performing for up to 50,000 hours.
Pros
240-watts of curved LED light power
Comes with mounting brackets and screws so you can install it immediately after receiving it
Features a close-fitted curved design that extends the length and width of the light beam and improves your vehicle aesthetics
Features 10 PC and aluminum heat sinks to improve heat dissipation
Features a natural white color temperature (6,000 K to 6,500 K)
Boasts an impressive Ingress Protection rating of IP68
Can easily shine through thick rain and/or fog
Cons
The switch is somewhat finicky
The wire harness is made of brittle construction materials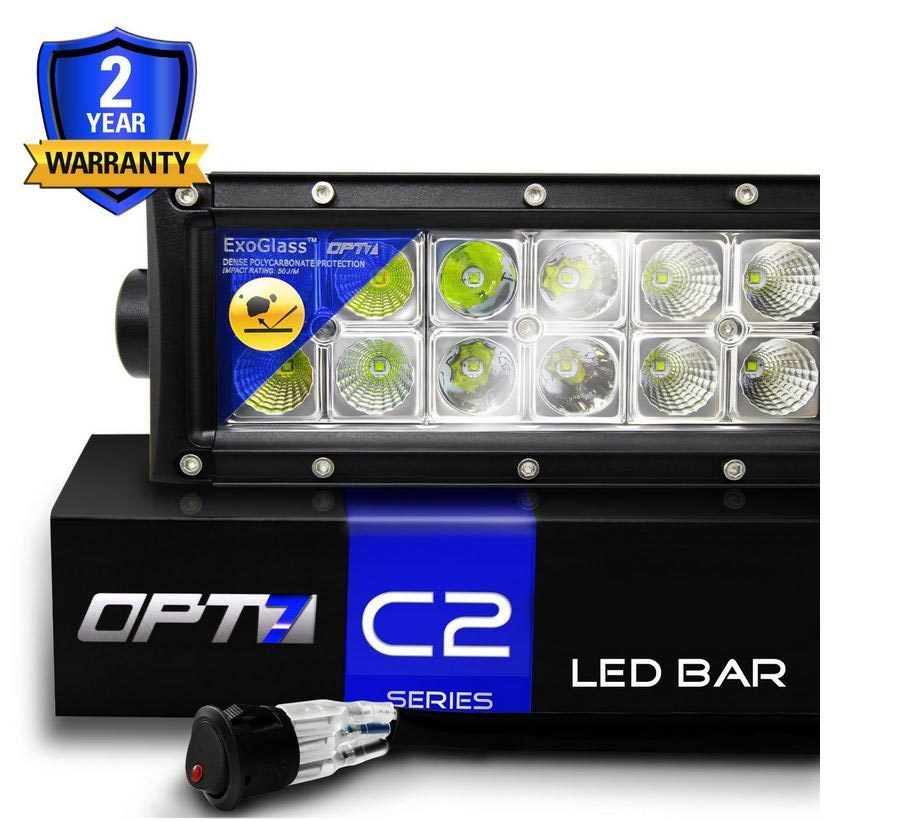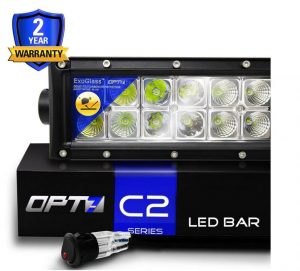 The OPT7 C2 Series 44-inch off-road CREE LED light bar boasts premium spot and flood combo lights with up to 24,800 lumens of clean white beams. The advanced bright light technology utilizes CREE LEDs to project accurate, uninterrupted light. Meanwhile, the LEDs are housed in heavy-duty aluminum casings and covered in durable polycarbonate lenses to protect them from harsh natural elements. Meanwhile, the bar also features a heat management system that effectively circulates hot air away from the LED.
Long-lasting
The OPT7 C2 Series 44-inch off-road CREE LED light bar is designed to have a lifespan of up to 50,000 hours. In addition, the LED light bar features a comprehensive manufacturer's warranty. It is also important to note that the intensity of the bright white lights does not throughout the products extensive life. Beyond that, the solid aluminum outer body is built to withstand the repeated abuse of paved and off-road rides.
Protected from the Elements
According to the manufacturer, the OPT7 C2 Series curved LED light bar is "mother nature-proof." As a matter of fact, the light can be submerged in up to a meter of water for a duration of up to 30 minutes with no side effects. For all that, it comes as no surprise that is light bar boasts an Ingress Protection rating of IP67. Beyond that, the powder-coated aluminum housing features a tight rubber seal that helps eliminate the penetration of dust and other road particles. The Stay Dry MEV (Moisture Evaporation Valve) also helps to keep the LED lenses crystal clear.
Pros
IP67 rating, meaning it is completely waterproof and dustproof
Corrosion-resistant
The bar slides from one side to another for easy adjustments
Adjustable infinity mounting brackets
Adjusts 45 degrees vertically
Relocated Power cable allows for maximum heat sink coverage
Features a moisture evaporation valve (MEV)that ensures zero moisture enters the LED bulbs
Cons
This is a pricier curved LED bar
Poor customer service and warranty support
Best Curved LED Light Bar – Buyer's Guide
What to Look for When Purchasing a Curved LED Light Bar
Curved LED light bars can be a game-changing addition to your vehicle. However, before you make your final purchasing decision, be sure to consider the following factors:
Durability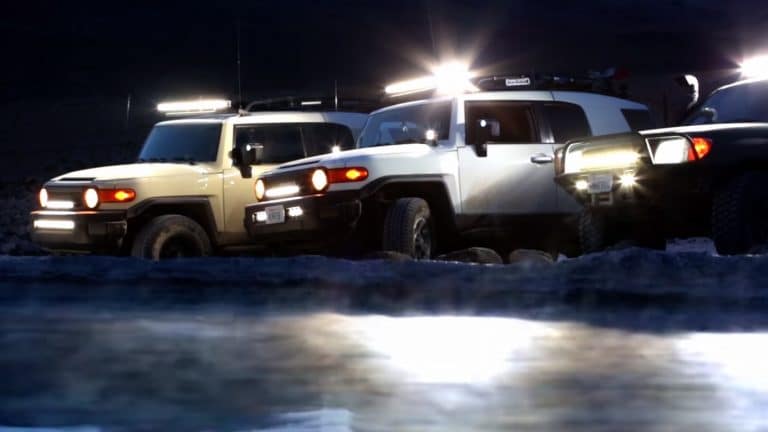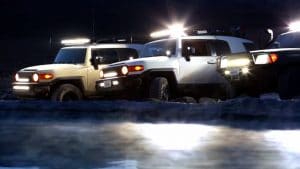 If you plan on utilizing an LED light bar for off-roading (which so many drivers do), it is imperative that it be rugged enough to withstand mother nature at her worst. The first protection against the road is a light's housing. This part should be made of a durable metal, such as a corrosion-resistant aluminum alloy. It is also important that it fits together precisely, with no clearance at the seams, as this has the potential to let in dust or water. Ultimately, you want your housing to be able to serve as a protective barrier between the LED component and what's flying by your vehicle in the middle of the night.
Functionality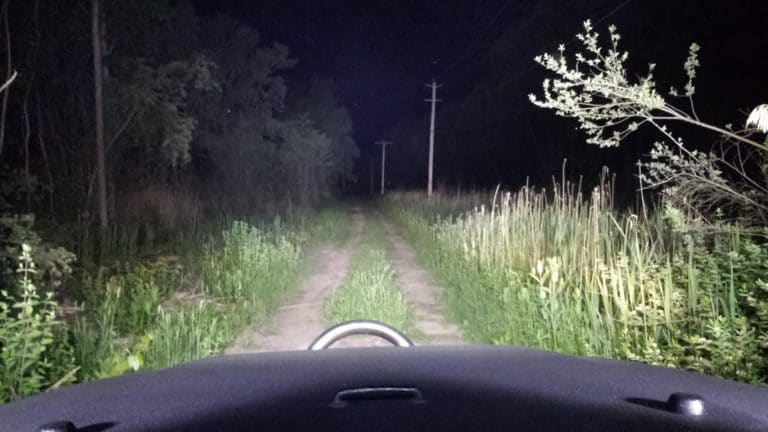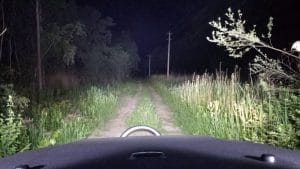 The functionality of an LED light bar comes down to its ability to illuminate the path ahead of your vehicle. This applies to both spotlighting and floodlighting, which most light bars are capable of. The intensity of the light is measured in lumens, or the amount of visible light being produced. What's more, the strength of the light is dependent on the wattage. The higher the potential of lumens and watts are, the brighter and broader the beams will be.
Today, most manufacturers aim to produce highly focused LEDs optics. One way this is done is by reducing the amount of wasted light. In such cases, reflector caps are often used to project light farther in the distance. Parabolic lenses are also used to tighten the angle at which the light is dispersed. By utilizing these engineering feats, manufacturers can harness the pure power of raw lumens and maximize the intensity of the beams. When done effectively, these technologies generate unmatched visibility.
Fit
Curved LED light bars are designed to mimic the natural curvature of vehicles. Curved light bars may be stylish, but they also slightly more aerodynamic than the alternative. When choosing one for your vehicle, ensure that it is the correct measurement and compatible with the specific make and model. Most like bars are installed on adjustable mounting brackets. Meanwhile, they also require the installation of a wiring harness.
Before purchasing a curved LED light bar, consider where you'd like it installed. Roof-mounted bars are typically 50 inches or more, depending on the vehicle. However, grill-mounted bars are nearly half that size.
Workable Conditions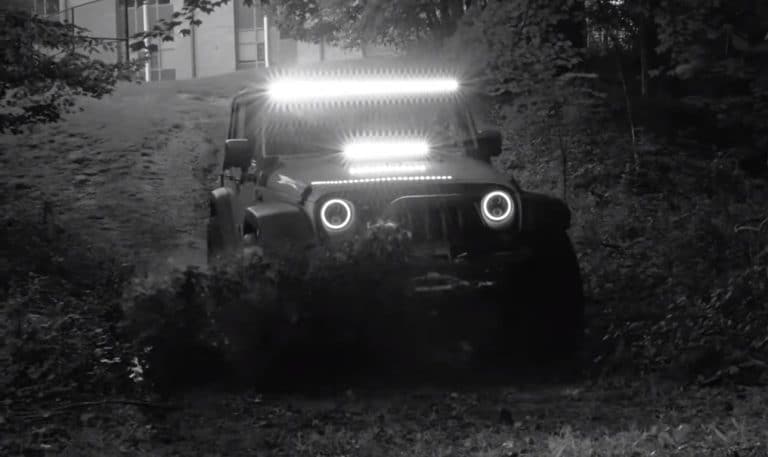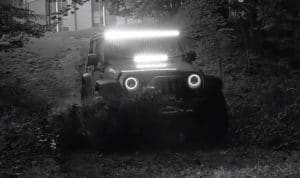 Many LED light bars feature Ingress Protection ratings. This system is a fancy way of labeling a pocket PC for its ability to resist environmental factors. A common rating is IP67, which stands for dust-resistant and water-resistant. It comes as no surprise that the IP stands for Ingress Protection. Meanwhile, the first number (6) correlates with a number that stands for the level of protection against solid objects. Finally, the second number (7) correlates with a number that represents the level of protection against liquid.
To achieve this level of protection, a light must be completely sealed. A common issue with inferior or defective light bars is the appearance of condensation. While condensation may seem like a minor nuisance, it can damage the wiring, effect the beam structure, or even damage a light bar beyond repair.
In addition to being able to withstand liquid and solid elements, many light bars are corrosion-resistant. It is always a good idea to opt for a light that is made of reliable rust-resistant materials. What's more, a common label on lights is "explosion-resistant." While this may seem a bit extreme, off-roaders will go to any level to ensure that their vehicle and accessories are well protected.
Design
Think about the shape of your bar, the color of the light beam, and its overall style. Most people who opt for a curved LED light bar are looking for a sleek, stylish selection. However, clunky or inadequately paired light bars often look inferior in quality.
Efficiency
LED light bars consume energy from your vehicle's battery. As such, it is typically connected to a vehicle's wiring system. If you're looking for a modestly consuming light bar, opt for one that features an energy-efficient light circuit. What's more, opt for a model that features a solid heat dissipation system.
Heat dissipation is particularly important in LED lights because the majority of electricity turns to heat rather than light. Large quantities of ventilation fins are often installed on the rear side of LED light bars. These help to create an area for releasing heat.
Straight vs. Curved LED Light Bars
Curved light bars have several unique advantages. For one, they generate light a bit further than straight bars. Wider illumination has many benefits, especially when you are traversing unfamiliar or densely wooded areas. Meanwhile, curved light bars work best on naturally curved vehicles. While they can be used on boxy vehicles, such as jeeps and ATVs, they do not look quite as cohesive. The preference often comes down to looks rather than performance. Therefore, it is important to note that curved LEDs have a more contemporary look.
Mounts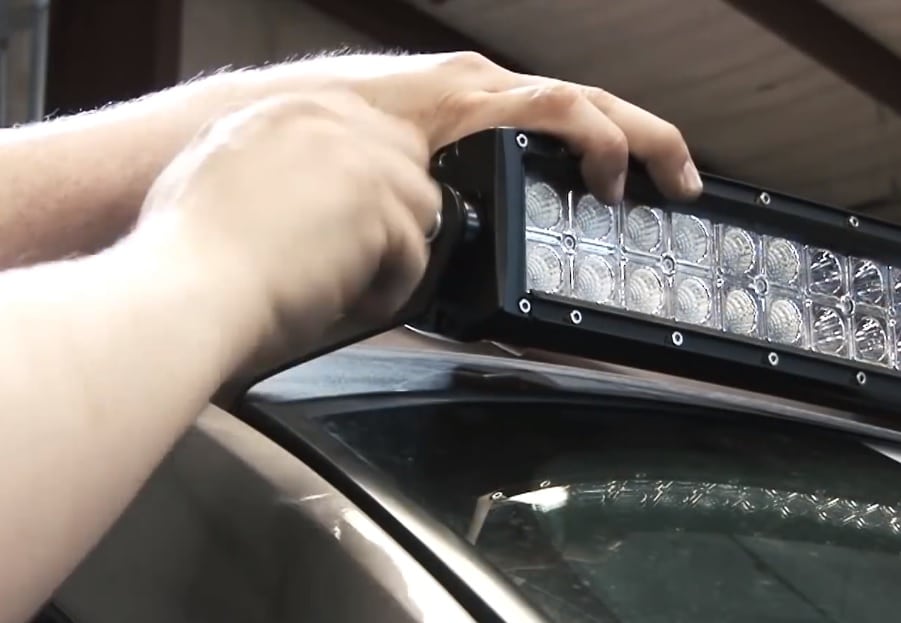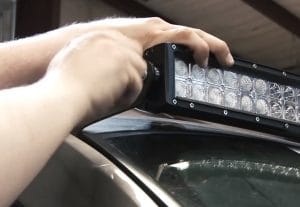 Consumers often neglect to pay close attention to a light bar's mounts. The first aspect of mounting an LED light bar is the wire harness. This is often included in a light package, but that is not always the case. The runner wires are used to connect to our vehicle's wire system. This requires the consumer to run a wire from the light to the battery, laying it out so that it does not interfere with any hot or moving parts in the engine cavity. The installer must also route the light switch. Once the circuit is complete and the light is properly attached to any brackets, the accessory is as good as road-ready.
Final Thoughts
We hope you enjoyed our curved LED light bar buying guide. These futuristic vehicle lights are irresistible additions to off-road and emergency vehicles. They are easy to install and highly effective. Now, that you've most likely selected your favorite light bar, it's time to start exploring top vehicle batteries. After all, if you're light bar is going to reach its full life potential, it needs a serious source of energy.