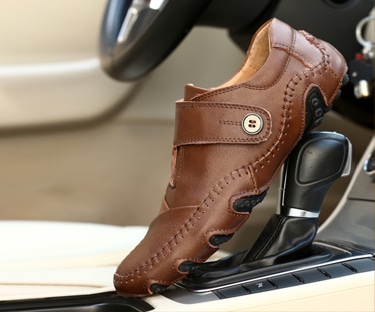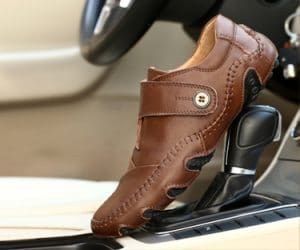 We pick out one pair of shoes or another for a lot of reasons. Sometimes we favor brand loyalty, continuously purchasing the same type of brand regardless of all other qualities. Sometimes we simply like the way one particular pair looks compared to others. However, sometimes we choose a pair of shoes based on their purpose.
While nurses shoes, cowboy boots, and steel-toed boots may get the most notoriety for this purpose, numerous types of shoes for different tasks all call for our attention. In the case of driving, often the ideal shoe is one that slips on easily, has additional grip, and can be worn to a variety of functions: enter the driving moccasin.
The Best Driving Mocs and Loafers of 2019
We have provided a list of the 6 best driving mocs and loafers for you to choose from. Helpful buyer's guide could be found at the very bottom, so you can navigate the different features and qualities that make one pair better than all of the others for you.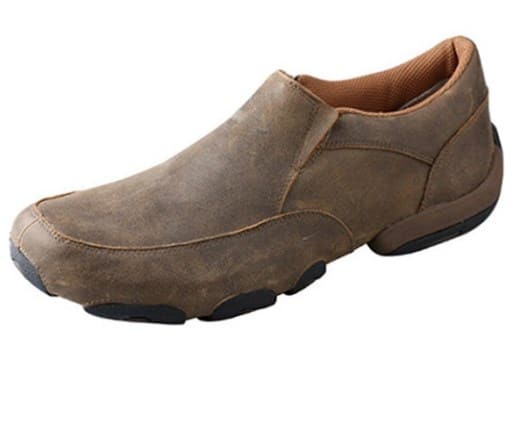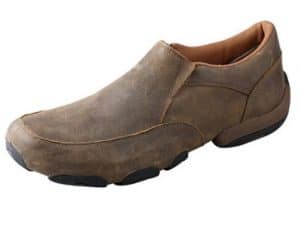 Our first pair of driving mocs comes from an unexpected source. Twisted X is brand far more commonly associated with cowboy boots than driving mocs. In fact, the founder of Twisted X shoes was actually a designer for Ariat, one of the most reputable brands of cowboy boots.
Keeping that in mind, it should not come as much of a surprise that the Twisted X driving mocs do not follow the general design trend for this type of shoe. In fact, these shoes are arguably the worst driving mocs for driving. Of course, that does not mean that they are in any way dangerous, but they definitely do not provide the additional benefit to driving that driving mocs are supposed to.
This is because Twisted X's outsoles are designed far more like a traditional shoe's than they are the more specialized driving mocs. For one, the sole uses flat pads instead on nubs. Moreover, the soles are thicker and wider than the traditional driving moc design which reduces precision and responsiveness. However, this combined with insole reinforcements is also why it is the best driving moc for walking.
Pros
Incredibly accurate fitting moccasin
The second least expensive loafer on our list
The XSD insole with stabilizing injected composite shank are great for walking
Cons
The thick outer sole reduces pressure sensitivity
The wider soles reduce pedal switching precision
The heaviest mocs on our list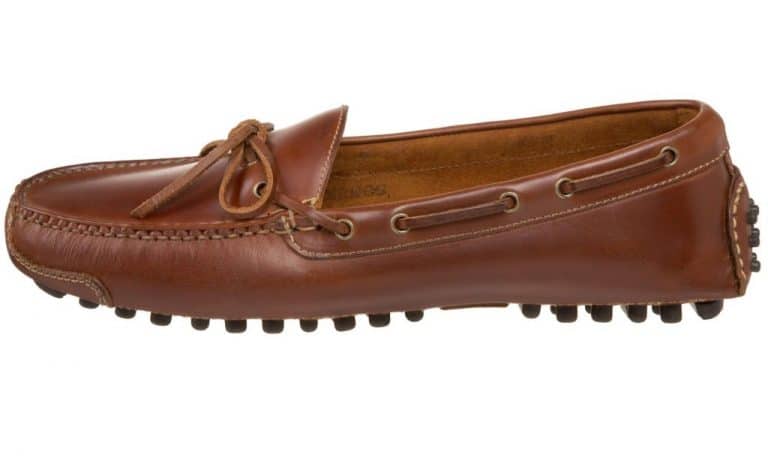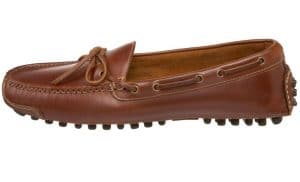 Cole Haan is a well-known brand that offers a wide variety of styles for any occasion. They offer everything from dress shoes to tennis shoes to, of course, driving mocs. Moreover, this brand is known for using high-quality materials and placing a sharp focus on attention to detail. That is why it should come as no surprise that the Gunnisons are the best driving mocs for driving.
In fact, all of the reasons that the Twisted X driving mocs are less than ideal for driving are inversed when applied to the Cole Haans. For one, these shoes not only use the traditional nubs, they are actually the thickest nubs out of any driving moc on our list. This provides better grip and a more responsive feel. Moreover, the Gunnisons are also one of the only driving mocs on our list that use a completely flat heel, providing further responsive precision.
Unfortunately, this luxury brand is well-aware of its status making this the most expensive driving moc on our list. Furthermore, these driving mocs run about a half size small and are noted for being narrow–though that latter quality is somewhat by design.
Pros
A fairly comfortable moccasin for walking
Reasonably durable full-grain calfskin leather
Features excellent grip with alternating tread types
Cons
A less accurate fit than desired
The most expensive moccasin on our list
Runs narrow and lining prone to blistering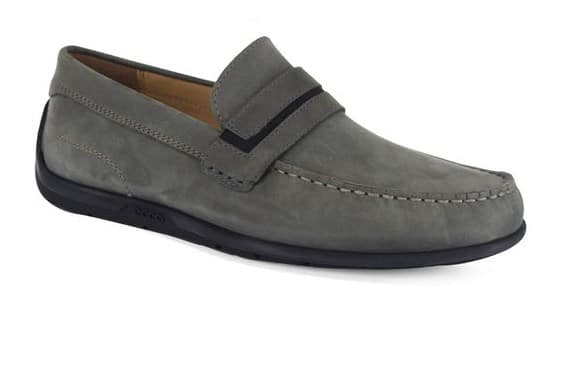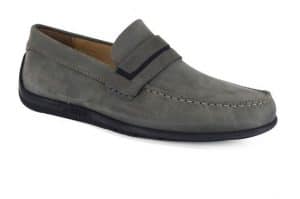 While not necessarily known as a luxury brand like Cole Haan, Ecco has no less an impressive philosophy informing its products to be top-quality. The brand was started by a shoemaker who honed his craft working for others before starting his own business. This inauspicious origin is a big part of the reason why Ecco has a tendency to favor function of form.
Thankfully, that has not limited The Classic Moc 2.0 in the style department. This driving moc comes in seven different styles and can be found in both full-grain leather as well as suede. However, it is the shoe's durability that is arguably its best feature. Using thicker leather and stitching, this pair of driving mocs will stand up to more regular wearing better than most other products on our list.
Unfortunately, that function over form principle seems to be applied more in a universal manner than a specific one. For instance, this is the second driving moc on our list that features a flat outer sole without the preferred nubs. Moreover, the sole itself is thick with a much thicker heel, reducing precision and responsiveness.
Pros
Comes in seven different styles to choose from
Can be made from either suede or leather
One of the most durable driving mocs on our list
Cons
The thick outer sole reduces pressure sensitivity
The least accurate fit on our list
One of the less comfortable driving mocs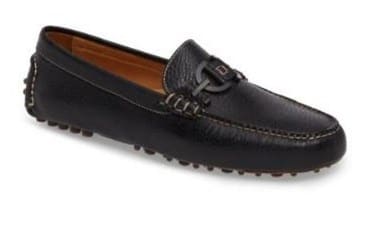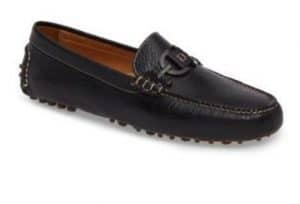 Donald J Pliner is another luxury brand of shoes, though it could easily be argued that this brand exemplifies that more so than Cole Haan. This has to do with the fact that the brand's eponymous founder get his start in retail in Beverly Hills and modeled many of his designs after the shoes worn in places of luxury.
That is why it should only make sense that the Riels are our best driving moc to wear to a business casual event. Much like the Eccos, the Riels come in seven different styles which include both full-grain leather and suede options. However, the Riels make it a point to model themselves after the more traditional loafer design, even incorporating the iconic dacio bit ornament.
However, this driving moc is not just all flash with no substance. Taking the variety of designs in a professional package, the Riels also include an excellent outer sole that both features the nub designed preferred as well as an incredibly thin profile. Unfortunately, the outsoles of these driving mocs will wear out quicker than most.
Pros
The most accurately fitting loafer on our list
Comes in seven different styles to choose from
Can be made from either suede or leather
Cons
One of the less grippy outsoles on our list
The length is accurate but runs narrow
Not comfortable for longer periods of time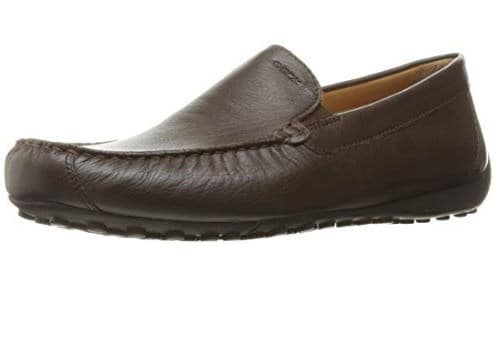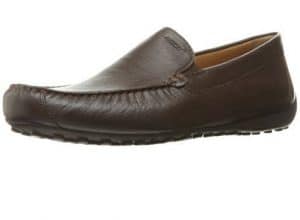 While Geox is known for producing a wide variety of styles of shoe, it is not truly recognized as a luxury brand–despite often sporting a luxury price tag as with the Moc 2 Fits. However, Geox's philosophy is far different than the other brands on our list. Whereas the other brands often seek to focus on a principle of footwear in general, Geox positions itself as the brand which seeks to innovate new technology to make their shoes better from the inside out.
In this regard, the Moc 2 Fit is a rousing success. For one, this is one of the few products on our list that generally does not run a size large or small. Moreover, the Moc 2 Fit also features a specialized lining that includes microfiber to increase its breathability. Finally, this is the second lightest driving moc on our list, adding to its quality of comfort.
In terms of its outer sole though, this is a bit of a mixed bag. While the tread uses the preferred nub design, they do not cover the entire outer sole–with a Geox branding in the center–and also oddly include an open nub which provides better traction when standing than driving. Moreover, the heel itself is reinforced to make them more comfortable, but this also reduces sensitivity.
Pros
Mostly accurate fitting loafer
One of the lightest moccasins on our list
One of the more breathable moccasins
Cons
The second most expensive loafer on our list
One of the less grippy outsoles on our list
Reinforced heel somewhat reduces sensitivity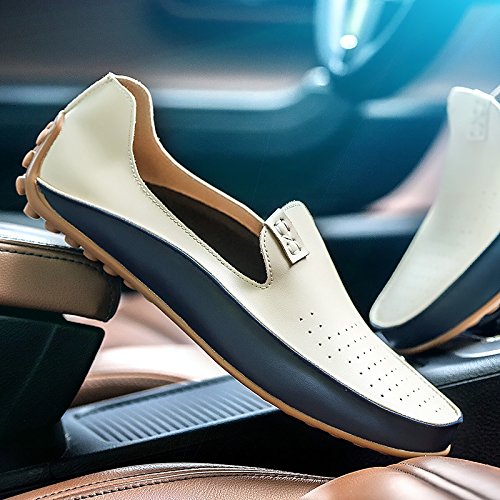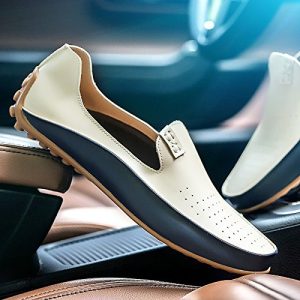 Ceyue is a bit of the odd man out on our list in that the brand does not have a significant presence nor name recognition. In fact, Ceyue is a brand made in China and sold directly from the factory to mostly online dealers like Amazon, Zappos, or Aliexpress. However, this lack of retail infrastructure does work to its advantage.
This allows the Ceyue to provide a unique style of driving loafer at a fraction of the price of the other products on our list. In fact, the comparison is not even close where some of the luxury brands cost upwards of ten times as much as the Ceyues. Unfortunately, this also carries with it a number of pitfalls.
For one, this is the least durable driving moc on our list. Moreover, this durability is not limited strictly to the outer sole like with a couple of the other products. While the Ceyues are not known to simply fall apart, they will often show heavy signs of wear well before expected. Moreover, because the brand is made in China and designed for Chinese consumers, the brand runs smaller and more narrow than most.
Pros
The least expensive loafer on our list
Comes in five different styles
One of the better outsoles on the list
Cons
A less accurate fit than desired
One of the least durable loafers on our list
Runs more narrow than most
Best Driving Mocs and Loafers – Buyer's Guide
The material of your driving mocs is arguably one of the most important factors. A number of all qualities will be informed by this single aspect. The comfort, durability, and style are all influenced by the choice of the driving moc's material.
How to Choose the Best Material that Fits You
In general, there are three different types of material used for driving mocs: leather, suede, and synthetics. However, even within these three broad categories there exists a number of different materials that will each provide a different experience and affect some the aforementioned features differently.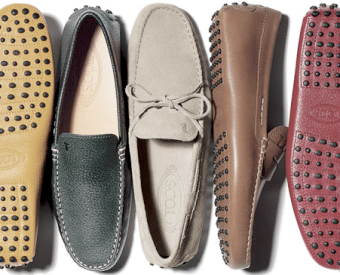 Leather. Leather is one of the more common material for driving mocs. In fact, leather was the original material used for moccasins well before there were cars. Broadly speaking, leather offers a solid level of durability. However, many of the other features of the driving moc can be altered by the type and tanning of the leather.
Cowhide – Because of the relative ease for finding the source, it should come as no surprise that cowhide leather is the most commonly used for driving mocs. This leather is full-grained and generally provides excellent durability. However, cowhide leather can be a bit stiff at first and takes longer to break in. Moreover, cowhide leather is also less comfortable than many of the other types of leather. One alternative to this is using calfskin which provides the comfort associated with deer or moose hide but is less durable than all three.
Deer Hide – With few "deer ranches," this material is often in far shorter supply than cowhide, thus there are fewer driving mocs made from it. However, deer hide is actually superior to most types of cowhide in a number of important ways. For one, deer hide is softer which makes driving mocs made from this leather more comfortable. Moreover, deer hide is also more durable. However, deer hide also shows the natural scars the deer accrued in life, potentially making them unsuitable for business casual settings.
Moose Hide – Moose hide is arguably the least common type of leather used for driving mocs in a large part because there is less of a moose hunting industry. In fact, moose hide driving mocs are even far less common than deer hide which themselves are not nearly as popular as cowhide driving mocs. While the two materials are similar in qualities, moose hide is often significantly more expensive than deer hide–sometimes twice as expensive.
Other Materials worth Looking At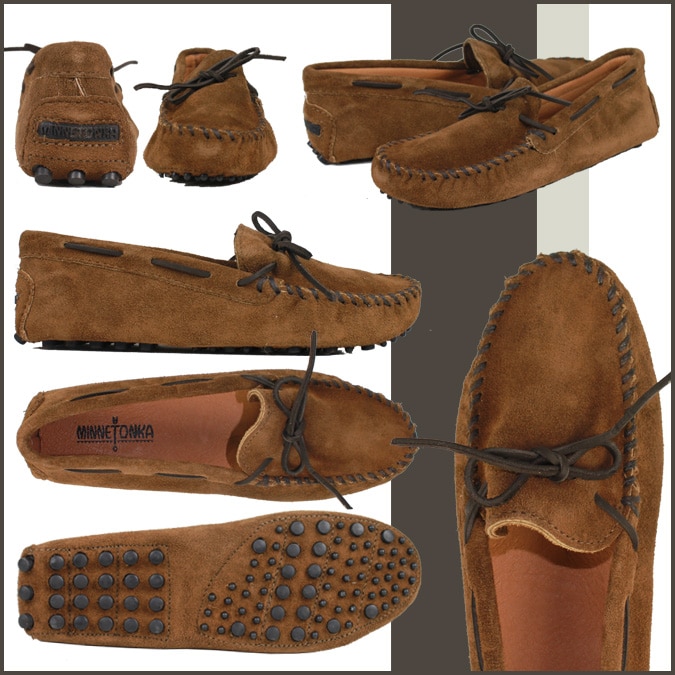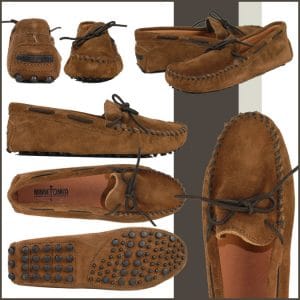 Suede – Technically, suede is a type of leather, but because it responds differently to repeated wear–not to mention its far different appearance–it is often treated as a different type of material. Whereas the other types of leather are generally made with a full grain, meaning the top and bottom layers of the skin are used, suede use only the second layer.
The most striking difference between "traditional" leather and suede is the appearance. While leather provides a smooth, stiffer surface, suede is generally somewhat fuzzy and much softer. This material does not handle rain as well as other types of leather but will keep your feet warmer–making it more appropriate for cooler climes.
Sheepskin – Sheepskin mocs are essentially trying to strike a balance between full-grain leathers and suede. Because the sheep grows wool and not fur, its skin provides some of the softer elements of suede. However, because this softness is an inherent quality of sheepskin, there is no need to remove the top layer of skin when tanning the leather.
This allows sheepskin to maintain the best of both worlds. It is just as soft and comfortable as suede but provide the same degree of durability and handles rain like full-grain leather. Moreover because it uses both layers of skin, sheepskin is even better than suede at keeping your feet warm–though it will not breathe as well as any of the other types of leather potentially making it a poor choice for hot weather.
Synthetic – If you are looking for an ethically manufactured driving moc or simply want to save a few bucks, synthetic leather offers a solid alternative. Keep in mind, not all materials used in synthetic leather are equal and there are far too many combinations to list, so be sure to do your research if you are thinking about purchasing a pair of synthetic leather driving mocs.
As a material, synthetic leather is generally just as comfortable as any other type of leather–especially since a manufacturer can fiddle with the formula to choose the desired softness. However, synthetic leather is rarely as durable as real leather–though, it is easier to clean and more resistant to water.
Outer Sole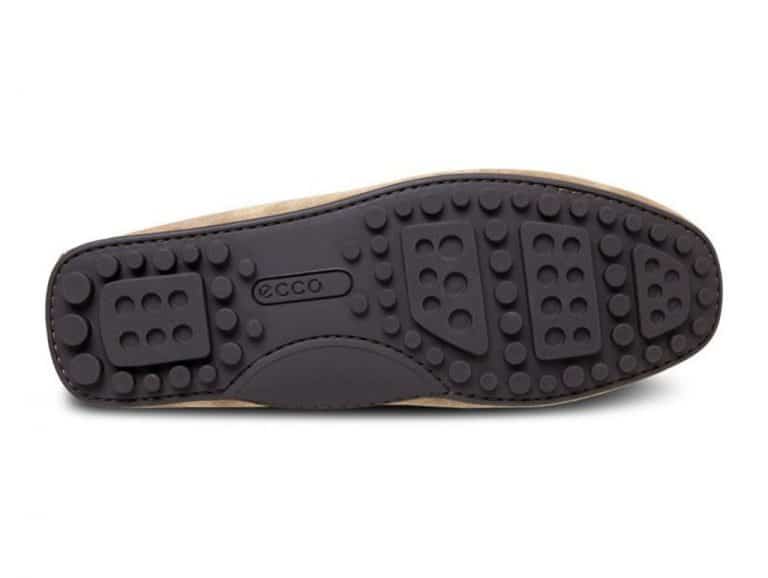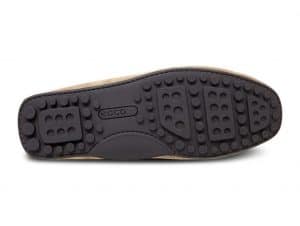 If the name was not already indication enough, driving mocs are designed for driving. However, most of designs aimed towards this end occur at the outer sole. A combination of specific tread and shape both act to make driving not just easier but safer as well.
First, the tread of most driving mocs is composed of numerous little nubs. These nubs serve to provide both superior grip when pressing the pedals as well as feel more sensitive, so you can drive with more precision. Some driving mocs have also begun to incorporate hybrid tread with nubs and pads, so the outer sole will last longer when the driving mocs are used as walking shoes.
Design Features
The other design feature of driving mocs' outer sole is its shape. For one, the outer sole of driving mocs is thinner than most other shoes. This again provides better response when pushing the pedals as well as makes resting your foot easier. Second, the outer sole for driving mocs is narrower to help limit the potential for accidentally pushing the wrong pedal in the event you must switch from one pedal to the other quickly–like when slamming on your brakes.
Regardless what material the majority of your shoe is constructed on, the driving moc's outer sole is almost certainly going to be made out of rubber. Moreover, the best driving mocs will often use a softer rubber to provide a better grip. However, the softer the rubber, the quicker the outer sole will wear away if you use them as a general walking shoe.
Comfort
Another one of the big draws of driving mocs is their comfort level. Because this type of shoe is meant to be slipped on, you do not need to worry about the laces being too tight. Moreover, this type of shoe is also designed to be worn without socks. However, there are a few features that will often have an outsized impact on how comfortable a pair of driving mocs are.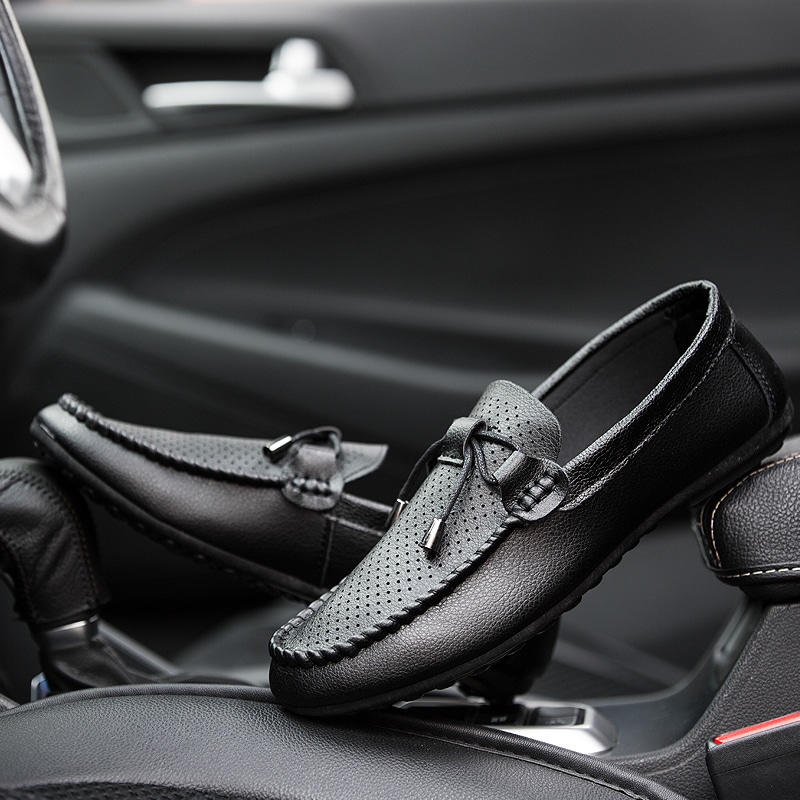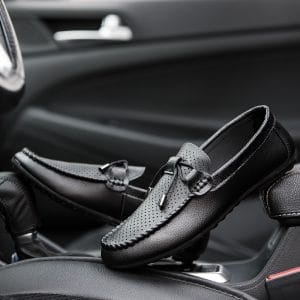 Breathability. If any type of closed toe shoe is designed to be worn without socks, they better be able to breathe. If a pair of driving mocs are not breathable, they can create discomfort when your feet inevitably start to sweat without the fabric from socks to absorb it. Moreover, driving mocs that cannot breathe are liable to smell bad and can potentially lead to foot fungus.
Lining. The lining will often play a part in the breathability of driving mocs, but it also plays a number of other roles as well. For one, the lining will help prevent the foot from sliding out as well as provide an additional layer of support to increase durability. However, if the lining is too firm, it can lead to blisters–this is especially true if the driving mocs are not breathable.
Inner Sole. Depending on where you wear your driving mocs, this will either be the most important factor for comfort or the least important. If you wear driving mocs casually to various events, the inner sole needs to be a bit thicker to offer support. However, this will reduce some of your pedal sensitivity, so be sure to balance the two.
Of course, driving mocs originated as a luxury item for owners of luxury sports cars to wear exclusively while driving. When those owners arrived to their destination, they would take off the driving mocs and put on a pair of traditional loafers. In this instance, the insole is not as important and can be little more than a thin strip of leather.
Conclusion
Ultimate, the best driving mocs and loafers will not be the same for everyone. Depending on how you intend to use your driving mocs and where you intend to wear them will nudge your decision to one pair or the other.
For instance, if you are looking for a pair of driving mocs that you could conceivably wear to the office, the Donald J Pliner Riel offer a smart design that mimics more traditional loafers without sacrificing the benefits of driving mocs–though, they will wear out a bit quicker if used for more general purposes.
Of course, if you are looking for a pair of driving mocs for their designed purpose, you have a difficult time finding a superior pair than the Cole Haan Gunnison. Considering driving mocs' functionality hinges on their outer sole, the larger nubs combined with a narrow shape and thin profile all combine to provide the most responsive feel when driving.