If you own a Jeep Wrangler, then you're in luck. The famed on-road/off road vehicle has lots of compatible headlights, most of them being quick and easy to install. The best headlights will allow you to have great visibility while on the road at any time without blinding other motorists that happen to pass you by. But that's not the only factor.
Best Choice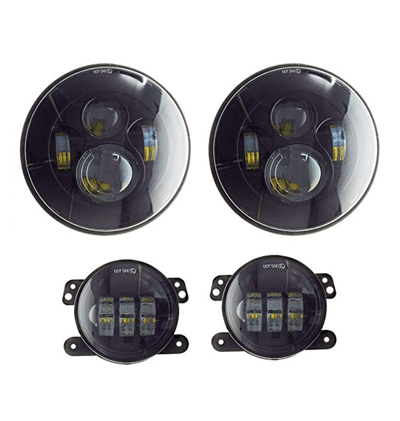 Akarui DOT Approved 7" Black Daymaker LED
Best Jeep Wrangler Headlights for the Money
The anti-flicker module is an example. It's built into the headlights themselves so you and other vehicles around you will be much safer on the roads.
The fog lights also deserve recognition. Use them in unfavorable weather so your presence on the road will be seen from a long distance apart from you. And it's compatible with nearly every Wrangler, so don't worry about getting something that won't work for your Jeep.
Below are five of the best-LED headlights for your Jeep, picked by lumen power, ease of installation, and legality on the roads. Use the information (and the succeeding buyer's tips) to pinpoint the best choice for your vehicle. Once you're ready to purchase, you'll feel assured with your choice and gets lots of compliments on the new look of your Wrangler.
Best and Most Popular Jeep Wrangler LED Headlights of 2021: LED and Halo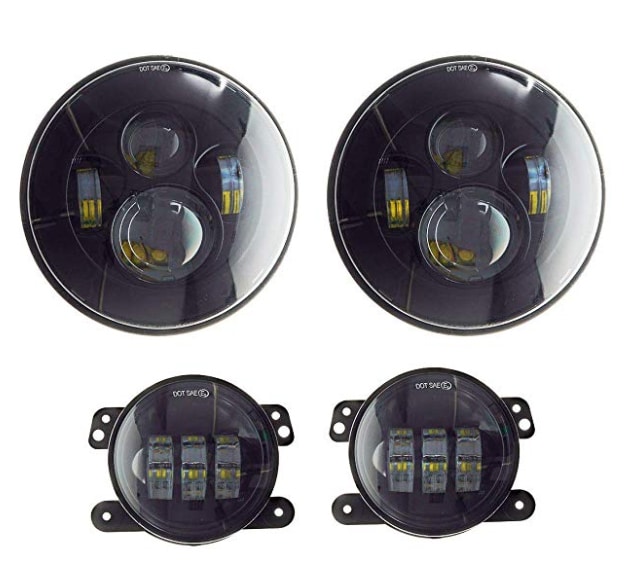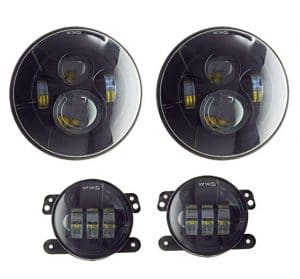 The LX-Light Black Daymaker comes with two 7-inch headlights and 4-inch foggers. They are black in design, making Jeeps look slightly odd on at first glance. Not that this is a bad thing; the headlights have some great advantages that make it highly recommended, especially if you're looking for a bundle of everything you'll need to complete your setup without rushing for more parts.
Useful Instructions to help you Setup
The biggest hiccup is centered around the passenger side headlight. You're Jeep may not align well with the housing during installation. It's off by less than two inches. To fix, a dremel should suffice in getting it fastened to the housing slot. Take note that this primarily applies to the Wrangler JK. And the fog lights might need to be shaved a little bit for them to attach to your Jeep's wires without coming off.
As you can already tell, you may need a little help in getting the Black Daymaker started before you take them out on the road. Other than that, the LX-LIGHT earns points for being a high quality LED that will come on handy if you're in an area that receives a fair share of inclement weather.
Pros
The anti flicker module is featured with the lights
Can legally be used on all roads and highways (in the United States); DOT certified
No additional purchases required (comes with two pairs of headlights/fog lights)
Cons
The headlight on the passenger side of the Wrangler JK may not properly align with the housing unless slight modifications are made (to the housing slot using a dremel)
The screws for fog adjustment are on the stock's rear and holes may need to be drilled into the bumper for installation to be completed
Fog light connectors may require slight shaving (cutting) for them to fit the Wrangler's wiring like normal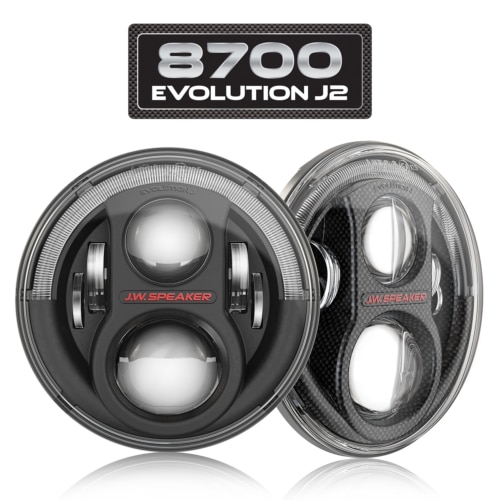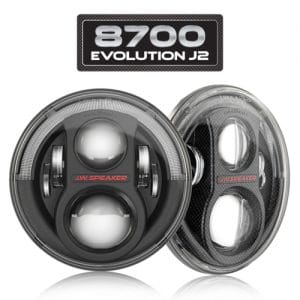 The JW Speaker 8700 Evolution J2 is a 7-inch headlight and comes with a bright luminosity that's great in any weather, whether it be rain, fog, or snow. The design was specifically made to help you get the device assembled to your vehicle quickly with no headache from worrying about trimming.
Through the Wire
Some headlights have a consistent problem with adjusting properly when installing. The headlight buckets are just the right size, you should have everything ready to go in under one hour (or less). Wiring is straightforward but it's recommended that you flip through the manual to ensure that everything is properly aligned.
You don't want to get out on the road flashing your high beams directly at oncoming traffic, so find time to take a test run around the block if you're unsure of the direction the light is traveling.
There are two types sold, either chrome or black. Both of them shine at the same brightness and don't hinder lumens when turned on. And if you're looking for something that can serve as a good running light in daylight hours, motorists ahead of you will definitely see you coming quicker than the Wrangler's factory headlights.
What you'll Need if you have a Wrangler JK
Not everything is pristine, however. If you own a Wrangler JK, you'll have to look for an H13 adapter. That way, you can avoid needing expensive installation from professional or instances of trying to splice it all together on your own. Off market LED headlights typically work better for with adapters, so keep this in mind before you make a final choice on what you end up with. Another negative is the fact that only one light is sold with this product. If you want two (and you probably will), you must get an additional headlight to complete the setup.
The JW Speaker 8700 is best for those who want bright lights that can function well in any environment. If you don't mind them being sold individually, it just might be one of the best-LED lights on the list. Just be sure to check if you need additional items (adapter) before anything's set in stone.
Pros
For the Wrangler, no adjustments to the headlight buckets necessary, ready to install immediately
Both the chrome and black headlights do not differentiate in brightness or lumens
Suitable to use as a daytime running light on the low beams
Cons
Requires an H13 adapter for the Wrangler JK
May cause FM radio interference
When using an anti-flicker harness, switching from high to low beam may take a few seconds
Not sold in pairs; an additional light must be purchased if more than one is needed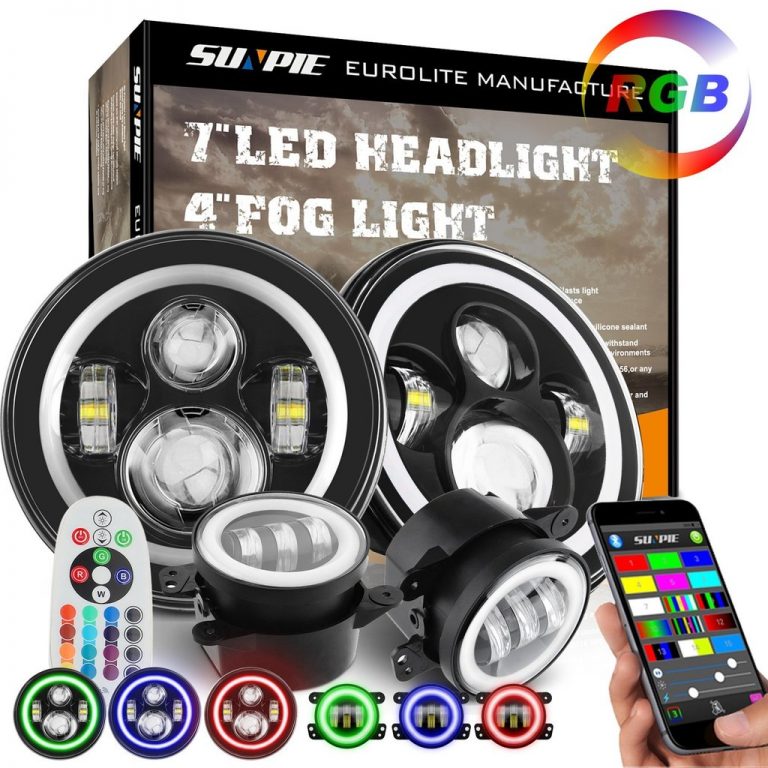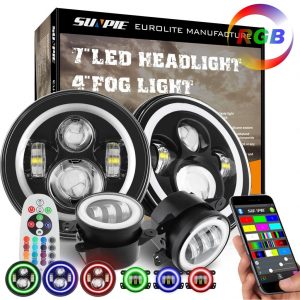 Sunpie is the brand you want if you enjoy style. It's a showpiece that will make any Jeep look sophisticated. This is because of the numerous configurations you can do to the hue, all of which is controlled through your smartphone.
Lots of different Colors to Choose From
As for brightness, it's high enough to make anything that sits directly in front of its beams look as if it's daytime. In fact, it might just be the brightest light you've ever seen on a Jeep (or car, for that matter). The installation is also rudimentary and won't bog you down when figuring out where everything assembles. Both the fog and headlights have color signals, all of them being in the RGB color spectrum (that means every shade of either red, blue, or green).
Help for Installing your LEDs
Although setup should be simple for most, those who've never installed headlights on a Wrangler may want to find instructions when doing so. There are no instructions given in the box, so if you're unsure about how to install to your vehicle, check out this guide to help you avoid any later fixes. And the lens is also plastic, so if you're the type that likes to go offroad a lot, you may want to take a look at the other LED products listed in the article.
Anyhow, the Sunpie brand is trusted by many people and will make your vehicle look unique, in a class it's own.
It might seem different at first, having your light change to so many colors just be pressing down on your mobile phone. But if this setup is something you want, it will be a LED that will turn your Jeep into a modern look that's sure to get lots of attention.
Pros
Brightness is intense on the high beam and illuminates to a degree few headlights can match for the Wrangler
Installation is straightforward with or without a mounting adapter
A wide variety of colors available on both fog and headlights that is based on the RGB color model
Cons
The lens is made of plastic and scratches easily, must use care when cleaning to avoid marks
Although setup is easy, there are not instructions included, potentially making things difficult for for people that have never installed headlights before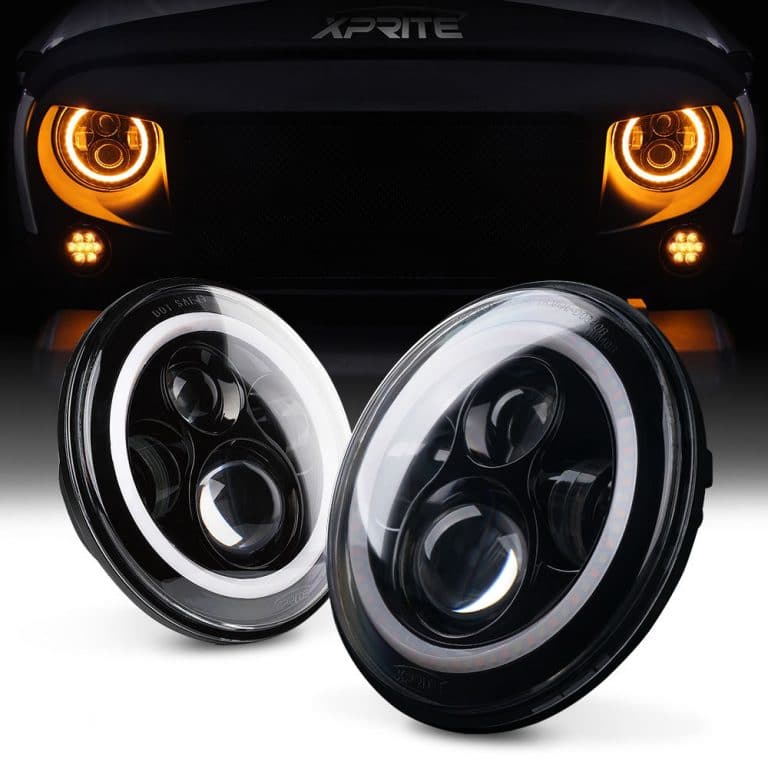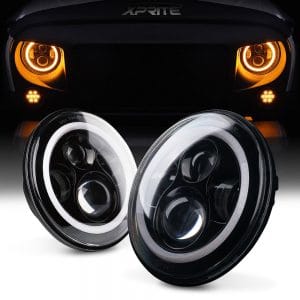 The Xprite 7-inch Halos consist of a headlight pair and nothing else. But that's not to say there anything less than those reviewed that feature fog lights. On their own, they offer plenty of features that make them so good, you may end up substituting the LEDs for one important factory part of your car.
Flashing Lights
This implies the turning lights in the front. You can configure the Xprite to perform in the same manner, flashing in a bright amber colored hue when you direct your Wrangler to make a turn. In fact, it could be tempting to replace them exclusively with your newly acquired lights; the lumens is bright enough to easily overpower the light emitted from your blinkers. It also makes them look slightly off while they're blinking with your Xprites at the same time. The rhythm is not the same as the LEDs.
What You Should Do to Avoid Scratches
If you like your lenses string and durable though, you're out of luck. Although they perform well at protecting the lights themselves, they are extremely prone to scratches. So much so, you'll even have to use caution when being washed. To give you an indication of just how sensitive the lights are to scratches, even a cleaning with a toothbrush and toothpaste could bring on marks (and before you say it-yes, you can use toothpaste to clean your headlights.) Regardless of these minor inconveniences, the Xprite still shines with enough perks to keep most Wrangler owners happy.
Pros
The lights can be modified to function as a turning signal replacement
There are four functions total, including a broad daytime running light that circles around the high/low beams
Headlights have great ventilation and flickering will rarely occur (when installed properly)
Cons
The lenses are not suitable for motorists that do extensive off road driving; may become damaged/scratched
In order to use the turning signal function, splicing with solder and soldering iron may be required for the setup to work properly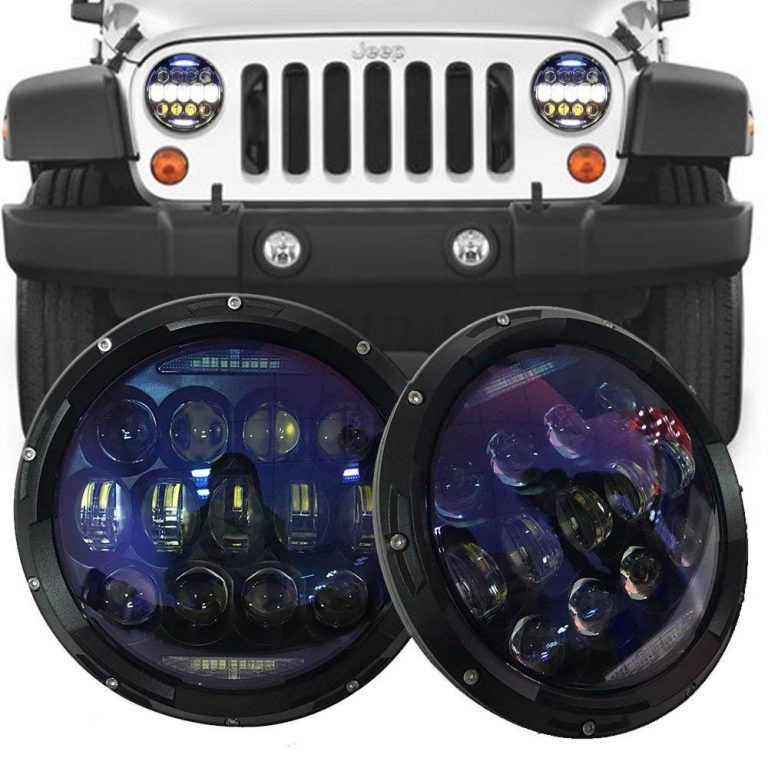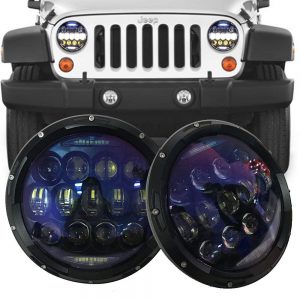 The great thing about aftermarket headlights for the Wrangler is the many styles that are available. You'll find LEDs with different colors, features that can be activated by your phone, and lots of alternative light fixtures. The Sup-Light 7-inch LED Headlights are the final product but end the reviews with it's great horizontally lined high beams. It sort of looks like something you'd find on a chopper motorcycle. But don't let that turn you away; these lights are built to fit any Jeep Wrangler perfectly.
Painless to Put Together
If you value your time. These headlights will have you finished with installation in under 30 minutes. They also are great for offroad driving and won't get permanent marks all over the lens during such an occasion. And, as previously mentioned, you get a distinctive luminosity that's bright but pleasant on the eyes. However, there are a few catches that you should know about.
DOT Approval Status
The most important is the headlight's DOT approval status. There have been conflicting reports of users getting stopped by law enforcement for having lights that were not DOT approved. At the same time, some have argued that the DOT insignia is located on the light itself. Because of this speculation, it's advised that you check with your local law enforcement before you purchase, or use the headlights primarily for off road driving. And while the brightness will be enough for most people, the high beams tend to perform poorly at night especially under foggy and rainy conditions.
While Sup-Light's brand makes good LEDs for your Wrangler, they are mostly advised for people who live in warmer regions that don't receive heavy amounts of rain or fog sporadically during the four seasons. If you do live in a colder or wetter climate, you'll be better off taking them out when the weather gets drier. If this sounds manageable, then you won't be off put by the produce at all.
Pros
Installation can be completed in under 30 minutes
Performs well in off road driving conditions
Visually, the high beams illuminate in a dynamic-looking display that's unique to most auxiliary headlights for the Wrangler
Cons
Conflicting information over the lights' SAE/DOT approval status
Low beams' light does not focus very well and makes driving in rainy or foggy conditions more difficult
The lights do not generate heat, which makes them susceptible to condensation and damage in snowy weather
Tricky to attach with the vehicle's harness, resulting in a makeshift setup with tape and/or zip ties
Best Jeep Wrangler LED Headlights – Buyer's Guide
As with purchasing any vehicle parts, getting a set of LEDs for your Jeep Wrangler is definitely something you should take your time with. Review these quick tips before you come to a final pick on the headlights you want.
ECE/SAE/DOT Approval
TIn the United States, it is mandatory for LED headlights being driven on the roads and highways to have DOT/SAE approval. ECE is for Europe. Usually, headlights that are safe for driving on public roads will have their status indicated on the lens. To check, view the headlight in question and look for DOT/SAE markings. It's often printed near the top portion of the light. If you see it, that means you're safe to use the lights without the worry of getting a ticket from law enforcement. If not, you may want to save the headlights for an offroad trip.
On Road and Offroad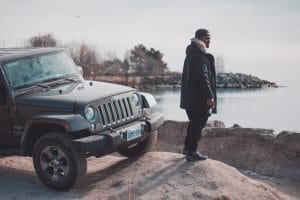 If you live to drive off road (or have no choice but to do so), you should always look for headlights that are suitable to withstand the bumpy conditions. Some LEDs simply do not work well unless they are used on paved surfaces. Others are great for any driving conditions.
The best way to tell is to simply observe what the manufacturer's recommendation is, or check the material of the lens. If it's something made from a cheap material or at risk of shattering, look elsewhere. This can oftentimes be a confusing decision to make, especially when buying online. If you're unsure, don't hesitate to contact the brand in question for an official answer.
Region
Knowing what car parts to buy can often boil down to what region you live in. For instance, if you stay in a location that receives a lot of snow, you probably have chains for your tires to help you better navigate on the ice during the winter months. Some LEDs are built to generate little heat. In cold climates, this can wear the bulbs and lens overtime due to freezing and unwanted condensation once everything begins to melt.
If you're in a more temperate region, you're probably familiar with pollen and the potential damages it can cause to a vehicle's paint. The can also lead to marks on your headlights that are difficult to get out. The best thing is to always look for lights that will either perform well in hot/cold temperatures (or a combination of both), then choose accordingly.
Conclusion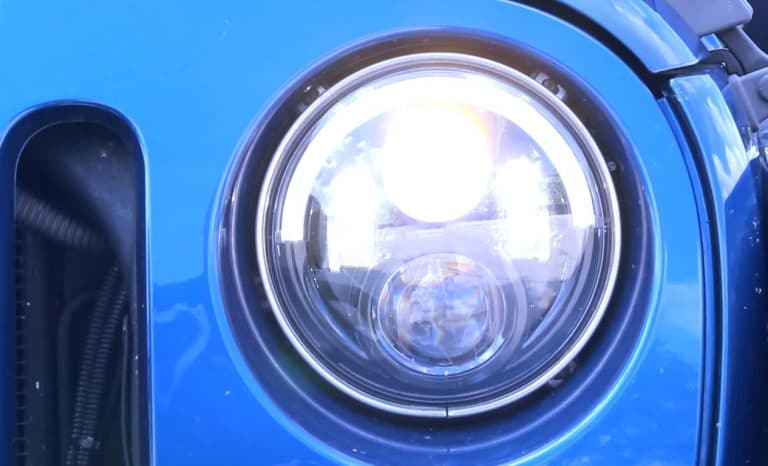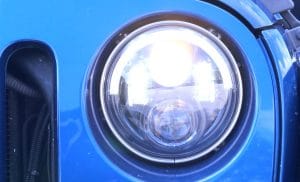 Finalizing your choice on the LEDs for your Wrangler is not difficult but should definitely be done at your own pace, so to avoid the mistake of getting something you're unfamiliar with. While the JW Speaker 8700 Evolution 2 and Black Daymaker are two of the best you can buy, the other options that were reviewed are great products in their own right that could be better suited for you. Factor in everything that makes your Wrangler unique, such as where you live and the places you love driving the most, as noted in the buyer's guide. And once that's done, you'll end up with headlights that will last for years to come.