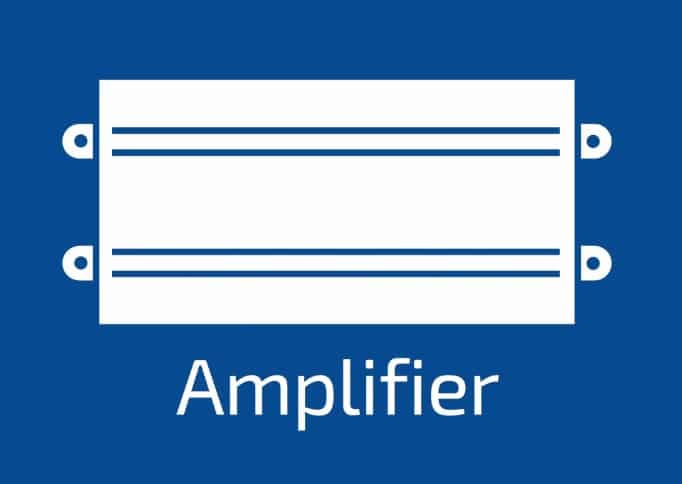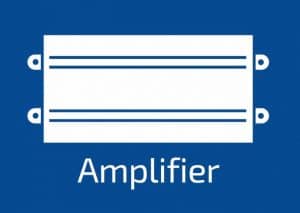 If you have been considering updating your car's audio system, it is time to start thinking about investing in a solid car amplifier. This sound system component is used to power up any aftermarket speakers, subwoofers, and/or additional audio components in your vehicle. In fact, an amplifier is absolutely essential if you want to avoid inferior sound output or potentially destroyed equipment. To better help you select the best possible amplifier for your vehicle, we've compiled a comprehensive buyer's guide as well as five in-depth product reviews.
Best Car Amplifiers of 2021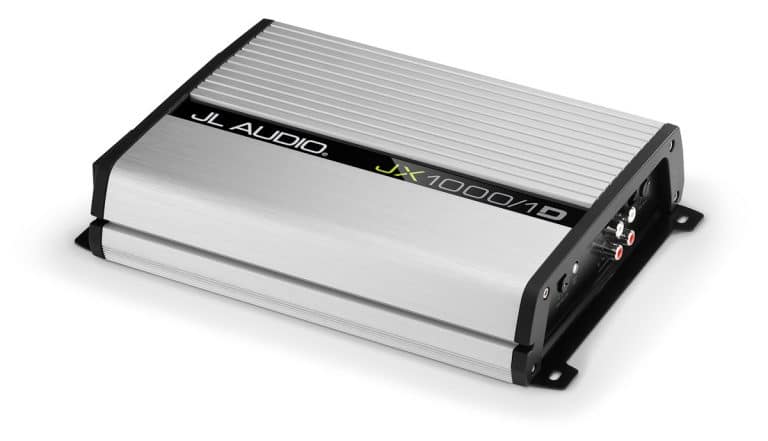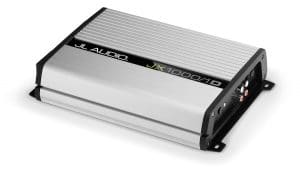 JL Audio's 100-watt RMS Monoblock Class D car amplifier is part of their performance line, known as the JX Series subwoofers amplifiers. This robust device is capable of astounding sound amplification while broadcasting the highest quality of music. It boasts a low-pass filter with a cutoff between 50 and 200 Hz. Beyond that, the amplifier boosts bass up to 12dB at a frequency starting at 45 Hz. It also has both high-level and low-level (RCA) inputs, ensuring it can be used with both aftermarket and manufacturer-original vehicle parts.
Smooth Sounds
Another perk of this affordable system is the smooth start. This ensures that the amplification system is able to turn on without any undesirable sounds upon turning on a vehicle or an electric overload. It is also important to note that the system has an unregulated PWM switch, which ensures the audio will continue to run as long as the voltage doesn't drop below operable levels. In the case that it does, the amplifier will shut off by going into a safe mode.
Recommendation
At over $200, JL Audio's 100-watt RMS Monoblock Class D car amplifier is quite an investment. Nevertheless, it is well worth the money. It boasts a rating of 500 watts RMS at 4 ohms, 750 watts RMS at 3 ohms, and 1,000 watts RMS at 2 ohms, making it compatible with a wide range of subs and speakers.
Check out Crutchfield's guide to compatibility to see if this amp would work well with your aftermarket audio parts. The amp produces very little distortion and never overheats.
However, it is important to note whether or not your vehicle's battery is capable of providing an adequate amount of power to it. Nevertheless, we highly recommend this to any and all vehicle owners.
Pros
The amp is capable of powering multiple large subwoofers and speakers thanks to the four 500 watt RMS channels
The amp features an unregulated PWM switch, which means that the power rating may change depending on the battery it is connected to
This amp is priced affordably compared to similar models that are currently on the market
The amp features a low-pass cutoff filter. This creates a unified bandwidth and impedance rating, drastically improving the quality of sound
The device offers a 12 dB bass boost, increasing the gain of those low thumping frequencies we music lovers cannot do without
Cons
A few customers have reported experiencing subpar sound quality with these amps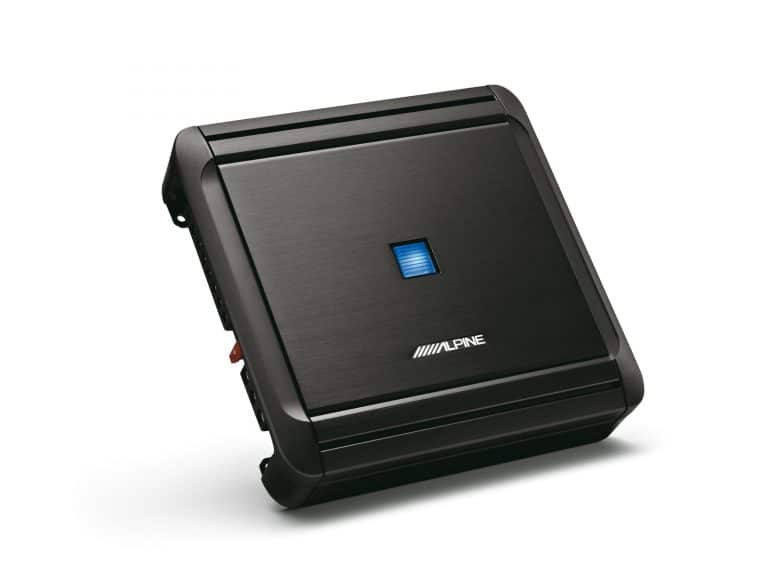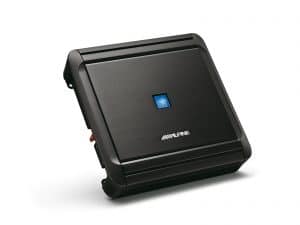 The Alpine MRV-F300 50-watt 4-channel car amplifier is known for its ultra-compact yet powerful design. It features a stunning black chassis that holds the same amount of power as the class D platform (despite the fact that it is 40 percent smaller than it). Its dimensions are 13 inches long, 9.1 inches wide, and 4.3 inches high. Meanwhile, the device features snap-on terminal covers and flush mount controls for easy installation and reliability.
Affordable and Compatible
For less than $150, you can own this stunning fourth generation amplifier and be on your way to crisper music. It is also important to note that this amplifier is extremely energy efficient. As such, you get smooth, uninterrupted audio without having to drain your vehicle's battery.
Beyond that, the device features four-channel optional speaker inputs that allow users to connect to a combination of factory original and aftermarket car radio parts.
Recommendation
We highly recommend the Alpine MRV-F300 50-watt 4-channel car amplifier to owners of compact vehicles. The chassis weighs just less than 5 pounds. Meanwhile, it is extremely thin and features a sleek design. The black finish also blends well in most cars. Beyond that, we love the snap-on terminal covers that prevent wires from loosening during bumpy rides. Not to mention, it provides up 50 watts RMS per channel. Plus, the sound production could not be clearer nor more distortion-free. It is important to note that at less than $150, this aftermarket amplifier is also extremely affordable.
Pros
The device features a 4-channel speaker inputs with a 50 to 75 watt RMS rating
This amp is 40-percent smaller than the third generation Alpine amplifier
It boasts a class D energy efficiency label
Boasts secure snap-on terminal covers that make for a simple installation
Each amplifier is individually tested for its power levels. These results are provided to consumers upon purchase
Cons
The amp overpowers occasionally (resulting in an automatic shutoff)
Some customers have reported minimal factory defects that are noticeable upon arrival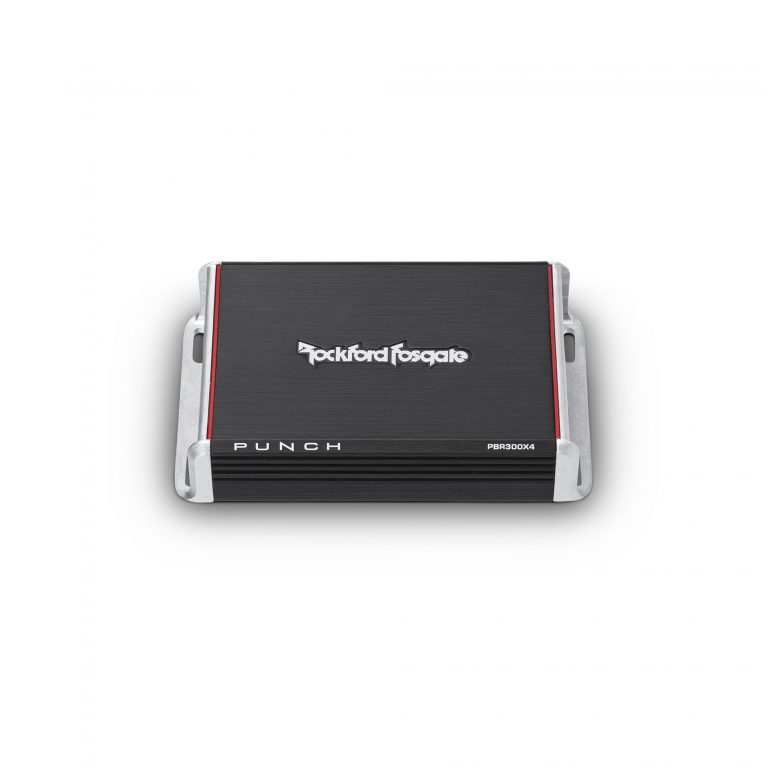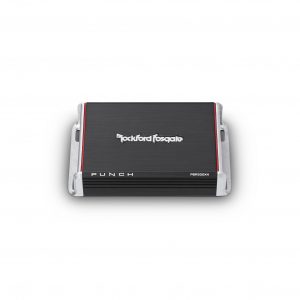 The highlight of the Rockford Fosgate 4-channel amplifier is its outstanding bass output. What's more, the amp boasts 300-watts of power in a super small chassis, making it the ideal addition to a small truck, car, motorcycle, or ATV. Meanwhile, the system is comprised of both high-level and low-level inputs. For this reason, the Rockford is compatible with most factory-original and aftermarket sound system parts. Furthermore, the amp offers 4 to 6 volts of DC offset voltage in a safe startup circuit. Finally, a 12-decibel Butterworth crossover filter helps feed a blend of split subwoofers and other output parts with varying frequencies.
Elongated Warranty and Lifetime expectancy
It is important to note that the Rockford amplifier is backed by generous 1-year warranty. It also boasts a breathable Mesh A3 case, which dramatically minimizes the transfer of heat between internal components. In turn, the amplifier produces less distortion and has better energy efficiency.
Another feature is the NOMAD computer system, which protects your stereo system from speaker shorts and low impedance ratings. Finally, the system connects via an easy to use block harness system.
Recommendation
We highly recommend the Rockford for music lovers with minimal space. The device measures 1.52 inches high, 4.25 inches wide, and 6.75 inches long. Meanwhile, it barely weighs over 3 pounds. It boasts easy to read power and setting indicators. What's more, it offers around 75 watts RMS for each of its four channels. You also have the choice between low-level and high-level signal inputs, making it compatible with a wide range of aftermarket gear. Because of its size, this is a great selection for motorcycles, ATVs, and cars with limited cab space.
Pros
The amp offers four channel outputs with 75 watts RMS per channel
Thanks to the low-level and high-level signal inputs, this amp connects to most OEM parts
The device boasts an impressive bass output with minimal distortion and popping
It is backed by a generous 1-year manufacturer's warranty
It can connect via a block harness system or dual RCA cables
Cons
Some customers claim that the customer service department is difficult to deal with
The device offers lower power than desired by some vehicle owners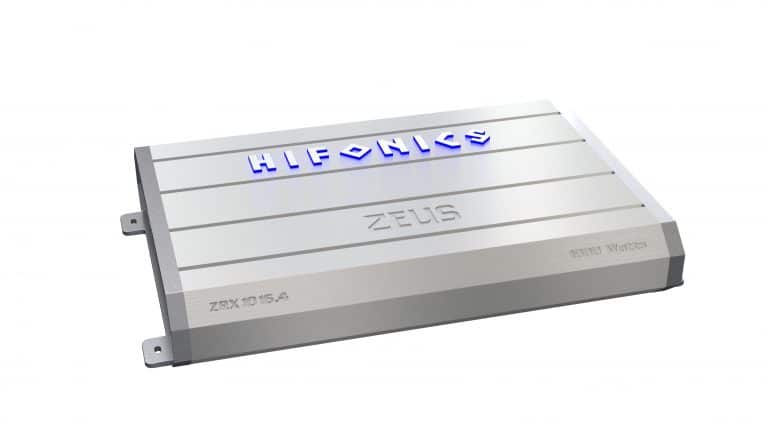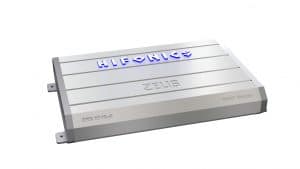 The Hifonics Zeus car audio amplifier is a stunning budget-rate amplifier that offers 1,00 watts of audio power. It boasts an attractive silver chassis with a blue illuminated Hifonics logo (in a notable Greek font). Other perks include a heat-dissipating military-grade PCB, a favorable Simpatico coil design, and a classic Hifonics aluminum heat sink. What's more, the amplifier offers four channels and boasts an integrated electronic crossover filter system.
Superior Electronics
The Hifonics audio amplifier offers sophisticated power protection. This includes DC, short circuit, thermal, and overload protection. Together, these additions give consumers safety and reassurance. Meanwhile, it is important to note that the Zeus system only possesses low-level (RCA) inputs and outputs. While we much prefer the quality of RCA sound, this means the device may not be compatible with factory-installed audio equipment.
Recommendation
We highly recommend this amp to vehicle owners looking to improve their car audio systems within a tight budget. The amp costs just over $100 and offers some of the most sophisticated sound amplification on the market. The four-channel device boasts 250 watts RMS per channel or 500 watts RMS when split amongst just two channels. Keep in mind that the amp is pretty large. It weighs around 10 pounds. Its dimensions are 15.7 inches, by 2.4 inches, by 10 inches. The high-pass filter variable is between 60 Hz and 1,200 Hz. Meanwhile, the low-pass filter variable is between 30 and 250 Hz.

Pros
There are two, three, and four channel configurations, with 125 to 250 watts RMS per channel
There is minimal distortion and barely any popping in low level (bass) frequencies
The amp features FR, low-pass, and high-pass filters for more refined audio production
There are two ohm-stable features
The amp features a user-friendly calibration system
Thanks to the built-in fuse, the amp doesn't overtax a preexisting system or any extra components
Cons
The amp is rather large and heavy
The amp produces minimal buzzing and high volumes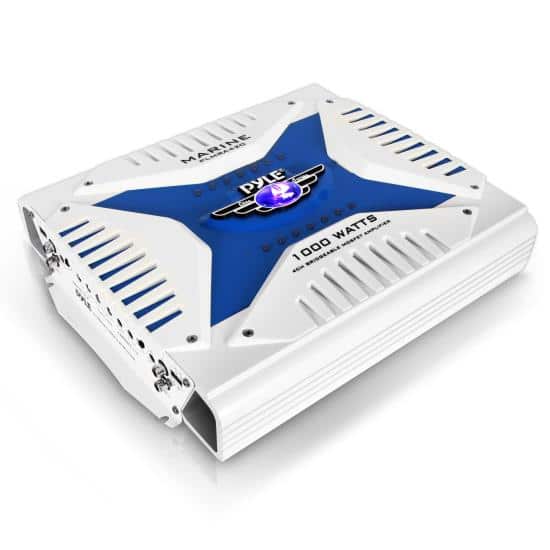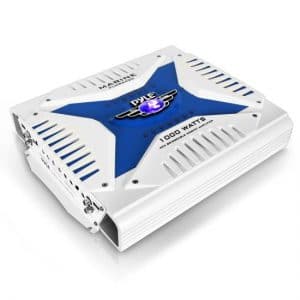 The Pyle Bluetooth marine amplifier offers four channels for an unbeatable price. It is universally bridgeable, with both low-level and high-level crossover options. It also offers Bluetooth connectivity to ensure you can pair it with any wireless device you like. However, the Pyle's most attractive feature may be that it is 100-percent waterproof and weatherproof. In fact, it is made of marine-grade IP-O1 and boasts rust-resistant silver-plated terminals. It also possesses an aluminum alloy heat sink with short circuit protection and preferred heat dissipation.
Visual Indicators and Smart Electronics
LED lights serve as convenient indicators of problems with the electric system as well as any ongoing short circuits. This is imperative, as the amplifier runs on a maximum of 1,000 watts of power. Meanwhile, the device also utilizes a MOSFET power circuit. Beyond that, it boasts GAIN level controls that offer between 4 and 8 Ohm adjustments.
Recommendation
We recommend this marine-grade car amplifier to consumers looking for unmatched durability and performance. We also love that this device is compatible with Bluetooth devices in up to a 25-foot range. Not to mention, it offers unmatched power at 250 watts RMS per channel. It also offers an astounding bass boost at up to 18 decibels from 60 Hz.
On the downside, this is yet another heavyset amplifier. It weighs over 10 pounds. Meanwhile, it is 12 inches long, 10.9 inches wide, and 2.7 inches tall. So long as you have an adequate chair or trunk clearance, we recommend this all-weather bass-pumping beast for all of your vehicle audio needs.
Pros
The device is both waterproof and weatherproof
It offers Bluetooth connectivity with a range of 25 feet
It boasts reliable short circuit protection
The amp offers a 1,000-watt power maximum for one channel
It boasts a MOSFET power supply circuit
Cons
Some customers have reported having issues with connectivity
The system is quite heavy and large, making it incompatible with some smaller vehicles
Best Car Amplifiers – Buyer's Guide
How to Choose an Amplifier for Your Car
Car amplifier descriptions can get a little confusing. In fact, many contain combinations of numbers and acronyms. So, we'll start by giving you the rundown on these abbreviated ratings.
Maximum Voltage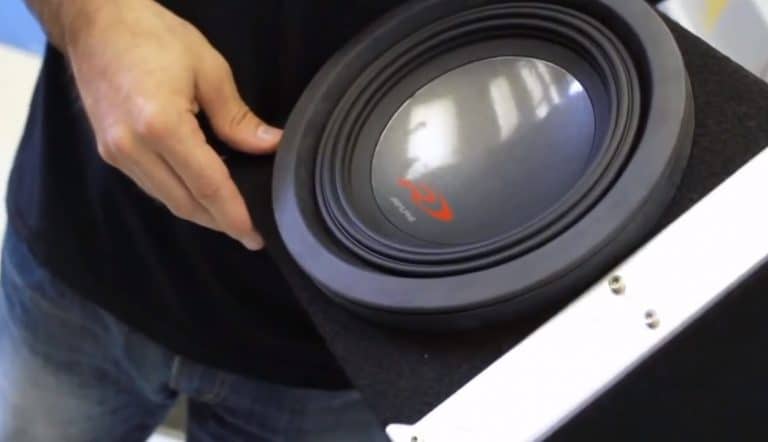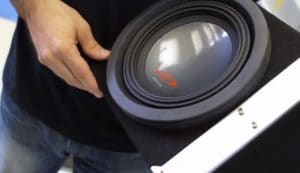 This number serves as a determiner for what you'll be able to power with the amplifier. Meanwhile, RMS power, which stands for root mean square power, is the amount of voltage that is designated to each channel. This number is a more specific means of determining which OEM parts are compatible with an amplifier. For example, if you have a 100-watt speaker you'll want to seek out an amplifier with a 100-watt RMS rating.
Gain
An amplifier with gain adjustment allows users to adjust the amount of power sent from the output of the amplifier to the input of a receiver. This setting can be used to reduce distortion. It can also be used as a way of preventing speaker blowouts.
Channels
As we mentioned before, amplifiers offer a designated amount of voltage (or watts) to each channel. Mono, two, three, and four-channel amplifiers offer a variety of pairing options, including the ability to connect them to OEM speaker and subwoofers. For example, a two channel amp can easily be paired with a pair of speakers for a fast and easy setup. For dynamic audio setups, with subwoofers and additional OEM parts, require additional channels.
Mounting System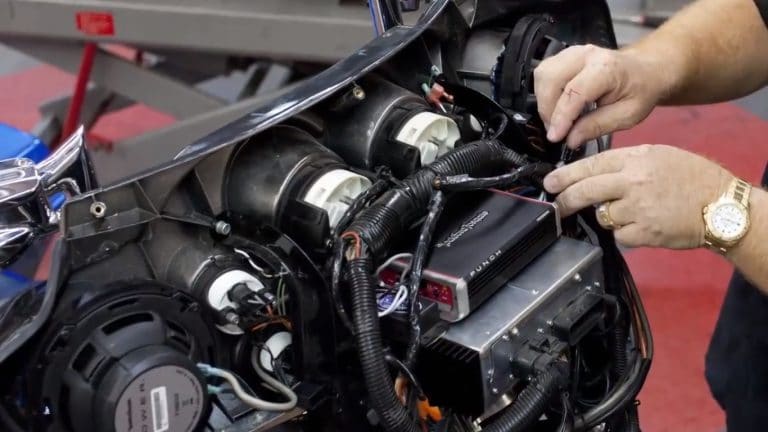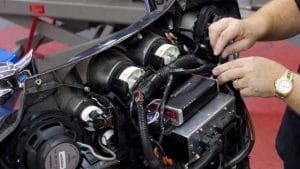 There are a few options when it comes to mounting your amplifier, but most vehicle owners choose to place it under a front seat or in the trunk (particularly out of sight). Where ever an amplifier is mounted, it is going to need breathing room. It is important to note that even the most powerful heat dissipation systems can fail in too tight spaces.
Fuses
Some amplifiers possess built-in fuses that prevent short circuits and other electrical mishaps. A built-in fuse protects an amp from succumbing to damage in the case that a live wire comes in contact with metal. This sort of mishap could result in equipment failure, vehicle damage, and even injuries to passengers.
Keep in mind that most amplifiers don't come with the necessary wiring systems needed to transmit a signal from one device to the other. You'll need to access how much wire you need based on the location of the amp. You also need to run wiring from your car battery to power the device. It is also a good idea to make sure the connectors are easy to secure, paving the way for a somewhat painless installation process.
Compatibility
It's important to match your amp up to your subwoofers. This is called impedance (our the rate of electricity movement that is measured in ohms), and it is imperative to both the longevity, safety, and productivity of your equipment. This number varies depending on whether an amp boasts series or parallel wiring. Ensure that your impedance calculations are safe for your speakers and subs.


Price
To let the prospect of a budget bog you down too much. There are plenty of affordable amps on the market, many of which are listed above. In the case of aftermarket stereo equipment, speakers and subwoofers are what are going to really cost you. Plan to budget between $100 and $300 on your car amplifier and expect quality sound.
Heat Sinks
Most car amplifiers boast heavy metal cases to help dissipate excess heat. Others boast breathable shells and thermal absorption components that help make the devices safer and less prone to fire. Oftentimes, amps have ridged or finned cases to increase the amount of surface area for the heat to spread across.
While most amps are designed to handle their heat production, you should always install an amp where it will have an adequate amount of breathing space.
Filters
Some car amplifiers possess low-pass and/or high-pass filters. Low-pass filters reject frequencies that are higher than a certain amount and accentuate the lower ones. They are great for improving the quality of bass. Meanwhile, high-pass filters do the opposite. Together, they help to reduce distortion.
Input Terminals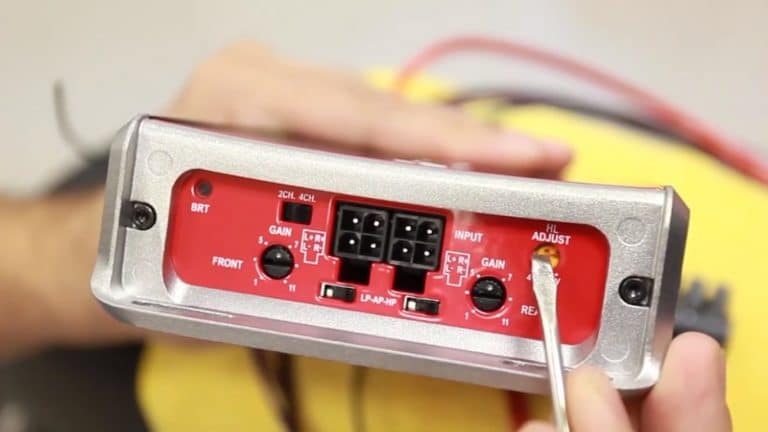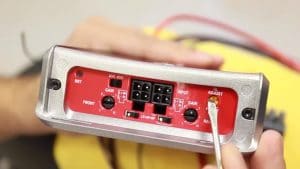 You also need to pay close attention to what type of inputs your amp has. Most consumers prefer speaker-level (high-level) inputs that allow them to connect directly to their factory-installed speakers. However, RCA (low-level) inputs offer an even higher quality of sound. Though, these are mostly compatible with aftermarket stereo equipment. Some of the amps we reviewed posses snap-on terminals or secure ports that ensure a live wire isn't going to come loose every time you ride over a bump or dip in the road.
Final Reminders
If you're new to aftermarket audio gear, building a complete system that works well and is efficient may seem unattainable. To avoid common mishaps, decide upon your speakers, subs, and amplifier before making any final purchases. Always ensure that they are compatible too. It is important to remember that, in the end, the extra time spent cross-referencing ratings will result in clearer sound.
Final Thoughts
If you're looking to improve the sound quality in your vehicle, there is no better way to start than by purchasing an aftermarket amplifier. These nifty devices are essential for powering up speaker and subwoofer upgrades. While we cannot deny the quality sound of the JL Audio, the Hifonics amp is a great choice for individuals on a tight budget. Meanwhile, the Alpine amp is ideal for tight spaces, such as motorcycles, ATVs, and two-seater sports cars. Now that you've educated yourself on all the must-have car amps, it's just about time to seek out some crystal-clear speakers, install some bass-boosting subs, and finally take that cross-country road trip you've been blabbing about.