There's something about a car with ultra clean interiors that makes everyone smile. It just tends to set your mood right. Smooth, clean leather upholstery, spotless air- conditioning vents, a gear knob without sticky finger prints on it and a clean instrument panel give you a sense of feeling that you're in a new car.
Best Car Interior and Upholstery Cleaners
Unfortunately, the drawback clean interiors have is that they're temporary in nature. As soon as you open and close the door repeatedly, dust enters the car and settles around all the tiny and large gaps. A busy week at work, playing outside during the rainy season, or a quick dash to the gym can all lead to your car's interiors quickly accumulating dust and dirt. Frequent trips with children and pets can make your car's interior even dirtier.
Fortunately though, there are several excellent, non-toxic upholstery cleaners in the automotive market that are safe and easy to use on your car. When you know how to use them right, your car's interiors can give off that fresh new car feel. Here are our top picks for keeping your car clean.
Best Interior Car Cleaner: CarGuys Super Cleaner – Effective All Purpose Cleaner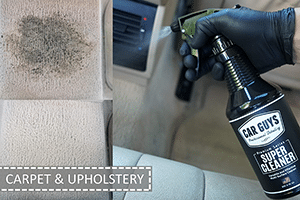 The Super cleaner from CarGuys is an effective all in one cleaner that miraculously and conveniently does the job of about five products, all by itself. Be it your car's carpets, dashboard, seats, instrument panel or the glove box, this product is designed for use anywhere inside your car that has attracted dust, dirt and grime. The only exceptions are that you cannot use it on glass and glass surfaces like the instrument panel.
Not only is it versatile in terms of the surfaces it can be used upon, the Super Cleaner can be used to remove different types of stains- be it bird poop, tree sap, tomato sauce, bugs or tar. The spray is highly convenient to use and comes with a microfiber cloth. CarGuys also offer a full warranty and will refund your money if you're not happy with the results of this product.
To get into technicalities, the Super Cleaner spray uses micro particles and nanotechnology to deal with grime and dirt at a molecular level. This ensures that the dirt in your car is dealt with at the smallest level and the cleaning isn't just confined to a superficial or cosmetic nature.
To add a little more to the Super Cleaner's versatility, the cleaner can not only be used inside your car but it can also be used on the exterior, on a truck, motorcycle, RV, boat and even inside your house. Such a wide range of applications makes the Super Cleaner a good value for money product. It is also highly recommendable since this cleans multiple surfaces, can be used anywhere and maybe most importantly it clears storage in your house/ garage as many other products can be disposed of once you start using the CarGuys Super Cleaner.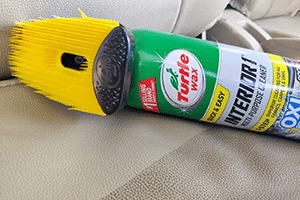 Turtle Wax offers a fantastic all in one purpose cleaner, meaning it does all the work of multiple fabric/ upholstery/ interior materials- specific cleaners all in one. An innovative technology that is used in the Turtle Wax cleaner makes it friendly to different materials like carpets, leather upholstery, plastic and vinyl. This cleaner can be used almost anywhere inside a car.
The cleaner comes with a detachable, all-new micro-scrub brush that cleans deep into fabric fibers. The scrub brush detaches for ultimate ease of use and deep, targeted cleaning. Turtle Wax's triple action formula cleans, deodorizes and protects fabric, vinyl and carpets. This product is a non- toxic cleaner formulated with oxygenated cleaners that eliminate odors caused by smoke, pets and food. The cleaner is versatile and can be used on cars, trucks, boats, RVs and at home. It removes a myriad of stains, be it coffee, juice, grease, makeup, ketchup, oil, ink, mustard and a lot more.
Buying Guide: Best Car Interior and Upholstery Cleaners
Take a moment to study some common Q&A's around car interior cleaners. That can act as a guide to help you choose the right cleaner and give you a better understanding of the cleaning process. At the end of the day, it will help to leave your car interior looking its best.
Q. If I buy an all in one brush, do I need other items to clean as well?
A- Yes, you would still need additional items since a multipurpose cleaner would do its job after the interiors of the car have already been dusted. In addition, you will require other items for the cleaning process that are mentioned below.
Vacuum Cleaner
Warm Water
Brush and Sponge
Microfiber Towel
Most of the cleaners are sprayed on, then brushed and vacuumed. Always test products first in an inconspicuous area to be sure it is safe.
Q.2- What Type of Car Interior Fabric is the Easiest to Remove Stains From?
A- Generally speaking, the part of the car interior that is going to show dirt the fastest are the floor mats and the seats. Floor mats obviously get dirty sooner but if you live in a hot region where one tends to sweat a lot, the seats might show stains quickly, especially if they are light-colored.
Leather
Leather is easy to clean and wipe off and it dries off in no time unlike fabric seat covers. Leather seats have their own special cleaners. Leather also needs to be occasionally waxed and conditioned to give that shining new look. A versatile all-in one cleaner would do half the job but in some cases, you will require a leather polish to bring out that extra shine.
Vinyl
Vinyl seats are easy to maintain as they only need to be wiped regularly with a good cleaner. That alone takes care of the stains. However, if you live in a hot area, your vinyl seat upholstery could get extremely hot and that makes the passengers sweat frequently, even with the air- conditioning switched on. This requires more attention to keep clean.
Fabric
A lot of cars these days have fabric seats since they are comfortable and are less prone to getting hot or cold quickly. Compared to the other materials, fabric is relatively easier to clean and maintain. Since fabrics have become a popular option in the market, there are a lot of cleaners that compliment it.
A good fabric upholstery cleaner is required to effectively clean fabric interiors, especially if they are light colored.
Q. Should I invest in an expensive cleaner or a low cost cleaner?
A- Cars attract a lot of expensive accessories. They often are not necessary. There are many options in the market that you could opt for but we've listed out the best ones for you so you don't have to invest much time and energy on researching them. We suggest you introspect and consider the amount of shine you look for in your car interior. That should give you an idea of how much you should spend on a cleaner. We mostly suggest a single cleaner that would perform most tasks and would work on different types of surfaces.
Q. How do I remove a stain from my car's carpet or upholstery?
A- The most important thing when dealing with a stain is to act promptly and start cleaning it up as soon as possible. The quicker you get to a stain the less impact it will have. Don't leave it to clean up until later.
At the start do not scrub a stain. Blot a stain if it is still wet so that you can remove as much of it as possible before it gets into the carpet. A paper towel or absorbent rag is best at picking up the stain. Next apply a generous amount of a car upholstery cleaner, preferably one with an active ingredient that can foam up the stain out of the carpet. Follow the product instructions, but usually that involves letting it soak in the stain and then wiping it down with water and a towel. Follow up with a vacuum to get it back to feeling like new.
Product Reviews
Each of these car interior cleaning products offers a good experience and decent value. Read below for specific information on each one.
Key Points at a Glance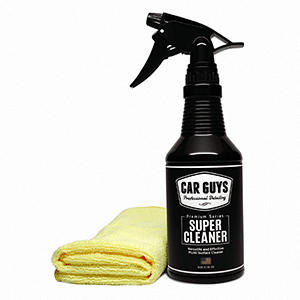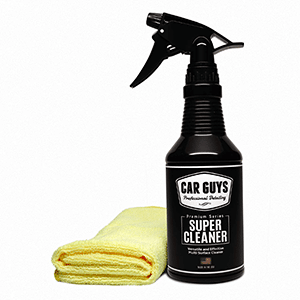 Easy to use and apply
Multipurpose in nature
Uses the latest nanotechnology for detailed cleaning
One of the best and versatile cleaners in the market
Can be used on a wide range of surfaces
Dimensions and Specs
Item Weight: 10.6 ounces
Package Dimensions: 10.79 x 4.76 x 3.11 inches
The Details
One Solution To Clean Them All: This product uses a unique cleaning technology that penetrates the surface at a molecular level to loosen and clean away all of the embedded dirt, oil and grime. Once the dirt is loose, it can be wiped away with a microfiber cloth. The Super cleaner is a safe, no-rinse cleaner unlike some other all- purpose cleaners that use harsh chemical detergents.
Key Points at a Glance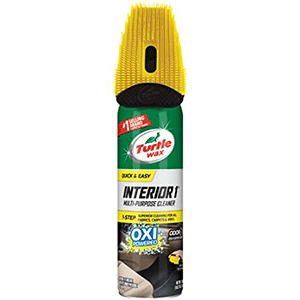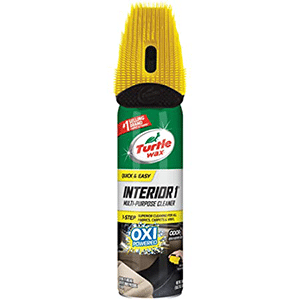 Advanced cleaning formula deep cleans and deodorizes carpet and upholstery in one step
Formulated with oxygenated cleaners for incredible cleaning and powerful stain removal
Encapsulates and removes odors caused by smoke, pets, food and more
Can be used in the car, boat, RV and inside homes
All-new patent micro-scrub brush cleans deep into fabric fibers, and detaches for ultimate ease of use and deep, targeted cleaning
Dimensions and Specs
Item Weight: 1.1 pounds
Package Dimensions: 2.56 x 2.56 x 11.25 inches
The Details
Turtle Wax offers a good cost effective all-in-one solution for removing stains & odors on every interior surface, including carpets, upholstery fabrics, plastic & vinyl. Be it inside your car or at home, you can reach for this cleaner confidently.
The all-new patent pending micro-scrub brush cleans deep into fabric fibers, and detaches for ultimate ease of use and deep, targeted cleaning. Triple action formula cleans, deodorizes and protects fabric, vinyl and carpet. This cleaner is formulated with oxygenated cleaners that encapsulate and eliminate odors caused by smoke, pets, food. It removes ground-in stains, coffee, juice, grease, makeup, ketchup, oil, ink, mustard and a lot more.
Key Points at a Glance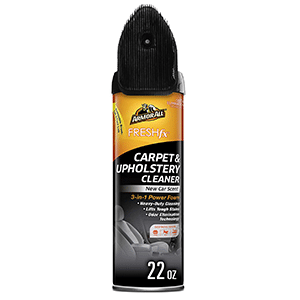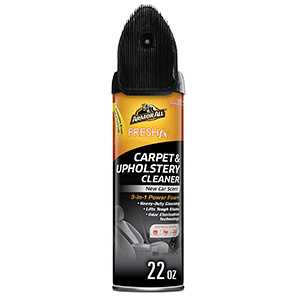 Foam carpet and upholstery cleaner.
Odor elimination technology works on food, pet, and smoke smells.
Removable scrub brush to help lift tough stains.
Priced right.
Dimensions and Specs
Item Weight: 1.8 pounds
Size: 11.26 x 3.94 x 3.46 inches
Contains 22 Fluid Ounces
The Details
Armor All has built a solid reputation for helping keep your cars clean, and the 3-in-1 power foam of this Fresh fx Carpet & Upholstery Cleaner won't let you down. It works by lifting tough stains up out of the fabric with a foaming, deep cleaning formula that acts fast. The cleaner works best on stains like mud, food, coffee, salt, and grease. For stains that need extra elbow grease, the cleaner has a removable brush that helps you dig deep to bring out dirt.
This car cleaner has a strong citrus scent that makes your car feel fresh and new, but the smell is not for everyone.
Key Points at a Glance

Cleans, eliminates odors, refreshes carpets, and discourages pet soiling all in one application.
Attached brush safe to use on all fabrics.
Strong odor elimination to help deal with the worst scents.
Good stain lifting technology for keeping carpets and upholstery clean.
Safe for Kids and Pets
Dimensions and Specs
Weight: 1 pound
2.5 x 2.5 x 10.5 inch package containing 4 bottles
The Details
Woolite historically focuses on carpets and upholstery in the home but this cleaner is a solid choice for use in your car, truck, or SUV. The formula is a triple action blend that cleans, refreshes, and eliminates odors. This Woolite product has excellent stain lifting technology that makes the cleaning process easy, especially when dealing with tough pet stains like urine, vomit, mud, and feces. For the grossest jobs this is the one of the best cleaners available and it is an excellent choice when dealing with overwhelming odor.
Key Points at a Glance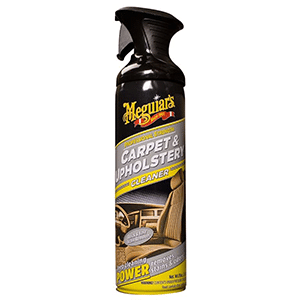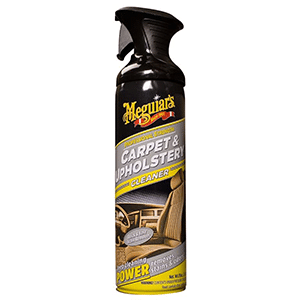 Easy Spray bottle with dual action nozzle.
Professional strength, fast acting foam cleaner for carpet and upholstery
Leaves car carpets smelling fresh and clean.
Dimensions and Specs
Item Weight – 20.5 ounces
Item Quantity – 539 milliliters
The Details
This fast acting foam from Meguiars has a professional strength formula that boasts deep cleaning power. This spray can be used as a spot cleaner or all over as a general cleaning solution to leave your car upholstery looking and smelling like new. The bottle has a dual purpose nozzle so that you can switch between a narrow stream for spot cleans or a wide mist spray. Meguiar carpet cleaner penetrates into stains and deteriorates them from the bottom up so that no ground in dirt or grime is left behind. The spray is quick and easy to use because it dries quickly and cleanly without leaving behind any sticky residue.
Conclusion: Best Car Interior and Upholstery Cleaner
Keep your car clean on the inside by periodically applying a strong carpet and upholstery cleaner like the ones on this list. Also always keep a bottle on hand to deal with emergencies like someone stepping on dog poop then stepping into your car.
We picked the above options after carefully scrutinizing the available cleaners in the market. We haven't suggested cleaners that are specific to a type of upholstery or a particular surface since we intended that you use it all around your vehicle interior and get maximum bang for your buck. As a result, we've recommended two cleaners that could be used on almost all types of surfaces and upholstery. The first option is a premium option in case you don't have limitations on your budget. The second option however is slightly lighter on the pocket but does a similar job. Whatever you choose, these products will leave your car looking and smelling fresh and clean.