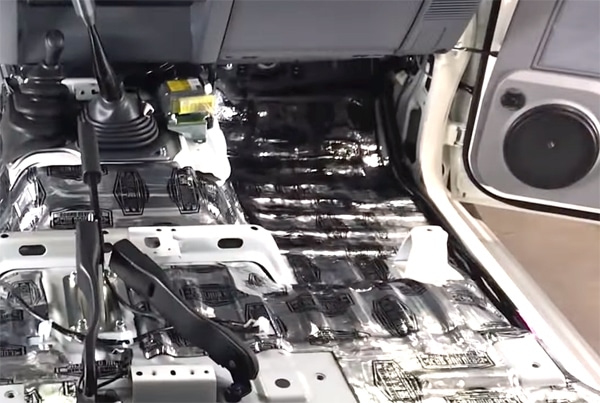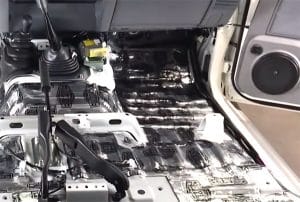 As the name implies, sound deadening mats are used to reduce the amount of outside noise that is able to enter the inside of a car. Common vehicular noises include wind and vehicle vibrations. These noises can range from a faint hum to a noisy rattling. For drivers who spend a considerable amount of time in their vehicles, background noise can be a major distraction.
Sound deadening mats are also known to improve the quality of a vehicle sound system. By isolating outside sound and creating a sound-canceling barrier, these mats can also improve the quality and range of sound produced inside of a vehicle. On top of that, sound deadening mats insulate against intensive cold and hot temperatures.
Five Best Car Sound Deadening Mats Compared for 2023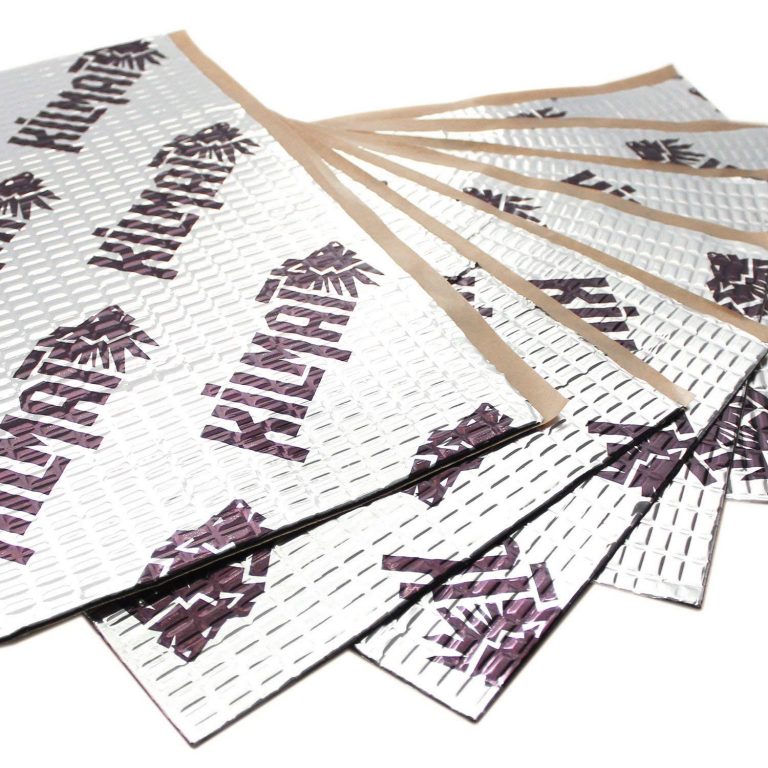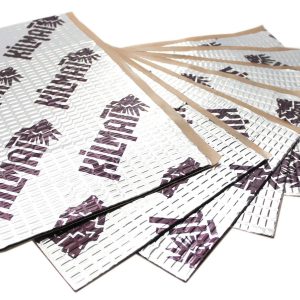 At a mere $1.65 per square foot, the Kilmat 80 mil nutyl sheets are some of the best-selling sound deadening mats on the market. Of course, the thick butyl and aluminum sheets perform just as well, if not better, than the competitors. The material is sold in 36-foot quantities that are broken into a stacks of 34 individual mats. Each sheet is 9.8 inches wide and 15.7 inches long.
Easy Installation
The mats boast integrated adhesive that enables a smooth and effortless installation process. The mats are extremely lightweight despite their thickness. As such, they are incredibly easy to work with. You'll need to purchase a rubber roller to smooth out any bubble in the foil before setting it in the vehicle of your choice. Once you do this, you can cut and fit the sheets with ease.
If you need a bit of guidance on what quantity to purchase, Kilmat provides precise coverage calculations.
Wrapping things up, the Kilmat logo adds a nice touch to these silvery sound-canceling panels. The Kilmat 80 mil even has built-in indicators that let you know if the mats are installed correctly. They consist of raised dimples that need to be pressed down.
Efficiency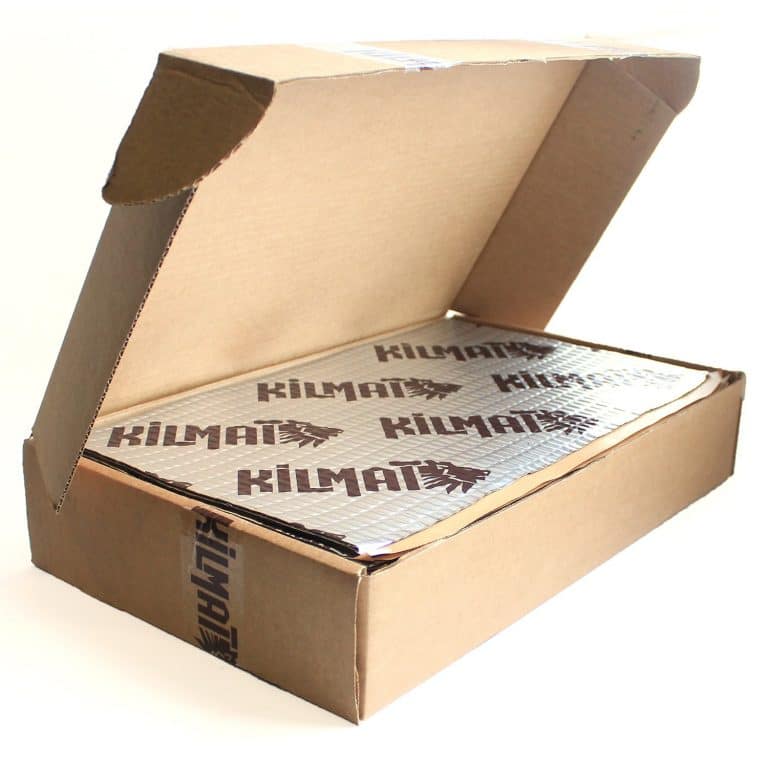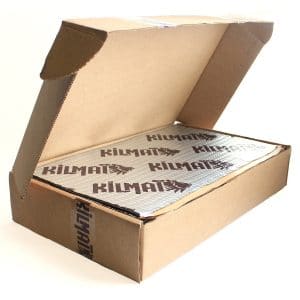 Kilmat's claim to fame is that they provide "an extra 50 percent of the quality for just 30 percent of the price." We took a look at other top-selling brands, like Dynamat Xtreme and Stinger, and found this claim to be pretty accurate. The Dynamat 80 mil stays in place for extended periods of time.
On top of that, it dramatically decreases the amount of roadway sounds that seep into a vehicle. It also improves the internal acoustics of a vehicle, transforming standard speakers and stock radios into appetizing audio production systems.
Pros
80 mil nominal thickness
Made of aluminum foil and butyl
Ultra-pliable and easy-to-cut
Peel and stick with ease
Minimizes exterior sound interference
Improves interior sound system quality
Comes in small manageable sheets (34 in total)
Helps to manage vehicle temperatures
No bad odor
Cons
You must wear gloves to protect hand
Must be rolled out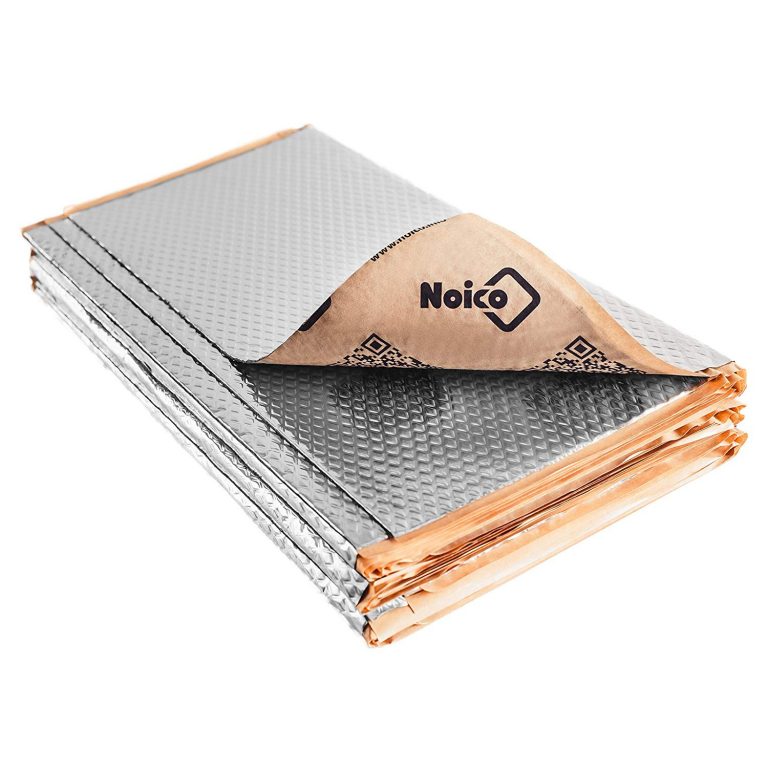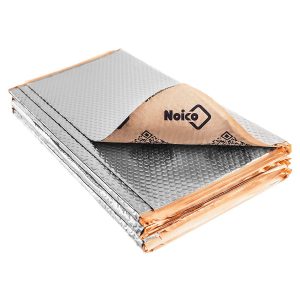 Yet another solid sound deadeners, the Noico 80 mil deadening mats offer superior automotive sound and heat dampening. The mats boast a combination of layered materials, including butyl and other improvers. They have an 80 mil nominal thickness. However, a single square foot of the material weighs just 0.7 pound. As such, these mats adequately reduce rattles, vibrations, and low-frequency noises from the engine and road.
Easy to Accommodate
The Noice mats can be placed virtually anywhere in an automotive setting. Roll them out and adhere them to your doors, hood, tire wells, roof, trunk interior floors, or all of the above.
Noico recommends that users cover all of the internal metal components in their vehicle to dramatically improve the output of their automotive sound systems. At $1.77 per square foot, Noico is an extremely affordable choice for full-car coverage.
Simple Installation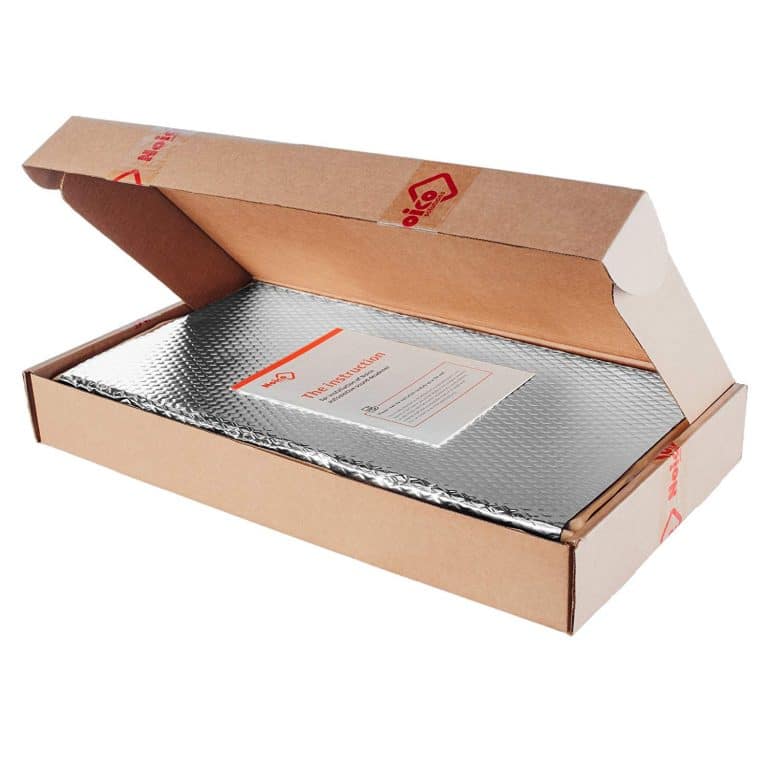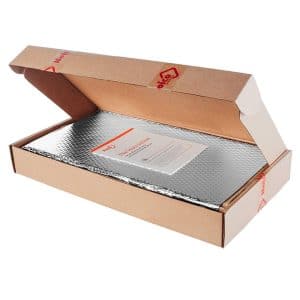 We found the Noico mats to be rather pliable and easy-to-cut. Keep in mind that you will need a small precision cutter, a few replacement blades, and a rubber roller to complete the installation process. Once you're ready to install the sheets, remove the protective film and press the mats down. Use the roller to remove the dimples, or crimps in the foil. Once the product is completely smooth, you will know that you've installed it correctly.
Some customers have reported that the Noico mats have a subtle asphalt-like smell. However, we did not notice any scent. On the other hand, the material is razor-sharp and super sticky. As such, we recommend wearing durable work gloves when prepping and installing the mats.
Pros
Easy to adhere adhesive backing
50 percent sound deadening
80 mil nominal thickness
Made from butyl
Easy to work with
Permanent adhesive
Improves interior car sounds
Pliable
Cons
You need to purchase separate roller
You must wear gloves during installation
3. Dynamat 10455 Xtreme – Most Heat-Resistant Sound Deadening Mats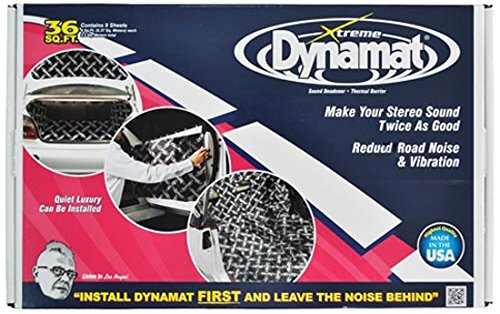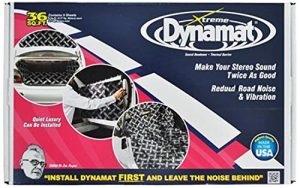 The Dynamat 10455 Xtreme Sound Deadening Mats offer premium audio and heat dampening for an affordable price. A single kit comes with nine 18-by-32-inch sheets. Each sheet comes equipped with a high-tack permanent adhesive that makes for a seamless installation. Customers rave about the Dynamat's optimal flexibility. While these amazing sound dampeners aren't reserved for automobiles, they do wonders to reduce the impact of engine and suspension sounds.
Extreme Heat Protection
The Dynamat Xtreme mats are lined with a heat-suppressing aluminum coating.
This makes them ideal for firewalls and floors. On top of that, the pieces can be cut to fit trunk lids, car roofs, wheel wells, and hood lids. Keep in mind that you will need between two and three boxes of Dynamat Xtreme to cover the full interior of a midsized sedan and even more sheets for larger vehicles. It's import to invest in complete coverage if you want to reap the full benefits of these sound deadening mats.
Size Matters
The Dynamat 10455 sound deadening mats are 0.067-inches thick. That thickness helps improve the quality, volume, and bass from your car stereo. On top of that, the mats are free from asphalt-like smells. That's why we love these heavy mats for super noisy older vehicles. Keep in mind that they feature integrated adhesive for a less messy installation process.
Pros
Nine 18- by 32-inch sound deadening mats
Aluminum coating for heat suppression
Does not require heat for installation
Integrated adhesive backing
Does not damage hands easily
Cons
Minimal reduction in audible decibels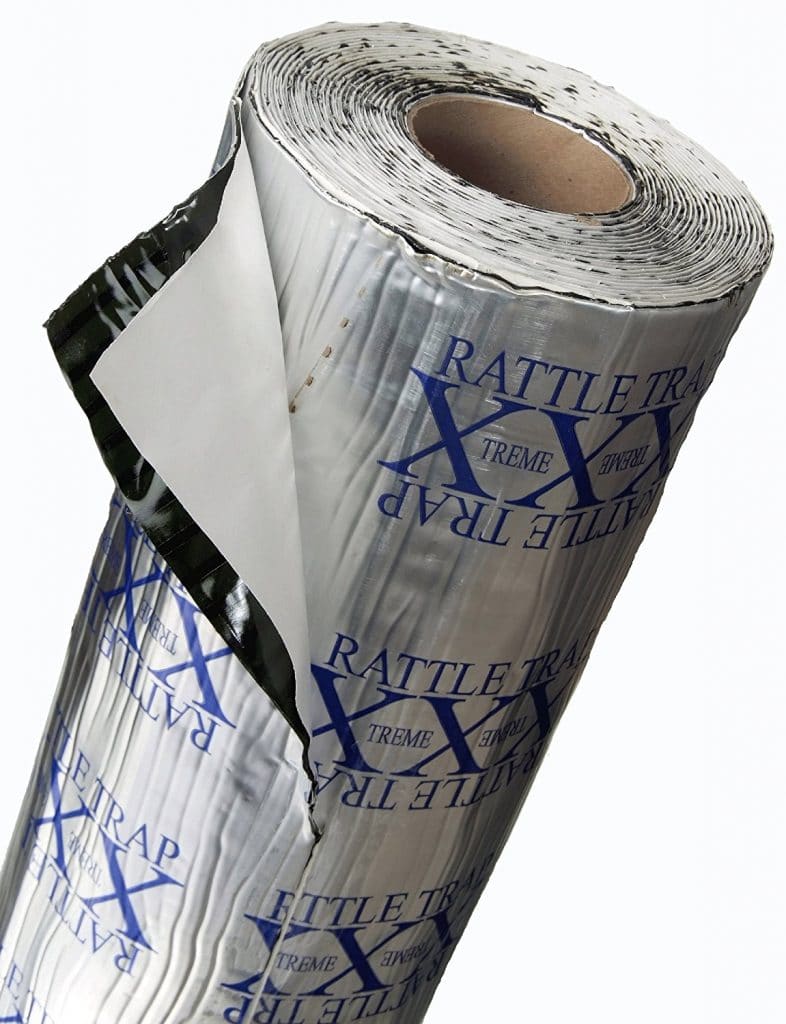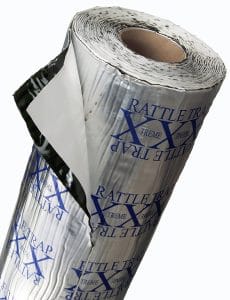 The FatMat Self-Adhesive RattleTrap Sound Deadener Bulk Pack offers one-stop full-vehicle installation. The kit contains a single roll (50 square feet) of 80-mil thick sound deadening material. What's more, the kit comes with comprehensive instructions, a knife, rubber roller, and FatMat sound control decal. The kit works well for any automobile, RV, or marine setting.
Reduced Roadway Interruptions
The FatMat sound dampening sheets enable an exceptional reduction in roadway sound. In fact, most customers report experiencing fewer vibrations and distortions after covering key automobile elements with the mats. On top of that, the mats increased the clarity and quality of most automobile sound systems. Customers have reported more booming bass and crisper high notes. What's more, the mats' heat-resistant aluminum coatings do a great job of reducing heat sinks along firewalls and engines.
A Full Soundproof Complect
Eliminate last-minute shopping trips by purchasing this handy bulk back. It's well-suited for D.I.Y. applications. The 18-by-33.5-inch (50 square feet) roll comes with everything you need to soundproof your vehicle. The material is super pliable and cuts like butter.
Storing Conditions
We recommend storing this sound deadening mat in a moderately warm area before setting to work. You can also use a small handheld heat gun to increase the product`s pliability and adhesion. Two layers of FatMat sound-canceling mats are all you need to reduce rattling and get some much-needed peace and quiet.
Pros
A single 33.5 foot roll of sound deadening material
80 mil nominal thickness
Comes with complimentary FatMat sound decal
Features patented Super-Stick adhesive lining
Boasts heat-resistant aluminum coating
No odor
5. Thermo-Tec 14620 – Easiest Sound Deadening Mat To Trim and Fit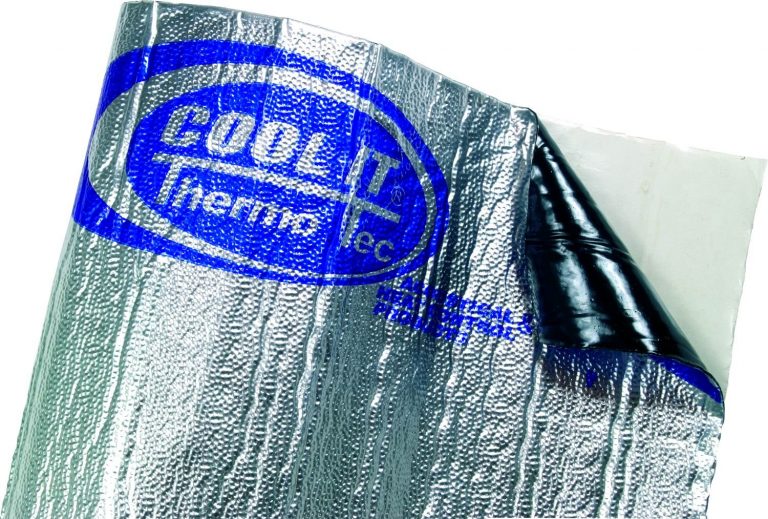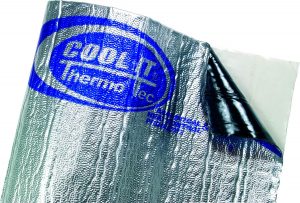 We're big fans of the ultra-affordable Thermo-Tec sound deadening mats. They have a 70-mil nominal thickness and measure 36-by-60 inches. They also have a temperature-reducing liner that makes them great for firewalls, car floors, and other temperature-sensitive locations. The sheets come equipped with a preset adhesive liner that's extremely strong and easy to set.
Easy Trimming
With tricky installations being the number one customer complaint concerning sound deadening mats, we were pleasantly surprised with how easy it was to cut and trim the Thermo-Tec sheets. We had no problem adhering them to tight areas, including our engine covers and wheel wells.
The material dramatically decreased the amount of sounds from our engine and trunk.
Not to mention, it helped intensify the output of our stock sound system. While we were rather skeptical of this material because of its low price, it proved to be superior to far pricier alternatives.
Superior Quality
After testing out several smelly sound deadening mats, we were happy to discover that the Thermo-Tec mats were virtually scentless. On top of that, the adhesive was extremely strong. With that said, we found that the adhesive was not able to handle high heat. As such, it melted in the hot areas of our vehicle. While this was somewhat troublesome, the Thermo-Tec pads themselves did not show any signs of wear or tear when exposed to heat. Given the extreme affordability of these mats, we'd consider using them with an aftermarket adhesive.
Pros
70 mil nominal thickness
Reduced sound, distortion, and heat
Easy to peel back and adhere to varying surfaces
Lightweight
Easy to cut and trim
No odor
Cons
Melts when exposed to high heat
Best Car Sound Deadening Mat – Buyer's Guide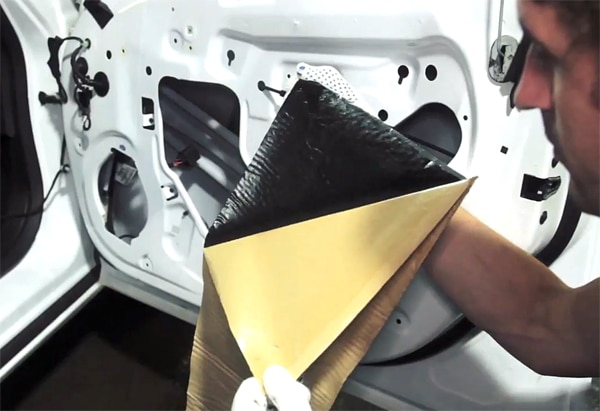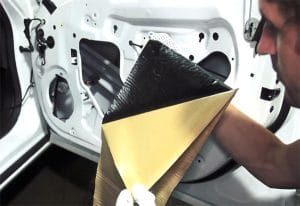 Wondering what makes one sound deadening mat better than another? Manufacturers utilize a wide variety of materials and designs to great sheets of material with sound- and heat-reducing capabilities. Read along to explore different options and narrow down the best choices for your vehicle.
Types of Sound Deadeners
Materials. Most sound deadening mats are made from butyl. Butyl, also known as butyl rubber, is a synthetic polymer that was produced by two American chemists in 1937. (put names) Many sound deadening mats also feature a thin layer of aluminum. The butyl side of the mat is installed directly against the metal frame of the vehicle.
Sound Deadening Car Mats. Sound deadening car mats are used to cover key elements of vehicles in order to block out common roadway sounds. They tend to come in rolls or sheets that can be cut and shaped to fit.
Sound Dampening Sprays. Many car owners use dampening sprays to fill tight spaces where sound deadening mats won't fit.
Foam Insulation. Foam insulation is one of the preferred sound deadening materials for doors. That is because it's super lightweight and easy-to-install.
Characteristics
Thickness. Thicker is always better when it comes to sound deadening materials. Most sound deadening mats have a nominal thickness of around 80 mils. However, some mats have a nominal thickness greater than 200 mils. With that said, it's important that a mat is still lightweight and pliable. Otherwise, the installation process can be extremely difficult.
Weight. Material and thickness have a big impact on a mat's weight. A square foot of sound deadening material should weight less than a pound.
Adhesive. For ease of installation, consider purchasing self-adhesive mats. Many manufacturers use super strong adhesives that ensure that the mats stay put for an extended period of time. The self-adhesive mats make the installation process easier too.
Coatings. Many sound deadening mats have an aluminum coating. Aluminum is resistant to heat and, therefore, helps insulate your car in addition to reducing sound. Heat-resistant sound deadening mats are commonly used to line vehicle hoods, as it keeps them cool.
Pliability. It's important that a sound deadening mat is pliable and easy to work with. Many people consider installation a D.I.Y. job.
Aesthetics. Mats vary in aesthetics. Most are black or silver in color. Some have gridded logos stamped across them, while others have a solid design. Keep in mind that you will be placing them underneath your car door, roof, and panels. As such, the aesthetics of your sound deadening mats is not very important.
Installation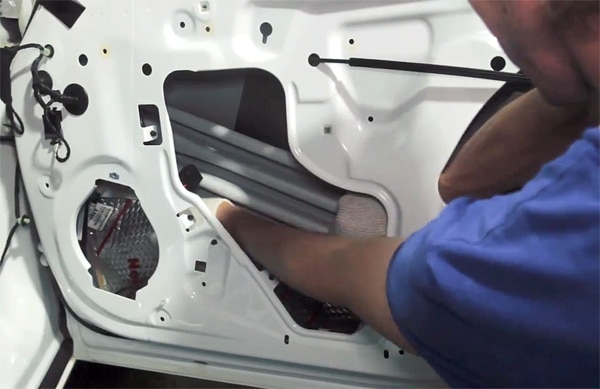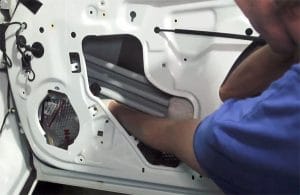 If you're planning on soundproofing your entire vehicle, it's important to target specific areas based on their individual sound production potential. While most of the key elements of a car can be covered with sound deadening mats, sprays and insulation patches may be needed to fill in small gaps and difficult to reach areas.
You'll want to start by covering your doors, floors, trunk, and roof. These areas are subject to wind noise, mechanical interruptions, and car audio distortion. On top of that, you'll want to cover the firewall and hood. It's important to note that these areas conjure up a good amount of heat. As such, you must use heat-resistant materials to avoid damage.
While many sound deadening mats come in pre-cut sections, you'll still need a small utility knife to trim pieces to create a precise fit. Depending on the type of mat you are using, you may also need some sort of mat adhesive for sticking, a rubber rolling tool for smoothing, and/or a small heat gun for shaping.
Sometimes, sound deadening mat kits come equipped with all the necessary installation gear. However, in most cases, you will need to purchase these items separately. On top of that, many manufacturers provide coverage estimates for customers to reference. You will probably need two or more full rolls of sound deadening material if you intend to soundproof you are aiming for a full-coverage installation.
Keep in mind that you'll also have to remove and reinstall interior panels and some electronic components. Keep a small bottle of denatured alcohol on hand to remove any grease that may be on the metal frame of your vehicle.
Boosting Sound Quality
While it may seem ironic, many vehicle owners utilize sound deadening materials to boot the quality of their car audio system.
High-quality mats eliminate unwanted vibrations and reduce the amount of roadway sound that enters your vehicle.
As such, they can increase the sound pressure (SPL) inside a vehicle. With more pressure, sounds are perceived as being louder at lower volumes. For example, most high-quality professional speakers have high sound pressure at low volumes.
Remember, sound pressures higher than 85 decibels can damage human ears. As such, it's important to reduce the volume inside your car to a volume lower than 80 decibels. You wouldn't go out of your way to punch holes in your speakers, so why damage the one sound system element you can never replace?
Tips and Trick

Chris Robson
Auto Mechanic
Pro Tip: If you purchase a solid sound deadening mat, installation shouldn't be too difficult. However, the following tips and tricks will help you avoid common blunders.
Wear Gloves. If you don't want it to look like you've been holding hands with Edward Scissorhands, invest in a high-quality pair of work gloves. Sound deadening mats can be razor-sharp when cut.
Use Degreaser. Car frames are often grimy or greasy. Purchase an inexpensive degreaser and prep the surface of the frame before adhering a sound deadening mat. Otherwise, you run the risk of wasting material.
Read the Instruction Manual. Some sound deadening mats boast specific instructions. Read the instruction manual before removing the adhesive backing. You'll want to avoid any unnecessary interruptions.
Apply Pressure. While not all sound deadening mats require rolling, it is important to apply firm and constant pressure when completing the installation process. You want to hold the mats in place to ensure that the adhesive has had time to bond to car surface.
Take Additional Steps. If you're installing sound deadening mats to improve the quality of your car audio, consider making a few additional improvements. Replace your stock speakers with superior six-by-nine speakers or opt for more superior audio files. There are a lot of factors that go into the enjoyability of car audio, and sound deadening mats are an excellent place to start.
Final Thoughts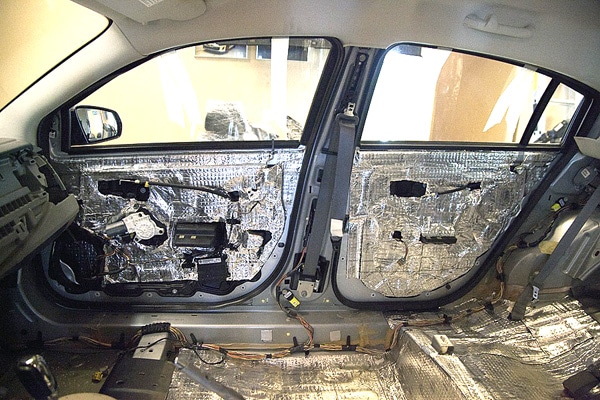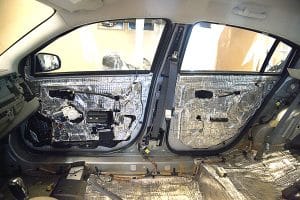 Are you looking to transform your stock stereo system into a premium performer? Turn your lemon into lemonade by installing inexpensive sound deadening mats in over the frame of your car, truck, or SUV. These simple sheets of sound-canceling fabric help eliminate the bite of roadway pandemonium. While we can't promise you a completely silent ride, we do have a list of quality products that will dramatically decrease the din of the howling wind, rattling mechanics, and your otherwise tumultuous commute.