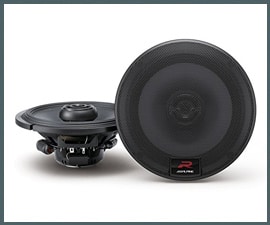 There are few things that can take your mind off of the frustration of traffic or shorten the experienced travel time of a long road trip like music. Of course, this solution is worthless if your vehicle does not have an audio system capable of producing sound quality good enough to provide a meaningful distraction. While this involves a number of pieces of hardware, easily one of the easiest to "fix".
While most vehicles these days come with a reasonably capable set of factory, or OEM, speakers, if you really want to get the most out of your music or other high-end audio signals, you are likely going to have to invest in some of the best car speakers available aftermarket. These speakers can quite often improve the sound quality to a point where you feel like you are listening to your music for the first time.
Best Car Speakers 2023
That said, figuring out which are the best car speakers can be a difficult and confusing task. That is why we have put together a list of the 5 best car speakers, highlighting what each one does best. Then we provide a helpful buyer's guide.


1. Alpine SPS610 – Editor's Choice Best Performing Car Speakers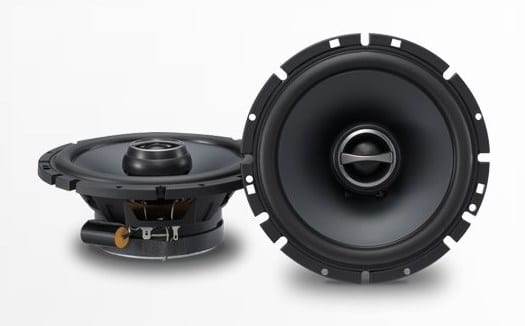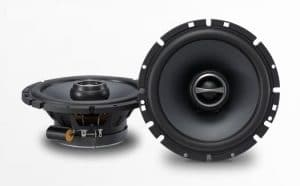 There are plenty of heavy-hitting speaker manufacturers on our list, but there are arguably few who can compare to Alpine. With 40 years of storied history, that begins in Germany, you can trust that the brand understands what it takes to produce a high-quality audio system and has the excellence of standards required to do so. While the brand no longer specializes exclusively in audio equipment, that is still their primary focus.
Top of the Line Materials
While power ratings and other numbers often get all of the headlines, what generally determines the quality of any car speaker and any product for that matter is the materials used in its construction. For the Alpine SPS610, this begins with the various cones of the speakers. The woofer is made out of a polypropylene that has been reinforced for the mica mineral to ensure that not only is the sound quality accurate but it can withstand plenty of extended use at higher volumes. For the tweeter, you should be pleased to know that the cone is made of silk which is considered one of the best materials for this purpose as it produces an excellent sound quality though it can occasionally run into durability issues when played at high volumes for extended periods of time.
A Well-Designed Construction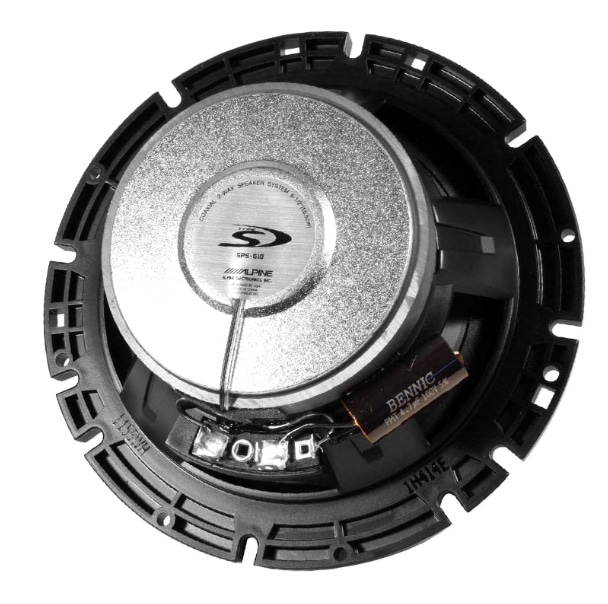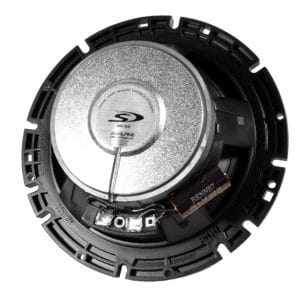 Of course, the best materials in the world will not help too much if the car speakers are not constructed in a way that takes full advantage of them. For instance, the Alpine SPS610 woofer cone is pushed with a copper coil wire while the entire speaker is set with an HD polymer frame and protected with a butyl rubber surround to control the response. On top of that, the frame is designed to specifically allow for optimized airflow to further protect the components within from overheating. On top of that, the use of specialized magnets for the different cones ensures that they produce the frequency response best suited for them.
Pros
Comes with 4 total speakers
Has 75 RMS watts
Runs at 4 ohms
Is a 2-Way coaxial speaker
Woofer cone made of poly-mica
Tweeter dome made of silk
The tweeter is 1"
Has optimized airflow design
Has neodymium and strontium magnets
Cons
Is a more expensive car speaker
Universal brackets are only okay
2. Rockford Fosgate R165X3 – People's Choice Most Popular Car Speakers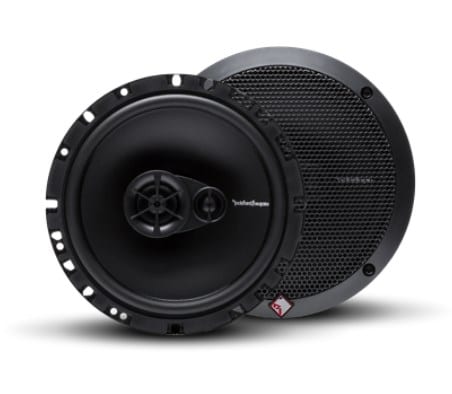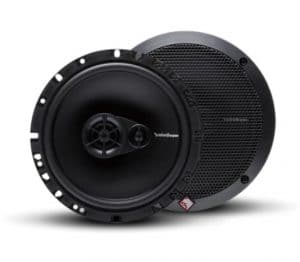 Though Rockford Fosgate may not necessarily have the most general public prestige, it is definitely deserving of being known as one of the best manufacturers of high-end audio equipment. Having a storied history that stretches back more than 4 ½ decades, Rockford Fosgate began as a project for enthusiasts whose success and dedication led to speakers that were unmatched at the time. Since then, the success of those speakers has allowed Rockford Fosgate to flourish and continue providing some of the best products available.
A Superior Type
By far one of the best qualities about the Rockford Fosgate R165X3 car speakers is the fact that they are a 3-way coaxial set. This means that the Rockford Fosgate R165X3 is designed to isolate the different frequency ranges and play them through specialized cones. As such, the standard woofer and tweeter arrangement of 2-way coaxial car speakers is enhanced with the addition of a piezo super tweeter to take of the ultra-high frequency ranges without putting a strain on the other cones. This is only made all the more impressive as the Rockford Fosgate R165X3 is the most sensitive car speakers on our list at 91 dB.
Some Distinct Limitations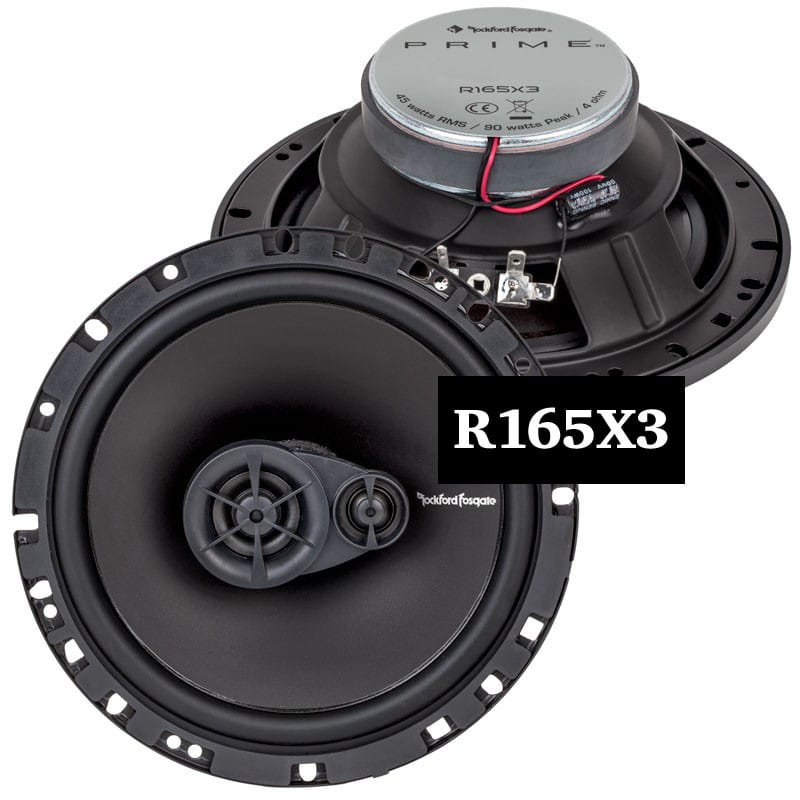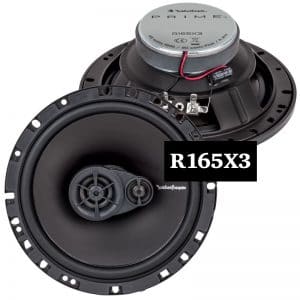 That said, the Rockford Fosgate R165X3 is definitely a bit of a departure from the general quality one expects from the Rockford Fosgate brand. For instance, these are the weakest car speakers on our list at only 45 RMS watts though this in and of itself is not really a reason to fault the speakers too terribly much. Instead, it is the fact that the Rockford Fosgate R165X3 seem to have difficulty distinguishing between the different frequency responses and delivering them to the proper voice coil and speaker cone. The result is that the lows sound muddy while the highs sound too bright and tinny. Thankfully, the mids sound great, which makes these ideal speakers for talk radio or books on tape.
Pros
Comes in 6 different sizes
Is a 3-Way coaxial speaker
Woofer cone made of polypropylene
Tweeter dome made of silk
Comes with 2 total speakers
Has 45 RMS watts
Runs at 4 ohms
Has a piezo super tweeter
Is a less expensive car speaker
Cons
Not the best bass response
Not the best highs response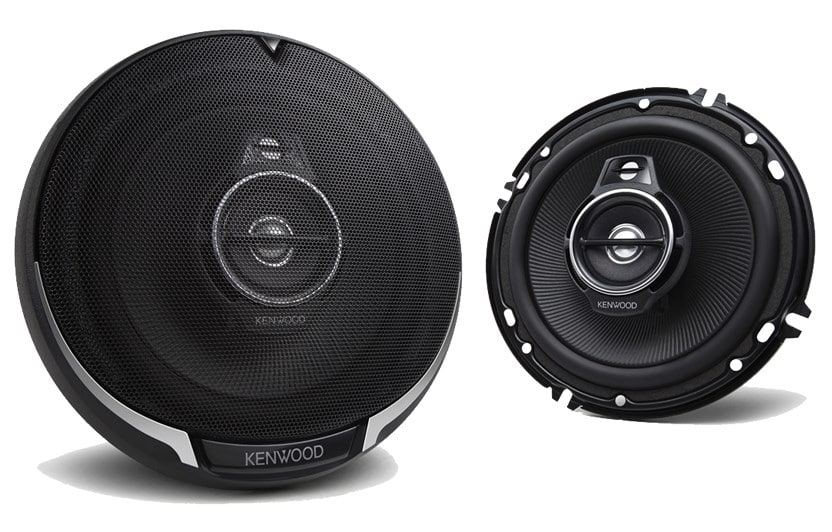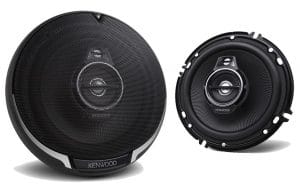 If there is any company out there that can compete in terms of prestige with Alpine it is Kenwood. In fact, no company on our list has been in existence for longer with Kenwood dating its origins back over 7 decades though they were a radio manufacturer at the time. These days Kenwood makes a wide variety of products for various situations and even for commercial and industrial settings. As such, while the brand does not specialize in audio electronics, they do understand what it takes to manufacture products used at the highest of standards.
Has Higher Highs
If you are looking for a set of car speakers to produce relatively good quality lows, then the Kenwoods are not ideally suited for you. However, if you are interested in speakers that can replicate a higher frequency response range with excellent accuracy, you have come to the right place. This is because not only is this a 3-way coaxial car speaker, but the tweeter and super tweeter are significantly more substantive than any other product we reviewed. The tweeters come in at a large 1 ¼" while the super tweeters are just as impressive at ½" which is as large as some of the tweeters on other models.
Some Concerning Materials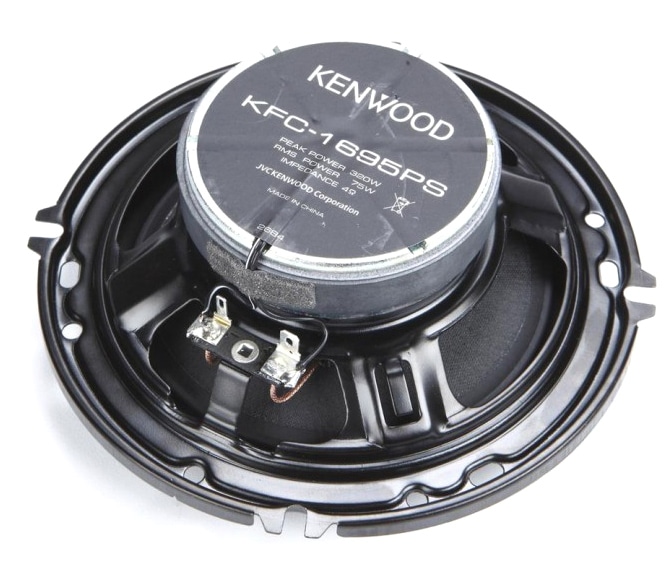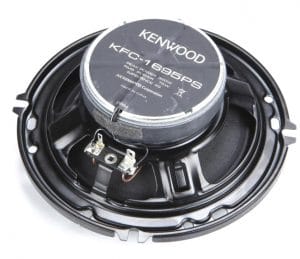 One thing that is incredibly surprising about the Kenwood KFC-1695PS is the appalling lack of quality of their speaker cones. Specifically, these are the only car speakers we reviewed which use paper cones for any of the cones. While that is bad enough, the Kenwood KFC-1695PS use paper cones for both the mid cone and the tweeter cone which is especially surprising for the tweeter. This means that the cones of these speakers are unlikely to be able to withstand even occasional use at high volumes and will almost certainly fail before any other product on our list.
Pros
Comes with 4 total speakers
Has 75 RMS watts
Runs on 4 ohms
Is a 3-Way coaxial speaker
Has a 1 ¼" tweeter
Has a ½" super tweeter
super tweeter made of ceramic
Has acoustic sound harmonizer
Is a less expensive car speaker
Cons
Woofer cone made of paper
Tweeter cone made of paper
4. Kicker 40CS654 – Most Powerful Car Speakers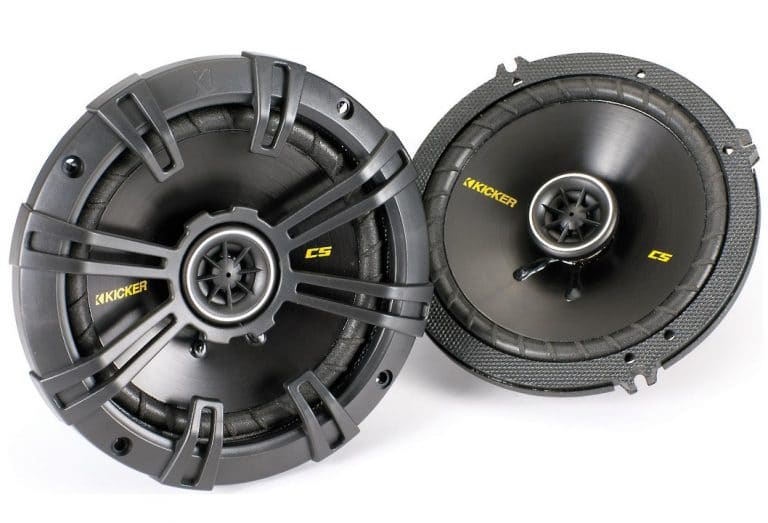 Like some other companies on our list, Kicker actually has a fairly long history that is 4 ½ decades in the making. Though, the true similarity between Kicker and some of the other brands reviewed is that its founding began as a labor of love for 2 enthusiasts who simply wanted better audio equipment and eventually grew from their successful efforts. Since that time Kicker may have expanded their lineup to include audio equipment for a wider variety of settings and vehicles, but they have maintained a focus on audio electronics in general.
Feel the Power
By far the best quality about the Kicker 40CS654 is their ability to push more power than any other car speakers on our list. Though this product only comes with 2 speakers as opposed to 4 like with some of the others we reviewed, each of those speakers is able to handle up to 100 RMS watts. This means that the Kicker 40CS654 can get louder than any other we saw and can maintain a better sound quality at those volumes as well. That said, these car speakers were not truly designed to be played at that power for extended periods and will fail if you do so.
Better Specs than Most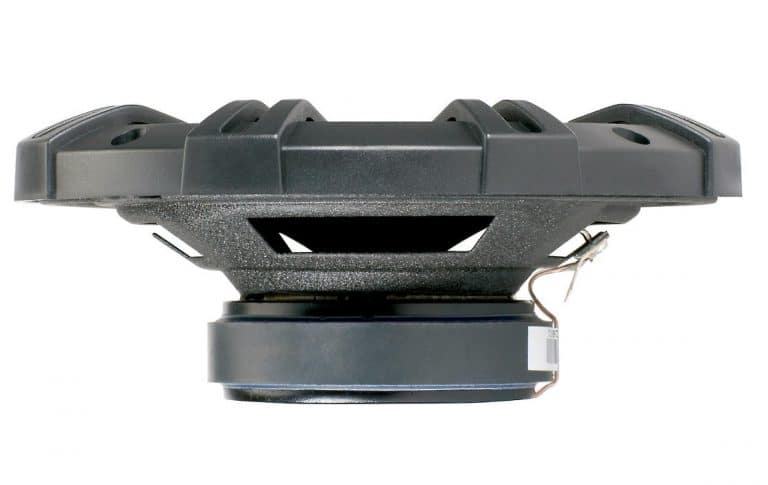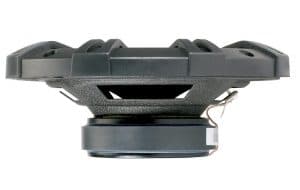 If you instead simply choose to use the Kicker 40CS654 at more reasonable volume levels and take advantage of the power when it is more relevant, you will also be pleasantly surprised with general specs that are often the best or second best out of any other set of car speakers on our list. For instance, these speakers have a sensitivity of 90 dB which means even though they can handle more power, they do not necessarily need to. On top of that, the frequency response range of 40 Hz to 20 kHz is one of the better on our list especially for bass heads.
Pros
Has 100 RMS watts
Runs on 4 ohms
Is a 2-way coaxial speaker
Comes with 2 total speakers
Woofer cone made of polypropylene
Tweeter dome made of polyetherimide
Has a frequency response of 40 Hz to 20 kHz
Has a sensitivity of 90 dB
Has neodymium magnets
Cons
Is the most expensive car speaker reviewed
Not the most durable
5. BOSS NX654 – Best Price Budget Car Speakers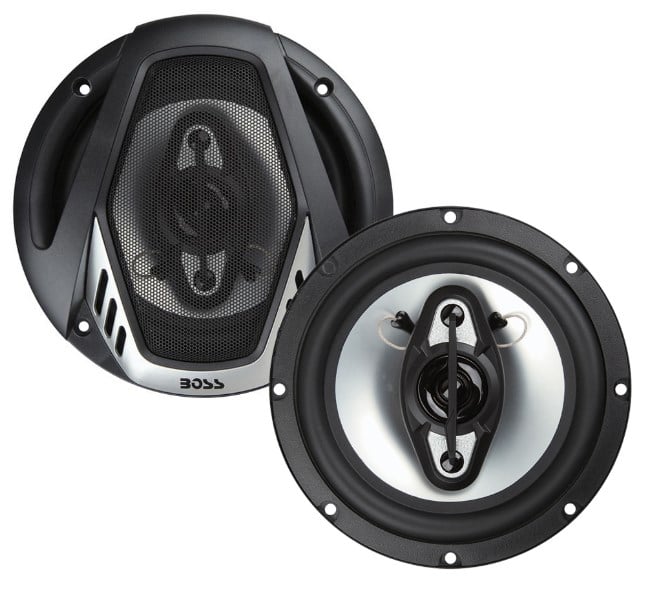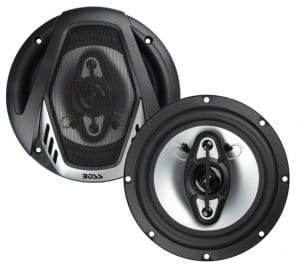 You should not feel too bad if you have not heard much about Boss Audio Systems as it is one brand buried within the lineup of a larger brand which is in turn buried within the lineup of a corporation though you almost certainly have heard of the parent company. As ultimately a branch of the Roland Corporation, Boss Audio Systems itself has over 3 decades of experience manufacturing high-quality audio electronics even if it is overshadowed by the instrumentation of its parent company.
An Unusual Type
One of the best things about the BOSS NX654, and likely one of the more immediately apparent qualities about these car speakers, is its arrangement. To wit, this is the only 4-way coaxial car speaker that we reviewed. What this means is that the BOSS NX654 has 4 separate cones designed to further isolate the different frequency response ranges so that the audio signal will be clearer and more distinct. In practice, this means that there is a woofer cone as well as a mid cone along with the tweeter and super tweeter that one would normally expect though the woofer tends to get washed out by the other 3 cones.
High and Low Power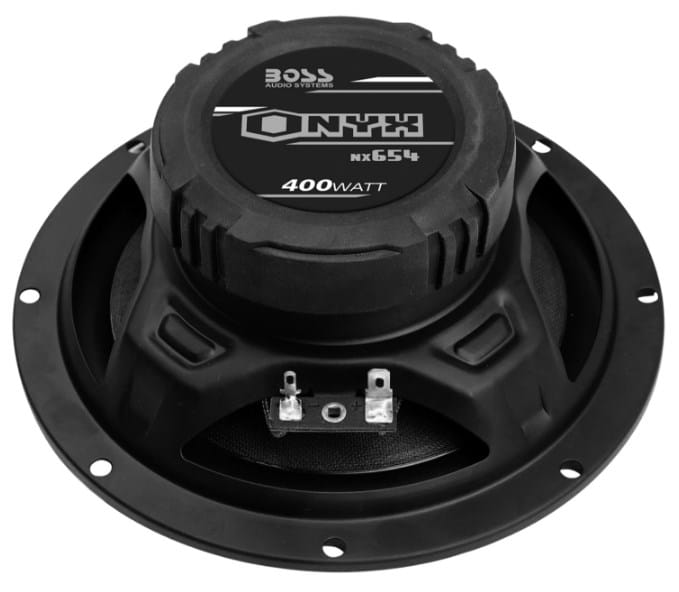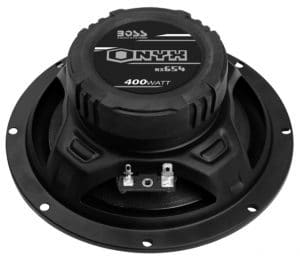 Another great quality about the BOSS NX654 is how it manages power and how well it can manage power. For instance, this is one of the few speakers we reviewed which has an RMS power rating of 100 watts though it does not necessarily handle that power quite as well as our most powerful car speaker. Still, much like other exceptionally powerful speakers on our list, the BOSS NX654 does not necessarily need to make use of all of those watts as this is also one of the more sensitive car speakers we reviewed at 90 dB. That said, the arrangement and the power do little to improve the frequency response of the bass nor does it help prevent the tweeters from blowing when played at high volumes for extended periods of time.
Pros
Comes with 4 total speakers
Is the least expensive car speaker reviewed
Has 100 RMS watts
Runs at 4 ohms
Tweeter cone made of aluminum
Mid cone made of mylar
Woofer cone made of a poly injected material
Comes with 2 tweeters
Has a sensitivity of 90 dB
Cons
Not the best bass response
Tweeters are not the most durable
Best Car Speakers – Buyer's Guide
When judging speakers of any variety, generally the go-to specification is the speaker's power. This quality is rated in watts, but it is important to understand that there are actually 2 different types of wattage power ratings: RMS watts and Peak Power watts.
Power
One is by far more important than the other, and manufacturers will regularly tout the less relevant power rating as a means of confusing consumers into believing that the speakers are more powerful than they actually are. Unfortunately, this practice is fairly ubiquitous, so even the high-end manufacturers will do this if for no other reason than because they have to compete with car speaker manufacturers who make less powerful car speakers.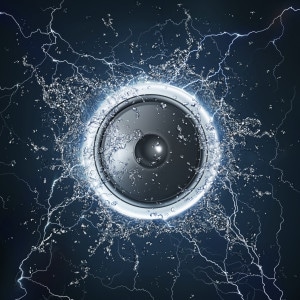 RMS – The RMS wattage of any type of speaker is the number of watts that the speaker can push continuously. When you are choosing the best car speakers, this is the only power rating that you really need to worry about. If you were looking to purchase a subwoofer or even a larger woofer, then the peak power wattage would become more relevant slightly. However, for the purpose of general car speakers which are not truly intended to handle punchy bass, the peak power rating is negligible at best and unscrupulous marketing at worst. Also keep in mind to make sure that the RMS rating is differentiated on an individual speaker level.
Peak – The peak power wattage is generally only important if you are looking to get a set that will play music or other audio centered around pulses as opposed to sustained production.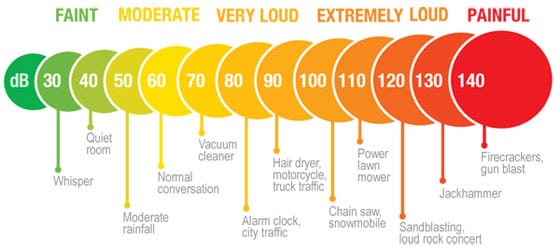 Plenty of beat-based music genres like hip-hop and EDM will make use of the peak power wattage, but even within those genres, you would still do better basing your decision on the RMS wattage rating. Beware a car speaker manufacturer that either does not post the RMS wattage rating or does not distinguish what type of wattage rating they provide as it is likely to be peak power and not RMS in an attempt to disguise their underpowered speakers.
Frequency Response
The frequency response of the speakers will tell how high or low of a frequency the speakers can produce. This will essentially inform you of the pitch range and can potentially limit the type of audio signals produced if the range is too narrow. That said, it is important to understand the physical limitations of human audio response. Essentially, the human ear can only hear frequencies between 20 Hz to 20 kHz.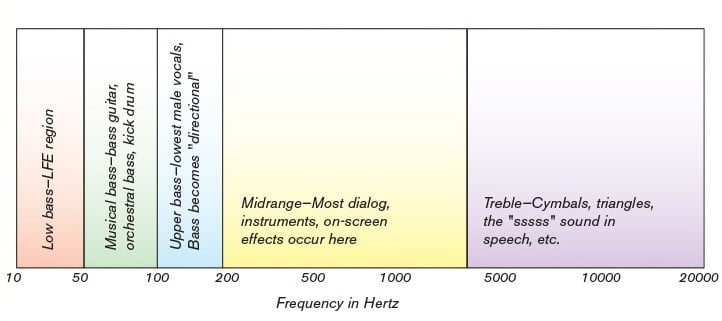 As such, if a speaker boasts of a frequency response beyond that range, be aware that you will not actually "hear" those frequencies. Still, that frequency response can be valuable as you will still be able to "feel" those frequencies which are often an integral part of the experience for incredibly bass heavy music that makes use of inaudible subharmonics.
Sensitivity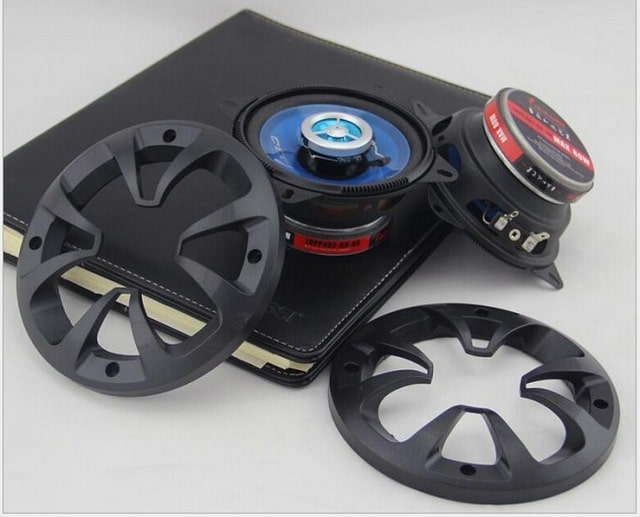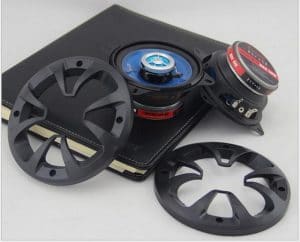 The sensitivity is essentially a rating of energy efficiency, but it does carry some legitimate implications regarding the long-term durability of the speaker as well as what kind of head unit or amplifier the speaker requires. Essentially, the sensitivity rating is a measure of how loud the speaker can play with just a single watt of energy from a distance of 1 meter. This quality is rated in decibels or dB and the higher the dB the more efficient the speaker. Speakers with a higher sensitivity can perform just as well with a lower powered head unit or amp as speakers with a lower sensitivity will which require more power to generate the same decibels of volume.
Coaxial Type
Technically, there are 2 types: component and coaxial. Component speakers are incredibly specialized in that they produce a single and specific frequency response whether it be highs, mids, or lows. Coaxial speakers will produce multiple frequency responses by pairing different types of cones together generally woofers and tweeters. Considering we only included coaxial speakers on our list, this would seem to be a fairly straightforward analysis, but it turns out that there are many different types of coaxial car speakers.
2-Way – This is the most basic arrangement of a coaxial speaker and involves 2 single components: a woofer and a tweeter. The advantage of this coaxial type is that the speaker does not need to worry about processing the audio signal as much since it just has a single high pass to divert the highs to the tweeter and the mids to the woofer. That said, if the cones and magnets of this type of coaxial speaker are not up to snuff, you can often end up with a speaker that does not produce clear sound.
3-Way – This is a fairly common type of coaxial speaker and is becoming as much the norm as the 2-way coaxial type. This type differs from the 2-way type in that it will generally include a super tweeter on top of the woofer and tweeter. As the name suggests, a super tweeter is designed to assist the tweeter in producing the highs and, in fact, the super tweeter is meant to produce super high frequencies that the tweeter will either produce at a distorted quality or exclusively. If you listen to music or other audio with high and super high frequencies played simultaneously, then you would do well getting car speakers that are 3-way coaxial if not component.
4-Way – These are by far the least common type of coaxial speaker, but they present possibly the best clarity and response. A 4-way coaxial speaker will generally have a woofer cone for the lows, a specialized mid cone, as well as the high tweeter and super tweeter cones. That said, the 4-way coaxial speakers can be a bit difficult to design properly and lower quality models will generally produce poor sound quality due to an inability to properly process the audio signal such that each distinct cone is given only the specialized frequency range it is designed to produce.
Resistance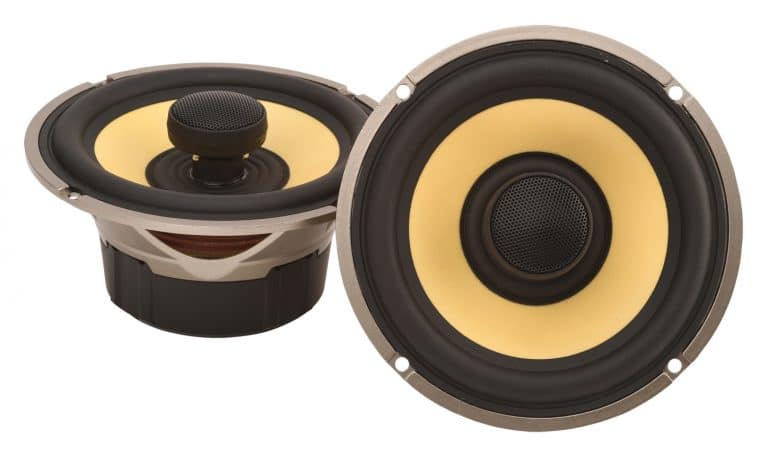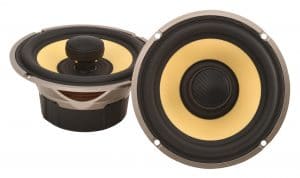 The resistance of a current when traveling between 2 points in a circuit is measured in ohms. This will ultimately impact how many watts your amp or head unit has to be able to push to get the best response. That said, it is vital to ensure that the source of the audio signal has the same resistance rating as the speakers or else you can damage both the speakers or the source of the audio signal whether that is a head unit or an amp.
This is another consideration for which all of the car speakers reviewed conform, though the resistance is even more limited on our list than the speaker type. All of the speakers we reviewed have a resistance of 4 ohms and this is largely because this is the most common resistance rating for head units whether they are factory or aftermarket. This same consideration does not necessarily apply to amps, so you will have to make sure that the two ratings match if you use an external amp to power your speakers.
Conclusion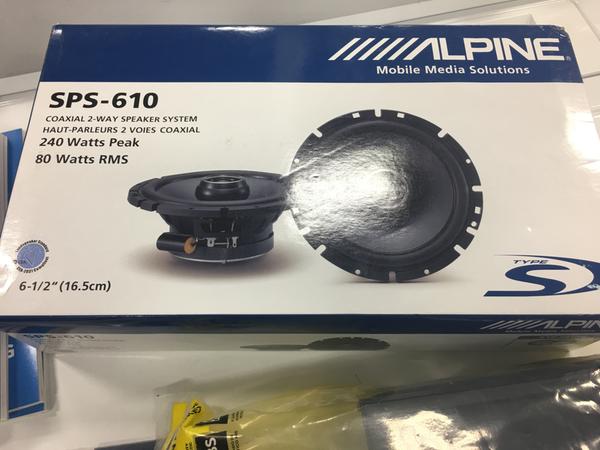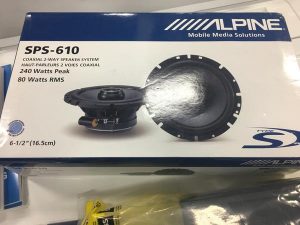 As we can see, there is simply not going to be a set of car speakers that will satisfy all people equally. Instead, you have to figure out what is the most important factor and what you tend to play on your speakers. If you are looking for a crisp sound that is well-articulated, you will likely want a different set of car speakers than someone who is simply looking for the loudest volume.
For those in the first camp, we recommend the Alpine SPS610 which comes with a whole suite of excellent materials that ensure the sound is accurately reproduced even if it is not strictly the most powerful set of speakers on our list. Still, whether it is the cone materials, the magnets used, or the surround, all of the materials are high-end and durable.
Of course, if you like to play your music loud and are okay with a little bit of distortion, then we recommend the Kicker 40CS654. While these speakers are the most expensive we reviewed, they are also the most powerful being able to put out 100 RMS watts. That said, they will not necessarily last that long played at that high of volume, but it has both a solid frequency response as well as good sensitivity.