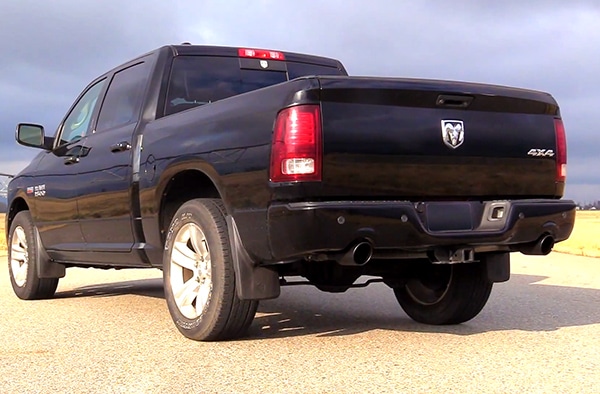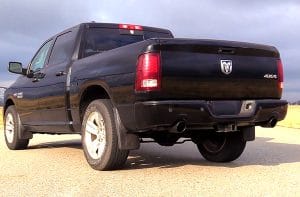 What is your favorite thing about your Dodge? Maybe it's when you rev your engine and hear that delightful hum of your machine, or maybe it's being the biggest, fastest truck on the road. No matter what makes your Ram special to you, customizing it with an exhaust system can really enhance your experience as a driver.
From filtering out harmful gases to limiting noise, it is one of the essential parts to consider. Whether it's being more environmentally-friendly, having a sportier sounding car, or simply being more efficient, every Dodge Ram 1500 Hemi owner needs to look into the right car exhaust system.
Best Exhaust Systems in 2023

Not all exhaust systems are equal, and just like trucks, the "right" model differs greatly from person to person. At first, it might not be clear how exhaust systems can differ from one another. That's why we put together a short list of the five best models for the Dodge Ram 1500 Hemi, as well as the features that set them apart.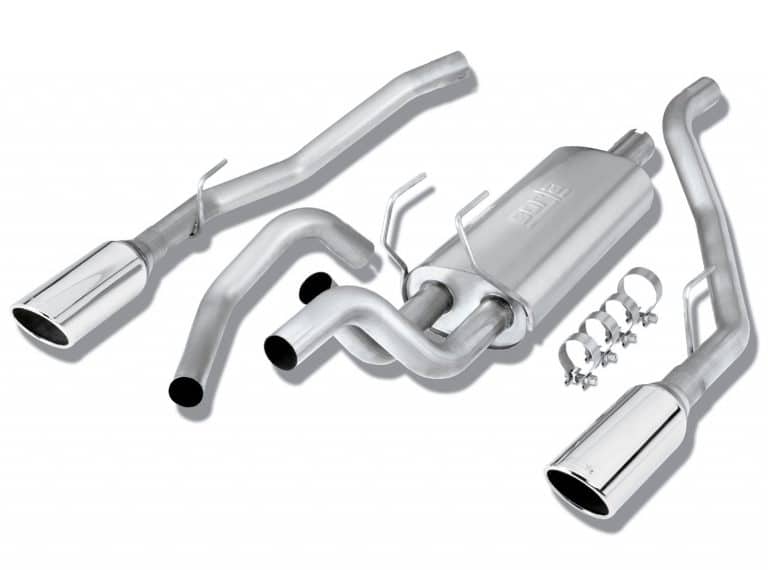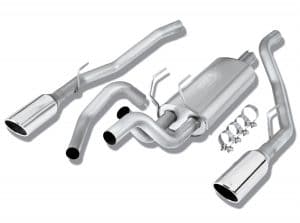 The Borla model is a very good choice for anyone who isn't afraid to spend the extra dollar for a quality exhaust system. At 57 pounds it may not be the heaviest exhaust system on our list, but it does come with the heaviest price tag. But the hefty price exists for good reason; there are a variety of features that the Borla offers in not only maintaining, but also improving how your Dodge Ram runs.
A Powerful Option
The Borla 140307 Cat-Back exhaust system can give your Ram an extra kick of power you can feel every time you press the gas pedal.
The increased velocity of exhaust offered by this model means that drivers don't have to worry about any gas buildup or motor issues, no matter how much you love revving your engine.
In fact, the speed of exhaustion enhances the fuel efficiency of the car itself, something that large trucks like the Dodge Ram could definitely benefit from. To capitalize on its powerful exhaust, it is built with premium steel to enhance durability and performance.
Excitement and Durability
With the Borla 140307, driving your Dodge will be extra exhilarating. This system beats its competitors in exhaust efficiency, underlining enhanced motor performance with the subtle roar we all love to hear and feel. It gives drivers the best of both worlds, operating at a mellow rumble at low speeds, or at an aggressive growl with high acceleration.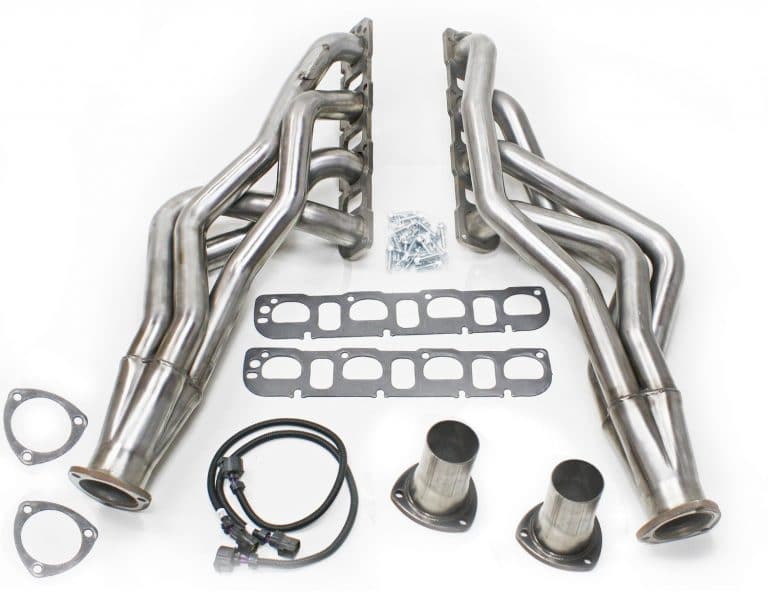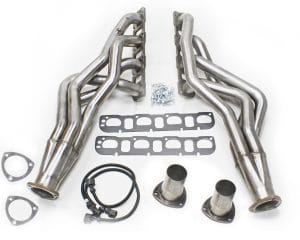 The JBA Performance line is a mid-range system price-wise, but boasts a very high level of performance quality. Their long-tube headers are the number one choice for performance gains and optimal RPM. This outstanding performance rating comes from one of the lightest systems in the bunch at just 39 pounds.
Race-Quality Performance
JBA long-tube designs have proven themselves beyond civilian roadways; professional racecar drivers often prefer this exhaust system for their own cars. They are designed to deliver maximum horsepower with the dynamism that speed demons love. The system is also one of the finer choices for those looking for high torque efficiencies throughout the whole range of velocities. In other words, if you have a need for speed, the JBA 6961S may be the right exhaust system for you.
Extra Provisions
The JBA model doesn't just provide a fast and dynamic exhaust system for a Dodge Ram; it is designed, like the Borla, to be efficient and performance-driven.
The attachments and components ensure minimal leaks and guarantee timely emission (namely through the oversized exhaust ports).
It is also designed to have maximum ground clearance, meaning even the smallest cars wouldn't be in any danger of dragging the components. Though this may not apply to the Dodge Ram, it is still a pretty impressive feature, as exhaust systems with such high performance are typically also heavy and very large.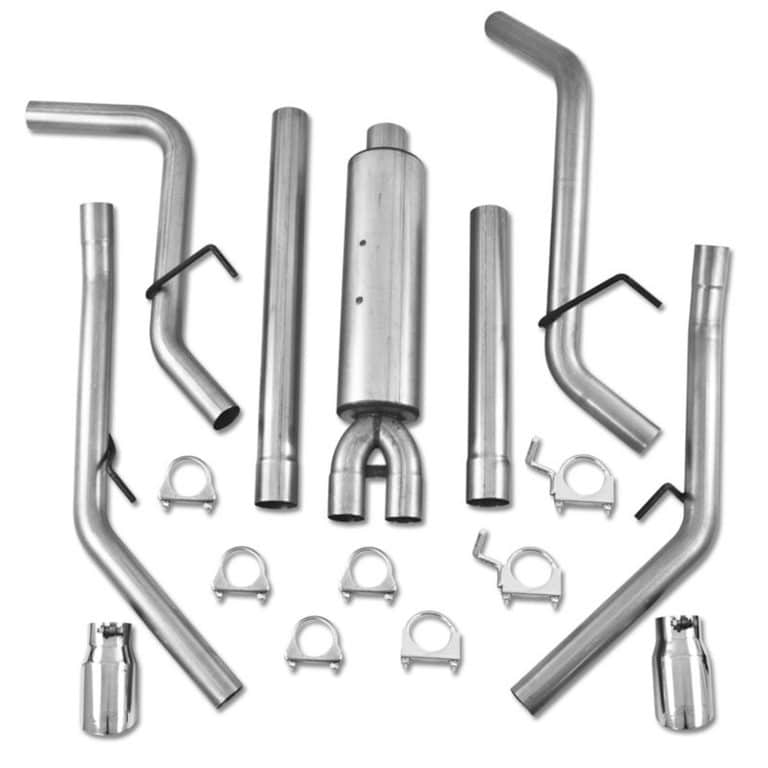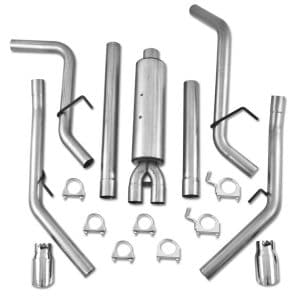 The MBRP model is deceptively powerful despite being on the lower end of our price list. This system boasts easy installation and quality hardware made of heavy duty aluminized steel. The S5146AL is for those who want a hearty revv of the engine without compromising their budget.
Don't let its low price fool you – the MBRP S5146AL can provide your Dodge with more torque and horsepower, give you 1-2 extra mpg, and is so easy to install that you can do so with simple commonplace garage tools. Be warned, however, that many buyers report receiving no installation instructions with their system, so if you aren't experienced with customizing and installing car parts yourself, it may not be as simple as described.
The Kick
One of the best features of the MBRP system is its sound—something that most reviewers seem to point out. At lower speeds it has an impressively mellow hum, but once your foot is on that pedal, your truck becomes a roaring beast. This feature also extends to the cold start of the Ram, which is complemented with a throaty growl.
No Promises
Great sound, great torque, easy installation…what's not to love? Well, the major downside of this exhaust model comes down to the material that it is made of. The product description ensures that "while the seams are a major point of rust through with some budget systems, MBRP's fully sealed tubing adds years to your system." However, many buyers report rusting and general degradation of the exhaust pipes within less than a year of installation. Considering its warranty, the reportedly limited lifespan of this system is definitely something you should think about if saving money is a key priority for you.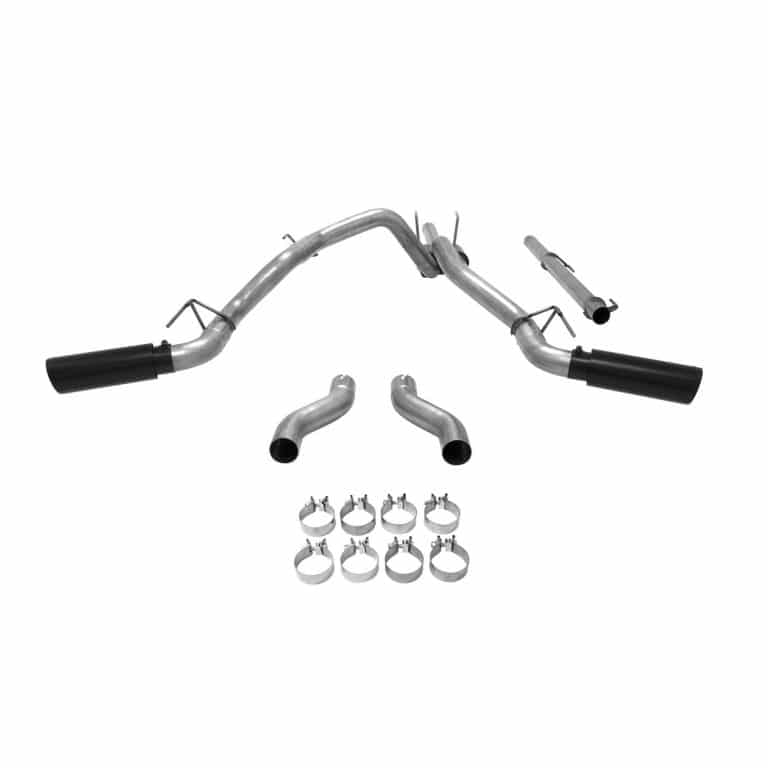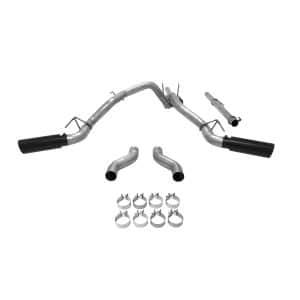 The Flowmaster 817690 promises a "super aggressive" sound for your vehicle. Weighing in at over 70 pounds in total and composed of stainless steel, this exhaust model from Flowmaster came on the market in 2013. One thing is for sure: it gives your truck a new level of growl.
Big Machinery, Big Responsibility (?)
Reports of how easy it is to install are mixed – some saying that it is rather easy to install while others state that more patience is required than usual. More specifically, it seems as though if you are the type of person who prefers to customize your car or truck yourself, the directions given with the exhaust system are rather poorly written according to many.
Additionally, many report that during installation, modifications had to be made to the pipes, making it far from an amateur's job. Above all this, it's the heaviest exhaust system on our list, which as you can imagine, creates extra hassle and effort during installation. Therefore, if you aren't experienced in installing exhaust systems, it may be worth your time and money to leave this job to a professional.
A Powerful Roar
Either way, most buyers report that the shine and sound that comes with this model is worth the hassle. If you decide to purchase the Flowmaster 817690, people will definitely hear you coming from miles away. Again, this exhaust system is known for its noise, and many buyers say that describing its sound as "loud" is an understatement. It is the most heavy-duty model on our list, and certainly proves it with the 2nd-highest price tag.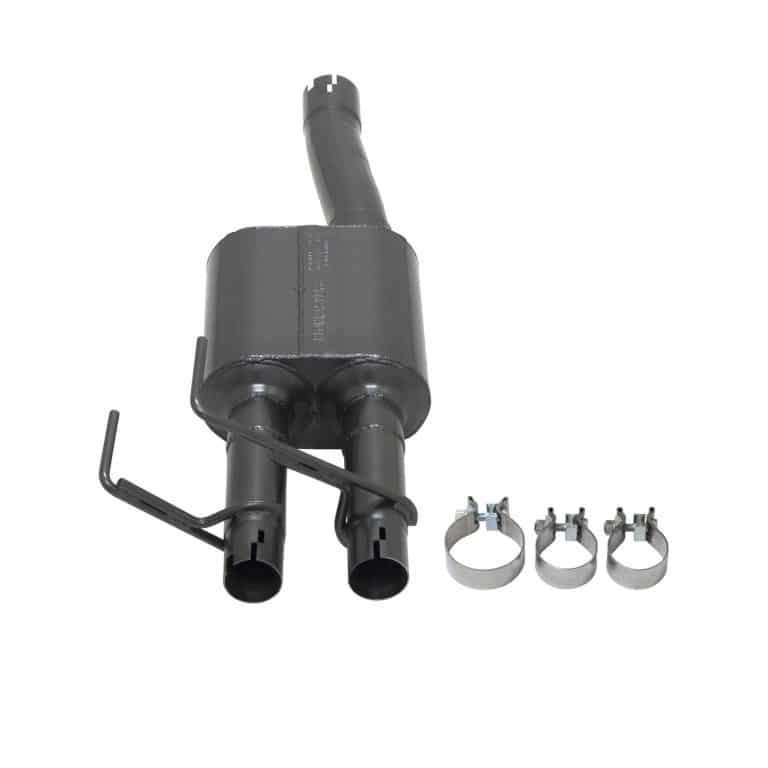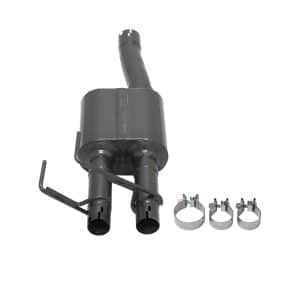 The Flowmaster 817633 Muffler Kit is, to put it simply, the odd one out on our list. This kit is great for anyone looking for enhanced performance, and who prefers a powerful but more subtle tone when they rev their engine instead. Though it can provide an extra 1-2 mpg boost to your Dodge, you may find your mileage going down solely because the sound is so smooth and pleasant, you can't stop pressing that gas pedal!
All About the Budget
The Outlaw muffler is simply the best choice for anyone who isn't looking to spend big on their Dodge Ram exhaust system. Despite its lightweight build, it has shown to outperform the baseline after a slow start. Additionally, buyers note the ease of installation and straightforward fitting. However, one issue that many reviewers found with this model is the prevalence of exhaust leaks. Whereas the pricier models on this list rarely have a problem with leakage, the low price of the Outlaw Muffler Kit could speak for itself.
Quick and Easy
The one massive advantage that this system has over its competitors in the list is perhaps how easy it is to install. Since it is a small, practically one-piece fitting, even the most novice Dodge owners could install this with some simple garage tools. As noted before, however, there is no amount of straightforwardness that can fix leaky pipes and clamp issues—problems that seem to be common with this model. Any drivers that don't want to risk it might want to look at the others in the list.
Conclusion
The answer to the right exhaust system for your Dodge Ram could simply be down to preference. Those that solely look at high performance and reliable engineering should look into the Borla or MBRP models; depending of course on budget restrictions and importance of the right material.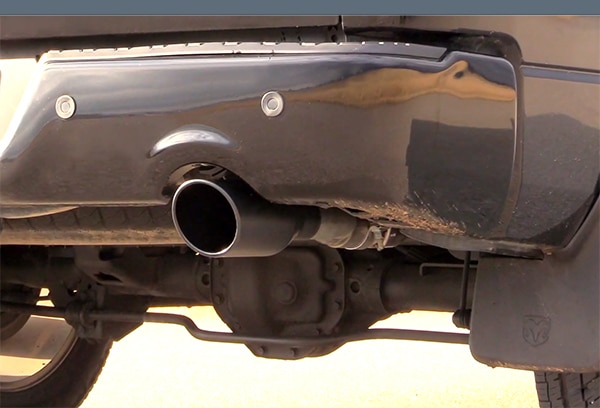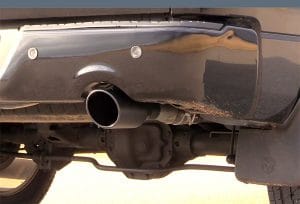 Those that want a nice growl on their engine should certainly look into Flowmaster 817690 Outlaw — simply put, it's one of the loudest on the market. The growl of this system will give any racecar a run for its money. Alternatively, the JBA model's noise isn't to be ignored either, and although is boasts top-of-the-line performance, its sound does not compare.
Finally, those that look to save some money and have the easiest installation should look no further than the Flowmaster Outlaw Muffler Kit. Though it has its fair share of defects, it is as reliable as they come for this price range. Overall, performance and durability are definitely reflected in price, as these models have shown.