The first accessory that you buy for your new truck should probably be a good quality truck bed cover. Having a tonneau cover over your truck bed helps it stay clean while also protecting it from the elements and securing any cargo inside. Covers improve the aerodynamics of your truck which can reduce drag and wind noise while improving fuel economy. Adding a tonneau cover to your truck can also give it a sleek look that a lot of drivers prefer.
Best Roll Up Tonneau Covers
Tonneau covers come in several different designs along with multiple shapes and sizes to fit your particular truck bed. Be careful when shopping to be sure that you buy a cover that fits your truck perfectly. Most drivers want to start by deciding between a roll up tonneau cover or a hard tri-fold top that uncovers your truck bed by folding into three sections. The advantage of a roll up cover is that it can quickly move out of the way to provide access to 100% of the truck bed. Roll up tonneau covers are also often less expensive than tri fold models.
Truck owners are often surprised at how inexpensively they can add a quality tonneau cover to their truck. The quality of these covers continues to improve and even the soft covers now sport marine grade vinyl fabric that provides solid weather protection all year long.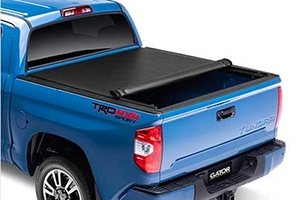 The ETX Roll Up Tonneau Cover from Gator pairs a low profile design and affordable price with a convenient, rolling tonneau cover that provides 100% bed access. Made from industrial-grade leather-grain vinyl to offer good weather protection while also providing the added security that comes with a covered truck bed. Installation is easy with a straight-forward no-drill, no-tool process that only requires drivers to clamp the rails onto the truck.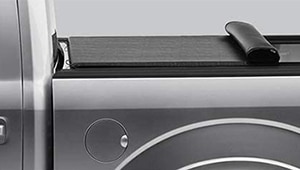 Drivers adding a roll up tonneau cover to their truck are often focused on convenience and the Gator ETX delivers with one-handed operation that makes it easy to use. The tonneau cover has a trigger latch conveniently located on the driver side of the cover. It is easy to pull it open even while holding tools or shopping bags in your other arm. Roll the cover up towards the cab to access the entire bed and secure it with the included fastening buckles to drive with the cover in the open position.
Low Profile Tonneau Cover
A tightly mounted tonneau cover provides a sleek look to your truck bed. Some soft roll up tonneau covers can struggle to create that look because they are loose on the bed. At highway speeds a loose tonneau cover can even quickly become a hazard. The Gator ETX has a great adjustable tension control that makes it easy for drivers to pull the cover tight and keep a low profile on the installation.
Pros
Affordable price
Low profile design
Easily adjustable tension control
Made in the USA with a lifetime warranty
Cons
It won't last as long as your truck
Vinyl material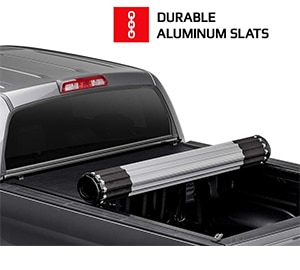 Drivers looking to add a tough, high-quality rolling tonneau cover to their truck should consider the advantages of a hard rolling cover. Hard rolling tonneau covers have strong aluminum slats inside them that can hold hundreds of pounds of weight. One of the top hard rolling truck bed tonneau covers to consider is the BAK Revolver X4. It provides drivers with enhanced security and weather protection for their truck beds and gives trucks a great look with its premium matte black finish and tight, low profile mount.
Strong Aluminum Slats
The BAK Revolver X4 gets its strength from a few dozen aluminum slats that run the width of the bed and then lock together to secure the entire length of the bed. Together they can support about 400 pounds of distributed weight. To release the tonneau cover, drivers have to pull a hidden cable located on either side of the truck bed. This unlocks the slats and lets the cover roll up tight against the cab to offer full bed access. It can be buckled securely in place without impacting 3rd brake light visibility.
Premium Price
The hard rolling tonneau covers are significantly more expensive than the soft rolling covers, so the only thing really holding this cover back is the price. In exchange for spending more, drivers get a lot of premium features for their truck including the increased strength and rigidity, and better look and feel, along with easier operation. If you are looking to add a great looking, premium cover to your truck then be sure to consider the Revolver X4 from BAK.
Pros
Strong, hard cover
Holds up to 400lbs of distributed weight
Convenient cable unlock
Cons
Premium price
Difficult to repair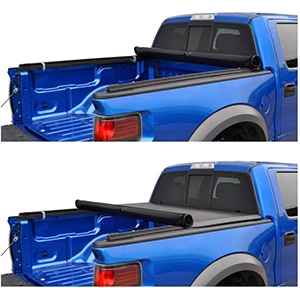 The Tyger T1 is an economically priced soft roll-up tonneau cover from a quality company with a strong line of truck bed covers. The T1 is the least expensive truck bed cover from Tyger but it comes with the same quality construction and outstanding customer service as the rest of their product line. The cover is made out of heavy duty 24oz marine grade vinyl that is dual-coated for durability.
Rigid Aluminum Frame
The Tyger T1 has an aircraft grade aluminum frame so it has a rigid underbody beneath the soft roll up cover. The T1 installs easily in about 30 minutes with no drilling and all the necessary hardware is included. The tonneau cover uses a pull cable latch system to secure it to your truck bed and it is easy to release for 100% truck bed access. The tonneau cover offers good weather protection with velcro strips on the side to seal it tight.
Pros
Economical price
Velcro strips for weather tight seal
Quality, aftermarket brand
Cons
It won't last as long as your truck
Clamps can sometimes strip
Expensive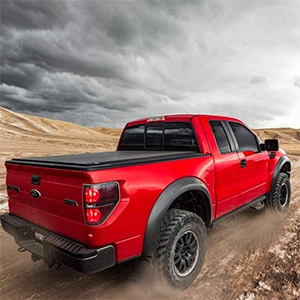 The Lo Pro tonneau cover from TruXedo is one of the best selling tonneau covers in America and it is easy to see why drivers love it with low profile design, easy open latch, and an industrial grade, black leather grain fabric. It is one of the best looking tonneau covers on the market and gives trucks a strong, sleek look. It is an expensive soft roll up cover but provides a durable, premium cover for your truck bed that is built to last.
Easy Operation
The Lo Pro covers your truck bed and protects your cargo from the weather. It is easy to install with no drilling required. The tonneau cover is also easy to operate with a single trigger latch allowing for one hand operation. It is easy to access 100% of the truck bed quickly and easily with this cover.
Tight Fitting Tonneau
The cover installs tight across the truck bed and sits just ¾ above the bed. The tonneau cover has an automatic tension control that helps it maintain a tight fit in extreme conditions. The cover has quality construction and is Made in the USA.
Pros
Best-selling soft rollup cover
Made in the USA
Lifetime warranty
Cons
Premium price
Vinyl material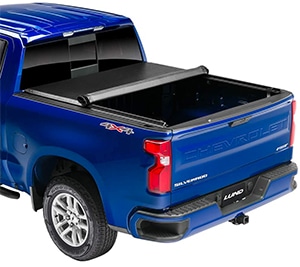 Lund is a quality USA aftermarket car parts company who makes products here in American and backs them up with a strong warranty. The Lund was one of best tri fold tonneau covers and this soft roll up cover also delivers. It has a marine grade vinyl fabric top and a quick release latching system for easy access to 100% of the truck bed. Rubber seals on the front and rear help provide enhanced weather protection.
Mounting Clamps
The Lund Genesis has a strong underbody with heavy-duty aluminum rails and bows that attach to your truck with a simple, no-drill installation. Heavy-duty adjustable clamps are provided to make mounting easy. The concern with soft roll up tonneau covers is often that they won't fit tight across the truck bed, so this cover uses hook and loop fasteners along with an internal tension control system to make sure it closes tight and secure. A tight fitting tonneau cover helps reduce drag and improve aerodynamics, which can improve your vehicle's fuel economy.
Pros
Heavy duty mounting clamps
Quick release latch
Strong warranty
Cons
It won't last as long as your truck
Hook and Loop fasteners
Less expensive options
Rolling Tonneau Covers Buying Guide
There are a lot of options available for drivers that want to add a tonneau cover to their vehicle. Truck bed covers come in lots of shapes and sizes but most focus on providing similar levels of security and weather protection. Before buying a tonneau cover, drivers should think carefully about how they will use the truck bed and the type of cargo they intend to haul.
Rolling or Tri Fold
A rolling tonneau cover quickly and easily rolls up to the back of the cab and stores away so that drivers can access 100% of the truck bed. In comparison, a tri fold cover has three main sections that fold on top of each other to give access to the truck bed. Remember that the cover will take a beating as it is exposed to weather, dirt and road grime, and high speeds. Drivers need to find a solid tonneau cover that installs tight so that it is not beaten up by the winds.
Soft or Hard Rolling Cover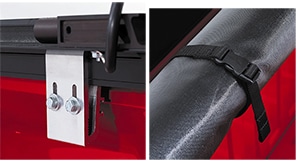 Drivers who decide on a rolling tonneau cover need to next consider if they want a soft or hard cover. The tonneau covers are almost all wrapped in a strong, marine grade vinyl but the hard covers will sport aluminum slats in between the vinyl to bring a more rigid structure. Having a hard cover allows you to place materials on top of the tonneau cover without having to worry about it ripping or tearing. A quality hard rolling cover can hold in excess of 400 pounds without breaking.
Installation and Ease of Use
All of the tonneau covers on our best list install easily without the need of additional tools or expertise. These covers do not require you to drill into your new truck to install them. Most use either a clamping system or tie downs to secure the cover to your truck bed. Tonneau covers need to balance secure installation with easy removal and access to the truck bed. The best models have simple one hand installation that only require you to pull a cord or level to remove the cover and access the truck bed.
Conclusion – Our Top Pick
Drivers trying to make a smart choice when shopping for tonneau covers must carefully balance the price with the durability and premium features they are getting. The price range between low end models and high end models is gigantic, so drivers want to be careful not to overspend on a tonneau cover with features that they don't need. Shoppers should consider starting with a look at the best selling TruXedo Lo Pro or our top rated Tyger T1 and adjust from their based on their personal budgets.