Truck owners appreciate running boards for a lot more than just helping them in and out of their trucks. Good running boards help keep your car interior clean by acting as a doormat for your car – allowing passengers to wipe off their feet and scrape off any mud before getting in the truck. The best running boards will also protect your vehicle by blocking some of the dirt and road debris that your tires kick up.
Best Running Boards for Chevy Silverado
Primarily the running boards are to help passengers get in and out of the truck. This is especially helpful when you have young children or elderly passengers. Oftentimes it can be startling for someone that age to step in and out of a lifted truck, so running boards and good hand grips in the vehicle are essential. You also want to find running boards with good traction that cleans easily so your passengers don't slip.
There are a lot of running boards available on the market today but for this Running Boards Review we are focusing on the Top 5 choices for the Chevy Silverado 1500 and 2500. This top selling General Motors truck has a strong front bumper and grille with the classic Chevrolet emblem. Adding running boards extends that tough front facade around to the sides and keeps the truck sporty while giving it a heavy-duty look.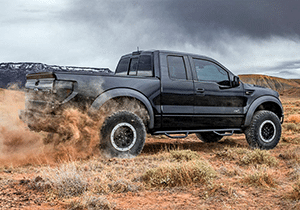 Running boards are often described as nerf steps. The word is borrowed from car racing (not children's toys) and refers to the black tubular cages that would fit over race cars to help them avoid damage when rubbing up against other vehicles. Nerf steps are tubular like those cages were. The tubes will often have traction or a step placed onto them but the tubular underbody is why they will be called nerf steps instead of running boards.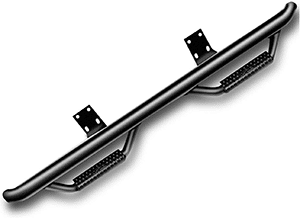 The nerf steps from n-FAB provide a strong look to your Chevy Silverado with a powder coated black tube supporting two steps that extend down underneath each door. The steps have a rugged look with welded traction pads and no backings behind. We love the look of these nerf steps on the Silverado because they pull the cab a bit lower without making it look chunky. The overland look works great on lifted trucks or alongside larger off road tires.
The n-FAB nerf boards have a 3" main tube underbody that bolts-on directly and tight against the body. The black powder coat provides a strong finish that will last long in even extreme weather conditions. Made in the USA in Houston, Texas.
Pros
Tube Design
Welded Traction Pads
Strong 3″ Main Tube Underbody
Cons
Premium Price
Small Step Point
Limited warranty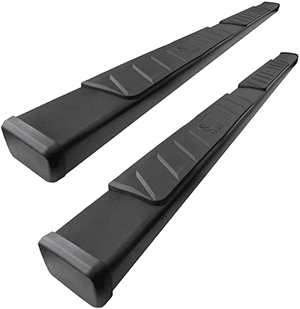 Tyger is a strong truck accessories brand and they bring a traditional looking running board to the market for Chevy Silverado. Extending the entire length of crew cab trucks, this running board has large, non-slip step pads that make it easy to get in and out of the truck.
This running board is constructed from 4in steel tubing and covered in black powdercoat for durability. Installation is easy and requires just a few bolts and no drilling. These side step bars mount down off the rocker panel which provides a nice look.
Tyger provides an entire suite of truck products and backs them with an impressive, no-hassle 5 year warranty. These running boards will offer better rust resistance than most competitors at this price point.
Pros
Long Running Board
Non-slip Step Pads
5-Year Warranty
Cons
Do Not Stick Out Far
Can Damage During Shipping
Common Design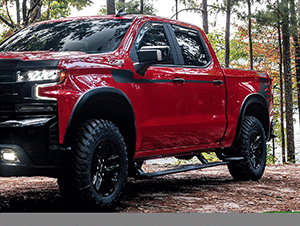 If you grew up watching Transformers cartoons on TV these are probably the right running boards for you. The PowerStep by AMP is built in America and made to amaze with a smooth, automatic design that electronically extends and retracts the running boards intelligently when you open the door. The running boards drop down about 6 inches for easy access into the truck.
Moving the running boards out of the way while driving helps improve ground clearance and aerodynamics that drivers otherwise sacrifice when fixed running board are installed. Sporting a heavy duty electric motor, these running boards provide an awesome, active experience when getting in and out of your truck.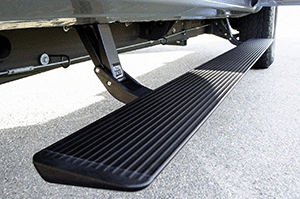 Even though these running boards have active movement they still boast an impressive 600 lbs weight capacity. Pivot pins are engineered from stainless steel for durability and maintenance free operation in all weather conditions. The running boards also have LED lights that shine down on the board when extended. These power running boards have an impressive five year warranty.
Pros
Automatically Extend and Retract
Electric motor
5-Year Warranty
Cons
Moving Parts
Thin Step Rail
More Difficult Installation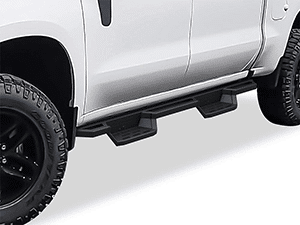 These APS Drop Steps Running Boards for the Chevy Silverado contrast with the n-FAB by offering a strong metal backing to the step. This gives the step a full, solid look that extends nicely down from the tube. The pocket style of step in is patented by APS and it does offer a comfortable, safe way in and out of the truck. The steps do screw in during installation they are not welded in.
We include this APS Drop Step mostly because it has a polarizing design and if you like it you really like it and if you don't like it you hate it. The APS Drop Steps are very chunky looking. With the right chunky tires and bumper they look awesome. It gives shoppers a good look at the contrasting styles available for their Chevy Silverado trucks and how differently a sharp, angular running board design will look versus a tubular design.
If you want something different from the normal running boards or tube steps these are right for you. Also if you want highly functional running boards because you have kids or elderly using the truck then this pocketed step design is a great choice. These running boards install easily in under 1 hour and are engineered to support 300 lbs of weight.
Pros
Pocket Step Design
Lots of Traction
300 lbs Weight Limit
Cons
Hard To Clean
Bulky
Limited warranty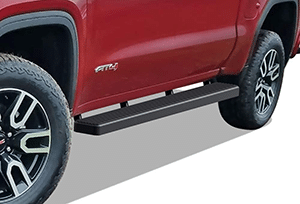 APS brings a great budget buy to the market with these solid aluminum build running boards with easy rocker panel mount installation. Offering strength and durability at a low price point is difficult, but APS delivers with a good looking board available in silver or black powdercoat.
Wide 5 inch running boards provide ample room to step up easily into the Chevy Silverado truck. A non-slip rubber pad runs the entire length of the running board. The long running boards give you good access to the windshield, truck bed, and roof. They have a 300 lbs weight limit on the brackets.
The matte black finish on the polished aluminum boards looks great against darker color trucks. The design of the running board is described as contemporary with a clear contrast from the tubular design seen on nerf style running boards.
Pros
5in Wide Boards
Long Traction Pad
Contemporary Design
Cons
Plain Design
Bit Bulky
Rubber Step Pads
Best Running Boards Buying Guide – Chevy Silverado
Drivers looking to add running boards to their truck should be mindful of the impact it will have on their driving and maintenance.
Ground Clearance
Running boards will negatively impact ground clearance on your truck and crawling under to retrieve a wayward football or the like is a bit more difficult. For some Chevy Silverado truck projects like adjusting the cold air intakes or changing the oil the running boards might get in the way.
Running Board Weight Limit
The weight limit of running boards is also often underwhelming. These are designed to help you step in and out of the vehicle but that is it. They are not welded to the frame of the truck body so that you can transport your entire football team around the Homecoming Parade with them standing out on the running boards. Most customer disappointment from running boards comes from the weight limit being low and not matching their heavy duty expectations.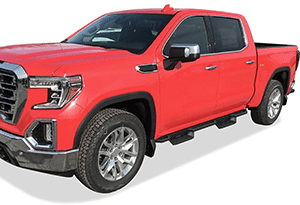 Stylish Accessory
Running boards are an inexpensive way to stylishly upgrade your truck with a useful accessory. Do not underestimate how much the running boards can change the look of your truck! They bring an awesome style and depending on if you choose chrome or black or tubular etc it can make a big difference in appearance. Good running boards are one of the most popular truck accessories along with a light bar or tailgate light bar.
Running Boards Construction
Running boards are typically made out of molded plastic or steel. The steel running boards cost a lot more but provide a more durable installation and can withstand a lot of abuse. The manufacturers now add reinforcement to molded plastic running boards with aluminum baseboards inside for rigidity making for a good tradeoff.
Conclusion – Our Top Pick
Truck owners have a lot of options when it comes to running boards. The APS Drop Steps have a geometric design with deep pocket steps for lots of traction. Compare that to the tubular design of the n-FAB nerf board with its round, textured tube and welded on steps. Drivers looking for a recessed option can deploy the PowerStep by AMP Research and only look at the running board when they are stepping in and out of the vehicle. They have the added benefit of feeling like their car is a robot.
No matter what design you chose, the running board is going to be a fun and stylish addition to your truck. Running boards should be highly functional but also fun and helpful at extending the 'look and feel' that you want for your truck.