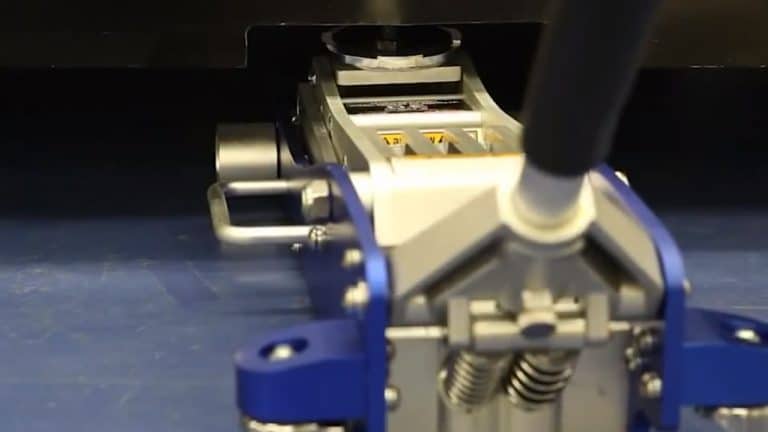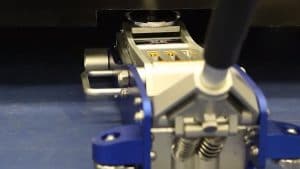 Throughout the home, you may have equipment that is too heavy to be lifted by hand. The first thing that may come to mind is your automobile, which must be raised whenever the tires are changed. Floor jacks enable quick access to important parts that are difficult or impossible to reach without mechanical assistance. Not only do they make regularly scheduled maintenance on your vehicle easier, but can double as a safety defense from an avoidance to doing irregular or manual lifting.
Best Floor Jack of 2021
Below is a thorough look at some of the best floor jacks obtainable for this year. A point-by-point guide on what you should know before purchase will follow. It includes great tips to help you select the right products for avoiding unwanted returns. With so many floor jacks available, finding a brand that you won't regret can become a daunting task. For less hassle, consider these tools to ensure satisfaction with any lifting job.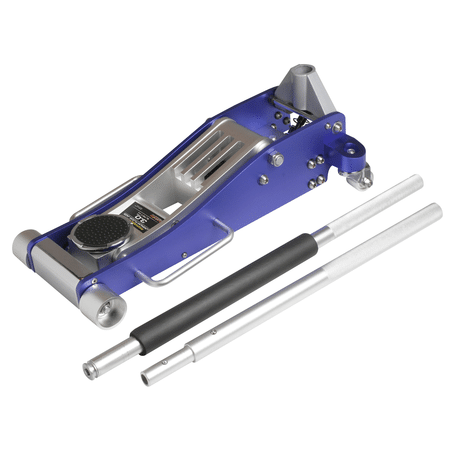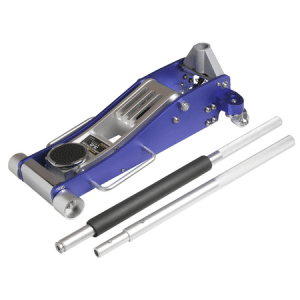 Getting a heavy-duty floor jack that won't break easily is always appreciated. The Arcan ALJ3T is manufactured from an aluminum build and weighs 56 pounds. It has compatibility with both small cars and large trucks with a maximum of 3 tons.
Good Grip Allows Easy Control
The jacking mechanism operates like any other floor jack but also features some nice additions. It has a height range of 18 1/4 inches, which allows for ample room if you have a jack stand that isn't short. A rubber cushioning on the saddle minimizes damage to your vehicle's lift point, so the same spot could be used lots of times without bending the metal supports. The handle has a grip to avoid slippage when lowering back to the ground.
Good For Vehicles Of All Kinds
There are a few minor disadvantages. If you're not accustomed to using heavy-duty floor jacks, the weight may tire your arms out quickly, particularly if you need to roll it over a long distance. The screws that hold the exterior into place are also easily loosened, which means that minor repairs to prevent damage will be necessary for the jack to remain in use. Furthermore, the handle is thin, making movement harder for people who tire easily if the device is being used on multiple automobiles or trucks.
The ALJ3T still retains top recommendation for its strength overall simple use in getting your vehicle raised for intended repair work.
The hydraulic system is powerful enough to hold up under extreme weight overtime without leaks that would render cheaper floor jacks inoperable. If you own motor vehicles of varied weight and sizes, this Arcan jack will keep you from purchasing other alternative brands for the foreseeable future.
Pros
Lifts quickly
Strong exterior design
Grip is strong and made to avoid unwanted slips
Cons
Loose screws may need regular tightening
Small handle may hinder portability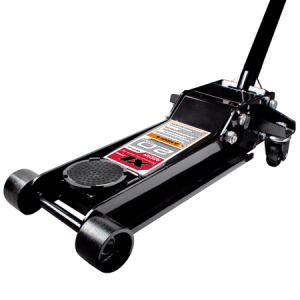 The Arcan XL20 is black, superficially appearing identical in shape to the ALJ3T. It is a dual pump hand-operated jack outfitted with an easy to control handle measuring approximately 45 inches total. The medium-lift height is 3 1/2 inches and tops at 18 1/2.
Solid Build That Will Last
The jack is strong enough to lift most light to heavy-duty vehicles, capping out at 2 tons (4000 pounds). A key feature on the XL20 is situated on the lift valve, which has built-in overload protection to make your work safer during maintenance. While the release is somewhat annoying with its stiff handling, it should reduce the likelihood of abruptly dropping your automobile too fast when its time to reduce the height.
Low Profile Design
If weight is a concern, understand that this jack is 67 pounds. Which, like most industrial brands in the category, could be difficult for you to store. Unless you plan on using the jack for more than just a compact car, you might be better suited with something slightly lighter and easier to put away. On the other hand, it rests low to the ground which is ideal for sports automobiles that have a low clearance. In this case, consider this tool for its ability to lift quickly with less effort than models of lower quality.
Pros
Built in overload protections reduces likelihood of damage
Can fit under very low vehicles
Strong controls enable smooth reduction of height of the automobile
Cons
Heavy in weight
Not as strong as other floor jacks; lower than avery lifting capacity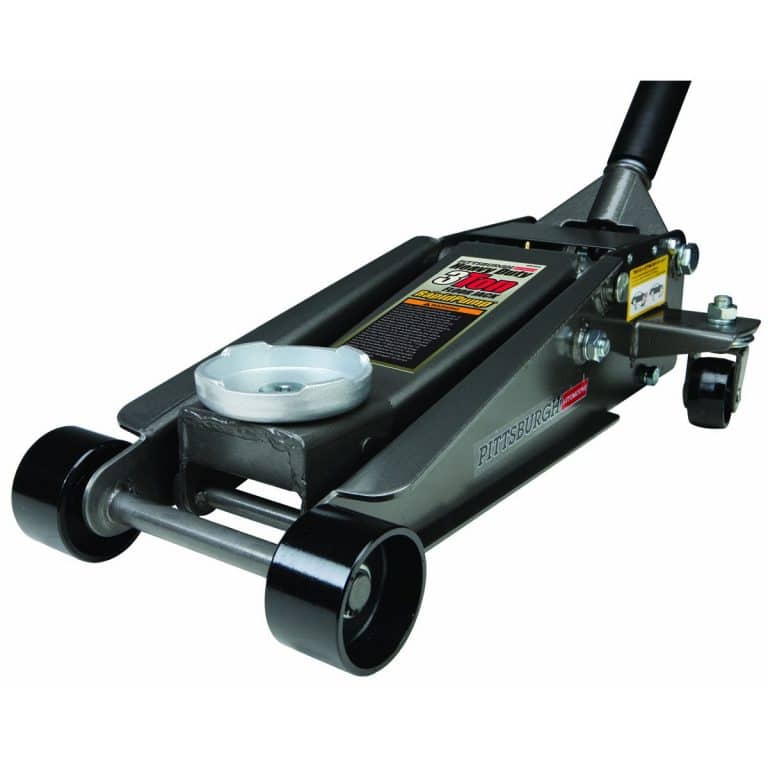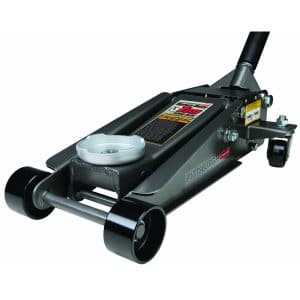 Low profile jacks will allow you to slide the device far into the underside of your car without the need of multiple jacks and blocks to raise it in the desired fashion. The Pittsburgh Automotive jack can lift up to 3 tons and will pull up anything that you throw at it; trucks, sedans, SUVs, and sports cars are all safe to use with this machine.
Lifting Up High
The dual pumping ability will help elevate your vehicle slightly higher than some of its competitors, with a height capacity close to 20 inches. It requires about six pumps to get the saddle up to its highest level. No full assembly is required with the exception of the lift handle. Unlike some jacks, this also can be used quickly and needs no additional setup after bleeding is finished, with some exceptions. An inspection should definitely be performed on the tool due to some units having various levels of hydraulic fluid. There is also no rubber padding on the saddle. If this is of concern you must purchase one separately that has a diameter of 3 5/8 or 3 1/2 inches.
When Speed Is Essential
Pittsburgh Automotive's jack weighs 79 pounds which is still lighter than some yet quite heavy when carrying around before unboxing. It will work as expected in helping you prep for any fast repairs that need your attention. Just be sure to use with a good jack stand once you have it off the ground.
Pros
Fast lifting mechanism requires few pumps to lift off the ground
Full assembly not required
Great lifting height (20 inches)
Cons
Difficult to use in areas that require the jack to be carried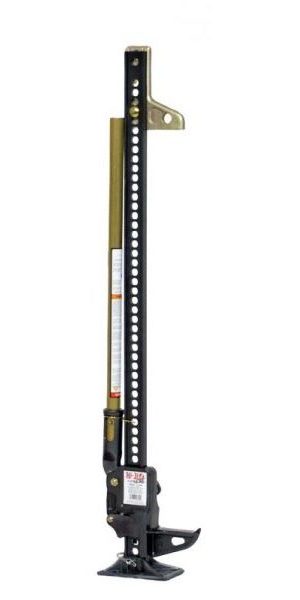 If you do any off-road driving, the Hi-Lift Jack is a highly suggested tool to have during the unpredictability of encountering obstacles that impact the movement of your vehicle. It does not appear in resemblance to a normal floor jack and is specifically designed to aid vehicle recovery during such events by lifting or pulling.
Cleanup And Compatibility
Sizes range from 48 to 60 inches. This model can lift vehicles up to 3 tons without issue. It has a coating of zinc and gold that prevents fast rusting. However, it is still a good idea to clean it off shortly after use with compressed air or water. Additionally, be sure that the pieces are well lubricated before and after pulling/lifting. There are two shackle holes and one chain slot located on the top, which serves as the adapter for hoisting your vehicle out when lifting is unfeasible. Due to its design, other auxiliary uses for the Hi-Lift are possible such as lifting boats, lifting vehicles, and even small storage sheds.
Strong And Versatile
The jack and lift up to 7000 pounds easily, so choose this option if you want something that transcends being a tool for ordinary car repair. Regardless, purchasing with chains and an off-road base will have you ready to get your vehicle out of the toughest of environments. If you live in snowy or rocky conditions, this the Hi-Lift will help you immensely in helping you get back on the road safely if you get your car stuck.
Pros
Well suited to use under snowy conditions or uneven terrain
Farm design allows the lift secondary use as a pulling mechanism
Compatible with many accessories
Lightweight and easier to carry than normal floor jacks
Cons
Cleanup must be done often to avoid malfunctions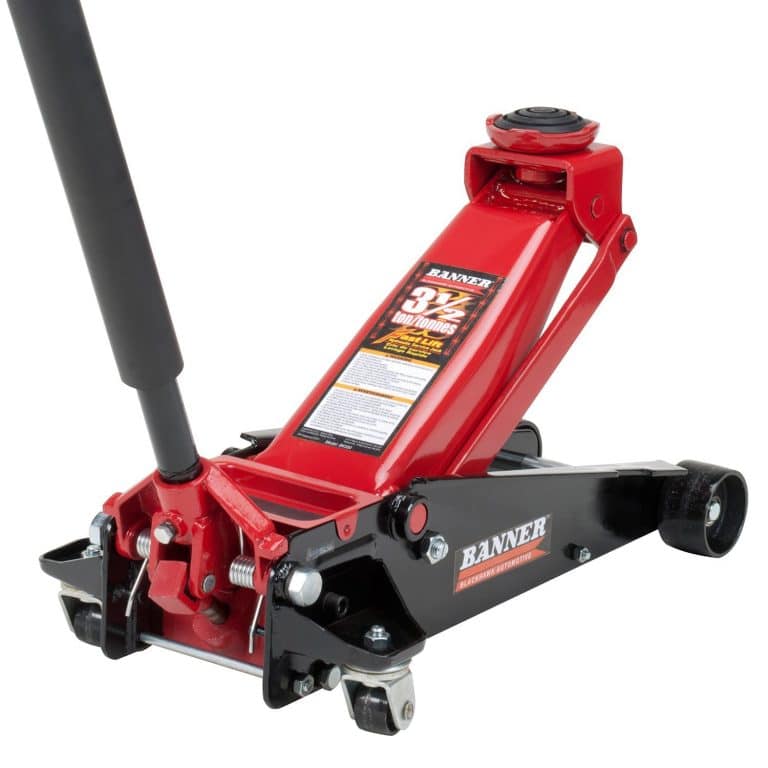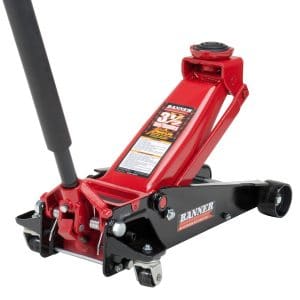 The Blackhawk B6350 operates like most other top-shelf jacks by providing fast lifts and a good height range (19 1/2 inches). There is no broad assembly needed to get the device up and running quickly and will fit well with vehicles that are not too far to the ground, such as many sports cars.
Unboxing Advantages
Out of the box, you will notice a small 9/16-inch bolt that is attached to a rod that allows the handle to stay in place without movement when not in use. Unscrew this piece from the rod with care, then place into the handle when you're ready to be lifting. With this jack, you must follow the instruction manual to check to be sure that the oil levels are safe for use. Furthermore, the jack handle is difficult to get into the base easily and may take some effort on the first try.
When Powerful Lifting Is Needed
The saddle has a rubber lid that will fit well under the lifting points of most car frames.
If you have a car that is under 7000 pounds, the B6350 works well, so long as the bottom of your vehicle is at least 5.5 inches or higher.
Regular maintenance should be done often, especially if this is used regularly. If all requirements prior to use are done, the jack will perform to the same standards as other competing brands.
Pros
Rudimentary setap and storage features allow the jack to be used quicklyn
High lifting capacity (3.5 tons)
Strong rubber saddle
Cons
May require additional hydraulic fluid before initial use
Best Floor Jack – Buyer's Guide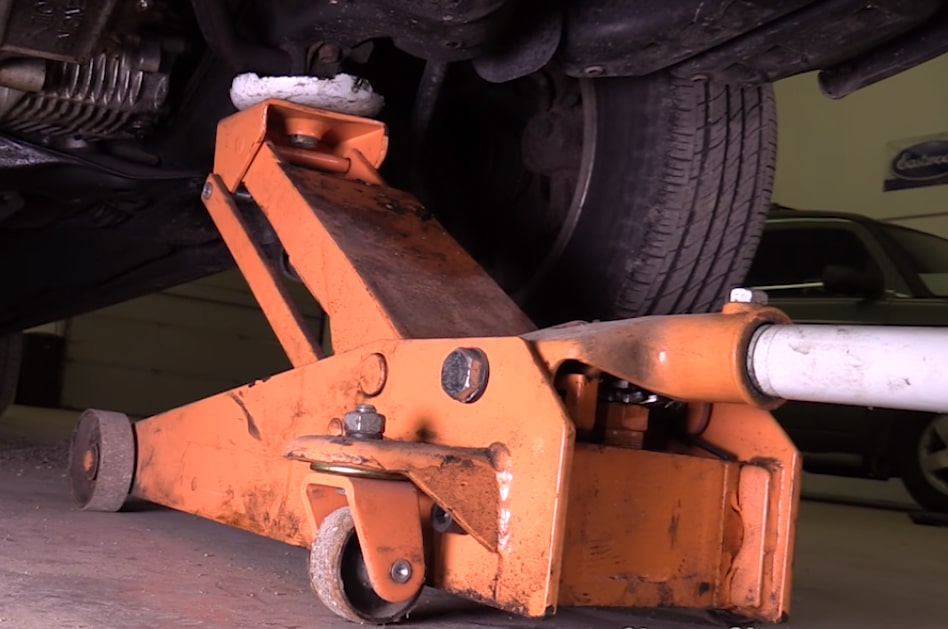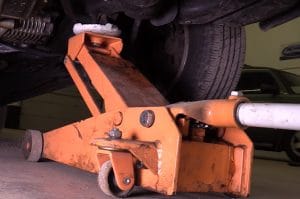 Purchasing a floor jack is a helpful way aid in the maintenance and performance of your car, mostly notably being associated with changing tires and checking a vehicle's transmission. However, there are some important factors to consider in regards to safety and the type of jack that's best for your automobile. Here are some points to remember for you set your sights on a particular brand:
Safety – Safety is the most important aspect to understand before utilizing any floor jack. Some consumers are confused on whether or not a jack stand is necessary. All jacks can malfunction at any time, including high quality models. Therefore it is strongly advised to never operate a floor jack without at least one stand to support the vehicle on.
Weight – Most jacks are heavy and can weight in excess of 50 to 100 pounds. If you are physically disabled or unable to lift such weights yet wish to acquire a product that can lift trucks or other heavy equipment, try to find a jack that does not require too much assembly prior to being used for the first time. Additionally, you should know the environment where the jack is intended for use as well. If you have a paved driveway and routine car repairs are expected there, the weight should not tire you out so quickly since it can be rolled from your garage to the automobile with a handle. For all other uses that will require lifting, a jack with fewer pounds is suggested.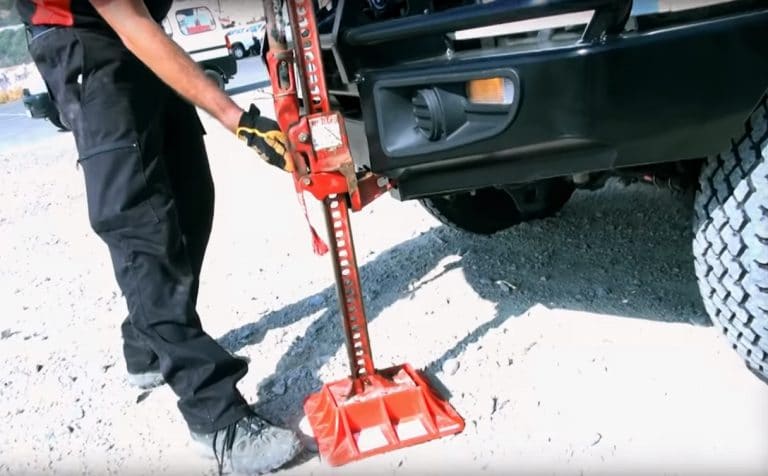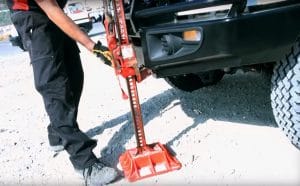 Car Height – Although car jacks can be placed underneath most vehicle varieties, there are some automobiles that require the devices to be lower than usual, most notably sports cars. If you plan on servicing or operating on different cars of random sizes at the bottom, a low profile jack is the best choice. Low Profile is a term used for a jack that is small enough to go deep under a motor that other heavy duty jacks would have trouble entering. While they are recommended for such, low profiles can also be used on sedans and trucks too. This should be irrelevant if you do not own or have plans to performs any duties on the former car type.
Lifting Capacity – After reading the floor jacks previously reviewed, you may have noticed that lifting capacity is gauged in tonnage. Most industrial brands can lift anywhere from 3 to 5 tons. The manufacturer will list the jack's ability on the product's label. If you are unsure of your vehicle's weight or concerned that a floor jack you want is not strong enough to lift your car, refer to your driver's manual or visit the website of the company to get its weight specifications. Never choose a floor jack that has a weight capacity lower than your automobile since doing so could damage not only the tool but the car itself.
Types of Jacks
Here are the different types of floor jacks that are sold for heavy duty lifting:
Auto floor jacks – This version does not require the tool to be bolted to the floor for lifting to commence. They are versatile and able to safely lift most cars and trucks that fall within their weight specifications and have wheels to make movement and storage easier.
Adjustable Jacks – Often used in both commercial and residential settings, adjustable jacks are similar to auto automatics but are sold more often with hydraulic pumps that allow the car to be lifted with little effort. Most require the user to pump the handle three-to-four times for the car to rise at an acceptable level for work to begin.
Scissor Jacks – Shaped like a diamond, a scissor jack is small and significantly lighter in weight when compared to floor jacks. However, these are typically used for minor repairs such as a quick tire change. They are useful but have many setbacks, most notably being prone to tipping over while the jack is in place due to their small size at the saddle. For moderate to heavy-duty lifting, scissor jacks are not recommended.
Farm jacks – Vertical in design, these jacks can be used for jobs that require lifting and pulling. As such, they are common for people who live in regions with rough terrain that receive inclement weather during the winter months, as they perform well in getting a vehicle out of rocks, ice, and other uneven ground with unfavorable road conditions. They have a separate operating mechanism that is different from floor jacks but will perform to the same standards when a basic lift job is required for inspections or repairs.
Piston jacks – During your search, you may come across piston jacks being brought up. They are for major lifting operations outside the realm of what's available on ordinary floor jacks. They also can lift up to 50 tons yet need a large space to operate smoothly and are not able to fit in low profile vehicles. As such, the most suitable alternative is floor jacks for every day vehicle lifting.
Conclusion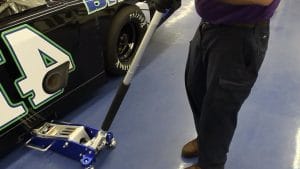 The final step to finding a floor jack is knowing everything that the brand of interest to you can do, particularly in regards to the size of your vehicle.
The products listed are popularly known as being some of the most reliable around, both online and offline. Use the advantages and disadvantages to gain an understanding of what you need your floor jack to perform well at the most and make your purchase reflect on the information shown in the buyer's section. Doing so will ensure that you end up with a high-quality product that is sure to last for years to come.