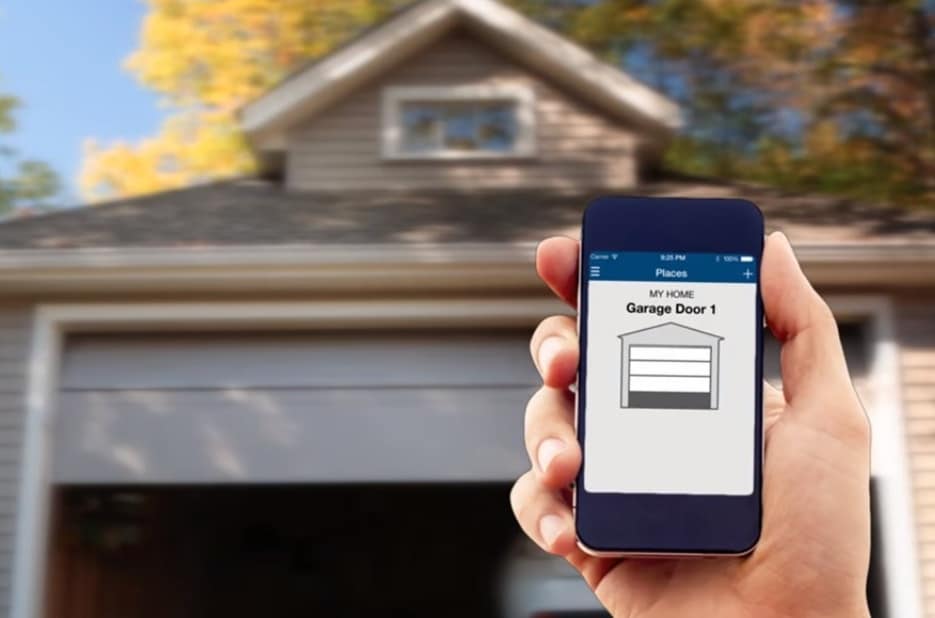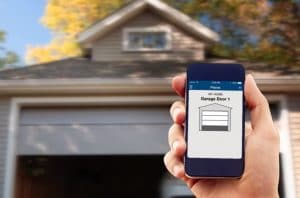 Are you getting tired of getting out of the car to let up your garage, or own an outdated lifter that's barely hanging on? If so, it could be a sign that you're ready for an upgrade. New garage door openers utilize lots of advanced features that include car remotes, sensors, and even WiFi.
They are built to last for years without needing a replacement, whereby installation can commence with tools that you probably own already. Below are five of the best openers for your garage, chosen by their quality and simple configurations. Be sure to look at the buyer's section for some beneficial tips to assist your search for the brand that will best serve your home without issue.
Best Garage Door Openers of 2021
Take a moment to go over some of the major attributes to each garage opener. They have lots in common but do show contrasts in some specific areas. Once you're done with the reviews, it may help to go over it once again to see which offers a key benefit in features you're most looking forward to.

1. Chamberlain B980 – Best Garage Door For Compatibility
A Garage Upgrade For Everyone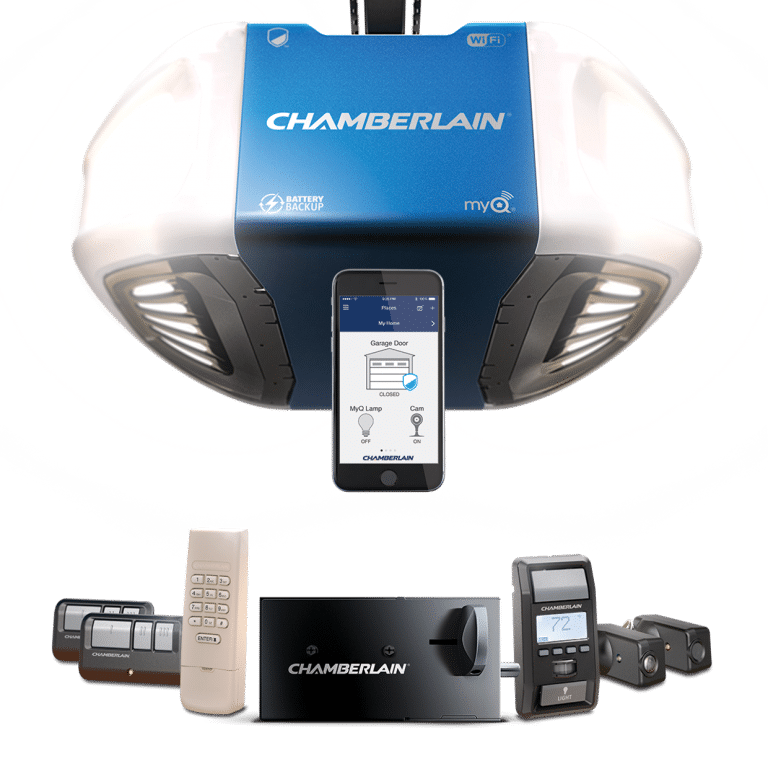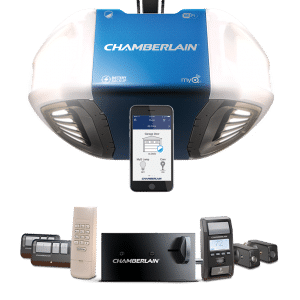 If you're tired of all the noise that's coming from your old garage's chain, the Chamberlain B980 will relieve your ears and save you lots of time from getting out of the car. It's WiFi ready as well, so your family can control the garage's functions when you're not at home. The belt is made from rubber and touches against a wheel designed to minimize the sounds when the signal activates movement along the rails. And doing so happens quickly.
There's even a smartphone app available to use the wireless features. A battery is placed inside of each system. This functions as a precautionary backup whenever power failure takes place. You'll be able to use the garage, no matter if it's plugged in or not.
Connecting to WiFi
Although this Chamberlain product gets many things right, there is room for some improvements. The WiFi signal may go out at moments, taking you back to opening up the doors on your own. It might not happen very often but is very annoying when it does. And like most of the devices sold by the manufacturer, this cannot be used with some software without getting a subscription. Sunlight may also tamper the sensors when it's beam is directly focused on them. Most of these issues won't take place with general purchasers, so if you want one of the best openers that's currently retailed, consider the B980 as a top pick.
Pros
The belt is quiet, reducing the normal noises associated with automatic garages
Configurations are immediate and active the garage's doors quickly
In case of home power failure, the backup battery will activate for retained control of the garage
Cons
The WiFi signal may disconnect from home internet systems sporadically
If using Google Assistant, requires a subscription (to control the garage door)
The sensor that open the door are extremely sensitive to sunlight and may hinder their function
2. Chamberlain C450 – Best Garage Opener For Long Range
Open From a Distance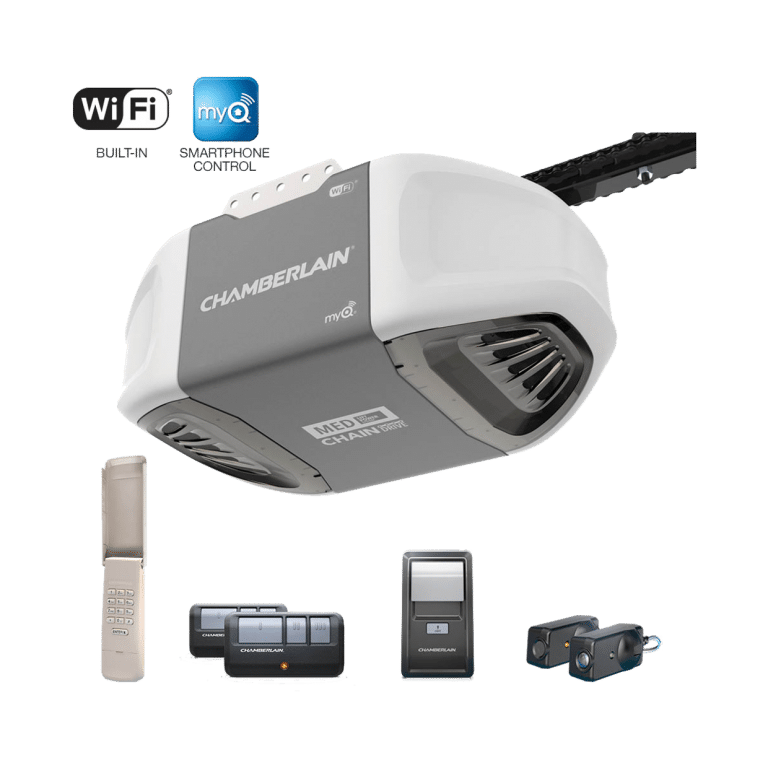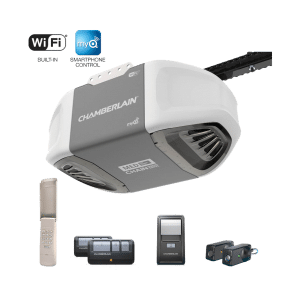 The Chamberlain C450 is another wireless garage opener with many neat features, especially when it comes to range. You'll easily get a signal from anywhere in the capacity of 1500 feet. The smartphone app enables quick activation of the doors, lifting them up immediately upon request.
The build is solid too, having parts made to last for years after buying. You'll still want to be careful to not break anything as you go, but pay special attention to the rails when you fastening them together. Some users like to hammer them in with a rubber mallet. If you're going to do this during installation, be aware that the material could warp if hit too hard.
Not So Silent
This might not be of concern to those who don't possess the technology, but auxiliary devices are not compatible with this product. That means things like voice prompts will not work. Everything must be done through either the app itself or your HomeLink connection.
And garage doors that are larger than normal will not see any noticeable changes in the level of noise. If your door is large and/or weighs a lot, don't get it to keep things quiet. Still, it will remain a powerhouse for most people and is recommended for anyone that likes to have their door opened without needing to wait for the lift to finished before parking their vehicle inside.

Pros
The remote control's ranges go up to 1500 feet
App controls synch with the opener quickly
Well-made parts and construction
Cons
Does not respond to voice prompts (for users who have to technology)
Installation might require that additional items be used to mount the system
A heavy garage door may not have a reduction in the noise level when used with this product
3. Liftmaster 8500 – Best Garage Door Opener For Security
With the Liftmaster, Safety is Key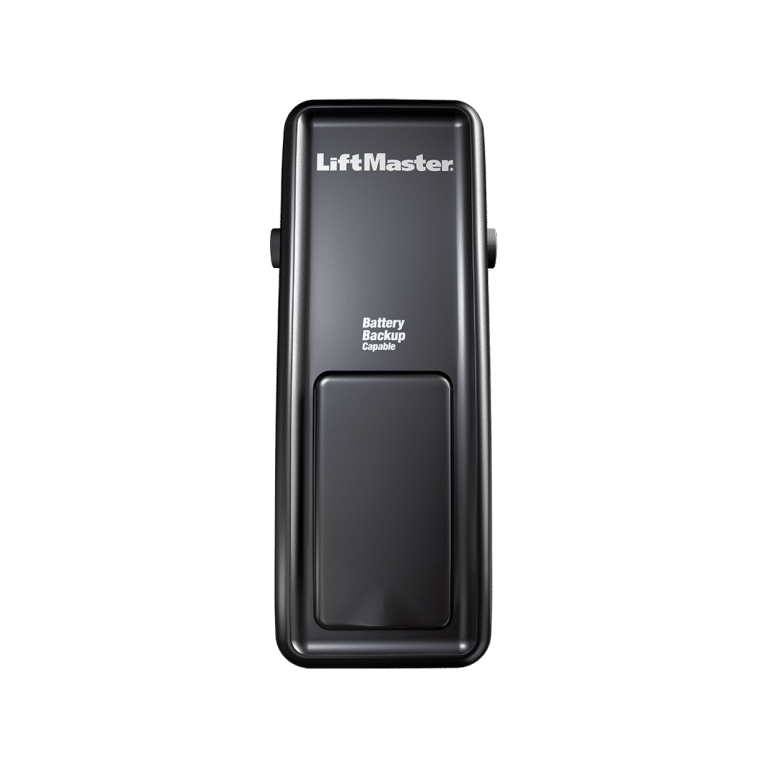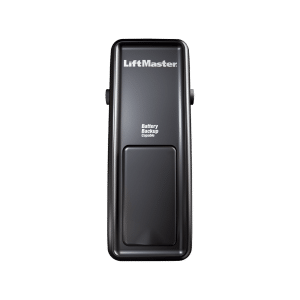 If you can't place a new garage door opener on the ceiling, the Liftmaster 8500 has you covered. This model will install on the wall, which saves up lots of space as it's built. That means you'll have room to use the ceiling area for more storage, which may even help clear a needed area for an additional automobile. Security measures are also strong; parts includes a hard deadbolt that locks when the door is shut. No matter how hard you try, no one will be able to lift up the garage with this piece.
And if you're worried about installation, this opener is probably one of the easiest to install. It comes with instructions laid out in the manual, but instead of simply giving you a rudimentary setup to complete, there are alternative ways listed that can aid you when things need to be changed. For example, if you need to cut the rails prior to them being put together and bolted to the wall, there's a guide on the right tools you would need in order to get the procedure over and done with.
Cord Length
Even with these great features, the Liftmaster might not be what you're looking for, especially if you're electrical outlets are odd. The cord it comes with (for plugging into the wall) is only six feet long. For some people, this length might not be enough, particularly since you might be planning to wall install. A separate extension would suffice, but that could create a tacky look to the final setup that you don't want. And if you own a car or HomeLink system that was made prior to 2007, connectivity might be impossible. Know this information before you settle on the Liftmaster. If everything checks out, this will earn high marks for those who don't have the right reinforcement on the ceiling to keep the garage door and rails from breaking.
Pros
Increases garage space above the door
Strong deadbolt keep the door secure from potential break-ins
Simple installation instructions
Cons
The lifting mechanism is much slower than manual operation
The power cord is only six feet, possibly requiring an extension cord to use
Only one car remote per unit
Some HomeLink systems (pre-2007) may not work with this model
4. Genie ChainMax 1000 – Best Garage Door Opener For Wireless Control
Control It from your Fingertips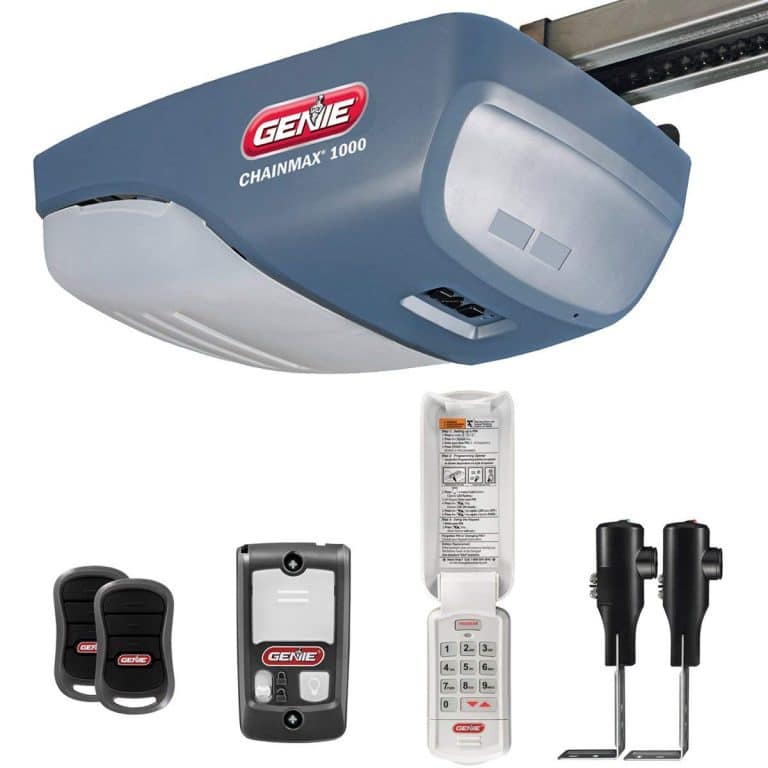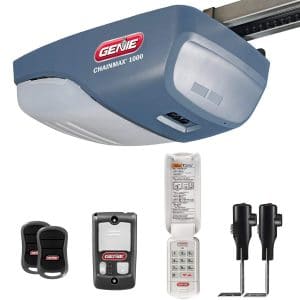 The Genie ChainMax has several remote controls, both for home use and your vehicle. The two featured for cars. Once it's up and running, you'll be able to make use of the sensors that are built for spotting when your vehicle, or a person, is approaching. They are infrared but have no visible light. When you get close to the door, they automatically lift it up and go back down. This only happens when in possession of the remotes.
The controls are also encrypted. This is common among many garage door openers but the key to this advantage is the way it changes the password every time activation takes place. That way, nobody with a similar remote can control your garage when nearby. Only you and your family will be able to move the doors, even if your neighbors have the same system.
Cleaning to make It Last
When it comes to setbacks, there's not many but the power cord would be an upgrade for future models. It does well at its purpose but may end up needing a replacement after a while. The other parts should outlive this, including the belt itself. And you'll want to clean it regularly if you can. Debris and dirty along the rails might inhibit its function completely. Just go over them once every couple of weeks to ensure they work as expected. Hopefully, you install everything well the first time. Disassembly is painstakingly difficult, making it advised that either look at a YouTube video (see Buyer's Guide for information) or have a partner to take things apart if necessary.
Pros
The system cleans the rails out on it's own by flushing the sides as the housing passes overhead
An invisible infrared light senses objects nearby to avoid accidents
The encryption that opens the door remotely changes each time it's used, preventing control from other devices
Cons
Power cord is low quality and may break easily
Sensitive components inside the housing may malfunction if debris builds up
Confusing disassembly
5. SOMMER 1052V000 – Best Garage Door Opener For Quiet Operation
The Sound of Silence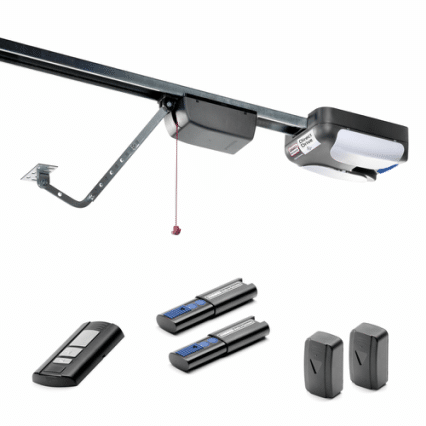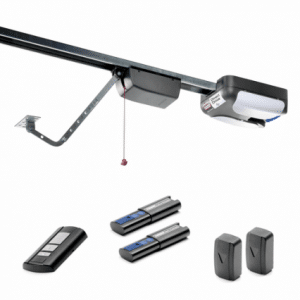 The final product is the Sommer 1052V000. Its noise level is mute, meaning that you won't be able to tell when someone's coming into your property when the machine is on. It's so quiet, you might wonder if it's for your garage at all.
Horsepower is strong for this one, topping at 1 Hp total. That's not as strong as some but will hold up well for most moderate to heavy doors. And unlike many of those shown thus far, this has everything included for you to begin installation from the jump. All the bolts and screws are here, so as long as you possess drills for the job, setup might be done before the day ends.
Speed Issues
If you are impatient, it doesn't get better with the Sommer, automatically doesn't always mean faster, and never is this more so than with this machine's movement when activated. It's slow. So much so, you may want to get out and pull up your door. There's also no backup battery with this edition so take this into consideration if you stay in a region that receives lots of inclement weather. Overall, it's still a good pick and definitely will come in handy for the average consumer looking to upgrade their existing belt.
Pros
Extremely quiet device; produces literally no sound
High weight capacity can lift medium to heavy doors
Installation kit includes all parts needed for assembly
Cons
The door opens slower than its competitors
Does not include a backup battery
Installation instructions are difficult to understand
Best Garage Door Openers – Buyer's Guide
Buying a garage door opener is a big purchase that may involve other purchases in order to complete the setup, especially if you're going at it by yourself. There's other maintenance issues that you may come across once you've has it set up for a while. The information below will help you narrow down your pick and reveal some helpful info on general installation instructions.
Installation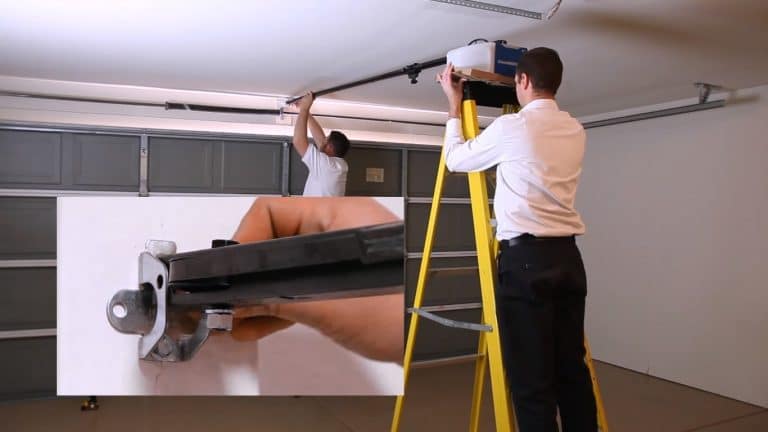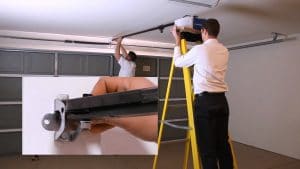 While stating the obvious, this is the hardest part. Some consumers will simply hire a professional to do an install to their garage door opener. This is the safest bet, especially if you're disabled or find the instruction manual a little confusing. Yet if you insist on the tried and true DIY install, look on the internet to ensure that everything gets set up correctly. You don't want to place the device on wrong, as doing so could cause damages to the unit, your garage, or even become a safety hazard to you and your family. This video shows the general steps that must be taken for the install to be completed.
Prior to a purchase, check to see what type of garage setup you currently possess. Chances are that you have a conventional garage slider with a chain link or belt. This will have to be removed before you begin.
Once that's done, you can start working on the new opener. Here are some of the tools that you'll probably need, depending on the brand and what's included/not included with the product itself.
Impact drill – For drilling in bit for the rails
Socket wrench – For tightening in bolts on the rails and main device
Standard Power Drill – For drilling holes into the wall (to house the rails)
Drill bits – This might be included with the product, depending on the model chosen
Light bulb(s) – For the door opener's housing
Oscillating tool – Used in case of corrections that need to be made to the rails. Could also substitute for a hacksaw
Step ladder (variable height)
You'll want to use caution when removing the old garage's rails and unit so that nothing comes falling to the ground as you work. Also take note of the main unit's placement into the rails, along with the slider. Furthermore, before you begin drilling into the ceiling, check that the bits have something to be supported by. If there's nothing reinforcing these pieces, the entire garage door could come crashing down. That's why it's so important to know what you're doing before you start. Again, if you're unsure, get a professional to help install it for you.
Cleaning
Newer garage door openers should be cleaned the same way as your current model. But try not to use water on the rails, so as to avoid oxidation (rusting). A good model will clean itself, clearing away dirt and grime as it slides up and down. And be sure that all moving parts, such as the wheel, are properly lubricated. The rest can undergo cleaning with a solution of your choice but avoid getting sensitive components wet while doing so.
Speed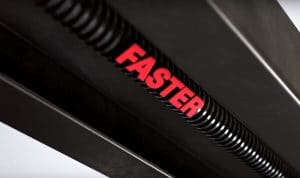 People who have used manual operated garage door openers often complain about the speed of automatic models. It's hard to find one that can go as fast as lifting the door yourself. Most of the speed differences between the models reviewed above don't have large differences. This means that you might sometimes find yourself waiting for a few seconds for the door to let up completely. But most have features that can be activated in your car prior to you driving up the garage itself.
Horsepower
Automatic garage openers base their motor's strength off of horsepower. The lighter the door, the easier it will be for it to move up and down. Heavier doors tend to require specific versions of brands, as some may not be strong enough to lift it. There are two ways in which this can be gauged, either through to door's dimensions or weight. As such, find out the size of your door if you know it's larger than average.
Conclusion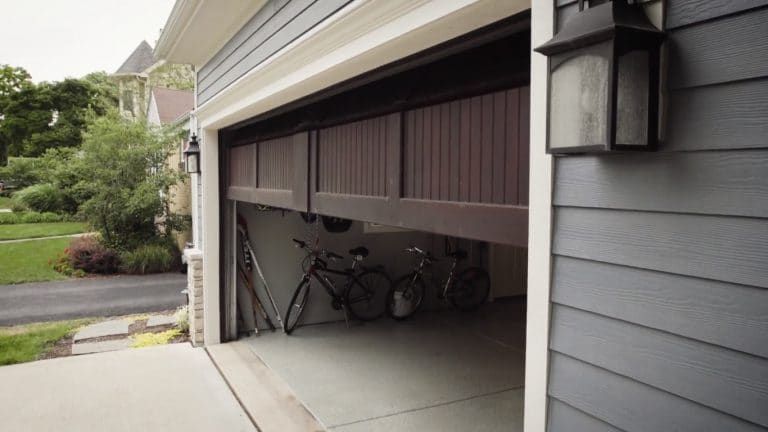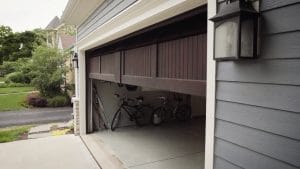 Upgrading your garage might need to begin with the door itself, and the products reviewed above will ensure that steps are being taken to modernize your home for years to come. Out of the openers shown, the Chamberlain B980 and C450 (numbers 1 and 2 respectively) have to most promising features and ease of setup. Yet that doesn't negate the fact that the others evaluated could prove worthy enough to be housed in your garage; don't brush them off as less than stellar. Use the unit that you think is best for you and your family to operate without any hassles.