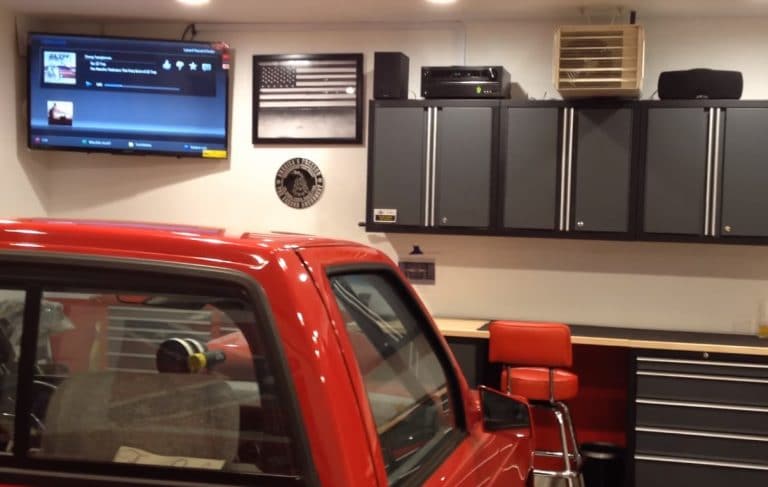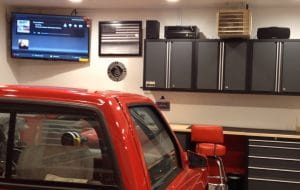 If you're looking for speakers to place in your garage, getting them may not be as easy as shopping for a new home stereo system. Garage speakers have to deal with dirt, dust, grime and the elements. Anyone who regularly sweeps out their garage knows how dirty it can get. The best garage speaker options are those designed tough enough to be used in an outdoor setting, for which the typical home garage can be described as.
Even if your garge is completely sealed off and has insulation, you should look for durable speakers that can resist dirt and dust and tolerate hard cleanings. Finding the right sound system will make your music and/or games pump out good decibels that don't hurt your ears from clipping and distortion, an effect that's common among low-quality brands. The five speaker systems that are shown below are some of the best in the game. A buyer's guide will follow that touches up on some of the standard things to know before you order, with a final section announcing those with the highest recommendations.
Our List of Best Garage Speakers (2021)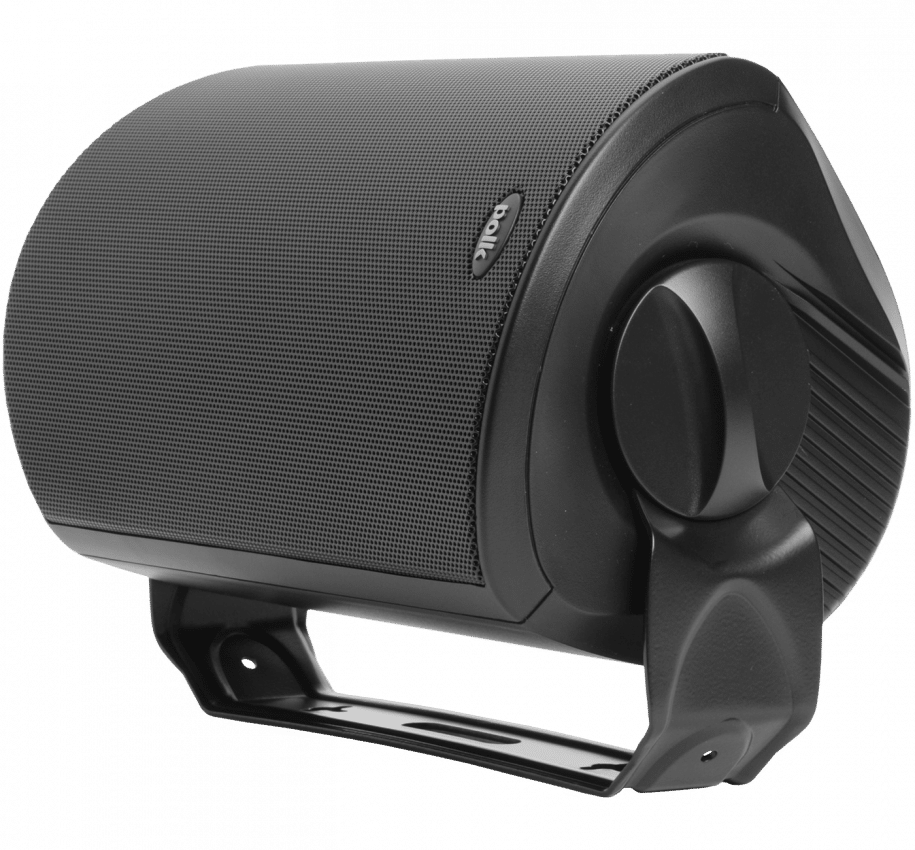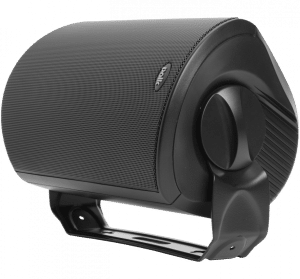 The Polk Audio Atrium 5 Speaker set is black and built to last for a long time. You could put it in your garage, or bring it further outdoors on the porch or backyard. It will hold up well to most types of weather, so humidity and dust won't affect their overall performance. As with any speaker system, there is a breaking in period, so don't expect things to sound too refined when you press play for the first time. But once they are set, they will hit hard and generate great high and low decibel points.
Installation
Installation isn't difficult but might require that you place them on a support, depending on the makeup of your garage. Just mount the brackets to the wall and hook the speaking up. When that's done, turn up the sound and test the high and low frequencies. You don't need to max the volume out, but give it time to resonate on its own and the higher kilohertz levels will really shine. Another good aspect is the base itself, which is deep but not strong enough to go over the treble. As a result, all sounds from the music you hear will be audible, with nothing left muffled or distorted.
Know if it's The Right Speaker for You
At least, with low to medium volumes. Distortion might occur when played at very high levels. But truthfully, that's a given with almost any speaker system, particularly if an amp is used that's lower in ohms than the speakers themselves. If your space is large, the sound will be heard but not quite as well as those generated on stereo speakers. You will have to adjust your equalizer setting on the device being controlled well in order for things to play out smoothly.
Again, those are exceptions and not the rule. For most, things will continue to play great long after the speakers have been bought. And the best part is that they'll continue to play with the same quality with each passing season. Try out the Polk Audio Atrium 5 set if you want a little bit of everything that makes garage speakers popular in the first place.
Pros
The speakers are designed to withstand prolonged exposure to dust particulates and fog
Installation can be completed quickly, requiring little assembly and part familiarity
The bass is deep but doesn't not drown out treble
Cons
At high volume, the speaker's midrange may come out muffled
Audible range of the speakers is limited, distance may not be sufficient for large rooms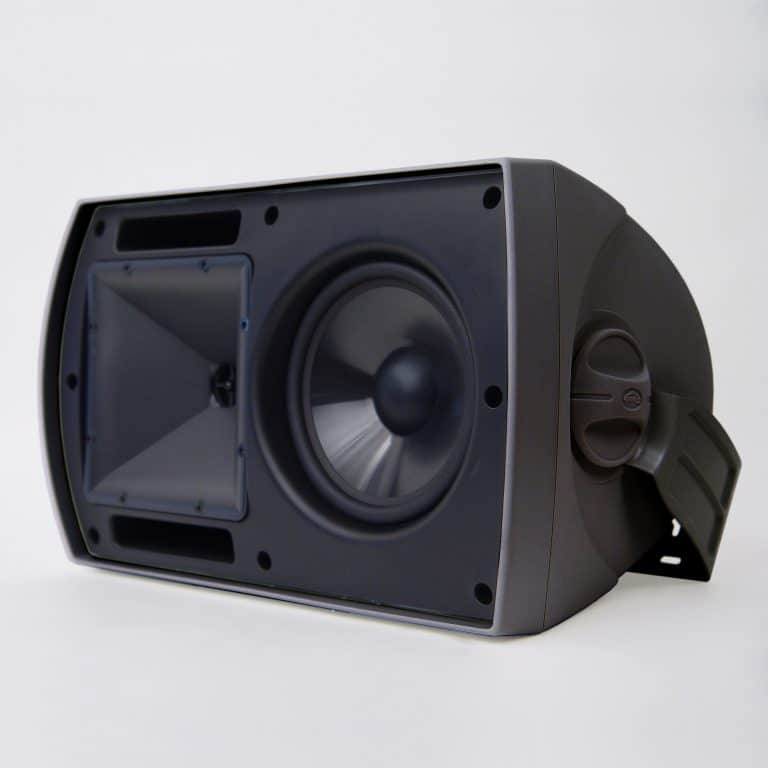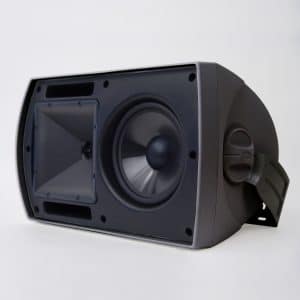 The Klipsch AW-650 Speakers are large and almost intimidating, weighing nine pounds total, and built to be mounted on a wall. You will get good range with these, and surprisingly high clarity, even when heard from a distance.
If you're looking for speakers that will wake up the neighbors, this is definitely the right set for you (just kidding on the first part). But in all seriousness, volume and decibels remain high, even when played at max wattage for periods that other cheaper models couldn't manage. On top of this, sunlight and heat won't cause any internal damage to the wires or frame. If you live in a region that receives higher than average temperatures throughout the year, this set will stay in tip-top shape for a long time.
For the Bass Lovers
Just get ready to hear some serious bass. Low frequencies aren't everyone's cup of tea, so if you tend to like speakers don't boom to the point where other sounds cannot be made out clearly, you might want to look elsewhere (preferably, the first product reviewed).
And be careful with the tweeters, or the built-in amps. Turning up the volume too loud might cause irreversible damage to them. Granted, this probably won't ever occur, assuming you will place them somewhere outside the vicinity of your residence. However, if you do want something that will pump out base hertz at an impressive range, give the AW-650 a listen. They could generate the decibel levels you where looking for all along.
Pros
Range and clarity is exceptional, especially at low volumes
High decibels and volume; can be heard from distances exceeding 100 feet
The enclosure is resistant to warping and damage from sunlight
Cons
The mounting bolts are fragile and may get damaged if handled rough during installation
Bass is loud and deafening when turned up high
Sensitive tweeters may blow if used with volume controls that amplify the sound
3. Yamaha NS-AW350B Speakers – Best Garage Speakers For Indoor And Outdoor Use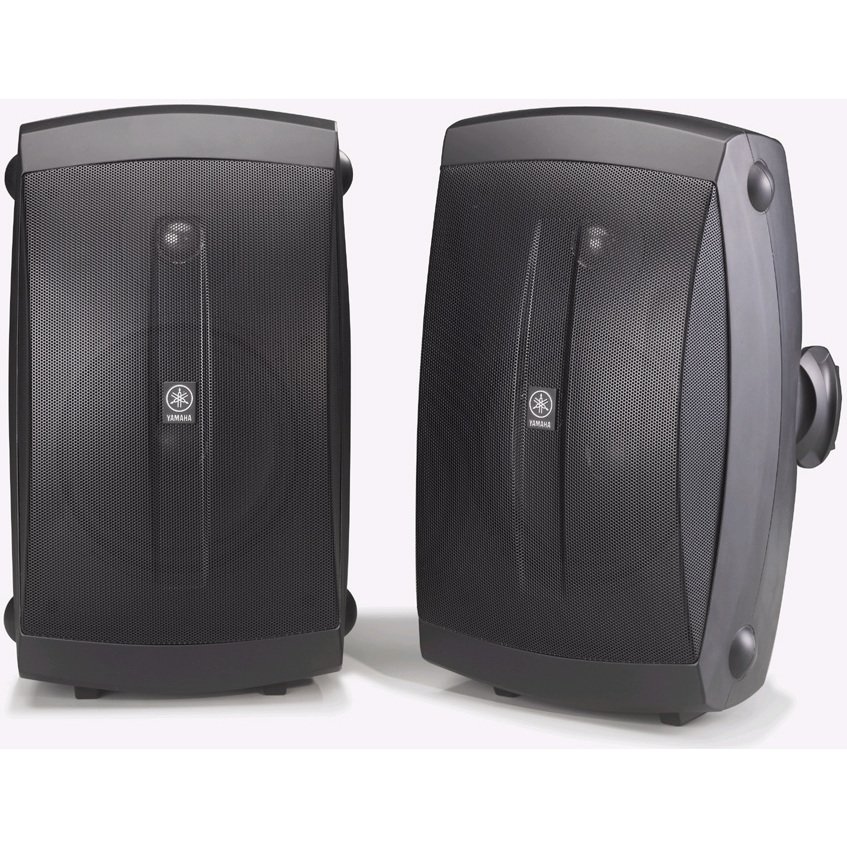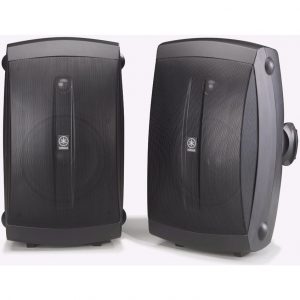 The Yamaha NS-AW350B are two black garage speakers that are capable of delivering solid highs with its strong power output and 6-ohm impedance. That means you get a full package of good sound quality without the need of looking for additional amplifiers from the start. Your garage will be filled with a noise canceling decibel count that has fluid and natural-sounding waves. And the break-in time and pretty low as well. It's a good speaker for audiophiles and the general public.
The wattage clocks in at 130 and provide excellent mid range, so long as you don't overblow it too often. Given that that's unlikely, the 40-watt starting point should suffice for most garages and will have yours thumping at a decibel level that's akin to being in a movie theater. And since they are suitable for use in both indoor and outdoor settings, it's a good chance that you'll be so impressed by the tones, that another set for your living room could come into contemplation.
Keep it out of Direct Sunlight
Going back to outdoors, things like moisture and heat won't affect it too much, but you should be aware of its primary flaw, something that would be exasperated for anyone living in a hot climate or has a hot garage. The grill is susceptible to falling off due to internal adhesive melting. You won't want to place this in direct sunlight. But even the heat alone could make this happen. That means the speakers could break in any weather that remains over 90 degrees for a long time. Try to find a good cool mounting location for yours, one that is well shielded from any heat source, including vents if you have them in your garage.
Overall, it's still a good speaker and is suggested for those who intend to alternate the pair in between outdoors and indoors. Try to have good maintenance of them. If things do appear as if they could come apart from the heat, a simple cool down period inside might prevent the adhesive from loosening any components. It's good enough to make it on the list, and Yamaha is a name that people all around the world know and trust.
Pros
Resistant to damage from moderate weather conditions
130-watt power produces good midrange (40 watts at normal use)
Specified for both outdoor and indoor use
Cons
The speaker's cover (metal grill) is held by an adhesive that may come off if exposed to persistently high temperatures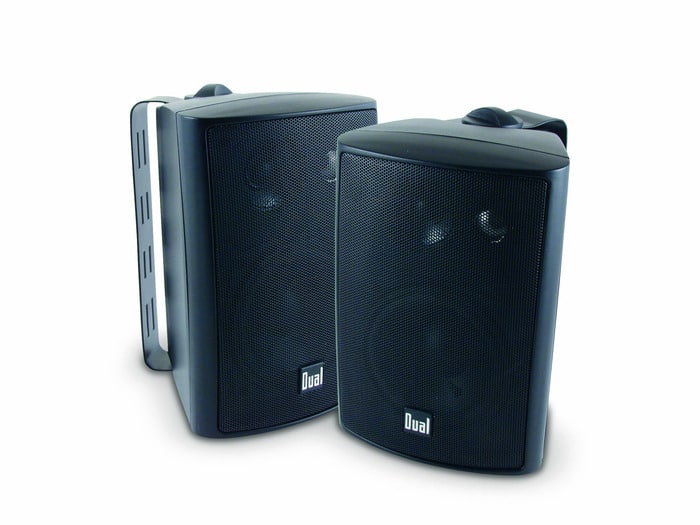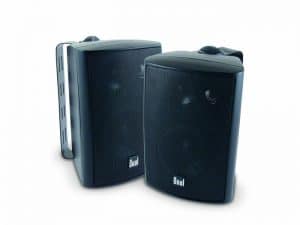 The Dual Electronics LU43PB is another studio-quality speaker system that's small but churns out large and enveloping sounds that will make you hear sounds in a way that you might have thought unimaginable.
The construction is built to withstand seasonal temperature extremes, so no matter if you live in the desert or further up north, everything should come out clear to the ears. The size is also important and gives these a big advantage. You will find space for them virtually anywhere, even in smaller garages that have lots of clutter or automobiles. But larger ones are good too.
Tweeters with Solid Highs
While the speakers are described as being water resistant, that means ice, rain, and snow won't lead to premature malfunction of the product. This doesn't mean you should test it out with an Ice Bucket Challenge. So try to keep everything cleaned once in a while so nothing seeps into the interior pieces. If you do this, the speakers will probably last years without needing a replacement. When you're ready to play, there won't be any irritating feedback and distortions from the tweeters. That means you will have a good range for experimenting with equalizers of any sort, whether they be hardware or just a simple program or setting on a radio or smartphone system.
There is an annoying flaw though. Like all speakers in this category, the LU43PB relies on wire connectors to play sound from the amp. When it's set up and ready, these connectors are easy to come off, which will stop the speaker from playing sound altogether.
Furthermore, when you don't want any noise to be heard outside the garage and need to play something at a low volume, turning it down will cut off the music before your controls make it to the starting point. If you live in close quarters to other residences, this could be something that may disturb those around you or even your family inside the other room in your dwelling. Anyhow, these aren't a given, and adjustments such as an external amp could fix the issue. Recommended for those who routinely listen to speakers at high volumes.
Pros
Small dimensions make the speakers capable of being setup in virtually any location; good for garages with awkwardly placed furniture
Can function as normal in wet conditions
No distortion to be heard through the tweeters
Cons
The speaker's wire connectors easily disconnect, making repeat troubleshooting likely
Sound decibels cannot be heard at volume levels that should still be audible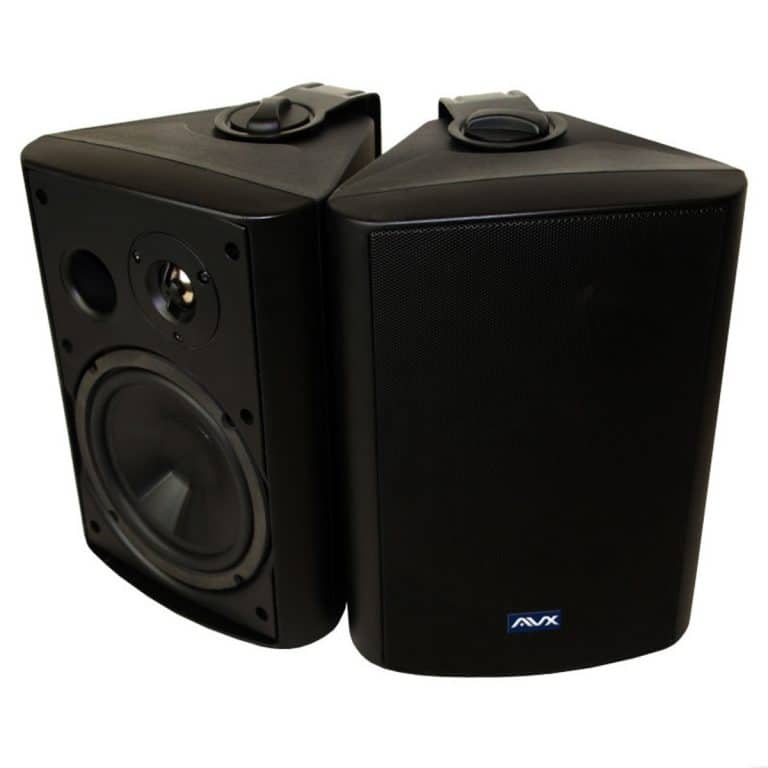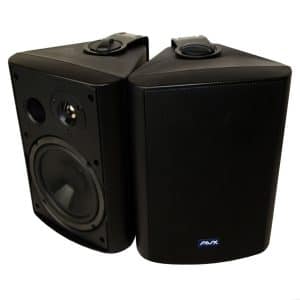 Number five on the list is the AVX Audio Patio Speaker. It's built with strong plastic materials that house reinforced with butyl rubber. This prevents salts and moisture from entering past the exterior and disrupting clear sound. The amps are also made to hold up even in the even of moisture, so corrosion will not happen. And while the name is indicative of a product to place on your front porch, that would be well suited in a garage, no matter if yours is closed off completely or partially open to the outside.
RMS and the Right Wattage
The downside is something that will be of concern to those who care about a speaker's power. AVX's RMS is different than what is shown in the product's description. It's shown as 90 watts but has a 40-watt specification in the owner's manual. Unless your garage is filled with soundproofing and receives or generates little background noise, it's something that might not be noticeable but does need more clarification. But aside from this, there's little that places this system at a disadvantage, so purchase if you need something that's strong and won't break when it sits in the heat for a while.
Pros
Tweeter won't rust or corrode, even after long term outdoor use
Fidelity sounds the same when used in areas that are walled or completely exposed
Speakers are encased with butyl rubber and polypropylene for surround clarity
Best Garage Speakers – Buyer's Guide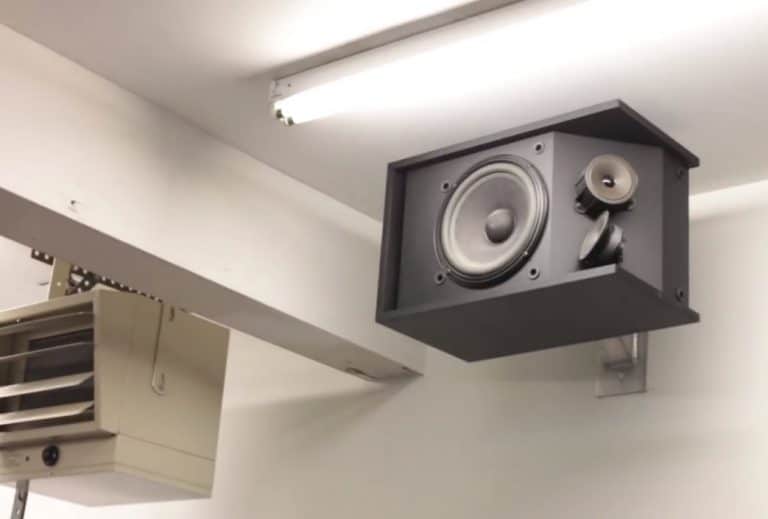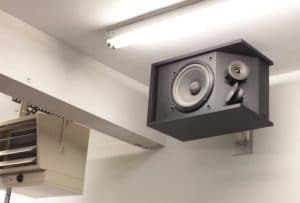 Getting the right sound for your garage or outdoor area takes a lot of setup, some of which could warrant having a professional do it for you, especially if you're a complete newbie. Any any case, here's are the basics things to know about before deciding on the speakers you want.
Watts
Although it's stating the obvious, speakers are controlled by an electric current. The power that's fed into them that allows decibels to be heard is their wattage. Good speaker system brands will always display their wattage output in two ways: RMS power and peak. RMS is the output that a speaker's amps send out as decibels over a prolonged period, whereas peak is gauged by the maximum output overall. Keep in mind that peak wattage is only measured for a short amount of time. Generally, this measurement is dependent on what the user wants most since some speakers with lower watts are liked more than sets with less risk of a malfunction happening by playing music too loud.
Hertz
When it comes to speakers, Hertz is the frequency range from which the sound is audible. Most brands will average around 20 hertz to 20,000 kilohertz. The lower the frequency, the deeper the sound. Higher frequencies are more shill.
For example, a drum would have a low frequency and produce an enveloping boom every time it's hit. An ambulance speeding down a highway or nails on a chalkboard would be considered high frequencies. The consensus is that lower frequency specs are better, particularly when the decibel count is minimal as well. This determines the range from which sounds can be heard. These attributes are important to audiophiles but the truth of the matter is that it's entirely dependent on the place from which they (the speakers) are set.
Impedance
In short, impedance is the speaker's ohms. And ohms is the measurement of power that's transmitted to the speaker. The lower the ohm count, the better the speaker. Speakers with a lower ohm rating than others will extract more electricity than those with a higher number. The average for most garage and outdoor brands is eight, but some can get as low as four. Some users will try to amplify their speaker's sound by placing speakers with a high impedance on amplifiers with low ohm. This can be done but is not recommended for beginners or those with little knowledge of speaker systems.
Setting
The most important factor, above all, will be to determine your setting for the speakers. The walls, furniture, appliances and background noise such as vents can all have an effect on a garage speaker's sound quality. If you want to really get the most out of them, it's advised that you purchase soundproofing for the area they will be stationed at.
Try to clear away any excess debris that could throw off the surround quality of the decibels. If your garage is partially exposed to the outside, this shouldn't be a problem but could cause noise pollution that spills over far away from your home. Regardless of what you end up with, these aspects are best determined by the individual and their garage setup itself.
Conclusion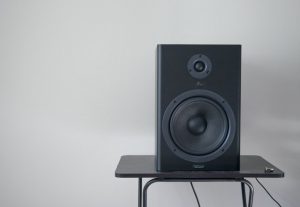 Every speaker system reviewed is a great buy for anyone in need of a sound boost in their garage. But the two that stand out the most are the Polk Audio Atrium 5 and Klipsch AW-650 Speakers. They were chosen for having a good wattage and better than average frequency ranges. The others are good as well and could arguably give the top two a run for their money (which is why they are included on the list in the first place). In the end, they will all do what matters most, which is to add a sound system to your garage that's easy on the ears yet crisp in decibels and clarity. And for that, it's a given that you'll be satisfied with whatever you think will benefit you the greatest.