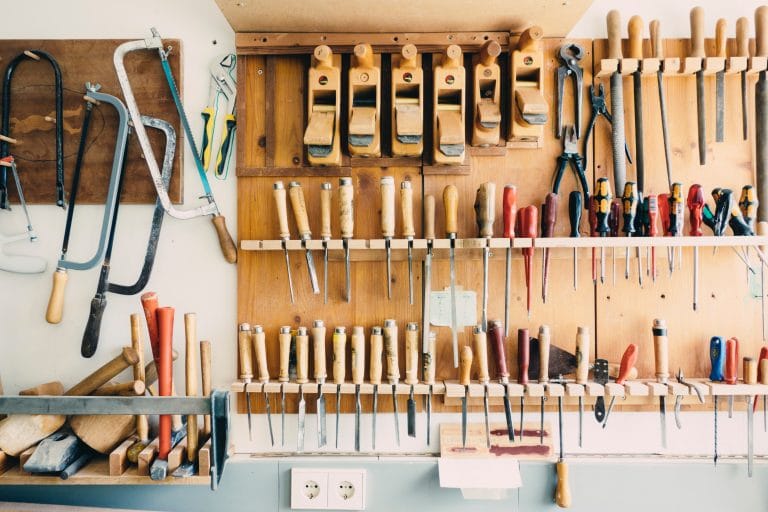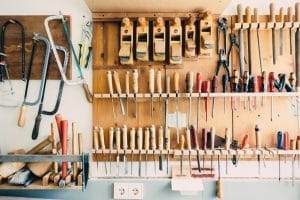 For many people, garages are the primary location to store items that aren't being used. Everything from boxes, tools, and furniture can be temporarily put away until they become needed again. Yet items can accumulate quickly over a short period. This can lead to a bevy of safety risks that are most associated with hoarding.
The possibility of fires, tripping hazards, and bug problems are increased when a garage has too much clutter, along with the inability to park your car. However, garage storage systems are a useful way to organize your items to prevent these risks from happening. Below are five high-quality installations that can help keep your garage floor orderly and spacious. Thereafter, the buyer's guide will help you narrow down the best options for the type of items you plan to store. After you have your storage system installed, your garage will look better and be much safer for you and your family.
Best Garage Shelving and Storage Systems of 2021
Below is a quick look at some of the primary features of the products reviewed: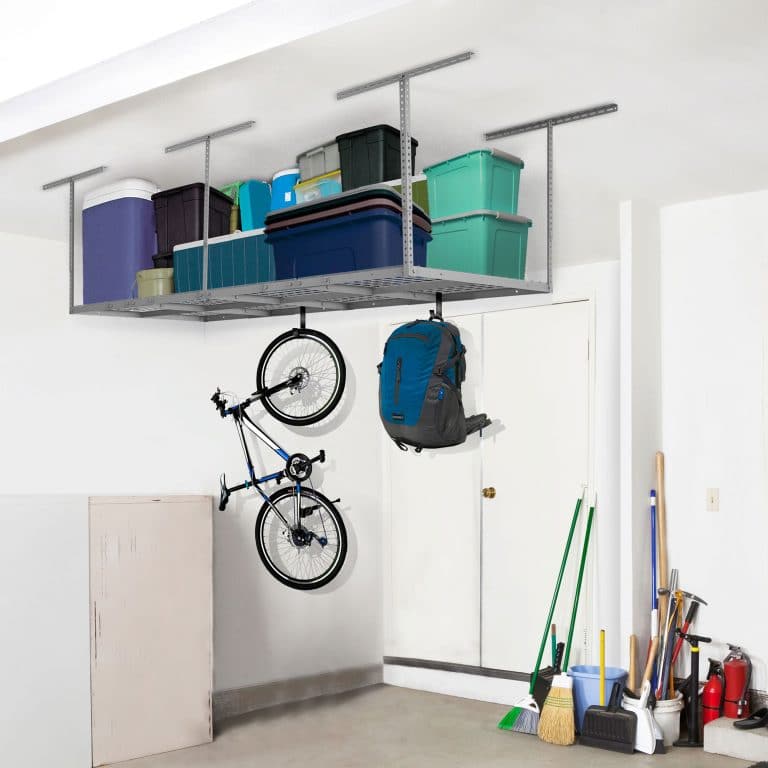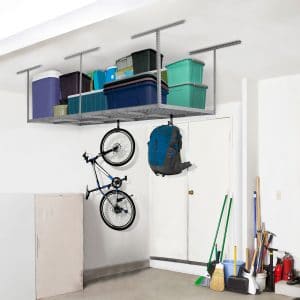 The Fleximounts Storage Rack is an overhead shelf, which means items that must be stored for long periods are suspended off the floor. If your garage has enough space to fit a car, you should have no problem finding the space for the rack. Whether or not your ceiling is concrete or wood, the screws are strong enough to hold everything in place, so long as your belongings remain under the holding capacity.
Strong Support
The holding area is welded to form a wire grid, which will allow you to not only place smaller items on the top but double the space saved by hanging objects at the bottom such as bicycles, skateboards, or backpacks. Just keep in mind that hangers for lower rack use are sold separately. While the shelf space will hold up with numerous heavy items placed on the top, sagging at the center of the mesh wires gives the impression that it could break easily if overloaded. Even when few boxes are stored, the slight bend is noticeable. For this reason, be sure to use caution if you have weighted articles. Spread the weight around evenly so less strain is placed on one area of the shelf.
Storage From Above
With 4 by 8 feet of space and the ability to clear off your floor, the Fleximounts Storage Rack is definitely useful for long-term storage of Christmas decorations, tools, and general home applications. It is suggested for people who possess a combination of light and heavy belongings with varied dimensions. If there's anything in your garage that can be described as such, you will get it to fit on this rack.
Pros
Suspended ceiling design
Can hold small or large objects in size and weight
Mesh wires compatible with hangers for additional storage space
Cons
Shelf mesh bends easily, particularly when holding uneven weight
Hooks for hanging objects on the bottom sold separately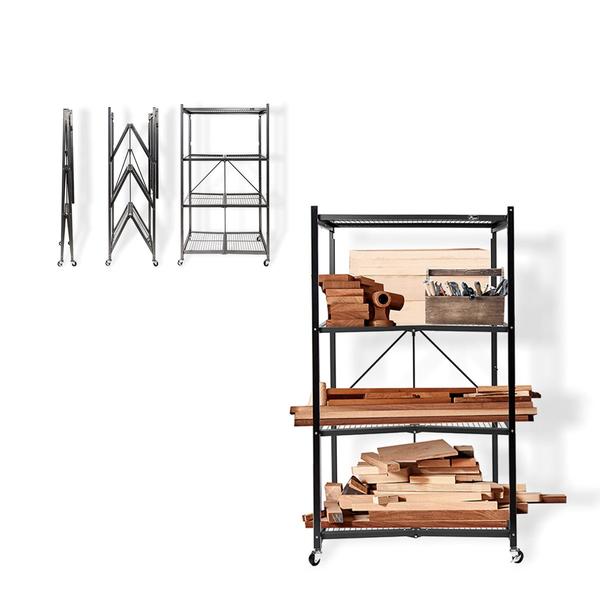 Traditional racks are sometimes all that is needed to free up your garage space. The Origami Storage Rack combines the strength of industrial shelves with ease of maneuverability by featuring wheels at the bottom. This is especially important since the holding capacity is 1000 pounds, which will help you immensely when the shelf must be moved to a different location from where it initially sits.
Fold Up Anywhere
Another great addition is the folding mechanism, which collapses flat by pushing both ends of the rack towards the center. Once done, the shelf can be placed behind additional shelves in use or outside the garage to avoid clutter, such as in an attic. If you do plan to use as a permanent storage space, it will hold heavy tools, plastic tubs, and large pieces of luggage. If concerned with car space, the width totals 20.9 inches so you should be able to safely park your car if the Origami is placed to the left or right of the wall (in medium-sized garages or larger).
Alternative Storage
Although the rack is a great buy, there is room for improvement. The wheels, while useful, might be uneven and cause the entire structure to wobble if not tightened. Rusting may also occur, especially if your garage is humid or slightly exposed to the outside. The gauge wiring is also prone to bending when hefty items are placed on the shelf, most notably on the top portions. Try to place your heaviest articles at the bottom to prevent the steel mesh from warping.
Overall, the Origami is a great storage option for those who need their garage cleared but do not require suspended storage on the ceiling. The folding technique helps greatly, particularly when multiple racks are purchased. There is no assembly required when it arrives, so the possessions in your garage can be consolidated in no time.
Pros
Horizontal fold allows the rack to be stored easy
No assembly necessary
Wheels enable the rack to be moved without taking anything off the shelves
Cons
The mesh wiring may bend when weighted items are stored on the top shelves
Rusting may occur on the edges if used in humid environments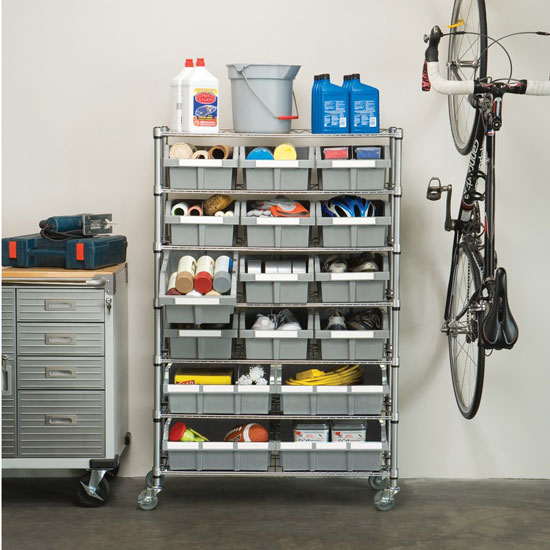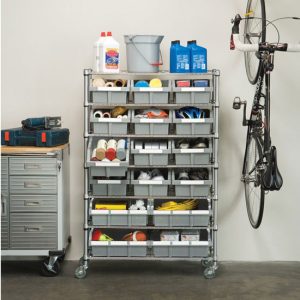 When garage cleanup is planned, some will contemplate on what to do with the larger items in the room while ignoring the small pieces that have accumulated over time. Finding space to organize tinier objects you wish to keep can be frustrating due to how easily they can become lost in the sea of abundant garage items. The Seville Storage System will help you keep miniature to medium-sized articles neatly stored in heavy-duty bins. The holding limit is 900 pounds which makes the shelf ideal for safeguarding supplies of any kind to prevent them from wounding up missing.
Dividing Makes Things Easier
There are seven tiers (shelves) in total which house 16 polypropylene bins. These bins are fitted with removable dividers that can create up to 36 subsections for your belongings. Office/school supplies, tools, screws, nails, and kitchen appliances all fit neatly in the spaces provided. The bins also come with labels for you to mark each section for quick identification of what you have stored. The shelves themselves are made of steel and coated with an epoxy coat to prevent rusting and premature corrosion. As a result, the Seville is well suited for garages that are exposed to outside moisture, such as those with transparent brick openings on the sides. The wheels enable easy movement when its loaded down and can be parked with locks placed near the bearings.
A Look Further
One disadvantage is the lack of rails for the bins, which increases the difficulty in placing the bins back quickly when they are filled with heavy items. They also have a tendency to dislodge from the shelf, even with them having latches to keep it secured. Assembly is also required and could be difficult to complete alone. Nevertheless, the Seville is a great way to maintain cleanliness in your garage and is suggested for those needing extra space to store family supplies of all kinds. The build and parts provided for assembly are well made and will definitely keep your floor clear of small debris that could damage your tires and shoes.
Pros
Strong steel rack coated to prevent rusting
Polypropylene bins help keep items divided for easy identification
Suitable for holding small or large-sized items
Cons
The bins are difficult to place back quickly when filled with heavy objects
Extensive assembly is required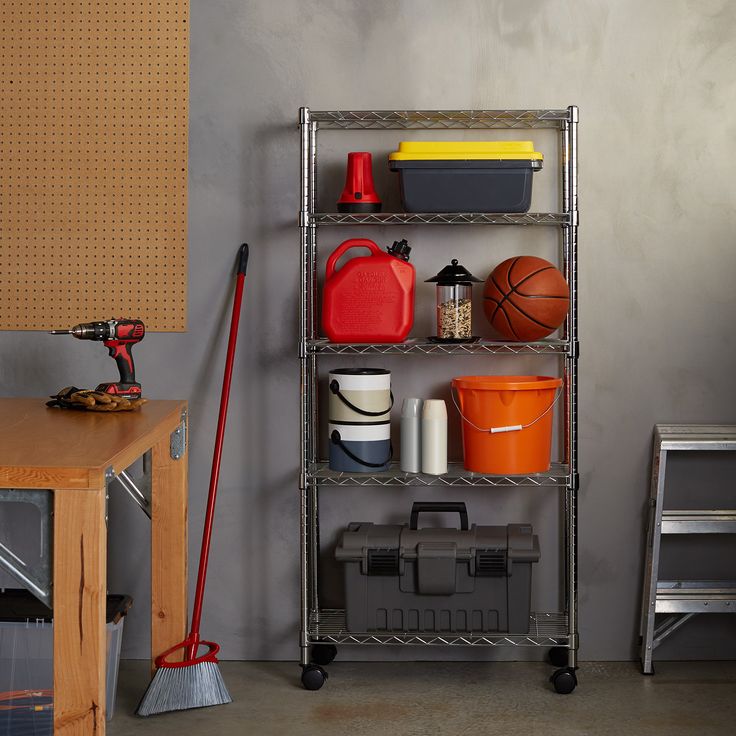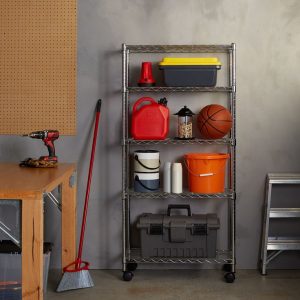 The AmazonBasics Shelving Unit functions as a traditional storage rack and is made of steel and outlined in a chrome finish. It has five sections that can hold a total weight of 1750 pounds. At six feet tall, it comes with five shelf sections that can easily handle objects consisting of many sizes.
If you require less shelves, simply fasten the amount that you require and refrain from placing the unused pieces on the frame during assembly.
Assembly And Shelving
Speaking of assembly, it must be put together during arrival. No tools are necessary to complete the task. The height of the shelves is adjustable as well, which is altered by placing black plastic sleeves on the frame where the shelf is intended to rest. After the shelf is lowered, the black pieces can be further adjusted by pulling the rack up.
No wheels are available with the AmazonBasics shelf. If you must have a storage unit with such, you may need to look for an alternative. Most wheels sold separately should fit on the bottom, however.
Who It Is Best For
The sleeves may wear down fast and will probably need a replacement not long after purchase, particularly if you are storing heavy items on the shelves. As for the instruction manual, it is printed on hard-to-read text for people with vision impairment. Use the AmazonBasic for storing possessions that will not require you to move the shelf too often. It is a good buy if you do not have a large garage and simply want a single rack to help keep everything tidy. Just be sure to acquire extra sleeves in case the featured pairs wear down fast.
Pros
The height of the shelves can be adjusted
No tools needed to assemble
High weight capacity
Cons
Items must be taken off if shelf is moved (no wheels)
Sleeves that hold shelves in place wear away easily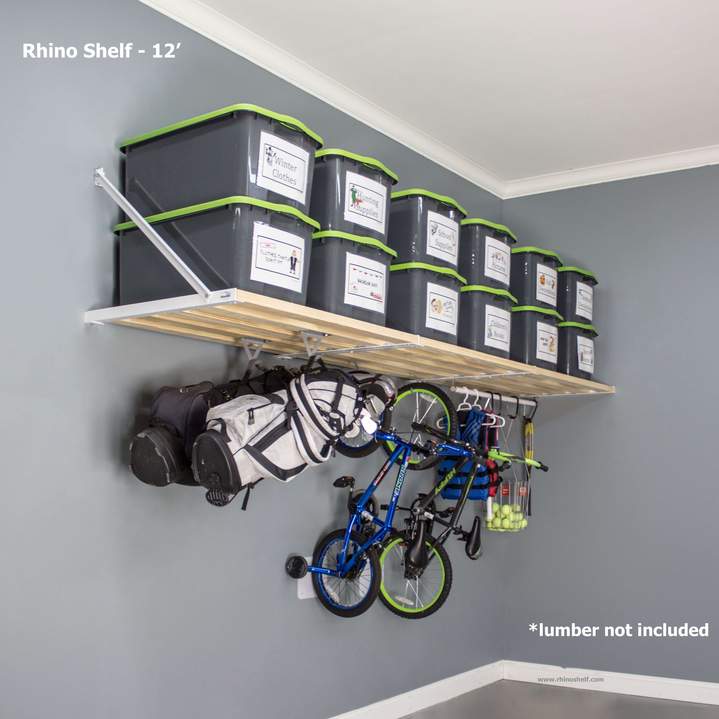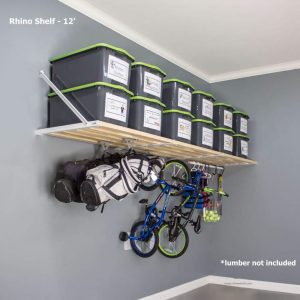 Out of all the garage storage systems reviewed thus far, the DIY RhinoMini Shelf Kit might be the most practical, depending on what you plan to use it for. If your garage space is filled with bicycles, sporting equipment, and medium-sized lawn care tools, its wall mounted design will be exceptionally useful. However, other items should have no issue being placed on its single section.
What You Need For The Mount
There is one big caveat to consider before purchasing the RhinoMini. The rack does not feature boards, which means that additional shelves need to be acquired in order for it to be used. Out of the box, only the wall mounts themselves are featured. This set is compatible with 12 by 20-inch boards but there are other dimensions available, depending on your personal preference. Try to find the board size you want by comparing the size that is most consistent with the dimensions available on the wall mount.
Increases Floor Space
When that is completed, setup is a breeze. Just install on your wall, place the shelf on the rack and load up your items. At the top, it is best suited for large plastic containers and boxes while the bottom hangs items that conform to the previously mentioned gear. In any case, the RhinoMini is a visually appealing wall mount that is great for those who need more square footage than what is possible with shelves placed on the floor.
Pros
Strong steel parts
Wall mounts allow additional floor space
Suitable for storing irregularly-shaped items
Cons
Shelves must be acquired separately
May not be sufficient for garages with abundant clutter
Best Garage Storage Systems – Buyer's Guide
Getting the right storage shelf for your garage is crucial to consolidating your items successfully. If you choose one that is too small or big you may end up with another addition to the rest of your belongings that are taking up space. For this reason, use this guide to help make your purchase easier.
Size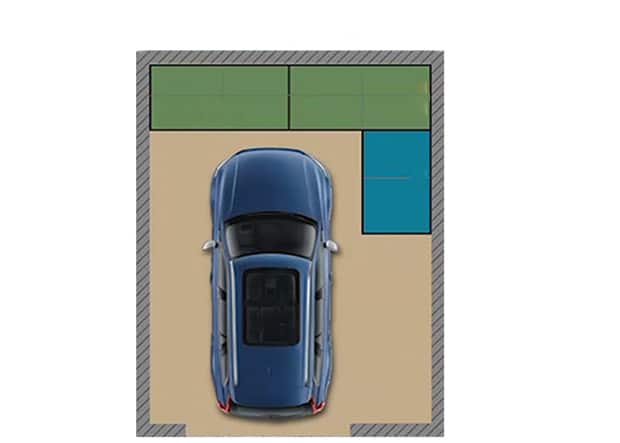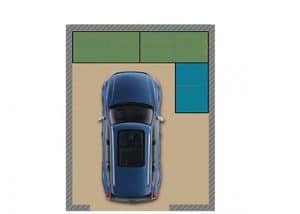 Both the size of your garage and storage shelf should be known prior to purchase. While your final decision may come down to personal preference, knowing what size to get can be determined by assessing the following:
The number of items in your garage
The number of items in your garage – While you don't need to count every single item, having an estimate on the number of boxes and containers you want to place on the shelf will determine the holding capacity you need. For instance, if you have five boxes that measure two cubic feet in total, a shelf that is capable of holding at least 283 liters or more will suffice. Furthermore, it is highly recommended that you consolidate your articles in the containers before making your final judgment. That way, you can get an accurate estimation.
Ceiling
Ceiling – If you are looking at suspended storage shelves, be sure that the intended space for the product will not impede your ability to open and close your garage door. Park your car inside the garage as well and measure the distance between the vehicle and storage area. For accuracy, you may need to do this after you have narrowed down your search. Finally, check the clearance from the floor to the base of where the shelf will begin. If you wish to have enough room to walk under the shelf without bending your knees, your ceiling must be high enough to allow easy movement, including the shelf itself.
Garage floor space
Garage floor space – As with any interior redecorating, your garage makeover will turn out better when you are confident about where you would like to place everything. This is easier to do when you have lots of space to work with yet difficult for smaller garages, especially if numerous items are in the way. Consider getting rid of old belongings that you're sure won't be needed anymore. Doing so will make assembling your storage system easier and prevent the shelves from filling up too quickly.
Distance from the wall
Distance from the wall – If your purpose for reducing clutter in your garage is to have enough space to park a car, you should know the distance that is available to you on all sides. Some garages have ample space in the front but little room on the sides.
For shelves that are placed on the floor, it is advised to look for products that will allocate at least five feet of walking space between the car and shelf.
Features Provided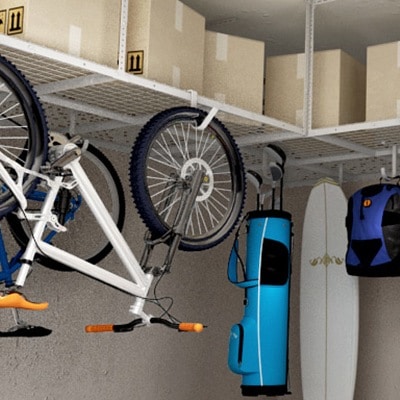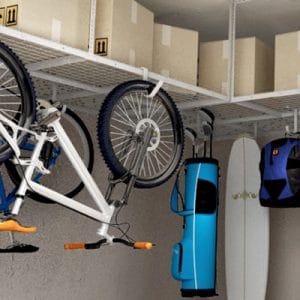 Garage storage products come in many different shapes and sizes. Some of them are better suited for small and medium-sized items while others are best for large containers that won't be moved very often.
If you possess lots of tool accessories such as nails, screws, wrenches, and bolts, a shelf with dividers is highly recommended as a tool shelf alternative. However, if there are lots of toys or bicycles in your garage, finding a shelf with hangers is suggested. Items that pose a tripping hazard (skateboards, basketballs) can also be fitted to such hooks. Just keep in mind that many of them are sold separately from the shelves they are placed on.
Wheels may also be important to you and can provide numerous advantages. The first is portability. Since a shelf that is loaded with many articles will be quite heavy, taking the time to move it from a spot that is not ideal will require everything to be taken off before being lifted. In some cases, the shelf may even need to be dismantled. Storage systems with wheels only require pushing, even when boxes and containers are not removed. As a safety precaution, always check to be certain that your floor is level before attempting to push. Regardless, most racks that feature tires are outfitted with locks to prevent unintended movement.
Type Of Shelves Utilized
Most shelves are made of steel or metal. Some consist of mesh wiring, which is the area that supports the boxes. This type is seen most often on suspended shelves that are attached to the ceiling. While they are great for supporting an assortment of large and small items, they may become warped overtime when too much weight is placed on the shelf.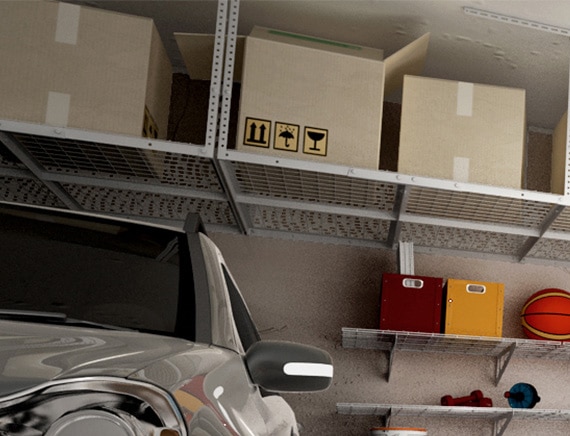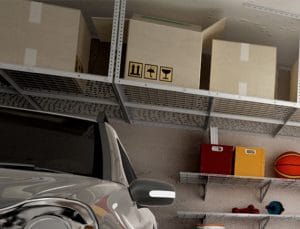 Another popular style is the fixed shelf. These cannot be moved and are attached to the frame. Since they can't be adjusted, care should be taken to understand what will be placed on them, as previously stated. If you have numerous items that are the same size and need space to store them, fixed shelves are best, so long as the products are able to fit into the designated space.
Adjustable shelves, as the name implies, are good if you like the freedom of choosing the size of your storage space. Furthermore, less effort is required for you to gauge the size of your stored belongings since the rack can be changed to suit whatever object you wish to be placed in the space provided. Most adjustable shelves utilize plastic supports that are fastened to the bars, of which can be moved by altering the height of the pieces. Storage systems with this feature will usually have the support included with the box but supplementary pieces are advocated as those supplied are sometimes cheaply made and will not last long.
Assembly
Garage storage systems have a reputation for being tricky to assemble. Some models require no assembly at all while others have many small parts that must be connected by the user. If you prefer doing little construction when your shelf arrives, be sure to acquire one that's easy to put together. If this isn't important, check to ensure what, if any, tools are needed to complete the assembly.
Conclusion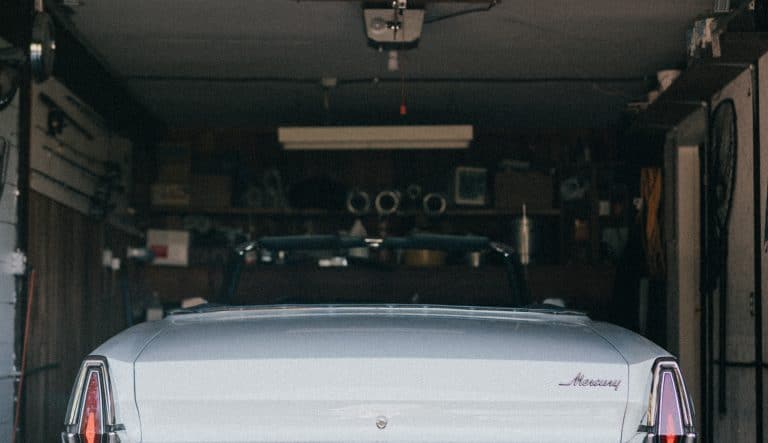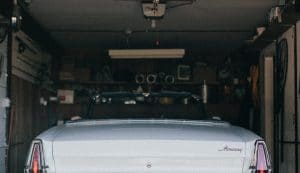 Clearing out cluttered space is not always as easy as it may appear. The products reviewed above can help turn your garage into a room that could double as an additional living space.
Such a preventative undertaking will also lessen the number of hazards in your home, of which could cause harm to you and your family. Less time will be spent looking for objects that are seldomly used but necessary for you to keep. Having a clean garage is an important aspect of home improvement and a great way to maintain organization.