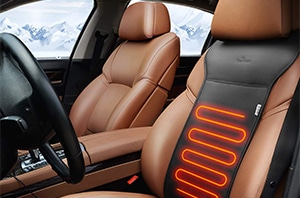 Escape the winter cold and stay warm with a heated seat cushion for your car. Nothing beats the warm feeling of a hot car seat on a cold day. If you car is parked outside a lot or if it warms up slowly then a garage heater, a remote start, or heated car seat can help. Give your vehicle an upgrade with warmth and comfort during winter driving. Drive in luxury all winter long with one of these quality heated seat covers.
Best Heated Seats for Winter
The newest heated seat cushions offer rapid heating and overheat protection. All of them provide easy operation and add a luxury feel to your ride. They also can reduce the wear and tear on your seats. Each of these products is slightly different from the other; use this table below for information on what sets them apart.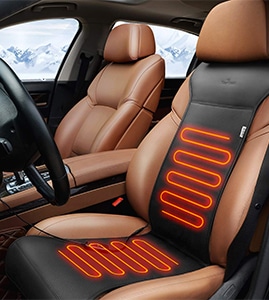 The heated seat cushions from Kingleting provide a solid, streamlined fit and heat up fast to provide immediate comfort. Variable temperature control from 86 F to 140 F with power off protection.
Hot Seat on Cold Days
This cushion heats up fast with stable 140 F warmth available in just 60 seconds. The power draw is about 40 Watts and it attaches using the cigarette lighter. The cigarette lighter is flame retardant and has two interfaces so it can send power to two cushions at the same time. The cushions are thin and provide a good alternative to replacing broken seat heaters or fixing ripped upholstery.
Easy to Install
Buyers found installation fast and easy. The elastic strapping system fits most standard cars and SUVs. The rubber backing is non slip and the front has breathable air holes for fast heating. Some drivers would have preferred a middle strap to hold it down tighter at the crease.
Power off protection keeps your battery from being drained by a heated seat cushion.
The switch provides 30-60-90 minute power off intervals or users can disable power off. This is not recommended as all of these units on the list draw enough power to drain your car battery if you leave them on accidently. The intelligent temperature control provides lots of variability with settings every 3 degrees from 86 F all the way up to a hot 140 F. Once the unit reaches the temperature set point it will maintain this setting automatically until it is turned off or timers off. The unit has 24.6 inches of back length and 24.6 inches of seat length so it extends down over the front of the car seat. This provides great warmth for your full back, thighs, and hips.
Pros
Heats hot to 140 F
Heats fast in 60 seconds
Intelligent controls
Thin, breathable fabric
Cons
Expensive
Controllers in celcius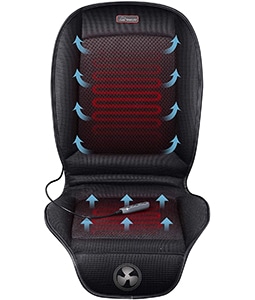 With both heating and cooling options in one package, this pad from Snailax is one of the most popular choices. Use it all year round and provide optimum comfort while driving with cool ventilation in the summer and dual zone rapid heating in the winter. Breathable mesh fabric construction provides good ventilation and a comfortable feel.
Winter Heating
This heated seat cover keeps the driver comfortable all winter long with built-in dual zone heating. The back and seat area both warm up fast with two available levels of heating. The cushion has an auto shut-off timer after 30 minutes and overheat protection to avoid unsafe situations by shutting down the system if it gets too hot. Install easily in your car with a non-slip rubber bottom and straps.
Summer Cool Seat
In addition to supporting drivers all winter, this car seat also has three fan speeds of cooling available. The cooling air seat cushion uses a powerful air intake at the bottom to suck air up and into the seat, dispersing it out through the vented, breathable mesh fabric layers. This does not cool the air but it does help circulate it around the seat and the cabin. The cover helps the car seat stay ventilated, breathable, and day. Drivers report that it helps absorb body heat and reduce perspiration.

Pros
Heating and cooling
Comfortable mesh fabric
Dual zone heating
Cons
Durability concerns
Only two levels of heating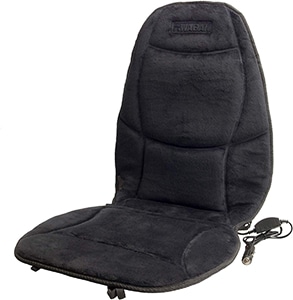 This soft, velour heated seat cushion provides drivers with a comfortable yet durable seating option to use on cold days. Featuring two heat settings and temperatures up to 114F. If you want a smooth, luxurious feel in your car this is a great seat cover to consider.
Soft Fabric
Most seating options on the market are a breathable leather or worse yet a stiff rigid vinyl that heats up. This is a unique choice in that it has two color options in a cool velour fabric. The fabric is soft yet durable and drivers were very complimentary of how nice it was to touch. The heated seat offers lumbar support with a .5 inch thick cushion in the back. Power this cushion easily using the 12V/cigarette lighter in your car and included plug. The controller is simple with just High Off Low settings. This controller has to be unplugged when not in use to avoid draining the battery.
The soft, warm fabric makes it comfortable to drive your vehicle down the road.
Car Installation
The HealthMate Velour Heated Seat Cushion is not built specifically for a car, and a lot of users enjoy it at their desk. Unfortunately this meant that installation in a vehicle is a little less than ideal. Specifically, some users were frustrated that it slid around on leather seats and some were upset that it did not cover more of the vehicle seat. The heated seat cushion measures at 38.5 x 17.7 inches. It has two elastic straps in the rear and four cinch straps around the bottom. Company offers a one year limited warranty on defective products.
Pros
Plush velour styling
Lumbar support
Cons
Low max heating temp
No auto shut off
Short DC cord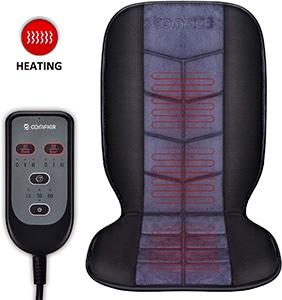 Comfier offers a nice seat warmer for your vehicle that differentiates itself with separate heating controls for the back and for the seat area. This is one of the most requested options in the market and Comfier has one of the only solutions. Enjoy safe and reliable heated seats with two heating levels for both heat zones.
Heat Control
Separate controls for heating the back and the seat give drivers all the control they need to stay warm during the cold winter months. An easy to operate controller aids operation and it lights up to make night use easier. Each heating area offers off – low – high settings along with a default 60 minute timer auto off. Drivers can also adjust the timer in 15 – 30 – 60 minute intervals. The car seat cushion aims to deliver about 114 F heat at the low setting and 131 F heat at the high setting. The cushion works fast and heats to temperature in about 3 minutes time.
Solid Construction
A rubber bottom and thin construction combine to help this cushion sit flat on your car seats. The material is a faux suede combined with a plush top layer and high density foam padding underneath. The cushion has a luxurious feel and solid construction. This heated seat cushion comes with a regular plug to use in your home and a car adapter to use in your vehicle. The company offers only a 30 day warranty.
Pros
Flexible heating controls
Tight fit
Rubber bottom
Attractive price point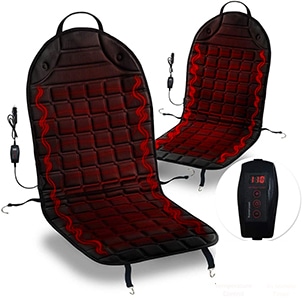 These heated seats from Zone Tech make our list because of the Budget Buy 2 pack. This presents a great deal for someone looking to add a functional and efficient heated seat cushion to their vehicle without making a big investment. Cushion offers temperature control up to 150 F and a 45 minute timer.
Standard and Effective
These seated heat cushions get the job done without all the fancy features found on other models. Providing warmth and comfort to your car cabin and good for use in cold weather driving. Hi tech heating fabric means that no lumpy wires are integrated and heated up. The cushion has an auto timer and will turn itself off after 45 minutes.
Plug into the 12V DC outlet in your car and start to feel heat fast courtesy of integrated far-infrared heating.
Securing it to your vehicle is easy with black elastic straps on the top and hooks included to attach the cushion to the underside of your seat.
Safety and Security
Zone Tech does a great job setting a standard for security with the auto timer. The company also gets high marks for use UL approved fireproof material throughout the construction process to help minimize fire risk. The non flammable design helps eliminate a lot of the concerns that people have with placing heated seat cushions in their cars.

Pros
Economically priced
2 Seats per pack
Low profile design
Cons
30 Day warranty
Limited durability
Guide to Choosing the Right Seated Heat Cushion for your Vehicle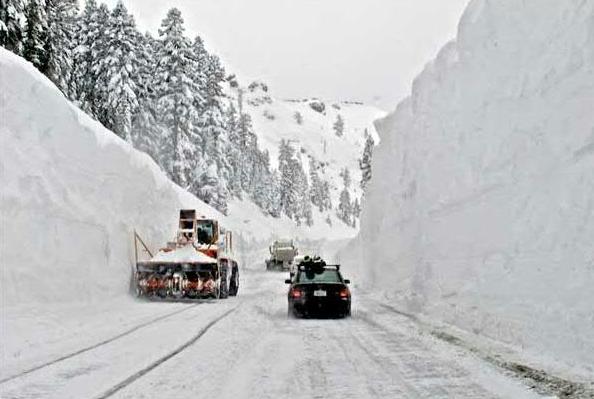 As you can see, heated seat cushions come with all sorts of different options but have the same goal: keeping you warm in your car. Some focus on safety options and intelligent controllers, while others emphasize fast heating and sometimes even cooling. Whatever the features, choosing the right seated heat cushion comes down to personal preference and your unique needs.
Are Heated Seat Cushions Safe?
There is always a concern of fire risk when working with heating elements. When a device is set too high or is not turned off it can overheat and damage items nearby. Drivers that do have a problem with cheap heated car seats post scary pictures of melted seats and burn wire marks. You always have to be mindful and careful when using a heating device. This applies to vehicle use and also use in the home.
The heated seat cushions are even trickier since they are in the car and use a 12V / cigarette lighter power source. The 12V can be a perfectly safe power source for your car, but it does not have some inherent safety features that you might find in a domestic wall outlet. The risk of fire when using a 12V connector comes from loose connections, free wires, or a power element that overheats.
The most likely accident with seated heat cushions is that you will leave them on and drain your battery. It is especially dangerous during the winter months to discharge your battery as the cold weather weakens them. Look for a heated seat cushion that offers a timer auto off and ideally also has a temperature auto off to keep the device from getting too hot.


Installing Heated Seat Cushions
Take your time when installing seated heat cushions and do the job right. A bad installation job means that the seat will always be slipping and sliding underneath you as you shift in the seat and that will make for an uncomfortable ride.
Most heated seat cushions have an elastic strap or hoop at the top to attach to the headrest. The bottom of the seat cushion will have more straps and often also hooks so that you can strap the cushion down tightly. Don't attach the hooks to your seat track or you might cause problems in the future adjusting your car seat forward or backwards. Try to cinch the cushion down tight in the seat before moving on to tighten the backrest portion.
Heated Seat Cushion Maintenance
Caring for your heated seat cushions mostly means checking the wires and cables periodically. Be sure to keep a tight connection between your car cigarette lighter 12v DC and the heating element. Watch for any loose cord that could get tangled or pulled on and wrap it up small then store it away under the seat using a twist tie.
Inspect the heating element regularly to make sure it is operating properly and not damaging your car seat.
To keep your cushions clean wipe them down weekly with a washcloth and warm soapy water. Do not get them sopping wet since the cushion has an electrical element inside. Also be sure to entirely remove the car seat cushion regularly so that you can clean any crumbs or dirt that falls underneath them.
Verdict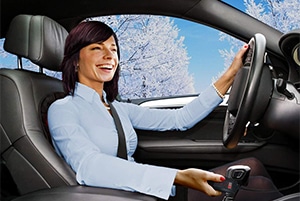 Offering high temps, fast response time, and solid construction it is tough to beat the Kingleting Heated Seat Cushion with Intelligent Temperature Controller. The cushion installs easily, sits flat, and keeps you warm as your drive. A budget friendly step below that is the Zone Tech Car Heated Seat Cover Cushion.
Drivers who want a softer solution should check out the velour seat covers by HealthMate. Unlike most leather or plastic solutions it covers your seat with a soft yet durable fabric and comes in two colors to help match your car interior.
If you cannot decide on what seat cushion is right for you then consider starting with the strong, middle of the road Comfier Heated Car Seat. It is highly rated, has easy installation, and offers more temperature control than most models.