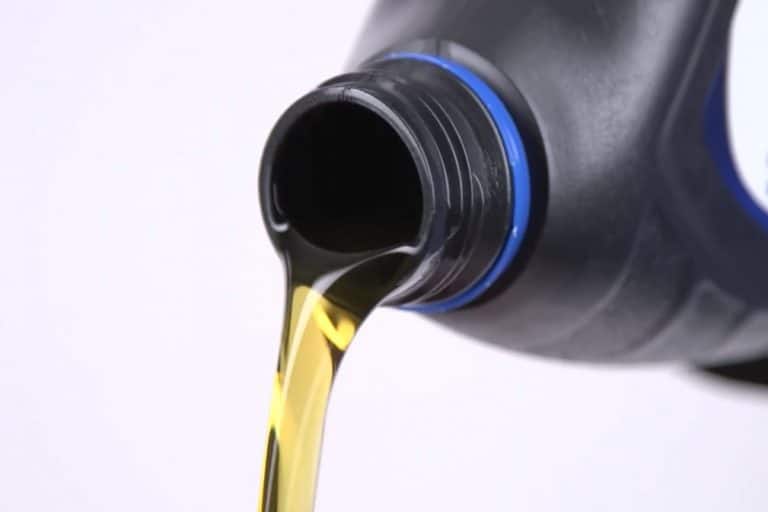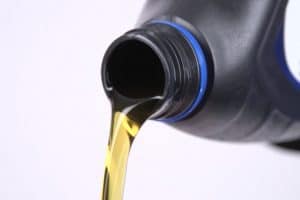 As your vehicle begins to age, you need to consider what new solutions you require to keep it in top shape. Regular maintenance and good driving habits can go a long way towards extending the lifespan of your vehicle, but it will eventually need products specially designed for use with older machines.
Few instances of this are as true as for motor oil which is fundamentally necessary for your engine to work at all. When you consider the kind of conditions and damage it may have sustained over time, it only makes sense to look for a motor oil made specifically for high mileage engines.
Our List of Best High Mileage Oils
That is why we have prepared a list of the 5 best high mileage oils we could find. A helpful comparison chart and buyer's guide can give you a good reference, but we rate the Valvoline High Mileage with MaxLife Technology as our Editor's Choice.
1. Valvoline 5w30 – Editor's Choice Best Synthetic Blend High Mileage Oil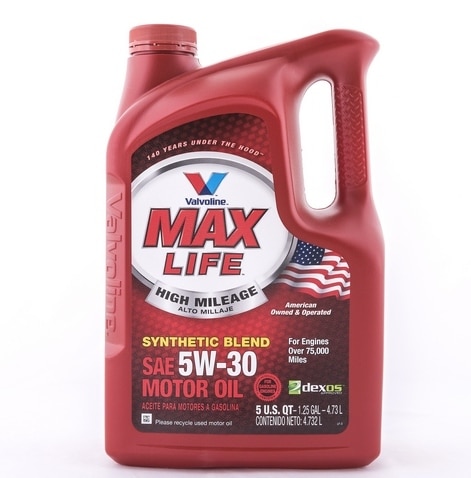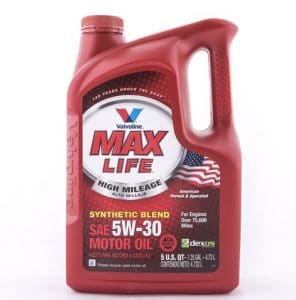 Valvoline should be considered one of the big dogs in the consumer-grade motor oil market as they are consistently in the top-3 for all relevant categories. Of course, with over 150 years of experience, it only makes sense that the company would be able to make a great product. Having a large market share also allows Valvoline to cater to all niches, but we think that this is the best all-around motor oil for a high mileage engine that we saw. That is why the Valvoline 5w30 is our Editor's Choice best high mileage oil.
Best Bang
Most people will not require a motor oil that caters to a particular niche–outside of the high mileage market. Instead, the best motor oil is often the one that will prolong the lifespan of your engine without causing too big a dent in your wallet. Thankfully, Valvoline has you covered on both fronts with an oil that significantly extends the life of your vehicle while also coming in as the least expensive that we reviewed. It is worth noting that the Valvoline High Mileage Max Life blend in particular is designed to work with engines that have up to 300k miles on them–assuming you already started using the Valvoline High Mileage blend no later than 150k miles.
All the Additives
A number of motor oils we saw had different focuses of additives depending on what problem they were actually trying to solve. In this instance, the Valvoline decided to favor longevity over high performance, and most of the additives serve that purpose. The detergents and dispersants do an excellent job cleaning the engine, while the antiwear agents and rust-inhibitors make sure that the engine stays in good, working order. Antioxidants have also been added to help the Valvoline oil maintain proper viscosity even under hotter working temperatures.
Pros
Can last for 300k miles
Has antioxidants
Has detergents
Has rust inhibitors
Has antiwear agents
Has dispersants
The least expensive oil reviewed
Cons
Poor container
Not Dexos compatible
2. Pennzoil 10w30 – Best Conventional High Mileage Oil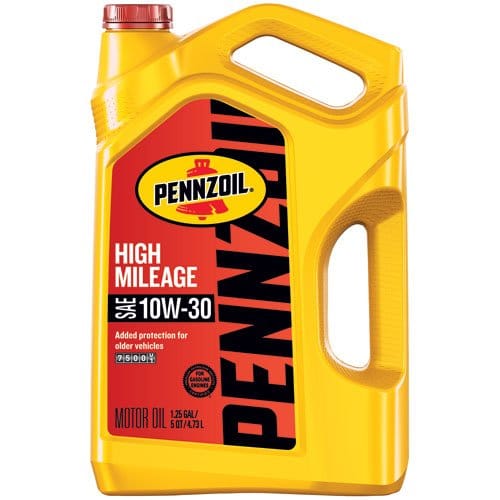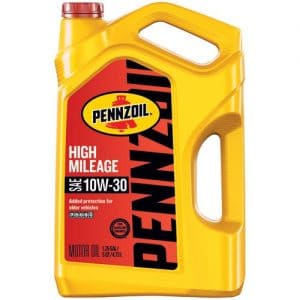 Pennzoil is about as standard of a company as you are liable to find. Founded in California in 1913 as a brand of Standard Oil, it is currently owned by the global petroleum magnate Royal Dutch Shell. This tells us a couple things, but one is that the product will meet pretty much every specification for its class since its parent company was in a large part responsible for those specifications. We also know that Pennzoil is an international, consumer-grade corporation that is a bit slow to catch up with some of the more recent innovations.
Old School
One of the biggest differences between this high mileage oil and others is that it is made of a conventional formula. This means that the Pennzoil 10w30 is the only product we reviewed that is made of 100-percent petroleum-grade materials. This is actually a great quality for many older engines that are not designed to handle the synthetic oils that are increasingly popular. Even better, older engines are also often designed around a narrower range of specifications, and the Pennzoil takes that into consideration as well.
Conventionally the Best
Beyond the fact that being a conventional motor oil makes this the best choice for certain older engines, the Pennzoil is also a solid oil anyway. One of it's best qualities is how well it cleans the engine–especially with the first oil change. Even better, the Pennzoil then reinforces the metal of the engine after it has been cleaned. That said, the primary additive and benefits gained from the Pennzoil come as a direct result of its particular cleaning properties which separates sludge into constituent bits. It is also worth noting that just because it is a conventional motor oil does not mean it cannot be used for newer engines as well. This is especially true due to its mixability with both full synthetic and synthetic blended oils. One thing to keep in mind is that this oil only meets API SN standards.
Pros
Has dispersants
Has detergents
Has antiwear agents
Is a conventional oil
Has 10w30 viscosity
Compatible with older engines
Cons
Not API SN Plus
Is a more expensive oil
3. Castrol 10w30 – Best Synthetic High Mileage Oil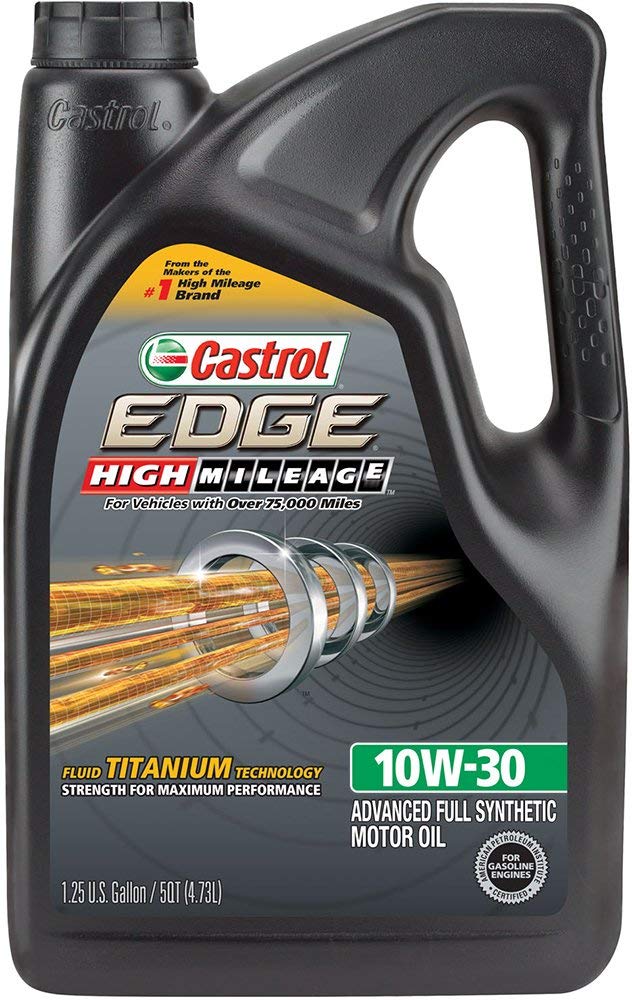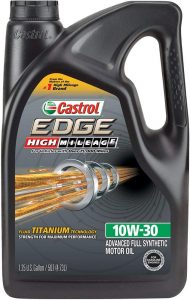 Castrol is actually one of the oldest company commonly associated with motor oil and actually has its origins date prior to the invention of the car. Not only has this experience allowed Castrol to continuously develop high-performing products, but it has allowed them to get their name out as well. In fact, Castrol is one of the first companies in the world to market by sponsoring competitors–especially during automotive races. That said, the Castrol is the best fully synthetic formula we saw, but it is also good for powerful engines too.
A Big Tent
Considering that the company has been around for over a century, Castrol has a tendency to seek the largest customer base. This means that their products are not always as well suited to niche needs, like an especially older engine. One of the biggest tells of this broad approach involves the viscosity-index rating of the Castrol. While additives will often alter the true viscosity, and the Castrol oil has many of these, the 10w30 viscosity-index is one of the primary standard motor oil viscosities. In fact, the use of a full synthetic formula also contributes to this push towards the bigger market and modern cars.
Unique Additives
The selection of additives used for the Castrol oil is definitely a bit odd for most people's purposes. Whereas most consumer-grade motor oils are designed to extend the lifespan of the engine itself, Castrol is more a performance oil. While it is certainly not to the level of supercar-worthy, the additives included have a tendency to increase the Castrol's viscosity. On top of that, this motor oil is also made to function as effectively in colder or warmer temperatures as well. It is worth noting that this is not the best motor oil to use if you are trying to flush out old sludge. Still, it is great for older engines that have been well cared for and are still in good condition.
Pros
Has titanium friction modifiers
Has viscosity-index improvers
Is a full synthetic oil
Has pour-point depressants
Has 10w30 viscosity
Has dispersants
Cons
Not the best for cleaning
Will sometimes burn
4. Mobil 1 5w20 – Best Cold Weather High Mileage Oil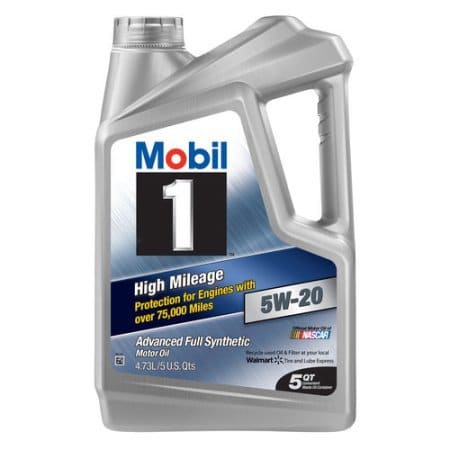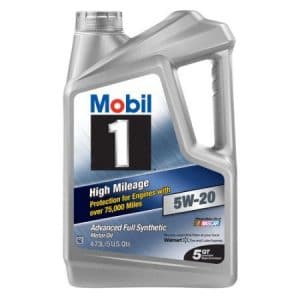 ExxonMobil is one of the remaining great relics of the bygone era of Standard Oil, though this is arguably the company that sought performance over longevity. As the oldest company on our list and the one responsible for the Pennsylvania oil rush, Mobil motor oil continues to push the boundaries of performance. Keep in mind, this is the motor oil used by Thomas Edison and in the Wright Brothers' first airplane. Though some things have changed since that time, this is still the best performing high mileage oil we saw.
Top of the Class
When it comes to doing its primary job of lubricating your engine, there is no other oil on our list better than the Mobil 1 5w20. Keep in mind, older engines might have additional needs beyond superior lubrication, but it certainly never hurts to have the best performing high mileage oil in your car. In terms of the raw numbers, the Mobil1 has the highest viscosity-index that we reviewed. It also has the lowest pour-point, which means that you do not have to worry about it in cold weather. In fact, along with other qualities, this is the best cold weather high mileage oil we found.
Best of the Bunch
While we will get into the specific additives in one moment, it needs to be stated in bold that the Mobil1 oil has a 15,000 mile lifespan. Granted, that estimate is given for the best of conditions, and you will likely drive through less than ideal conditions yourself. Still, a regular estimate given by customers hovers around the 10k mile mark. Beyond the superior synthetic formula, the Mobil1 also has antioxidants, detergents, antiwear agents, and rust inhibitors. That said, this is not the oil you use to flush out an older, sludgy engine.
Pros
Has the highest viscosity-index reviewed
Has the lowest pour-point reviewed
Is a full synthetic oil
Has 5w20 viscosity
Has a 15k mi lifespan
Has numerous additives
Cons
A more expensive oil
Not the best cleaner
5. AmazonBasics 5w30 – Best New Engine High Mileage Oil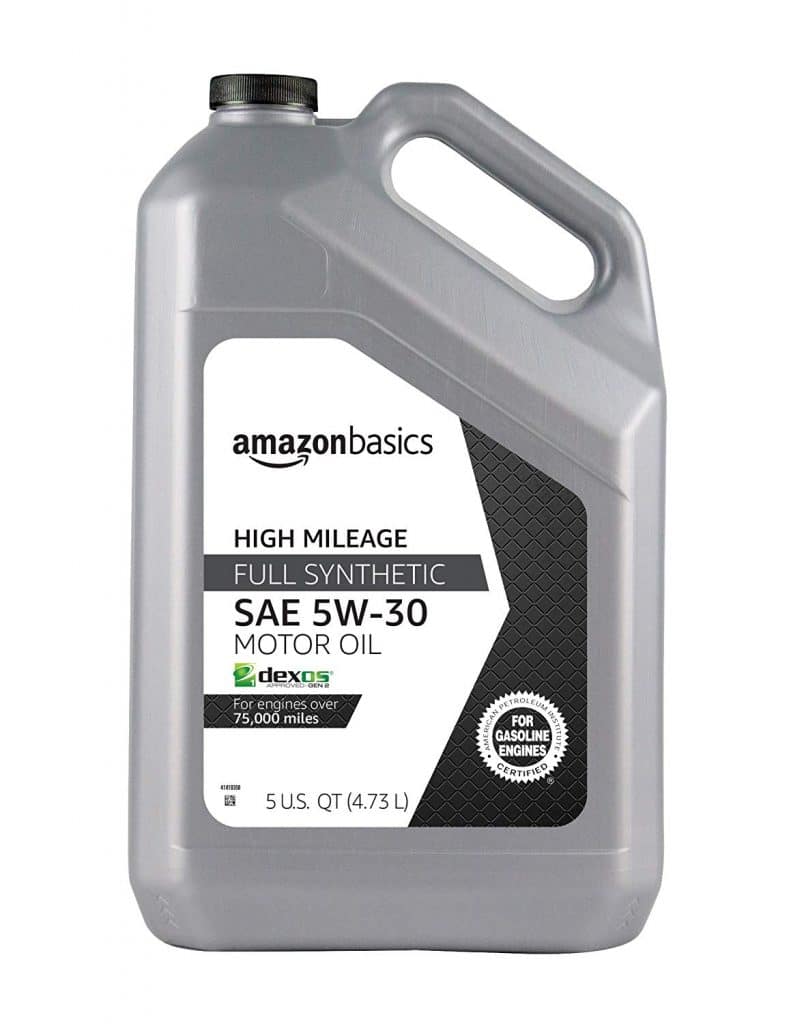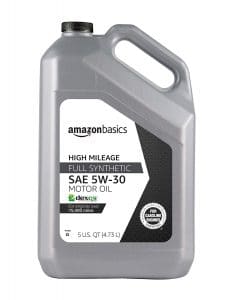 This may seem a bit odd, considering you often use Amazon to make your online purchases, but the website also sells OEM products. In this instance, you get the customer assurance that Amazon has your back if anything goes wrong. At the same time and like Walmart, Amazon is able to keep their costs low while offering a solid product. While this is certainly not the best performing high mileage oil we saw for any niche, it does offer a great balance between price and performance. That is why we rated it our best new engine high mileage oil.
Never Too Early
One thing to keep in mind is that while this motor oil was made for high mileage engines, that does not necessarily mean it was made for older-model engines. Specifically, this is one of the few motor oils we saw that is rated SN Plus, GF-5, and Dexos Gen-2. Basically, if you have a newer model combustion engine, chances are this motor oil will work for it. This oil may not actually be compatible with many engines, especially if they were made before 1993. Still, if you have a newer engine, this motor oil is a solid choice but especially if it has a lot of miles on it.
Solid Additives
Since the AmazonBasics seems to be designed for newer model engines, it does make sense that the current formula does not favor detergents or dispersants. Without the decades of sludge to clean out, the AmazonBasics is free to include other additives. In this case, the AmazonBasics oil has a number of additives designed to keep your engine in good condition–which makes even more sense if the engine is still in good condition. With antiwear agents and rust inhibitors, the addition of conditioners increases fuel efficiency and decreasing flare-ups.
Pros
Has oil seal conditioner
Is a less expensive high mileage oil
Has numerous certifications
Has antiwear agents
Has rust-inhibitors
Has pour-point depressants
Cons
Not for high-performance engines
Not the longest lasting
Best High Mileage Oil – Buyer's Guide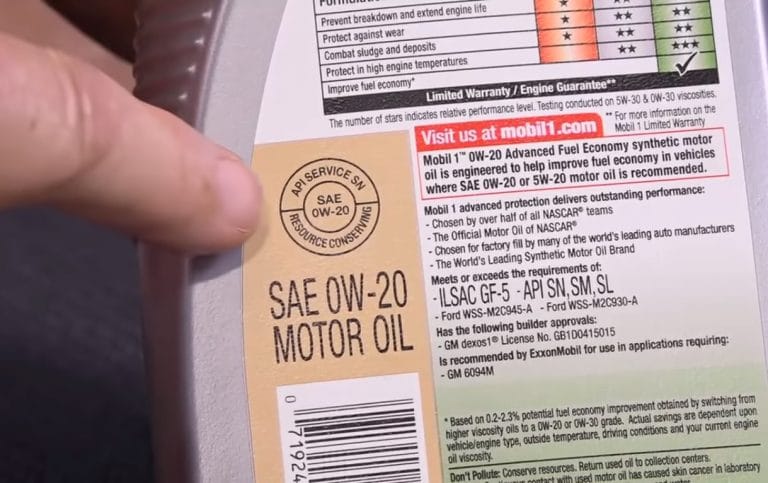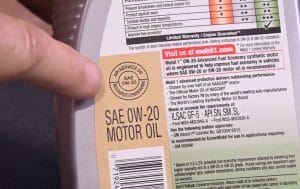 The type is not necessarily the most important consideration, but it is one that you generally cannot afford to get wrong. Basically, older engines often require particular blends of oil that may not necessarily conform to other standards. This often requires the inclusion of more expensive materials and processes.
Most Common Oil Types
Conversely, especially old engines may not even have been considered when a particular oil was designed due to their lack of prevalence. The point is, the type of motor oil may not determine how effective the oil is, but you must match them properly for the best results.
Full Synthetic
This is the most common type of motor oil used today, and most newer engines are designed to use full synthetic motor oil. The name is a bit of a misnomer as synthetic oil is still made from petroleum-based products. However, the petroleum products have undergone enough transformations that they are no longer really considered petroleum-like anymore. These materials are incredibly viscous and long-lasting, but they are also significantly more expensive to manufacture. It is also worth remembering that many older engines are not designed to use full synthetic oils, and not all oils have complete backward compatibility.
Premium Conventional
At one time, the "premium" in conventional oil really meant something These days, if an engine takes conventional motor oil, it will be premium conventional motor oil. The defining characteristic of any "conventional" oil is that its base–the 75 to 85-percent non-additives–will be made of petroleum materials. As noted prior, synthetic oils do generally perform better than petroleum-based oils, but some classic and antique engines can only use premium conventional motor oil. It is also worth noting that conventional motor oil is not a poorly performing product and is often less expensive.
Synthetic Blend
As the name suggests, this type of oil blends the conventional and synthetic types. While it may seem like there would be some engine or design-based reason, it actually comes down to simple maths. Basically, synthetic blended oils can offer nearly the same level of performance as full synthetic oils at a significantly lower cost. That said, you should expect that synthetic blends are less likely to perform as well under extreme temperatures. On top of that, they will not last as long as the best full synthetic oils, no matter what additives are included.
High Mileage Oil
Since our list focuses on this particular niche, it is worth exploring what makes a "high mileage oil" in the first place. While the type might seem important, it is actually the additives that generally define a high mileage oil. At the same time, this means that different manufacturers can further specialize within the high mileage niche. But that just turtles all the way down. Instead, consider whether the oil is more of a cleaner, a preserver, or a performer and match to your older engine as appropriate. If your engine is in rough shape, a cleaner and preserver are probably indicated. If your engine is older but still in good condition, you might want to consider a preserver and performer combo.
Viscosity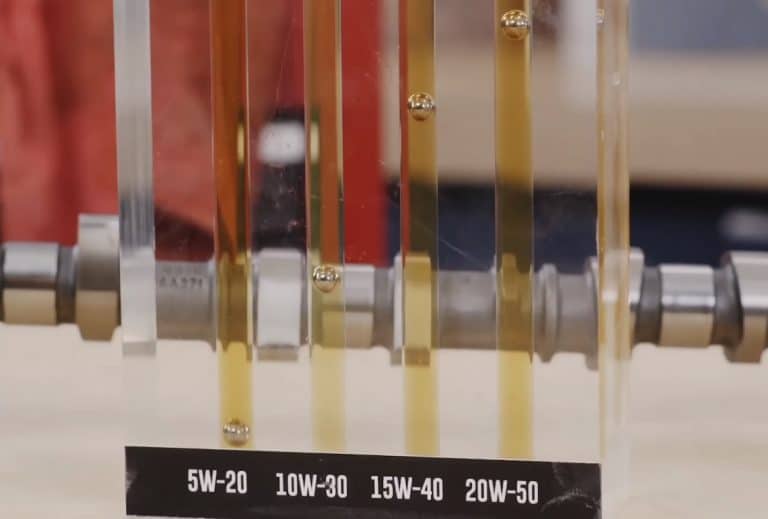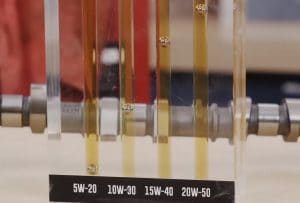 A lot of talk will get tossed around about the viscosity of an oil, and while that is important, it is not nearly so easy to discuss. Whereas at one time the viscosity rating was fairly easy to determine based on the "##W##" formula, these days additives completely changed the game. Even an oil rated 5w20 can perform extremely well in the hottest or coldest of conditions with the right additives. This has made quickly judging one oil from another in the store a difficult, if not impossible process.
That said, the main additives which genuinely affect the oils' viscosity are pour-point depressants and viscosity index improvers. The pour-point depressants are designed to prevent the oil from getting too thick while the viscosity-index improvers are designed to keep it from getting too thin. Keep in mind that anywhere from 15 to 25-percent of all motor oil, regardless of the type, is composed of these additives.
Additives: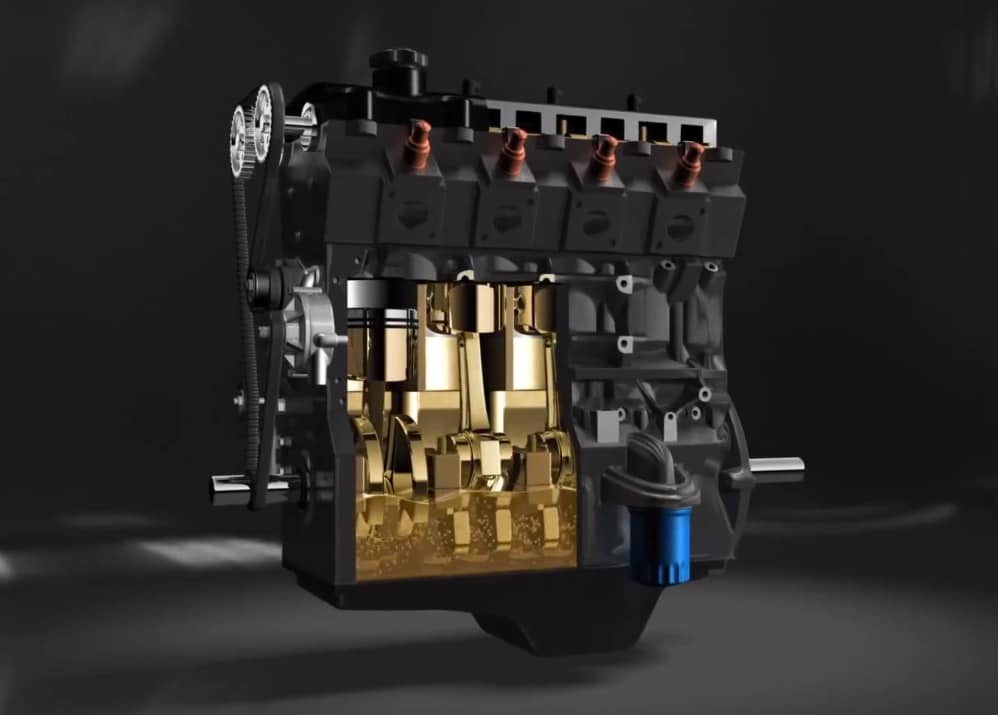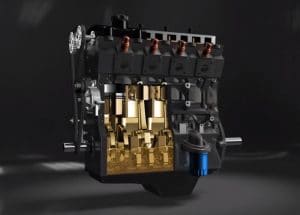 There are numerous additives you can add, but there are three primary effects that they have: they either clean, preserve, or increase performance. Generally, if the engine is in poor condition, you are going to want to use a cleansing oil first and eventually move to a heavy preserve oil. Of course, it is nice if an oil contains at least all of the different main types of additives, but those oils tend to be fairly expensive. Figuring out what your engine needs can be a good way to save some money without sacrificing performance.
Cleaning – The two most common type of cleaning additives are detergents and dispersants. Despite the name, detergents are not actually soap, though they do have a similar kind of function. However, they do pull a bit of double-duty in that they also prevent the formation of future deposits as well as cleaning the older ones.Dispersants, on the other hand, are more like a clog remover in that they break up older sludge deposits to either be dissolved into the oil or moved out of the engine. These are often the most common type of additives found in motor oil designed for high mileage engines.
Preserving – This is another fairly straightforward category with additives that are fairly easy to understand. For instance, the rust-inhibitors do just as their name suggests and prevents the formation of rust or corrosion in your engine. Antiwear agents similarly prevent the wear and tear of metal on metal–even at the microscopic scale.The only one that is not so intuitive is antioxidants as this additive can preserve as well as increase performance. Still, the primary preserving quality antioxidants provide is similar in function to an antiwear additive. Antioxidants can also help prevent the oil from burning too.
Performance – Considering the function of motor oil, it should not be that surprising that a plurality of the additives used focus on increasing performance. That said, for an area with so much focus, so little is actually told. For instance, viscosity-index improvers are designed to maintain viscosity during hot temperatures. It is pour-point depressants that increase an oil's performance in cold weather.However, as mentioned earlier, antioxidants help increase fuel-efficiency, but this is only an aftereffect of making sure that the oil does not get too thick under hot temperatures either. Finally, foam inhibitors are a bit of an odd man out in that they focus on a unique problem, but the prevention of foam buildup in the oil, increasing performance and longevity.
Conclusion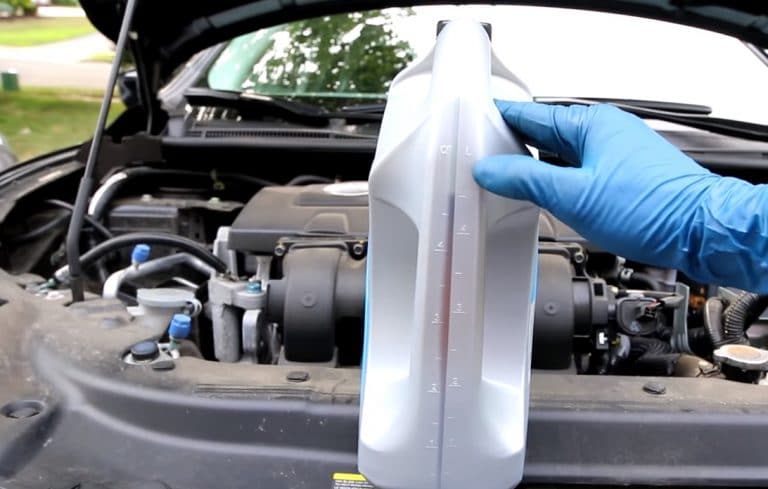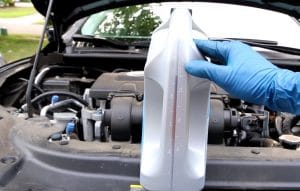 As we see, different engines will not all take the same motor oil–let alone one be the best. That said, the Valvoline High Mileage MaxLife does offer the best all-around benefits for most older engines. It is great at flushing out older, dirty engines while going right behind and preserving the metal. Even better, the Valvoline accomplishes all of this while also selling for the lowest price too. Just make sure you do not use this for Dexos-rated engines.
If you do not mind spending a bit more money, the Mobil 1 High Mileage motor oil is easily the best oil for performance that we saw. The fact that it regularly reports 10k mile runs as par for the course is impressive. However, its ability to maintain proper viscosity in even the most punishing of conditions also contributes to its superior performance. Just do not get this with the intention of cleaning out an older engine with years of sludge buildup.