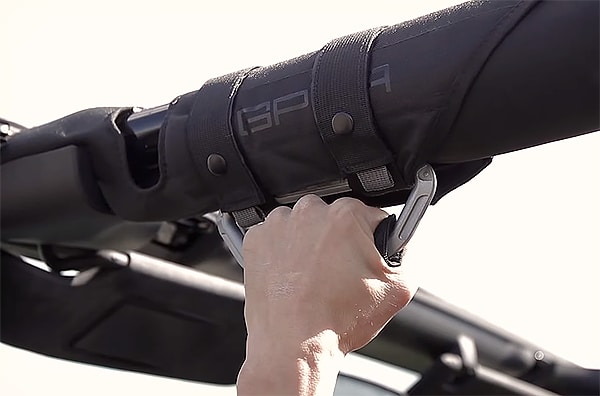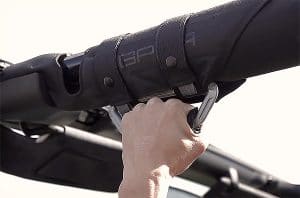 Jeep Wranglers are one of the more elevated SUVs on the market, so it would follow that getting in and out of the car is more dangerous for these specific car models. Grab Handles can be a lifesaver, especially in risky conditions like icy ground or uneven parking. That is why it is important to have a grab handle in your Wrangler just in case.
Best Jeep Grab Handles on the Market
Grab handles come in various materials and shapes, and are each fine tuned to specific customer needs. Specifically, the flexibility, installation, and positioning of each grab handle can vary greatly from product to product; a few of these differences are outlined in the table below.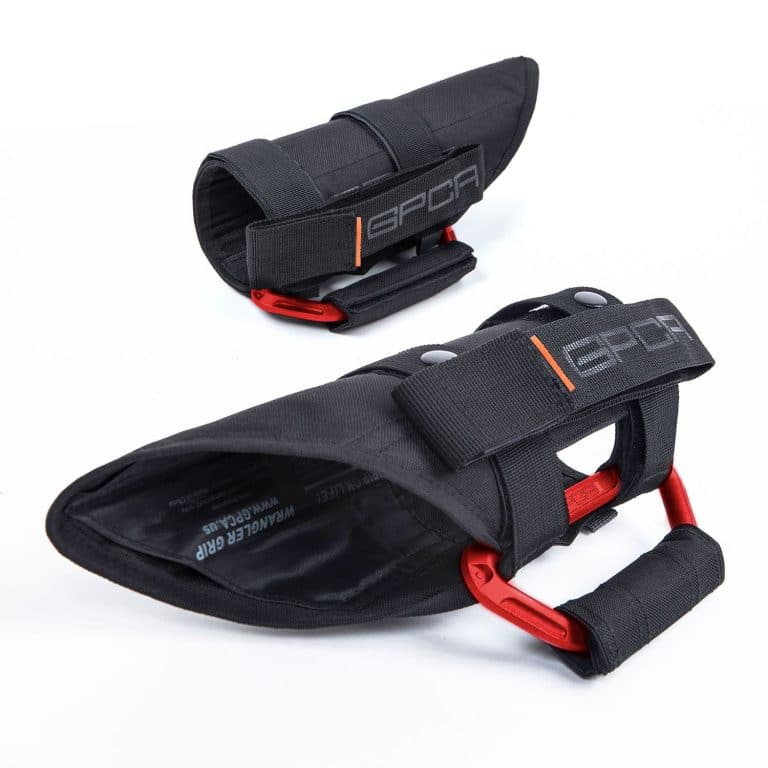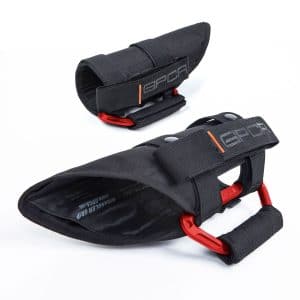 The GPCA model prides itself on its easy installation and lightweight performance. It is easily foldable and includes some nifty characteristics such as a pocket for your keys and cards. It is also marketed as a versatile tool for any part of your Wrangler; but how does its lightweight build hold up when put to the test?
Not Quite Universal
While the GPCA grab handle is described as being versatile and resilient by the makers of the product, some customers would disagree. Seeing as it is the lightest on the list, it would make sense that it would be on the lower end of sturdiness—this is supported by several complaints from unhappy buyers. For example, a few have noted that it would be good to have a differentiation in the product for left and right sides of the car. This left several users with awkward placements for their handles.
In addition, some buyers complained that it just didn't stand the test of time; one instance described how the pouch ripped, and when the user tried to remove it, the straps that hold it together ripped as well. Overall, its lightweight build doesn't do it any favors in longevity.
Shipment Issues
Many people that bought this product didn't receive what they ordered; in fact, it is alarming how many either received the wrong handles (e.g. 4 passenger-side handles) or were missing some items. In addition, some users' shipment came with damaged products (such as a chip in the handle). Overall, one buyer described it best when they said
"This product is amazing… Just make sure you get what you paid for".
Great Product Otherwise
Apart from the shortfalls mentioned above, the product seems to be very reliable. Many describe it as stylish, and few have problems with the sturdiness and its ability to withstand heavy pressure. Overall, its easy installation and stylist look—without sacrificing much support—ranks it in a good place. However, the lack of differentiation between left- and right-side handles is a little cumbersome.
Pros
Lightweight
Easy installation
Reliable support
Stylish look
Cons
Some shipment issues
Often flimsy straps/pouch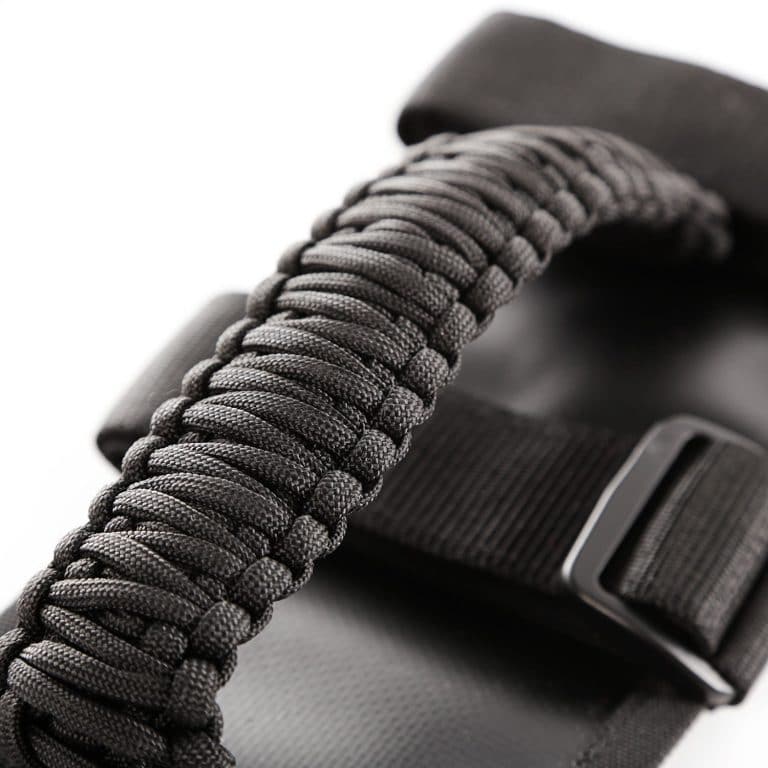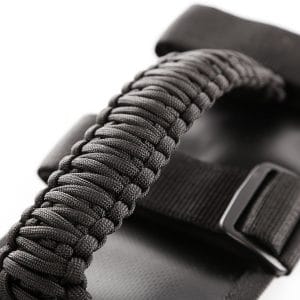 The Rugged Ridge handle is perhaps the most unique one on our list, simply due to its unorthodox material choice. Unlike the usual steel/aluminum alloy products, its handle is made from woven parachute cord. How sturdy is this compared to metal?
Reliable and Comfortable
There isn't much but praise for this product. Despite being a very unique "Double Cobra knot" of nylon parachute cord, it feels substantial and sturdy in your hand. The handles are secured via two or three-inch diameter roll bars equipped with a hook and loop straps (what a mouthful). It's safe to say, a lot of thought went into this product, and despite the unique materials and sturdy design, it is quite affordable, too (not as much as the American 4wheel one, thought).
The bottom line: it is a very reliable product that does its job very well, and gives your grip a more natural feel thanks to its knotted cord design.
Not Quite Metal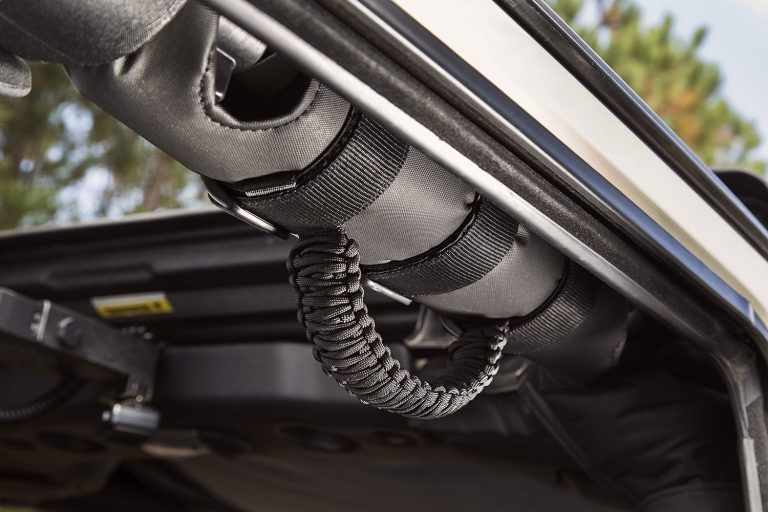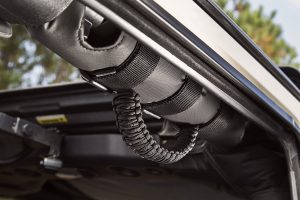 Despite its sturdiness and resistance to force, the design lends itself to be very malleable. This can mean two things: one, the cord could start to come apart over time, and two, it hangs lower than your average grab handle. What's more, it could potentially become looser and looser with use. There aren't many complaints about this product—in fact, most reviews are overwhelmingly positive—but one buyer was concerned about their handle coming loose, while another said it gets in the line of sight due to how low it tends to hang.
Pros
Sturdy
Installation fairly easy
Reliable support
Unique look
Lightweight
Cons
Hangs down
Risks coming apart over time and heavy use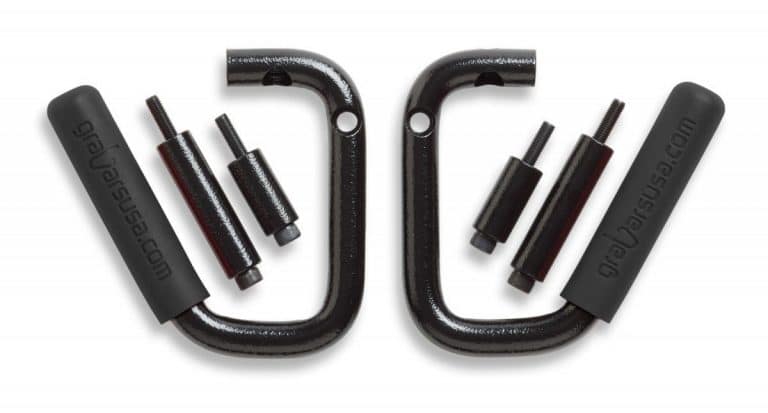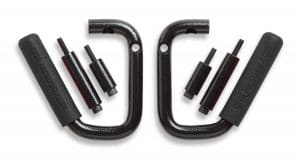 The GraBars Steel Handles are advertised as the strongest, sturdiest grab bars around. The company heavily prides itself on manufacturing in the USA, and with a no-drilling mount with incredible durability, it is a top-of-the-line product at first glance. The bars have a long way to go to support all the claims.
Difficult Install, Worth the Effort
While GraBars themselves note that it is a simple, no-drilling-required installation, many users would disagree with the advertised difficulty. Dozens of buyers had trouble mounting these bars and trying to figure out the mechanism behind it.
However, once they are installed, practically every buyer agreed that it is a quality product.
As one customer put it, "I laughed, I cried, I might have said a few curse words" when describing the process, adding "You can see and feel the quality immediately" once they finally got it right.
However, those experienced in this type of work could get it done quite quickly, despite the tricky process. One user stated that with a watchful eye and careful work, he installed the bars within 20 minutes, and like the others, commended the product for its quality.
Unorthodox Angle
The bars are designed to be mounted at a unique angle, with the manufacturer citing the ergonomic fit for all sitting positions. Specifically, it is fitted in a way that can make off-roading adventures more comfortable, adding another use to the already great product. However, this comes at a cost; as mentioned earlier, the installation is tricky, due in part to the awkward angle at which it screws in. Many buyers had an issue with the alignment of the two bolts, often taking them up to two hours to figure the system out.
Despite the comfortable and extremely durable nature of this product, its unique positioning leaves it very prone to installation trouble (in some cases, even very experienced mechanics). Finally, some cars might have issues with this handle blocking the sun visor—rendering it essentially unusable. To sum it all up, the product and materials are top-notch; the installation procedure—not so much.
Pros
Very sturdy
Direct attachment to Jeep
Unique angle/grip
High-class materials
Cons
Pricey
Very tricky install
Awkward angle in some cases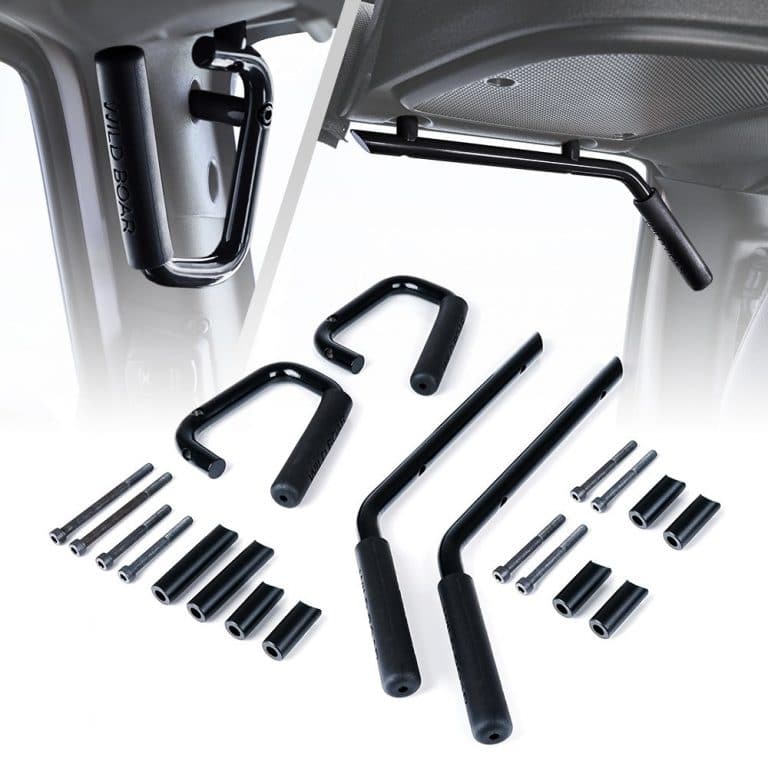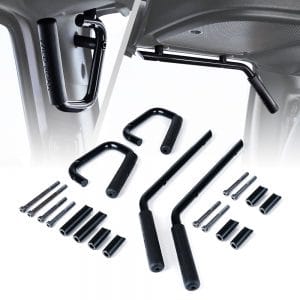 The main feature of the Xprite product is its monumental cost-efficiency. Whereas the other products in this list would come up to a hundred or so dollars for two handles, the Xprite package comes with four handles; one for each seat. It is also far more affordable than a few of the aforementioned grab handles, so the question is: is it durable enough?
Secure and Thoughtful Fit
The four bars are as follows: two long grab bars in the back, and two gip handles in the front. They are made of ¾ inch aluminum alloy, and are marketed with year-round performance. In addition, they are finished with a powder-coat designed to reduce or prevent rusting and corrosion. Finally, the handles on the ends are non-slip rubber grips, rounding off all the important qualities: durability, longevity, and secure handling. The bars are fitted into the Jeep through the existing OEM holes (i.e. the same way as the GraBars model) via screws. With careful installation—for example, screwing both sides at a similar pace—there is very little that can go wrong.
Many users note how easy it was to install this product in their car, and how well it fit.
Very few complaints were aimed at the bars and grip handles getting in the way, either physically or visually. In addition, when installed correctly, the grip handles in the front clear the visors—unlike some of the user experiences with the GraBars model.
Inconsistent Construction
Despite its easy and comfortable fit, many users had problems with some aspects of the construction. Firstly, there were numerous complaints aimed towards the loose plastic handles, citing that they come off very easily and aren't as reliable as expected. There were countless other complaints about very lightweight and cheap metal that caused problems, ranging from bending to making knocking noises when driving. This is probably an unfortunate case of third-party knockoffs; when ordered directly from Xprite, users had no issues and noticed that their products were quite heavy. However, any attachment with "Wild Boar" labeled on the handles seemed to be light and cheap knockoff. Whether this issue is still prevalent is something to explore.
Pros
Very good fit
Easy installation
Direct attachment to Jeep
Two types of handles, four handles in total
Affordable
Cons
Issues with flimsy plastic handle
Potential risk of knock-off product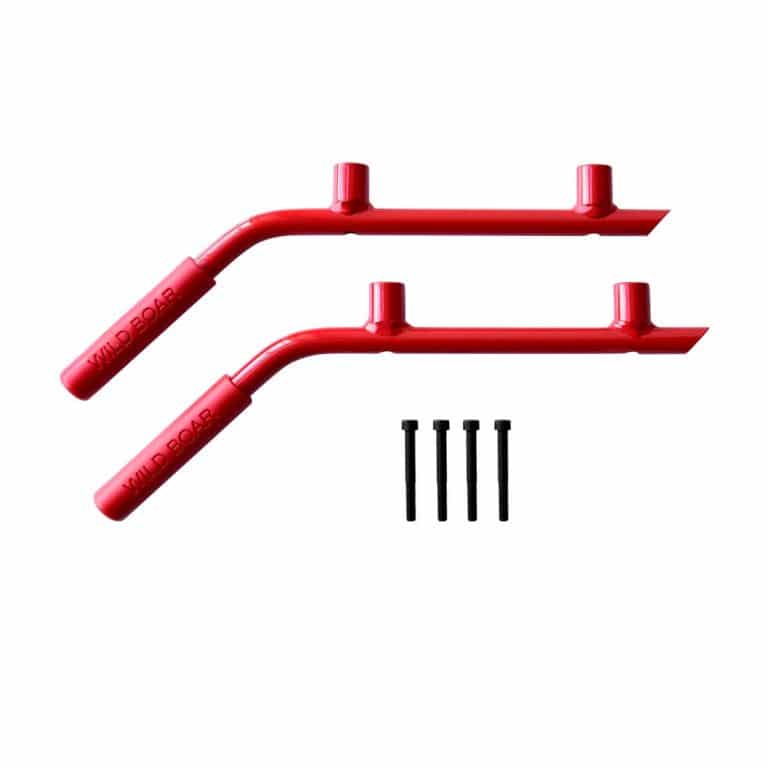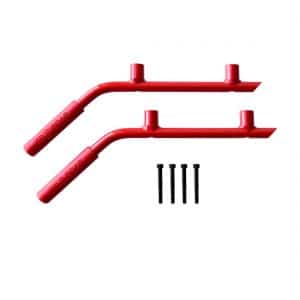 The American 4wheel grab bar brings a lot more sturdiness to the table; it is designed as a screw-on fit that secures itself completely to the interior of your Wrangler. It is also quite cheap; surprising considering the materials it is made of. How does this bargain perform, though?
Year-Round Performance
This grab bar offers a stylish, high quality steel attachment to improve any Wrangler's look and safety. It is also marketed as an all-weather attachment, due to its no-scratch, sturdy design. They also hold their own; one user remarked that, as a 200lb man, they had absolutely no problem with the sturdiness and reliable grip of this product.
Many Jeep owners who bought this grab bar describe it as a must-have, excellent product.
In fact, there is close to nothing bad to say about it in terms of its durability and handiness; once installed, it gets the job done. The installation, however, is where many trip up.
Difficult Mount
Seeing as this is a drill job, it would make sense that it is harder to install than the previous, strap-based model. However, the estimated difficulty and actual difficulty of mounting this handle vary greatly from customer to customer. There are a multitude of complaints regarding the frustrating process of lining up the holes for screws; in fact, many products often don't fit right for the users in the first place. As a result, installation may take between 15 minutes and many hours, depending on how defective it is. Generally, however, this is the only problem that comes with this product, and for its price and reliability, there are few that can compete—once you install it.
Pros
Sturdy
Direct mount onto car
Reliable support
Stylish look
Affordable
Cons
Flimsy construction with regards to screw holes
Guide to Choosing The Right Grab Handle for Your Wrangler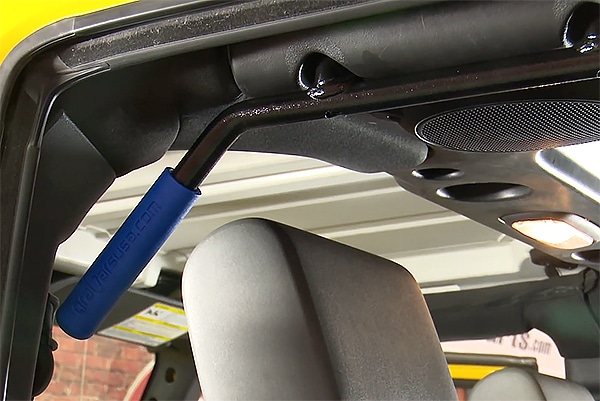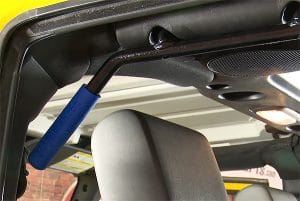 Grab handles might be one of the more variant attachments for the Jeep. They come in all shapes, sizes, and materials, and vary greatly in price and installation difficulty. The right one, it would follow, depends on who you ask.
Affordable and Sturdy
The American 4wheel handle is easily the most affordable (at least, for one seat) grab handle in this list. It is made with high quality steel, and is surprisingly sturdy and resilient when faced with heavy weights. It is also a very durable mount, once you get past the often tricky installation. On a budget, this handle is a no brainer. Its many benefits (that is, the fact that it does its job reliably) at such a low price is a fairly low-risk, high-reward purchase.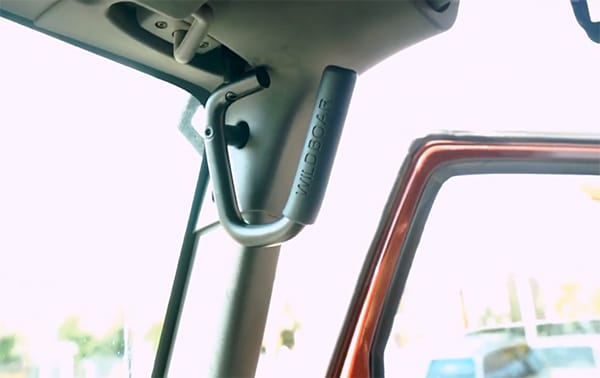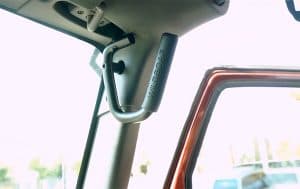 The other grab handle set in this category is the Xprite package, which comes with 4 handles for each seat in your Jeep. It is a fairly easy installation process, and the high-quality materials plus very ergonomic fit makes it a good choice, too. The only shortfalls regarding this product come in the form of a loose, flimsy plastic handle and risk of 3rd party scams. If you get the correct product, it's a pretty straightforward and rewarding mount for the most part, and the price in itself is very encouraging.
Unique Design, Easy Installation
For anyone looking to get the installation over with and enjoy their handles can look no further than the GPCA and Rugged Ridge models. They both come in strap-based forms, but don't let it fool you—they are still fairly sturdy and reliable. This does, however, reduce their longevity in some cases; a few instances were brought up regarding both of these models wherein the straps got loose or snapped. This is, however, a fairly rare occurrence and likely the result of heavy use.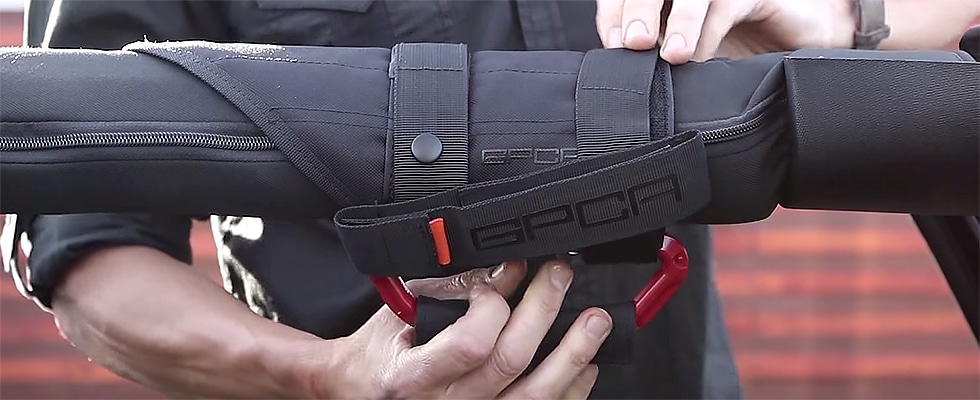 The GPCA is slightly inferior to the Rugged Ridge for two reasons: price and versatility. It only comes in one form, with no differentiation between left- and right-side handles. In addition, it could run you up to double the price of the Rugged Ridge, which supports just as much weight and has a more unique and hand-friendly design. The GPCA model does come with some shipment issues at times, but this is all very correctable with time. Overall, anyone who wants a lightweight handle with easy installation is unlikely to be disappointed by either one of these, and it simply comes down to taste: do you want a parachute cord handle or a metal one with a pad?
Time and Money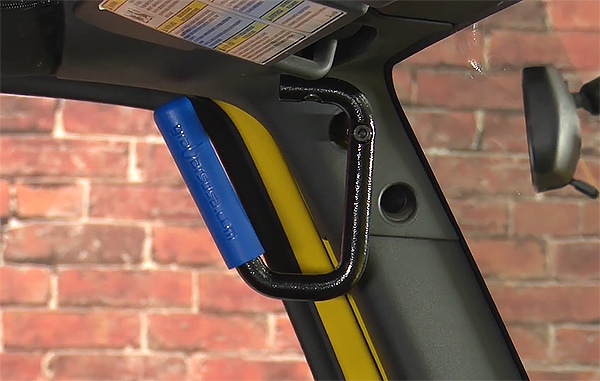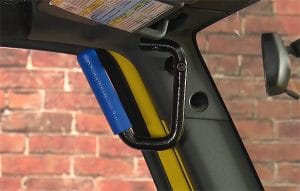 The last product on our list is the GraBars handle; a respectable product on its own, but compared to some others here it might be a bit off-putting. Buyers cite a very lengthy installation time and an overall tricky experience, but are also almost always very impressed with the quality and fit of the grab handles. The materials are in a league of their own, and there are practically no complaints levied towards the design and durability of the product on its own.
However, if you are inexperienced or have never used a grab handle, this product might not be the place to start, due to its lengthy and difficult installation. Otherwise, if you're confident in mounting this product and prefer to have a grip handle over a bar, this product's quality and durability speak for themselves. Give it a try and let us know how it goes.