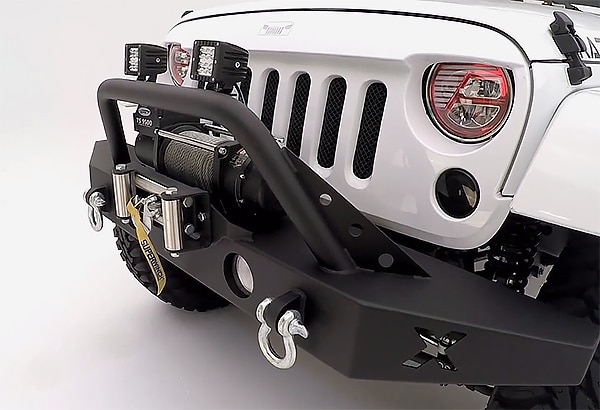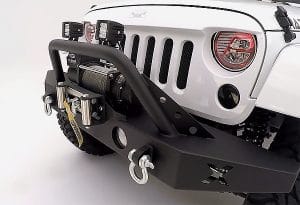 Jeeps are perhaps one of the most unique trucks on the market today. Their bulky shape and overall size allows the owners to both customize and augment their Jeep in a variety of ways. The bumper is one such part—drivers can be sure to feel confident behind the wheel with the right bumper in front of them. There are a number of benefits to customizing your Jeep's bumper, including enhanced headlights and added safety—but which is the best for your truck?
Best Jeep Bumpers in 2023

Not every bumper will look or provide the same for your Jeep. In fact, while at first glance it might seem that all of the bumpers in the list are just about the same, the difference is in the subtleties. The short table below gives a short glimpse into the immediate differences between the Wrangler accessories.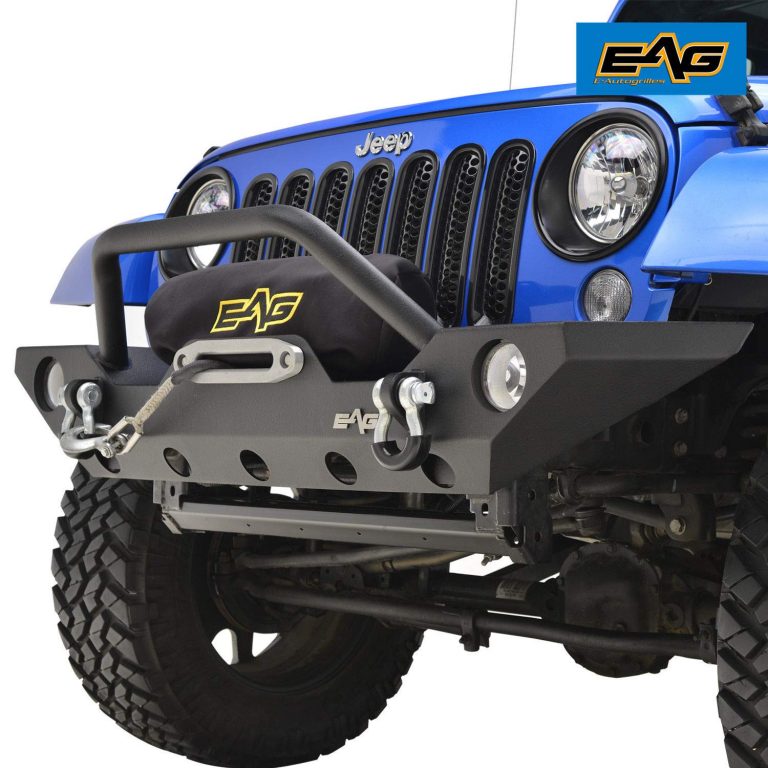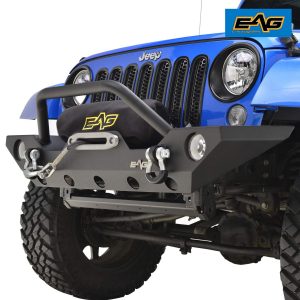 The E-Autogrilles model is a great choice for anyone that enjoys occasional off-roading and is looking to save some cash. It is made with high quality materials, including durable steel tubing and sheets. If you're looking for a durable mount with an easy, simple bolt-on installation, this might be the choice for you.
High Quality Durability
This Jeep Wrangler bumper is equipped with thick mild steel sheeting and a high quality tubing that can withstand the toughest of adventure. In addition, it is coated with a durable powder to protect from corrosion, something that could definitely happen in the case of frequent off-roading. Don't let the light accomodation fool you—this mount is tested to combat the harshest environment.
The winch plate alone is able to support a 12,000 lb winch.
Enhanced Lighting
On top of it's lightweight durability, the E-Autogrilles model allows the user to relocate their Wrangler's fog lights to widen the scope of the stock lights (however, lights are not included in the shipment). However, some buyers note that installing the fog lights can be a bit tricky, despite the overall easy installation of the bumper itself. All in all, it is still beyond expectations for something that is comparably cheaper than the big name brands.
Durability at the Cost of Longevity
Many users have been unhappy with the overall longevity of their mount, however. Despite being made from high-grade materials and boasting a smooth corrosion-free finish, drivers have often found that their mount is prone to rust and, ironically, corrosion of their powder finish. Perhaps this is something to expect from a cheaper alternative, and isn't the perfect fit for those that enjoy the thrill of off-roading more often than others.
Pros
Fog light extension
Corrosion-free finish
Simple installation
Cons
Rusting over time
Not suited to frequent off-roading
Questionable longevity
2. EAG Front Bumper – Easy Installation at the Driver's Caution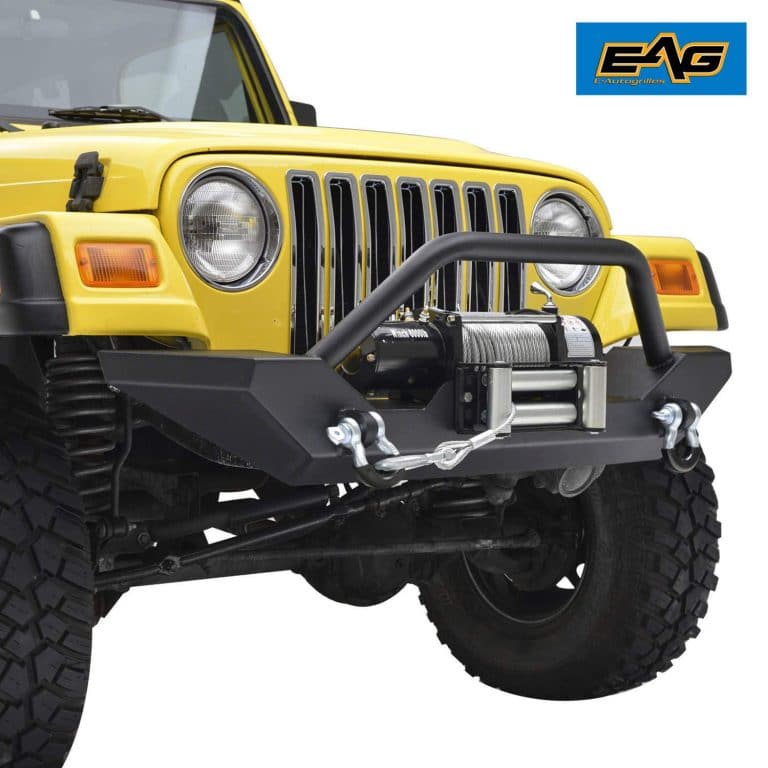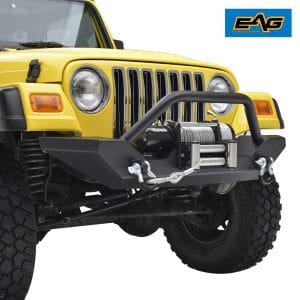 The EAG Front Bumper is equipped with a double D-ring and Winch Plate that can withstand the toughest environment—or so the manufacturer says. The installation, much like the previous model, is very simple and can be done with simple tools. It is also a good fit for those looking for occasional off-roading, but anything more and you might want to look at the bigger names for the future of your Wrangler bumper.
Heavy Duty for a Low Price
You can probably already see the similarities between the two E-Autogrilles bumper models. In fact, they are equipped with near identical steel sheets and tubing (this model is supported by cold rolled steel, while the other by mild steel). This model even has the same anti-corrosion powder coating and even boasts the same ability to support a 12,000 lb winch. One thing that makes it different from the previous model, however, is that it is far more lightweight. It is substantially lighter and smaller than the other EAG model under review, but this also has its shortfalls when it comes to durability; simply put, this lighter model does not withstand the same load.
Crumbling Under Pressure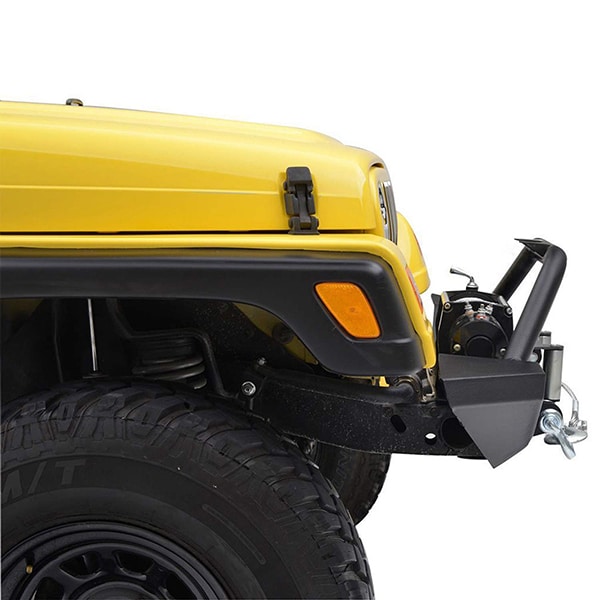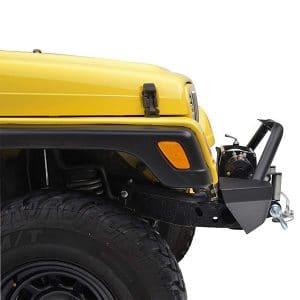 As stated before, anyone looking for a short-term or limited-use accessory for their Jeep will probably be very satisfied with this model. It is easy to install and is designed for off-road use. Users have also noted the great care that goes into the packaging and shipping of the parts. However, this great care doesn't extend to the materials and durability, it would seem.
A large number of drivers have complained that their bumper is extremely prone to rusting. Some users even note that it began to form rust bubbles mere months after installation. Others also were unhappy with the powder coating; time and again it would rub off after a short amount of time, and one user even complained that it was rubbing off straight from the packaging. Even worse, one reviewer said that his winch plate snapped after only an 8,000 lb load—despite the 12,000 lb advertised.

Pros
Lightweight
Simple installation
Intricate packaging
Cons
Not as durable as expected
Weak powder coating
Prone to rusting
3. Razer Auto Black – The Heavy Duty Market Leader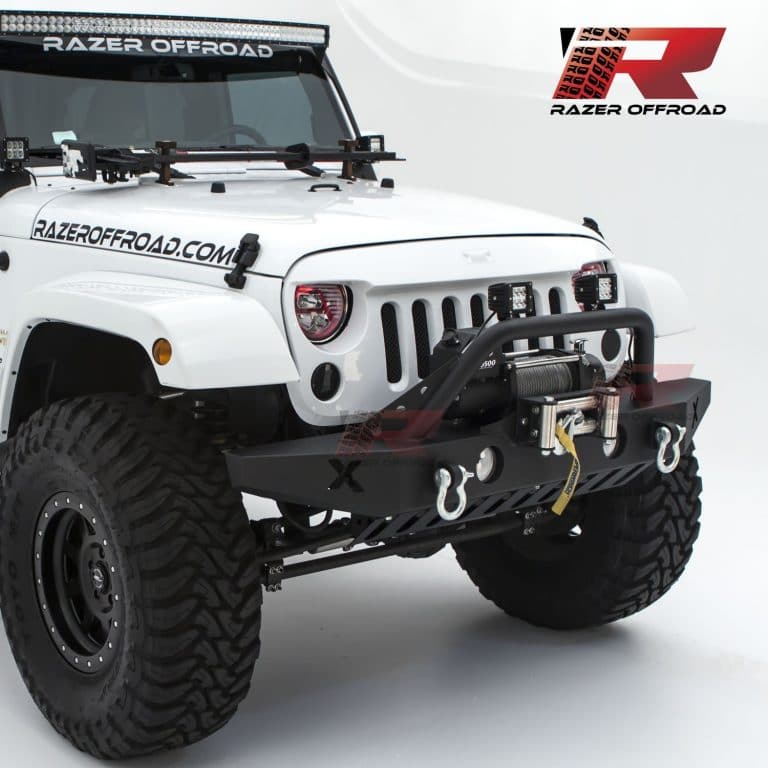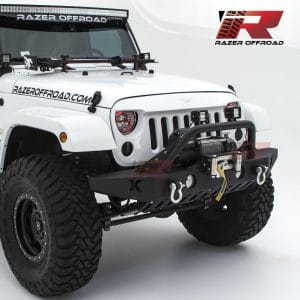 It would perhaps be unsurprising that the Razer Auto model is one of the more pricey ones in our list, as it is nearly double the weight and over double the volume of the EAG Front Bumper we looked at previously. Despite its monstrous size, drivers have been extremely satisfied with the easy installation and the price. It's no surprise that it is one of the leaders in our list—it is equipped with everything an off-road junkie needs in a very durable package.
A Worker's Dream
This model has basically the complete package—fog light extension, high-quality steel and corrosion protection powder, 4.75 ton D-rings, a removable pre-runner hoop, and even a skid plate. This means it is tailor-made for extreme environments, and has an added bonus of customizability in the mount. Additionally, it is designed to have minimum clearance, something that off-roaders would definitely enjoy. Overall, this is a safe bet for a bumper you would want to take off-roading, and can satisfy both casual and frequent off-roaders due to its customizability.
Easy Installation—For the Most Part
Perhaps the only complaint regarding this model is the installation. Many users have noted that it is very easy to install (as with most Jeep Wrangler JK bumpers, it is an easy bolt-on fit), but many others have noted the complexity of the many parts. The main complaint regarding this is the lack of instructions in the box. While it is straightforward to professionals and experienced mounters, the lack of instructions can be daunting when installing the skid plate, fog lights, and hoop.
Each part is more or less easy to add with simple tools, but many users have complained about the lack of direction when it came to the steps they should take to install it completely. Some have even opted to not install the skid plate altogether as a result, leaving their bumper with a small gap down the middle. Others have reported that some of the holes don't align with the bolts, making it even more difficult to mount it effectively.
For more experienced off-roaders and mechanics alike, however, this model is just about perfect.
Bulky and Excessive
Less experienced drivers might simply not have a need for the multitude of accessories provided by this bumper model. Others yet might find it too bulky and heavy, even for a truck of the Jeep Wrangler's size. This truck is certainly more suited to experienced users who are looking to get the most power out of their bumpers—for something more lightweight and agile, look no further than the next model.
Pros
Durable set
Very customizable
Great for heavy duty tasks
Cons
Difficult and often confusing installation
No instructions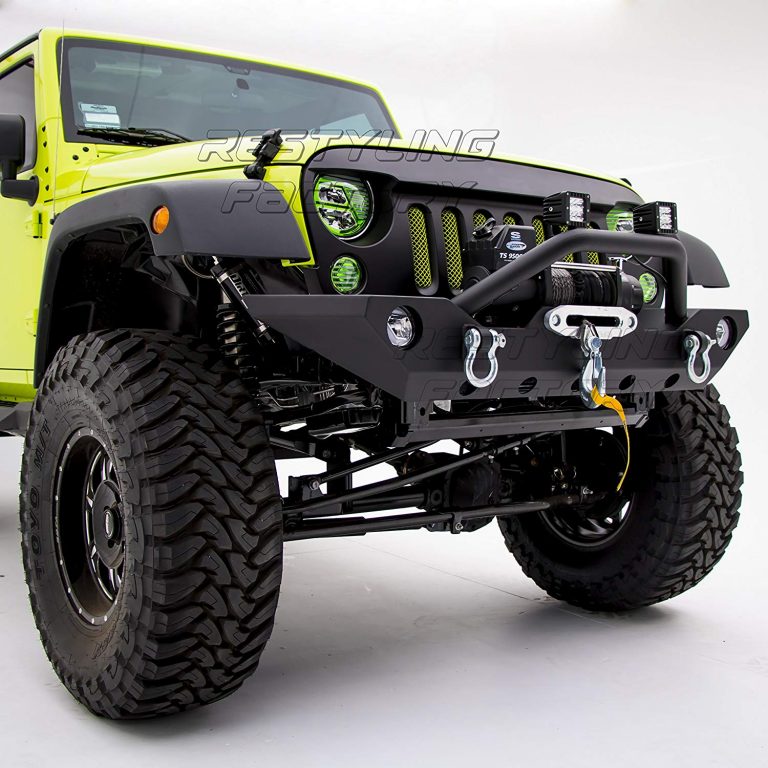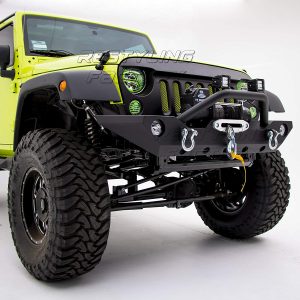 The Restyling Factory model has shattered the notion that lighter fits are typically cheaper, as it is both the lightest and the most expensive model on our list. As with all models in this list, it is equipped with a durable steel plating and tubing. Additionally, it has the same D-ring tonnage as the Razer model, and boasts the same level of durability on the winch as all the others in the list. Similarly, it has an easily mounted fog light extension.
A Fresh New Look
If you're looking for something that gives your truck a unique new look, this model might be the choice. Despite how light it is, the bumper completely changes the appearance of your Jeep, giving it something of a muscular off-roading look. Of all the five models, this one definitely screams "off-roading" the most. It is equipped with a pre-runner hoop with two light tabs, enhancing the off-roading experience. While it is similar in its capability to the Razer model, it gives your Jeep an satisfying rugged appearance—something that is worth money on its own.
Tricky Installation
The Restyling Factory model does, however, share the same problem that plagues Razer Auto Black buyers—there are no instructions included. While it is a very easy installation according to most buyers, many others were dissatisfied with a variety of aspects of the fitting. Some have noted that the holes don't line up, and that it takes a lot of practice to equip some of the other parts.
Many buyers that agree that the installation was straightforward have also explained that some maneuvering and creativity is needed to fully install every part. The tips given by such drivers range from "finger gymnastics" to a recommendation for different tools. Many other buyers agree that to get the most out of the fog light installation, harness extenders are required, for example. All in all, these things could've been prevented with installation instructions.
Poor Quality Shipping
A few Jeep owners have also noticed that their bumper came shipped with some defects. Ranging from a fading coat finish to a dent in the bumper itself, this problem seems to be more common for Restyling Factory products. However, to their credit, customers describe a swift and responsive customer support team when it came to complaints like this.

Pros
Unique "muscle" look
Great for off-roading
Easily mountable integrated fog lights
Lightweight
Cons
Tricky and often frustrating installation
Often shipped with defects
No instructions and other tools often required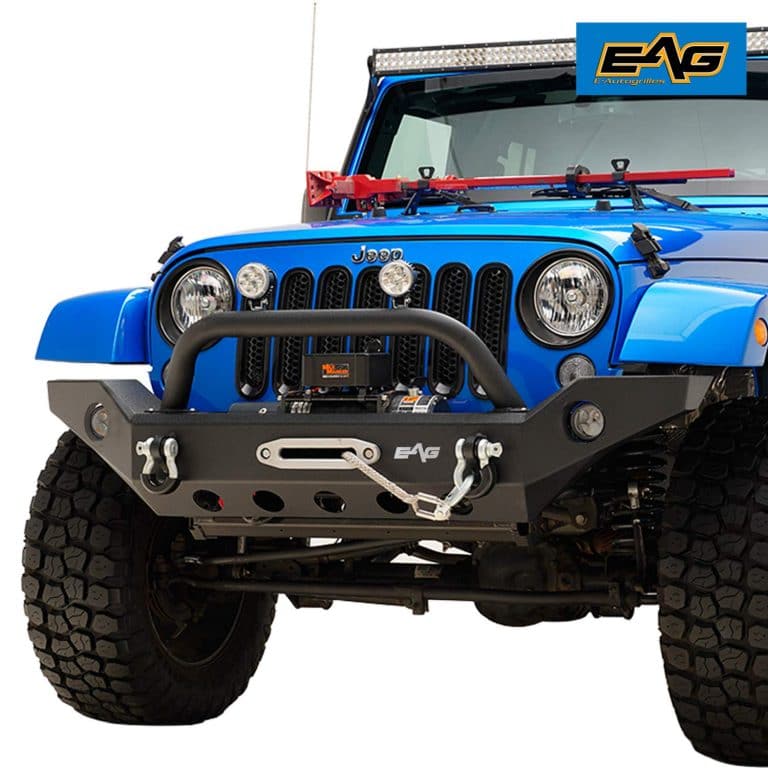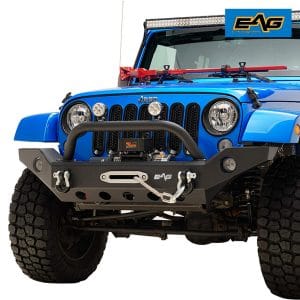 While the other EAG models in this list have been known to have problems, this heavier fit seems to address those fairly well. Not only does it handle the advertised stress, it also looks far more durable than the other EAG models. All in all, this is the saving grace for EAG in this list.
Well Worth the Price
There are so many complaints for the two cheaper EAG models—ranging from winch snapping to easy rusting—that paying a little extra for this bumper is worth it. The built-in winch plate can withstand 12,000 lb of force with ease. One user writes that he expected the winch plate to snap after applying 10,000 lb of force. Not only did it survive, but it came out unscathed and with no signs of stress.
The durability and enhanced off-roading power that comes with this EAG model cannot be ignored.
Same Old Problems
If you recall, we looked into a variety of issues that plagued the other EAG models, with the most common one being fading finish and easy rusting. Unfortunately, despite its higher power, the same problems are present with this model. One particular user had perhaps the most telling experience. He purchased the bumper in November and had it installed immediately, and was very pleased with his purchase. The installation took some time, but he was happy with the look of his new bumper. Fast-forward half a year, and it's the same old problems—rust all over despite great care. Despite the enhanced durability of this model, it would seem that EAG products simply don't hold up over the years.
Pros
More durable than other EAG models
Aesthetically pleasing
Tough winch plate
Cons
Rusting and fading over time
Questionable longevity
Slightly harder installation
Best Jeep Wrangler Bumpers — Buyer's Guide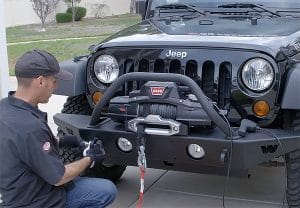 Anybody looking for a bumper for their Jeep Wrangler have several choices to make when selecting their new look. Durability, longevity, appearance, complexity, and off-roading experience all play a part in deciding which bumper is the right one for you.
EAG: Easy Installation, Worth the Hassle?
To start, the EAG models are cheaper for a reason—time and time again they have shown that, despite the great materials and easy installation, their bumpers don't stand the test of time. Rust, flimsy finish, and corroding anti-corrosion powder are all issues that have popped up at one point for EAG bumpers. Needless to say, anyone who is looking for a short-term cheaper alternative would still be very satisfied with these bumpers. Casual off-roaders and laborers may not have the problems that more experienced drivers have with the EAG models, and they certainly are easy to install compared to more advanced bumper models.
Durable and Customizable—But No Instructions
For the best of the best, it comes down to the Razer and Restyling Factory bumpers.
The Razer Auto Black model is the most customizable and loaded model in the list.
Anyone who is looking to get some work done and get the most out of their winch won't be disappointed in spending their money on this accessory. After all, it comes with a variety of different extensions. It still holds up in off-roading environments as well, but it's main claim to fame is its power and heavy-duty customizability.

Meanwhile, the Restyling Factory bumper we reviewed is slick and lightweight. It is perhaps best utilized in off-roading environments, and that is reflected in its rugged design. Its minimal clearance and smaller size means it is an optimal choice when considering off-roading adventures. It comes with two light tabs on its pre-runner hoop, adding more utility when it comes to driving in rougher terrain. Overall, it is the choice for anyone looking for adrenaline.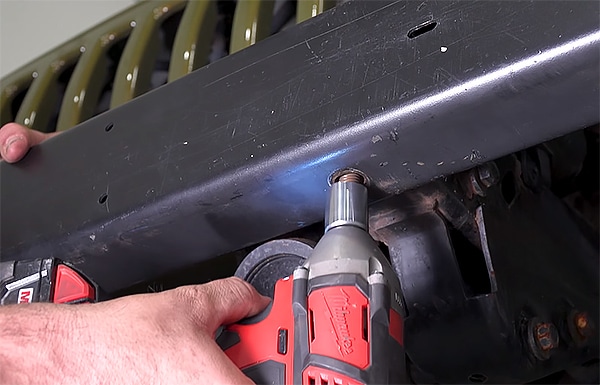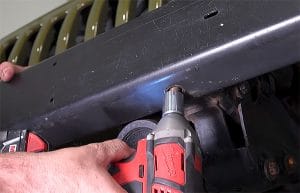 Both of these models lack instructions, however. The increased customizability means it is best to take it to a professional if you're not as experienced in mounting bumpers. The lack of instructions can also be confusing, although many reviewers and videos are available to help those that are stuck in installation. In the end, if installation isn't your thing, you don't want to spend the extra buck for professional mounting, or you simply don't need or want all the extra attachments these two models offer, then they might not be for you.
Conclusion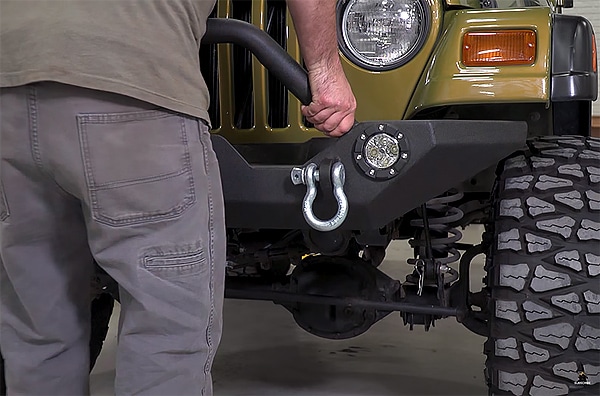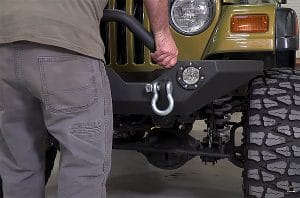 To summarize, the EAG models are easiest to install but suffer from a variety of problems that experienced drivers will notice with heavy use. The Razer Auto Black bumper is perfect for someone whose main goal is to have a beefy bumper that helps get things done—with the occasional off-roading. The Restyling Factory model is definitely the choice for someone mostly looking for off-roading with the occasional use of the winch—it is lightweight, durable, and well equipped for any adventure. Plus it looks great on your Jeep.