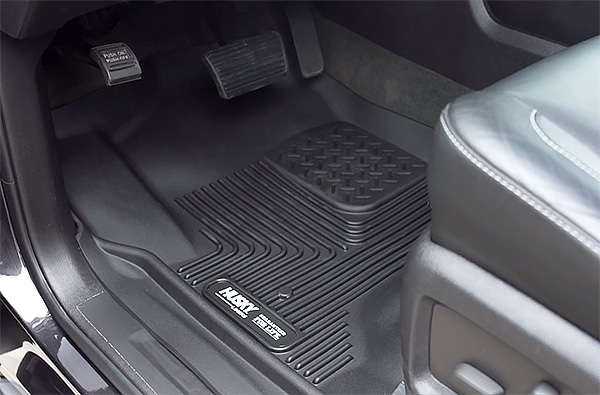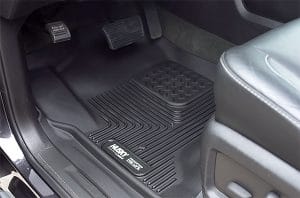 Car owners can get very picky with what goes on or in their car interior, mats included. The right floor mats can make or break the interior of a car, and the Jeep Wrangler is no exception. The variety in material, design, and pattern is enough to give any Jeep owner a headache.
Best Jeep Wrangler Floor Mats on the Market
Floor mats boast a bigger arsenal of functionality than people might expect. The extent to which they protect your carpet from water, snow, dust, dirt, and chemical spills cannot be ignored. However, as with all products, every floor mat is slightly different from the other; the table below should paint a clearer picture of their differences.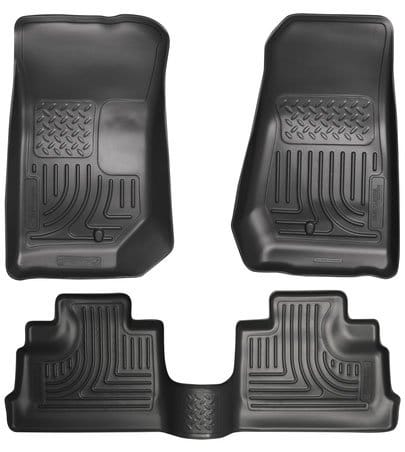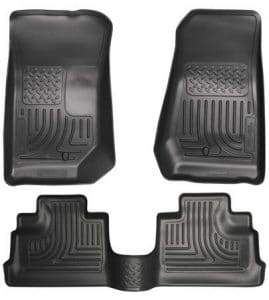 The Husky model commands a fairly significant price, but it advertises a very durable and respectable floor mat. It is marketed as the ultimate "weather beater", as the name suggests.
No Match For Weather
This product is, as the manufacturers say, "sporty and rugged", giving drivers the protection they need in harsh conditions. It is fitted with a raised ridge that follows the outline of your car and runs along the doors, acting as a glove between any mess and the carpet beneath. Several buyers were very happy with how this model protected the interior of their car, and added an impenetrable layer of protection to their carpet. Review after review painted a picture of a durable and maintainable mat for their Jeep Wrangler.
Durable and Easy
Yet more buyers were happy about the general easy-to-clean nature of this model.
On top of keeping their carpets pristine, this mat is also easy to maintain.
As several users noted, it was very tough, and came out looking brand new after a quick wash or shake. Even sand was no match for these mats, as one customer mentioned that not a single grain got onto the carpet through the mats. This is a testament, of course, to their tight fit; the mats are secured with "Stay-Put Cleats™" which prevent them from shifting around and being displaced. Many car owners were thoroughly pleased with how well the mats fit their vehicle and prevented any dirt, water, and even chemicals from spilling through onto the carpet. All of this is punctuated with easy installation and cleaning, not to mention their "no hassle" lifetime guarantee against cracking and breaking.
Pros
Easy to install
Tight fit
Provides effective carpet protection
Easy to clean
Excellent customer service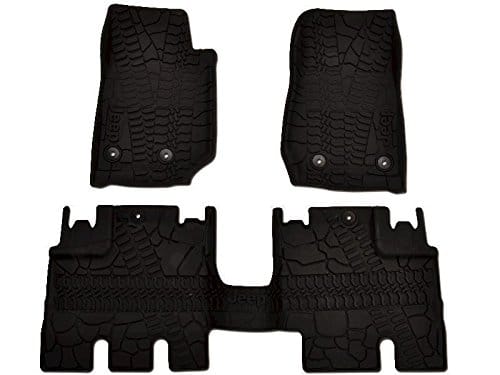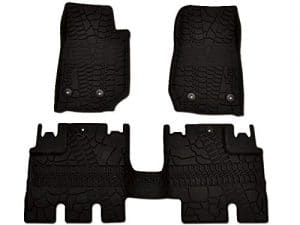 The Mopar mat is another example of a mat that does exactly what it needs to. Boasting protection against water and mud, it is a reliable barrier between unwanted substances and your carpet.
Weather Protection
The Mopar product does precisely what it needs to—no more, no less. It is marketed as a slush mat, fitted with deep ribs that hold and trap unwanted substances before they can ever reach your carpet. The ridges mean water, snow, and mud are held within the mat in a secure fashion. All in all, like the Husky Liners model, buyers had no complaints about the efficacy and durability of these mats. In addition, they are easy to remove and clean, saving drivers effort in harsh conditions and weather. In terms of protection, there isn't much to say; it gets the job done.
Slight Hiccups
Despite the overwhelmingly positive reviews, a few customers had some issues with the product. To begin with, one buyer mentioned that the mats, despite being advertised as a perfect fit for the 2012 Wrangler, didn't all fit. Specifically, the user complained that the driver-side mat fit like a glove, but the rear mat was a bit shoddy and the passenger seat mat simply didn't fit at all. This complaint is echoed in another user's experiences; they note that while the driver seat mat fit well, the others were a little harder to align and suffered from the issue of moving around slightly due to the suboptimal fit. Additionally, one customer had the unfortunate experience of being shipped a slightly dirty mat. Others yet had the problem of their shipment missing some hardware (a 3rd mat, for example), and noted that customer support in that regard isn't very helpful.
Generally speaking, complaints were mostly aimed at the false advertising from the seller's side. It seems that they listed models that the mat fits, when in reality it didn't (particularly, older JK models and newer Wranglers). The main issue in this regard was the ill-fitting rear mat, so perhaps only ordering the front mats would be a safer choice.
Pros
Easy to install
Tight fit
Deep ridges add protection
Easy to clean
Cons
Poor customer support
Rare problems with shipping
Rear mat doesn't fit all Wranglers
Might not fit with a carpet mat underneath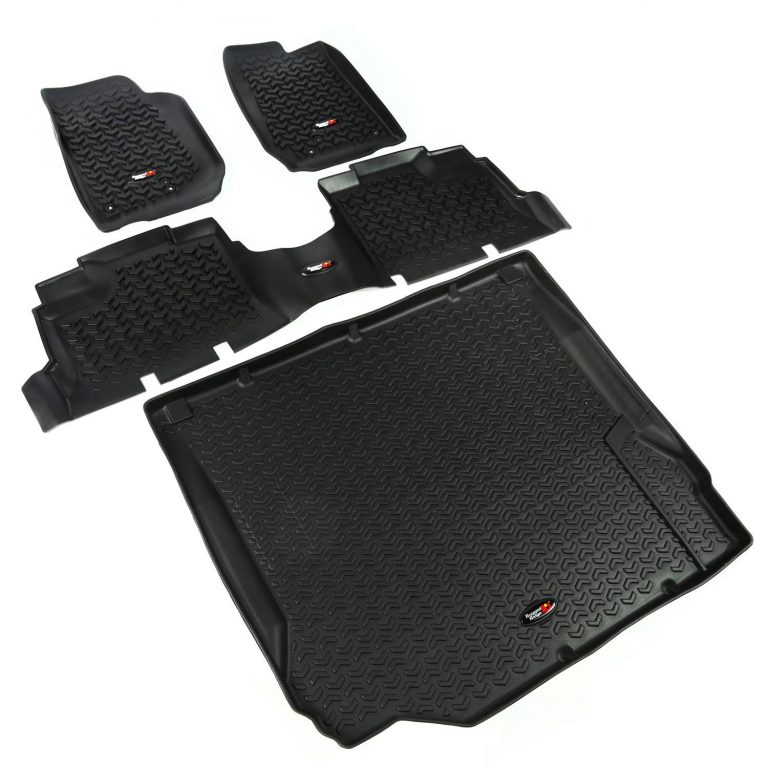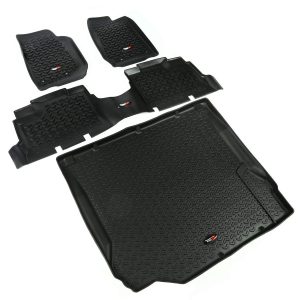 The Rugged Ridge All-Terrain mats are very easy on the eye, and the description is quite intriguing on its own. It is advertised with a variety of patented features and is fitted with a design perfected to keep spills not only off your carpet, but even away from your shoes—but how effective is it, really?
Tight Fit
The Rugged Ridge model has some very obvious advantages due to the nature of its design. It is fitted with spikes at the bottom to prevent sliding or shifting, and comes with added tools to secure the mat via a hook to any Wrangler model. Additionally, its deep ridges allow it to hold a lot of water, and combined with the material, can push water away from your shoes. They also run up along the side of the car interior, "cupping" the carpet around the desired surface to catch as much dirt and water as possible.
It is heavy duty and thick, preventing sliding even further, and even cover the surface under the break.
Subpar Results
Despite its great design and fit, these mats come with a few glaring disadvantages. Firstly, the top complaint regarding this product is its inability to consistently hold water. Despite the thoughtful design in giving it the glove-like fit drivers desire, it has a few gaps on the sides. As a result, water often seeps past the mat and onto the carpet, and due to its weight and thickness, gets trapped underneath. Some users even complained that the water that got through the mat propagated the formation of mold under the mats. Additionally, the mat doesn't cover the area under the gas pedal, which is interesting considering it fits snugly under the break.
Many users have also been disappointed with the rear mats, considering they don't have holes to fit with. Others have also complained that, due to their thickness, it leaves little space for the feet. Finally, several buyers were unhappy with the general functionality of the mats, be it them getting in the way of comfortable foot placement or starting to leak soon after usage.
Pros
No slide
Tight fit
Deep ridges and "wall" along the sides
Easy to clean
Cons
Doesn't perfectly fit all Wranglers
Rear mat harder to secure
Heavy duty often gets in the way
Water often gets trapped underneath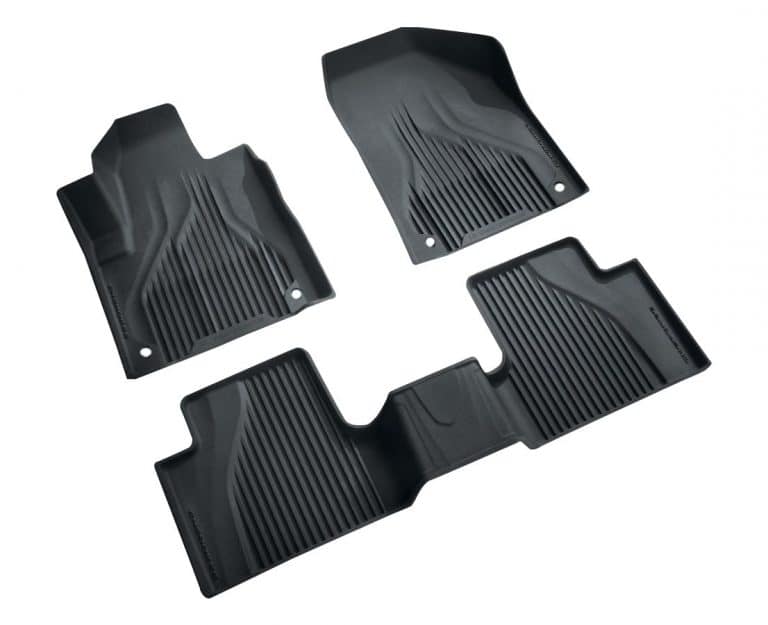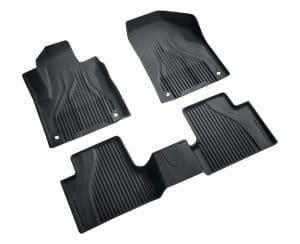 This model appears on our list because it is a prime example of what car owners should be looking for in their mats. Despite being designed for a Jeep Cherokee, there is a lot that Jeep owners can take away from the type of security this mat offers.
Perfect Fit
This Mopar model doesn't disappoint with its tight fit. Not only does it fit "perfectly," as many buyers describe, it also is fitted with deep ridges and a "bucket-style design", allowing water, snow, and mud to be seamlessly held in the pockets of the mat. Additionally, it is propped up with an intricate lining along the sides, providing maximum coverage of all sides of the Cherokee's carpet. All in all, the design does not disappoint.
Extensive Protection
These mats also offer a high degree of protection to the Cherokee's carpet. The various ridges and pockets thoughtfully outlining the mat collect a substantial amount of water and dirt, quelling any worries that may come with dirty shoes or unpleasant weather. Generally speaking, all buyers were extremely satisfied with the snug fit and the level to which these mats can take abuse—and they're easy to install on top of everything.
Pros
Tight fit
Deep ridges and "wall" along the sides
Easy to install
Covers more carpet than normal
Cons
Not suited for a Wrangler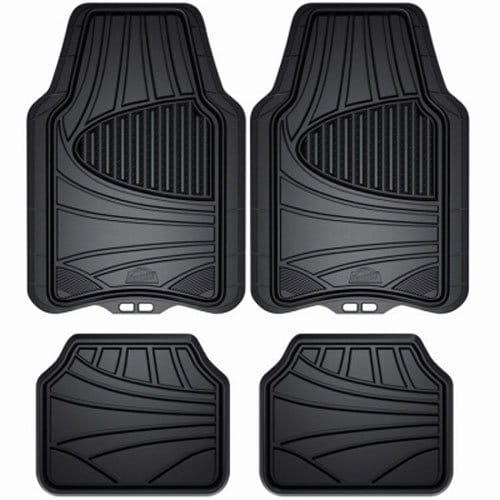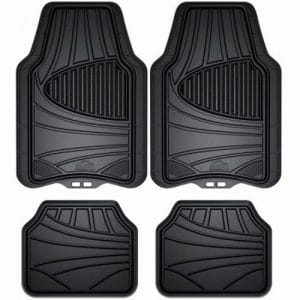 At first glance, the Armor All mats don't seem like much. However, it is designed to be customizable to fit just about any Sedan or SUV (including the Wrangler) and the low price speaks for itself.
Universal and Lightweight
So how exactly is it universal if all cars have a variety of interior designs?
Well, the answer lies in its edges; buyers can trim the sides to get the fit they want.
Of course, this is limited in its customizability, as there are only so many shapes to cut off the edges. They also come with two orange claws on the bottom to secure them and prevent them from sliding—however, this is only a feature for the front mats. Despite this, some users did note that they would shift slightly on occasion, but that it is also easily correctable. Finally, the mats are light and easy to clean, which makes the habit of regular cleaning very sustainable.
You Get What You Pay For
Of course, this mat doesn't stand tall when compared to the other mats on our list in terms of functionality and durability.
However, its price is around 5 times lower than the other models (this could change depending on current market prices). This comes with some downsides, as would be expected of something so cheap. As previously mentioned, the mats have a tendency to slide around in the interior of the car. While it is not a huge hassle, it could get annoying to correct the mats every time you hop in and out of the car.
Additionally, its universal fit means it pretty much doesn't cover the exact surface of any car, despite doing a great job of protecting the carpet. Many have even complained that they are way too small for their surface, even without any trimming.
A more scalding downside is the smell. Some users note that the smell didn't linger for too long, but others have described it as "toxic fumes" and "nauseating". Indeed, a short glance at reviews leaves the reader with the impression that the mats have a strong rubbery smell that never goes away, even after washing and leaving them out. As said before, you get what you pay for.

Pros
Very cheap
Customizable fit
Sufficient carpet protection
Front mats secured with hooks
Cons
Sliding almost guaranteed
Heavy rubber smell
Not a tight fit for any vehicle
Complaints regarding difficulty of cleaning
Guide to Choosing the Right Floor Mats for Your Wrangler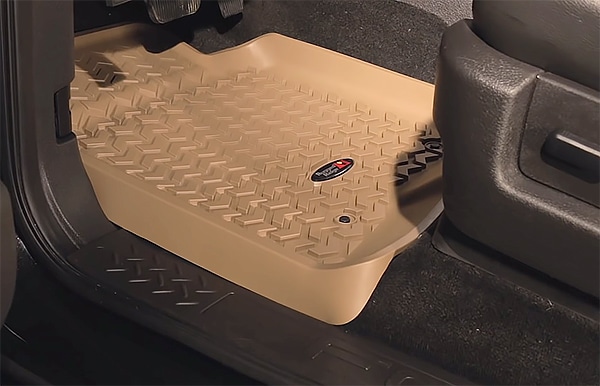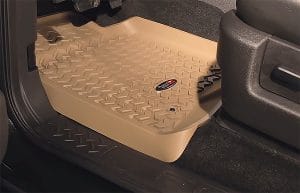 As you can see, floor mats can take very different routes to accomplishing the same task: keeping your carpet clean. Some rely on their tough design to limit damage, while others focus on secure and safe placement to cover the interior snugly. Whatever the characteristics, choosing the right floor mat comes down to personal preference and needs.
Heavy Duty Protection
If you're looking for a heavy, tightly-secured fit for your JK, the Rugged Ridge model could be up your alley. Its weight and variety of perks let it contour your interior perfectly and with minimal sliding.
In addition, the thickness of the mats give the driver an added sense of security.
However, some buyers agree that it simply doesn't do enough for water spills, and can easily keep it trapped underneath the mats. It has also been described as frustrating at times due to the bulkiness of its design, leading to some awkward foot placement for some. Generally, this is a good purchase for anyone who wants a smooth, thick, and secured layer of protection for their carpet, as long as they are cleaned regularly and there is minimal liquid spillage in the car.

Harsh Weather and Conditions
The two models advertised specifically to combat harsh weather are the Husky Liners and Mopar mats. Each of these offers deep-ridge protection against mud, water, snow, and any other pesky materials that find their way into the carpet. The Husky Liners model sees limited complaints; generally, users agree that it is easy to install, is a tight fit, has minimal sliding, and is easy to clean to boot. The customer support they received was also a talking point, and you simply can't beat a lifetime, "no hassle" guarantee.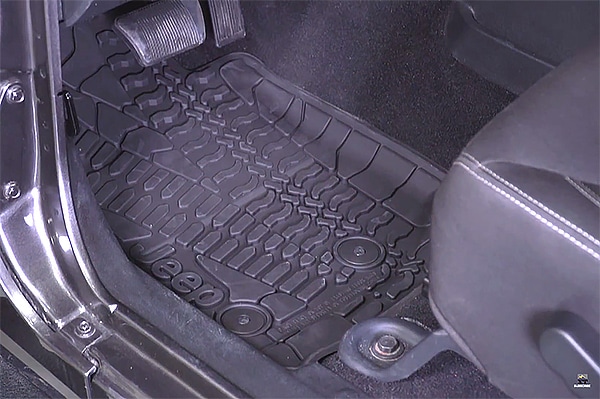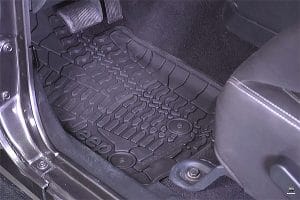 The Mopar mats, on the other hand, do the same as the Husky Liners—just not as well. While the HL model is fitted with patented spikes ("cleats") to minimize sliding, the Mopar relies on hooks and the snug fit to do the job.
In addition, the Mopar rear mats are problematic for some; either the mats simply don't fit their JK model, or are very loose and frustrating. Finally, the lack of wall lining on the mats puts it a tier below the Husky Liners mat.
Affordable Fit
Finally, we have the Armor All mats, which are designed to fit any car (with the right trimming). Simply put, the mats are a reflection of their price; most users were pleased with their low-risk purchase, stating it added enough protection from the weather and debris, while being lightweight and easy to clean.
However, many others weren't pleased with the size of the mats, as they seldom cover the entirety of the carpet in the car.
Additionally, there were many complaints regarding the strong, long-lasting smell of the mats. All in all, these mats can get the job done if you're not looking to spend big or don't deal with too much dirt or water throughout the day.
Verdict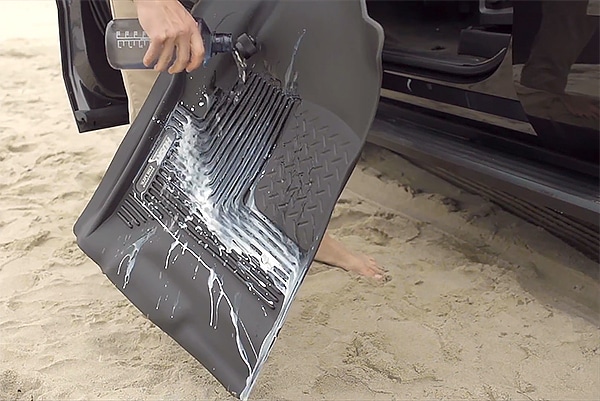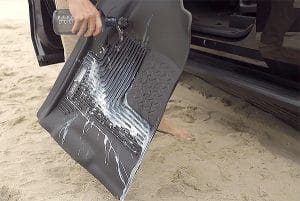 Any buyers that put the absolute maximum into the look and functionality of their car should probably consider the Husky Liners mats. They fit well, don't slide much, and add reliable protection and durability to the interior. A tier below them are the Mopar mats, which have issues primarily related to fit and shipping. However, there is no doubt that you would get your money's worth out of this product if you double-check that your Jeep is indeed a match for this model.
Owners who enjoy the feel of a bulky and practically immovable mat could consider the Rugged Ridge mats. Despite their issues regarding trapped water and ill-fitting rear mats, they are still worth a look due to their unique design compared to these other mats. Finally, anyone unwilling to spend too much on protection—or anyone who doesn't need much protection—could consider the bargain that the Armor All could be. If you get past the smell and lightweight nature of this product, it could serve you well—at the very least short-term.
If you are unsure about what exactly to look for, taking a peek at the Mopar 82214855 mat. It could be of use as it is a high quality floor mat. The design, functionality, and price can be a good barometer to set for any future mat purchases for your Wrangler.