If you travel off-road and overland regularly then you are eventually going to get stuck. Having a vehicle bog down in the mud or stuck on the rocks or slipping on the snow is inevitable on rough terrain and when you get stuck it is important to have a way out. When traveling with another vehicle your tow strap can get you out of most jams but for more freedom and independence on the trail you should consider a winch.
Best Winch for Jeeps, Trucks, and SUVS
Winch technology has improved dramatically and the current models offer a safe, reliable, and easy to use winch for pulling your vehicle out of tough spots. The leading winches on the market today have watertight construction, convenient remote controls, and safer, synthetic cables instead of steel. Installation has gotten a lot easier and many of the most popular Jeep Wrangler bumpers offer integrated winch plates.
The cost has come down on the light to medium duty winches and the quality has improved. The table below shows some of our most popular picks.
The ZESUPER winch kit is equipped with market leading features like a convenient, cordless remote control and a safe, synthetic rope. The rated 9500 lbs winch showcases powerful performance using a waterproof 5.5hp/ 4.1kw wound motor and a 3-stage planetary gear train. The Zesuper is a great fit for the 4×4 off road enthusiast that needs reliable pulling power to accompany them on their trip.
Leading Features at a Low Price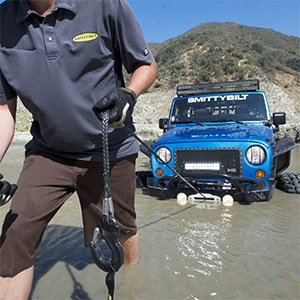 The ZESUPER 9500 is an attractive winch with a black, frosted finish that gives it a unique look and feel. The design includes an orange winch rope made of Dyneema synthetic material 9mm x 18mm that is easy to handle and extremely light. The long 18m synthetic rope offers minimal stretch and rotation so it stores less kinetic energy and subsequently presents less of a safety hazard if it snaps. High efficiency motor provides 6.4 feet per minute of pull when fully loaded and over 24.5 feet per minute when empty.
ZESUPER focuses on off road accessories and also makes traction tracks and hitches. They only offer a one year limited warranty but lifetime technical support. For a waterproof and sandproof product you would hope to get a longer warranty. There is a winch cover available for all of these items and we highly recommend them. The cover should ideally be a strong, UV resistant material that protects it from dust and the elements. Elastic bands around the outside edges of the cover can hold it tight against the winch.
Pros
Synthetic rope
Cordless remote control
5.5hp Wound motor
Cons
Risk of rusting over time
Not suited to daily use
Limited warranty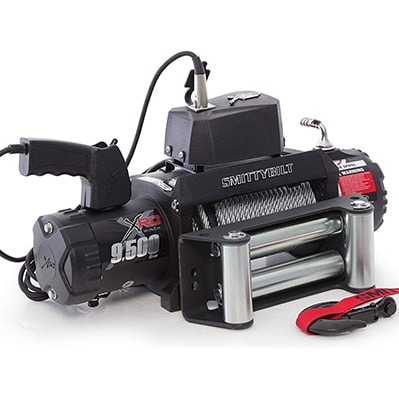 This Smittybilt Winch is an industry leader offering lots of capability and features at a competitive price point. This winch is a great choice for anyone that needs a medium duty winch for occasional use to get out of tough spots. If you are looking for a durable winch with easy operation and installation this is a great choice.
High Quality Winch
This winch has completely waterproof construction and a state of the art 500AMP solenoid. Power comes from a strong 6.6 HP amphibious wound motor and a planetary gear system with 3 stages. The winch has a sliding ring gear clutch and a rated line pull of 9,500 lbs. The brake on this winch is an automatic in-drum brake with a 2.5" diameter drum size.
The XRC winch series from Smittybilt has the muscle necessary to get you out of a jam.
Easy Operation
With a corded remote control switch and a 12' lead this winch offers easy operation. Operating your winch in a safe manner is critical and the remote is simple to use. It is important to stand clear of the winch during operation. Also, be sure to get a winch properly rated for your vehicle with a capability to pull approx. 1.5x the gross vehicle weight rating (GVWR). This winch is not light weighing in at 78 lbs with a 94' length cable size.
Strong Brand and Warranty
The company has a rich history supporting off road enthusiasts and retails nearly two thousand unique products for Jeeps, trucks, and SUVs. This gives owners peace of mind about the quality of the product. The winch has a strong warranty featuring lifetime coverage for all steel products and a three year warranty for electrical parts.
Pros
Strong warranty protection
Powerful motor
Waterproof construction
Cons
Steel cable
Corded remote control
Limited warranty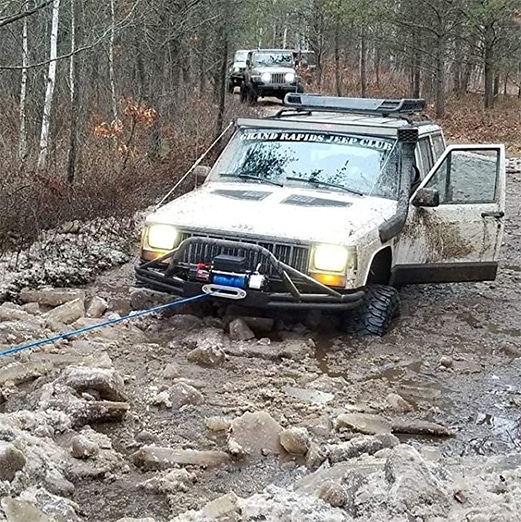 The X-Bull pulls a heavy load with a big 13000 lb load capacity. The winch has automatic load-holding and a strong power in and power out motor for positive load control. Solid construction includes a heavy duty sealed contractor and an IP67 waterproof rating. Wired and wireless remote control include for easy operation along with a free spooling clutch for fast wire rope payout. Adding to the appeal is a colorful blue synthetic cable measuring 26 meters.
Advantages of a Winch
On the trail a winch gives you a good option to get up and over an obstacle that is giving you trouble. Don't be ashamed to winch your vehicle up and over a huge climb. Remember that on harder trails a winch is often required because it helps you avoid damaging your vehicle by hitting the gas and hoping for the best. Gunning it in your truck or yanking your vehicle around with a tow strap attached to a tow hook is in sharp contrast to the controlled, precise motion of a winch. Taking it slow and steady with a winch helps you recover your vehicle without damaging it.
Light and Loaded
The X-BULL weights just 60 pounds in large part to the savings from a synthetic rope instead of a steel cable. The weight of the synthetic rope is just 1/10 the weight of a steel rope so the entire device is almost 20 pounds lighter. The synthetic rope does not surrender any strength with almost 10x the carrying power of the steel rope found on other devices. It is also nice to be able to handle the rope without needing to worry about cuts from steel burrs in the wire cable.
Stretching the cable is an important first step when you install your winch. To stretch the cable properly you need to respool the cable while it is under tension. That will help prevent slippage when you need to use the cable to pull a heavy load. Using your vehicle as the load and dragging it up a slight incline is an easy way to create the necessary tension. When respooling the cable, work to evenly spool it so that none of the cable gets crushed.
The company only offers a one year warranty on the device. Since it is exposed to the elements and operates with a waterproof rating something like a 3 year warranty would be preferred.
Pros
Synthetic rope
Wireless and wired remote control
Lightweight
Cons
Poor customer support
Not suited to frequent use
Limited warranty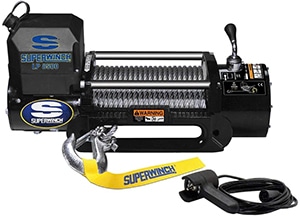 This second generation system from the Superwinch team provides a powerful utility winch with a hefty 8,500 lb pull rating. The 12V DC / 4.5hp sealed wound motor pulls a 94 foot long steel wire rope using a heavy duty all metal 3 stage planetary gear train. The handheld remote is attached with a long 15 foot cable that allows the operator to safely position themselves.
Anchoring the Winch
The Superwinch also offers a free spooling clutch that disengages the motor for quickly paying out the wire when in use. It is important when anchoring your winch that you carefully consider what parts of the environment are sturdy enough to bear the load.
Drivers always imagine getting stuck in a forest and anchoring to a tree but rarely consider how to anchor in the middle of a field or the dessert. For those instances it might be important to carry a ground anchor with you or be prepared to dig a deep hole and bury your spare tire down it to anchor yourself. Accessories like snatch blocks and tree protectors can be especially useful in these situations.
Winch Recovery
This is an entry level device perfect for occasional light-medium duty usage. The winch operates quietly and efficiently. Users should note that this winch is heavy and weighs in up over 75 lbs. Superwinch offers a competitive warranty with a two year guarantee it will be free from workmanship defects and a one year warranty on the electrical system. The company has a strong reputation and makes products trusted by weekenders and professionals alike.
Pros
Synthetic rope
Corrosion-free finish
Easy to operate
Cons
Wired remote control
Only for light duty use
Heavy weight
Best Jeep Wrangler Winches – Buyer's Guide
Drivers looking to add a powerful winch to their Jeep Wrangler, truck or SUV have lots of choices to consider. It is important to ponder how you expect to use the winch and the types of loads it will pull. The load, longevity, mounting option, cable type, and durability all play a part in finding the winch that is right for you.
Quality Matters Most
Quality is important. You need it to work when you call on it. Between uses it might sit dormant for long periods. Look for someone with a strong warranty that wants to stand behind the product. This is a good indicator that it is a quality product you can count on. Be careful about trying to save a few dollars if in exchange you are sacrificing the quality.
Large Loads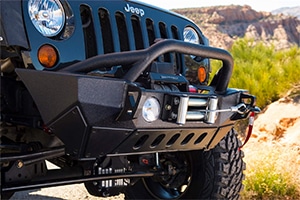 Your winch should be able to pull at least 1.5 times the GVW gross vehicle weight of your vehicle. Remember that the vehicle fully loaded up with gear will push the weight up beyond the listed curb weight. For vehicles that have aftermarket bumpers, skid plates, and wheels the weight can grow quickly. Almost every winch is part of a product family so find the manufacturer you like the most and then buy in at the appropriate weight rating for your particular load.
Conclusion
Getting stuck is a part of life when you spend a lot of time on the trail. Equipping your vehicle with a winch provides a level of independence and freedom that drivers have come to love. Equip a winch to help feel ready for snow, sand, mud, or rocks and keep your vehicle moving down the road. Feeling confident in your vehicle's ability to navigate difficult terrain without getting stranded is the name of the game, and a high quality winch is often a critical element.