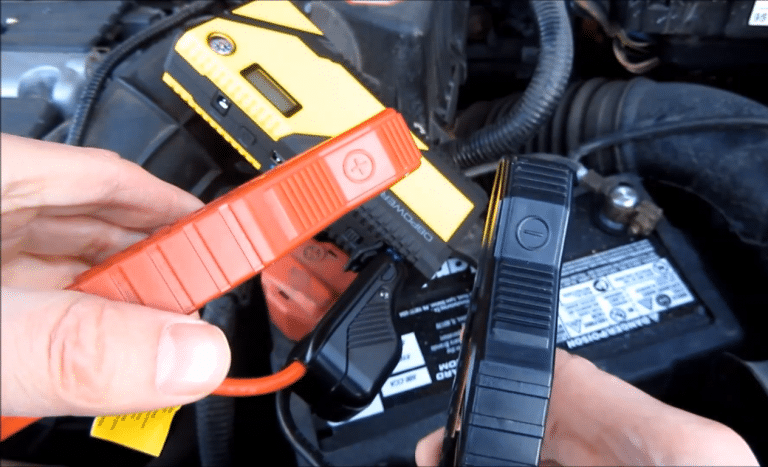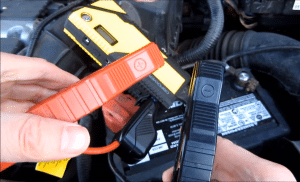 Portable jump starters are essential accessories for jump-starting a vehicle when you don't have an additional car nearby. Unfortunately, no one is immune to sudden car trouble. When the going gets rough, these handy devices can save the day. That is why we've compiled a list of our top five favorite jump starters along with a handy buying guide to jumpstart you in the right direction.
Best Jump Starters of 2021
1. TACKLIFE T6 – Best Portable Jump Starter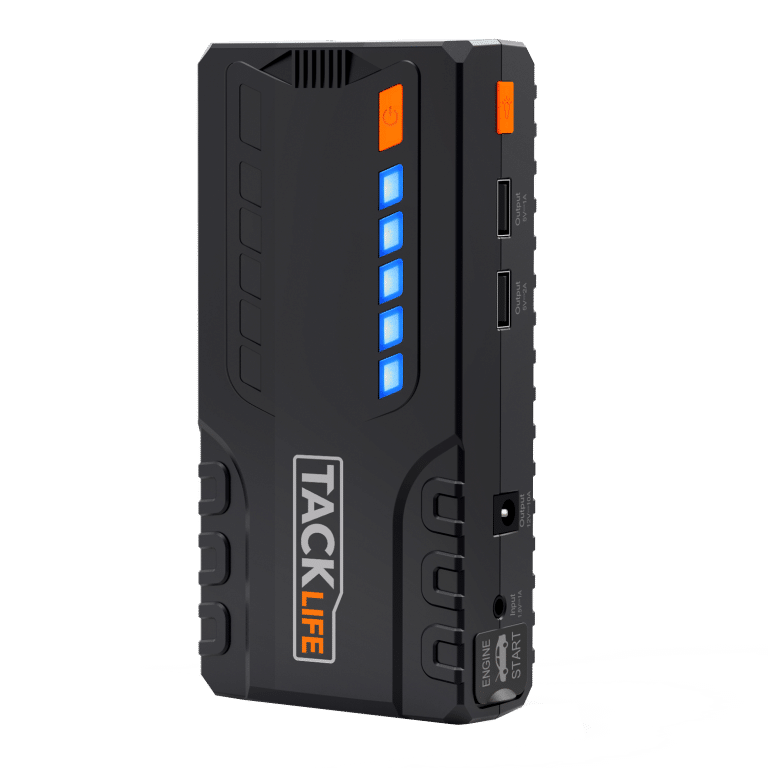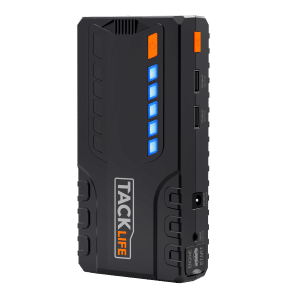 The Tacklife T6 jump starter boasts an upgraded lithium battery and smart clips. However, it is important to note that these aren't your grandfather's jumpstart cables. They possess reverse polarity protection, reverse connection protection, overcurrent protection, and short circuit protection. If you're someone who's struggled with lining up the plus and minus signs with confidence, this failsafe system might be right for you. The T6 is also phenomenally compact, despite its ability to jumpstart large vehicles multiple times per charge. It is just 6.3 inches long, 3 inches wide, and 1.6 inches high. Nevertheless, a fully charged Tacklife jump starter is capable of jumpstarting a 6.2-liter gas engine or 5.0-liter diesel engine up to 30 times.
Optional Outputs and Plenty of Extras – Best Value
One of the great perks of the Tacklife jump starter is its optional 12-volt/10-amp DC output. This pairs perfectly with many other essential automobile accessories, such as vacuums, DVD players, and air compressors. The jump starter even comes with a female cigarette lighter adapter. It also has 5-volt/1-amp and 5-volt/2-amp USB ports.
There are even three LED flashlight modes. While it is an all-around solid jump starter, the T6 is backed by a generous 2-year warranty. What's more, the manufacturer prides themselves on providing top-notch customer service.
Recommendation
We recommend this compact jump starter to anyone looking for a battery booster for a reasonable price. The device boasts plenty of extras. For example, the built-in flashlight makes it a superb choice to bring along on outdoor adventures. We also love that this product is backed by a 2-year manufacturer's warranty. If you want to avoid ever being stranded on the side of the road because of a drained battery, this product is worth a long hard look. Did we mention it is super compact too?
Pros
This jump starter boasts a powerful lithium battery that is capable of charging a vehicle up 30 times
It measures a mere 6.3 inches long, by 3 inches wide, and 1.6 inches thick. Not to mention, it weighs just over 2.5 pounds
It has a built-in LED flashlight with multiple settings, including a solid beam, strobe light, and S.O.S. signal
It is backed by a 2-year "no-worries" warranty
Features dual USB port charging docks with varying voltages
Comes with an optional female cigarette lighter adapter which connects to a 12-volt port
Cons
Replacement warranty only extends 6 months
Technical support is somewhat misleading and difficult to deal with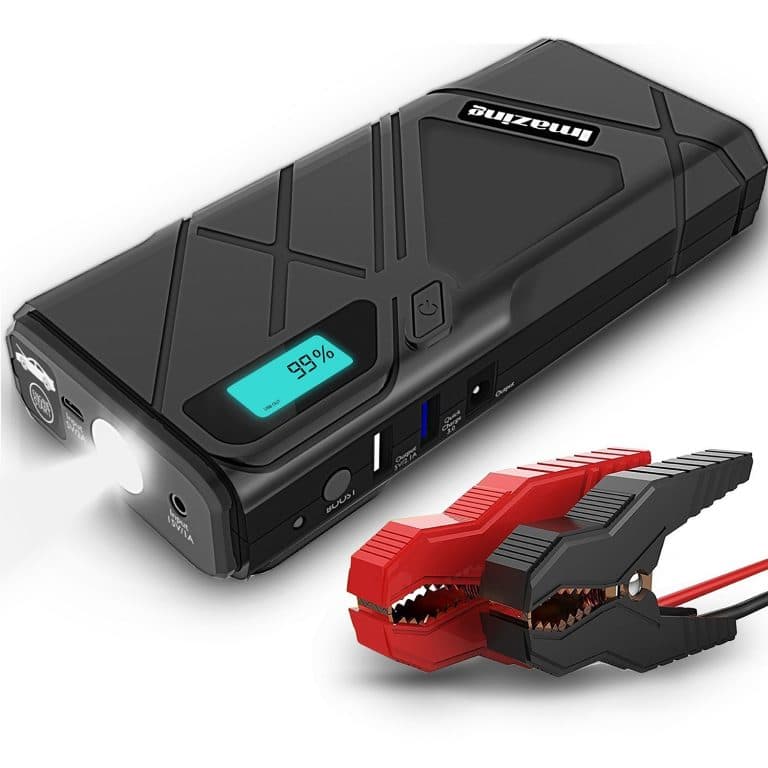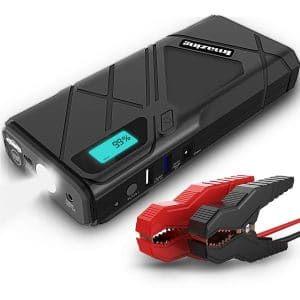 The Imazing portable jump starter offers 1,200 amps of peak power via heavy-duty cables and color-coded clamps. That is enough power to jumpstart an 8.0-liter gas engine or 6.0-liter diesel engine up to 30 times with a single charge. What's more, the device has loads of varying accessories. Apart from being a solid jump starter, it boasts a built-in LED flashlight for visibility during nighttime breakdowns or help relocating lost keys. An S.O.S. light signal is also helpful in locating assitance when a simple jump start won't cut it. Not to mention, you can charge most cell phones, tablets, and other digital devices via the dual USB ports. Furthermore, it comes with an intelligent female cigarette lighter adapter and a 12-volt wall charger. In addition to the boatload of attachments, Imazing gifts you a handy little compression case to store it in.
Safety Options Galore
One of the most important yet overlooked features of the Imazing jump starter is its innovative safety technology. The device boasts a smart computer board that offers five safety functions to protect users from common mishaps. These include reverse polarity protection, over-voltage protection, overload protection, over-current protection, and over-charge protection. Thanks to these features, your jump starter, car battery, and electronic devices are all in better hands.
Recommendation
We highly recommend this jump starter for people looking for a failsafe device. Its most attractive assets are its ability to charge a car without damaging any electric components. These protections make this a great gift option for friends and relatives who aren't exactly car savvy but could use a little extra peace of mind when on the road. If you're looking to replace outdated jumper cables with a safe, reliable alternative, check out the Imazing jump starter.

Pros
Can charge a 8.0-liter gas or 6.0-liter diesel vehicle over 30 times with a full charge
Serves as versatile portable charger thanks to dual USB ports and an attachable cigarette lighter adapter
Has an emergency-use S.O.S. LED light beam feature
The durable cables and clamps can be removed so that it can be used as a power source or flashlight
Can power up tablets and cell phones when on the road, camping, or away from standard electricity sources
Comes with a portable compression case
Cons
Some customers report that this jump starter fails to fully charge after the first few initial charges
It is not backed by any sort of warranty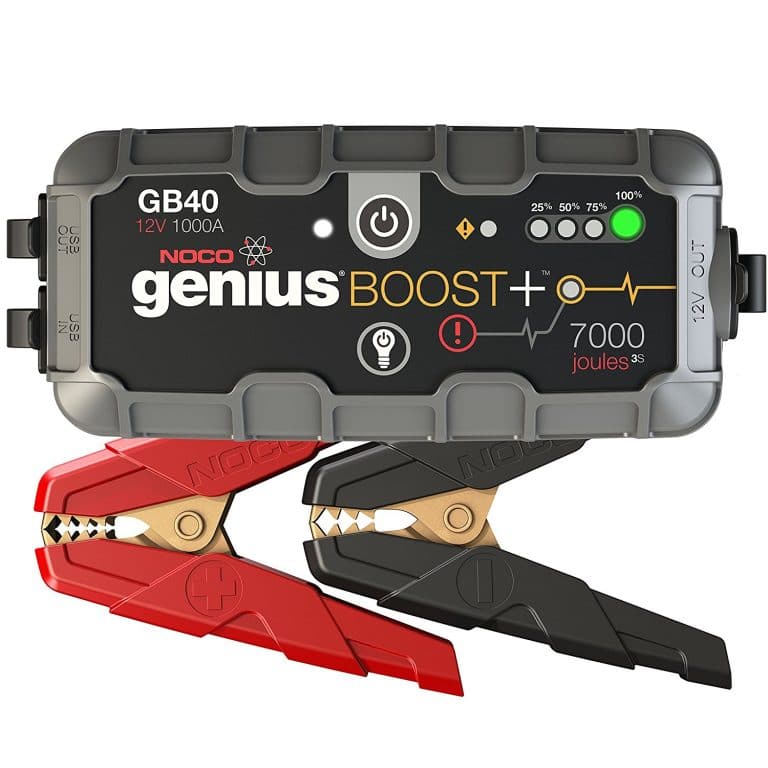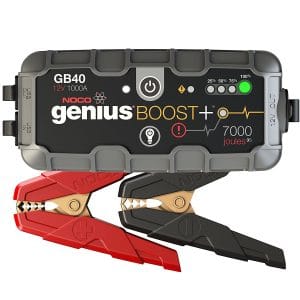 The Noco Genius Boost Plus jump starter is an ultra-compact lithium-powered device that provides peak power of around 1,000 amps with a single charge. According to the manufacturer, this is enough to power up most vehicles 20 times. It also boasts a 100-lumen LED flashlight with a whopping seven modes. You can easily sustain hours of solid beams, strobe lights, or S.O.S. signals. Not to mention, it has two USB ports on the side and has enough power to fully charge four standard smartphones. The device is compatible with gas-powered engines that are up to 6 liters in size and diesel-powered vehicles up to 3 liters in size.
Mistake-proof Jump-starts
One of our favorite features of this powerful jump starter is its mistake-proof design. While jump-starting a car can boast a bit of a learning curve, reverse polarity protection and spark-proof clamps take any potential dangers out of the mix. One of the biggest qualms when hooking up a jump starter is accidentally reversing the cables or touching the clamps together. Meanwhile, this jump starter completely eliminates that issue.
Recommendation
We recommend this jump starter to owners of both gas and diesel vehicles.
With enough safety features to protect far-sighted and accident prone individuals from nasty electrically charged mistakes and plenty of roadside emergency features, we cannot think of a more trusty car accessory.
It even has supplementary charging options, including USB ports and a cigarette lighter connection. Finally, it weighs a mere 2.4 pounds and is relatively compact. On the downside, after just a few uses it tends to have difficulty fully charging.
Pros
Features color-coded charge level indicators
Boasts spark-free clamps and durable color-coded cables
The cables disconnect so that it can be used as a power source for car accessories and smart devices
Features a powerful LED flashlight with seven different light modes, including emergency settings
Can be used with anything up to a 6-liter gas engine or a 3-liter diesel engine
Reverse polarity protection offers safe roadside assistance
Cons
Somewhat expensive compared to similar models
Some customers report that the Noco Genius Boost does not charge to full capacity after its initial usage
4. DBPOWER – Most Accessorized Jump Starter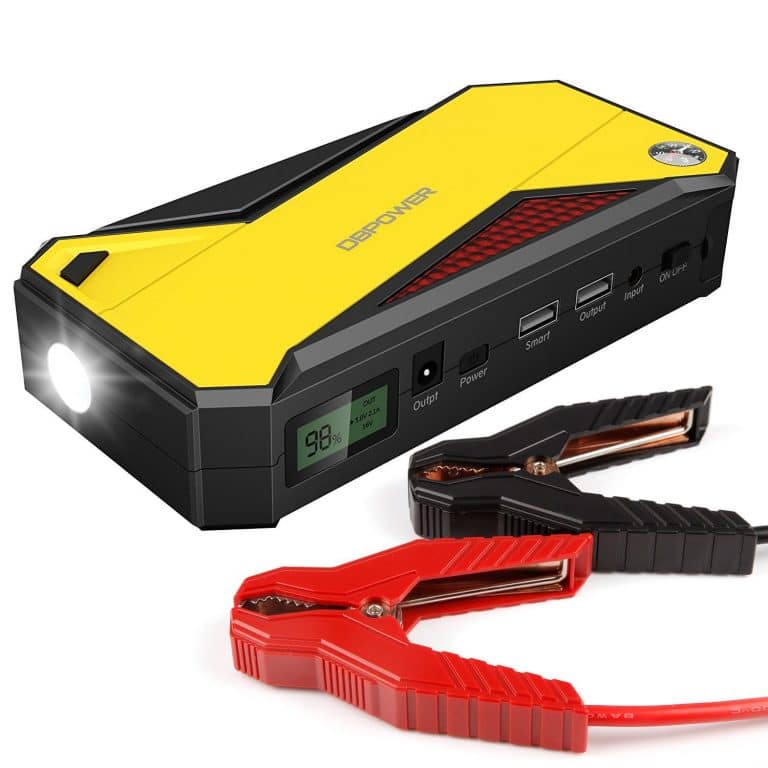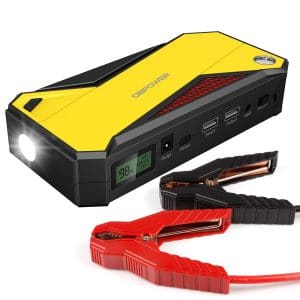 The DBPOWER 600-amp jump starter can power any vehicle with anything up to a 6.5-liter gas engine or 5.2-liter gas engine. It can also charge a wide range of car accessories and electronic devices. Plus, it boasts intelligent jumper clamps with multiple safety settings. The clamps are protected against common jumping issues, such as over currents, short circuits, overloads, and over-voltage. Finally, the entire thing is backed by a well-loved 3-year manufacturer's warranty. What's more, the customer service is extremely accessible and accommodating.
Extra, Extra
There are so many extras built into the DBPOWER, we don't know where to start. For starters, the jump starter boasts an easy to read LCD display screen that informs users of the device's battery charge level. It also has a reliable compass built into it. While this may seem like a frivolous accessory, it certainly comes in handy when you need to navigate your way home without a vehicle or GPS system to back you up. The DBPOWER also has phenomenal charging abilities. It has a smart charging port and smart USB port. According to the manufacturer, it even serves as an 8-in-1 laptop charger. Beyond that, it comes with a 12-volt wall charger as well as a 12-volt car charger.
Recommendation
We recommend the DBPOWER to individuals looking for a versatile jump starter with plenty of additional accessories. Compared to similar models, the DBPOWER is extremely affordable. It boasts enough power to charge several cars, smart devices, and car accessories, and still have some juice remaining. What's more, it comes in an option of yellow & black or red & black colorways that are both easy to find in low light conditions.
Pros
Multiple bright and noticeable colorways
Boasts an integrated smart charging port with a 18,000 mAh capacity
Has a built-in LCD screen that displays the current battery charge percentage
Features helpful red and green indicator lights
Works for everything from small electronic devices to small and large vehicles
Cons
Some customers report it charging less after the first few uses
Misleading 100 percent charge readings occasionally appear on the LCD screen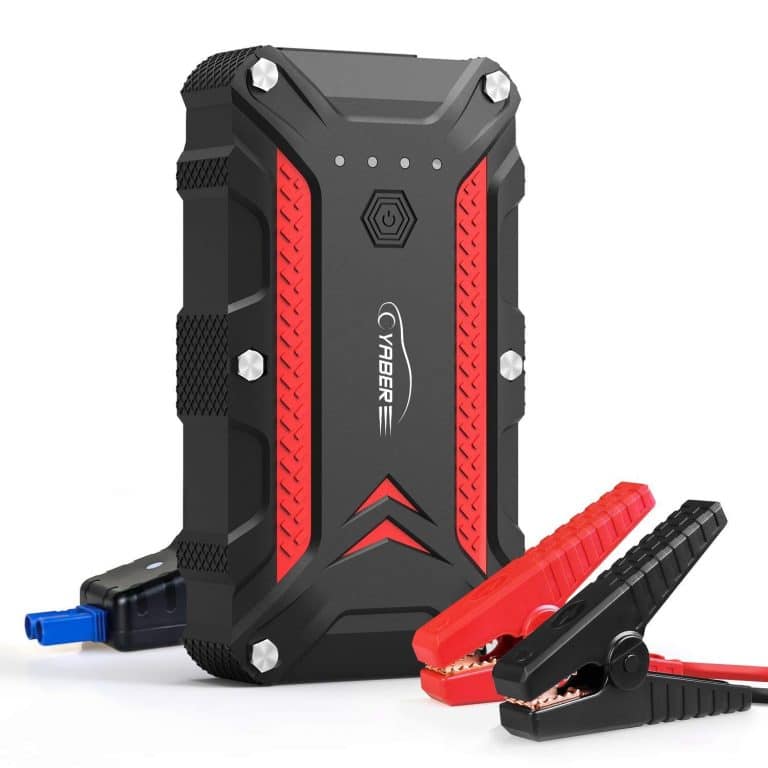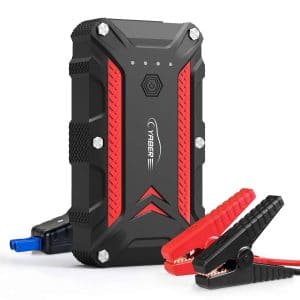 The Yaber JS20 portable jump starter offers 1,200 camps of peak power for jump-starting a variety of vehicles, including gas engines up to 7.5 liters and diesel engines up to 6 liters. It boasts a long list of the latest smart safety technologies too. These include overload protection, reverse polarity protection, and over-voltage protection. Not only does this increase the safety of users, but it prevents potential vehicle damage from easy to make mix-ups. It also boasts technologically advanced metal clamps sprayed with gold. This feature prevents the occurrence of sparks or misleads electricity. The starter also has two USB outputs that offer 5 volts of power. Finally, the Yaber has a LED flashlight with three different modes, including a safety strobe and S.O.S. pulse signal.
Water Won't Wick It
The Yaber JS20 portable jump starter is IP68 certified. This means it is water, dust, and dirt-resistant. It can even be submerged in water up to 1.5 meters for up to 30 minutes.
Not to mention it comes with a complimentary zippable storage bag that helps you keep it with all its accessories. For this reason, this is a great product for individuals who live in moist or rainy areas. It's also a great choice for beach-destined or off-road vehicles.
Recommendation
Jump-starting a vehicle with the Yaber JS20 portable jump starter couldn't be easier. However, the main perk of this device is its incredible weather resistance. The waterproof casing ensures this product will be there to fall back on regardless of the weather. What's more, its attractive black and red design makes it an aesthetically pleasing docking station for when you are on the road.
Pros
This jump starter features a IP68 rating, ensuring it is resistant to dust, dirt, and water
It boasts a wide range of smart safety features, including short circuit protection
There is no need to fear hooking up the wrong clamps
Gold-coated smart clamps with durable detachable cables
Boasts dual fast-charging USB ports
Has a strong LED flashlight with three different lighting modes
Best Jump Starters – Buyer's Guide
What to Look for When Purchasing a Jump Starter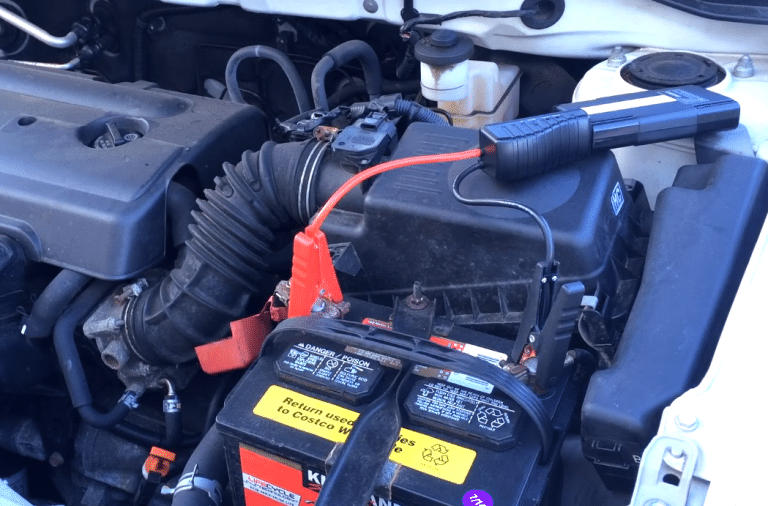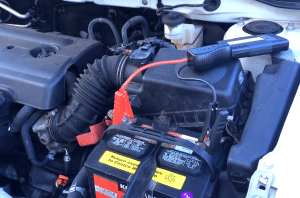 Today's portable jump starters offer far more than basic roadside assistance. Nevertheless, most consist of a standard rechargeable lithium battery that can be used to provide your vehicle's battery with much-needed juice when its charge suddenly drop down. In addition, safety and convenience features make these once clunky devices a must-have trunk accessory.
Power
Power is easily the most important feature when it comes to choosing a reliable portable jump starter. The amount of power delivered by a jump starter is typically measured in amps. However, most manufacturers also assert the maximum size and type of engine a jump starter is compatible with. This number is often backed by the number of charges that can be produced from a single charge. As a general rule of thumb, higher potential power is preferred.
A Variety of Charging Modes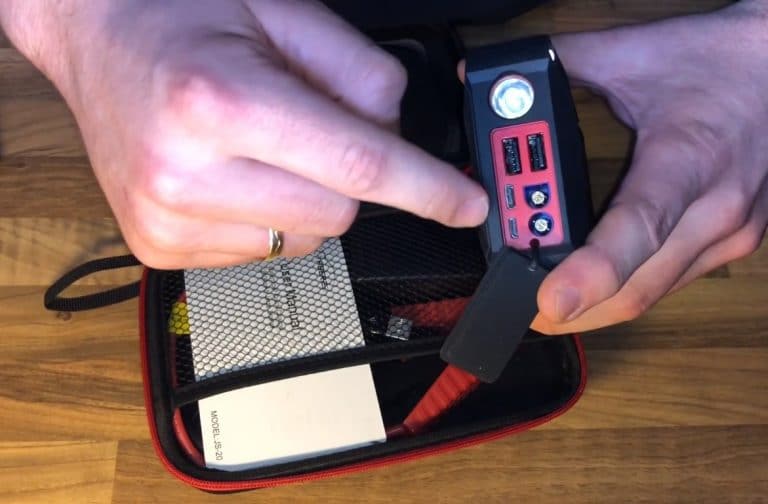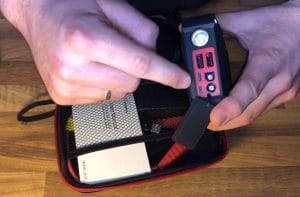 Portable jump starters are often designed for more than powering up vehicles. In fact, many are utilized as remote sources of energy for car accessories and smart devices, such as cell phones and laptops. Whens is the case, it is important that a jump starter has a wide variety of charging modes. A port that offers 12 volts of power and boasts a female cigarette lighter connector is ideal for portable DVD players and vacuums. Meanwhile, a USB port should offer the precise amount of power to charge standard smart devices.
Safety Features
Smart safety features prevent wrongly placed clamps from creating unforeseen amounts of destruction. They also prevent injuries. The most common safety features include overcurrent, short circuit, over-voltage, overload, and over-charge protection. Gold-coated metal clamps and durable rubber-cased cables also help to ensure electricity only travels where you'd like it to.
Clamps and Cables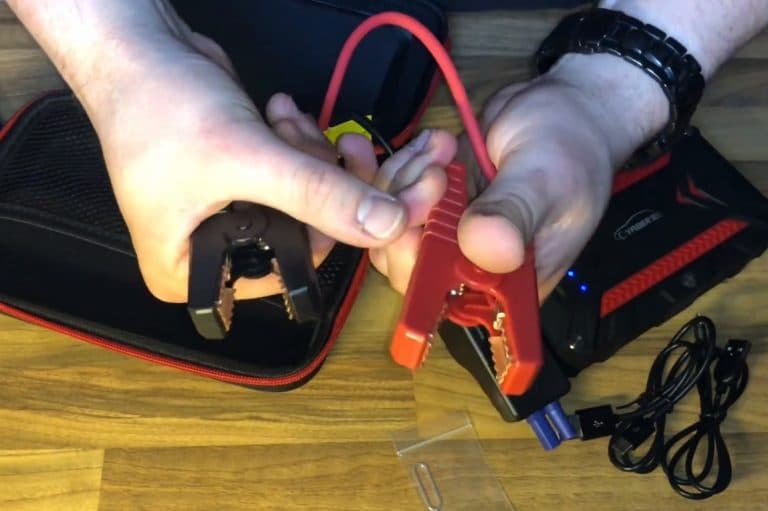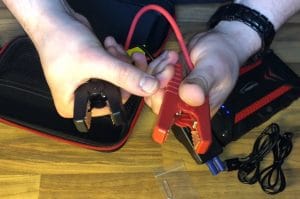 Most modern jump starters feature detachable cable and clamp sets. It is important that these sets be made of high-quality metal and plastic. The clamps should open wide so that they can easily bite down and remain on the surface of any battery port. Signs of inferior clamps or cables include bent or twisted metal.
Flashlight
We often see jump starters that feature built-in LED flashlight accessories. Many of these boast a variety of light settings. Bright S.O.S. signals and strobe patterns come in handy when you're stranded on the side of the road and a battery boost won't do the trick. Meanwhile, the standard flashlight can be used for increased visibility in a variety of situations.
Warranty and Service
While we stand behind our recommendations, we are always more likely to recommend a product that is backed by a manufacturer's warranty. Not only that, but we are more likely to support companies with reliable, approachable customer service departments. Whether you are looking at 1 or 3 years of defect replacement coverage, a warranty can give you a boost of confidence when spending your hard-earned money.
Accessory Cables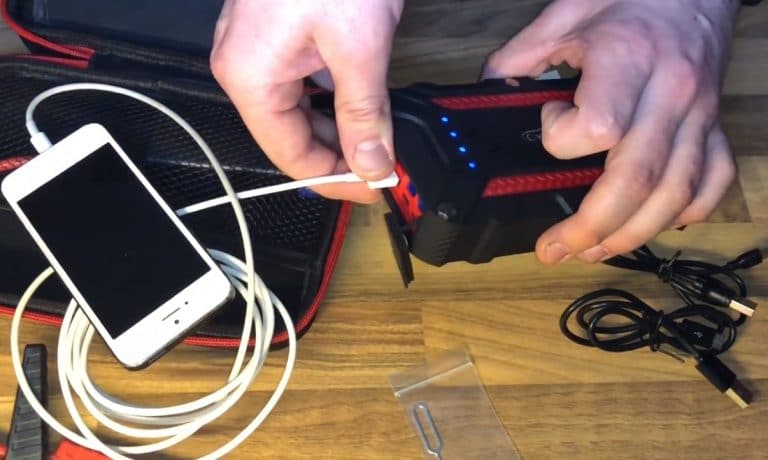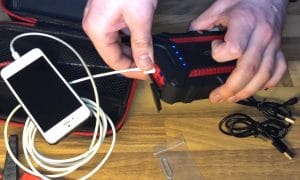 If your jump starter is capable of charging more than just your vehicle's battery, you're going to need a few additional cable accessories. These include USB cords, micro USB cords, and cigarette lighter ports. You'll also want to make sure that your device comes with at least one charging cord of its own. Nevertheless, we prefer models that come with both wall and car charging cords.
Advantages of Owning a Portable Jump Starter
Portable jump starters are popular accessories for frequent travelers.
Whether you're having trouble getting your vehicle going in your garage or at a remote camping spot, a portable jump starter offers immediate support. It saves you from having to call and/or wait for roadside assistance.
Plus, unlike standard jumper cables, you don't need another vehicle to harness the power of electricity.
Beyond that, there are many affordable and compact models to choose from. For less the price of a tow truck, you can be well prepared for any emergency on the road. On that note, most portable jump starters feature additional safety features, including flashlights, phone chargers, and even compasses. In the case that your vehicle breakdown and needs more than a few amps to get going again, a portable jump starter can serve you in a variety of other ways.
With added safety features, they prevent the risk of injury to you, your vehicle, or a host's vehicle. While traditional jumper cables can become a liability if rubbed together or attached to the wrong ports, smart clamps have built-in protections against these sort of issues.
After all that, traveling without a portable jump starter feels akin to getting on a boat without a life jacket. Of course, unlike traditional safety equipment, many can be used day-to-day. So, you won't have to worry about yours collecting dust when your car decides to run perfectly for a long stretch of time.
Final Thoughts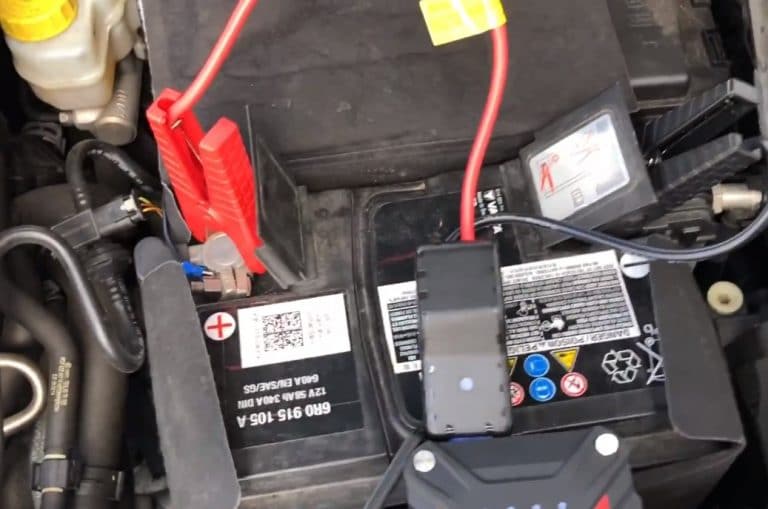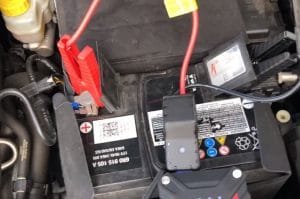 After checking out several portable jump starters, it is truly hard to understand why anyone would be willing to travel without one of these trusty car accessories with them. Whether you're using a vehicle for a daily commute, recreation, or occasional tasks, nothing is worse than breaking down on the side of the road with a dead battery. Roadside service can take hours to reach you. Not to mention, it can be a hassle just to get them on the phone. With a portable jump starter, you can keep your vehicle's battery fully juiced while staying on top of all of your electrical devices. It may even come in handy for emergency or navigational needs.