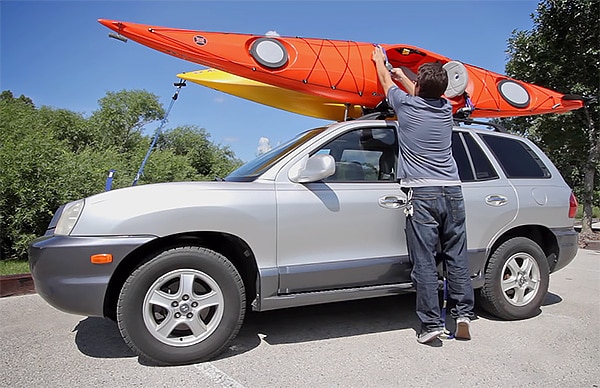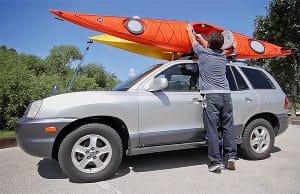 Despite being a niche accessory, any kayak owner needs to invest the time in choosing the best roof rack for their car. While conventional methods of securing your kayak can work in a pinch, the safest and easiest way to transport it is undoubtedly with a secure rack.
Best Kayak Roof Racks in 2019
As expected, roof racks come in all shapes and sizes. They can vary in design, installation difficulty, and the way in which they secure the kayak to your car. As a result, the right kayak is different from person to person, and depends greatly on personal preference and type of vehicle. Some of their characteristics are outlined briefly in the table below.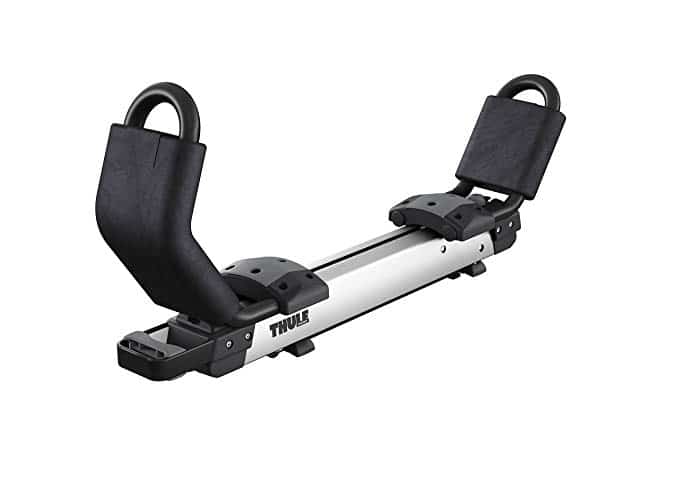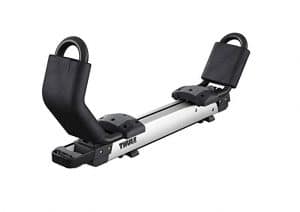 First on our list of kayak racks is the Thule model, and if there's one word to describe this product, it would be reliable. Despite the steep price, it is a versatile and sturdy piece of equipment that any kayak owner should consider for the long haul.
Versatility
The main selling point for this roof rack is perhaps the wide range of applicability that it boasts. For one, it isn't rigid; it can be adjusted for kayaks up to 36 inches wide, and it comes with several different accessories to keep it secure. In addition, it can hold up to 75 lb of weight—so even the biggest kayaks don't strain the rack. In addition to its versatility in traditional roof strapping, this rack can be used to hoist your kayak over the side of your vehicle as well.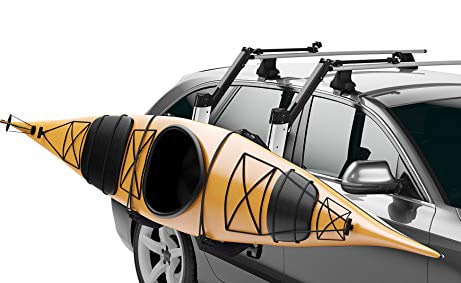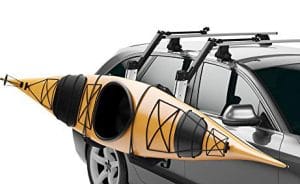 One neat feature of this product in terms of functionality is the way the kayak is mounted on the rack.
To lock it in place, you simply need to lower the kayak onto the Hullavator and the two ends of the locking mechanism do the rest.
Once lowered, the ends lock in place, securing the kayak in the tightest way possible. Overall, the versatility and ease of use of this product is not something to sleep on.
Practice and Preparation
Despite its very marketable performance, this rack certainly takes a little more than just a little elbow grease to get used to. First of all, it only works with specific crossbars; typically, you won't be able to install them with regular factory roofage. What users (and company representatives) seem to recommend are the Thule Aeroblade and Thule Square bars—unsurprisingly, considering the rack is tailored to the company's own crossbars.
Other than installing different bars, there's a few things customers note that take getting used to. Firstly, some buyers mentioned the confusing installation that comes with matching your crossbar and roof rack, specifically the mismatch regarding the length of the bars. If you're seriously considering going with this product, do yourself a favor and look closely into the bars that are ideal for it (it could affect your budget, too).
Other reviewers kindly warned potential buyers that this product takes some serious work to install correctly; as one user describes, "unless you are well over 6 feet tall and have strong arms and shoulders," this is a 2-person job. Getting the cradle locked in place is a difficult ask for anyone with little experience in this line of work. One minor complaint that some had was the friction that might occur with some kayak sizes, whether it be rubber marks on the bottom or scratches on the sides from heavy driving.
Overall, though, if you're willing to splurge some serious cash into getting the best kayak roof rack out there, this might be the place to start looking. It has everything you would need, and reviews are almost exclusively positive. The only downside is the installation—you have to get it right.
Pros
Versatile in fit and mounting
Easy to use
Can securely hold the heaviest kayaks
Cons
Physically demanding installation
Only works with Thule crossbars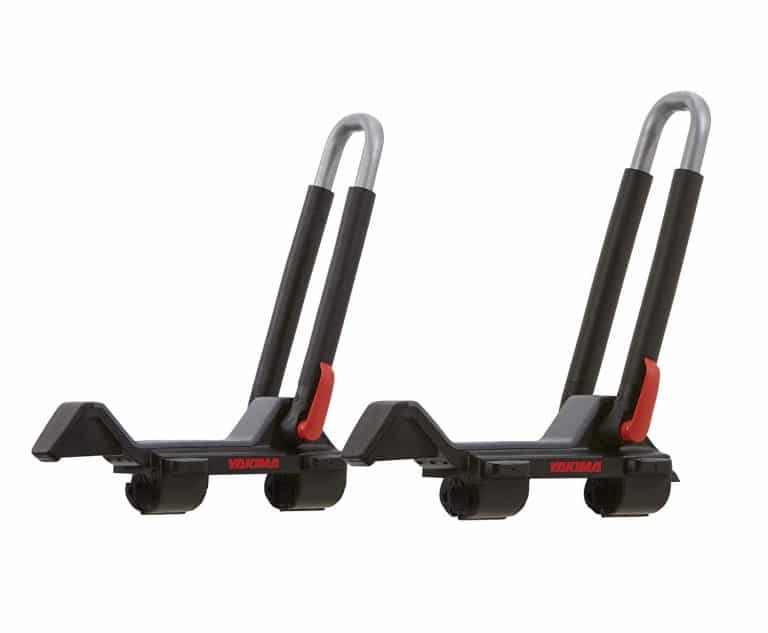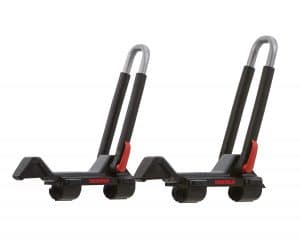 The main characteristic that makes this roof rack shine is its compatibility with different circumstances. It can hold two kayaks at once, making it a wise choice for those who own multiple or need the extra weightage.
Versatile in a Different Way
While the Thule rack is versatile in the sense that it allows you to adjust the rack to the kayak's needs and secure it in different ways, the Yakima picks up where the Thule is lacking. For example, it is usable with more types of crossbars, something that can save you time and money during the installation phase. In addition, as stated previously, it can carry two kayaks—up to 110 lb in a vertical, stacked position.
The crossbars that it can fit include round, square, factory, and aerodynamic ones—so pretty much the whole range.
The product also comes with all the necessary straps and tie-downs for optimal security. One thing you can't ignore is the integrated cam lever which lets you adjust the upright position of the rack. This is especially useful for times where you don't need to use it, as you can hold it flat to reduce drag and improve clearance. Finally, many note the extremely easy installation as a big plus. All in all, the design, on paper, has no particular flaws, so let's take a look at its performance.
Structural Issues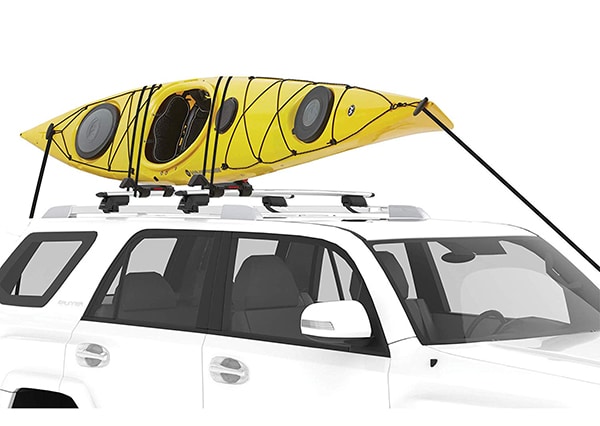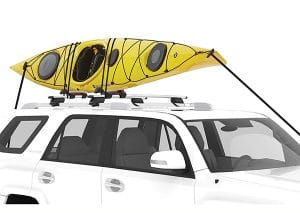 Whilst most of the experiences with this rack have been very positive, we have to look at the negative side to get the full picture. Even though complaints were much rarer, there are several ones that stand out enough to make you wonder. First, many buyers were unhappy with the longevity of the materials of the rack. Oftentimes, customers would receive this product only to find some form of defect to it, ranging from cracks to weird quirks in the rack mechanism.
The cracks are a serious concern, as at any moment they could snap—one buyer had to call someone to get his wife after the rack snapped after a few uses. Even if the tendency to break is relatively low, it could cause a major accident if it does occur. On more than one occasion, buyers describe the kayak falling onto the car or onto the highway simply because the material couldn't support the kayak fully.
This brings us to the next point—the plastic is quite flimsy and cheap (according to kayakers who bought this product). When you're looking for sturdy roof racks, the last thing you want to have is flimsy plastic as the primary support. Almost all the criticisms aimed at the Yakima rack are based on it snapping under the weight of their kayak, even if it was well within the weight range advertised. Some even had a defective rack right out of the box, where it would be locked in a certain position or be bent before it was even used.
The verdict here: even though critical reviews make up less than 15% of experiences, it's vital to proceed with caution—one fateful day could cause damage to your kayak or even others on the road.
Pros
Fits nearly all crossbars
Comes with straps
Can hold two kayaks
Easy installation
Cons
Cheap and flimsy plastic
Defects could prove dangerous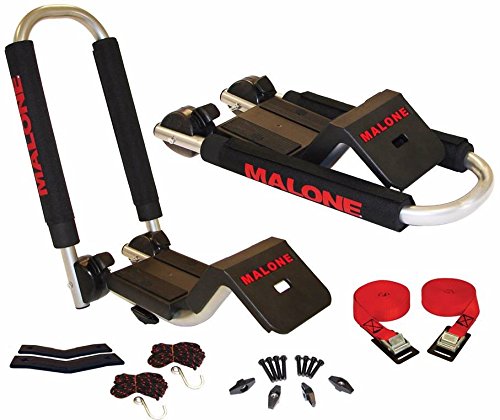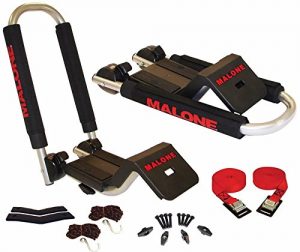 Unlike the previous two roof racks we looked at, the Malone one has a beaming Amazon's Choice sticker on it. What's more, it looks like this product is more solidly built than the competition. Let's take a deeper look.
Heavy Durability
Even at first glance, it's clear that this is a heavy product with a lot of thought put into its design. The main downfall of the Yakima was the flimsy nature of the plastic structure, and this is precisely where the Malone diverges in that regard; its pre-coated steel allows it to not only withstand heavy weights over a long time, but also aids in the snug and secure fit you want for your kayak. Much like the Yakima, it is also marketed as a universal fit—essentially, it takes the good qualities of the previous two products and eliminates the shortfalls. And, if it's important to you, it's made in the USA with quality in mind.
Perhaps the greatest feeling you could have towards your roof rack is none at all; the peace of mind that comes with knowing your kayak is safe without a second thought is invaluable. Many buyers echo that sentiment, noting that it is a product that held their worries at bay. The steel construction and more-or-less universal fit are two things that make this rack stand out among the competition.
Minor Issues
Most criticisms about this rack tend to be questioning the universal nature of the product. While it is marketed as a fit for circular, square, and most oval crossbars, it is tailored primarily to fit square crossbars (as evidenced by one glance at the design). In addition, some had poor experiences with the shipment and/or longevity of this product. Missing or defective parts is perhaps the only other complaint to be found regarding this roof rack. Even then, many buyers claimed to have gotten excellent customer service when they brought up the issue (to be fair, some claimed the opposite).
Just as with the other two racks, complaints/downsides are few and far between. However, what separates the Malone from the others is the severity of the complaints—a potential accident on the road is far more off-putting than potentially running into some minor annoyances like crossbar installation. And just like the others, it's quite easy to install. For the price, this might be one of the best options out there.
Pros
Fits most crossbars
Very durable
Easy installation
Secure fit
Cons
Defects possible
Not completely universal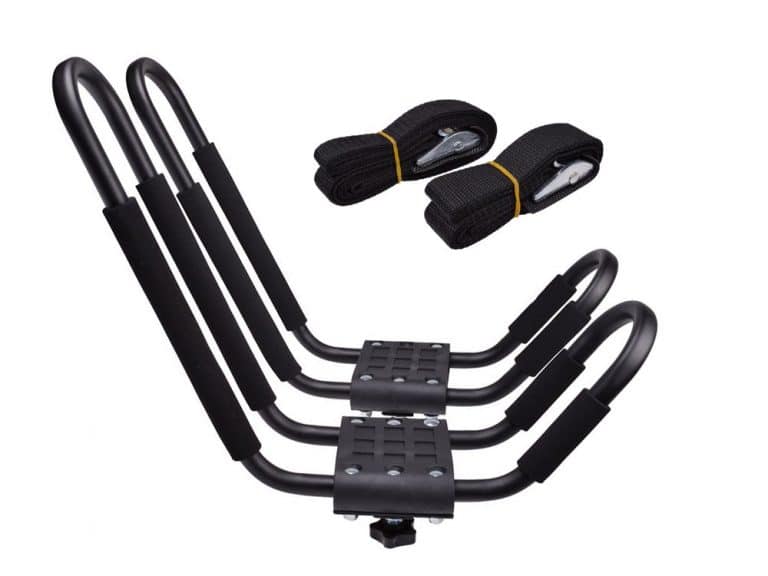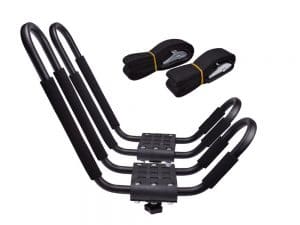 A common theme with these racks, this one is also marketed as versatile. However, its main selling point is the cheaper price; you can get this item for as little as $30 if you catch it at the right time. This begs the question: can this cheaper alternative compete in quality?
Poorly Made
Unfortunately, it doesn't. Countless buyers were left feeling like they wasted their money on something that doesn't work, with complaints ranging from shoddy craftsmanship to total collapse of the J-Bars. The last thing a kayak owner wants is to have their rack give in upon first use, and it's a shame that multiple buyers had this exact experience. Breakage, bending, and poor customer service complaints line the critical reviews section amidst all the "DO NOT BUY" warnings from disappointed customers.
The material itself is cheap, and there's no way to even be sure you're getting what you ordered. Apparently, according to some buyers, you can't be sure which rack you're going to get because it is shipped by multiple suppliers under the same name. So, basically, you're rolling the dice with ordering this product. Interestingly enough, it also has an Amazon's Choice label.
The Positives
While it is more interesting to describe the horror stories associated with this rack, it's important to also consider positive customer experiences. The most telling review came from a satisfied user that had no issues with it for 5 months. He describes using the rack in the harshest winds and over 7500 miles with little to no issues. What's interesting is that he also shares a trick that might have helped many of the unsatisfied buyers—you have to secure the kayak itself with the straps, not the J-Bars. Perhaps the main issue with the flimsiness of the product was the strain on the cheap plastic rather than the rack itself; it's certainly something to think about.
Overall, it's simply a matter of whether you believe you can manage a cheaper rack, as there are many buyers that were satisfied with it. However, there are many factors still in the air. Firstly, the possibility of getting a cheaper version of the product due to the issue of multiple suppliers. Second, the risk of breakage or disfigurement is still on the table, as the materials are (as reflected by the price) not as durable as one would hope. Either way, for such a cheap buy, it's still a viable option. After all, there are a multitude of positive experiences with this product.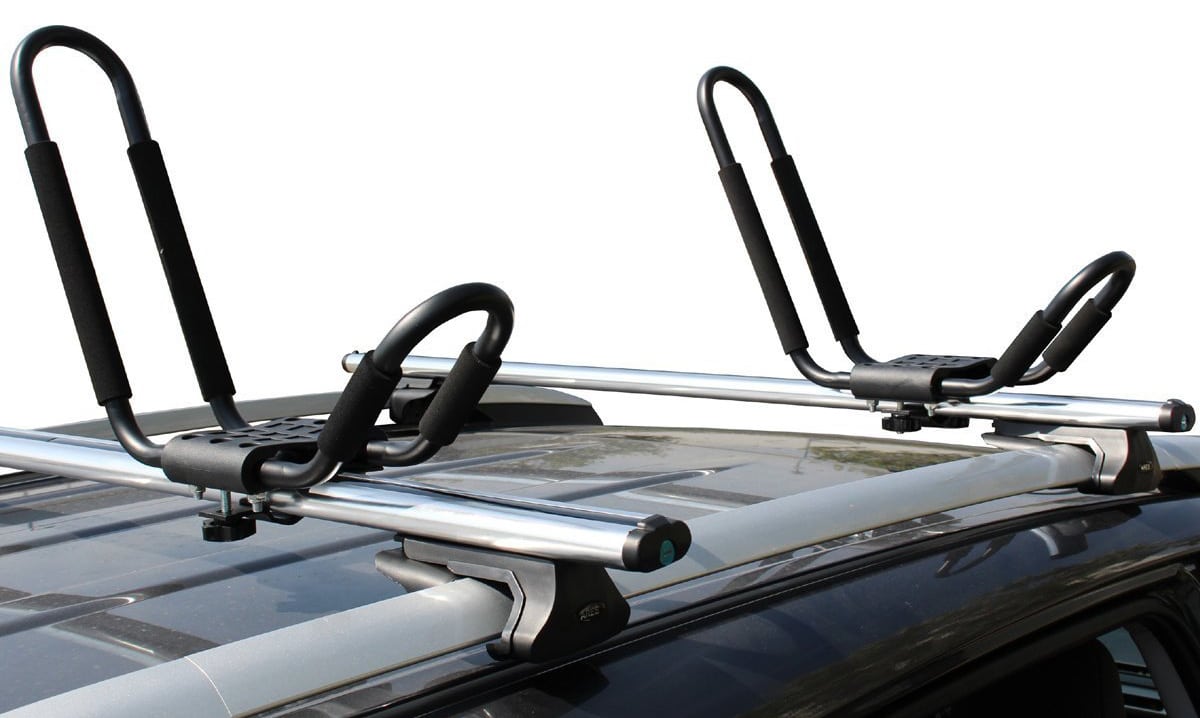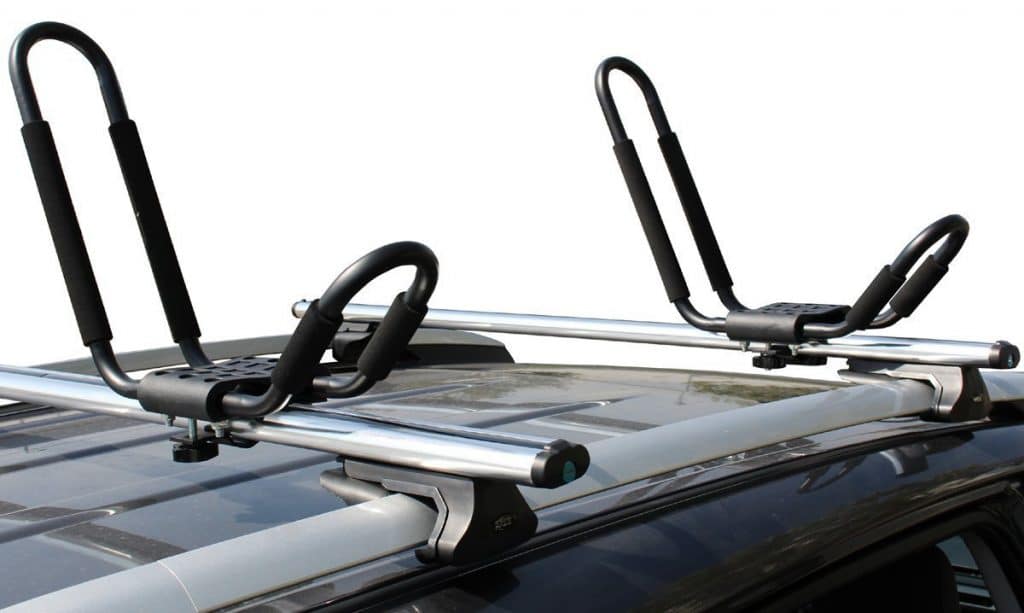 Pros
Fits most crossbars
Very affordable
Cons
Cheap plastic
Risk of getting inferior product
Risk of breaking and deforming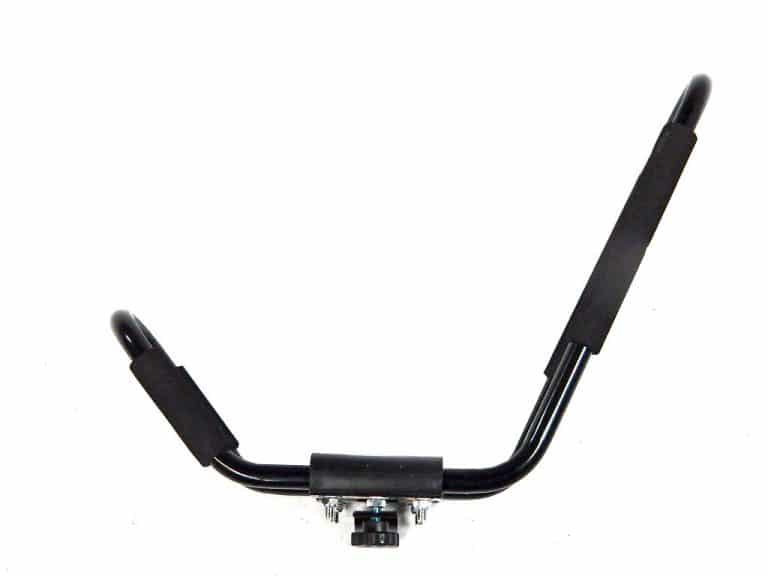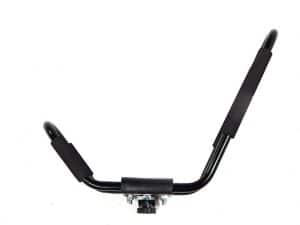 The final roof rack on our list comes as probably the most intriguing at first glance. It is reinforced with steel and can, like the Yakima Jaylow, can hold two kayaks stacked on each other. However, it is advertised as having a higher maximum load than the Yakima—and, in fact, double the other three—at an impressive 150 lb. Is this rack too good to be true?
Mixed Reception
The first thing that stands out amongst the criticisms is the hole placements. Depending on who you ask, the placement is either a little off (making the installation slightly more demanding) or completely misplaced (which makes installation more of a professional task). However, some do note that installation was straightforward with basic tools, so it could be down to inconsistency across models. On the other hand, others yet described the mounting process as more difficult than expected. Either way, the installation being a hassle is a recurring theme with this rack.
One buyer's experience might genuinely be the nightmare scenario for kayak owners. For starters, they had to get creative with the installation because the screw holes were well out of place and the rack didn't quite sit right on their wide roof tail. In addition, the straps were visibly loose and the rack brace didn't stabilize the kayak enough, but they decided to try driving with it anyway. Not only did the straps snap and drop the kayak, but the ordeal caused hundreds of dollars worth of damage to their SUV. As with the Yakima rack, it's important to consider even the smallest risk of an accident when choosing a roof rack.
The Bright Side
It's not all bad, though. In fact, it's almost evenly split between bad and good experience with this product, so much so that those pleased with their purchase said almost the exact opposite of what we've covered.
The happy customers described the product as easy to install, durable, and one that securely holds their kayak(s).
One buyer even went as far as tying down four kayaks at once with no issue—it's almost suspicious how divided the opinions on this rack are. One thing is for sure: the craftsmanship of the specific item plays a part, as most of the problems people encountered went hand-in-hand with misplaced screw holes. Either way, proceeding with caution is important, especially for a product with such a variety of experiences.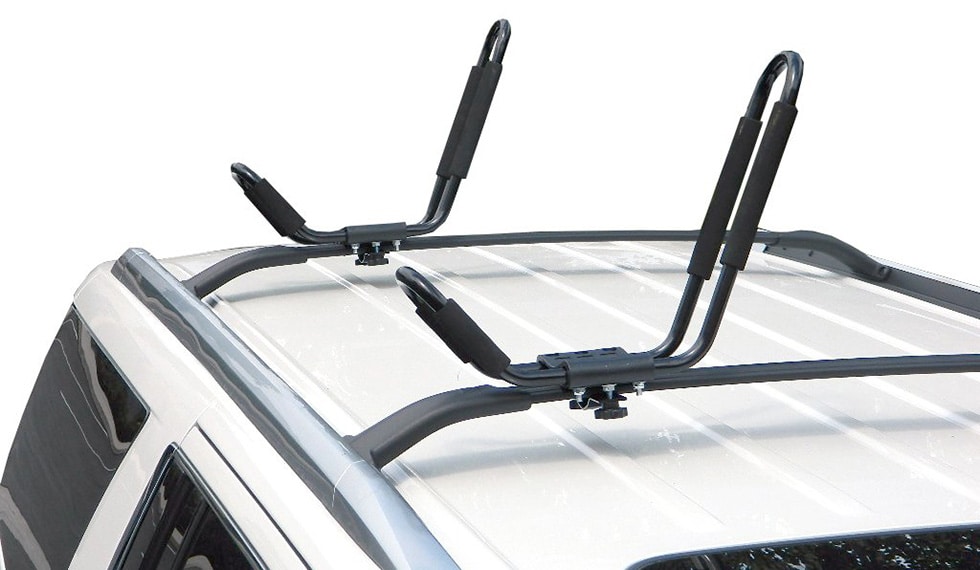 Pros
Fairly Sturdy
Affordable
Holds up to 150 lb
Cons
Risk of breaking and deforming
Potentially gruelling installation
Very mixed reviews
Guide to Choosing Your Kayak Roof Rack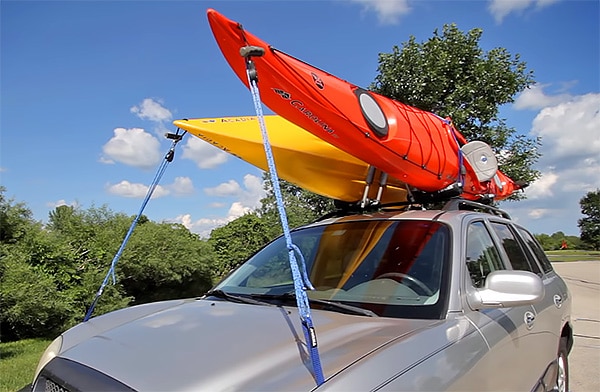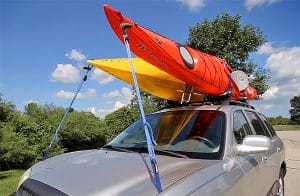 Kayak roof racks are one of the more intricate purchases you can make for your car. The wrong one could potentially cause damage and waste a lot of time and money, so it is vital to consider everything before making the final decision. The summary below will hopefully paint a clearer picture.
The Affordable Route
If you're looking to save some money, there are two in our list that are extremely affordable compared to the others. However, they also had the most mixed reviews. The TMS rack, while boasting versatility and a universal installation, falls short in performance to the bigger names. Numerous complaints about the flimsy, cheap plastic or the inconsistency in the product from item to item paint a picture of doubt. However, there are many buyers that made good use of the rack, notably the customer that pointed out how to minimize risk during transportation. Either way, it's a risky purchase in terms of its track record—if you're adamant about saving some cash, prepare to put in some work to maintain it.
On the other hand, the Toughsteel model promised an absolute bargain with all the perks of a sturdy big-name roof rack. Despite this, it has the widest variety of reviews and experiences out of any product described here. It might be best to stay away from this one unless you seriously need a high load and don't mind putting in a lot of time into installing it right.
Sturdier and Pricier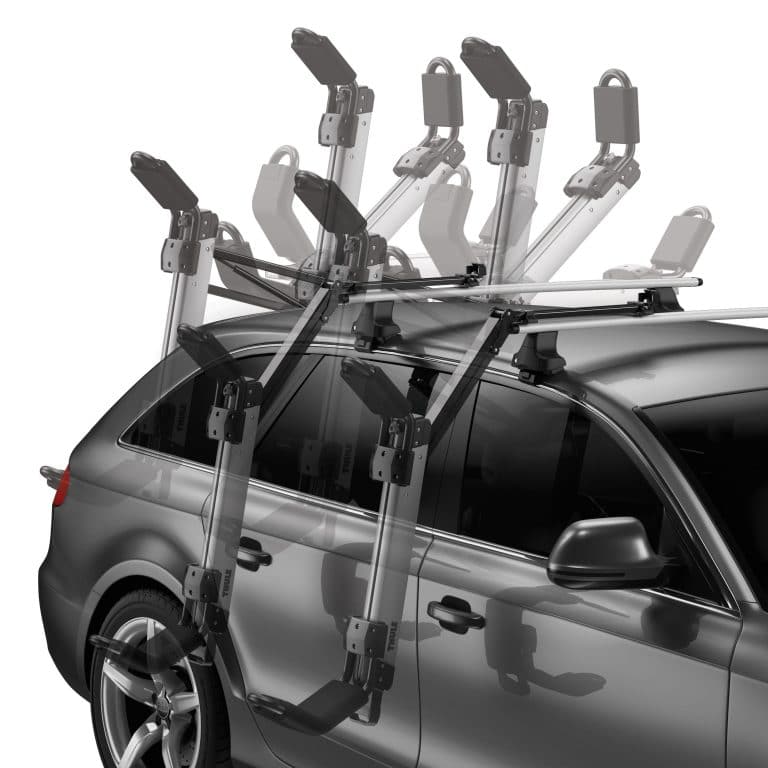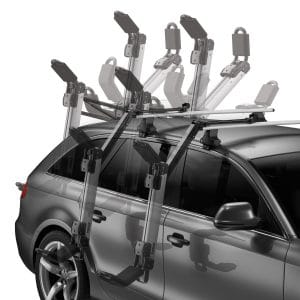 Thule is a fairly big name when it comes to roof accessories, and this roof rack model promised great things in terms of user-friendliness. However, it is almost exclusively viable for Thule-brand crossbars, and the installation has been described as physically demanding. It is fairly pricey as well, but there aren't any real complaints regarding its weight support. This is a decent purchase for any regular kayaker that doesn't mind spending a bit more for quality.
The Yakima model promised more customizability and lee-way than the Thule, but ultimately it falls short in the functionality department. While it is very useful and is unlikely to break with proper installation, its only selling point over one of the other pricier brands is its ability to carry 2 kayaks. Otherwise, its cheap plastic build and, in some cases, potentially dangerous defects make it riskier of a purchase.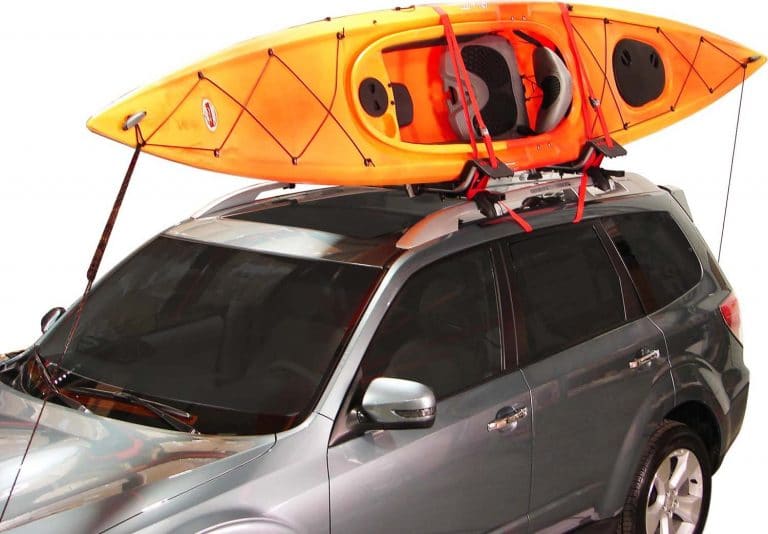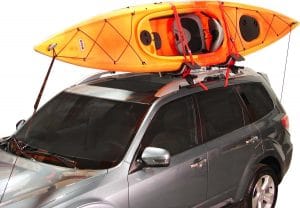 Finally, we come to perhaps the most impressive model in our list—the Malone Downloader rack. While it isn't impressive on paper, its well-designed steel structure makes it the sturdiest and most accident-resilient of the five.
The only downside is a potential misfit with rounded factory crossbars, but even then there are minor annoyances to be had. All in all, if this is within your price range, it is definitely worth a shout.