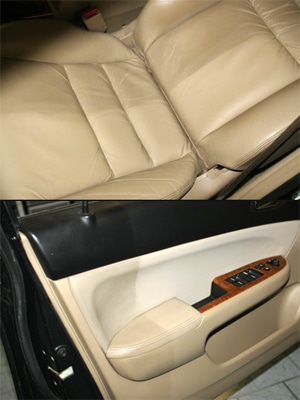 If you own any leather shoes, clothing, or furniture, you're probably aware of the important of keeping leather clean and protected. Leather is an incredibly durable material, and if cared for properly it can last for decades.
So what kind of care do your leather goods need to keep them in great shape for years to come? The most vital step is regular conditioning.
Leather conditioners serve a dual purpose: they cleanse leather by safely removing dirt and grime from the material, and they also help preserve it. Without proper care, leather can turn hard and rigid over time, making it prone to cracks and deterioration. Conditioning, however, helps to keep it supple, prolonging the lifespan of the material and maximizing its usability for years to come. Here, you could check a photo of my Acura seats and door panel before/after. That's pretty amazing.
Best Leather Conditioners 2021
If you don't already make a habit of conditioning your leather goods, it's never too late to start! This guide will offer product reviews of the top ten leather conditioners available on the market today, a comparison table that will break down their various features, and a buyer's guide that will help you understand how leather conditioner works and what to look for when purchasing one.
Keep reading to find out more about the top ten leather conditioners, and how to know which is best suited to your leather goods.


Product
Available Sizes
Origin
Features
Leather Honey
(Editor's Choice)
8 oz, 16 oz,
32 oz, 64 oz,
Gallon
USA
Unlimited 100%
satisfaction guarantee

Check Price

Bickmore Bick 4
2 oz, 8 oz, 16 oz
USA
Great for restoring old
leather

Check Price

Chemical Guys
SPI_109_16
16 oz (2 Items)
USA
Cleaner and Conditioner
Care Kit

Check Price

LeatherNu
n/a
USA
Complete Color
Restoration & Repair Kit

Check Price

TriNova

8 oz
USA
Water, snow and rain repellent

Check Price

KevianClean 2-Pack Bundle
8 oz, 16 oz
USA
Cleaner, conditioner, and
UV protectant

Check Price

Chamberlain's Leather Milk

6 oz, 12 oz
USA
All-natural, Premium
Applicator Pad

Check Price

Leather Rescue
8.5 oz
USA
pH-balanced, non-toxic
Conditioner and Restorer

Check Price

Obenauf's Leather Oil
8 oz, 16 oz
USA
Restore dry leather fibers

Check Price
1. Leather Honey – The WOW Effect. Just use it with Cleaner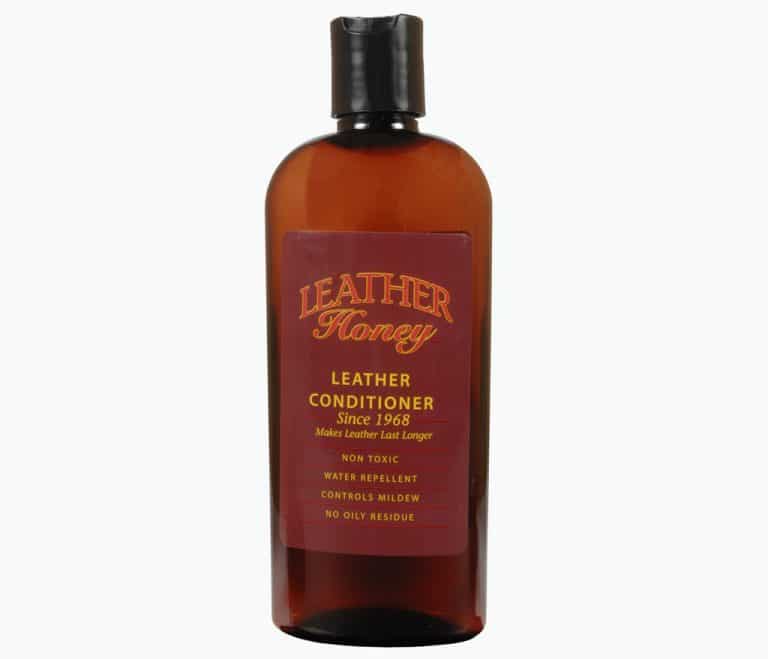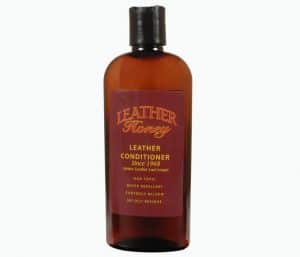 First on our list is Leather Honey Leather Conditioner. Leather Honey first hit the market almost fifty years ago. It's manufactured in the US by the same small family business that patented it, and the product uses the same formula today as it did back then. Each application lasts for six months and helps to protect and moisturize the leather for increased flexibility, improved appearance, and heightened water resistance. It's non-toxic, odorless, and silicone-free, so you can use it safely on all kinds of leather products, from furniture and upholstery to purses and boots to tack and saddles.
The product absorbs into the leather quickly and in most cases little to nothing. So nothing is left on the surface to wipe away. Any remaining product can be buffed out with a piece of terrycloth for more even distribution into the leather's surface. Since the product is clear, there's no risk of it discoloring even white or light-colored leather products; however, it should not be used on synthetic leather or suede.
Conclusion
It should be noted that Leather Honey is not a waterproofing agent, but it does make leather more water-repellent. The manufacturer recommends using the conditioner in conjunction with the Leather Honey Leather Cleaner for best results.
In light of the overall favorable user reviews and its decades-old reputation, we highly recommend Leather Honey to those looking for a reliable, effective leather conditioner. It could also be good for consumers who have certain chemical sensitivities, since it's free of fragrance, silicone, mineral oil, and other potential triggers.
Pros
Clear, odorless, non-toxic, and silicone-free. You can use Leather Honey without fear of it compromising your health.
Comes with an unlimited 100% satisfaction guarantee. If you aren't completely satisfied with the product, the manufacturer will issue a full refund.
Has used the same formula for fifty years, so there are decades of customer satisfaction backing it up.
Each treatment lasts for an average of six months, and a little of the product goes a long way, so one bottle can last you a very long time. Plus, you won't have to constantly re-condition your leather products.
Contains no wax, mineral oil, or petroleum byproducts.
Cons
Some users have reported that furniture can absorb the product unevenly, resulting in leather with a two-toned appearance. As with any product, it's important to spot-test it before applying it to any of your leather goods.
The product can leave the surface of your leather goods feeling a little sticky in the aftermath, so exercise caution if you're applying it to furniture or car interiors.

There's some disagreement about whether Leather Honey is effective on exotic leathers like crocodile or alligator, so know that your experience may vary.
2. Bickmore Bick 4 – The best for Exotic and Luxury Leather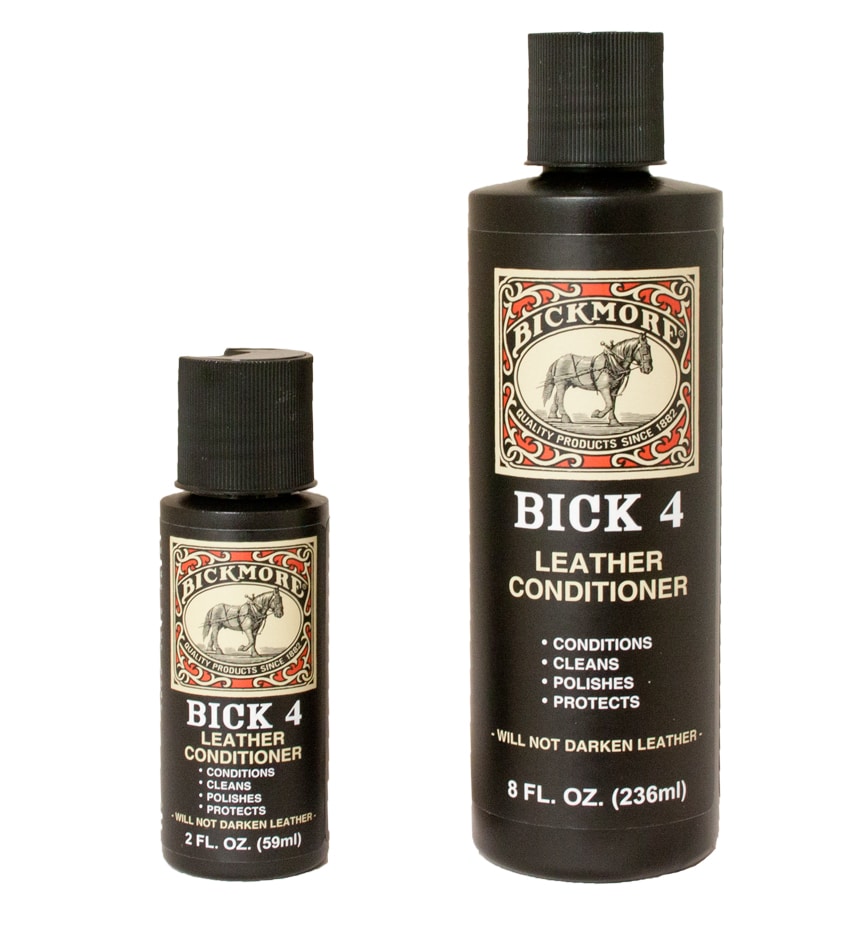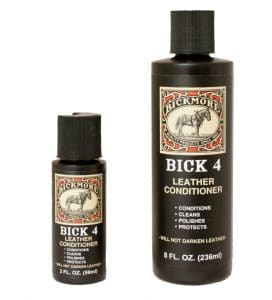 Next on our list is Bickmore 4 Leather Conditioner. Like Leather Honey, this conditioner is made in the United States. It's been around since 1882, so it has a positive reputation stretching back a full century. Possibly its biggest selling point is that it won't darken leather unlike some other conditioners, making it exceptionally safe to use on furniture and light-colored leather items.
A lot of users report that Bickmore Bick 4 Leather Conditioner applies smoothly, and since it's lanolin-based and non-toxic it can be safely used with bare hands. Some find that it even leaves their skin feeling smoother and softer after use. It can also be applied to new shoes and boots to soften the leather and hasten the breaking-in process.
Since it doesn't leave a sticky residue, we especially recommend this product for use on furniture, car interiors, or similar leather surfaces that you'll touch frequently. It's versatile enough that it can also be applied to clothes and shoes, and one application will last a long time.
Pros
Great for restoring old leather to like-new condition, with high shine and exceptional flexibility and suppleness.
Safe for use on all exotic leathers as well as synthetic leather.
Can be used on leather products of all kinds, including furniture and car interiors
One-step application makes it fast and easy to use.
Wax-free, so it will not leave a sticky or gummy residue on leather surfaces.
Cons
Cannot safely be used on suede, roughout, distressed, napped, or pre-treated leathers. Please use discernment when you're applying the product to make sure you're only using it on approved materials.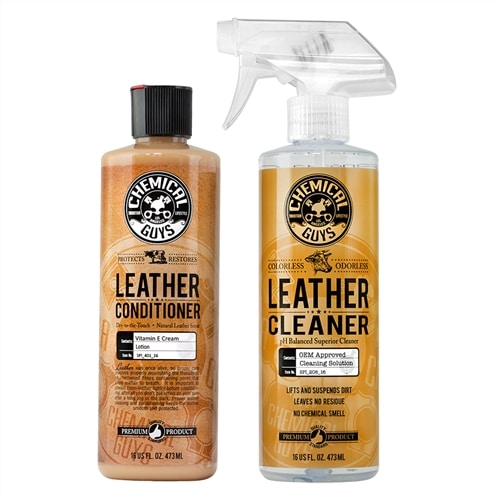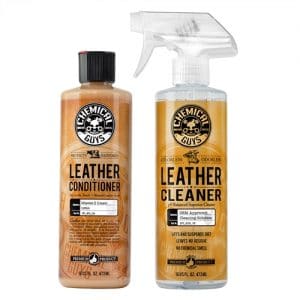 Another popular seller on our list is the Chemical Guys leather cleaning kit. Unlike some of the other conditioners on this list that are sold individually, this conditioner is sold as part of a set with a leather cleaner, so you get both products in one purchase.
It's recommended that you apply the cleaner first using a microfiber cloth, followed by the conditioner. Most users find that the cleaner is exceptionally efficient at removing dirt and grease from leather, and that the conditioner leaves it feeling softer and more supple afterward.
This product is specifically designed for car interiors. However, because it can discolor fabric, it's highly recommended that you allow it to absorb fully into the leather before attempting to sit on it to avoid damage to your clothing.
Complete Leather Kit – Chemical Guys Car Care
Pros
The product has an artificial leather fragrance that most users find very pleasant.
SPI_109_16 comes in a twin set with a cleanser, so you're getting all of the products you need to keep your leather in tip-top shape in a single purchase.
Cons
The conditioner adds an artificial leather fragrance to products, which not all users may enjoy.

It will also discolor any fabric it touches prior to fully absorbing and drying, so you should probably reserve whatever you use to apply it for conditioning only.

The product doesn't perform as well at removing dirt from leather stitching as it does from the surface of the leather generally, so you may need to use it twice or in combination.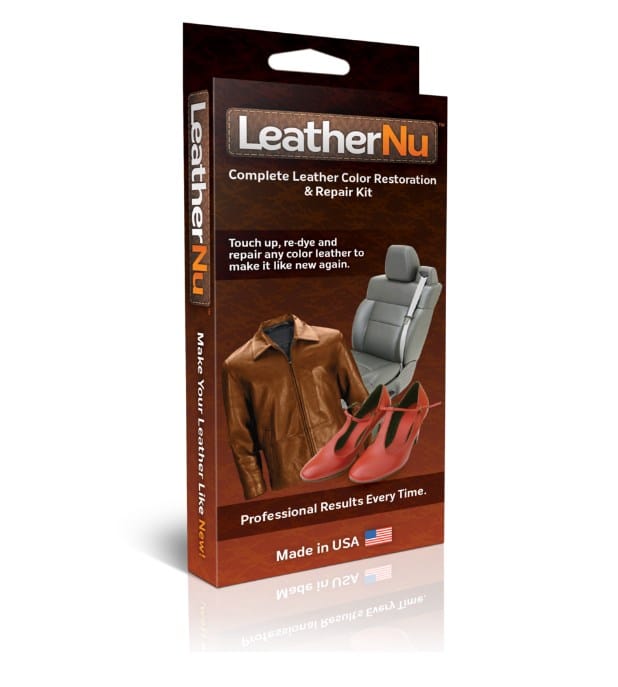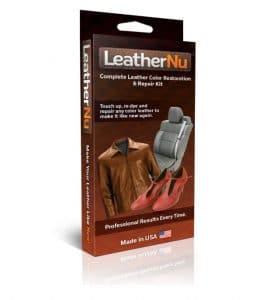 LeatherNu is marketed as a leather restoration and repair kit. It's ideal not only for conditioning leather, but for repairing damaged leather goods as well. It comes with a special repair compound that allows you to seal over rips, holes, burns, and other signs of wear and tear. This makes it ideal not only for items like shoes that tend to withstand a lot of punishment, but also car seats and steering wheels.
The seven intermix color dyes blend easily and let you perform touch-ups on worn out and discolored leather products. The compound can be used on virtually any leather surface, from clothing to furniture. Repairs are easy and involve trimming off any excess leather, using the repair compound to fill in gouges or holes, and then lightly sanding it to make the surface smooth again. Afterward, it can be conditioned as normal.
Final words
Overall, this one is highly recommended, particularly for leather goods with more than the usual amount of wear and tear. If conditioning alone isn't enough to get them looking new again, this kit may be exactly what you need.
Pros
The kit comes with all the materials you need to perform repairs on your leather.
The seven different colors of dye can be used as-is or blended to match practically any color of leather.
If used according to the instructions, the filler can help conceal even large, unsightly holes and make badly damaged leather surfaces look smooth and new again.
Cons
The kit only comes with a limited number of texture papers, which are crucial for the repair process. Some users found it frustrating that more weren't enclosed with the kit.
It can be tricky to mix the different colored dyes to achieve a correct match. It will probably take some patience as well as trial and error to get it right.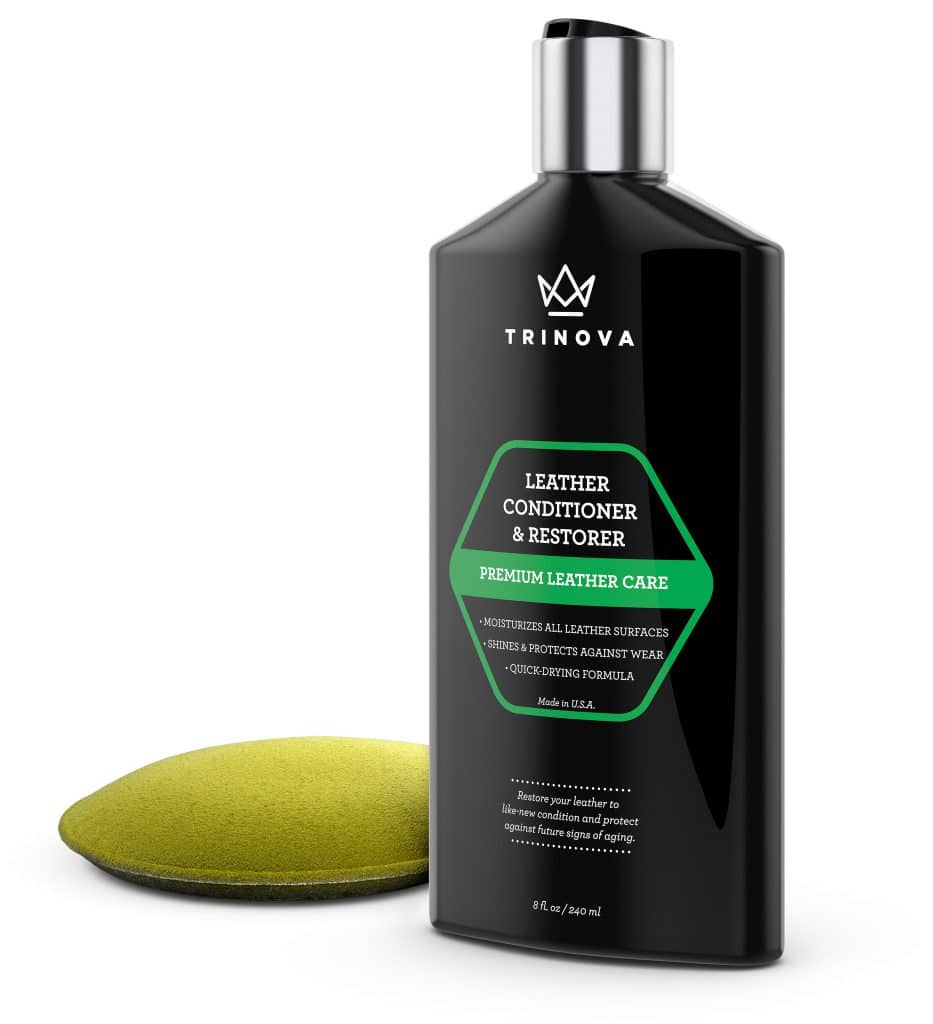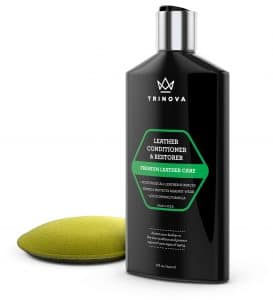 TriNova helps to moisturize and rejuvenate dry, cracked leather. It also helps encourage water repellence, so you can wear and use your leather items in any weather. Unlike some of the other items on this list, this product isn't fragrance-free, but it does have a leather scent that most people find very appealing.
Like most of the other conditioners on our list, this product should be applied to the surface of your leather and then buffed out with a soft cloth. Once it fully absorbs, it will leave the leather with a wet-looking high shine. It can be used on exotic leathers, although it isn't suitable for suede.
If you're looking for a conditioner that will leave your leather goods looking brand new, this one is highly recommended by many users. It's particularly great for furniture and leather car upholstery, and the fragrance will leave your car with that "new car smell" that's so popular.
Pros
Manufactured within the USA.

Safe for use on all kinds of leather items, as well as exotic leathers.
Free of any animal products. This conditioner is made entirely from a synthetic polymer.
Comes highly recommended for furniture and automobile interiors alike.
Cons
Not fragrance-free, so it may not be ideal for users who have chemical sensitivities.
Not suitable for use on suede products.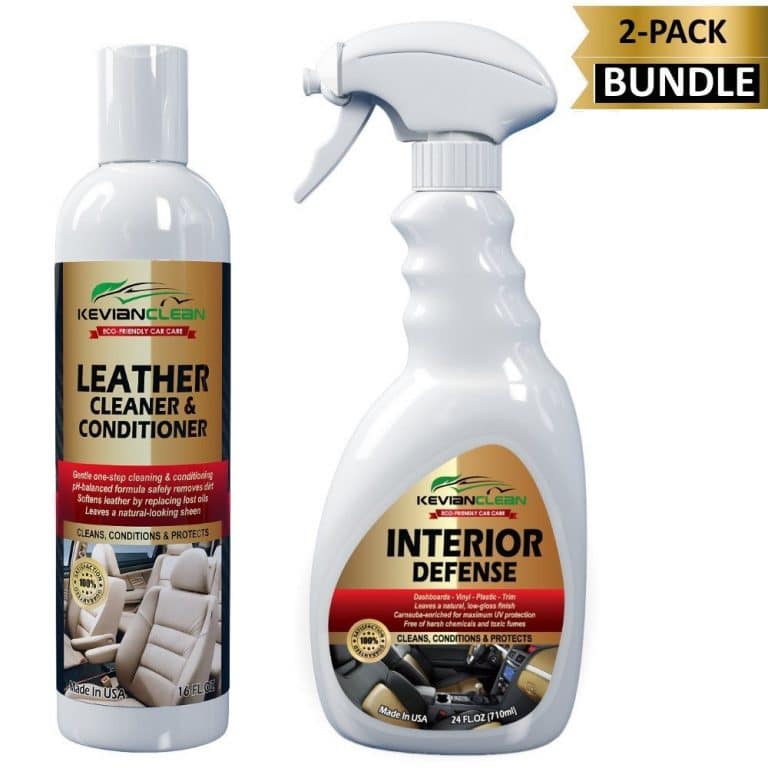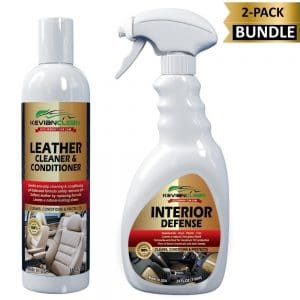 KevianClean differs a little from the other conditioners on this list. While most of the rest are multi-purpose leather conditioners, this one is formulated specifically for use on cars. If you're looking to get your leather car upholstery in shape, then this conditioner is probably the right choice for you. However, you should be aware that it's not intended for use on all other leather goods like some of the others are.
Like the other conditioners on this list, this one should be applied with a soft cloth and buffed out, then allowed to absorb fully. If used correctly, users have reported that it can not only remove dirt and grease, but also help take dye transfer (like from new blue jeans) out of leather car seats.
If caring for your car's interior is your biggest priority, this conditioner is probably your main go-to product on this list.
Pros
This system offers cleaner, conditioner, and UV protectant designed specifically for use in cars.
Comes with a 100% risk-free manufacturer's guarantee. If you aren't completely satisfied, you can return it for your money back, no questions asked.
All of the ingredients are bio-based and fully non-toxic, so it's safe to use.
The UV protectant will help preserve your car's interior from sun damage that can dry it out and cause cracking in the long term.
Cons
Formulated specifically for cars, so not ideal for use on other kinds of leather goods.
Not for use on suede.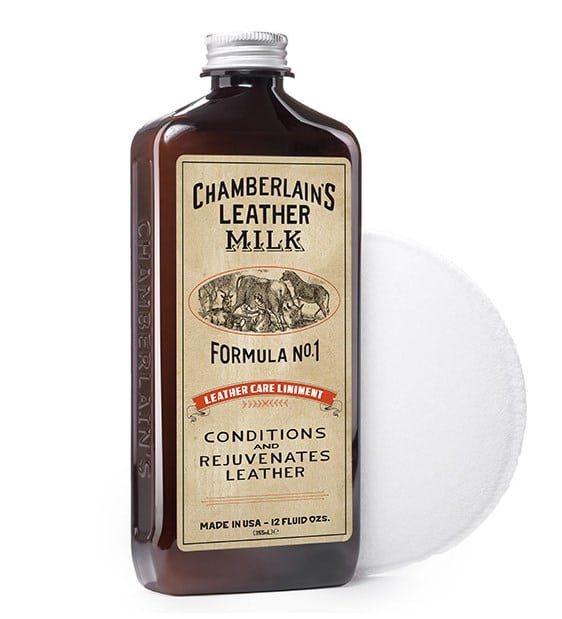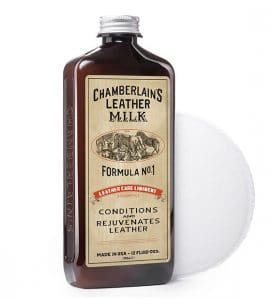 Next on our list is Chamberlain's Leather Milk. This non-toxic leather conditioner is made in the USA and comes with an applicator pad enclosed. It's also endorsed by the Saddleback Leather Company, so you know it has a solid reputation behind it.
This product is best known for its deep conditioning properties. It can help buff even deep scratches out of leather and help restore moisture and shine to dried-out leather pieces. Simply use the enclosed applicator pad to buff it into the leather and let it absorb.
This is a multi-purpose conditioner, so you can not only use it in your car but on your other leather products. If you prefer to use one conditioner for all your leather items, this one will be ideal for you.
Pros
All natural non-toxic ingredients so you know it's safe for use.
The only leather conditioner trusted by the Saddleback Leather Company
Comes with its own reusable application pad to help reduce environmental waste.
Cons
Should not be used on unfinished leather.

May darken white or light-colored leathers. Spot test before use to avoid potential damage.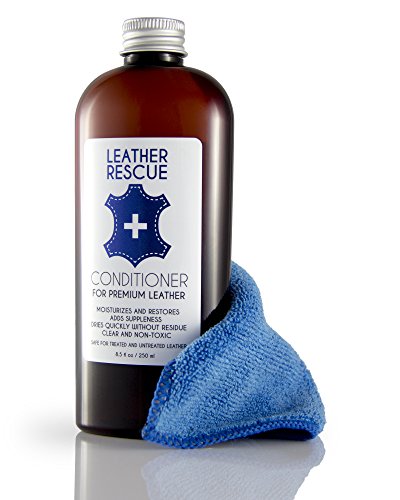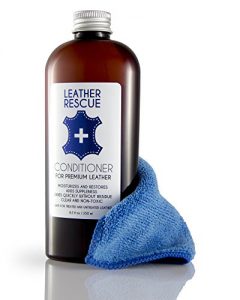 Leather Rescue is set apart from some of the other conditioners on this list by being pH balanced. It can also be safely used on unfinished leather unlike some of the others on this list.
In addition to moisturizing and restoring leather and helping to prevent cracks and UV damage, this conditioner dries in an hour or less and it can also be safely used on faux leathers as well as suede.
For its gentleness on leather as well as its pH calibration, we recommend this one highly.
Pros
Non-toxic so it's safe for use.
Non-greasy and won't leave any unpleasant residues behind.
Penetrates deeply, leaving leather soft, supple, and moisturized.
Helps to prevent cracking, drying, and UV damage.

Can be used on faux leathers as well as exotic leather.
Cons
Not fragrance-free, but most people find the leather scent very enjoyable.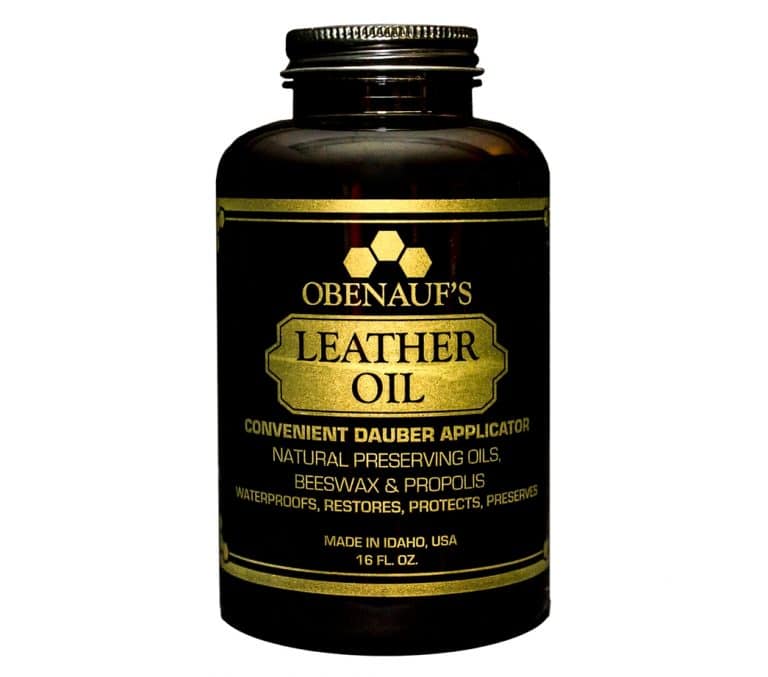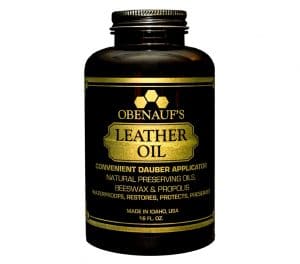 Our last recommendation is Obenauf's. This conditioner is made from natural oils and beeswax, and it can be used on car interiors as well as other leather products.
This one is primarily a conditioner, so if you want to cleanse your leather or introduce water repellent properties, you'll want to use some of Obenauf's other leather care items in conjunction with this one.
This one is oriented more toward products like leather boots and equestrian accessories. Though it can also be used on car interiors and furniture. However, due to the smaller container, you may require more of it than you will some of the other products on our list.
Pros
Soaks in quickly and leaves a rich, moisturized sheen.
Product comes with a built-in applicator lid.
Leaves leather more pliant.
Helps reduce the appearance of dryness and scratches.
Cons
Will darken light-colored leather substantially, so it should be applied with care.
Leather Conditioners – Buyers Guide. Things to consider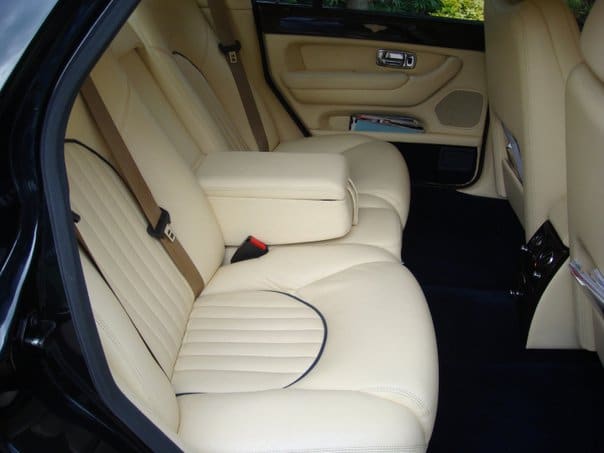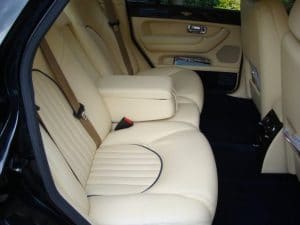 If at this point you're wondering why it's important to condition your leather in the first place? It's important to understand what leather is. Leather and eco-leather requires regular care if it's to remain in good shape. Just like we moisturize our skin and protect it with sunscreen to avoid UV damage, the same must be done with leather goods if we want to prolong their lifespan.
Leather conditioners help to do exactly that. They re-introduce moisture back into dry leather, which helps keep it supple, smooth, and flexible. The added moisture in turn helps to reduce the appearance of unsightly cracks and discoloration. Conditioning can also help to reduce or remove the discoloration that occurs when our hands' natural oils are transferred into the leather, or the dirt that's left behind when we wear our leather goods outdoors. Finally, conditioning helps make leather water-repellent. That means it's not 100% waterproof, but that it resists absorbing moisture if you're caught in the rain.
See the Product
Each of the ten items on our list does all of the above, and some of them do even more. However, it's important to carefully research the products you buy before using them, so you know whatever you choose is most compatible with your needs. It's also important for avoiding inadvertent damage to your leather goods. Some conditioners, for instance, can discolor white or light-colored leather and make it appear substantially darker than it did originally. Other conditioners are suitable for use on standard cowhide, but not ideal for exotic leathers like alligator or ostrich. Some can be used on synthetic leathers while others can't. It's important to know all of this information before making your purchase. We hope this guide has helped you to do that!
Conclusion
Do you have a favorite leather conditioner that didn't make it onto our list? Leave the name of it in the comments and you may see it on a future list!