Off road adventures and camping fun can often rely on having strong portable air power. When your Jeep, truck, or SUV goes into the wilderness you are probably already packing along a good portable air compressor. A compressor is helpful to inflate tires and camping accessories, but it can also be crucial when you need to run an air tool or adjust your air springs. However, air compressors frequently disappoint with their pumping power. Drivers looking to pack more air power into their vehicle should consider upgrading to an on board air compressor.
Best On Board Air Compressors
The best on board air compressors are conveniently mounted and sealed from dust, dirt, and moisture. They supply compressed air on demand and can quickly become an integral part of your truck. When paired with an air tank, most compressors are able to power pneumatic air tools. The advantages of a permanently mounted air compressor includes powerful, portable on demand air flow and more room in the trunk.
Most on board air compressors are sold as a kit that includes a mounting bracket, pressure switch, and a full wiring harness with relay. Drivers looking for a new favorite accessory on their Jeep should look here. Our favorite truck mounted air compressors are compared below in our review.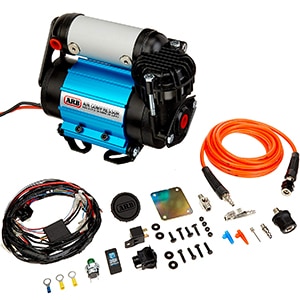 ARB has a rich history of making quality off road components and they lead the way in our rankings of onboard air compressors with the quality CKMA 12. This compressor has a best-in-class air flow rate and is constructed entirely out of high-grade, lightweight materials. Truck owners will find this vehicle mounted compressor to be the perfect accessory to any camping, hunting, or fishing off road adventure.
Fast Inflation
Readily available on board air from this compressor provides fast tire inflation for moving easily from sand and off road performance to road and highway driving. It is equipped with a safety valve to prevent over inflation and also has a heavy duty maxi-fuse for in-line circuit protection. It is powerful enough to fully inflate a 35" tire in approximately two minutes and can air up four tires in a single duty cycle. Drivers quickly find why available air is one of the most popular 4×4 accessories.
On Board Air Compressor Kit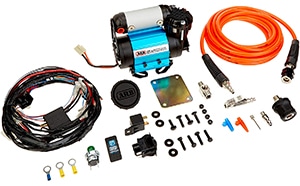 Kit includes a heat tolerant 18 ft hose to cope with the incredible air-output produced from the CKMA12. Line connectors on each end keep the hose from kinking and an internal bearing system prevents dirt ingestion. Small enough to install into small spaces and quiet enough to mount near the cab.
Pros
Powerful air flow
2 year warranty
Individually tested for leak, current draw, and flow
Cons
No air tank included
Premium price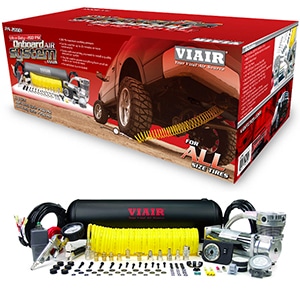 VIAIR brings a solid on board air system to market with their 200 PSI Ultra Duty system. Offering strong 200 PSI maximum working pressure this unit can fully inflate a 37 inch tire in about 7 minutes. The full kit includes everything you need to add an on board air compressor system to your jeep or truck including an air tank, pressure switch, relay, wiring, fittings, and an air line.
On Board Air Compressor Kit
Off road enthusiasts like that this is a prepackaged kit with everything they need for a reliable compressed air solution. The 30 foot coil hose provides long reach and easy accessibility. The 2.5 gallon air tank fills in under 5 minutes and gives drivers the ability to use a range of pneumatic tools.
The VIAIR 200 PSI Ultra fills my 33-12.5's (all 4) from 15# to 40# in about 20min
As a fully comprehensive kit the VIAIR provides an easy solution but it does not come cheap. Since it includes the air tank and extensive accessories it is hard to criticize the price from a value perspective, but ultimately drivers installing this compressor are sacrificing some power. Other compressors in this review, including the two from ARB, bring more air flow and stronger pumping power. This compressor does get the job done, but drivers will be waiting on occasion for it to fill the air tank. So if your expectation is to use a pneumatic tool without limitations you should look elsewhere.
Pros
2.5 Gallon air tank
30 Foot coil hose
Comprehensive on board air compressor kit
Cons
200 PSI System
Limited pneumatic power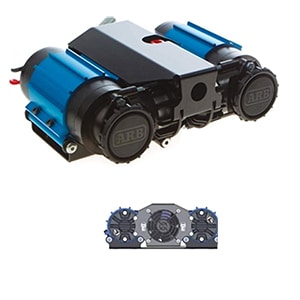 Drivers dreaming of a compressor as powerful as their Jeep or truck should consider the ARB CKMTA12. With the highest air flow rate of any model on the market and a unique twin motor design, this on board air compressor from ARB offers maximum performance. It delivers powerful air on demand in a small, 12V package measuring just 4.1" x 10.9" x 7.5". Ultimately the only thing holding back this market leading compressor is the premium price.
Maximum Performance
Drivers are constantly trading power for size when shopping for off road accessories. The CKMTA12 is unique in providing a high-volume compressed air source in a compact size. This on board air compressor is highly capable and can handle the demanding air flow needs of most air powered tools. 100% duty cycle delivers best in market capabilities compared to other models.
Powerful Motor
The CKMTA12 has a twin motor design that is unique in the market. The compressor offers 174 LMP (6.16 CFM) using motors that are thermally protected against extreme temperature damage and compressor pistons equipped with a heavy duty cylindrical roller bearing that effectively distributes the load. Includes full wiring harness, multi-position mounting bracket, pressure switch, and corrosion resistant deflator tool. Fully geared, solid brass precision movement.
Pros
2 year warranty
Individually tested for leak, current draw, and flow
Powerful twin motor design
Cons
Accessories sold separately
Premium price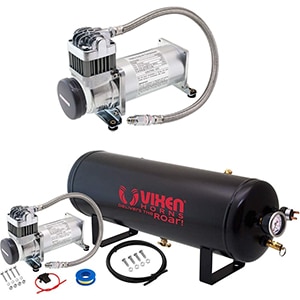 Vixen Horns brings to market a strong budget buy that doesn't offer quite the capabilities of other models on the market but is available to off road enthusiasts at a much cheaper price. This kit provides 4x4s with a 12 volt 200 PSI compressor and a 2.5 gallon tank along with a pressure gauge, pressure switch, air hose, and mounting hardware. Vixen Horns focuses mostly on air horns and sirens so while these compressors might lack high end power they are reliable.
Air Tank Included
Vixen offers a very capable, standard system with a 12v 200 PSI compressor and 2.5 gallon air tank. The compressor has integrated thermal overload protection and an oil-less design. It includes an air filter and an anodized aluminum alloy cylinder. The unit is moisture and dust resistant. A mounting plate with vibration isolators is included. The air tank has 7 ports available (7 x ¼" NPT).
The integrated pressure switch is preset to automatically run the compressor when the air tank pressure dips below 170 PSI and turn the compressor off when the air tank pressure reaches 200 PSI. The air tank has 7 ports located around it with two on the front, three on the left, and one each on the right side and the bottom. It is precision welded with an anti-corrosion black powder coating and has strong brackets for mounting.
Pros
Reliable construction
2.5 Gallon Tank with 7 ports
Budget pricing
Cons
200 PSI Compressor
1 Year limited warranty
Buyers Guide
Drivers inflating tires or camping accessories quickly learn to appreciate the power and convenience of a mounted, on board air compressor. Powerful models can run pneumatic air tools or even reseat a tire onto a wheel. They make it easy for drivers to adjust tire pressure when moving from beach sand to off road paths to roads and highways. Even the smaller 12v models can handle the demands of most outdoor adventures and give drivers peace of mind. Jeeps or 4x4s with less stringent needs can still appreciate extra space from not having to pack a stand alone compressor in the back.
Compressor Duty Cycle
The duty cycle describes the amount of time that the pump can operate continuously without overheating. Off road enthusiasts should consider the applications where they will be using their air compressors and avoid overpaying for models that offer 100% duty cycle. These on board air compressors come at quite a premium and might be unnecessary outside of applications with industrial air tool requirements.
Compressor Air Power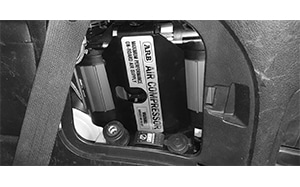 Still, drivers can often be disappointed by the power of some 12v compressors because they expect it to duplicate the power of their truck engines. These motors are often small to fit into tight spaces and they have to dissipate a tremendous amount of heat during operation. Don't be surprised to learn that you can pay hundreds of dollars for an on board air compressor that leaves you waiting at the trailhead as it works several minutes to inflate your tires.
Dependable Performance
Dependability is a big concern with all off road accessories and these compressors are no different. On board compressors have to absorb dirt, dust, and moisture from the road while being ready to spin up and provide air on demand at a moment's notice. The best models offer strong body housings that are sealed to protect the interior from the elements. They also are quiet enough to mount near the cabin. Units have to absorb tremendous vibrations as they cycle so good on board air compressors should also come with strong mounting plates that can absorb vibration.
Conclusion
Ultimately drivers are looking for reliability and that made the CKMA12 from ARB our top choice. With a rich history of producing quality off road components and a strong 2 year warranty drivers know that the ARB compressor will be with them for the long haul. Offering best in class quality control and factory testing means that the compressors from ARB are ready to roll and built to last. Drivers looking for a strong on board air compressor should first take a look at that model.