Venturing off road for an adventure or even just heading out on snow and ice increases the risk that your vehicle will get stuck. Drivers looking for peace of mind that they won't get stranded when they lose traction should consider traveling with a recovery board when they drive off road. Recovery boards are specifically designed to get your Jeep or truck unstuck and out of trouble when snow, mud, sand, or ice stop you.
Best Recovery Boards for 4x4s and Jeeps
The best recovery boards have strong teeth for good grip to enable a swift and safe recovery. The recovery board should be made of a lightweight material but must be engineered in a way that allows it to absorb tremendous punishment. Recovery boards have to handle tremendously high levels of torque, weight, and impact. To minimize the chance of wheel spin the recovery board should have teeth along its entire length including the entry point.
Drivers looking for confidence off road should add a set of recovery boards to their Jeep or 4×4. Knowing your vehicle can recover from lost traction on snow, mud, or ice helps make for a more enjoyable off road adventure. Our favorite recovery boards are compared below in our review.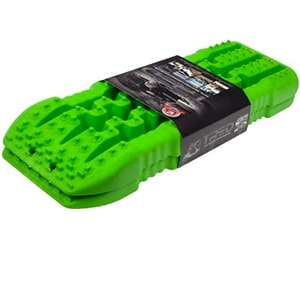 TRED produces industry leading recovery boards and this mid-tier model the Tred 800 offers drivers high-quality construction without costing an arm and a leg. This recovery board features strong, hex grip nodules along its entire 31" length. It is made of a tough, nylon material that provides appropriate flex while maintaining durability. Adding the Tred 800 to your truck or Jeep provides you with a reliable all-in-one off road recovery device for swift recoveries from sand, mud, ice, and snow.
Recovery Board Features
The design of the Tred 800 is easy to appreciate with a strong shovel feature on the front and an aggressive ramp design to grab tires and provide traction. The recovery board has four channels of teeth for tires to grip. The board has an excellent reputation for managing flex and torque by flexing but not breaking. The boards have ergonomic grips and weigh just under 10lbs. Each board measures 31 inches long by 10 ¾ inches wide.
Made in Australia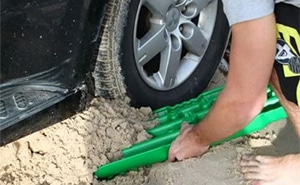 The Tred 800 is engineered and manufactured in Australia. It is well designed to provide swift recovery from sand, mud, sludge, slime, and snow. These are some of the toughest recovery boards around and will not leave you stranded on the trail or roadside. It is sold in pairs. It comes in five different colors to match your Jeep including yellow, green, military green, sand, and black.
Pros
Great price
Touhg, nylon material
Made in Australia
Cons
Difficult to carry
Premium price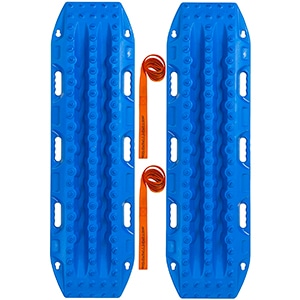 Maxtrax is a long time market leader in recovery boards and their top-of-the-line MKII recovery boards provide best-in-class features to make rescuing your vehicle easy. Strong cleats sink their teeth into the terrain beneath your Jeep or truck to quickly provide traction. Another powerful recovery board from Australia, the Maxtrax MKII can flex to handle the torque and weight of your vehicle but won't break under the strain.
Long Recovery Board
The Maxtrax board is made of a super tough nylon and sports a double edge design that makes them easy to deploy. The boards have a shovel feature on the end and six handles on the sides. The recovery boards are larger than other models measuring over 45 inches long and 13 inches wide. Still, they are very lightweight at just 8 pounds and they stack together tightly for easy storage.
Premium Price
The only downside to these boards is the price. They are a premium product and cost almost twice as much as some of the other high-quality boards in our review. The company does offer a lifetime warranty so drivers have confidence that they can invest in these recovery boards and own them for the long haul. Drivers looking for a reliable recovery device to take with them on the beach or trail cannot go wrong when considering the MK11 from Maxtrax.
Pros
Lifetime warranty
Long board with lots of traction
Made in Australia
Cons
No carrying case
Premium price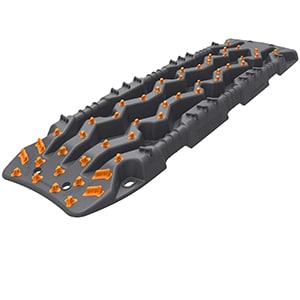 Similar to the top-rated Tred 800 above, this Tred Pro brings the same rugged nylon material and pairs it with special glass filled resin nylon teeth to improve durability and keep your tires from spinning. This recovery board is longer in length but has a lower profile to make stacking and storage easier. It is a very attractive board that has more features than other models but also costs more.
Big, Durable Traction Teeth
The traction teeth set this board apart and tires grip easily to the hardened lugs appearing along its entire length. These lugs provide better traction with breaking off so you can recover your Jeep without encountering any wheel spin. The recovery boards have an excellent mix of elasticity and a rigid design to handle the high levels of torque and flex encountered during a recovery.
Total Traction Solution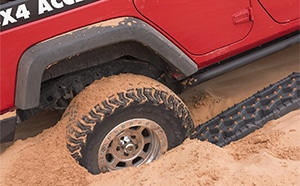 These boards are well designed to help you out of trouble when you lose traction. They are effective in the toughest conditions including sand, mud, ice, and snow. The patented exotred teeth grip wheels tightly without sacrificing durability. A tremendous amount of heat can be created by spinning wheels and these recovery boards stand tough. These boards also ship with helpful accessories like recovery leashes and a carry bag.
Pros
Exotred teeth grip without breaking
Attractive colors available
Made in Australia
Cons
Limited warranty
Premium price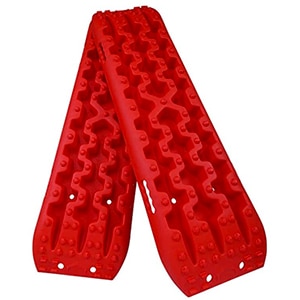 A smart budget buy for recovery boards are these X-Bull recovery traction tracks. They cost just half as much as other boards and feature similar raised tracks to help prevent vehicles tires from spinning in snow, mud, or sand. Multifunctional design has shovels on the end and cruciform grips on the bottom to grab terrain.
Valuable Features
These boards measure just under 42 inches in length and about 12 inches wide. They are lighter than other models at about 15 lbs combined for the pair. They will probably not withstand some of the more excessive loads that more expensive boards could tolerate, but for most drivers they will suffice. Made of reinforced strong nylon material they sport a heavy 10 ton load capacity on flat ground. They are available in six colors.
Pros
Reasonably priced
Good, basic features
Six standard colors
Cons
No carrying case
Limited warranty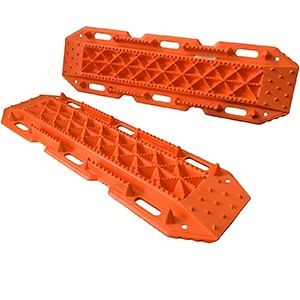 Maxsa helps drivers avoid getting stuck in the snow, sand, or mud with their Escaper Buddy Traction Mats. Large mats work well with any vehicle and store easily in the truck or on the roof. These traction mats are lightweight but very durable so that you can count on them to keep you going at the beach, campsite, or trailhead.
Wide Recovery Boards
One of the main concerns when using recovery boards is that your vehicle will slide off the side of the board. These recovery boards from Maxsa are nice and wide so help prevent that. They also feature strong treads on both sides to dig into the ground while also gripping your tires tight. The boards are only available in a bright orange color. Drivers looking for the ability to perform safe solo recoveries from snow, sand, and mud should consider these recovery boards from Maxsa.
Pros
Decent value
Wide recovery board
Bright orange color
Cons
No carrying case
No color choices
Buyers Guide
Drives venturing off road in a Jeep, truck, or 4×4 need to consider the eventuality of getting stuck. Getting unstuck quickly and safely is a key component of a successful off road adventure. Driving with a strong winch and tow cable can provide safety and security. Another simpler solution is to pack some recovery boards along for the ride.
Recovery boards feature strong teeth on both sides of the board so that it can grip your tires and also the terrain underneath. The boards must maintain a high level of pressure on the tire while withstanding the flex of being under vehicle weight on less than stable ground. This requires a strong material to withstand the load and most leading models offer a nylon polyolefin material that blends flex, strength, and durability.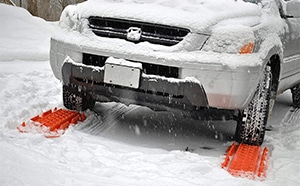 Drivers should look for boards that are sturdy and reliable enough to get them out of trouble. Teeth need to be rigid but not extrude so far that they will easily break off or melt during recovery operations. The recovery boards should also pack easily in a trunk carry bag or outside the vehicle on a bracket. Many boards also include recovery leashes so that drivers can easily remove them from the sand, mud, or snow after use.
How to Use Recovery Boards
Drivers should stop their vehicle at the first sign of it being stuck. Spinning tires won't help free your vehicle and usually just exacerbate the problem. Analyze the situation to determine which tires are spinning and how deep the holes are. Use a shovel or the end of your recovery board to dig a track in front of the tires. Also dig down underneath the tires the best you can. Dig out the remaining area so there is minimal resistance on the pathway and the vehicle can keep its momentum.
Air down the tires to as low a level as you are comfortable with. Traveling with an air compressor can be especially useful in these types of situations. On most surfaces you want to reduce tire pressure down below 15 psi, with soft sand requiring you to probably go down even lower below 10 psi.
Move your recovery boards tight down against the tire so that it can grab the cleat and pull the vehicle up on top of it (or pull the board underneath it). With the tracks underneath the tires drivers must use caution not to increase RPM and spin the tires or it can damage the recovery board teeth by breaking them off or even melting them. Instead, drivers want to maintain a steady throttle as the tires grip traction. As the vehicle grabs onto the recovery board and rises up out of the hole, drivers should increase throttle to gain momentum and free the vehicle. Deploying a winch in combination with a recovery board creates a powerful traction solution.
Conclusion
If you are worried about getting stuck in the ice, snow, or mud then consider adding a recovery board to your vehicle. The best recovery boards are specifically designed to provide traction on demand and get your Jeep or truck on the move. A solid recovery board should be part of your off road tool kit right alongside a tow strap, winch, and jack. Those looking for a solid recovery board that provides strong traction without breaking the budget should take a look at the Tred 800. It is the top rated board in our review and is a great Jeep accessory to take along with you on your next adventure.