Whether you often go on outdoor excursions or simply need extra cargo space for a long-haul move, purchasing a best car-top carrier can alleviate your travel woes and free up valuable space in your vehicle. However, hard car top carriers can hit you in more ways than one. Aside from being far more expensive that soft carriers, they often require roof racks, roof mats, or both. Then, once you are finished using the hard carrier, storing them can be a pain.
Best Choice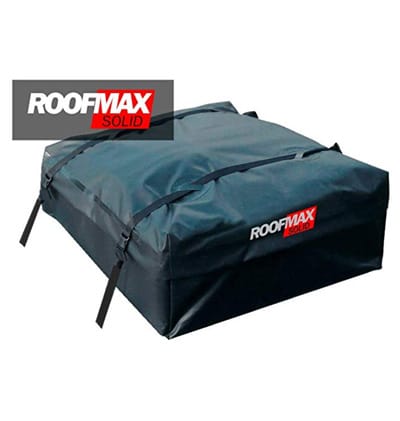 Roofmax Solid Waterproof Roof Cargo Bag Carrier
Easily the most aerodynamic model
Saves your mileage really well. The design looks good and installation is as easy as it gets, be sure to spend not more than 5 minutes for it. Be sure that this bag will fit A LOT more than you think at a first glance.
Don't forget to get a roof protective mat (like this one) before installation.
Here, soft carriers provide the same service hard carriers do, without the same difficulties. Of course, soft carriers come with their own issues, though careful analysis will allow you to minimize any issues. Regardless, soft carriers often come at a much cheaper price. Moreover, many soft carriers can be mounted without the need for roof racks or mats.
Best Soft Car Top Carriers on the Market (2023)
So, if you want a quality solution at an affordable price, one of the 6 best soft top carriers below is sure to satisfy your needs.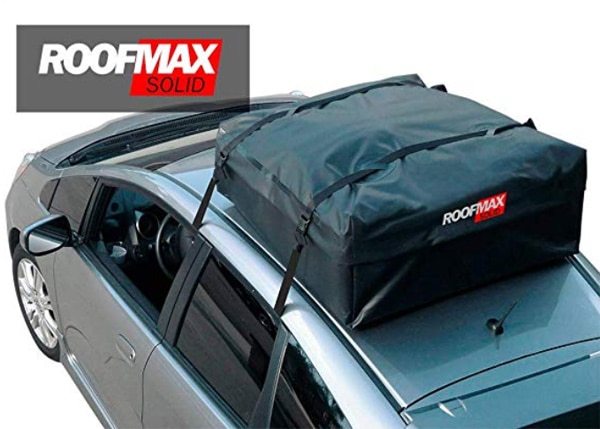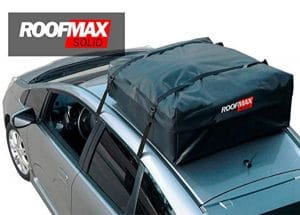 The RoofMAX Solid is easily the most aerodynamic model on our list with a trapezoidal design that will prevent drag from decreasing mount security and save you money on gas over time.
Moreover, the RoofMAX does not require a roof rack to be mounted. This carrier comes with 2 straps. Those straps do cross the entire length and breadth of the carrier, fastening it from the top as well as the sides. Very fast and easy installation.
The size is 15 Cubic Feet and it fits all SUVs, full-sized Sedans, vans with actual dimensions of 48 x 38 x 18 inches. RoofMAX is well-suited for shorter excursions into the wilderness and long haul moves across the country, it performs great under weather conditions on both ends of the spectrum. Whether drenching rain or blistering sun, this carrier is designed to take whatever the elements are thrown at it and keep on going. A solid choice.
Pros
The most aerodynamically designed carrier on the list, your miles per gallon will be less affected by this model
Can be mounted to your vehicle whether you have a roof rack or not
Is incredibly element resistant, capable of withstanding both UV radiation and rain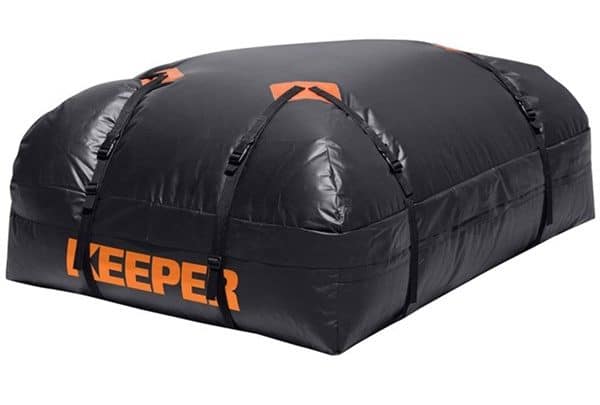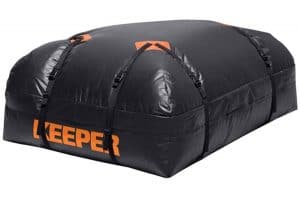 The Keeper carrier makes it onto our list as the best all-around value, because it does so many things well or adequately without having too many flaws. In this regard, it is a Goldilocks carrier that is just right for many consumers.
The maximum carrying capacity of the Keeper is 15 cu ft which is about average, allowing you to carry plenty of gear. Moreover, the dimensions of 44"x34"x17" provides an ample form for fairly large or oddly shaped pieces of cargo.
This ability to conform to the shape of the cargo is heightened by the rubber laminated nylon material. However, this material is not nearly as stiff as some of the other options on this list, so special care should be taken when packing the contents.
Final words
In terms of durability, the Keeper cannot be beaten. As the only product on this list to use rubber laminated nylon, it will stand the test and rigors of numerous trips before losing its structural integrity. One major issue is the requirement for a roof rack which will make this unsuitable for some vehicles. Still, if your vehicle has a roof rack, the 8 straps that are woven into the shell of the carrier ensure a secure mounting that is worry-free.
Pros
The rubber laminated nylon material is the most durable out of any carrier on this list
8 straps woven into the carrier provide excellent security while in transit
Despite being the most durable material, this carrier also folds into the smallest profile when not in use
Cons
A mounting requirement of roof racks limits the number of vehicles suited for this carrier
The roof mat, cargo bag, and extra compression strap are sold separately and greatly increase the cost
The material, while incredibly durable, does not hold its shape well which can cause cargo to reposition while in transit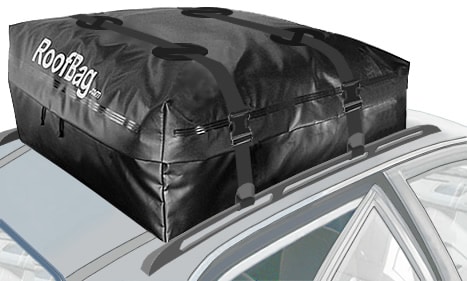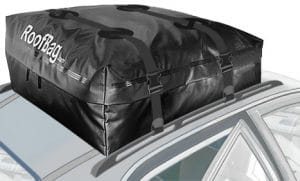 The RoofBag carrier makes its bread and butter in the realm of stability. However, this should not be confused with security which focuses almost exclusively on anchoring ability.
In this regard, stability refers both to the mounting and internal carrying security. With a stiff inner lining, the RoofBag provides additional support to keep your cargo where you packed it inside the carrier – something the Keeper cannot guarantee.
However, the RoofBag also provides more than adequate mounting security as well with woven straps that are tested up to 3,000 pounds of pressure. Unfortunately, this carrier only comes with 4 straps so the total mounting security is a bit better than average. Still, those straps perform double duty as they can be applied to cars with or without roof racks.
In conclusion
The polyester canvas coated with vinyl material presents a bit of a mixed bag. The vinyl coating provides excellent waterproofing, but the polyester canvas is merely adequate in strength and not waterproof on its own. This means that repeated use of the RoofBag will eventually wear down it's waterproofing capabilities.
Another area of concern is the price where even the smallest size that requires roof racks is more expensive than any other entry on this list.
Pros
The straps are tested at 3,000 pounds of pressure providing some assurance with security
The straps are woven into the carrier's shell further stabilizing the carrier in transit
Can be mounted on vehicles with or without roof racks, though you must purchase one or the other
Cons
The most expensive carrier on our list regardless which model you purchase
Even the smaller sized model is designed for larger vehicles, though may accommodate some smaller models
With only 4 straps, all of the beneficial features for security are somewhat undercut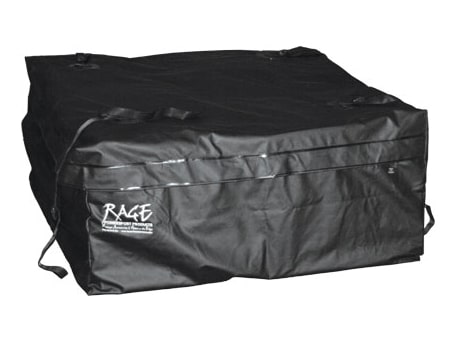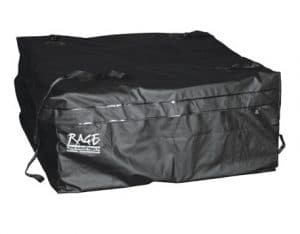 Rage Powersports seems to take the shotgun approach to the carriers. If you produce enough models, everyone can find something that best suits their needs. This is a laudable approach that is surely to interest consumers who may be buying carriers for multiple vehicles.
However, the Rage Powersports carriers do not necessarily do anything else better than their competitors except one thing: price. Regardless the model, Rage Powersports carriers are the cheapest brand in their class.
While this price does not indicate a lack of quality, it definitely shows itself in some of the features. For instance, this carrier brand requires a roof rack which is unideal if you are trying to appeal to the broadest market demographic. Moreover, the Rage Powersports only provides 4 straps.
This raises questions about its overall security, and those questions are not at all helped by its form. With a square shape and stiff inner lining, the Rage Powersports is also the least aerodynamic.
Conclusion
Aside from the fact that your gas mileage will suffer, costing you more in the long run, the drag caused by the boxy shape will only put more pressure on the straps. If you purchase one of the larger models, two compression straps will aid in mounting security, but this still leaves one wondering.
Pros
Provides numerous models to accommodate whatever dimension needs you may have
The self-repairing zipper will ensure that your carrier can handle numerous trips
PVC coated nylon provides an incredibly durable material that is able to keep water out while lasting a long time
Cons
Not at all aerodynamic and the drag caused will impact your miles per gallon
The requirement for a roof rack for secure mounting limits the number of vehicles this carrier is suited for
With only 4 straps positioned on the sides of the carrier, security is far more a concern than with other products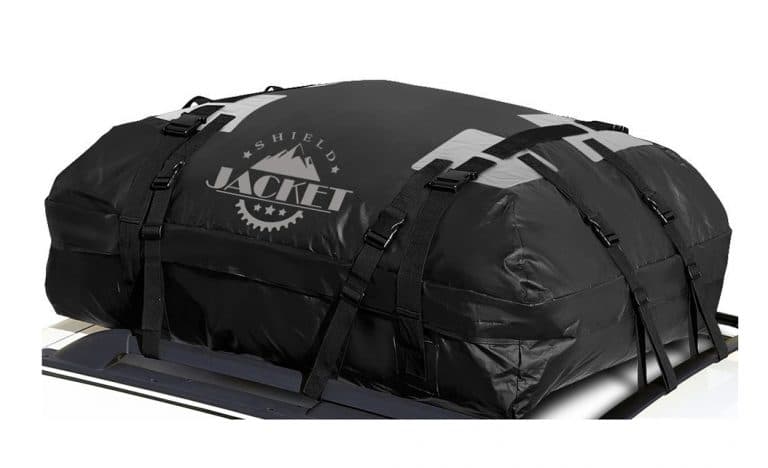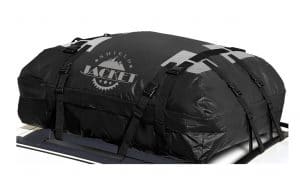 The Shield Jacket comes with its set of advantages and flaws, but where it really shines is in its ability to resist water. This carrier is the only truly waterproof entry on our list.
Keep in mind, many other products perform more than adequately when tested against the normal conditions carriers are often exposed to. However, the Shield Jacket's double-walled vinyl material is the only carrier that can literally sit in standing water for indefinite periods of time without any leakage. This makes the Shield Jacket ideal for rafting, fishing, or sailing cargo as the carrier is protected both inside and out.
Things to consider
Unfortunately, this superb water protection comes at a price: durability. The vinyl material is by far the least durable out of any carrier on this list. Not only will it show signs of wear and tear sooner than the other carriers, it also suffers a much higher risk of puncture than the other carriers. In this regard, you will have to weigh heavily how important absolute is your need for waterproofing.
Another concern is the requirement of a roof rack, though for those with the proper rack, security is not an issue. The Shield Jacket sports 8 straps that are woven into the shell. If that is insufficient, it also comes with 2 compression straps to keep its stored cargo in place.
Pros
With 8 straps that are built into the shell, you will not have to worry about security at all
While the vinyl material is not as durable, it is the most waterproof–even if exposed to sitting water
The 2 compression straps allow some versatility in regards to form, aerodynamics, and security.
Cons
The vinyl material, whether double-walled or not, is not nearly as durable as nylon or even polyester
A roof rack is required to mount the carrier which restricts the number of vehicles this carrier is suited for
Objects with pointed edges can pierce the shell, limiting what you can and cannot take with you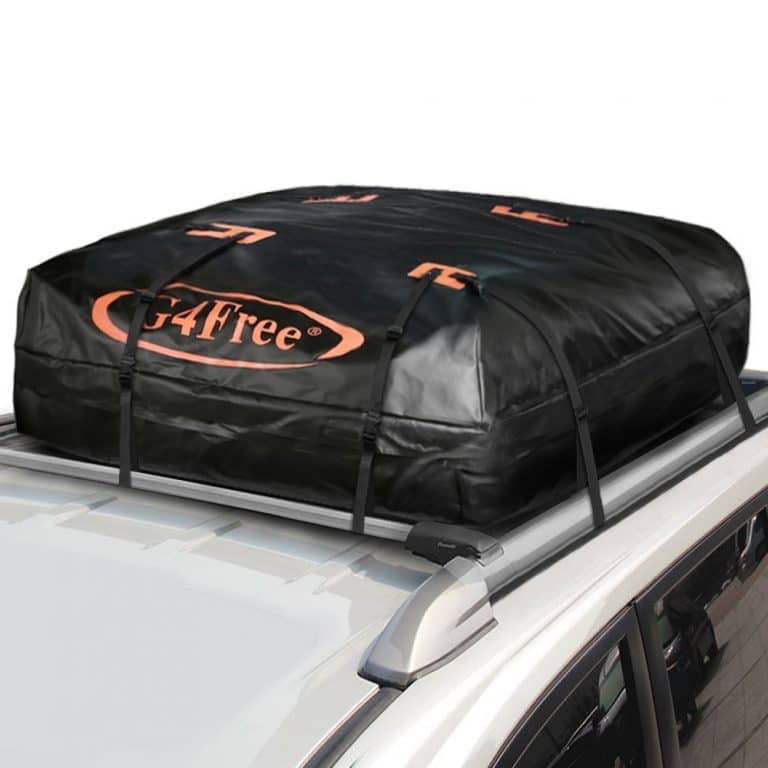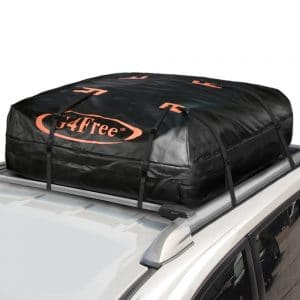 When you absolutely need the most carrying capacity you can get, go with the G4Free. At 18.5 cu ft, no other carrier on this list even comes close in terms of standard size.
As an additional advantage, the G4Free also provides the largest dimensions at 55"x37"x15.8" allowing you to haul your biggest or most oddly shaped cargo. However, all of this size does limit the appropriate vehicle list suited for this carrier.
Small, compact cars need not apply. The G4Free is simply too large to provide a carrier that is all securely mounted. Honestly, even most standard-sized cars will technically be too small. Keep in mind, if any part of the carrier hangs over the edges of the roof, that is a security risk.
Overall
This vehicle size limitation is somewhat of a disappointment, because the G4Free is able to be mounted on any roof whether it has a rack or not. Moreover, the G4Free offers 10 straps, all tested at 3,000 pounds of pressure to keep your carrier securely mounted–assuming the car is large enough to mount it securely.
The carrier's material is a high-density polyester coated with PVC, which is a bit surprising. Considering that the G4Free is one of the pricier carriers on our list, you would have hoped they would have sprung for the more durable nylon.
Pros
18.5 cu ft is largest carrying capacity of any carrier on this list
The dimensions of 55"x37"x15.8" provides plenty of room to store even the largest or most oddly shaped cargo
With 10 straps suited for 3,000 pounds of pressure, security is an afterthought not an issue with this carrier
Cons
While spacious, this carrier is much too large for smaller vehicles and should not be used with them
A bit on the pricier side, especially considering it is somewhat of a niche product
At this price point and with all the other great qualities, a lack of nylon material is a bit odd
Best Soft Car Top Carriers – Buyer's Guide
A bag is a bag is a bag, right? Wrong. While it may not seem so at the outset, the numerous qualities of a car top carrier have a big impact on a variety of situations.

For instance, the total amount of carrying capacity may seem like an easy quality to determine, but the dimension, shape, and material of the car top carrier will all influence specifically what type of things you can actually carry. Moreover, those features can affect more than just the effectiveness of the bag's ability to carry items; they can affect you ability to even drive the vehicle thereafter.
However, rare is it that these features are limited to affecting one single aspect of application. Instead, they generally play a small part across the board, influencing the experience of numerous realms one might think them separate.
Still, there are a handful of features that are often more relevant than others depending on the situation. Carrying capacity, durability, security, and material all have a tendency to be favored over consideration. They directly impact what you can carry and what happens to it while being carried.
Carrying Capacity
This is easily the most important factor to consider when purchasing a soft car top carrier. The whole point of the purchase is to provide additional cargo room, so it makes no point to buy one that is not big enough.
This feature is generally measured in cubic feet which can be a bit misleading. Cubic feet is a measurement of area, so two different carrier that both hold 15 cubic feet may have very different limitations on what they can carry. The shape and dimensions of the carrier will ultimately play a part in determining what can and cannot be carried. Also, 15 cubic feet is about the average carrying capacity. Anything less should be purchased with caution, anything more is gravy.
Materials
This quality affects a couple real-world situations, with one standing out above the other. The material of the carrier is generally responsible for any waterproofing capabilities.
Be forewarned, many brands will use the term "waterproof" in their advertisements when in fact they are simply water resistant. While this will not matter much for most rainfall scenarios, a torrential downpour will test merely water resistant materials to their limit and likely result in damp or soaked contents. The other quality that the carrier's material will affect its durability. There is no real standard here, though artificial fabrics have a tendency to stand up better over time compared to natural fabrics. Moreover, any fabrics should be coated with PVC to aid in waterproofing–inside and out if possible.
Mounting and Storage
This factor is more about convenience, so it is unsuitable as the determining quality. However, if you find yourself choosing between two equally good products, this can serve as an acceptable tie-breaker.
Storage refers to how easy it is to store the carrier when not in use. Carriers with stiff inner-lining are generally more difficult to store than carriers whose shell is purely malleable. Moreover, the thickness of the material, whether the shell includes a stiff inn-lining or not, will also affect how easily to collapses for storage.
Mounting involves the combination of carrier dimensions and security measures. The larger the dimensions, the more difficult it will be to mount. Of course, larger dimensions are vital for carrying larger items, so this is a bit of a give an take scenario. Likewise, the number of fastening straps and their required positions impact the mounting ease. More straps generally provide more security, but increase mounting time and difficulty. This is even more relevant if your vehicle does not have a roof rack.
Durability
Strictly speaking, soft carriers are simply not as durable as hard carriers. However, hard carriers are often many times more expensive than soft. In this regard, the will simply have to weigh which is more important.
If you find the extra cargo space a carrier provides a regular necessity, a hard carrier may be better suited. However, if you only use a soft carrier once every so often or only travel a short distance when you do, a soft carrier should work fine for as long as you need it.
However, the carrier's "shell" is not the only part you consider when it comes to durability. The zipper and straps are also relevant. A broken zipper can make your carrier less secure both while driving and at rest. Likewise, the durability of the straps directly impacts the security of the carrier in travel.
Form
There are three important factors related to a carrier's form, each affecting a different part of the function. Unfortunately, each of these qualities often affects the performance of the others, so you will need to determine which applications are a higher priority.
Aerodynamics is the first quality, but it is also arguably the least important. The carrier's effect on aerodynamics will directly impact your miles per gallon. If you are going on a long trip or take frequent short trips, this can impact your fuel cost more than you might think. The form of the carrier often influences the carrier's dimensions, though clever designers are able to skirt around this issue. Regardless, a carrier's dimensions will impact what it can and cannot carry. More specifically, the largest item you can store in the carrier is directly limited by the carrier's dimensions.
Probably the most important factor that form impacts is the carrier's security. This manifests in two ways. First, if the carrier displays exceptionally poor aerodynamics, the drag it creates at high speeds will test its restraints. Second, some carriers are only designed to fit large roofs. Using an oversized carrier on too small a roof can drastically impact how securely you can fasten it.
Security
Alongside carrying capacity, stability is arguably the most important factor in a car top carrier. It completely misses the mark to get a large, waterproof car top carrier if you either cannot fasten it securely to your roof or are unable to secure it at all. To some extent, quantity is often a good indicator here as to how secure a car top carrier will be. Specifically, the more straps used to fasten the carrier to the roof the better.
However, that is not necessarily a blanket statement that can be applied without exception. For instance, many car top carriers–both hard and soft–require a car rack for the carrier to be fastened securely.
If your car does not already have a roof rack, that will be an added expense to ensure the carrier remains securely in place. Alternately, you can always purchase a carrier that does not require a roof rack. Keep in mind, even if a carrier does not require a roof rack to be mounted, it will generally be more stable if you do have a roof rack. Moreover, some carriers come with a non-slip roof cover. That will further added security to the mounting by preventing the carrier from sliding along the roof.
Price
AS with all purchases, the price will always be an important factor. In fact, if you are interested in a soft carrier over a hard carrier, chances are price is one of the major reasons.
That being said, price is not a great indicator of quality when it comes to soft top carriers. Each carrier has a tendency to focus on certain factors more than others and appeal to one niche demographic first. However, some qualities are simply more expensive to produce. As such, a cheaper model may suit your needs just fine, while a more expensive one satisfies another's better. Of course, brand name recognition will always nudge the price up a bit as well.
Conclusion
Ultimately, there is no "best soft car top carrier." Instead, the best one is the one that satisfies your specific needs.
Since carriers have a tendency to focus on some qualities more than others, you will first have to determine the general needs of your carrier. From there, you simply weigh the options and pick one that focuses on your priorities most.
However, the Keeper provides the best all-around value and is likely to satisfy more consumers. It provides an adequate amount of carrying capacity with some wiggle room in dimension to mold and shape around your large or oddly shaped cargo.
The flexible material also allows the Keeper to be folded into an incredibly compact profile for storage. Moreover, the straps are more than adequate in number with the ability to purchase a storage bag, roof mat, and extra large strap should you require an improved performance for storage or security. Couple that with an incredibly low price and you have a carrier that checks the most important boxes with the option to provide more than standard quality should you desire it. The only downside is that the Keeper must be strapped to a roof rack and will not be suitable for all vehicles.