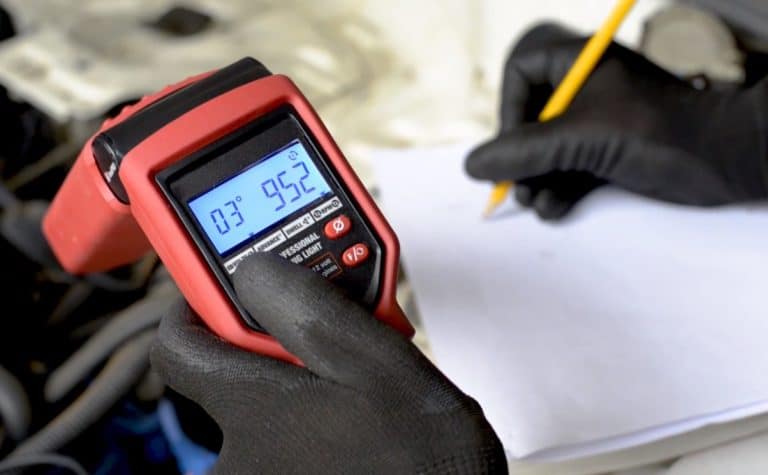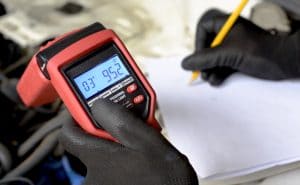 Whether you are rebuilding a pet project or simply doing maintenance on your personal vehicle, it always helps to have the best tools for the job. When doing routine engine maintenance, one of those tools is the timing light. The timing light is used to make sure that your engine fires its pistons efficiently and help adjust it when it is not.
Of course, timing lights, much like the engines they read, have changed a great deal throughout the years. On top of that, some timing lights are meant for the professional shop while others are meant for a private garage. Things get even more confusing when you think about all of the other things that affect your ignition timing.
That is why we have scoured the internet to bring you the 5 best timing lights. A quick glance at the comparison table will give you a short overview, but to truly know what it means, you have to read the product reviews. Then we provide you with a buyer's guide so you can be informed as well as our ultimate choice.
What's the Best Timing Light in 2021?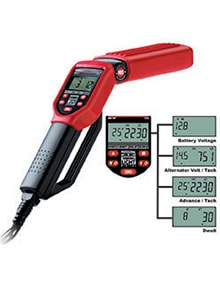 INNOVA is far from the most established company on our list, but they definitely have taken the industry by storm. Unless you are looking for a truly professional, mechanic shop-grade timing light, INNOVA is close to as good as it gets. In fact, we actually rate this particular model as our Editor's Choice best timing light. From the form to the function to the reliability, no other brand provided as good of a combination as INNOVA. And within the company, no other timing light performed as well as the INNOVA 5568.
Function and Form
When choosing a timing light, it is important to keep in mind whether or not you expect to simply check the base timing. If that is the case, then you may want to pass on the INNOVA 5568 which is the most expensive timing light we reviewed. Of course, if you really want to get into the nuts and bolts of your engine timing, then the INNOVA 5568 is a great option. Beyond the timing function, this product can also do advanced timing as well as dwell, voltage, and tachometer measurements. Finally, the INNOVA is one of the few timing lights we saw with a handguard.
Digital Limitations
The INNOVA 5568 is one of a couple digital timing lights we reviewed, and it is not the easiest to use. On top of being a bit more complicated, this INNOVA also requires you to hold down a button on the back to use it. This is far more inconvenient than the common pistol-style trigger. This means that you will either need to use 2 hands to operate this INNOVA or you will have to keep pressing the button every 10 seconds. On the plus side, the digital display can be backlit to make reading it even easier.
Pros
Is a digital timing light
Has a tachometer
Can read voltage
Can read the dwell
Has 72" leads
Can read up to 9990 rpms
Made of ABS
Has optically corrected lens
Has a handguard
Cons
The most expensive timing light reviewed
No light trigger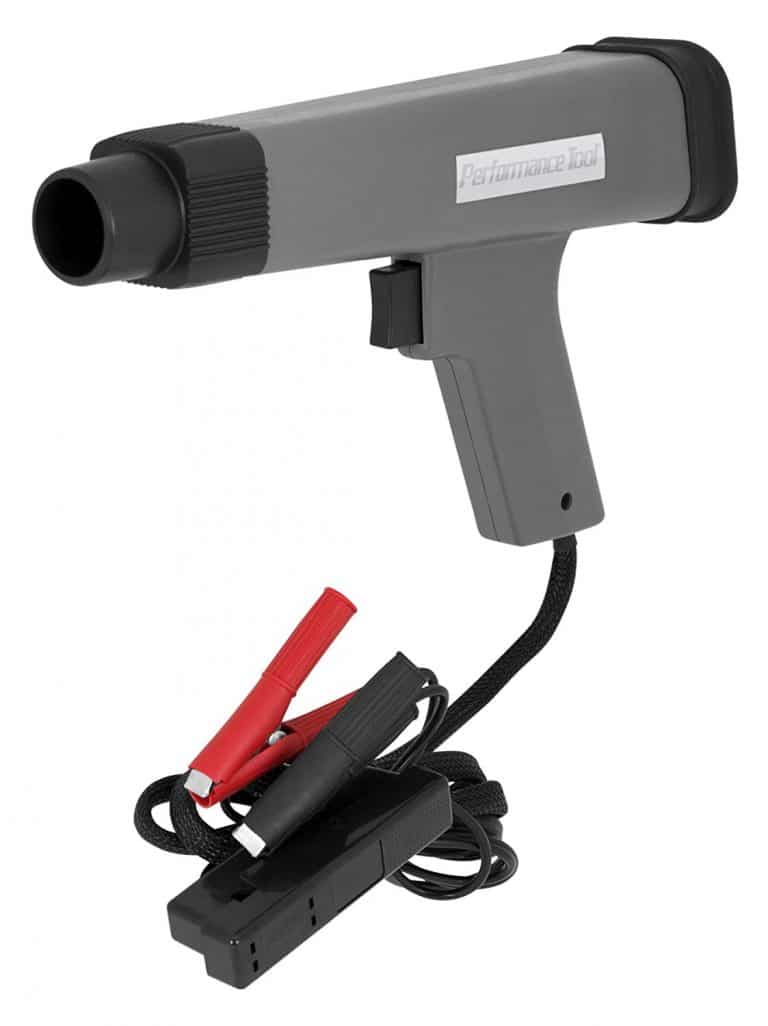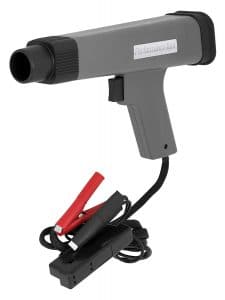 Performance Tool might have a generic sounding name, but the company has been going strong for over 4 ½ decades. It is worth noting that Performance Tool does not specialize in timing lights or vehicular diagnostic tools more broadly. In fact, this company makes products for virtually any labor-intensive profession. It is worth noting that this particular product belongs to the eponymous brand which is primarily consumer-grade. With that in mind, it only makes sense that the Performance Tool is the best digital timing light we saw.
Comfort and Convenience
As one of the other digital timing lights on our list, the Performance Tool gets one thing right: convenience. A big part of the value in digitizing tools is to make the job easier, something other digital timing lights seem to forget. With the Performance Tool timing light, that is not an issue with the timing light being easy to navigate and use. For one, this timing light uses the pistol-style trigger to turn on which is the most ergonomic design. Finally, this timing light can perform a wide variety of functions including read the voltage, dwell, and tachometer.
Give and Take
Another great feature with the Performance Tool is that you can remotely start your vehicle with it. This allows you to check your engine's timing without having to walk back and forth. The biggest issue with the Performance Tool is that, as a consumer-grade product, it is not that durable. The leads and the cables are not nearly as heat-resistant as many of the other products we reviewed and can melt. On top of that, the general construction seems to be less durable with the components being cheaply assembled. This leads to the Performance Tool failing when handled a bit rougher than with pretty much all of the other timing lights we saw, so be extra-gentle.
Pros
Is a digital timing light
Has a tachometer
Can read voltage
Can read the dwell
Uses Xenon LED flash
Made of ABS
Can read up to 9000 rpms
Is easy to use
Has push button starter
Cons
A more expensive timing light
Not that durable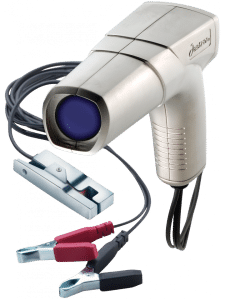 You can be forgiven if you have not heard of Actron, though you may be surprised once you do. Actron is actually a brand within the Bosch Automotive department, meaning that the company known for precise power tools are also behind this timing light. However, you should keep in mind that Actron is a couple of degrees removed from Bosch. That said, the company does still specialize in automotive diagnostic tools, and this is not even part of their professional lineup. Still, this is a solid option for those who like the "old school" way of doing things and is our best analog timing light.
Accurate and Adaptable
If you are not worried about fine tuning every step of your engine's process, the Actron is a great option. It uses a xenon LED bulb behind a precisely manufactured fresnel lens. This allows the Actron to provide a bright and consistent flash that makes reading your timing degrees that much easier. Even better, the Actron does still allow you to improve upon the base timing by allowing you to set the advanced timing as well. Even better, the Actron timing light has the second highest maximum rpm at 9999 rpms.
Disappointing Construction
As a product that can ultimately trace is lineage back to Bosch, it is a bit disappointing that the Actron does not hold up better than it does. A keen eye will notice that this timing light only comes with a 1-year warranty, and that is likely because this timing light is known to fail shortly thereafter. It is almost as if Actron has perfected the engineering principle of planned obsolescence. This remains true despite the fact that the body is made of ABS plastic and the leads are heat resistant. Though, one clue is that the leads are steel which is inherently more prone to rust and corrosion but cheaper to manufacture.
Pros
Is heat resistant
Can read up to 9999 rpms
Is easy to use
Uses Xenon LED flash
Is a less expensive timing light
Has a fresnel lens
Has advance dial
Made of ABS
More accurate than most
Cons
Pickup made of steel
Lasts about 1 year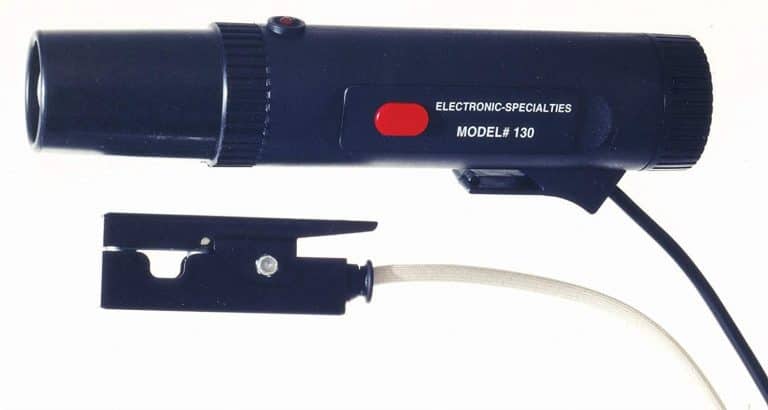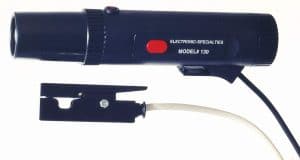 Electronic Specialties Inc., or ESI, is an interesting company in that it does not originate where you might expect: Chile. That said, the company has been around longer than any other on our list, and they know what they are about. This is another company that specializes in vehicular diagnostic tools, but this company takes its philosophy is a slightly different direction. Rather than offering a multitude of features and functions, the ESI 130 is simply the best high-powered engine timing light.
Crank It Up
If you have a vehicle with an insanely suped-up engine, you are going to need a timing light that can keep up. This is where the ESI 130 really shines with the ability to handle rpms of up to 14000. Keep in mind the kind of power you would need to put out to achieve those speeds. Of course, an engine that can run at 14000 rpms will generate massive amounts of heat. Thankfully, the ESI 130 comes through once again with heat resistance that is rated up to 1200-degrees Fahrenheit. Finally, this timing light will work with pretty much any vehicle, including marine and recreational.
Can Be Difficult
When we say the ESI 130 can be difficult, we do not mean its function. No, that is as simple as can be, but getting the results can be a bit trickier. Specifically, this is nowhere near the brightest timing light we saw and may require a covered area to get the best results. Of course, another potential issue is that this is the least versatile timing light on our list. While many timing lights cannot read dwells or voltages, the ESI 130 is the only product on our list that cannot even make advanced timing adjustments. Finally, this also happens to be a more expensive timing light–though some may prefer the high-powered precision.
Pros
A less expensive timing light
Can read up to 14000 rpms
Can withstand the hottest engines
Powered by D cell batteries
More accurate than most
Easy to use
Works with any vehicle
Made of durable materials
Has superior pickups
Cons
A more expensive timing light
Not the brightest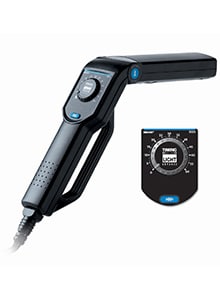 Innova makes our list a second time, this time as the best budget timing light on our list. In this way, Innova can be seen to bookend the timing light market with both the best performing and the best cheap timing lights. This allows Innova to offer a timing light that fits everyone's needs and budget. Of course, that does not mean that you should expect the same kind of experience with the basic model. That said, it is still one of the better timing lights you find in this price range.
Excellent Standards
One of the best things about the Innova 3555 is that it is essentially the base model from which all of the other Innova timing lights are derived. This means the basic functions of the other Innova timing lights are a direct port from this model. Things like the maximum rpms, ergonomic design, and adjustable barrel remain unchanged. Granted, there is no fancy display, but the base timing function is accurate and easy to use. Even better, the Innova 3555 features detachable leads for easy storage.
Paying the Piper
Like with many diagnostic tools, if you do not pay up front, then you will end up paying over the long run. With the Innova 3555, the biggest payment comes from some of the cut corners in function. For instance, the cables for the leads are not sheathed in as good of material and can transfer some interference if not placed carefully. On top of that, the advance timing function is noted for being inconsistent, so you should purchase this with the expectation that it is meant for mostly base timing adjustments. That said, not everyone noticed this issue, and some note it is potentially inaccurate but not imprecise.
Pros
The least expensive timing light reviewed
Has advance dial
Made of ABS
Is easy to use
Can read up to 9990 rpms
Has compact design
Has a handguard
Has an adjustable barrel
Has detachable leads
Cons
Advance is inconsistent
May pick up interference
Best Timing Light – Buyer's Guide
Function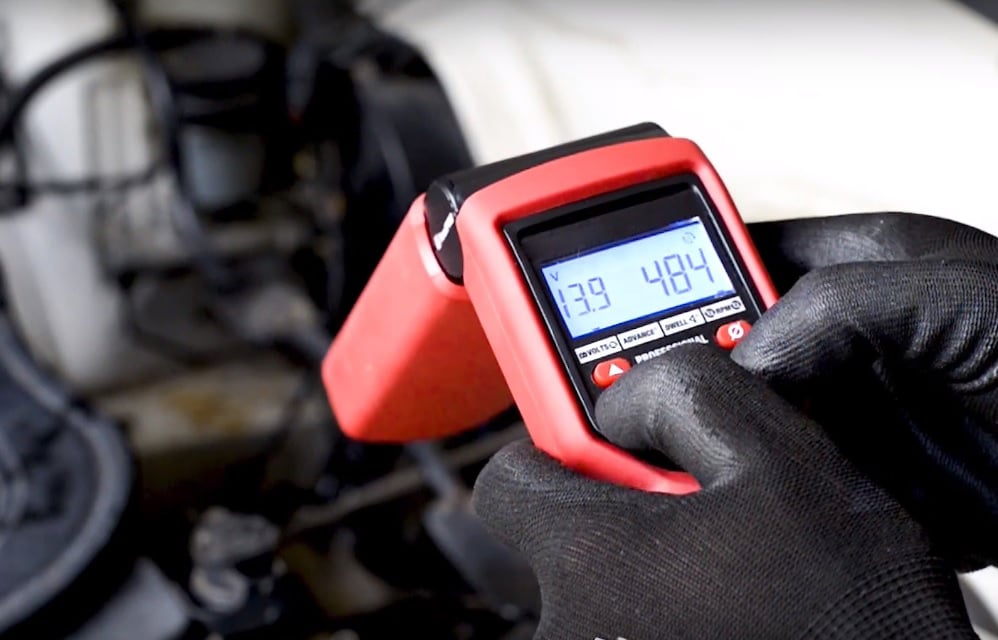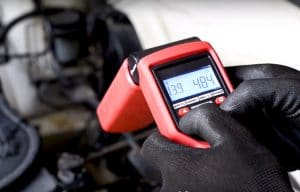 This is is the "quality" that will move the needle a bit more in terms of justifying the cost. Outside of the flash, this is the most important thing to consider and is easily the most important aspect once the bulb at least passes your baseline requirement.
That is because many timing lights can now perform a number of minor and subtle ignition diagnostics. Depending on your level of skill and what you are trying to accomplish, the right timing light can help you scale your engine's transmission. Of course, that require a set of professional tools and skills, but the best timing lights are part of the kit.
Tachometer – A tachometer is actually the same device used to read the rpms that your vehicle uses. This is a fairly standard measuring device for a vehicular mechanic, but it is oddly not as common on timing lights. This is in part because only digital timing lights can have a tachometer included. That said, a tachometer is still one of the more convenient and useful diagnostic tools to supplement the standard timing light function. It should be noted that unless you have advanced mechanic skills or knowledge, you probably do not need a tachometer with your timing light.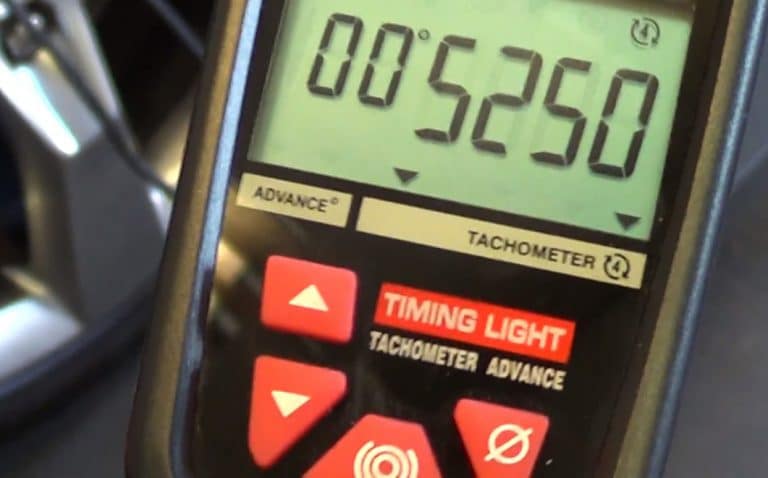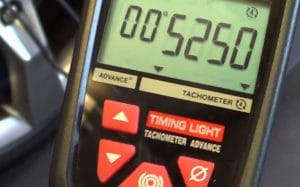 Of course, if you can use the timing light, there is a higher chance than not that you also know how to use the tachometer. Still, the tachometer is not going to tell you anything that the vehicle will not–unless there is a problem. This once again brings us back to the point that only professional mechanics or highly experienced enthusiast will be able to make use of this function. As such, the majority of people who might purchase a timing light could very well be paying a premium on a feature they will never use.
Advance – An advanced timing light allows you to adjust the total timing of your engine which is generally the important timing. It does this by using a dial to adjust the strobe effect on the timing light until it matches up with the turning crankshaft. When the total timing is off, the light will not allow you to see the gauge. However, once you adjust the light with the dial such that the strobe effect synchronizes with the crankshaft once more you will be able to see the gauge as well. This is a fairly common function found on even the least expensive timing lights. That said, the precision and accuracy of advanced timing functions can vary greatly from one company to another.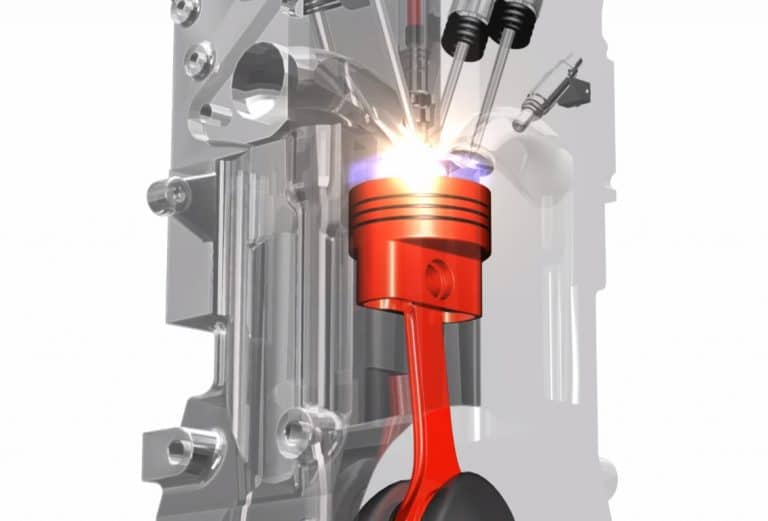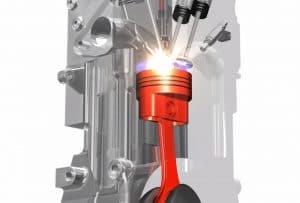 Dwell – The dwell is the space between the piston and top dead center where the spark plug must fire to achieve the best pressure and power. This is actually a measure of how much the piston will move from the time that the spark plug fires until the fuel mixture ignites. Of course, the faster your pistons are firing, the more distance they cover in a shorter amount of time. This means that your spark plugs will have to fire earlier in the stroke to account for the ignition time.
This is an incredibly difficult process that you or I could not do unaided. The sheer speeds and shortness of time make it nearly impossible to follow even if we could see within the engine. That said, this is another function that requires a digital processor in order to accomplish. On top of that, the dwell meter can be difficult to understand if you are not experienced with tuning engines.
Voltage – As should almost be expected at this point, the voltage does not necessarily refer to what you might think. This is not the battery's voltage but instead refers to the voltage generated by the spark plug during ignition. Granted, the vehicle's battery will inevitably be involved, but this function refers to correcting the spark plug more than the battery. Of course, as is usual, this is another function that will not get much use unless you are a mechanic or experienced enthusiast.
It is also worth noting that this is one of the functions that you should not mess around with. While not great, minor changes to the dwell and other degree adjustments will generally not prevent your engine from running. It might run at a decreased efficiency, but it will run. However, it is much easier to accidentally set the voltage to a point where the ignition simply never occurs. This is a much bigger problem as you will likely flood the engine in the process. The point is, do not worry about the voltage unless you already know what to do.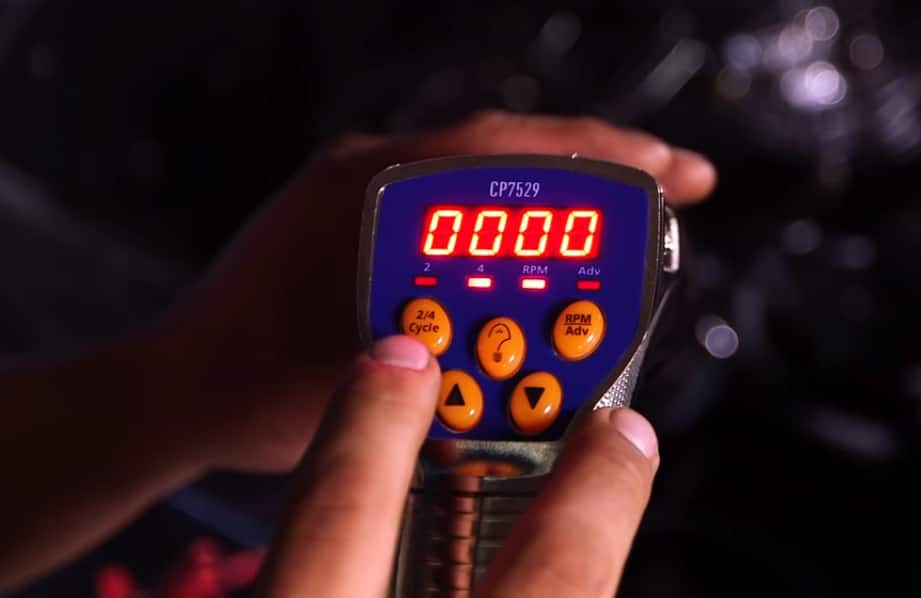 Display
Analog – This is the standard "display" for the traditional timing light. In this way, the display is simply the gauge which tells you the timing degree. This is the most reliable method of reading the engine timing, but it does require that you understand the system. It is also important to know what the expected timing ranges should be which will differ from engine to engine. That said, so long as you know how to properly read the timing gauge at both the idle ignition timing and the total ignition timing, the analog timing light is fine.
Digital – There really is no debate about it. So long as the timing light is well-made, a digital timing light is universally better than an analog. A big part of this has to do with the fact that digital timing lights are the ones that can perform some of the more advanced functions on a timing light. For instance, tachometers and voltage meters are found exclusively on digital timing lights. It is also worth noting that digital timing lights can also make your job easier by taking some of the thinking out of adjusting your engine timing. Of course, becoming reliant on a computer may leave you in the lurch should you just have the light.
Conclusion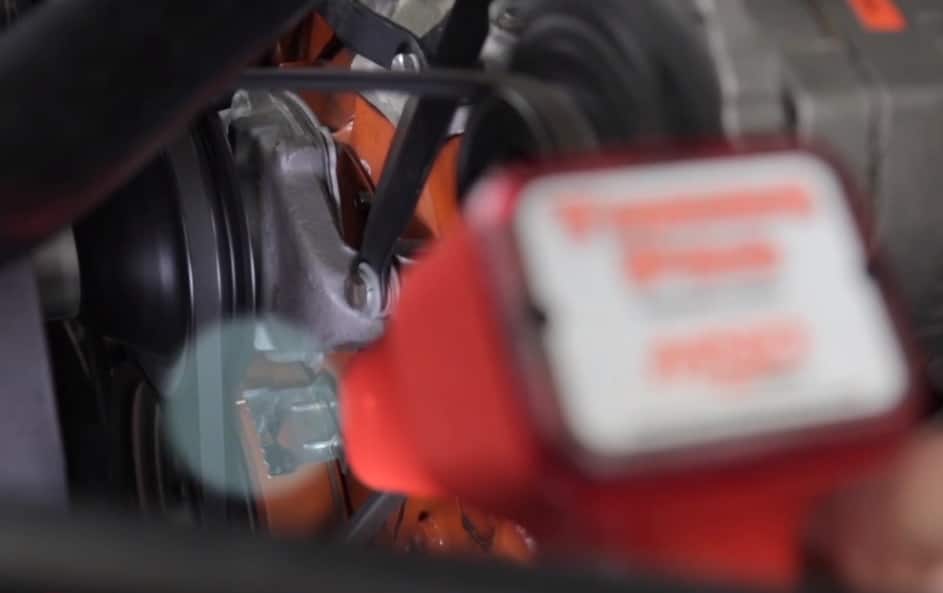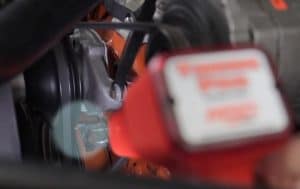 Depending on your budget, your skill level, and even the kind of vehicle you are adjusting, there is not a single timing light that is the best for all people. Instead, you are going to have to figure out what is the most important features for you. If you are working on an amateur race car, you probably do not need the same timing light as a homeowner trying to save a little cash.
For the best of both worlds, we recommend the INNOVA 5568 which offers a great mixture of features with top-quality precision. This is the most expensive timing light on our list, but it is also the best for most people. Aside from being capable, it is also fairly convenient to use once you get used to it. Of course, some of the best features are its expanded functions for total engine tuning.
At the other end of the spectrum, we have the Innova 3555 which is ideal for the casual auto owner looking to save a few bucks. While this timing light has an advanced timing function, it can be a bit iffy. However, the basic timing function is still as accurate and precise as other Innovas. Of course, the best thing about this timing light is that it is also the least expensive as well as capable.