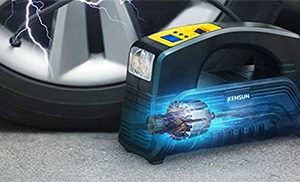 Digital tire inflators are a fast, portable solution for adding air to your tire. If your low pressure light is on but you do not have a puncture, then using a tire inflator is the easiest way to get back on the road. Keep one around to protect yourself from a low tire. Current models are safe and effective and store easily in the garage or the trunk of your car. We have compiled a list of our top five favorite tire inflators along with a helpful buying guide to get you headed in the right direction.
Best Tire Inflators of 2021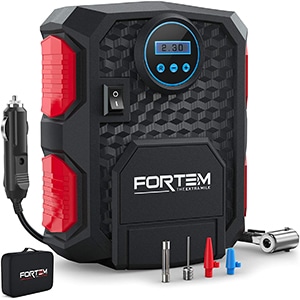 The FORTEM Digital Tire Inflator boasts a bright lcd display along with simple plug and pump operation. The device is very easy to operate. Drivers only need to plug it into the car outlet, attach the hose to the tire, set the desired PSI, and flip the switch. The digital tire inflator turns off automatically once the tire has reached the proper pressure. If you are someone who has struggled in the past with measuring tire pressure and inflating to the proper level then this might be the system for you. The tire inflator is also surprisingly compact and can store away easily. The cables fit inside the unit and a convenient carrying case is included. It is just 8 x 6.5 x 3.3 inches.
Also features an integrated LED flashlight to help in any nighttime emergencies and a sturdy air hose.
Optional Outputs and Plenty of Extras – Great Value
Although it is designed for automotive tires this inflator also includes three extra nozzle attachments for sports balls, air mattress, balloons, and other inflatables. Often the concern with using a powerful compressor on smaller inflatables is that you will over inflate them and they will pop. The digital psi settings and auto shut off of this device helps avoid those risks.
This device even includes an extra fuse to make sure it won't leave you stranded. Premium construction makes the product durable but the FORTEM Digital Tire Inflator is also backed by a strong 2-year warranty. The manufacturer also seemingly provides solid customer service.
Recommendation
We highly recommend this digital tire inflator from FORTEM to anyone looking for a portable air compressor at a reasonable price. It is compact yet solid and inflates fast with easy operation. The device has great accessories with the integrated flashlight, spare fuse, extra nozzle attachments, and carrying case. We also like that this product has a strong warranty and solid customer support. Drivers looking to add some safety and piece of mind to their vehicle should consider adding this product to their trunk.
Pros
This portable compressor has set it and forget it PSI inflation with auto off
It measures a mere 8 inches long, by 6.5 inches wide, and 3.3 inches thick. Not to mention, it weighs just under 2 pounds
It has a built-in LED flashlight for nighttime operation
It is backed by a strong 2-year worry free warranty
Comes with extra nozzle attachments
Cons
Limited to 8 minutes continuous operation
Does not include a tire gauge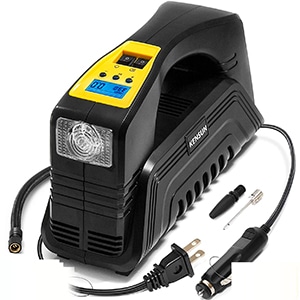 The Kensun AC/DC Digital Tire Inflator offers powerful and fast inflation courtesy of a strong 120W solid metal motor. The unique AC/DC switching provides a 12V car cigarette plug as well as a 110V wall plug for home outlet use. This is very unique and makes the unit incredibly versatile. Large, bright, back-lit LCD display with unit conversion (PSI/Bar/KPA) makes this portable compressor safe and easy to operate. You can preset the needed pressure and the unit will shut off automatically at your chosen pressure. The unit is equipped with a bright LED light that is helpful when operating the unit at nighttime. Most important is the super powerful motor that pumps at 30 liters per minute. This provides fast inflation and lots of air when you need it.
Ideal For Sports Lovers
Since this compressor sports such a powerful motor it can pump up a range of rafts or swimming pool inflatables. Most other tire inflators on this list sacrifice some performance for price savings and increased portability. The Kensun has a 120w motor with all metal construction. The Kensun is not cheap but it delivers strong performance and moves enough air to support your sporting endeavors.
Recommendation
We highly recommend this tire inflator for people looking for a failsafe device. This inflator is more expensive than other models but it delivers with increased versatility and strong pumping power. Users really like the ability to switch between a cigarette lighter and a power outlet. It is a popular feature that other models lack. In addition the stronger motor delivers more peace of mind as you travel down the road. If you want a strong, reliable tire inflator check out this Kensun model.

Pros
Powerful 120w motor has all steel consrtuction and delivers over 30 liters of air per minute
Serves as versatile tire inflator thanks to dual AC/DC switch for car or home use
Has an integrated LED light beam feature
3 types of accessory nozzle attachments
Includes a 2 year warranty
Comes with a portable travel case
Cons
You pay for what you get and this product is not cheap
It is not backed by any sort of warranty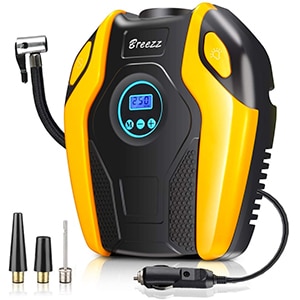 The Breezz Air Compressor is a portable tire inflator with a compact design that provides up to 150 PSI and inflates a car tire to 35 PSI in under 4 minutes. A combination ABS plastic and stainless steel pump provide solid operation and good durability. The portable air compressor comes equipped with a digital display that calculates the required PSI, BAR, KPA, or KG/CM along with a bright and long lasting LED to help night time operation. Compact design makes it easy to lift and the generous 10ft long power cord allows you to reach all around the car. Included adapter nozzles help you inflate an air mattress or other equipment fast.
Mistake-proof Tire Inflation
This simple and useful technology is found in a lot of DC 12V car air pumps and makes inflating safe and easy. Preset your desired pressure value using the digital display and when the tire inflator reaches the desired pressure it will automatically turn off. Eliminate the need to worry about over or under inflating the tire. Easy to use even in the dark.
Recommendation
We recommend this tire inflator to owners of cars and light trucks.
The tire inflator has enough standard safety features to protect accident prone individuals and plenty of roadside emergency features like the bright LED light to help you when you need it most. It is a very trustworthy safety feature to keep in your trunk.
Weighing just 2.4lbs and sporting a 120W motor, it provides a good balance between portability and power. We wish it was priced a little more competitively so look for it on sale or after a price drop for a better value. Keep it in your vehicle for good peace of mind.
Pros
Up to 150 psi inflation power
DC12V with 10ft long power cord
Two way radiator to reduce the noise
Features a powerful LED flashlight
10 minutes of continous working time
Cons
Somewhat expensive compared to similar models
Plastic construction and light weight makes it feel slightly toyish
4. TACKLIFE – Most Portable Tire Inflator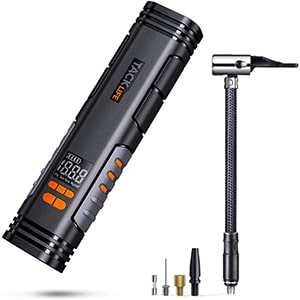 The TACKLIFE portable air compressor offers a unique form and power source. The pump has a built in lithium battery 2200mAh that provides cord free flexibility when pumping up. The kit includes a wall charger so that you can charge it at home or also a 12V DC so that you can use it with your automobile. The user-friendly design is what really stands out. This is the smallest and lightest pump on our list. While other pumps store easily in your trunk this one can fit in your glove box. The unit resembles a power strip with its long, rectangular shape. The power switch, unit switch, and LCD screen sit on one side while the air hose is located on the end. The unit has a durable, solid metal motor that pulls air through the front of the unit and out the back.
Portability over Power
The form factor of this pump is amazing. The size and shape make it feel like the pump of the future. The integrated battery delivers fantastic cordless flexibility. However the performance suffers a bit due to the innovative design. Users complain about the pumping power of every compressor because they are used to the mega machines at gas stations or car dealerships. Using a portable air compressor is often an exercise in patience. Still, the air output of this machine will struggle to inflate effectively as you move from simple sporting goods and camping equipment to vehicle tires. It doesnt take a lot of air to pump up a bike tire but moving +35PSI into a vehicle tire isn't easy. A compressor needs to have good strength to get the job done. This tire inflator struggles with the big jobs and is probably better used in the garage and around the house than by the side of the road at night.
Recommendation
We recommend the innovative TACKLIFE portable air compressor for jobs around the house and in the garage. Compared to similar models, the product is truly unique with the integrated lithium battery and the small, thin form factor. It boasts extreme flexibility and the power to tackle small jobs. For bigger jobs or more dedicated vehicle emergency service, users might find this device slightly underpowered.
Pros
Innovative design that fits easily in your glove box
Boasts an integrated lithium battery for cordless pumping
Has a built-in LCD screen that displays the current PSI, BAR, KPA, or KG/CM
Features helpful LED light with spotlight and strobe modes
Works for everything from sporting goods to small vehicle tires
Cons
No pressure auto shut off
Underpowered when tackling bigger jobs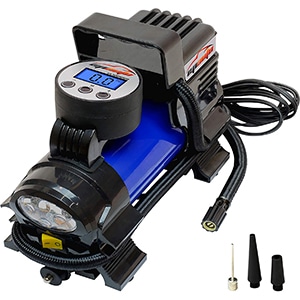 The EPAuto is a highly popular digital tire inflator with a great industry reputation for performance. The pump conveniently plugs directly into the cigarette lighter socket 12V DC and provides 1.06 CFM inflating speed. The unit has a maximum working pressure of 70 PSI to support car tires and light SUVs. Convenient valve adapters are included so that users can also easily inflate balls, kayaks, or swimming pool accessories. The digital display shows KPA, PSI, BAR, and KG/CM so users can easily set a desired PSI. Auto shutoff provides set it and forget it operation as the compressor will stop inflating automatically once the desired pressure is reached. The tire inflator also includes a bright LED light for help operating it in the dark. The pump is not particularly easy to store as the design is not as compact as some competing pumps. A carrying case is included so it can store in your trunk.
Mass Production
As one of the most popular pumps in the market the EPAuto has all the benefits and drawbacks of mass production. The item is one of the only pumps available in multiple colors (green, yellow, blue, red). The design is solid and it is well manufactured.
However there are users that report getting a tire inflator that did not work. This might be inevitable when you are selling this many pumps at scale and the company does back it up with strong customer support. The best advice is just to test your compressor out right away when you get it and don't just put it in your trunk waiting to try it out the first time you need it in an emergency.
Recommendation
Pumping air into a vehicle tire with the EPAuto Portable Compressor couldn't be easier. The display is bright and easy to read, the buttons are responsive, and the unit shuts off automatically when reaching the desired pressure. The design is a bit bulkier than other models but with the included carrying case you can easily keep this compressor in your trunk.
Pros
Portable tire inflator featuring a 12V DC, 10 – 15 amps, for cars and midsive SUV
Easy to read display with four units
PSI reading with pump auto shut off to prevent overinflation
Bright torch LED flashlight
Valve adaptors included for sporting goods and camping equipment
Available in multiple colors
Cons
Bulkier design than some competitors
Best Portable Tire Inflator – Buyer's Guide
What to Look for When Purchasing a Tire Inflator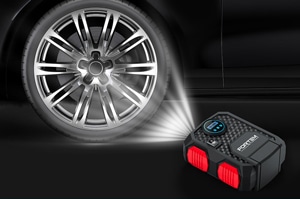 A portable tire inflator is a good, standard piece of roadside emergency equipment to consider keeping in your vehicle. While you prefer to use it in your garage, often a low tire light will strike without warning and you might find yourself in a parking lot or by the side of the road. When that happens you want a safe, reliable, and powerful portable tire inflator to pull from the trunk of your car.
Air Pump
The most important feature for a tire inflator is choosing a pump powerful enough to fill your tires in an emergency. When a digital tire inflator falls short it is always because of the strength of the motor and the amount of air that it can move. Users want a pump that inflates tires full and fast. That is all determined by the air power. A weak motor will not inflate over a certain PSI, with some substandard models clunking out around 25 PSI and above. Sometimes a motor can get the job done but it has a very slow inflating speed.
A Variety of Power Modes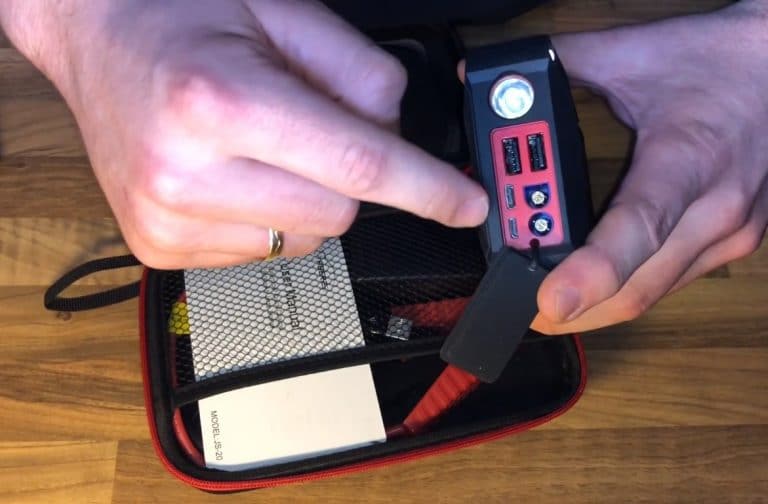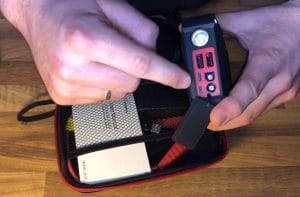 Digital tire inflators are powered in one of three ways. The most common method is a 12v DC connection. This connects easily to the cigarette lighter in your car and draws power from the vehicle while it runs. With a 12V DC connection you want to check that the power cord is long enough to move the unit out of the car for operation while still being plugged in. Some models will offer AC/DC switching so that the same unit can plug into your car or an electrical outlet in your house. This is a great option for drivers that want to use the pump in the garage without turning on the car. The newest option for users is integrated lithium batteries that can charge through either AC or DC means. These batteries provide cordless air power and increased flexibility but for an added expense.
Safety Features
The key risks from these devices is over heating and over inflation. Over heating can occur from running your portable air compressor for too long. These smaller units are not adept at dissipating heat so over time under a heavy load they will become very hot during operation. The best models have an auto shut off that will put the inflator in a cool down mode when it reaches a high set point. This can be frustrating to the user but helps keep them safe. Over inflation is a problem because it can damage your tire or inflatables. The best models offer auto shut off at designated PSI so that users can operate without worry.
Valve Accessories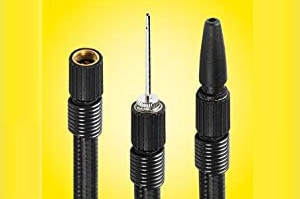 Most current digital tire inflators ship with several valve accessories. These nozzle attachments can be used for inflating sporting goods, camping gear, or other inflatables. Pumps should at least ship with a needle attachment for pumping up balls and a nozzle attachment for inflating air mattresses.
Flashlight
All of the models on our list have a bright, LED light integrated into the unit. This is not necessary for operation but it can come in quite handy if you are operating the unit at night on the side of the road. There is no harm in having a powerful 12v DC powered LED light in the trunk of your car.
Warranty and Service
While we stand behind our recommendations, we are always more likely to recommend a product that is backed by a manufacturer's warranty. Not only that, but we are more likely to support companies with reliable, approachable customer service departments. Whether you are looking at 1 or 3 years of defect replacement coverage, a warranty can give you a boost of confidence when spending your hard-earned money. The standard for these digital tire inflators seemed to be a 2 year warranty.
Advantages of Owning a Digital Tire Inflator
Portable air compressors are popular accessories for frequent travelers.
Users like having a tool in their trunk that can deliver air quickly to their car tires or anything else. It saves you from having to go to the gas station for air or even wait for roadside assistance.
Plus, since these pumps run off 12v DC power you only need your vehicle to power them effectively.
In addition, the market gives users many affordable and compact models to choose from. Drivers can be well prepared for an emergency on the road for less than the price of a tow truck. At the same time the digital tire inflators deliver additional safety features like a bright LED light.If your vehicle does have a problem then a digital tire inflator can help you in a variety of ways.
Added safety features on new models help prevent the risk of injury to you, your vehicle, or whatever it is you are inflating. Auto shut off and digital displays with precise pressure readings make it less likely that you will encounter a problem while using a device.
With such strong feature sets, easy operation, and portability it makes a lot of sense to keep one of these in your vehicle at all times. Like a lot of safety equipment you might not use it everyday, but when you do need it you will be happy to have one close by.
Final Thoughts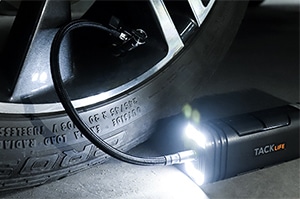 After reviewing several portable tire inflators, it is truly hard to understand why anyone would want to travel without one of these handy accessories in the trunk of the car. No matter if you are using a vehicle for work or play there is nothing worse than breaking down on the side of the road. With a portable tire inflator you can manage your own low tire warnings while also being ready to inflate sporting goods or outdoor recreation items quickly.