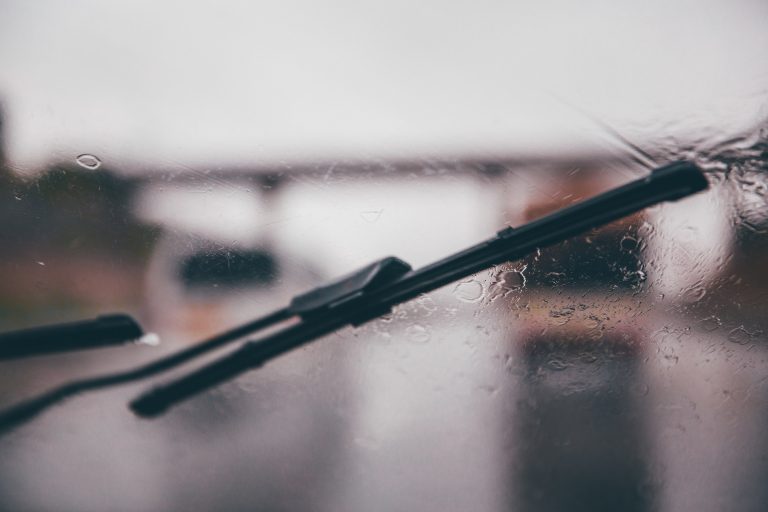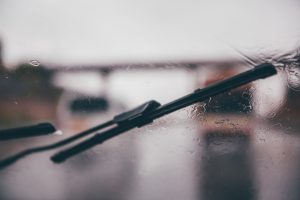 The windshield of your car should not be taken for granted. With a dirty windshield, driving can become harder due to visual impairments such as fog, glare, and ice. The hose that sprays water on the glass, when left untreated, can clog from mineral buildup or corrosion.
Best Windshield Washer Fluids of 2023
Windshield wiper fluid can help alleviate many of these issues without causing damage to the glass. They also can prevent the wipers from skipping when in use, boosting their longevity and performance. Listed below are the best windshield wiper fluids for automobiles of any variety.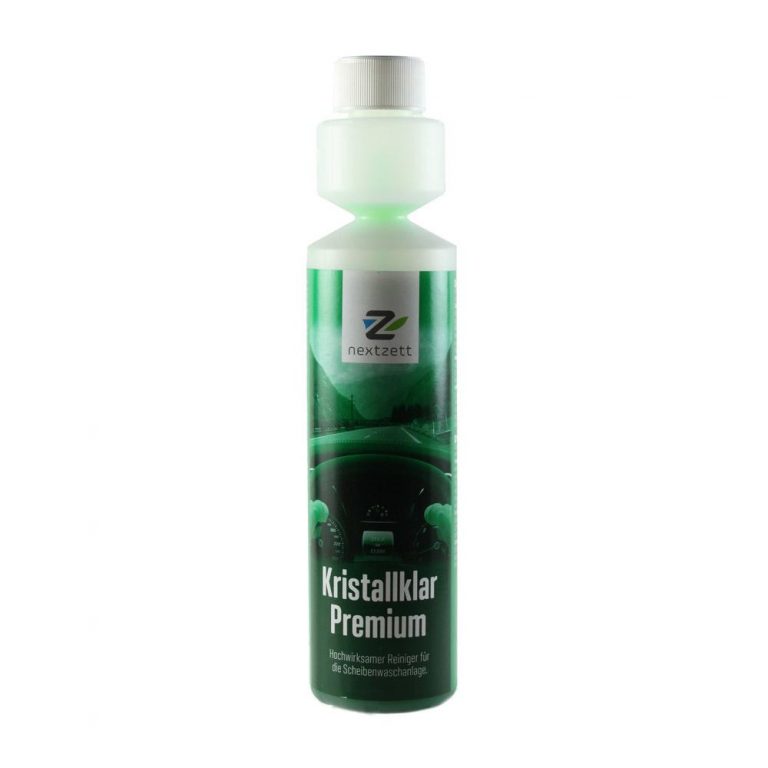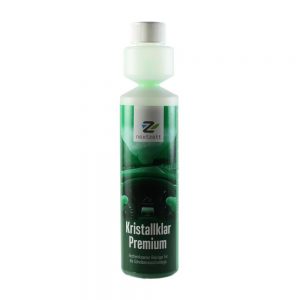 Kristall Klar, as its name suggests, is produced in Germany. While it was initially developed for German car owners, the concentrate works great on any vehicle that consumers wish to use it for.
It comes in a green bottle with an uneven hourglass shape near the top, which is the measuring area for gauging how much solution is to be used in the windshield wiper tank.
A safe Mix
Before you begin, remember that with Kristall Klar, there is no need for you to remove any previously used washer fluids from your tank. It can safely mix with any older brands that are left over from your last filling. To prepare the concentrate, squeeze the middle of the bottle so the liquid rises to the measuring section near the lid. Make sure that the lid is closed so nothing spills out. After that, pour the fluid into the tank slowly, adding tap water immediately after.
Blending Options
Since Kristall Klar is concentrated, you can also pour it directly into a jug of water or mix with antifreeze washer fluids during the winter months. Common measuring sizes are one ounce of fluid paired with one gallon of water or .5 ounces blended with .75 gallons of water.
With so many options for blending, Kristall Klar fluid can last for a long time, with regular application extending to months without the need for repurchase. Use this concentrate if you already have antifreeze fluids that could be improved with a better cleaning solution. Your windshield will be noticeably cleaner and free of residue from bugs and road grime.
Pros
Concentrated fluid
Can last for several months with general use
Bottle size is easy to store
Will not cause clogging issues in nozzles
Has a built-in measuring chamber
Safe to mix with other windshield fluids
Cons
Does not allow the water to bead on the windshield
May cause foaming when adding fluids other than water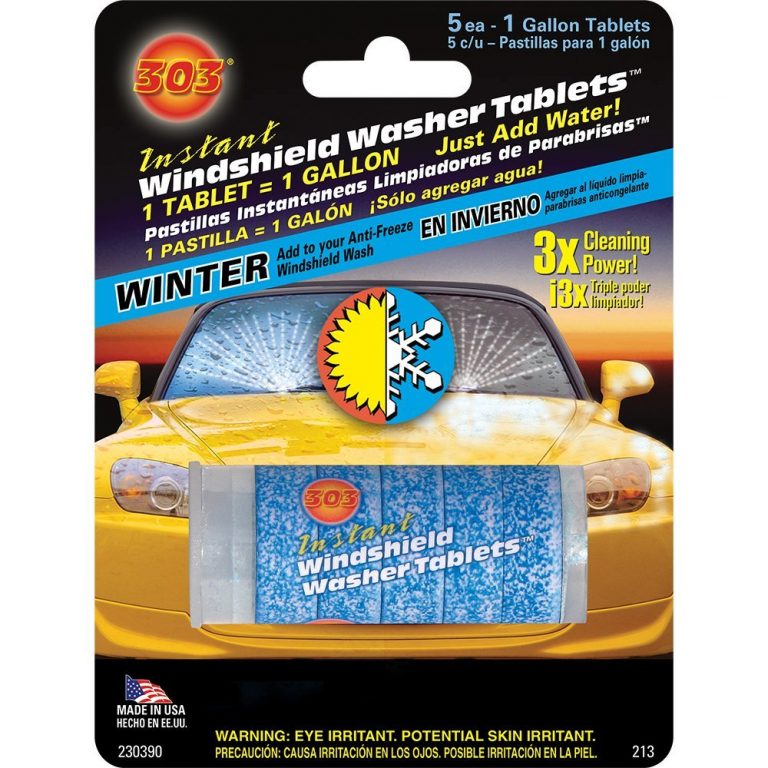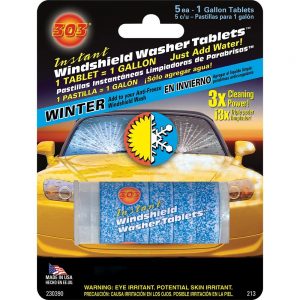 The 303 Instant Windshield Washer is not a liquid. Instead, the contents are sky blue-colored tablets that are fitted into a tube that measures 8.6 inches in width. It is easy to store and comes with 25 tablets each, enough to last for several months.
Although the tablets are small, they are concentrated with three times the power of ordinary washer fluids. They also are a great time saver, since no measuring is needed. Simply drop one tablet into the reservoir of your windshield fluid and add approximately one gallon of water.
Small in Numbers, Big in Functions
The tablets will dissolve immediately when in contact with water and won't leave any flaky residue in the interior. The only noticeable drawback is the size of the tablet. While it is small (about the size of a quarter), you may end up having to break it is half for it to fit properly past the tip of the reservoir. This is mostly dependant on the type of automobile you own, and a minor annoyance that won't inhibit any effects in its ability to disperse once inside. Dirt, dust, and insect residue will be kept to a minimum for the entirety of this product's use with your wipers.
Environment Friendly
If you like to purchase car products that are environmentally safe, the 303 is highly recommended. Every container is biodegradable and helps lower the number of plastics generated in landfills. Fewer plastics in the environment means better living conditions for not only wild animals but humans as well. Small enough to be placed in your glove compartment, it will come in handy during periods where an immediate refill on your windshield tank is needed quickly, particularly during rain and snow showers.
Pros
Mobile and storage friendly design
Small container is great for the environment
Less hassle to add in reservoir since only water must be added, no messy spills
Tablets are concentrated
Cons
Tablet may require breaking to fit in some reservoirs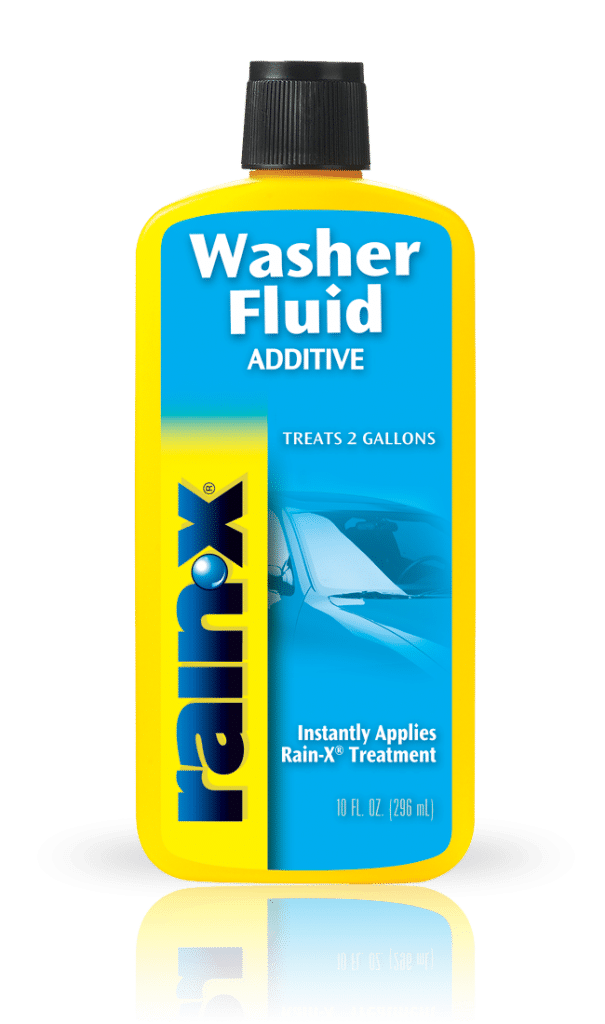 If you live in a rainy part of the country, the Rain-X Washer Fluid Additive might be the best find to help keep your windshield from smearing the water and fogging up the glass. Sold in a 16.9 fluid ounce bottle, the manufacturer recommends that four ounces of the solution be added to either water or your choice of antifreeze or alternative washer fluid. However, 3 ounces will probably be enough, especially if you will mix with another liquid that has similar functions.
Patented Tech
It has an attribute that is known as Water Beading Technology, which generates increased surface tension on the exterior glass, resulting in the water collecting into small beads prior to the wipers making their pass. Therefore, the clarify during moderate to heavy rainfall will be improved.
While clogging is not commonly reported as a negative side effect from using Rain-X, you might need to follow up with warm water in your tank sporadically to ensure that it will not occur after multiple uses. Another issue is with certain automobiles giving false readings of an empty reservoir tank due to the fluid clogging around sensors that are built into the inside. Cleaning these sensors can be quick or difficult, depending on the make and model of your automobile.
Overall
Regardless, Rain-X does work and is highly advised for anyone that must drive in areas that are prone to excessive precipitation. The residue will not cake to the windshield and is easy to remove once this is applied. Better visibility behind the wheels equals to improved response time when operating a motor vehicle, so Rain-X is a top choice to keep your driving ability safer and easier.
Pros
Water beading technology comes off the windshield naturally
Works well during heavy rains
Safe to mix with other liquid windshield fluids
Cons
Potential to cause false readings from the windshield fluid gauge
Can lead to minor clogging in the reservoir if not cleaned periodically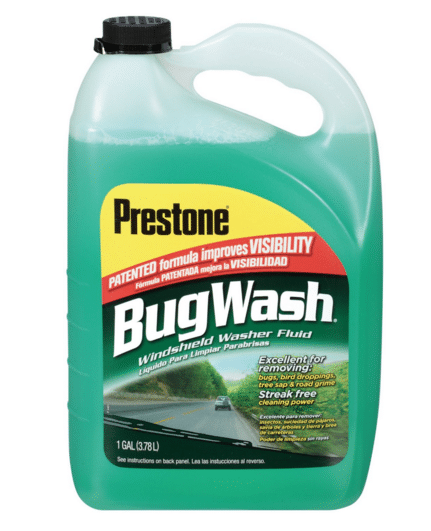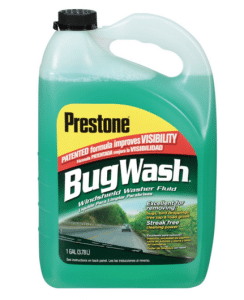 For people that live in places that receive warm weather in the summer, Prestone Bug Washer Fluid is suggested for its ability to get out the toughest of bug and tree sap residue. Tree sap specifically accumulates underneath the canopies of trees, which also happen to be areas where people frequently park their cars.
If you do not own a garage and must have your vehicle exposed to the elements, tree sap has the potential to wreak havoc on your windshield. Getting it off can oftentimes be a tricky endeavor, causing low-quality brands to simply smear the sap around until it becomes a thin film in the area being treated. Yet with this windshield fluid, the tree residue will come completely off, reducing the likelihood of potential damages to the glass.
Suitable for any Weather Conditions
Bugs are also cleared away. Prestone was developed to facilitate those who must rely on their automobile for extensive travel in hot weather, which are typical breeding grounds for insects, particularly love bugs and mosquitos.
The fluid only needs to be sprayed and scraped off with your wipers. In some instances you may need to allow the solution several minutes of time to linger on the glass so that it can penetrate the grime, in order for it to separate easier.
Great Fluid
When it gets cold, do not make the mistake of forgetting to add antifreeze; this, unfortunately, is not mentioned anywhere on the label. Additionally, no significant buildup will develop from the tips of the wipers after normal use. Overall, a great fluid for cleaning flying critters away from your windshield, making it have the appearance of being brand new.
Pros
Eliminates insect and tree sap residue
Great in humid, sticky environments that attract dust and pollen
Does not cling to windshield wipers
Gets rid of allergy inducing compounds, such as pollen
Cons
Some cleaning jobs will require that the fluid sit momentarily on the glass before wiping
Requires that other products be added in order to accommodate specific regions better (where it gets cold)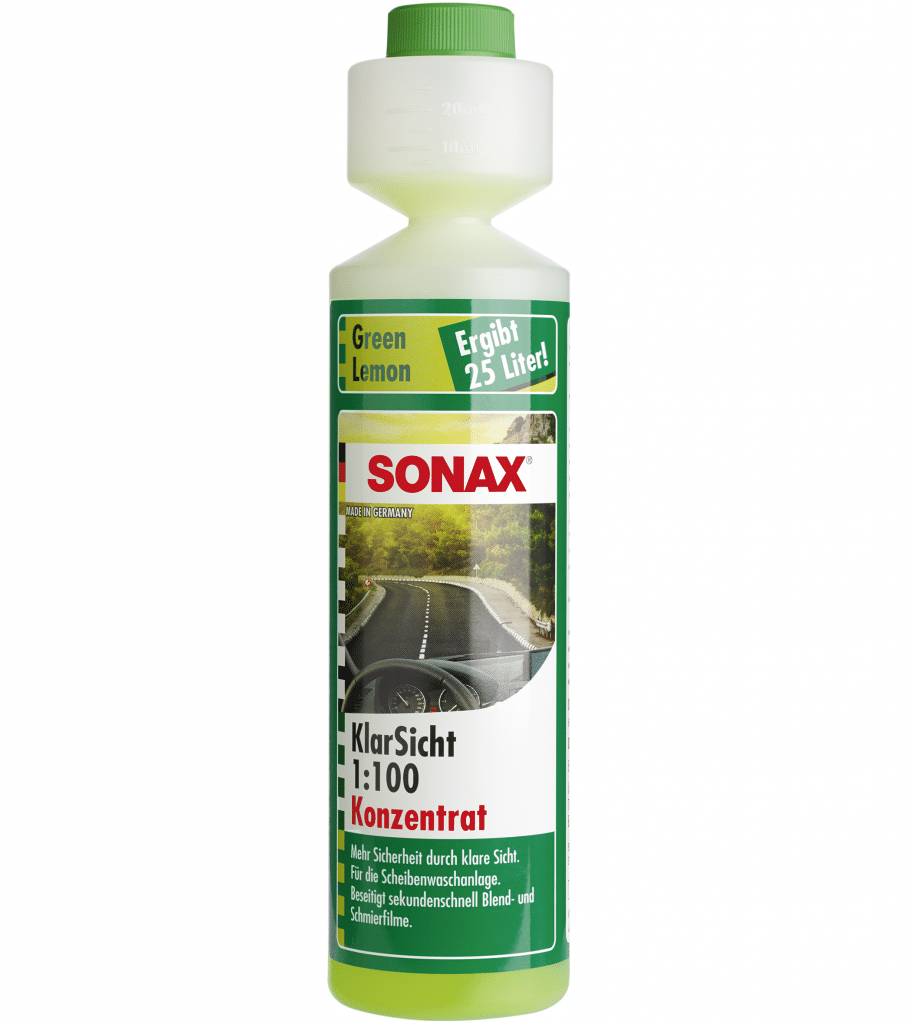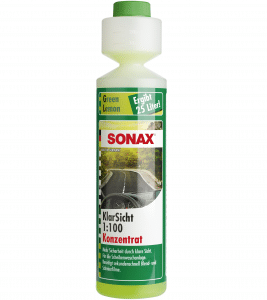 Sonax Clear View, like the first reviewed product, has a nice slant on the top of the bottle to gauge the amount of fluid you want to pour in your reservoir. If you prefer to use directly, just obtain a microfiber cloth and apply to heavily soiled areas. However, this will not be the case under most circumstances, and a gentle amount (about 1 ounce) paired with water should be sufficient for general windshield treatment.
The Clear View
It will not work as an effective water repellent. While this might be a deal breaker to those who admire such features, it does not add any hiccups to the fluid's results at keeping your windows in a like-new shape. Two passes from your wipers will probably be needed to remove liquids.
You should take note that some cleaners can lead to damages to your wipers overtime. Certain chemicals may cause the rubber on the tips of the wiper to corrode and brittle, wear that can be costly to repair and fix. This Washer fluid does not contain any phosphates (salts) that may inadvertently damage windshield blades.
Highly Concetrated
Concentrated brands like Sonax Clear View require that only a small amount be applied for creating a large quantity of usable liquid.
With a minimal amount, you can mix over six gallons of rudimentary washer fluid, extending the life of the bottle for months without having to buy another container for your car.
Great for the windshield and the environment. Try out Sonax's product if you want something that pairs well with antifreeze and won't require frequent purchases from running out of fluid too quickly.
Pros
Does not contain phosphates
Mix is concentrated
Sold with a measuring chamber on the bottle
Length of use is equal to six large bottles of windshield wiper fluid
Cons
Does not allow the water to bead on the windshield
Best Windshield Washer Fluids – Buyer's Guide
Before you go and buy one of the products mentioned, there are a few factors that you should know prior to purchase. Windshield wiper fluids generally come in several distinct varieties, which are as follows:
Pre-mixed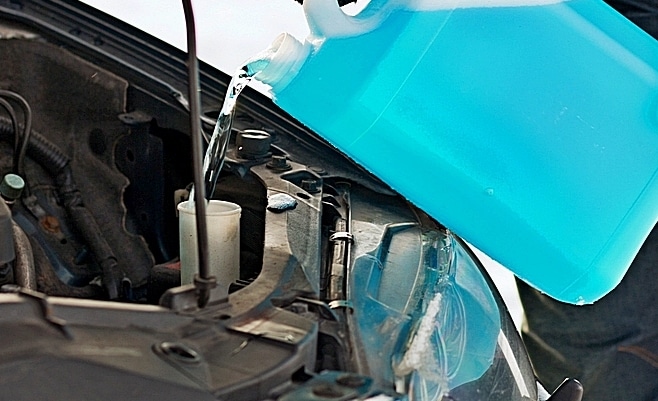 This is the fluid that is most commonly sold online and in brick and mortar stores. Due to the large supply of pre-mixed fluids, it is easy to purchase a cheap item that does not work as advertised. Be careful before you add this into your reservoir, as some of them are not recommended to be mixed with water. Others work as normal and typically consist of coolant and a cleaner solution.
If you are looking for this type, be sure to read the label to ensure awareness of what is in the bottle. Those which don't contain antifreeze will not always indicate this on the bottle. In this situation, it is best to assume that anything not specified is not included. Mixes are best for those who live in regions that consistently drop below 32 degrees Fahrenheit for a significant portion of the year. Look for fluids with de-icing capabilities to avoid driving with ice on the glass.
Concentrated Liquids and Tablets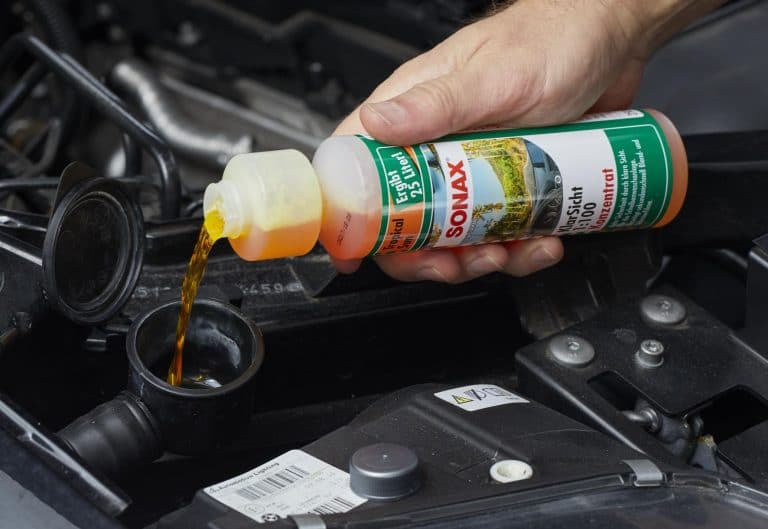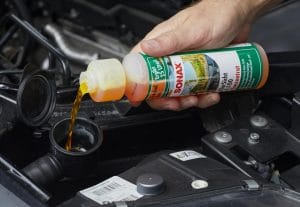 When referring to windshield fluids, concentrated varieties take only small portions to make large quantities of liquid. The average concentrated brand will require you to mix with water. One ounce or less will be all that is needed and the fluid is often developed to be used with heavier windshield cleaners.
Online, you may find conflicting reports of whether or not water is a nuisance to your reservoir. When used without a coolant, concentrated cleaners will freeze in cold climates and clog up the nozzles used to spray the solution on the windshield glass. For this reason, some will only mix with smaller quantities of water.
Antifreeze
In colder climates, antifreeze agents like ethylene glycol may be added to prevent the fluid from freezing in cold temperatures. So long as antifreeze is being used with concentrated products, it is safe for you to avoid these incidents from happening. Additionally, suds and foam may appear in the tank when combined with a large amount of fluid that was used earlier. The easiest way around this is to pour the concentrate in water using a separate container, then slowly adding into the windshield reservoir.
Tablets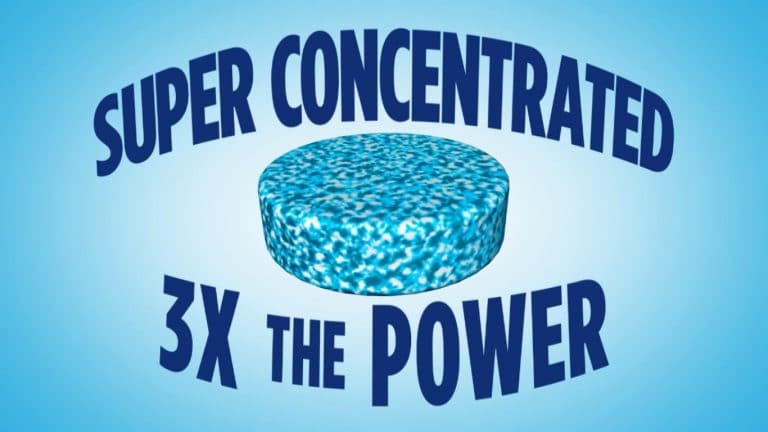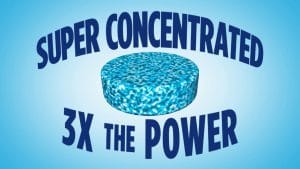 Tablets are another concentrated version available for cleaning your windshield. They have gained popularity in recent years for having a quick application time that does not involve liquid (other than water), fast dissolve rates, and less impact on the habitat around vehicles. They resemble normal looking tablets (although most are larger), so be sure to keep them in a secure location when you have children present.
Some have predicted that tablets will become a fad in the years to come due to their small size and easy administration. Just drop it in, add the specified fluid on the label for dispersion, and turn on your nozzle to let the wipers work their magic.
When you drive on the road or highway, the oils from automobiles will drip on the asphalt, accumulating over time until a rain occurs. When this happens, car tires allow to the residue to cling on other cars, resulting in grime on the windshield that is tough to get off. Unlike many fluids, tablets have fewer harmful ingredients that could wind up on other driver's cars. They are also well suited for those who hate the bulkiness of carrying around big tubs of low-quality windshield fluids in the trunk.
Washer Fluid
Ordinary washer fluids are often marketed as good products for a basic clean of bugs and residue from vegetation. Pollen, tree sap, bird droppings, and heavily soiled patches of dirt are scraped away easily with these products. Like concentrated brands, they are usually blended with antifreeze. They also will allow the water to bead, a good way to keep fog from penetrating the glass, particularly under humid and inclement weather.
The wipers are also well suited for washer fluids and tend to keep the ends free from excessive accumulation of sediment on the rubber, preventing annoying noises from them skipping over portions of the glass.
Frequently Asked Questions
Will the fluid damage my nozzles?
Look online and you will find consumers who complain about windshield fluid damaging their nozzles, rendering them useless. Nozzles can become damaged primarily by adding too much water in the reservoir or using products for your windshield that are poorly formulated. Repair can range from using compressed air to needing a complete overhaul of your nozzles.
Since prevention is the best way to avoid such headaches from occurring, remember to keep your parts clean. Do not allow fluid residue to congest in the tank and check to make sure that any solution you add is safe to do so, especially when other fluids are already inside.
Is tap water safe to use with windshield fluids?
Water is safe to use under certain stipulations; just be sure that you do not add too much. Normally, users will only add water to the windshield tank when concentrates are being mixed. This is normally not an issue in warm regions, or in the summertime. However, damage can happen from either the water turning the liquid into ice or the minerals clogging the tubing that leads to the end nozzle. The bottom line is to try avoiding water unless you specifically have a concentrated windshield fluid to mix with it.
Why is the fluid freezing to my windshield?
This often happens when you apply fluid to your glass at night. When you wake up in the morning, the residue can sometimes leave a film over your windshield. It is mostly ethanol, a chemical that is less active in low temperatures and commonly used in homes as rubbing alcohol. Mixed solutions can keep this from occurring.
What is the best solution for a novice?
If you are unsure of what mix is best for your car, you should contact the manufacturer to find out what types of fluids are best for your automobile. With so many different subcategories, picking the correct fluid can determine whether you will have great results or end up with a windshield that is in even worse condition. Many dealerships and car mechanics will recommend mixed fluids to those who are less familiar with windshields and the methods used to blend them together manually.
What are the risks to my health?
As with any chemical, you should always handle with care and keep in out of harm's way of children. Using such precautions is the best way to prevent unwanted contact with the skin and eyes. There are no advert health risks from using windshield fluids but always be cautious when handling the reservoir, as harmful bacteria can develop on the inside and lead to sickness. The most notable is Legionnaires' disease.
Conclusion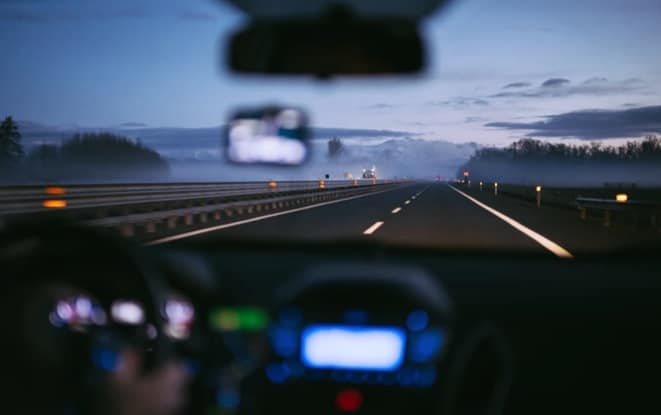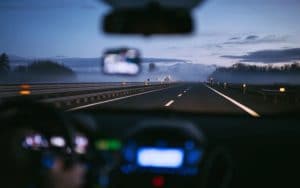 Each item mentioned has its own individual advantages and minor setbacks, so you should remember each of their selling points and pick accordingly. When you are finally ready to decide on the windshield wiper fluid that interests you the most, consider the products evaluated above. They are currently some of the most popular brands used by consumers.
Surprisingly, there are a plethora of factors that will help you in getting a product you will not damage your windshield parts, but extend their time of use. Windshield fluids are always getting better over the years, and it is likely that newer brands will also come to light as newer competitors. When this happens, look at the items shown to you here for a reminder of where it all started.